Not too long ago, it oc­curred to Nel­son Polsby, a not­able schol­ar of Con­gress, to ex­plore why the in­sti­tu­tion had be­come so po­lar­ized. The Uni­versity of Cali­for­nia (Berke­ley) pro­fess­or, now de­ceased, took the long walk back through Amer­ic­an polit­ic­al his­tory, and he ended on the door­step of Wil­lis Havil­and Car­ri­er.
In 1902, freshly gradu­ated from Cor­nell Uni­versity, Car­ri­er was in a fog-cloaked sta­tion, wait­ing for a train. The gloom spurred him to con­tem­plate the prop­er­ties of tem­per­at­ure and mois­ture. By the time his train ar­rived, the young en­gin­eer had in­ven­ted air con­di­tion­ing. The phys­ics of cool­ing had been un­der­stood since an­cient Ro­mans piped wa­ter through their villa walls, but it was Car­ri­er's 1906 pat­ent for an "Ap­par­at­us for Treat­ing Air" that led to today's near-ubi­quit­ous cli­mate-con­trol sys­tems, earn­ing him the sobri­quet, "the Fath­er of Cool."
Car­ri­er's in­ven­tion, Polsby con­cluded, is the foot­ing for the na­tion's cur­rent polit­ic­al po­lar­iz­a­tion. By stok­ing the his­tor­ic mi­gra­tion of Re­pub­lic­an voters from Rust Belt cit­ies to Sun Belt refuges such as Scott­s­dale, Ar­iz., and St. Peters­burg, Fla., "air con­di­tion­ing caused the pop­u­la­tion of the South­ern states to change," he wrote in his 2002 es­say, How Con­gress Evolves. "That change in the pop­ula­tion of the South changed the polit­ic­al parties of the South," he ar­gued, and ul­ti­mately trans­formed Con­gress "in­to an arena of sharp par­tis­an­ship."
So don't blame the su­per PACs, or Fox News, or con­gres­sion­al re­dis­trict­ing (al­though they all play a role). Don't blame Grover Nor­quist or Sen­ate Ma­jor­ity Lead­er Harry Re­id (al­though they do, too).
Blame Car­ri­er. It's his fault.
And things are not get­ting any bet­ter.
The House and the Sen­ate are in a state of near-para­lys­is over the coun­try's fin­ances. Even con­ser­vat­ives — who gen­er­ally em­brace Thor­eau's max­im that the gov­ern­ment that gov­erns best gov­erns least — show signs of fear and alarm about the gov­ern­ment's in­ab­il­ity to get things done.
The United States has an aging pop­u­la­tion that is de­pend­ing on un­der­fun­ded fed­er­al health and pen­sion pro­grams dur­ing a time of slug­gish eco­nom­ic growth, un­re­lent­ing in­ter­na­tion­al chal­lenges, soar­ing debt, and per­tina­cious di­vi­sion.
"If we keep kick­ing the can down the road, and duck­ing "¦ and push­ing re­spons­ib­il­ity off to the next Con­gress, then we'll have a European-type situ­ation on our hands: We'll have a debt crisis," warns Rep. Paul Ry­an, the Re­pub­lic­an from Wis­con­sin who chairs the House Budget Com­mit­tee. And that pro­cras­tin­a­tion will mean "bit­ter aus­ter­ity "¦ sud­den, dis­rupt­ive cuts "¦ slow eco­nom­ic growth "¦ [and huge] tax in­creases."
The 2011 Na­tion­al Journ­al vot­ing rat­ings of­fer little cause for op­tim­ism. Po­lar­iz­a­tion re­mains en­dem­ic. Law­makers march in lock­step with their party. Heretics are purged.
For the second year in a row but only the third time in the 30 years that Na­tion­al Journ­al has pub­lished these rat­ings, no Sen­ate Demo­crat com­piled a vot­ing re­cord to the right of any Sen­ate Re­pub­lic­an, and no Re­pub­lic­an came down on the left of any Sen­ate Demo­crat. (The first time this happened was 1999.)
Not Ben Nel­son, the Demo­crat from oh-so-Re­pub­lic­an Neb­raska. Not Scott Brown, the Re­pub­lic­an from the People's Re­pub­lic of Mas­sachu­setts. Not the soon-de­part­ing Joe Lieber­man, the in­de­pend­ent Demo­crat from Con­necti­c­ut, nor the newly ar­rived Joe Manchin, the con­ser­vat­ive Demo­crat from West Vir­gin­ia. Not  Olympia Snowe or Susan Collins, the mod­er­ate Re­pub­lic­an Ladies of Maine.
Ideo­lo­gic­al mav­er­icks are an ex­tinct breed. The oth­er­wise icon­o­clast­ic Tom Coburn of Ok­lahoma had the most con­ser­vat­ive vot­ing re­cord in the Sen­ate (Demo­crats Jeff Merkley of Ore­gon and Kirsten Gil­librand of New York were tied for the most lib­er­al), and the old fight­er jock him­self, John Mc­Cain of Ari­zona, voted more to the right than two-thirds of his GOP col­leagues.
The 435 mem­bers of the House are as po­lar­ized as their Sen­ate col­leagues. Only six Re­pub­lic­ans — Chris Smith of New Jer­sey, Tim John­son of Illinois, Justin Amash of Michigan, Ron Paul of Texas, Steven La­Tour­ette of Ohio, and Wal­ter Jones of North Car­o­lina — com­piled a slightly more "lib­er­al" vot­ing re­cord than the most con­ser­vat­ive Demo­crat, Rep. Dan Boren of Ok­lahoma.
And Ron Paul makes the list only be­cause his liber­tari­an­ism takes him so far right that on some is­sues he runs off the screen, Pac-Man like, and pops up on the oth­er side.
Be­lieve it or not, it wasn't al­ways so. In 1982, when Na­tion­al Journ­al pub­lished its first set of vot­ing rat­ings, 58 sen­at­ors — a ma­jor­ity of the 100-mem­ber cham­ber — com­piled re­cords that fell between the most con­ser­vat­ive Demo­crat (Ed­ward Zor­insky of Neb­raska) and the most lib­er­al Re­pub­lic­an (Low­ell Weick­er of Con­necti­c­ut). Now it's zero, zip, nada.
The House in 1982 was chock-full of "Boll Weevils" (con­ser­vat­ive Demo­crats) and "Gypsy Moths" (lib­er­al Re­pub­lic­ans). That year's Na­tion­al Journal rat­ings found 344 House mem­bers whose vot­ing re­cords fell between the most lib­er­al Re­pub­lic­an and the most con­ser­vat­ive Demo­crat. Today, the num­ber is 16, up slightly from the sev­en in that cat­egory in 2010 but vir­tu­ally the same as the 15 "between­ers" in both 2008 and 2009. As re­cently as 2006, when mod­er­ate Re­pub­lic­an Jim Leach rep­res­en­ted a House dis­trict in Iowa, the num­ber was 42. The NJ rat­ings re­flect an ideo­lo­gic­al sort­ing of Amer­ic­ans in­to com­munit­ies that suit their polit­ic­al tastes: the av­er­age scores of mem­bers of Con­gress closely tracked how their dis­tricts voted in the 2008 pres­id­en­tial elec­tion.
Con­tin­ued po­lar­iz­a­tion could lead to aw­ful con­sequences. "The coun­try is in dire straits, and "¦ we are tied down like Gul­li­v­er by the Lil­li­pu­tians ."¦ We can't do squat," said Keith Poole, an ex­pert on polit­ic­al po­lar­iz­a­tion from the Uni­versity of Geor­gia. "The tea party whack jobs are right: We're bank­rupt."¦ But we're just drift­ing, drift­ing to­ward the falls."
Con­gres­sion­al lead­ers now sound, and act, like their par­lia­ment­ary coun­ter­parts in for­eign lands — vot­ing in ri­gid blocs and, in times of le­gis­lat­ive grid­lock, call­ing for an elec­tion to put the ques­tion to the voters.
"On big is­sues — taxes and rev­en­ues and health care — as the pres­id­ent him­self said, we are not go­ing to agree," says Ma­jor­ity Lead­er Eric Can­tor, the Re­pub­lic­an from Vir­gin­ia. "That's for the elec­tion."
Fair enough, save that the par­lia­ment­ary peg does not fit in the holes of the Amer­ic­an con­sti­tu­tion­al sys­tem. In Ot­t­awa, New Del­hi, or West­min­ster, a new prime min­is­ter emerges from the le­gis­lat­ive branch and takes of­fice with a uni­fied ma­jor­ity, al­most guar­an­teed to get his or her pro­gram en­acted.
But Amer­ica's Founders were wary of par­lia­ment­ary ma­jor­it­ies; they fought a re­volu­tion against one that they per­ceived as cor­rupt and tyr­an­nic­al. They de­signed a sys­tem to hobble a ma­jor­ity and force the coun­try's var­ied re­gions, states, and in­terests to co­oper­ate.
"There is a mis­match between our new, par­lia­ment­ary-style parties and the gov­ern­ing sys­tem in which they have to op­er­ate," says Thomas Mann, a con­gres­sion­al schol­ar at the Brook­ings In­sti­tu­tion and the coau­thor, with Nor­man Orn­stein of the Amer­ic­an En­ter­prise In­sti­tute, of It's Even Worse Than It Looks, an up­com­ing book on the dis­mal state of Con­gress. "The Framers had in mind, with the Con­sti­tu­tion's sep­ar­a­tion of powers and checks and bal­ances, a pro­cess of ne­go­ti­ation. But now these ne­go­ti­ations don't take place. The in­clin­a­tion is to op­pose, ob­struct, dis­cred­it, and nul­li­fy."
Few in Wash­ing­ton be­lieve that Can­tor's Re­pub­lic­ans will re­spect Pres­id­ent Obama's man­date if he wins reelec­tion. Their GOP coun­ter­parts in 1992 and 2008, as well as their Demo­crat­ic coun­ter­parts in 2000, barely re­cog­nized the le­git­im­acy of the newly elec­ted chief ex­ec­ut­ive, and there is little reas­on to think that the cur­rent crop of con­gres­sion­al Re­pub­lic­ans — or Demo­crats — would de­fer to a lead­er from the rival party.
Would Can­tor hon­or the elect­or­ate's ver­dict if Obama wins in Novem­ber? "That is a hy­po­thet­ic­al I am not an­swer­ing," the ma­jor­ity lead­er says.
Some people wel­come po­lar­ity. Jef­frey Bell is a con­ser­vat­ive act­iv­ist and the­or­ist — a former aide to Ron­ald Re­agan and past pres­id­ent of the Man­hat­tan In­sti­tute — whose new book, The Case for Po­lar­ized Polit­ics, ar­gues that the in­flex­ible per­sist­ence of Amer­ica's so­cial con­ser­vat­ives is all that saves the na­tion from a cruel des­cent in­to so­cial­ist misery.
"Po­lar­iz­a­tion isn't all bad."¦ When it comes to de­fend­ing ba­sic prin­ciples "¦ po­lar­iz­a­tion is a good thing," Bell told the ram­bunc­tious young audi­ence at the Con­ser­vat­ive Polit­ic­al Ac­tion Con­fer­ence, a gath­er­ing of thou­sands of con­ser­vat­ive faith­ful earli­er this month. "There is no truce on so­cial is­sues "¦ be­cause the Left is re­lent­less."
But le­gis­lat­ive lead­ers don't have the free­dom to op­er­ate as polit­ic­al the­or­ists. They know they're sent to Wash­ing­ton to get things done. So they de­plore the situ­ation and blame the oth­er party. It is a self-per­petu­at­ing spir­al, en­sur­ing that the status quo stays quo.
"It is dis­ap­point­ing to me that the Re­pub­lic­ans give so little co­oper­a­tion to Pres­id­ent Obama, when we gave so much co­oper­a­tion to Pres­id­ent Bush," says Rep. Nancy Pelosi of Cali­for­nia, the House Demo­crat­ic lead­er — an as­ser­tion that draws guf­faws from Re­pub­lic­ans.
The Demo­crats "rammed "˜Obama­care' through the House, us­ing every trick in the book to stifle dis­sent and cir­cum­vent the will of the Amer­ic­an people," Speak­er John Boehner told CPAC. "We are al­low­ing a wide-open pro­cess to re­peal it."
Ad­her­ents on each side have their own myth­ic mo­ments — times when they held their hand out in a ges­ture of fel­low­ship, only to have it spat upon.
For Demo­crats, the great double-cross came in the 2002 cam­paign when, after they gave Pres­id­ent Bush all that he asked in that re­mark­able mo­ment of na­tion­al unity after the 9/11 at­tacks, GOP ads por­trayed them as stooges of al-Qaida — even Sen. Max Cle­land of Geor­gia, a wounded Vi­et­nam War vet­er­an. And House Re­pub­lic­ans are still seeth­ing about the day in April 2010 when Ry­an, after re­leas­ing a polit­ic­ally risky GOP budget pro­pos­al, was in­vited to the pres­id­en­tial re­sponse at Geor­getown Uni­versity. Sit­ting in the front row, ex­pect­ing an olive branch, Ry­an got a kick in the teeth. Obama offered no com­prom­ise, no reas­on­ab­il­ity. The pres­id­ent spouted "a bunch of dem­agoguery in the cam­paign mode," Ry­an says.
It's dif­fi­cult to grasp in these days of a hy­per-par­tis­an Con­gress, but Cap­it­ol Hill was once a place — not too long ago — where Demo­crats and Re­pub­lic­ans routinely worked to­geth­er.
And here's an­oth­er his­tor­ic fact to mar­vel at: The South­ern­ers were Demo­crats.
For nearly three dec­ades, be­fore and after World War II, a con­ser­vat­ive co­ali­tion of Re­pub­lic­an law­makers dom­in­ated Con­gress in com­mon cause with the 125-odd House and Sen­ate Demo­crats from the old Con­fed­er­acy.
Amer­ic­an lore tracks the birth of the al­li­ance to the car ride taken by a group of South­ern chair­men from the White House to the Cap­it­ol on Feb. 5, 1937. Pres­id­ent Roosevelt had summoned them to hear his plans to pack the Su­preme Court with six new justices friendly to the New Deal and his policies. The South­ern­ers bridled at this pres­id­en­tial power grab. "Boys," said Rep. Hat­ton Sum­ners of Texas, the chair­man of the House Ju­di­ciary Com­mit­tee, as they drove up Pennsylvania Av­en­ue, "here is where I cash in my chips."
Since Re­con­struc­tion, the South had been identi­fy­ing bright young plant­ers, law­yers, and busi­ness ex­ec­ut­ives, send­ing them to Con­gress, and re­turn­ing them, year after year. The scars of war and oc­cu­pa­tion were too raw for the re­gion to em­brace the party of Lin­coln, and so these young men were Demo­crats. In the ri­gid seni­or­ity sys­tem by which Con­gress op­er­ated, they even­tu­ally be­came com­mit­tee chair­men — ti­tans who ran things their way, and in their own good time. It was the only real way that the South — largely rur­al and re­tarded eco­nom­ic­ally — could in­flu­ence the na­tion's af­fairs. South­ern Demo­crats routinely chaired the most im­port­ant com­mit­tees: Ways and Means, Armed Ser­vices, Ap­pro­pri­ations, Ju­di­ciary, and many oth­ers.
The "South­ern Demo­crats rep­res­en­ted a power­ful es­tab­lish­ment," wrote former Speak­er Carl Al­bert of Ok­lahoma, in his auto­bi­o­graphy. It was "an in­ter­lock­ing net­work of landown­ers, fin­an­ci­ers, in­dus­tri­al­ists, and pro­fes­sion­als, all men of power, all men of white flesh."
In the shock of the Great De­pres­sion, the South sup­por­ted the New Deal. But it viewed FDR's will­ing­ness to take blacks, Jews, and Cath­ol­ics in­to the Demo­crat­ic co­ali­tion with sus­pi­cion, and it bridled at the party's sup­port of an­ti­lynch­ing le­gis­la­tion. Be­gin­ning with the Court-pack­ing fight, South­ern­ers joined with the Re­pub­lic­ans to block Roosevelt's do­mest­ic agenda. The 100  South­ern Demo­crats in the House and two dozen South­ern sen­at­ors routinely al­lied them­selves with the Re­pub­lic­ans who, strug­gling to find polit­ic­al trac­tion amid the New Deal's pop­ular­ity, were con­tent to play the two wings of the Demo­crat­ic Party against each oth­er.
Re­pub­lic­ans worked with South­ern Demo­crats to lim­it fed­er­al au­thor­ity, taxes, reg­u­la­tion, and spend­ing, but there also were times when they worked and com­prom­ised with the North's lib­er­al Demo­crats. The Civil Rights Act of 1964 and the Vot­ing Rights Act of 1965 could not have passed Con­gress without the back­ing of con­ser­vat­ive Re­pub­lic­ans such as Sen. Ever­ett Dirk­sen of Illinois and Rep. Charlie Hal­leck of In­di­ana. A Sen­ate of­fice build­ing is named for Dirk­sen, but few re­mem­ber the cour­age of Rep. Clar­ence Brown, a Re­pub­lic­an from Ohio, who checked him­self out of the hos­pit­al so he could cast a cru­cial vote for black free­dom in the House Rules Com­mit­tee. "Look out for tricks," Brown warned civil-rights lead­er Clar­ence Mitchell, and then went home and died in Au­gust 1965.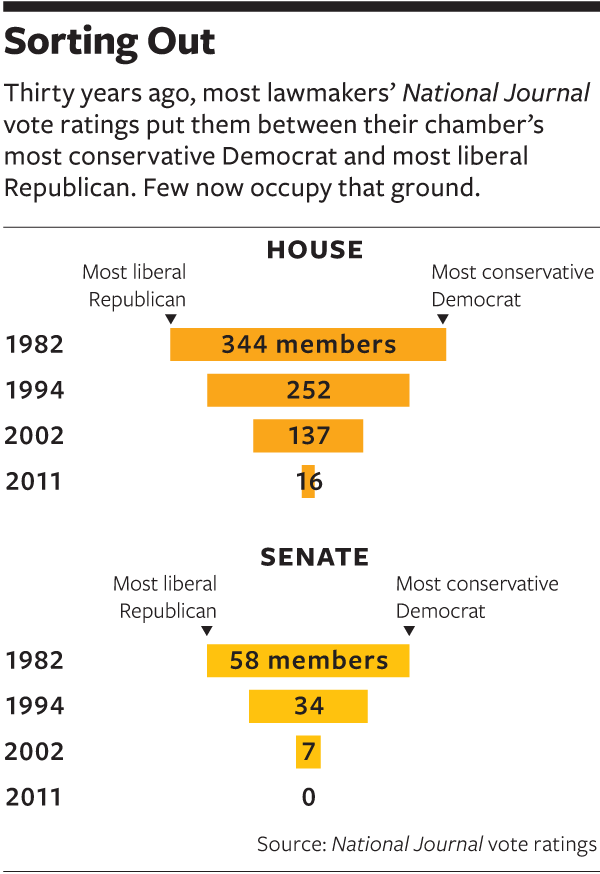 Many Re­pub­lic­ans found it ful­filling, even when in the minor­ity, to de­vel­op an ex­pert­ise that brought them high re­gard in Wash­ing­ton and the clout to ad­vance the in­terests of their con­stitu­ents.
Rep. John Byrnes of Wis­con­sin, the rank­ing Re­pub­lic­an on the House Ways and Means Com­mit­tee, had a typ­ic­ally strong re­la­tion­ship with his chair­man, Demo­crat Wil­bur Mills of Arkan­sas. "It was a pleas­ant op­er­a­tion. You wer­en't con­stantly fight­ing on philo­soph­ic­al or oth­er grounds and is­sues," Byrnes re­called in an or­al his­tory. "You were try­ing to look for ways where we could com­prom­ise dif­fer­ences and move along [le­gis­la­tion]."¦ It was part of the thing that made life worth­while and in­ter­est­ing. You knew that you did leave some kind of an im­print, be­cause any idea that fi­nally de­veloped in­to a con­sensus, you knew that you were part of that pro­cess."
The ser­pent in the garden was air con­di­tion­ing.
The de­vel­op­ment of win­dow units and res­id­en­tial cent­ral-cool­ing sys­tems trans­formed the South and the South­w­est in the lat­ter half of the 20th cen­tury. Only 18 per­cent of Flor­ida's homes were air-con­di­tioned in 1960, Polsby dis­covered, but 84 per­cent were cooled by 1980, as were thou­sands of new factor­ies, shop­ping malls, and of­fice build­ings across the Sun Belt.
Mil­lions of white-col­lar Amer­ic­ans, who had been tak­ing winter va­ca­tions in Flor­ida or Geor­gia or Ari­zona but loathed the hellish sum­mers, were mov­ing or re­tir­ing to air-con­di­tioned homes in new, low-tax sub­urb­an and re­sort com­munit­ies. North­ern-born mil­it­ary vet­er­ans re­turned to the South­ern com­munit­ies where they had been sta­tioned dur­ing the war. Many of the mi­grants brought Re­pub­lic­an sym­path­ies; oth­ers had polit­ic­al am­bi­tion and, see­ing their paths blocked by the Demo­crat­ic court­house gangs, joined the GOP.
Re­pub­lic­ans began to pick up South­ern seats in Con­gress. The first was in Flor­ida in 1954, the next in Texas, then North­ern Vir­gin­ia. By the early 1970s, Polsby found, Re­pub­lic­ans held sev­en of the 10 wealth­i­est con­gres­sion­al dis­tricts in the South, as well as 11 of the 15 dis­tricts with the highest num­bers of new­comers. Fu­ture House Re­pub­lic­an lead­ers Newt Gin­grich and Dick Armey planted the GOP flag in the raw new sub­urbs out­side At­lanta and Dal­las. When Demo­crat Wil­li­am Colmer of Mis­sis­sippi re­tired from the House in 1972, his le­gis­lat­ive as­sist­ant went home to Pas­ca­goula, switched his re­gis­tra­tion, and won elec­tion to the House as a Re­pub­lic­an. His name was Trent Lott, and he went on to serve as House whip and Sen­ate ma­jor­ity lead­er.
For nat­ive white South­ern­ers op­posed to the civil-rights move­ment, ra­cial ten­sion fueled the Re­pub­lic­ans' ap­peal.
After Pres­id­ent John­son signed the civil-rights bill in the sum­mer of 1964, he fam­ously told his aide, Bill Moy­ers, that they had just "de­livered the South to the Re­pub­lic­ans for a long time to come." In­deed, LBJ trounced Re­pub­lic­an Barry Gold­wa­ter in a land­slide that fall, but the Ari­zona con­ser­vat­ive took six states in the Sun Belt: Alabama, Ari­zona, Geor­gia, Louisi­ana, Mis­sis­sippi, and South Car­o­lina.
The Gold­wa­ter cam­paign was a polit­ic­al mile­stone, unit­ing con­ser­vat­ives from the South and South­w­est, giv­ing birth to Ron­ald Re­agan as a na­tion­al lead­er, shat­ter­ing the Demo­crat­ic "sol­id South," and at­tract­ing eth­nic Cath­ol­ics in the North and Mid­w­est who, 16 years later, would be­come well-known as Re­agan Demo­crats.
"The move­ment was something deep, a change or a re­flec­tion of change in Amer­ic­an life that qual­i­fied as more than polit­ics — it was his­tory," wrote polit­ic­al journ­al­ist Theodore White, with typ­ic­al foresight in 1965.
The im­port of this chain of events, in terms of today's polit­ic­al po­lar­iz­a­tion, was the way it muted con­ser­vat­ive voices in the Demo­crat­ic caucus.
Shrewdly, the GOP cut deals with black Demo­crat­ic can­did­ates, us­ing the re­dis­trict­ing pro­cess to squeeze minor­ity voters in­to re­l­at­ively few dis­tricts. The cre­ation of black-ma­jor­ity dis­tricts guar­an­teed that Afric­an-Amer­ic­ans would win con­gres­sion­al seats, but it left more white-dom­in­ated dis­tricts open to Re­pub­lic­an op­por­tun­ists.
"The re­gis­tra­tion of black voters strengthened the lib­er­al fac­tions of the Demo­crat­ic Party" in the South, Polsby noted, "and en­cour­aged con­ser­vat­ive voters and lead­ers to desert the Demo­crats and be­come Re­pub­lic­ans."
The num­ber of South­ern votes in the House Demo­crat­ic Caucus slipped from 100 in 1960 to 54 in 1998 and 37 in 2010, and most of those that re­mained were black-ma­jor­ity seats. White South­ern con­ser­vat­ives made up 62 per­cent of the House Demo­crat­ic Caucus in 1972, but just 7 per­cent in 1996, ac­cord­ing to Polsby. Now the num­ber is al­most cer­tainly lower.
"The South­ern Demo­crat­ic bloc just withered away, and the Re­pub­lic­an Party kept track­ing out to the right," Poole says.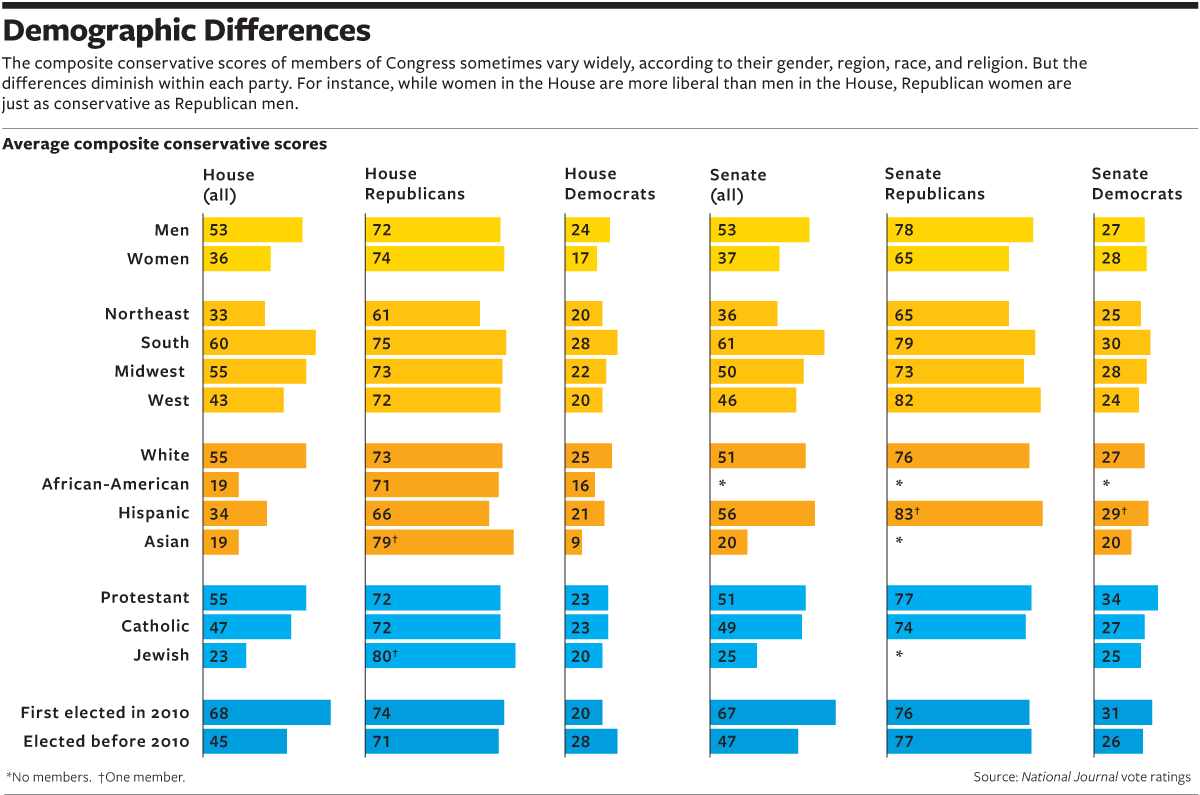 As South­ern con­ser­vat­ives fled, or were driv­en from, the Demo­crat­ic Party, they were re­placed in Con­gress by the now-fa­mil­i­ar cast of lib­er­al baby boomers, em­powered minor­it­ies, and vet­er­ans of the civil-rights and an­ti­war move­ments who came to dom­in­ate the caucus. George McGov­ern's quix­ot­ic 1972 pres­id­en­tial cam­paign was an or­gan­iz­ing vehicle for the new Demo­crat­ic co­ali­tion, much like the Gold­wa­ter move­ment had been for con­ser­vat­ives eight years earli­er. There were South­ern mod­er­ates who had in­flu­ence in Con­gress — men like Sens. Sam Nunn of Geor­gia and Al Gore of Ten­ness­ee — but they were far more lib­er­al than, and had nowhere the in­flu­ence of, the South­ern­ers who pre­ceded them (men like Demo­crat­ic Sens. Richard Rus­sell of Geor­gia and John Sten­nis of Mis­sis­sippi).
"It is not in­tu­it­ively ob­vi­ous that a sub­stan­tial gain of seats in the House by the Re­pub­lic­an Party would be a prox­im­ate cause of the lib­er­al­iz­a­tion of the House, but that, more or less, is what happened," Polsby con­cluded.
Like today's tea party con­ser­vat­ives, the lib­er­als saw no need to com­prom­ise. By the mid-1970s, after Rep. Al Ull­man of Ore­gon had suc­ceeded Mills as the chair­man of Ways and Means, the com­mit­tee Re­pub­lic­ans tasted none of the sat­is­fac­tion that John Byrnes had re­cor­ded a gen­er­a­tion earli­er. "The Re­pub­lic­ans feel cut out," one Ways and Means mem­ber told con­gres­sion­al schol­ar Cath­er­ine Rud­der. "The com­mit­tee is po­lar­ized. It's par­tis­an."
Demo­crat­ic or­tho­doxy was ri­gidly en­forced. Chair­men who strayed from the script got dumped. Ju­ni­or mem­bers mon­itored the ac­tions of their lead­ers, and moved against them in the caucus.
The House Rules Com­mit­tee chair­man, Joe Moakley of Mas­sachu­setts, cap­tured the Demo­crat­ic at­ti­tude to­ward their col­leagues across the aisle: "We've got the votes. Screw you."
Says Orn­stein: "You had a ma­jor­ity gov­ern­ing that was ar­rog­ant, com­pla­cent, con­des­cend­ing, and cas­u­ally cor­rupt."
Gin­grich was 35 when he ar­rived in Con­gress in 1978. He was bril­liant, glib, au­da­cious.
To Demo­crats, as then-Ma­jor­ity Lead­er Jim Wright of Texas wrote in his di­ary, Gin­grich was "a shrill and shame­less little dem­agogue."
Gin­grich may well have agreed. "One of the great prob­lems we have in the Re­pub­lic­an Party is that we don't en­cour­age you to be nasty," he said. "We en­cour­age you to be neat, obed­i­ent and loy­al and faith­ful and all those Boy Scout words, which would be great around a camp­fire but are lousy in polit­ics."
His words rang true to a core group of young­er Re­pub­lic­ans — they called them­selves the Con­ser­vat­ive Op­por­tun­ity So­ci­ety — who felt, as Rep. Robert Walk­er of Pennsylvania put it, "in­creas­ingly frus­trated" with a "Re­pub­lic­an lead­er­ship that seemed to be more ac­com­mod­a­tion­ist."
Gin­grich set out to be nasty. Boy, he was good at it. He se­cured his place in his­tory as the vis­ion­ary lead­er who helped his party seize con­trol of the House in 1994, end­ing 40 years in the minor­ity. But his con­gres­sion­al leg­acy also in­cluded three ruined speak­er­ships, a gov­ern­ment shut­down, a dis­astrous pres­id­en­tial im­peach­ment, the pub­lic dis­grace of re­spec­ted lead­ers from both parties, and a deep pois­on­ing of the at­mo­sphere in Con­gress.
"The prag­mat­ism, the prac­tic­al situ­ation is that you've got to get votes from the oth­er side to make any­thing go," said former Rep. Bob Michel of Illinois, the man whom Gin­grich suc­ceeded as the GOP lead­er in the House. "Well, Newt, let's face it. His per­son­al­ity wasn't ex­actly that type."
Air con­di­tion­ing trans­formed the South. A trans­formed South sent Gin­grich to Con­gress. And with Gin­grich came, Polsby noted, the cur­rent "era of ill feel­ings."
Those old cronies, Wil­bur Mills and John Byrnes, would not re­cog­nize today's faster, mean­er Con­gress. House and Sen­ate mem­bers no longer dally in the cloak­room or on the floor, trad­ing stor­ies and pork-bar­rel pro­jects. They are too busy tweet­ing their dis­ciples, or rais­ing money for the next cam­paign.
And not just their own. Con­gres­sion­al can­did­ates, who used to mount dis­tinct­ive, per­son­al­ized cru­sades for of­fice, in­creas­ingly find them­selves as cogs in na­tion­al, par­lia­ment­ary-style elec­tions. The lucky ones draw high rat­ings from the na­tion­al su­per PACS and are re­war­ded with a de­luge of cash. In time, as they find fa­vor with donors and lob­by­ists, they raise money for col­leagues through their own fun­drais­ing com­mit­tees.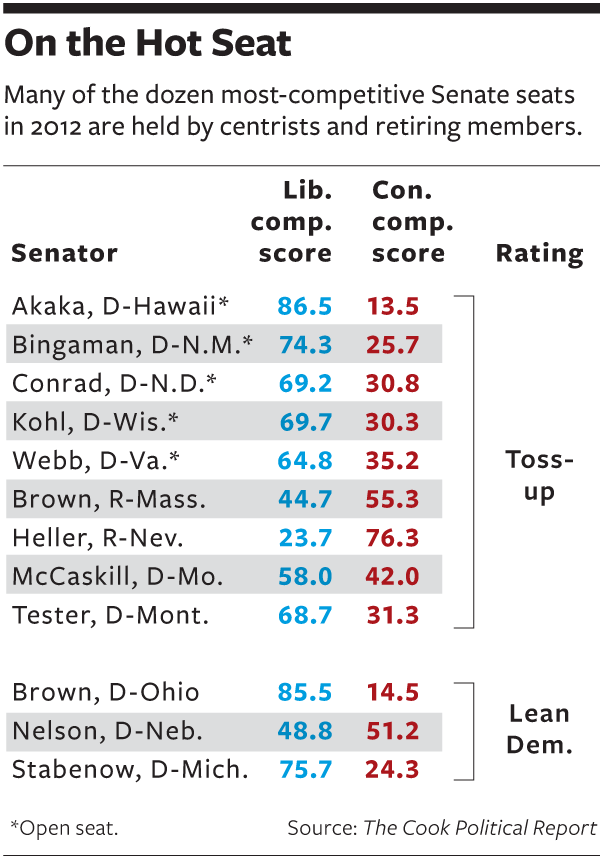 Po­lar­iz­a­tion has raised the stakes. The House has seen three "wave" elec­tions in the past dec­ade alone — in 2006, 2008, and 2010. Al­though most polit­ics is still loc­al, and re­dis­trict­ing or long­time ser­vice has in­su­lated many mem­bers from get­ting tossed them­selves, a shift in party con­trol can drastic­ally af­fect their in­flu­ence and the suc­cess of their agenda.
The Gin­grich re­volu­tion of 1994 "ushered in an era where, in al­most any elec­tion, the ma­jor­ity can change," Orn­stein says. "So the stakes are high­er. Be­fore, the game was played between the 40-yard lines; now it is played from goal­post to goal­post. And so the mind­set shifts." Adds his sidekick Mann: "The pres­sure is enorm­ous to stick with the herd, be­cause so much of Con­gress today is about stra­tegic, par­tis­an, team play."
Of course, there is no "I" in "team." Today's law­makers put their in­di­vidu­al­ism on hold when they enter Con­gress, and they of­ten take or­ders from le­gis­lat­ive lead­ers and their party's power­ful con­stitu­en­cies. None dares dis­please the spec­tat­ors in the press box or the bleach­ers. A swift scour­ging, on talk ra­dio or cable tele­vi­sion, awaits those who de­vi­ate from the party line or com­prom­ise on is­sues. The threat of a primary chal­lenge, fun­ded and fueled from the ideo­lo­gic­al edges, keeps mem­bers in line.
Sturdy Re­pub­lic­ans such as former Sen. Robert Ben­nett of Utah and former Rep. Mi­chael Castle of Delaware and Demo­crats such as Sen. Joe Lieber­man of Con­necti­c­ut, who once graced his party's na­tion­al tick­et, have been hu­mi­li­ated in a party primary or caucus in re­cent years. Lieber­man sur­vived as an
in­de­pend­ent, but Ben­nett and Castle didn't, and their de­feats haunt the Cap­it­ol like Mar­ley's ghost.
The com­pla­cency of voters in the cen­ter ex­ag­ger­ates the in­flu­ence of each party's base, says Rep. Mi­chael Cap­uano, a Demo­crat from Mas­sachu­setts.
"We are elec­ted, not ap­poin­ted," Cap­uano notes. "It gets me in trouble every time I say it, but this has to do with the Amer­ic­an pub­lic. Too many Amer­ic­ans have ig­nored their civic ob­lig­a­tion to get in­volved. They don't vote in primar­ies, and they leave the de­cision to the zealots on either side."
The zealots, in turn, are whipped up to a near-frenzy by news me­dia that have aban­doned ob­jectiv­ity and ac­cur­acy as their highest (if of­ten un­met) val­ues, in fa­vor of crowd-draw­ing, profit-mak­ing (and of­ten-man­u­fac­tured) ideo­lo­gic­al con­tro­ver­sies. Those mid-20th-cen­tury days, when three mighty tele­vi­sion net­works presen­ted one world­view to one Amer­ic­an pub­lic are gone. Now lib­er­als and con­ser­vat­ives — just as they in­creas­ingly choose like-minded com­munit­ies in which to live — can stoke their bi­ases with a left-lean­ing (MS­N­BC) or right-turn­ing (Fox News) TV news net­work.
"Where we once shared a com­mon set of facts is gone," Orn­stein says. "Now we have echo cham­bers that re­in­force what you want to be­lieve."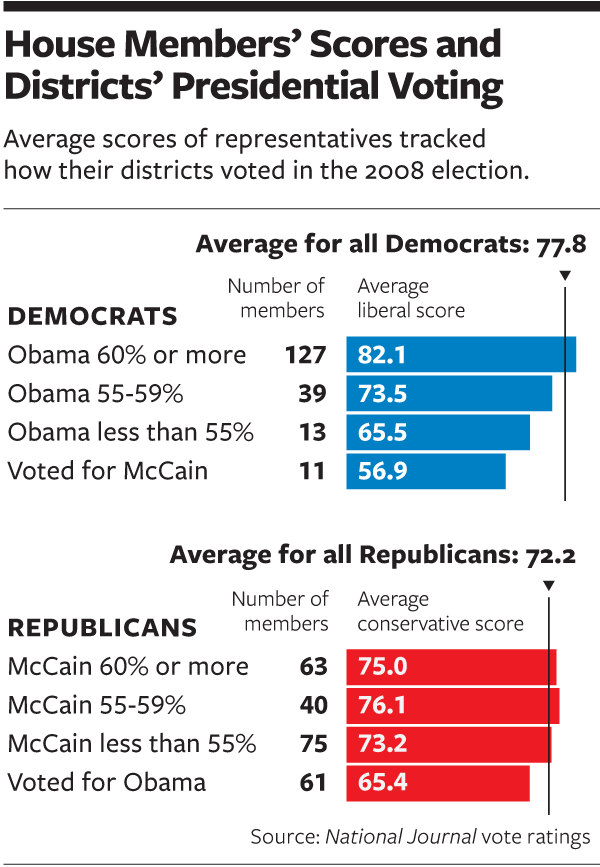 Most Amer­ic­ans "are mod­er­ate in their ap­proach to­ward life, a little less con­front­a­tion­al, a little less likely to stick their fin­ger in some­body's eye," Cap­uano says. They worry about paychecks and re­port cards, not the con­flag­rat­ing is­sues that dom­in­ate cable tele­vi­sion and drive primary voters to the polls.
"How many reg­u­lar Amer­ic­ans have din­ner-table con­ver­sa­tions about what size gun you're car­ry­ing around? Or talk about abor­tion at the din­ner table?" he asks. However, the cable-TV pro­du­cers, Cap­uano says, in­vari­ably seek the "most ri­dicu­lous" mem­bers of Con­gress to talk about sen­sa­tion­al con­tro­ver­sies. "They are there for rat­ings. I get that," he says. "But it's dis­tort­ing."
Sen. Mi­chael Ben­net, a mod­er­ate Demo­crat from Col­or­ado, agrees. He was ap­poin­ted to fill a Sen­ate seat in 2009 and had to de­fend it in 2010. Ben­net was con­fron­ted by a chal­lenger from the lib­er­al wing in the Demo­crat­ic primary, and then in the gen­er­al elec­tion he had to de­feat a tea party fa­vor­ite who had won a wild Re­pub­lic­an primary.
The un­for­tu­nate irony, Ben­net says, is that every­one knows what needs to get done, and wants Con­gress to act reas­on­ably and do it.
"I ac­tu­ally think that on the big ques­tions — debt, our eco­nomy, pre­par­ing our kids for the 21st cen­tury, en­ergy — you could get 70 per­cent agree­ment from the people I rep­res­ent," the sen­at­or says. "People are not com­ing to my town-hall meet­ings say­ing, "˜Be mean­er! Please scream louder at the oth­er guys!' "
Mann and Orn­stein have spent, between them, al­most a cen­tury study­ing Con­gress. They thought long and hard be­fore con­clud­ing, in their new book, that the Cap­it­ol is in the grip of an "asym­met­ric po­lar­iz­a­tion" — that the Re­pub­lic­ans have moved fur­ther right, in great­er unity, than the Demo­crats have shif­ted to­ward the left. The NJ rat­ings show that the av­er­age lib­er­al scores are high­er in Demo­crat­ic dis­tricts with large con­cen­tra­tions of col­lege gradu­ates and minor­it­ies. But in Re­pub­lic­an dis­tricts, con­ser­vat­ive scores were more uni­form than in Demo­crat­ic ones, and were high across the board.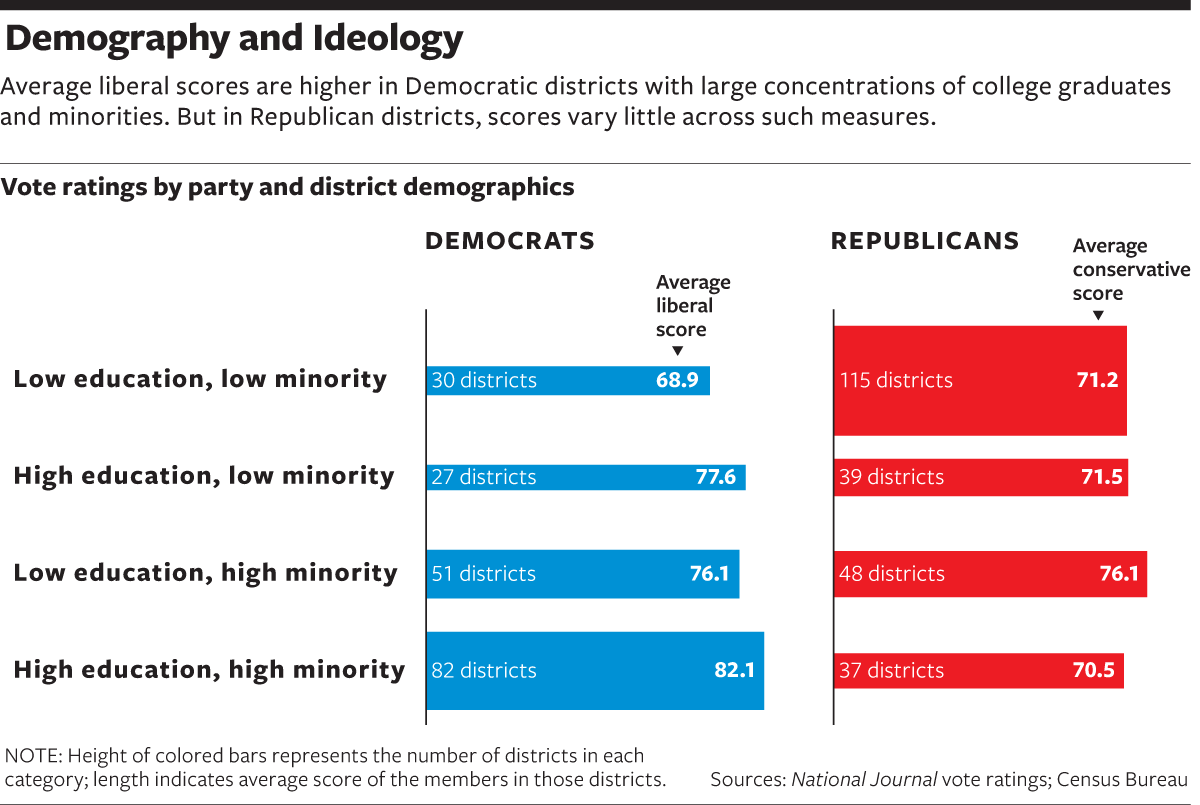 The tea party's ad­vent helped make it so, push­ing GOP mem­bers of Con­gress in a "right-wing thrust" that is "as ex­treme as we have seen," said Theda Skoc­pol, a Har­vard polit­ic­al sci­ent­ist and the au­thor, with col­league Vanessa Wil­li­am­son, of a new book, The Tea Party and the Re­mak­ing of Re­pub­lic­an Con­ser­vat­ism.
Poole agrees. As does Bell. "I agree with the Left," Bell says. "So­cial con­ser­vativ­ism is keep­ing po­lar­iz­a­tion alive. And it is keep­ing the Left from suc­ceed­ing."
"Re­pub­lic­ans are the in­sur­gent out­liers," Mann says. "They are ideo­lo­gic­ally ex­treme and op­posed to com­prom­ise on prin­ciple." Some tea party mem­bers "are pre­pared to take everything down, like kami­kazes," he says. "It's the god­damnd­est thing."
And so the cure to our po­lar­ized polit­ics, if (un­like Bell) you think we need one, will prob­ably have to come from the Right.
In his policy pre­scrip­tions, and his polit­ic­al strategy, Paul Ry­an thinks bold and big. "We owe the coun­try a very clear choice," he says. "The grid­lock is as bad as it's ever been. We need the Amer­ic­an people to break it."
"We owe them an al­tern­at­ive," he says, de­fend­ing Re­pub­lic­an ob­struc­tion­ism. "We owe them an ar­tic­u­late vis­ion and plan; then, let them pick. If we have that kind of elec­tion — an af­firm­ing elec­tion — I feel that's the best chance to break this lo­g­jam.
"And if we win an af­firm­ing elec­tion like that, then I be­lieve we will have the mor­al au­thor­ity and ob­lig­a­tion to act on it," he says. In part be­cause Demo­crats are not quite so po­lar­ized as Re­pub­lic­ans, "I be­lieve that there is a con­sensus to be had."
But what if Obama wins, or the Demo­crats de­feat the Re­pub­lic­ans in the battle for the House and Sen­ate? Will Ry­an re­cog­nize that his foes have won their own af­firm­ing elec­tion? Will he bow to their de­mands that tax rates for the wealthy be raised, and that solu­tions to the fisc­al crisis in­clude more rev­en­ue?
Not a chance. "You can't solve the budget prob­lem by rais­ing taxes," he replies. That would be heretic­al. 
Contributions by Peter Bell