Re­pub­lic­ans are still hedging on spe­cif­ic eco­nom­ic-in­equal­ity policy for the com­ing year, with little agree­ment with­in the party so far. In­stead, they're fo­cus­ing on poster boys for their plan, and their latest is a wo­man.
The Na­tion­al Re­pub­lic­an Con­gres­sion­al Com­mit­tee an­nounced Tues­day that former Sec­ret­ary of State Con­doleezza Rice will be the key­note speak­er at the group's an­nu­al fun­drais­ing din­ner in March.
"Con­doleezza Rice's life em­bod­ies the Amer­ic­an dream," said NR­CC Chair­man Greg Walden in a state­ment on the com­mit­tee's web­site. "From grow­ing up in the Jim Crow-era south to trav­el­ing the world as the na­tion's top dip­lo­mat, she is liv­ing proof that our coun­try is the land of op­por­tun­ity."
Rice grew up in Birm­ing­ham, Ala., where she says ex­amples of ra­cial and edu­ca­tion­al in­equal­ity were reg­u­lar and fre­quent. Her par­ents taught her not to be a vic­tim, even in un­fair cir­cum­stances. "That was a sin," she told NPR in 2010, "to con­sider your­self vic­tim­ized, or not able to con­trol your des­tiny, or your fate — that was the one car­din­al sin in our com­munity."
The GOP's pre­scrip­tion for tack­ling eco­nom­ic in­equal­ity, while still in the works, heav­ily em­phas­izes so­cial mo­bil­ity — the ease with which Amer­ic­ans can rise up­ward from the middle class. Fed­er­al en­ti­tle­ment pro­grams, as well as the cul­tur­al de­mise of the nuc­le­ar fam­ily, hinder people's abil­ity to climb the ranks, it says.
Walden's de­scrip­tion of Rice's rise to the top in­dic­ates that the former sec­ret­ary em­bod­ies some of the ba­sic Re­pub­lic­an ideas ahead of this year's midterm elec­tions. And Rice may serve as a bet­ter ex­ample than some of her fel­low Re­pub­lic­ans.
Sens. Marco Ru­bio and Rand Paul and Reps. Paul Ry­an and Eric Can­tor have all been mak­ing the rounds this month, talk­ing eco­nom­ic in­equal­ity with policy or­gan­iz­a­tions and journ­al­ists alike. But the face of in­come in­equal­ity has be­come in­creas­ingly fe­male, and put­ting men on the front lines of the con­ver­sa­tion may not be a re­cipe for at­tract­ing wo­men voters to the party's cause, let alone to the bal­lot dur­ing midterm elec­tions. Rice provides a voice in the de­bate that bet­ter re­sembles Amer­ica's poorest con­stitu­ents, one that, by vir­tue of be­ing fe­male, is less likely to come off as com­pas­sion­ate con­ser­vat­ive.
Rice can help bol­ster the GOP agenda this year. But she can also fur­ther her own. This new gig could al­low her to hint at some policy sug­ges­tions in an­ti­cip­a­tion of her own pres­id­en­tial cam­paign, much like oth­er con­tenders, in­clud­ing Ry­an and Ru­bio, have done so far. Al­though Rice has said she is not in­ter­ested in run­ning for of­fice, spec­u­la­tion re­mains. New Jer­sey Gov. Chris Christie spent 2010, the year he head­lined the same NR­CC din­ner, ag­gress­ively squash­ing ru­mors that he was con­sid­er­ing run­ning for pres­id­ent. Four years later, those ru­mors per­sist.
What We're Following See More »
UNTIL DEC. 9, ANYWAY
Obama Signs Bill to Fund Government
2 hours ago
REDSKINS IMPLICATIONS
SCOTUS to Hear Case on Offensive Trademarks
3 hours ago
WHY WE CARE
"The Supreme Court is taking up a First Amendment clash over the government's refusal to register offensive trademarks, a case that could affect the Washington Redskins in their legal fight over the team name. The justices agreed Thursday to hear a dispute involving an Asian-American rock band called the Slants, but they did not act on a separate request to hear the higher-profile Redskins case at the same time." Still, any precedent set by the case could have ramifications for the Washington football team.
STAFF PICKS
Bannon Still Collecting Royalties from 'Seinfeld'
4 hours ago
WHY WE CARE
The Hollywood Reporter takes a look at a little-known intersection of politics and entertainment, in which Trump campaign CEO Steve Bannon is still raking in residuals from Seinfeld. Here's the digest version: When Seinfeld was in its infancy, Ted Turner was in the process of acquiring its production company, Castle Rock, but he was under-capitalized. Bannon's fledgling media company put up the remaining funds, and he agreed to "participation rights" instead of a fee. "Seinfeld has reaped more than $3 billion in its post-network afterlife through syndication deals." Meanwhile, Bannon is "still cashing checks from Seinfeld, and observers say he has made nearly 25 times more off the Castle Rock deal than he had anticipated."
IT'S ALL CLINTON
Reliable Poll Data Coming in RE: Debate #1
4 hours ago
WHY WE CARE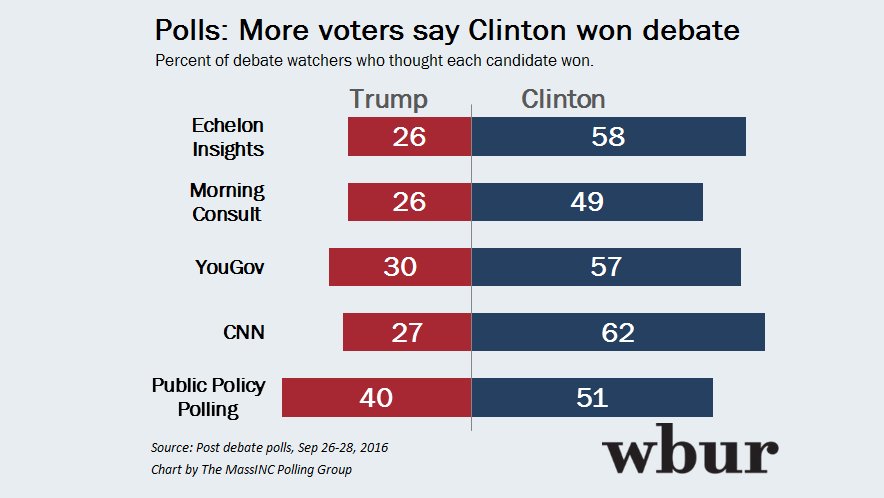 NEXT THURSDAY
Trump Transition Team Meeting with Silicon Valley VIPs
6 hours ago
THE DETAILS
Donald Trump's "transition team will meet next week with representatives of the tech industry, multiple sources confirmed, even as their candidate largely has been largely shunned by Silicon Valley. The meeting, scheduled for next Thursday at the offices of law and lobbying firm BakerHostetler, will include trade groups like the Information Technology Industry Council and the Internet Association that represent major Silicon Valley companies."