Add to Briefcase
June 28, 2012, noon
TRADE AS­SO­CI­ATIONS
Tom O'Don­nell
The Na­tion­al As­so­ci­ation of Chain Drug Stores has named Tom O'Don­nell, chief of staff for out­go­ing Rep. Steven Roth­man, D-N.J., as its vice pres­id­ent of fed­er­al-gov­ern­ment af­fairs, ef­fect­ive Ju­ly 9. O'Don­nell ar­rives dur­ing what he de­scribes as a "his­tor­ic mo­ment" for the as­so­ci­ation. As the health care in­dustry comes to terms with the Su­preme Court's de­cision on the Af­ford­able Care Act, he in­sists that the as­so­ci­ation will be a big play­er in the months ahead. "One of the cri­ti­cisms of the [law] has been cost con­trol…. Well, this or­gan­iz­a­tion is in a po­s­i­tion to bring costs down for av­er­age Amer­ic­ans."
O'Don­nell was raised in Boon­ville, N.Y., in the foot­hills of the Ad­iron­dack Moun­tains. After gradu­at­ing from the State Uni­versity of New York at Platt­s­burgh, he came to Wash­ing­ton as an in­tern and later a le­gis­lat­ive as­sist­ant for then-Rep. Pat Schroeder, D-Colo. The 48-year-old has been a fix­ture in the House ever since, serving as an aide to then-Rep. Lane Evans, D-Ill.; a pro­fes­sion­al staff mem­ber on the House Vet­er­ans' Af­fairs Com­mit­tee; and chief of staff to Rep. Rush Holt, D-N.J., and then-Rep. Phil Hare, D-Ill. His cur­rent em­ploy­er, Roth­man, was soundly de­feated in a June 5 Demo­crat­ic primary by his col­league in the New Jer­sey del­eg­a­tion, Rep. Bill Pascrell.
Two weeks ago, O'Don­nell re­ceived a let­ter from the Con­gres­sion­al Fed­er­al Cred­it Uni­on con­grat­u­lat­ing him on 25 years of ser­vice. It is a du­bi­ous dis­tinc­tion, he says. "I've been do­ing this for 25 years? Some­times I have to pinch my­self."
Chris­toph­er Snow Hop­kins
IN­TEREST GROUPS
Chris Wal­ters
Chris Wal­ters, the new seni­or dir­ect­or of gov­ern­ment re­la­tions at the Small Busi­ness In­vestor Al­li­ance, is a third-gen­er­a­tion en­tre­pren­eur. His grand­fath­er, fath­er, and moth­er have all owned small busi­nesses — an air­plane clean­ing ser­vice, a plumb­ing com­pany, and a travel agency, re­spect­ively.
Hence, "en­tre­pren­eur­i­al­ism is in my blood," Wal­ters says, by way of ex­plain­ing why he has spent most of his ca­reer cham­pi­on­ing the in­terests of small busi­ness. At the in­vestor al­li­ance, he will rep­res­ent private-equity firms in­vest­ing in small busi­nesses. The as­so­ci­ation's mem­bers have a stake in the on­go­ing tax-re­form de­bate, and Wal­ters says he in­tends to be "on the of­fense" to en­sure that "in­cent­ives in the tax code are aligned with the real­it­ies of small busi­ness." This may be his only chance for dec­ades to come; the last ma­jor over­haul of the tax code was in 1986.
Wal­ters says that it was not un­til his seni­or year at Geor­getown Uni­versity that he real­ized he wanted to work in the pub­lic-policy arena. The year was 2000, and Vice Pres­id­ent Al Gore and then-Gov. George W. Bush were locked in a tight pres­id­en­tial race. Wal­ters ana­lyzed the twists and turns of the un­fold­ing saga and in­cor­por­ated his find­ings in­to his course work. "That race was what really hooked me," he says.
After gradu­at­ing, he in­terned with then-Sen. Rick San­tor­um, R-Pa., and was promptly pro­moted to le­gis­lat­ive as­sist­ant. The of­fice's bête noir, Wal­ters jokes, was San­tor­um's Sen­ate coun­ter­part, Ar­len Specter. "One of the more mem­or­able mo­ments dur­ing that time was when [our soft­ball team] faced off against Team Specter," he says. "I'm pretty sure we won, but I can't tell you for cer­tain." Asked if he was sur­prised by San­tor­um's for­mid­able per­form­ance in the re­cent Re­pub­lic­an pres­id­en­tial primar­ies, Wal­ters says, "The op­por­tun­ity was there for him, and he took ad­vant­age of it. He cam­paigned in every one of Iowa's [99] counties."
In 2004, Wal­ters en­lis­ted in the Bush-Cheney pres­id­en­tial cam­paign and was de­ployed to cent­ral Pennsylvania. The Key­stone State went blue that year, but Wal­ters de­scribes it as a Pyrrhic vic­tory for the Demo­crat­ic nom­in­ee, Sen. John Kerry, D-Mass., who "wouldn't have won without di­vert­ing re­sources from oth­er battle­ground states."
After the elec­tion, Wal­ters re­turned to Wash­ing­ton, ac­cept­ing a po­s­i­tion in the Treas­ury De­part­ment's Of­fice of Le­gis­lat­ive Af­fairs. In 2005, after Hur­ricane Kat­rina battered the Gulf Coast, he helped to draft the Kat­rina Emer­gency Tax Re­lief Act, which aided storm vic­tims. Wal­ters says that Demo­crats re­cycled cer­tain com­pon­ents of the bill, such as bo­nus de­pre­ci­ation, in the 2009 eco­nom­ic-stim­u­lus pack­age.
The 34-year-old was most re­cently seni­or man­ager for le­gis­lat­ive af­fairs for the Na­tion­al Fed­er­a­tion of In­de­pend­ent Busi­ness, which has been chip­ping away at the 2010 Af­ford­able Care Act since its in­cep­tion. Last year, the group was in­stru­ment­al in push­ing for a law that re­pealed the le­gis­la­tion's un­pop­u­lar 1099 tax-re­port­ing pro­vi­sion.
C.S.H.
LOBBY SHOPS
Mary Frances Kertz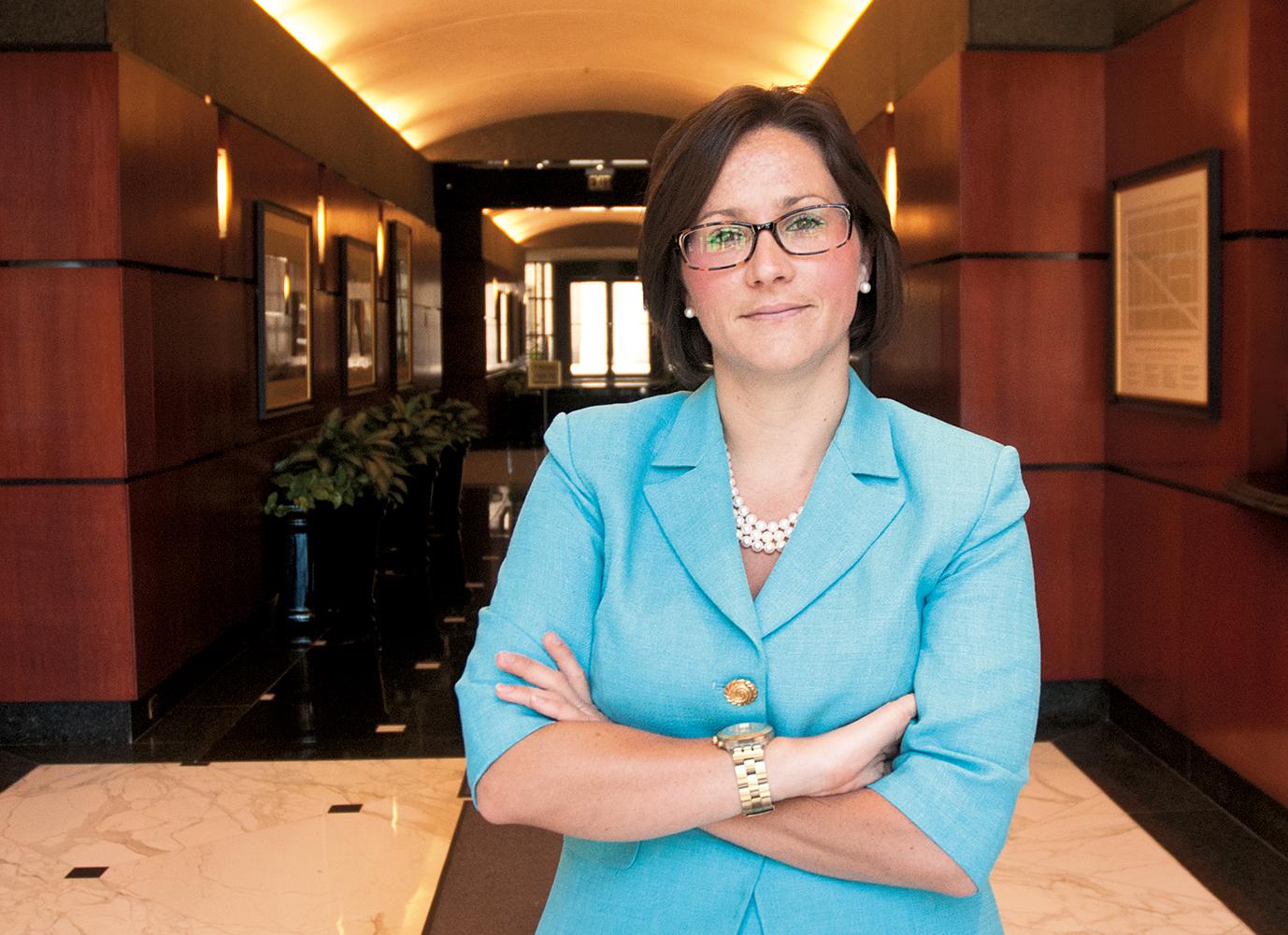 Mary Frances Kertz provides a glob­al per­spect­ive as the new as­sist­ant vice pres­id­ent in fed­er­al-gov­ern­ment re­la­tions at the Mass­Mu­tu­al Fin­an­cial Group. Kertz re­turned to the United States in Novem­ber after two years in China. At the fin­an­cial group, she will lobby on fin­an­cial-ser­vices is­sues while mon­it­or­ing tax re­form. Mass­Mu­tu­al has of­fices around the globe, which is per­fect for the vet­er­an world trav­el­er.
Kertz, 30, cred­its her fam­ily's road trips as the source of her travel bug. In fact, on one of her par­ents' solo trips to Ire­land, they stumbled upon a castle con­ver­ted in­to a board­ing school. Kertz spent one of her high school years board­ing in that school, run by nuns for in­ter­na­tion­al stu­dents. "It was really a great ex­per­i­ence to learn about oth­er people's cul­ture," the St. Louis nat­ive says. "And at the age of 15, to have that per­spect­ive helped carve a lot of my out­look throughout my life."
The per­spect­ive stuck. She has traveled to more than 20 coun­tries and gained ex­per­i­ence in the in­ter­na­tion­al sus­tain­able-de­vel­op­ment field in the pro­cess. Her pro­mo­tion path at the Treas­ury De­part­ment — from spe­cial as­sist­ant, to the deputy as­sist­ant sec­ret­ary for le­gis­lat­ive af­fairs, to spe­cial ad­viser for the U.S.-China Stra­tegic and Eco­nom­ic Dia­logue — provided the back­ground she wanted. "I truly woke up every morn­ing ex­cited to go to work," she says. "We worked really hard, but it was a really ex­cit­ing and re­ward­ing place to work."
She dealt with U.S.-China re­la­tions and moved to­ward her long-term goal of work­ing in China. She con­sul­ted friends and col­leagues and for­mu­lated a plan. In 2010, she moved to China and en­rolled in a Man­dar­in lan­guage-im­mer­sion pro­gram for four months, while job hunt­ing. "If I didn't want it as badly as I did, it would have been very dif­fi­cult to achieve," she says. "I just re­mained very di­li­gent."
And the hard work paid off. Kertz landed a po­s­i­tion as a seni­or op­er­a­tions of­ficer at the U.S.-China En­ergy Co­oper­a­tion Pro­gram. She says that the ex­per­i­ence taught her a lot, not only about Chinese and U.S. busi­ness re­la­tions but also about people. "I was re­minded that, fun­da­ment­ally, people are very sim­il­ar no mat­ter where you are," she says. "We all want kind of the same things. We want the op­por­tun­ity to work hard and provide the best for our fam­il­ies."
After re­turn­ing stateside in Novem­ber, Kertz spent sev­en months as a con­sult­ant at the Lamp­kin Group, a pub­lic-af­fairs firm, be­fore join­ing Mass­Mu­tu­al on June 11.
Bri­anna Mc­Clane
TRADE AS­SO­CI­ATIONS
Ed­win Elf­mann
Ed­win Elf­mann, a spe­cial­ist in ag­ri­cul­ture policy, is the new seni­or le­gis­lat­ive rep­res­ent­at­ive for the Amer­ic­an Bankers As­so­ci­ation. He was most re­cently a le­gis­lat­ive as­sist­ant for Rep. Steve King, R-Iowa.
Elf­mann, 26, was raised on a 1,000-acre farm sev­en miles out­side of Maple Lake, Minn. Com­pared with op­er­at­ing a farm, he says, for­mu­lat­ing policy is a leis­urely oc­cu­pa­tion. "Out there, 12-hour days are part of the busi­ness; I joke that any­thing I do in D.C. is easi­er than bal­ing hay." As a teen­ager, Elf­mann milked cows at the crack of dawn and "hauled grain" to the Twin Cit­ies, an hour's drive.
As an un­der­gradu­ate at Ham­line Uni­versity in St. Paul, Minn., he con­sidered ma­jor­ing in chem­istry but later de­cided on polit­ic­al sci­ence, a dis­cip­line more closely tied to cur­rent events. "I came to the con­clu­sion that, if I opened a news­pa­per, I was go­ing to read an art­icle about polit­ics be­fore I read an art­icle about chem­istry."
Elf­mann ex­pec­ted to be­come a high school so­cial-stud­ies teach­er but changed his ca­reer path after an in­tern­ship with then-Sen. Norm Cole­man, R-Minn. Three weeks after gradu­at­ing from Ham­line, the young man headed to Wash­ing­ton, even­tu­ally tak­ing a job with the Na­tion­al Corn Grow­ers As­so­ci­ation.
One year later, Elf­mann found him­self at the Trans­port­a­tion De­part­ment, where he func­tioned as a "util­ity man," he says. "Any­thing they could throw at me, I picked up." After re­ceiv­ing a mas­ter's de­gree in polit­ic­al man­age­ment from George Wash­ing­ton Uni­versity, he joined King's of­fice as a le­gis­lat­ive as­sist­ant re­spons­ible for the law­maker's ag­ri­cul­ture port­fo­lio.
Elf­mann's "stress re­liev­er" is rugby. As a hook­er for the Wash­ing­ton Rugby Foot­ball Club, he com­petes in the spring, sum­mer, and fall, trav­el­ing as far north as Pitt­s­burgh and as far south as Raleigh, N.C. The winter is re­served for strength and aer­obic train­ing.
C.S.H.
TRADE AS­SO­CI­ATIONS
Josh Saltz­man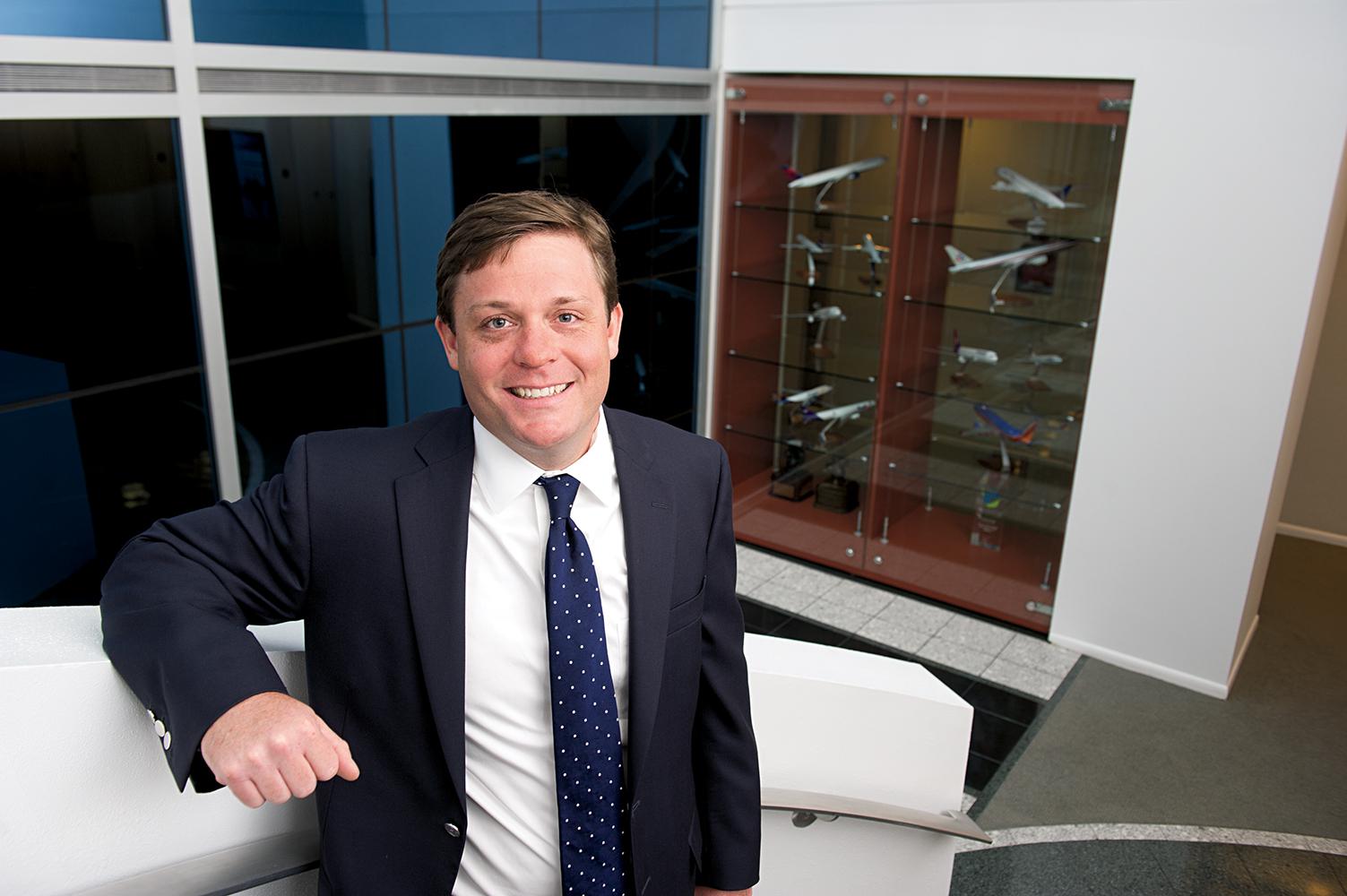 Josh Saltz­man, un­til re­cently chief of staff for Rep. Pete Ses­sions, R-Texas, has joined Air­lines for Amer­ica as vice pres­id­ent for glob­al gov­ern­ment af­fairs. He will re­port to CEO Nich­olas Calio, a former White House as­sist­ant for le­gis­lat­ive af­fairs in both the George W. Bush and George H.W. Bush ad­min­is­tra­tions.
Ori­gin­ally from Bucks County, Pa., out­side Phil­adelphia, Saltz­man at­ten­ded the Col­lege of Wil­li­am and Mary, where he was act­ive in the Col­lege Re­pub­lic­ans. After gradu­at­ing in 1999, he spent a year work­ing for then-Rep. Pat Toomey, R-Pa., be­fore pur­su­ing a mas­ter's of philo­sophy in in­ter­na­tion­al peace stud­ies at Trin­ity Col­lege, Dub­lin.
Re­turn­ing to Wash­ing­ton, Saltz­man star­ted as a le­gis­lat­ive as­sist­ant for Rep. Ed Royce, R-Cal­if., but ul­ti­mately landed a job with Ses­sions, vice chair­man of the Rules Com­mit­tee. As the en­for­cer of par­lia­ment­ary pro­tocol, the pan­el func­tions as a clear­ing­house for le­gis­la­tion, Saltz­man says, which gave him "the op­por­tun­ity to get in­volved in just about every le­gis­lat­ive area." When Ses­sions was elec­ted chair­man of the Na­tion­al Re­pub­lic­an Con­gres­sion­al Com­mit­tee in 2008, Saltz­man was pro­moted to chief of staff. (His pre­de­cessor, Guy Har­ris­on, had va­cated that po­s­i­tion to be­come the NR­CC's ex­ec­ut­ive dir­ect­or.)
Now 34, Saltz­man is a young­ster com­pared with Wash­ing­ton's eld­er states­men. Asked if Con­gress is more po­lar­ized today than when he star­ted, he says, "I don't think it's more or less po­lar­ized; I think there's a lot of at­ten­tion paid by the press to wheth­er it's po­lar­ized." Saltz­man is a cap­able golfer, but with an in­fant daugh­ter at home, "I haven't touched a club in months," he says.
C.S.H.
IN­TEREST GROUPS
Sam Beard
"All you need are big, simple ideas," says Sam Beard, who cel­eb­rated 50 years of work­ing on pub­lic is­sues this month. "You don't need to be a geni­us."
In 1968, the former aide to Sen. Robert Kennedy, D-N.Y., hatched an idea that would pump $179 bil­lion of cap­it­al in­to Amer­ica's in­ner cit­ies over the next 20 years. In a cramped, one-room Man­hat­tan apart­ment, he re­ima­gined the re­la­tion­ship between Amer­ic­an small busi­nesses and the fed­er­al gov­ern­ment.
"The ori­gin­al idea was very simple," he re­calls. "Here's Amer­ica, a land of tre­mend­ous op­por­tun­ity and dreams, but there's too big of a gap between haves and have-nots"…. What we wanted to do was show that small busi­ness could be a job cre­at­or, just like the For­tune 500 com­pan­ies."
At the heart of in­come in­equal­ity was "red­lining," a prac­tice whereby banks and oth­er in­sti­tu­tions denied loans to minor­ity com­munit­ies. "No one would ever stand up and say, "˜Watch me, I'm a red­liner,' " Beard says. "They would deny it vehe­mently." The solu­tion: gov­ern­ment guar­an­tees. Ab­solved of risk, banks had a strong in­cent­ive to pump cap­it­al in­to small and minor­ity-owned busi­nesses, a po­ten­tially luc­rat­ive mar­ket. The solu­tion was simply a mat­ter of cre­at­ing an ap­par­at­us for pub­lic-private lend­ing.
Be­fore long, Beard had the at­ten­tion of Howard Samuels, in­vent­or of the "bag­gie" and then-dir­ect­or of the Small Busi­ness Ad­min­is­tra­tion. At one point, Samuels sat in Beard's liv­ing room as 30 vo­lun­teers milled around. "He couldn't be­lieve the en­ergy," Beard says. "He said, "˜God damn it, more is go­ing on in this apart­ment than any­where else in the coun­try!' "
Some years later, with the help of then-Sen. Sam Nunn, D-Ga., and then-Rep. John La­Falce, D-N.Y., Beard es­tab­lished the SBA's Sec­tion 504 Loan Pro­gram, fo­cused on loc­al-com­pany de­vel­op­ment. One by one, Beard helped teach Bank of Amer­ica, Wells Fargo, Cit­ibank, and oth­er lend­ing in­sti­tu­tions how to is­sue in­ner-city small-busi­ness loans backed by gov­ern­ment guar­an­tees. The pro­gram would take on a life of its own: Beard has worked with sev­en ad­min­is­tra­tions — Demo­crat­ic and Re­pub­lic­an — since the pro­gram's in­cep­tion.
Beard, 73, was born and raised in New York City. Even though his fath­er, a stock­broker, was heir to a mod­est for­tune, his moth­er did not al­low Beard and his two broth­ers to "just sit in a chair," he says. All three at­ten­ded Yale Uni­versity, and all three have suc­ceeded: An­son M. Beard Jr. is ad­vis­ory dir­ect­or of Mor­gan Stan­ley, and Peter Beard is an ac­claimed pho­to­graph­er.
After col­lege, Sam Beard taught for a year at the Hotch­kiss School, a private board­ing school in Lakeville, Conn. Told he needed a law de­gree to enter pub­lic ser­vice, he en­rolled in Stan­ford Law School — "like a lem­ming," he says — but left three-quar­ters of the way through his first year. Re­turn­ing to New York City, he served as a staff as­sist­ant to then-May­or Robert Wag­n­er and later as an aide to Sen. Kennedy. When Kennedy was gunned down at the Am­bas­sad­or Hotel in Los Angeles on June 6, 1968, Beard re­treated to his Man­hat­tan apart­ment, where he laid the ground­work for what would be­come the SBA's sig­na­ture loan pro­gram. As a co­rol­lary to his work with the fed­er­al gov­ern­ment, he foun­ded the non­profit Na­tion­al De­vel­op­ment Coun­cil, which now op­er­ates in more than 130 com­munit­ies and fa­cil­it­ates $500 mil­lion to $800 mil­lion of fin­an­cing per year. He is still chair­man of the coun­cil.
In 1972, Beard cofoun­ded the Jef­fer­son Awards for Pub­lic Ser­vice with Jac­queline Kennedy Onas­sis and the late Sen. Robert Taft Jr., R-Ohio.
C.S.H.
IN­TEREST GROUPS
Car­o­lyn Al­ston
Car­o­lyn Al­ston is a sage of ac­quis­i­tion. The new ex­ec­ut­ive vice pres­id­ent and gen­er­al coun­sel at the Co­ali­tion for Gov­ern­ment Pro­cure­ment star­ted work­ing at the Gen­er­al Ser­vices Ad­min­is­tra­tion while still in law school — and she has in­hab­ited the realm of pro­cure­ment policy ever since.
The 62-year-old was most re­cently gen­er­al coun­sel at the Wash­ing­ton Man­age­ment Group, a Del­tek sub­si­di­ary that rep­res­ents com­mer­cial con­tract­ors. A nat­ive of New Haven, Conn., Al­ston stud­ied so­ci­ology at Cor­nell Uni­versity and at­ten­ded the Geor­getown Uni­versity Law Cen­ter. After more than a dec­ade in GSA's leg­al of­fice, she served as the agency's as­sist­ant com­mis­sion­er in charge of the Mul­tiple Award Sched­ules pro­gram, which en­com­passes $50 bil­lion in gov­ern­ment con­tracts. Over the course of 30 years with the agency, she watched the GSA shrink from a work­force of 40,000 to about 20,000.
C.S.H.