Gender Par­ity in Uni­form
The solu­tion to sexu­al-ab­use scan­dals is not to se­greg­ate and cir­cum­scribe wo­men. It's the op­pos­ite.
By Anu Bhag­wati
The re­cent scan­dal at Lack­land Air Force Base in Texas, where 11 in­struct­ors have been charged with rape, sexu­al as­sault, or sexu­al mis­con­duct in­volving at least 31 fe­male re­cruits, is the latest ex­ample of the U.S. mil­it­ary's prob­lem with sexu­al pred­at­ors in the ranks. Sexu­al as­saults — more than 19,000 per year, ac­cord­ing to the De­fense De­part­ment — have dev­ast­ated vic­tims and shamed the mil­it­ary for dec­ades. Gen. Ed­ward Rice, re­spons­ible for ba­sic train­ing of all Air Force per­son­nel, even fell back on a dodge used by oth­er mil­it­ary com­mand­ers fa­cing sexu­al-as­sault crises: He told re­port­ers that one solu­tion he was en­ter­tain­ing would se­greg­ate the train­ing of male and fe­male re­cruits. (If we sep­ar­ate and pro­tect our fe­male troops, they will be spared the ab­uses com­mit­ted by their male coun­ter­parts, this think­ing goes.)
The idea doesn't just reek of a pa­ter­nal­ism and a sex­ism that works against both sexes. It also won't fix the prob­lem, be­cause se­greg­ated train­ing en­vir­on­ments still ex­per­i­ence high rates of sexu­al as­sault. To truly end rape, weed out sexu­al pred­at­ors, and pro­fes­sion­al­ize the force, the United States needs to take a much more ser­i­ous look at the roles wo­men play in glob­al mil­it­ary and se­cur­ity op­er­a­tions — and ad­apt its force to meet the needs of an in­creas­ingly in­sec­ure and in­ter­con­nec­ted plan­et. This will mean in­creas­ing lead­er­ship re­spons­ib­il­it­ies and front­line as­sign­ments for wo­men throughout the armed forces.
The first case study comes from the U.N., which cre­ated pre­dom­in­antly or all-fe­male peace­keep­ing units as a way to min­im­ize the many sexu­al as­saults com­mit­ted by blue hel­mets against loc­al wo­men and girls around the globe. This plan has had tre­mend­ously pos­it­ive res­ults for glob­al se­cur­ity, and — as a much wel­come side ef­fect — for the U.N.'s repu­ta­tion. Last year, I had the good for­tune to meet Rock­far Sul­tana Ka­hanam, then the com­mand­er of the Bangladesh Fe­male Formed Po­lice Unit, a mostly fe­male peace­keep­ing force provid­ing post-earth­quake se­cur­ity in Haiti. Rock­far told me that all of her of­ficers were wo­men and that her unit was well liked and re­spec­ted, in large part be­cause the Haitian people ten­ded to trust her fe­male peace­keep­ers.
In­deed, wo­men's par­ti­cip­a­tion in se­cur­ity op­er­a­tions, es­pe­cially in lead­er­ship po­s­i­tions, helps and el­ev­ates every­one in­volved: Loc­al trust in for­eign se­cur­ity pro­viders in­creases; sexu­al as­saults com­mit­ted against loc­al wo­men and girls de­crease; fe­male peace­keep­ers get crit­ic­al ex­per­i­ence that they can in­sti­tu­tion­al­ize in­to best prac­tices for the U.N.; and wo­men be­come key par­ti­cipants in se­cur­ity dis­cus­sions, al­low­ing them to in­flu­ence glob­al out­comes over time.
Lest we think of the U.N. as too soft an in­sti­tu­tion for com­par­is­on, let's also take a look at les­sons learned from coun­ter­insur­gency op­er­a­tions in Ir­aq and Afgh­anistan. Be­cause of the need to re­spect loc­al cul­tur­al norms about gender, Amer­ic­an wo­men have been ex­posed to ground com­bat un­think­able to pre­vi­ous gen­er­a­tions of wo­men in uni­form. Wo­men have filled a need not only in hu­man­it­ari­an ef­forts and civil-af­fairs cap­ab­il­it­ies (win­ning "hearts and minds") but have also worked along­side spe­cial op­er­at­ors and in­fan­try­men. They have the com­bat-hero­ism awards to show for it.
In many cases, Afghan vil­la­gers have been more likely to trust, open up to, and re­veal in­tel­li­gence to the Mar­ine Corps' Fe­male En­gage­ment Teams than to their male coun­ter­parts. These FET Mar­ines have been so suc­cess­ful in U.S. op­er­a­tions in Afgh­anistan that our NATO al­lies fol­lowed suit by de­ploy­ing sim­il­ar teams of their own.
The glob­al po­ten­tial here is end­less. Se­cur­ity con­tract­ors, also ac­cused of crim­in­al activ­ity over­seas ran­ging from sexu­al as­sault to murder of ci­vil­ians, could pro­fes­sion­al­ize their forces and po­ten­tially reap a profit from the loc­al de­mand for wo­men as se­cur­ity pro­viders. And don't over­look the per­vas­ive sexu­al ex­ploit­a­tion and sex traf­fick­ing of wo­men and girls by ser­vice mem­bers, de­fense con­tract­ors, U.N. per­son­nel, and com­mer­cial se­cur­ity work­ers world­wide, which have promp­ted con­gres­sion­al in­vest­ig­a­tions, ma­jor me­dia cov­er­age, and even an ex­ec­ut­ive or­der by former Pres­id­ent George W. Bush that made "pat­ron­iz­ing a pros­ti­tute" il­leg­al un­der mil­it­ary law. Con­tinu­ing scan­dals like the one in­volving Secret Ser­vice and mil­it­ary per­son­nel earli­er this year in Cart­agena, Colom­bia, il­lus­trate a deeply en­trenched prob­lem. Wo­men's in­creased pres­ence in se­cur­ity op­er­a­tions would min­im­ize the sexu­al ex­ploit­a­tion and traf­fick­ing of wo­men, girls, and boys by glob­al se­cur­ity forces.
When sexu­al as­sault per­vades a mil­it­ary in­sti­tu­tion, a large part of the solu­tion lies in nor­mal­iz­ing the pres­ence of wo­men in uni­form and in­creas­ing their lead­er­ship op­por­tun­it­ies. This can only be done by drastic­ally in­creas­ing the num­bers of wo­men en­ter­ing the mil­it­ary, ex­pos­ing uni­formed men to uni­formed wo­men at all ranks, and open­ing up as­sign­ments cur­rently closed to wo­men, as many of our al­lies (such as Aus­tralia and Canada) have already done. Amer­ica's mil­it­ary lead­er­ship needs to start think­ing dif­fer­ently now, or we can ex­pect to see many more Lack­lands.
Anu Bhag­wati, a former Mar­ine Corps cap­tain, is ex­ec­ut­ive dir­ect­or of Ser­vice Wo­men's Ac­tion Net­work.
Made by the USA
Amer­ica's na­tion­al labs are cook­ing up new ideas.
By Karina L. Ed­monds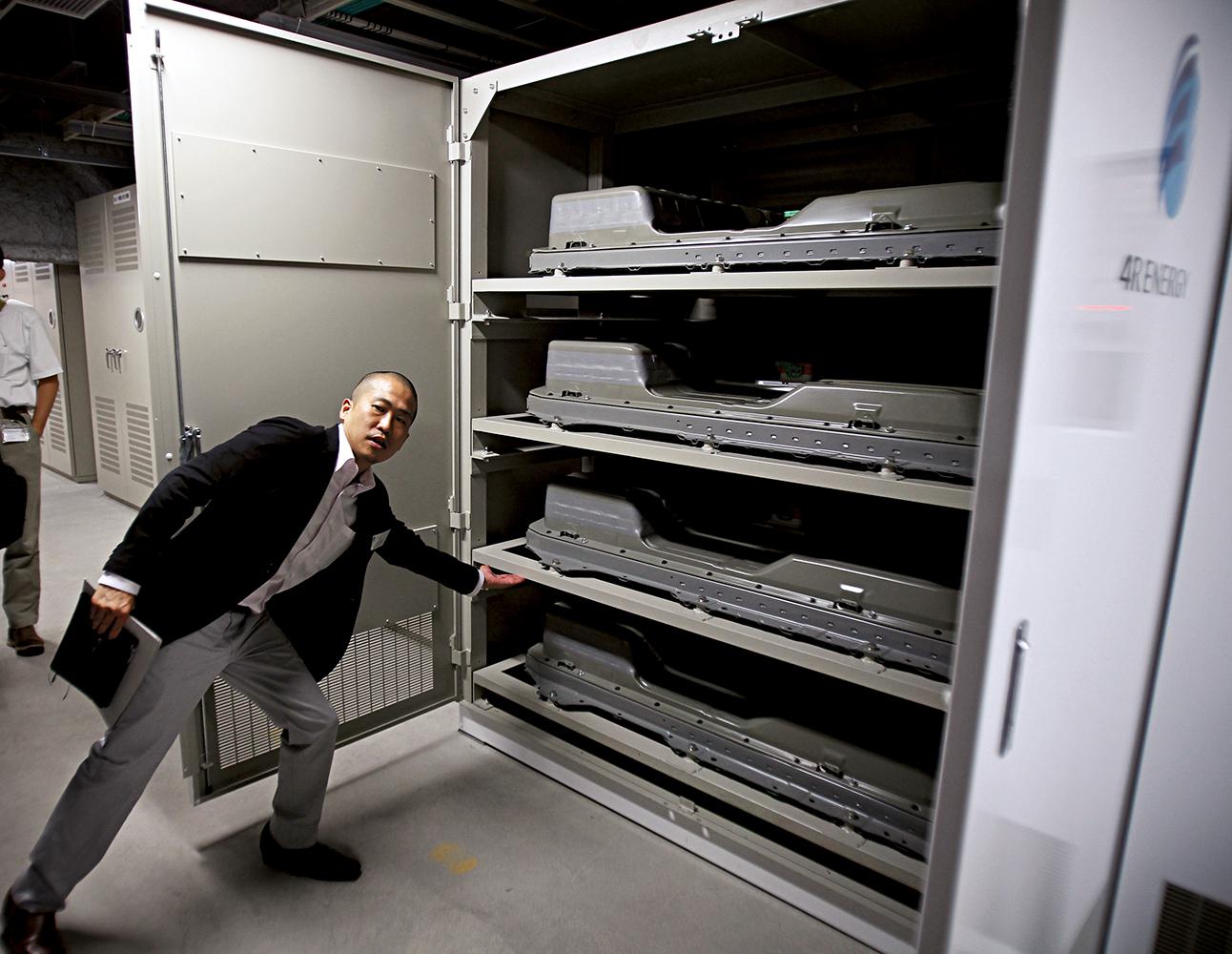 Can you ima­gine a world where sol­ar pan­els are in­teg­rated in­to our clothes to power our mo­bile devices while we send com­mands with a wink of an eye? If his­tory is any in­dic­a­tion, this can be the fu­ture.
Tech­no­logy has pro­gressed hand in hand with the ma­ter­i­als avail­able to so­ci­ety. From the Stone Age to the In­dus­tri­al Re­volu­tion to clean-en­ergy in­nov­a­tions, hu­man­ity has used what's avail­able to press for­ward with bet­ter solu­tions to ur­gent prob­lems. Some 500,000 years ago, for ex­ample, hu­mans used flint, wood, and stone to dis­cov­er fire. With a few com­mon ma­ter­i­als, they found something that would forever change the world.
Now we have that same op­por­tun­ity — in clean en­ergy. Without cost-ef­fect­ive sil­ic­on-wafer man­u­fac­tur­ing, we couldn't have today's cell phones, laptops, iPods, and oth­er port­able devices. The same can also be said for clean-en­ergy in­nov­a­tions, from bet­ter cath­odes for bat­ter­ies, mem­branes for fuel cells, or al­gae for bio­fuels.
The En­ergy De­part­ment is in­vest­ing in the sci­ence that will drive eco­nom­ic growth in the years ahead, spurred by our na­tion­al labor­at­or­ies and uni­versit­ies. Over the past dozen years, the de­part­ment has in­ves­ted in both ba­sic R&D and ap­plied com­mer­cial­iz­a­tion ef­forts that are de­liv­er­ing real be­ne­fits for Amer­ic­an com­pan­ies and the eco­nomy.
Take bat­tery tech­no­logy. Ar­gonne Na­tion­al Labor­at­ory has con­duc­ted re­search that has res­ul­ted in more than a 50 per­cent in­crease in en­ergy-stor­age ca­pa­city over con­ven­tion­al cath­ode ma­ter­i­als used in lith­i­um-ion bat­ter­ies, of­fer­ing the longest-last­ing en­ergy avail­able in the smal­lest, light­est pack­age. As a res­ult, bet­ter-per­form­ing elec­tric vehicles are hit­ting the road.
Fuel cells, which can be used for everything from power gen­er­a­tion to trans­port­a­tion, are also in de­vel­op­ment. Cur­rently, plat­in­um is the most ef­fi­cient elec­trocata­lyst for the cells, but plat­in­um-based cata­lysts are ex­pens­ive and not es­pe­cially dur­able. To ad­dress this prob­lem, Brookhaven Na­tion­al Labor­at­ory has de­veloped new ones that have high activ­ity, sta­bil­ity, and dur­ab­il­ity, while con­tain­ing only about one-tenth the plat­in­um of the con­ven­tion­al cata­lysts used in fuel cells — sig­ni­fic­antly re­du­cing over­all costs.
At Pa­cific North­w­est Na­tion­al Labor­at­ory and at DOE's Bioen­ergy Re­search Cen­ters, sci­ent­ists have found that al­gae have sev­er­al ad­vant­ages over oth­er bio­fuel sources. Be­cause they con­sume car­bon di­ox­ide, al­gae can feed off the car­bon emis­sions from power plants. And be­cause they can di­gest ni­tro­gen and phos­phor­ous, they can also grow in (and treat) mu­ni­cip­al wastewa­ter. Even­tu­ally, al­gae-based bio­fuels can be an al­tern­at­ive to the fossil fuels used for trans­port­a­tion — and can pos­sibly re­duce de­pend­ence on im­por­ted oil.
These are just a few of the amaz­ing sci­entif­ic dis­cov­er­ies that can spur en­tirely new in­dus­tries we have yet to ima­gine. Who knows? Fire has already been dis­covered, but clean-en­ergy tech­no­lo­gies have the same po­ten­tial to change everything.
Karina L. Ed­monds is the En­ergy De­part­ment's point per­son for help­ing the private sec­tor ad­opt new en­ergy tech­no­lo­gies and col­lab­or­ate with the gov­ern­ment's na­tion­al labor­at­or­ies.
The Right In­cent­ives
Pay for per­form­ance is stand­ard in the private sec­tor. Why not in schools?
By Michelle Rhee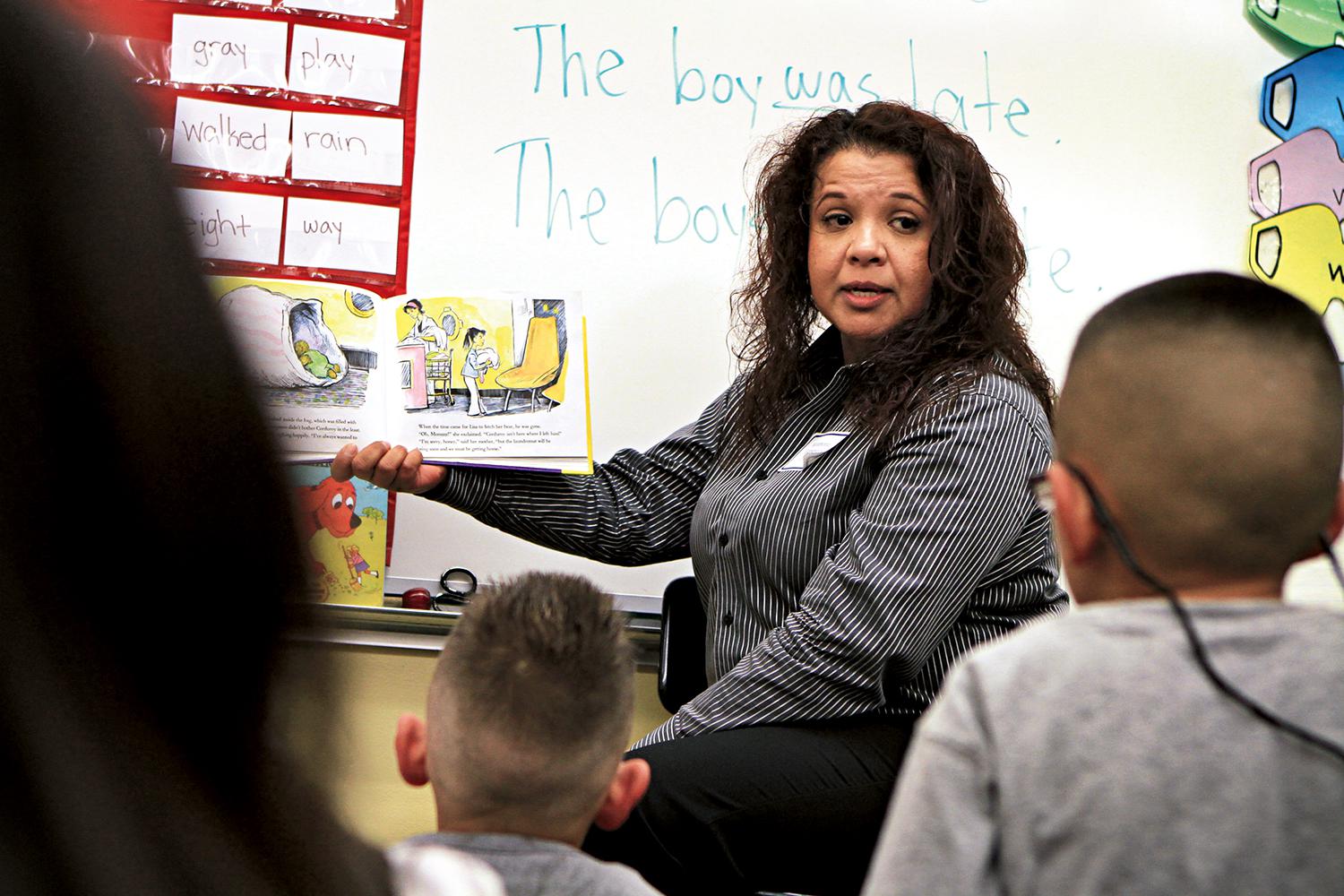 When we think about in­nov­a­tion in our schools, what may come to mind are smart boards, tab­lets, and oth­er high-tech devices. Something more fun­da­ment­al, however, can play an even great­er role in bring­ing pro­gress in­to our classrooms: re­form­ing teach­er com­pens­a­tion.
The most crit­ic­al factor that af­fects stu­dent achieve­ment is teach­er qual­ity. It mat­ters more than gad­gets, class size, or the con­di­tion of the build­ing. Yet the out­dated and ri­gid way we pay teach­ers doesn't re­flect the im­port­ance of the pro­fes­sion.
Con­sider a real-life ex­ample. The start­ing salary for a teach­er in Colum­bus, Ohio, is $42,333. Teach­ers there, like in most states, are com­pensated in lock­step, based on time served. After three years on the job, teach­ers re­ceive a salary boost of about $1,700 a year. So it typ­ic­ally takes 13 years to earn a $60,000 salary, re­gard­less of wheth­er a teach­er works ex­tra hours, takes on ad­ded re­spons­ib­il­it­ies, or teaches a hard-to-staff sub­ject in a high-needs school. And, most im­port­ant, the pay rises wheth­er or not teach­ers help stu­dents make aca­dem­ic gains.
Now, ima­gine a world in which ex­cel­lence in the classroom is re­war­ded with salary in­creases and bo­nuses. Ima­gine a world where highly ef­fect­ive teach­ers can earn $60,000 — or much more — in just a few years. Dis­tricts across the coun­try can do this right now, and they can use fed­er­al funds, through the Edu­ca­tion De­part­ment's Title II pro­gram. This money is avail­able to both states and school dis­tricts for pro­grams that im­prove teach­er qual­ity. Too of­ten, though, re­cip­i­ents use the cash in in­ef­fect­ive ways, sup­port­ing gen­er­ic pro­fes­sion­al-de­vel­op­ment pro­grams that aren't tailored to teach­ers' needs. Poli­cy­makers and state and dis­trict ad­min­is­trat­ors should re­think such prac­tices and look to Title II fund­ing to help build com­pens­a­tion sys­tems that re­ward and re­tain great teach­ers.
Since the money is there, it's reas­on­able to ask why states and dis­tricts aren't already us­ing it in this com­mon­sense way. There are two reas­ons. First, fed­er­al funds that are in­ten­ded to help dis­tricts re­ima­gine their sys­tems are in­stead of­ten used to ex­pand ex­ist­ing pro­grams, typ­ic­ally without ad­equate con­sid­er­a­tion of wheth­er those pro­grams are serving schools well. The second reas­on is even more prob­lem­at­ic and will take more polit­ic­al muscle to turn around. In many states, laws ham­string dis­tricts by man­dat­ing that pay scales be based on a teach­er's length of ser­vice or de­grees earned — neither of which is strongly linked to stu­dent learn­ing — in­stead of job per­form­ance. Where such policies stand in the way of re­form, we have to re­place them with new laws. Flor­ida, In­di­ana, and Michigan have changed their laws to re­quire that ad­min­is­trat­ors factor a teach­er's job per­form­ance in­to his or her salary.
I've seen per­form­ance pay work. In Wash­ing­ton, D.C., when I was chan­cel­lor, we launched a sys­tem in which highly ef­fect­ive teach­ers can get paid up to $130,000. As a res­ult, I saw com­mit­ted edu­cat­ors stay in the classroom, where they are so badly needed, rather than move in­to more-luc­rat­ive fields.
Michelle Rhee, the former Wash­ing­ton, D.C., pub­lic schools chan­cel­lor, is founder and CEO of Stu­dents­First, a na­tion­al bi­par­tis­an edu­ca­tion-re­form group.
Big Idea in a Small Place
How bio­mark­ers could trans­form medi­cine.
By Gail R. Wi­lensky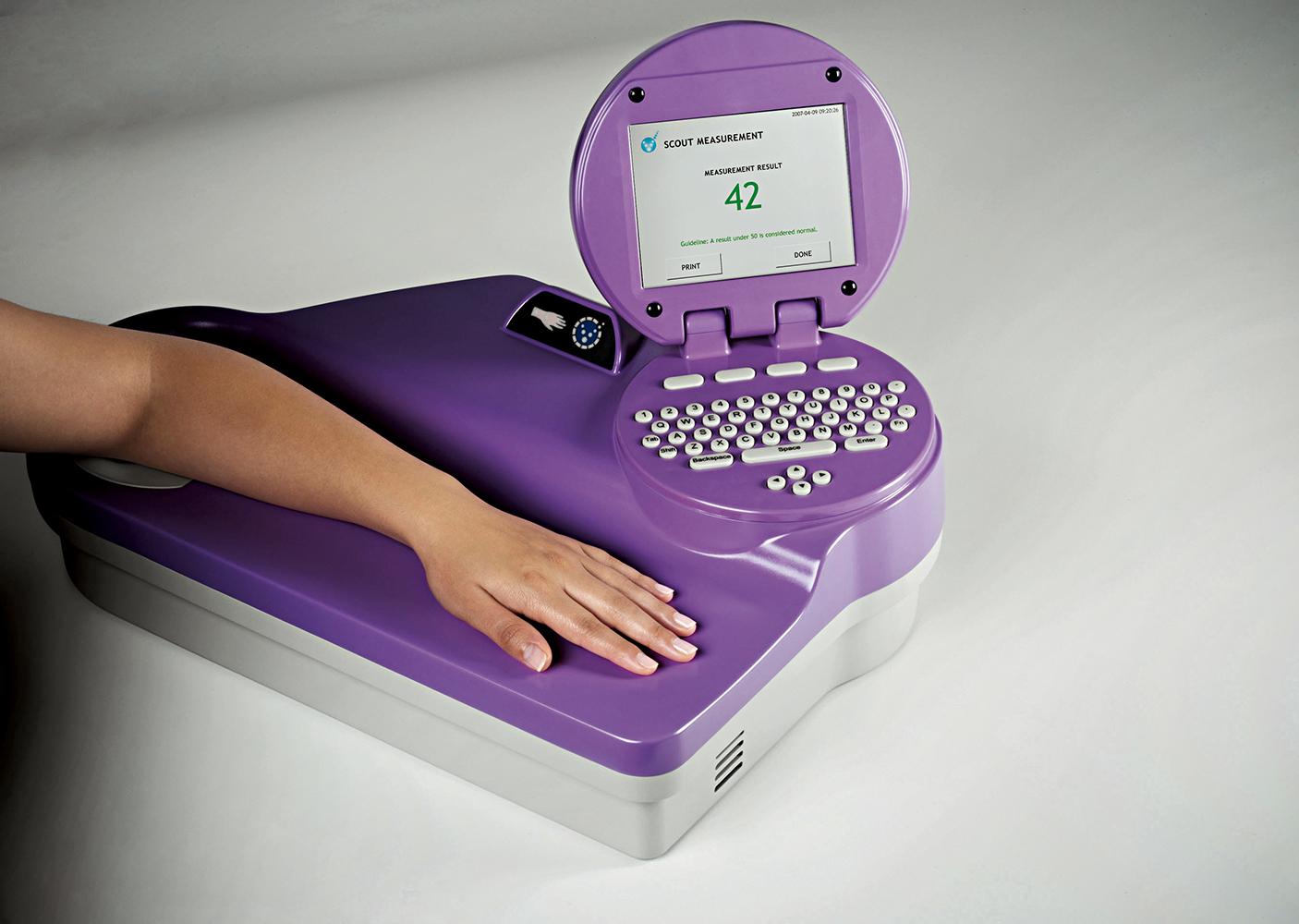 When Na­tion­al Journ­al asked me what I thought was the most prom­ising in­nov­a­tion in health care, I first tried to think, prob­ably like most people, of a new in­stru­ment or a hand­held device that might help doc­tors get us well quick­er or keep us in our homes longer as we age. But now, I sub­mit something dif­fer­ent: the in­creas­ing use of bio­mark­ers, usu­ally gene- or pro­tein-based com­pounds, to in­dic­ate the pres­ence or risk of dis­ease or to fight it on a more tar­geted basis — which means more cost-ef­fect­ively. These are big is­sues for an aging, over­weight pop­u­la­tion.
Bio­mark­ers are not new. Phys­i­cians already use hemo­globin A1c to meas­ure gluc­ose levels for dia­bet­ics and PSAs, or pro­state-spe­cif­ic an­ti­gens, a pro­tein that (some­what un­re­li­ably) sug­gests a risk of de­vel­op­ing pro­state can­cer. Oth­er mark­ers can be used to in­dic­ate wheth­er a dis­ease ex­ists, how the dis­ease will de­vel­op, or the prob­able ef­fect of a treat­ment. They may also mod­ern­ize drug de­vel­op­ment by help­ing to pre­dict what kind of pa­tients will be­ne­fit from new drug re­gi­mens, re­du­cing the time and money it takes for drugs to be tested and ap­proved.
The really prom­ising bio­mark­ers, however, are the ones that are still be­ing de­veloped — to treat can­cer, heart dis­ease, and po­ten­tially even neur­o­lo­gic­al dis­eases such as Alzheimer's.
We have prob­ably heard the most about how bio­mark­ers might help doc­tors de­tect can­cer earli­er and choose the best drug for a par­tic­u­lar pa­tient, ac­count­ing not only for the tu­mor type but also his or her own bio­mark­ers. The pres­ence or ab­sence of es­tro­gen re­cept­ors or HER-2/neu (hu­man epi­derm­al growth factor re­cept­or 2) as a guide to the ap­pro­pri­ate treat­ment of breast can­cer re­ceived a lot of at­ten­tion in re­cent years, but there are now bio­mark­ers for colorectal, gast­ric, blood, lymph­at­ic, lung, and skin can­cers as well.
Re­search­ers are also in­vest­ig­at­ing ways that bio­mark­ers can dia­gnose strokes, which would al­low for earli­er and less in­vas­ive treat­ment. Be­cause heart dis­ease (in­clud­ing strokes) and can­cers are the most com­mon causes of death in the United States, these ad­vances have great po­ten­tial.
Bio­mark­ers of­fer a lot of prom­ise, but po­ten­tial bar­ri­ers ex­ist. The data are com­plex and fre­quently re­quire new mod­el­ing to help us un­der­stand what they mean. But sci­ent­ists are mak­ing pro­gress us­ing enorm­ous data sets. Se­quen­cing the hu­man gen­ome was a $3 bil­lion pro­ject that took 10 years. New pro­jects aim to cost $1,000 per gen­ome. The IT re­quire­ments to pro­cess these data are also for­mid­able. What's more, dif­fer­ent com­puter sys­tems — between dif­fer­ent hos­pit­als, and some­times even those with­in a single hos­pit­al — can't talk to each oth­er. Even the De­fense De­part­ment and the Vet­er­ans Af­fairs De­part­ment, the two agen­cies with the most ad­vanced elec­tron­ic med­ic­al re­cords, can't yet share in­pa­tient data (al­though they can now share oth­er types of data). And, of course, re­search­ers — and the com­pan­ies that spon­sor them — of­ten have few in­cent­ives to share in­form­a­tion.
Fi­nally, for the coun­try to learn how to treat bet­ter and to spend smarter, pa­tients, prac­ti­tion­ers, and in­surers will have to ad­just their views about ap­pro­pri­ate treat­ment strategies: Ex­pens­ive, but fre­quently less in­vas­ive, ther­apies should be en­cour­aged (i.e., with low co-pays) for those who might ex­per­i­ence sig­ni­fic­ant clin­ic­al gains and should be dis­cour­aged (i.e., with high co-pays) for those with a low like­li­hood of clin­ic­al be­ne­fit. Get­ting agree­ment on the lat­ter will be tough for the United States — al­though it's com­mon­place for the rest of the world — even without good bio­mark­ers at hand. Good, cred­ible, ob­ject­ive data that sup­port these treat­ment de­cisions will be crit­ic­al. This is the func­tion of the newly cre­ated Pa­tient-Centered Out­comes Re­search In­sti­tute that was in­cluded in the Af­ford­able Care Act. In­creas­ing the fin­an­cial sup­port for this cen­ter would be es­pe­cially help­ful.
Gail R. Wi­lensky, Ph.D., is a seni­or fel­low at Pro­ject HOPE; a former ad­min­is­trat­or of HCFA, now CMS; and a former chair of the Medi­care Pay­ment Ad­vis­ory Com­mis­sion.