Add to Briefcase
Nov. 1, 2012, 10 a.m.
IN­TEREST GROUPS
Dane Linn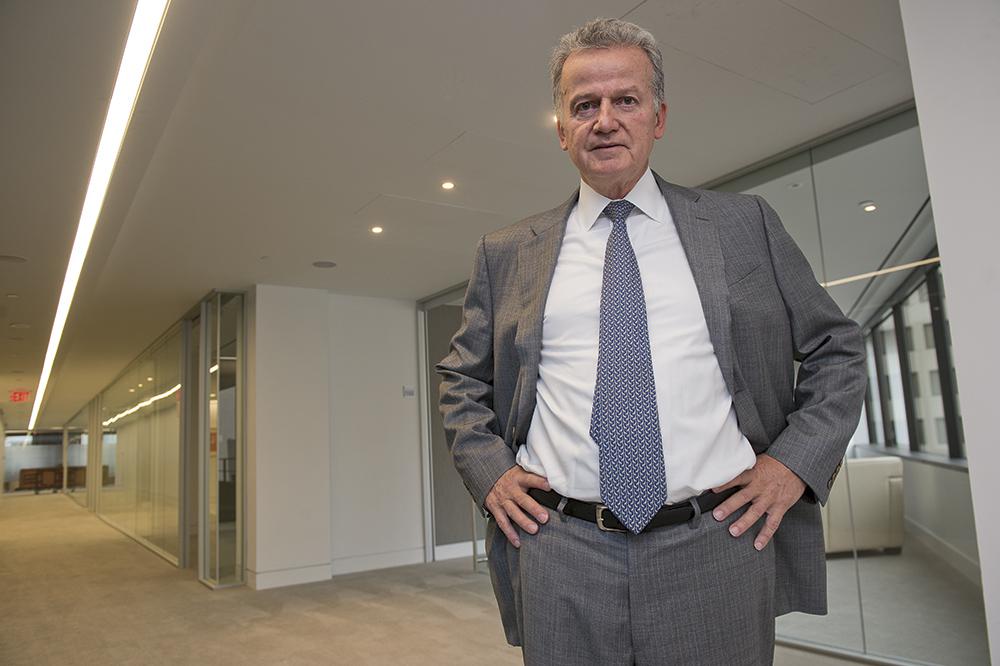 "In Wash­ing­ton, we have a lot of people work­ing on edu­ca­tion policy who have nev­er been in a classroom," says Dane Linn, re­cently named a vice pres­id­ent at the Busi­ness Roundtable. "I have al­ways thought that my ex­per­i­ences as a classroom teach­er "… gave me a sol­id ground­ing. And while I've been out of the classroom for a long time, I'm mar­ried to a middle-school teach­er in one of the most im­pov­er­ished dis­tricts in West Vir­gin­ia, a com­munity that has been im­pacted by ad­dic­tion to Oxy­Con­tin. She keeps it real for me every day."
At the Busi­ness Roundtable, Linn will fo­cus on how cor­por­ate ex­ec­ut­ives can fa­cil­it­ate the ad­op­tion of rich cur­ricula and in­struc­tion­al ma­ter­i­als in schools around the coun­try. The 51-year-old was most re­cently ex­ec­ut­ive dir­ect­or of state policy at the Col­lege Board.
A former prin­cip­al of Guyan Val­ley Ele­ment­ary School in Pinev­ille, W.Va., Linn has nev­er really left Ap­palachia. "My wife and I made a very con­scious de­cision 16 years ago that we would stay in the south­ern part of West Vir­gin­ia"…. I guess you could say I drank the wa­ter." He com­mutes home every week­end — a five-and-a-half-hour drive. Be­fore the Col­lege Board, Linn was dir­ect­or of the Edu­ca­tion Di­vi­sion of the Na­tion­al Gov­ernors As­so­ci­ation Cen­ter for Best Prac­tices for 15 years. Earli­er in his ca­reer, he was co­ordin­at­or of the West Vir­gin­ia Edu­ca­tion De­part­ment's Of­fice of Spe­cial Edu­ca­tion Pro­grams. Linn is cur­rently pur­su­ing a doc­tor­ate at Vir­gin­ia Poly­tech­nic In­sti­tute and State Uni­versity. He holds a bach­el­or's de­gree from Cab­rini Col­lege in Rad­nor, Pa., and a mas­ter's de­gree in edu­ca­tion ad­min­is­tra­tion from the West Vir­gin­ia Gradu­ate Col­lege.
Chris­toph­er Snow Hop­kins
CON­SULT­ING GAME
Mi­chael An­drews
Since 2008, Mi­chael An­drews's cli­ents have been un­der siege.
"Wheth­er it's [subprime] mort­gages or money-laun­der­ing al­leg­a­tions, in­vest­ment banks have to con­tend with a bunch of dif­fer­ent things at the same time," he says. "Right now, one of the biggest con­cerns has to do with Libor" — the Lon­don in­ter­b­ank offered rate — "a del­ic­ate, com­plex is­sue that re­quires a mul­ti­di­men­sion­al ex­am­in­a­tion." Earli­er this year, Barclays agreed to pay Brit­ish and Amer­ic­an reg­u­lat­ors $450 mil­lion to settle ac­cus­a­tions that it had ma­nip­u­lated the es­tim­ated cost of in­ter­b­ank lend­ing. A dozen oth­er banks are un­der in­vest­ig­a­tion.
Last month, An­drews joined Roberts, Ra­heb & Gradler as coun­sel. The boutique gov­ern­ment-af­fairs shop — led by Rick Roberts, a former com­mis­sion­er of the Se­cur­it­ies and Ex­change Com­mis­sion — as­sesses the trav­ails of its cli­ents on three axes: leg­al, polit­ic­al, and fin­an­cial. "If you lock in too much
in one part — if you just deal with the leg­al, for in­stance — you still have very sig­ni­fic­ant ex­pos­ure," An­drews says.
The is­sue of ar­ti­fi­cial in­ter­b­ank lend­ing rates has been mud­died by an in­fe­li­cit­ous phrase dat­ing back to the 1960s. "This is one of the awk­ward things about the his­tory of Libor," An­drews says. "Forty years ago, a spot price would be set for wheat in the morn­ing. This was called "˜fix­ing' the price. That lan­guage has per­sisted and got­ten the at­ten­tion of an­ti­trust au­thor­it­ies."
An­drews was born in Erie, Pa., on the east­ern shore of Lake Erie. His fath­er was a city-em­ployed auto mech­an­ic, and his moth­er man­aged a neigh­bor­hood gro­cery store. After study­ing lib­er­al arts at Pennsylvania State Uni­versity, An­drews en­rolled in law school at the Uni­versity of Toledo. "I like stay­ing north, in cold places," he says.
De­term­ined to re­main on Cap­it­ol Hill for no more than two years, An­drews signed on as an aide to then-Rep. Joseph Vig­orito, D-Pa., who chaired what is now the House Ag­ri­cul­ture Live­stock, Dairy, and Poultry Sub­com­mit­tee. "We had the luck — or mis­for­tune, some people would say — of draft­ing the Com­mod­ity Fu­tures Trad­ing Com­mis­sion Act," re­calls An­drews, mar­veling that such a mo­ment­ous task was en­trus­ted to staffers in their twen­ties. Sure enough, An­drews bolted to the private sec­tor after two years. "I have tre­mend­ous re­spect for [long-term] aides, but I felt I could only serve my mem­ber — in terms of cre­ativ­ity — for that long."
At law firm Win­ston & Strawn, An­drews's col­leagues taught him to strike a bal­ance between con­fid­ence and hu­mil­ity. "I learned a lot about how to deal with people and how not to deal with people," he says. "You should show re­spect and de­fer­ence but also strongly ar­tic­u­late your po­s­i­tion." Among his cli­ents were the Chica­go Mer­cant­ile Ex­change and the Kan­sas City Board of Trade.
After serving as chief of staff to Philip John­son, then-chair­man of the Com­mod­ity Fu­tures Trad­ing Com­mis­sion, An­drews was en­ticed to Sa­lomon Broth­ers, a cli­ent of Win­ston & Strawn's, with what he re­mem­bers as a "beau­ti­ful line." Sa­lomon Broth­ers had just ceased to be a part­ner­ship at that time, and the prom­ise of un­told riches per­meated the of­fice. "They told me, "˜Why don't you come work for us? We can pay you more, and it will cost us less.' "
Five years later, An­drews re­calls, he was flab­ber­gas­ted when a rogue trader sub­mit­ted false bids to cir­cum­vent a rule re­lated to the pur­chase of Treas­ury bonds. In the en­su­ing scan­dal, the CEO and chair­man were forced to resign. "That was prob­ably the most sear­ing ex­per­i­ence of my ca­reer," he says. "Lit­er­ally, in those first weeks and months, we wer­en't cer­tain that the firm would be in ex­ist­ence for much longer. We had to bor­row money every day in the repo mar­ket, and we wer­en't sure people would be will­ing to trade with us."
For much of the past dec­ade, An­drews has been vice pres­id­ent of in­ter­na­tion­al af­fairs
at Cit­ig­roup. The 63-year-old says he plays golf "badly."
C.S.H.
IM­AGE-MAKERS
Shanna Duncan
Re­port­ers and pub­lic-af­fairs pro­fes­sion­als have a sym­bi­ot­ic re­la­tion­ship. Wheth­er they like each oth­er is al­most be­side the point.
"With news­rooms slash­ing [staff], you have re­port­ers that are new to their beat or cov­er­ing sev­er­al beats at once," says Shanna Duncan, the new ex­ec­ut­ive vice pres­id­ent of Prism Pub­lic Af­fairs. "We fill in those gaps."
"PR people are giv­en a bad rap," she adds. "I think some journ­al­ists are afraid they're go­ing to be giv­ing up some of their in­teg­rity if they cross over"…. But we're com­mu­nic­at­ors, just like they are."
When Na­tion­al Journ­al caught up with Duncan last Fri­day, she was glued to her tele­vi­sion, mon­it­or­ing the ap­proach of Hur­ricane Sandy just ahead of Hal­loween. "I'm ob­sessed with this stuff"…. I don't know if it's bet­ter to know ahead of time that a storm is com­ing, or if it's bet­ter to just be sur­prised by it."
Earli­er this year, an­oth­er fit of at­mo­spher­ic in­di­ges­tion, a fast-mov­ing "derecho," forced Duncan and her fam­ily from their home in Al­ex­an­dria, Va. They spent sev­er­al nights in a hotel after los­ing power.
A nat­ive of Fort Worth, Texas, Duncan stud­ied com­mu­nic­a­tions at Texas Chris­ti­an Uni­versity be­fore com­ing to Wash­ing­ton for a job with the House post­mas­ter. At that time, her fath­er, Philip Duncan, was deputy chief of staff for House Speak­er Jim Wright, D-Texas. "I was just start­ing col­lege when Jim Wright be­came speak­er," she says. "My par­ents lit­er­ally dropped me off at school and moved to Wash­ing­ton."
Duncan's next stop was a Vi­enna, Va.-based pub­lic-re­la­tions firm, where one of her cli­ents was the Na­tion­al Or­gan­iz­a­tion for Rare Dis­orders. "I knew I had found my call­ing," she says. "Re­form­ing our health care sys­tem has been a con­sist­ent is­sue throughout my ca­reer."
Duncan, 44, has worked as a seni­or vice pres­id­ent at the Pre­vent Can­cer Found­a­tion and at Hyde Park Com­mu­nic­a­tions. She is colead­er of her 7-year-old daugh­ter's Brownie troop. "It's amaz­ing, but it's ac­tu­ally a little in­tim­id­at­ing — 7- and 8-year-old girls can be scary."
C.S.H.
IN­TEREST GROUPS
Jody Rabhan
Jody Rabhan didn't know if she'd be able to re­turn to the Na­tion­al Coun­cil of Jew­ish Wo­men when she left in 2002 to start a fam­ily. Ten years later, she is back at the coun­cil and fo­cus­ing on le­gis­lat­ive is­sues as deputy dir­ect­or of op­er­a­tions.
Rabhan, 43, main­tained her ties with the Jew­ish com­munity through con­sult­ing for non­profits, and she's ready for a full-time po­s­i­tion now that her sons, Dav­id and Miles, are 8 and 10. She re­turns in time for the elec­tion and the lame-duck ses­sion of Con­gress. While the so-called fisc­al cliff will be the is­sue on every­one's mind, Rabhan and the coun­cil hope that law­makers will also reau­thor­ize the Vi­ol­ence Against Wo­men Act dur­ing the lame duck.
"I think the tim­ing, pro­fes­sion­ally, just couldn't be bet­ter," Rabhan says of her new post. In her work as a con­tract­or for oth­er non­profits, she gained ex­per­i­ence in grant writ­ing and oth­er key areas. "The com­bin­a­tion of hav­ing that ex­per­i­ence and the in­sti­tu­tion­al know­ledge of hav­ing worked here pre­vi­ously is just ideal," she says, "par­tic­u­larly in a time like this where there may be a new ad­min­is­tra­tion."
Rabhan says that her par­ents vo­lun­teered reg­u­larly in their Rich­mond, Va., com­munity, and she was sim­il­arly "bit­ten by the bug" to help oth­ers. Re­li­gion be­came more im­port­ant in her life around the time she de­cided to start a fam­ily, she says. "I feel like it's more of the re­li­gion that in­forms what I do and is the driv­ing force be­hind my be­liefs and what I feel very strongly about."
It wasn't un­til after grad school that Rabhan made the con­nec­tion between her love for polit­ic­al sci­ence and her in­terest in Jew­ish stud­ies. Her in­tro­duc­tion to the Na­tion­al Coun­cil of Jew­ish Wo­men came through a fel­low­ship while study­ing at what is now the Dar­rell D. Fried­man In­sti­tute for a dual mas­ter's de­gree in so­cial work and Jew­ish com­mun­al ser­vice. She joined the Jew­ish Com­munity Re­la­tions Coun­cil as dir­ect­or of do­mest­ic policy after gradu­at­ing in 1995. A year later, she joined the Na­tion­al Coun­cil of Jew­ish Wo­men full time as a le­gis­lat­ive as­so­ci­ate and even­tu­ally was pro­moted to as­so­ci­ate dir­ect­or. "It's a place where pro­gress­ive people, not just wo­men, can come to­geth­er," she says. "It is the place go­ing for­ward for any­one who is con­nec­ted to their Juda­ism and cares about so­cioeco­nom­ic is­sues."
Bri­anna Mc­Clane
AROUND THE AGEN­CIES
Nuku Ofori
The new­est mem­ber of the State De­part­ment's le­gis­lat­ive-af­fairs of­fice lived in low-in­come hous­ing as a child in New York City. After his par­ents' di­vorce, Nuku Ofori moved with his moth­er and broth­er in­to sub­sid­ized hous­ing as she struggled to care for them on her salary. "We really had to make do with a lot less," he says. The liv­ing situ­ation las­ted for only a few years, but the ex­per­i­ence in­flu­enced Ofori's ca­reer path. "It wasn't des­ti­tu­tion, but it was def­in­itely a con­trast," he says. "In Long Is­land, you don't have to travel very far to see con­cen­tra­tions of poverty and su­per-con­cen­tra­tions of wealth."
His move from Cap­it­ol Hill to the State De­part­ment seems lo­gic­al to Ofori. "I saw the in­ter­con­nectiv­ity between do­mest­ic is­sues to is­sues that are abroad," he says. Now as the dir­ect­or of le­gis­lat­ive af­fairs fo­cus­ing on the House, Ofori looks for ways to tackle prob­lems fa­cing people around the world. For Ofori, that means re­cog­niz­ing, for in­stance, that "this sub­set of people in this coun­try is ex­per­i­en­cing this hard­ship" and then ask­ing, "What are oth­er people around the world ex­per­i­en­cing?" Ofori, 38, hopes to ex­am­ine wheth­er U.S. in­ter­na­tion­al ad­vocacy policies are help­ing or hurt­ing people abroad.
At Baylor Uni­versity, Ofori star­ted as a premed stu­dent be­fore he de­cided to pur­sue so­ci­ology and polit­ic­al sci­ence with the hope of one day work­ing on civil rights and ad­vocacy. He was ad­vised that a law de­gree should be his next goal after gradu­ation in 1996, so he headed to Temple Uni­versity's Beas­ley School of Law and then to the Na­tion­al Co­ali­tion for the Home­less, where he was a hous­ing-policy ana­lyst.
While at law school, Ofori first heard Rep. Chaka Fat­tah, D-Pa., speak. Af­ter­ward, the stu­dent sent the House mem­ber a let­ter and his résumé. A year later, in 2000, Ofori was sur­prised by a phone call from Fat­tah's then-chief of staff ask­ing if he still wanted to work for the law­maker. As Fat­tah's new le­gis­lat­ive as­sist­ant and cor­res­pond­ent, Ofori was the only one in the of­fice who answered con­stitu­ent mail. "At first it was a little daunt­ing be­cause there was a lot of mail to an­swer, but I've got to say, that really did ex­pose me to so many dif­fer­ent is­sues really quickly," he says. His 12 years with Fat­tah in­cluded two years as a le­gis­lat­ive as­sist­ant, one year as a seni­or policy ad­viser, and then his fi­nal po­s­i­tion as le­gis­lat­ive dir­ect­or. Ofori hopes that his ex­per­i­ence will in­form his li­ais­on work for the State De­part­ment, es­pe­cially de­term­in­ing which policies to pur­sue based on how mem­bers will re­spond.
B.M.
COR­POR­ATE WORLD
Ann Walk­er-Jen­kins
CVS Care­mark is more than the place you go when you run out of toi­let pa­per or have a cold. It's also a health care pro­vider, and that ex­plains why Ann Walk­er-Jen­kins left her post as as­sist­ant dir­ect­or of fed­er­al af­fairs for the Amer­ic­an Academy of Phys­i­cian As­sist­ants to be­come the com­pany's dir­ect­or of fed­er­al-gov­ern­ment af­fairs. "It's so much more than a phar­macy chain," she says.
Walk­er-Jen­kins, 33, says that mov­ing to the cor­por­ate world was an easy de­cision be­cause she be­lieves that CVS Care­mark is in a po­s­i­tion to help lower health care costs. One ex­ample is the com­pany's work to edu­cate con­sumers on med­ic­a­tion ad­her­ence. When pa­tients don't take their medi­cine as dir­ec­ted by a doc­tor, the sub­sequent ill­nesses cost the health care sys­tem $300 bil­lion an­nu­ally, she es­tim­ates.
A ca­reer in lob­by­ing was not the path Walk­er-Jen­kins en­vi­sioned when she left her ho­met­own of Lub­bock, Texas, for Ken­tucky's As­bury Uni­versity. Nu­tri­tion and health classes in­tro­duced the Eng­lish ma­jor to the field. "It opened my mind to the idea that there were ways to im­prove health that I didn't fully un­der­stand and wanted to un­der­stand more," she says. She made the move to D.C. after gradu­ation and joined the Na­tion­al Healthy Moth­ers, Healthy Ba­bies Co­ali­tion, where she put her Eng­lish back­ground to work writ­ing about health policy. "I found that be­ing able to quickly un­der­stand an is­sue, syn­thes­ize it, and write about it, was really, really help­ful," Walk­er-Jen­kins says. Her résumé in­cludes stints at the Amer­ic­an Academy of Phys­i­cian As­sist­ants and the As­so­ci­ation of Wo­men's Health, Ob­stet­ric and Neonat­al Nurses. That ex­per­i­ence with health care pro­viders trans­lates eas­ily in­to work­ing with phar­macists who of­fer coun­sel­ing and care at CVS, she says.
B.M.
This art­icle ap­peared in print as "People."