Time has been a friend to D.C. May­or Vin­cent Gray's reelec­tion hopes.
A new Wash­ing­ton Post poll shows the in­cum­bent may­or of the cap­it­al city on top of the crowded Demo­crat­ic field, with nearly double the per­cent­age of the closest chal­lenger.
A year ago, it looked like Gray was doomed if he were to seek reelec­tion. Voters didn't show con­fid­ence in the Dis­trict's fu­ture, nor were they con­fid­ent in the may­or's eth­ics fol­low­ing a 2010 cam­paign fin­ance scan­dal.
But now, the num­ber of voters that con­sider Gray hon­est and trust­worthy has gone up 10 per­cent­age points since the last poll in Ju­ly 2012, up to 32 per­cent. Still, 54 per­cent say he is un­trust­worthy. But the up­tick in pos­it­ive feel­ings is an im­prove­ment nev­er­the­less.
As is the num­ber of voters who think that D.C. is gen­er­ally go­ing in the right dir­ec­tion, polling at 59 per­cent. That num­ber in 2012 was at 40 per­cent. More than half the voters say Gray is do­ing an ex­cel­lent or good job at at­tract­ing new busi­ness to the Dis­trict, re­du­cing crime in the city, and im­prov­ing city ser­vices. However, only 38 per­cent of voters think the may­or is do­ing a good job at im­prov­ing pub­lic schools.
Still, the 2010 scan­dal is on the minds of 43 per­cent of voters, who say it will be a ma­jor factor at the bal­lot. That's a num­ber that the large field of can­did­ates might be able to work with dur­ing the April 1 primary.
The nearest chal­lenger is former Ad­ri­an Fenty con­fid­ante Mur­i­el Bow­ser, sit­ting at second place with 12 per­cent of the vote. The two ma­jor white can­did­ates for may­or are just be­hind the coun­cil­wo­man with 11 per­cent each: Coun­cil­men Jack Evans and Tommy Wells.
Twenty-three per­cent of voters either have no opin­ion or do not sup­port the field, and these people may be the voters who sway the elec­tion.
As for now, however, it does look like the Dis­trict's eco­nom­ic im­prove­ments and Gray's name re­cog­ni­tion might help the in­cum­bent win a second term, des­pite the scan­dal that once shook voters' con­fid­ence.
What We're Following See More »
STAFF PICKS
Bannon Still Collecting Royalties from 'Seinfeld'
44 minutes ago
WHY WE CARE
The Hollywood Reporter takes a look at a little-known intersection of politics and entertainment, in which Trump campaign CEO Steve Bannon is still raking in residuals from Seinfeld. Here's the digest version: When Seinfeld was in its infancy, Ted Turner was in the process of acquiring its production company, Castle Rock, but he was under-capitalized. Bannon's fledgling media company put up the remaining funds, and he agreed to "participation rights" instead of a fee. "Seinfeld has reaped more than $3 billion in its post-network afterlife through syndication deals." Meanwhile, Bannon is "still cashing checks from Seinfeld, and observers say he has made nearly 25 times more off the Castle Rock deal than he had anticipated."
IT'S ALL CLINTON
Reliable Poll Data Coming in RE: Debate #1
1 hours ago
WHY WE CARE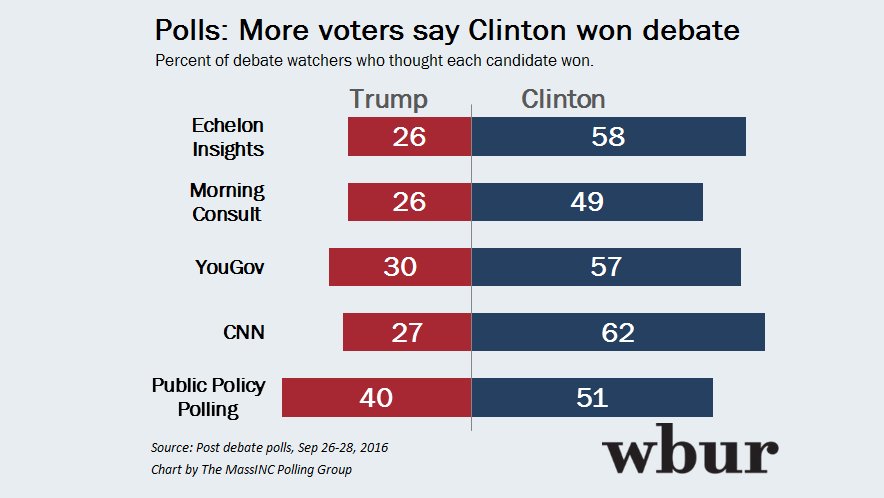 NEXT THURSDAY
Trump Transition Team Meeting with Silicon Valley VIPs
3 hours ago
THE DETAILS
Donald Trump's "transition team will meet next week with representatives of the tech industry, multiple sources confirmed, even as their candidate largely has been largely shunned by Silicon Valley. The meeting, scheduled for next Thursday at the offices of law and lobbying firm BakerHostetler, will include trade groups like the Information Technology Industry Council and the Internet Association that represent major Silicon Valley companies."
WHAT WILL PASS?
McConnell Doubts Criminal Justice Reform Can Pass This Year
3 hours ago
ALSO FIRED UNATTRACTIVE WAITRESSES
Trump Did Business with Cuba
4 hours ago
THE LATEST
Today in bad news for Donald Trump:
Newsweek found that a company he controlled did business with Cuba under Fidel Castro "despite strict American trade bans that made such undertakings illegal, according to interviews with former Trump executives, internal company records and court filings." In 1998, he spent at least $68,000 there, which was funneled through a consluting company "to make it appear legal."
The Los Angeles Times reports that at a golf club he owns in California, Trump ordered that unattractive female staff be fired and replaced with prettier women.