Add to Briefcase
Dec. 13, 2012, 11 a.m.
COR­POR­ATE WORLD
Jen­nifer Mul­veny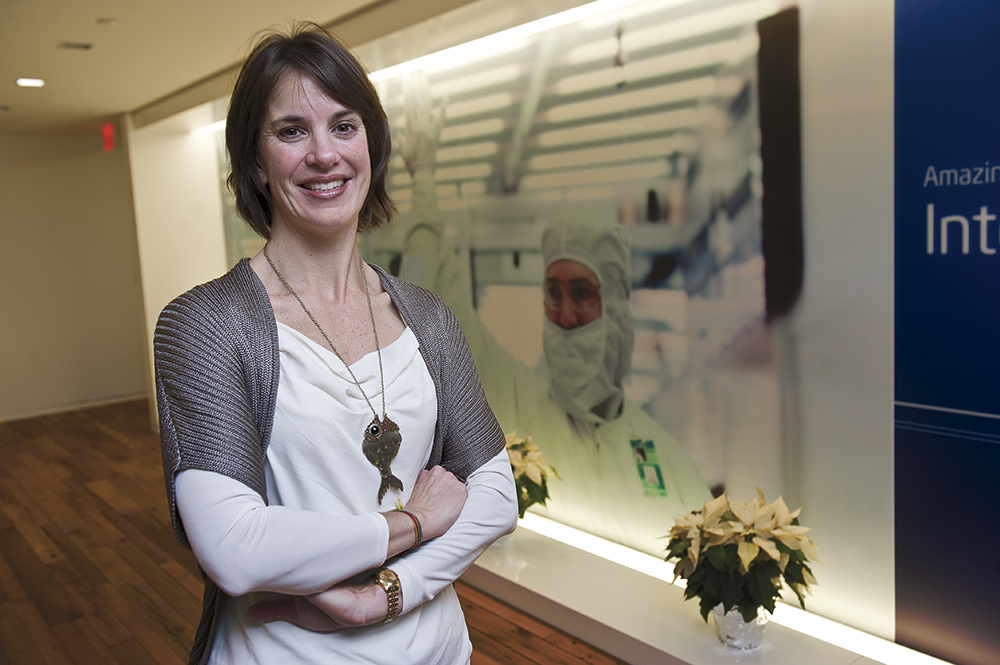 Jen­nifer Mul­veny had just fin­ished her ju­ni­or year of col­lege when she faced "one of the most dif­fi­cult de­cisions I would ever make." She had been offered an in­tern­ship with the late Sen. Wil­li­am Roth Jr., R-Del., but her friends had ren­ted a house in Dewey Beach, Del., for "one last hur­rah."
"I re­mem­ber the day, sit­ting there and think­ing, "˜I've really got to be re­spons­ible and get something else on my résumé be­sides wait­ing tables and life­guard­ing.' And it was, ab­so­lutely, without a doubt, one of the best de­cisions I ever made ca­reer-wise"…. It was a great spring­board."
Earli­er this month, Mul­veny joined In­tel's gov­ern­ment-re­la­tions of­fice as the chip man­u­fac­turer's primary li­ais­on to Sen­ate Re­pub­lic­ans. "My job is to help mem­bers of Con­gress keep pace with the com­put­ing sec­tor"…. There's a lot that we can do to help [law­makers] grasp the nu­ances of emer­ging tech­no­logy."
Mul­veny, 38, grew up in Dover, Del., and earned a bach­el­or's de­gree in Eng­lish and polit­ic­al sci­ence from the Uni­versity of North Car­o­lina (Chapel Hill). "I had thought by my seni­or year that I was just go­ing to be an Eng­lish ma­jor, but my coun­selor poin­ted out that I had taken so many polit­ic­al-sci­ence classes that I was one class away from a double ma­jor." After gradu­at­ing, Mul­veny par­layed her in­tern­ship with Roth in­to a staff po­s­i­tion on the House Ways and Means Trade Sub­com­mit­tee. After a brief hi­atus in the private sec­tor, she joined the George W. Bush ad­min­is­tra­tion as deputy as­sist­ant for con­gres­sion­al af­fairs in the Of­fice of the U.S. Trade Rep­res­ent­at­ive. Mul­veny was most re­cently Hew­lett-Pack­ard's dir­ect­or of glob­al trade policy.
Chris­toph­er Snow Hop­kins
CON­SULT­ING GAME
Rob Jes­mer
"I really, really, really don't like los­ing," says Rob Jes­mer, win­cing. "What drives me is not so much the de­sire to win, but the de­sire not to lose."
Polit­ics is a cruel vo­ca­tion, he adds. "When you win, you get too much cred­it. When you lose, you get too much blame. Those are just the rules of the game."
After more than a dec­ade in the trenches, the former ex­ec­ut­ive dir­ect­or of the Na­tion­al Re­pub­lic­an Sen­at­ori­al Com­mit­tee is leav­ing the bat­tle­field. Earli­er this month, Jes­mer was named a part­ner at FP1 Strategies, where he will build co­ali­tions, stim­u­late grass­roots activ­ity, and oth­er­wise en­gage in the "pub­lic-af­fairs side of le­gis­lat­ive fights" in the 113th Con­gress. He ex­pects to work closely with his former boss, Sen. John Cornyn, R-Texas.
Jes­mer, 39, grew up in St. Paul, Minn. His fath­er, a sales­man, held the same job for 35 years. "I'd had more jobs than him by the time I was 25 years old," he says.
In 1990, Jes­mer was a page in the Sen­ate, which stoked his in­terest in elec­tion­eer­ing. While study­ing at the Uni­versity of St. Thomas in St. Paul, he signed up for his first polit­ic­al cam­paign: former Min­nesota Com­merce Com­mis­sion­er Bert McK­asy's un­suc­cess­ful sen­at­ori­al bid in 1996. Two years later, he man­aged Peter Roskam's cam­paign to suc­ceed re­tir­ing Rep. Har­ris Fawell, R-Ill. (Roskam, now the Re­pub­lic­an rep­res­ent­at­ive from an ad­ja­cent dis­trict, lost the primary elec­tion to Rep. Judy Big­gert.) "Early on, I tried to get out of [polit­ics] a couple of times," Jes­mer says. "Back then I had this feel­ing that it wasn't a "˜real' job."
In the years that fol­lowed, Jes­mer man­aged cam­paigns in Geor­gia, Illinois, Mis­sis­sippi, and Ten­ness­ee. In 2002, he was hired as the Na­tion­al Re­pub­lic­an Con­gres­sion­al Com­mit­tee's na­tion­al field dir­ect­or, fol­lowed by a turn as chief of staff to Rep. Mike Ro­gers, R-Ala. In 2006, Jes­mer signed on as a re­gion­al polit­ic­al dir­ect­or with the Re­pub­lic­an Na­tion­al Com­mit­tee; two years later, he en­gin­eered Cornyn's suc­cess­ful reelec­tion cam­paign. Be­fore com­ing to FP1 Strategies, he spent the pre­vi­ous two elec­tion cycles as ex­ec­ut­ive dir­ect­or of the NR­SC.
C.S.H.
IN THE TANKS
Alan Mur­ray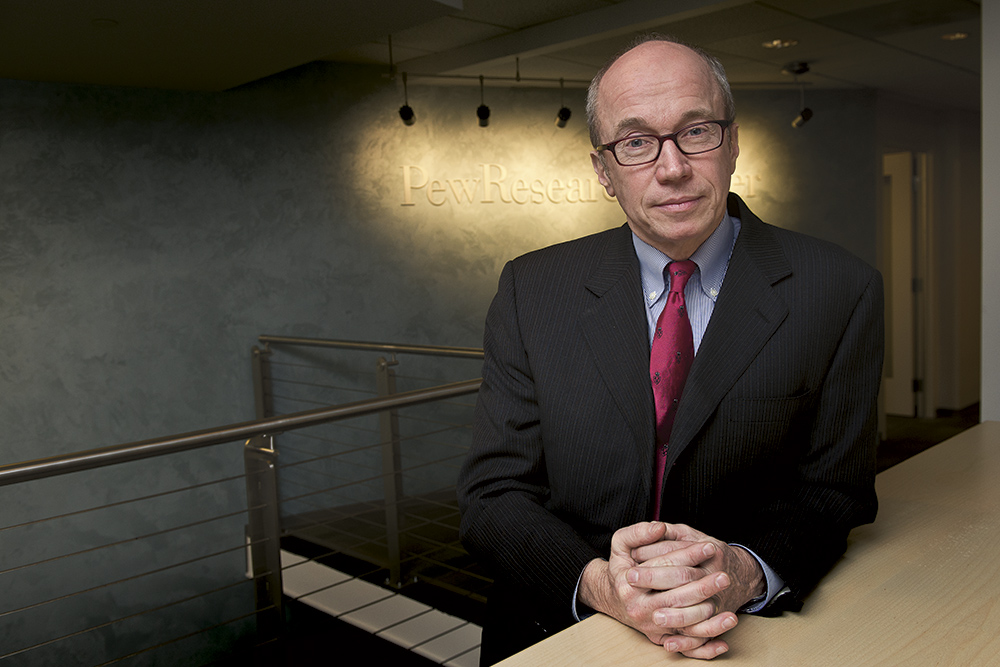 Since Alan Mur­ray came to Wash­ing­ton in the early 1980s, "a num­ber of trus­ted in­sti­tu­tions have lost their trust," he says. "Wash­ing­ton, the United States, and even the world is be­com­ing in­creas­ingly po­lar­ized."
As the new pres­id­ent of the Pew Re­search Cen­ter, Mur­ray will over­see what he calls "one of the few [or­gan­iz­a­tions] that has figured out how to nav­ig­ate that dif­fi­cult road while still provid­ing use­ful in­form­a­tion on many of the most con­tro­ver­sial top­ics of our times." The former deputy man­aging ed­it­or of The Wall Street Journ­al plans to broaden the cen­ter's foot­print in the realm of in­ter­na­tion­al af­fairs. "There are huge op­por­tun­it­ies for provid­ing glob­al in­form­a­tion where little else is avail­able," he says.
Mur­ray, 58, has been a news­pa­per­man for "longer than I care to re­mem­ber." At age 9, "I would walk up and down Out­look Drive in Pitt­s­burgh and take notes on what people were do­ing — where they were go­ing on va­ca­tion, the fact that the cat was lost, etc.," he says. "My moth­er would type them up, we'd mi­meo­graph them, and then I'd sell it for a nick­el. When we moved from Out­look Drive to [Lookout Moun­tain, Tenn.], the "˜Out­look Out­look' be­came the "˜Lookout Out­look.' "
Mur­ray went on to edit his high school news­pa­per and the Daily Tar Heel, the stu­dent news­pa­per at the Uni­versity of North Car­o­lina and, for many years, the only daily in Chapel Hill. After gradu­at­ing, he re­turned to Ten­ness­ee as a re­port­er for the Chat­tanooga Times, then owned by Ruth Holmberg, grand­daugh­ter of Ad­olph Ochs, pa­ter­fa­mili­as of The New York Times. (As Mur­ray points out, when Ochs bought The New York Times in 1896, he re­made it in the im­age of the Chat­tanooga Times. "No one at The New York Times would ever say this, but the Chat­tanooga Times is ac­tu­ally the par­ent com­pany of The New York Times.")
Mur­ray later re­ceived a mas­ter's de­gree from the Lon­don School of Eco­nom­ics, which was fol­lowed by a year­long fel­low­ship at the Eng­lish-lan­guage edi­tion of the Ni­hon Keizai Shim­bun in Tokyo. In 1983, he was re­cruited to The Wall Street Journ­al, where he would re­main for the bal­ance of his ca­reer. From 1993 to 2002, Mur­ray over­saw the news­pa­per's Wash­ing­ton bur­eau.
On Sept. 11, 2001, The Journ­al's headquar­ters at One World Fin­an­cial Cen­ter — across the street from the World Trade Cen­ter — was evac­u­ated, and Mur­ray put to­geth­er the next day's broad­sheet in the Wash­ing­ton bur­eau. He says that the en­su­ing "war on ter­ror" re­stored the primacy of his news­room. "Be­fore then, Wash­ing­ton was los­ing fa­vor. It was hard to get stor­ies on the front page; people just thought Wash­ing­ton was not par­tic­u­larly in­ter­est­ing"…. And then, sud­denly, Wash­ing­ton was the story. It was on the front page every day."
Mur­ray co­hos­ted CN­BC's Cap­it­al Re­port from 2002 to 2005, while con­tinu­ing to write a weekly column for The Journ­al. As the news­pa­per's deputy man­aging ed­it­or and ex­ec­ut­ive ed­it­or on­line, he has presided over a quad­rupling of Web traffic.
Asked about News Corp.'s ac­quis­i­tion of The Journ­al in 2007, Mur­ray says, "Rupert Mur­doch and Robert Thom­son saved The Wall Street Journ­al"…. From where I sat, they not only put re­sources in­to it but they also pushed for the di­git­al trans­form­a­tion"…. I shud­der to think what The Wall Street Journ­al would be today if it hadn't been for them."
C.S.H.
LOBBY SHOPS
Jac­ob Secor
Grow­ing up in the '50s on New York's Long Is­land when there still were farms around, Jake Secor de­veloped a pas­sion for ag­ri­cul­ture that led him to for­sake the North­east for the Mid­w­est later in life.
After gradu­at­ing from Bo­ston Uni­versity with a de­gree in busi­ness ad­min­is­tra­tion, Secor had a choice between Cor­nell Uni­versity and Iowa State Uni­versity for post­gradu­ate work. He chose the lat­ter and ended up get­ting mas­ter's and doc­tor­al de­grees in sci­ence at Iowa State with a fo­cus on crop pro­duc­tion and physiology.
While con­tinu­ing his postdoc­tor­al re­search in 1983 at the Uni­versity of Wis­con­sin's Ag­ro­nomy De­part­ment, Secor was dis­covered by Dow AgroS­ciences, a di­vi­sion of Dow Chem­ic­al, which hired him as a re­search sci­ent­ist. And so began a 29-year ca­reer with the com­pany in ag­ri­cul­tur­al re­search and pub­lic af­fairs that will end on Dec. 31 when Secor, 63, steps down after more than five years as dir­ect­or of fed­er­al re­la­tions in Wash­ing­ton.
"I have an op­por­tun­ity to re­tire now," he says, adding that he hopes to re­sume his ca­reer next year in some type of pub­lic ser­vice for ag­ri­cul­ture.
Secor spent 15 years on the sci­ence side of Dow Agro and moved every time the com­pany's headquar­ters re­lo­cated from Cali­for­nia to Michigan to In­di­ana. He trans­ferred to pub­lic af­fairs in 1998 as Dow AgroS­cience's lead­er of state-gov­ern­ment re­la­tions, then came to Wash­ing­ton in 2007 as dir­ect­or of fed­er­al-gov­ern­ment re­la­tions.
After be­ing knee-deep in the bit­ter par­tis­an battles of Con­gress for more than five years, Secor ad­mits to miss­ing the more cor­di­al re­la­tions with state law­makers. "Be­cause state le­gis­lat­ors are closer to their con­stitu­ents, they are more re­spons­ive," he says. "And be­cause many have little to no staff, they are more per­son­ally un­der­stand­ing of is­sues and the im­pact le­gis­la­tion will have on their con­stitu­ents."
Still, Secor isn't giv­ing up on the na­tion's cap­it­al, say­ing he plans to re­main here after leav­ing Dow to look for op­por­tun­it­ies in pub­lic ser­vice.
Mike Mag­n­er