Add to Briefcase
Jan. 17, 2013, 10 a.m.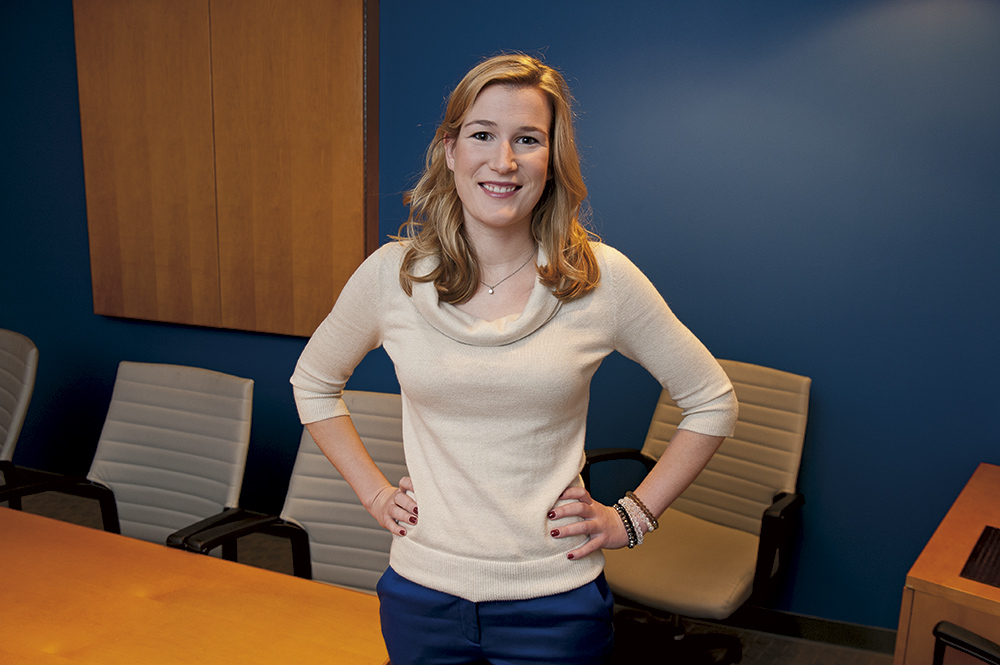 Twenty-five years ago, Tom Lynch im­per­son­ated his boss so that the lat­ter could woo the daugh­ter of a prom­in­ent cit­izen without his know­ing. He also deser­ted the king of Eng­land on the field of battle, prompt­ing the be­lea­guered sov­er­eign to call for the ex­e­cu­tion of Lynch's son and heir.
"That was a long time ago," Lynch says.
As an un­der­gradu­ate at James Madis­on Uni­versity, in Har­ris­on­burg, Va., Lynch helped cre­ate what would be­come the Amer­ic­an Shakespeare Com­pany and, in the pro­cess, played a num­ber of sy­co­phants and schem­ing po­tentates, such as Tranio in The Tam­ing of the Shrew and Lord Stan­ley in Richard III.
Last month, Lynch joined the lob­by­ing prac­tice of Ice Miller Strategies, where he will rep­res­ent cli­ents in trans­port­a­tion, de­fense, health care, fed­er­al ac­quis­i­tion and leas­ing, and oth­er sec­tors. He was most re­cently staff dir­ect­or for the Sen­ate En­vir­on­ment and Pub­lic Works Com­mit­tee's Trans­port­a­tion and In­fra­struc­ture Sub­com­mit­tee.
A nat­ive of Vi­enna, Va., Lynch blames his wonk­ish dis­pos­i­tion at least partly on The Wash­ing­ton Post. "I can re­mem­ber the front page when Pres­id­ent Re­agan was shot," he says. "I can re­mem­ber the front page when Pres­id­ent Carter won the No­bel Peace Prize. Those are things you grow up with."
Lynch, 46, also served as le­gis­lat­ive dir­ect­or for Rep. Nick Ra­hall, D-W.Va.
Chris­toph­er Snow Hop­kins
CON­SULT­ING GAME
Olivia Alair
As a seni­or at Geor­getown Uni­versity in 2005-06, Olivia Alair got the polit­ic­al bug dur­ing an in­tern­ship at the Demo­crat­ic Na­tion­al Com­mit­tee and came to ad­mire Sen. Joe Biden of Delaware, a party stal­wart who was chair­man of the For­eign Re­la­tions Com­mit­tee.
After gradu­ation, Alair landed a job in Biden's of­fice and ended up be­com­ing his deputy press sec­ret­ary in Iowa dur­ing his short-lived run for the 2008 Demo­crat­ic pres­id­en­tial nom­in­a­tion. When Biden dropped out shortly after a fifth-place fin­ish in the Iowa caucuses, Alair re­turned to his Wash­ing­ton of­fice, but by mid­sum­mer she was work­ing on Sen. Barack Obama's pres­id­en­tial cam­paign as a spokes­wo­man in the crit­ic­al state of Ohio. "It was ground zero and an ex­cit­ing place to be," Alair says.
After Biden was elec­ted vice pres­id­ent, Alair helped his ap­poin­ted suc­cessor get settled in the Sen­ate and then be­came deputy press sec­ret­ary and even­tu­ally press sec­ret­ary for Trans­port­a­tion Sec­ret­ary Ray La­Hood.
The 28-year-old nat­ive of West Hart­ford, Conn., helped La­Hood de­vel­op what is likely to be his leg­acy pro­ject: try­ing to stem the rising tide of ac­ci­dents caused by dis­trac­ted drivers.
"He saw some of the emer­ging in­form­a­tion on this is­sue "… and used the bully pul­pit to call at­ten­tion to it," Alair says. "He has saved in­nu­mer­able lives be­cause he's raised aware­ness of the is­sue." But there's still a long way to go. Alair says she now walks to work every day and counts the num­ber of drivers nav­ig­at­ing Dupont Circle with cell phones pressed against their ears.
Right after Thanks­giv­ing in 2011, Alair was asked to join the Obama cam­paign again, this time as press sec­ret­ary to the first lady. What fol­lowed was the most in­tense year of her life, trav­el­ing with Michelle Obama across the coun­try and hand­ling me­dia in­quir­ies by the thou­sands. "I had a front-row seat watch­ing his­tory," she says.
The ex­per­i­ence was ex­hil­ar­at­ing — and ex­haust­ing. "Sleep and cam­paigns are not com­pat­ible," she says. When it was over, Alair de­cided to "go dark" for two months to re­charge.
She re­sur­faced this month to start her new po­s­i­tion at SK­DKnick­er­bock­er as vice pres­id­ent in the con­sult­ing firm's pub­lic-af­fairs and crisis-com­mu­nic­a­tions prac­tice.
Mike Mag­n­er
IN THE TANKS
Ro­ger Scruton
With a don­nish as­pect and tweedy ward­robe, Ro­ger Scruton is an un­likely ad­di­tion to the Eth­ics and Pub­lic Policy Cen­ter's stable of seni­or fel­lows. But the Brit­ish the­or­ist and cul­tur­al ob­serv­er re­gards the Wash­ing­ton-based think tank — which takes as its mis­sion the ap­plic­a­tion of Judeo-Chris­ti­an mor­al­ity to pub­lic policy — as the ideal plat­form for a philo­soph­er-at-large.
"You could say that my pro­ject at the cen­ter is just be­ing me," he says, speak­ing on the phone from Eng­land. "I'm a freel­ance writer and thinker — be­ing at the cen­ter is a very good way of main­tain­ing that iden­tity."
Scruton will pon­der the im­plic­a­tions of neur­os­cience for the hu­man­it­ies at large. "In a way, neur­os­cience is con­fis­cat­ing the agenda and re­shap­ing it as something pseudos­cientif­ic," he says. "I've been quite con­cerned about this"…. Neur­os­cience is in­vad­ing people's con­cep­tion of leg­al re­spons­ib­il­ity. It's giv­ing a ready-made ex­cuse to crim­in­als, who can get off with a brain-scan de­fense"…. People do not fully un­der­stand the nat­ur­al forms of reas­on­ing with which we deal with hu­man pre­dic­a­ments."
Views such as these set Scruton apart from oth­er den­iz­ens of the think-tank mi­lieu, who tend to es­chew bold pro­nounce­ments. But Scruton is noth­ing if not pro­voc­at­ive, as was evid­ent dur­ing last year's donnybrook over Frank Gehry's con­tro­ver­sial design for the Dwight D. Eis­en­hower Me­mori­al, to be loc­ated op­pos­ite the Na­tion­al Air and Space Mu­seum. Even as the art es­tab­lish­ment ral­lied to the sup­port of the il­lus­tri­ous ar­chi­tect, the Brit cau­tioned against bom­bast, kitsch, and oth­er pit­falls of monu­ment-build­ing.
Scruton was born in Manchester, Eng­land, and re­ceived bach­el­or's, mas­ter's, and doc­tor­al de­grees from Cam­bridge Uni­versity. He has taught peri­od­ic­ally over the years — with ap­point­ments at Bo­ston Uni­versity, Prin­ceton Uni­versity, Ox­ford Uni­versity, and the Uni­versity of St. An­drews — but his main oc­cu­pa­tion has been writ­ing. He has pub­lished close to three dozen books.
Scruton, 68, was pre­vi­ously a vis­it­ing schol­ar at the Amer­ic­an En­ter­prise In­sti­tute. When not med­it­at­ing on ques­tions of aes­thet­ics and urb­an­ism, he hunts on horse­back in the man­ner of the Eng­lish gentry.
C.S.H.
AD­VIS­ORY GROUPS
James Hearn
Speak­ing the lan­guage of the fed­er­al budget can go a long way to­ward ad­van­cing a ca­reer in Wash­ing­ton. Just ask James Hearn, re­cently in­stalled at the Pub­lic Com­pany Ac­count­ing Over­sight Board, a non­profit set up by Con­gress in 2002 to over­see audits of pub­lic com­pan­ies and in­vest­ment brokers.
Hearn, 53, was hired as the board's "budget nerd," he says, after spend­ing 10 years with the Con­gres­sion­al Budget Of­fice and nearly 18 years on the Re­pub­lic­an staff of the Sen­ate Budget Com­mit­tee.
He grew up in Mary­land in Hy­att­s­ville and Belts­ville, and stud­ied pub­lic policy on both coasts be­fore re­turn­ing home to dive in­to the real work of gov­ern­ment fin­ance. He earned a bach­el­or's de­gree at Bo­ston Uni­versity and a mas­ter's at the Uni­versity of Cali­for­nia (Berke­ley), work­ing there for Aaron Wil­davsky, a pi­on­eer in the field of risk man­age­ment.
"I wanted to work in the pro­cess, as op­posed to study­ing it," he says, so Hearn joined some of his Berke­ley col­leagues who had gone to work at CBO in 1984, a dec­ade after its es­tab­lish­ment.
Ten years of pre­par­ing cost es­tim­ates for fed­er­al pro­grams led him to the Budget Com­mit­tee in Janu­ary 1995, when Sen. Pete Domen­ici, R-N.M., be­came chair­man. "The new ma­jor­ity gets to hire a bunch of people," Hearn says, "and they needed someone who spoke CBO."
One of his fond­est memor­ies, he says, is hud­dling with Domen­ici in his Cap­it­ol hide­away along with budget lead­ers from both cham­bers in 1997, ne­go­ti­at­ing a de­fi­cit-re­duc­tion meas­ure that turned in­to a re­con­cili­ation bill that formed the basis for the fed­er­al budget.
Hearn stayed on the Budget Com­mit­tee staff un­der three more GOP chairs and rank­ing mem­bers: then-Sens. Don Nickles of Ok­lahoma and Judd Gregg of New Hamp­shire, as well as the pan­el's cur­rent rank­ing mem­ber, Sen. Jeff Ses­sions of Alabama. Over Hearn's ten­ure, he moved from seni­or ana­lyst to deputy staff dir­ect­or to his last po­s­i­tion, dir­ect­or of fed­er­al pro­grams and budget pro­cess.
Al­though it's widely be­lieved that Con­gress has be­come much more par­tis­an in re­cent years, Hearn says his role on the com­mit­tee staff has mostly stayed the same. But he did feel it was time for a change. "I'd been there for 18 years," he says.
M.M.
COR­POR­ATE LIFE
Charlie Eye
In good times and bad, gov­ern­ment con­tract­ors al­most al­ways have job open­ings, and Charlie Eye knows how to fill them with just the right people.
Eye, 52, is the new vice pres­id­ent of gov­ern­ment solu­tions at Fu­turestep, a di­vi­sion of the Los Angeles-based re­cruit­ing gi­ant Korn/Ferry. Work­ing out of Fu­turestep's of­fice in Re­ston, Va., Eye helps gov­ern­ment agen­cies and con­tract­ors find work­ers to fill all types of po­s­i­tions, from the ex­ec­ut­ive level on down.
"A com­pany that wins a con­tract may need 100 en­gin­eers in 90 days," Eye says. "We can go out and find them."
Eye, who grew up in Loudoun County, Va., got in­to the re­cruit­ing field not long after gradu­at­ing from Vir­gin­ia Tech with a de­gree in mar­ket­ing. In 1994, he foun­ded his own con­sult­ing prac­tice, Em­ploy­er Ser­vices, which grew to more than 150 em­ploy­ees serving de­fense con­tract­ors in par­tic­u­lar, in­clud­ing Lock­heed Mar­tin, Northrop Grum­man, and BAE Sys­tems.
ESC was ac­quired by two dif­fer­ent com­pan­ies in 2007 and 2010, and Eye stayed on both times as de­vel­op­ment dir­ect­or. He moved in Novem­ber to Fu­turestep, which opened shop in 1998 and now has 850-plus em­ploy­ees.
"I have a pas­sion for the re­cruit­ing busi­ness," Eye says. "I feel like this is a good time for gov­ern­ment to look at firms like ours that are good at do­ing things smal­ler and faster."
M.M.
IN THE TANKS
Kath­er­ine Jett Hayes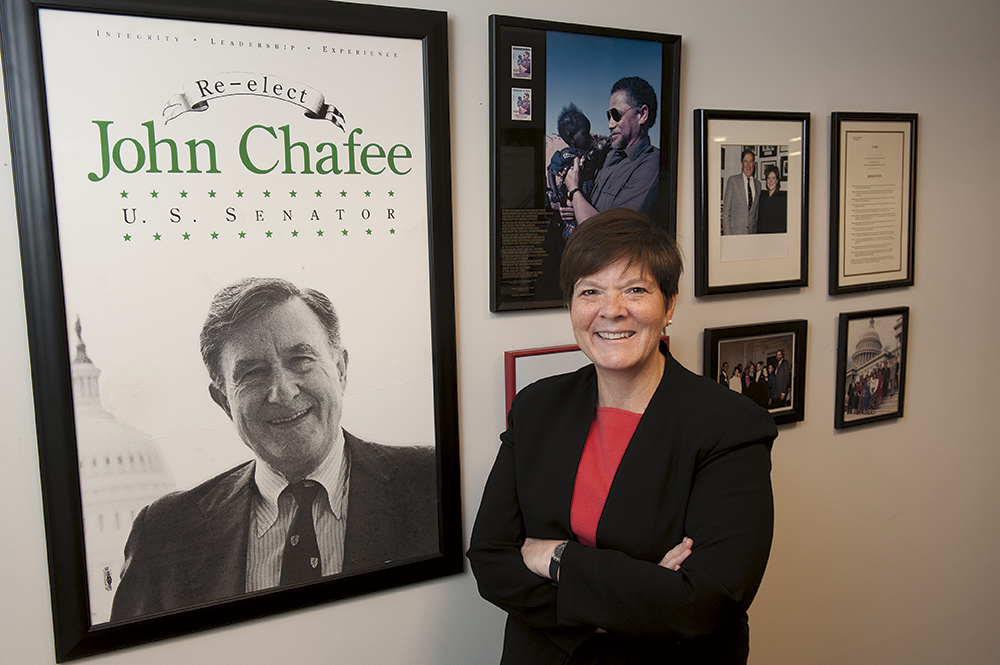 "I'm a little schizo­phren­ic," Kath­er­ine Jett Hayes con­cedes. "My fath­er is a staunch Re­pub­lic­an, but my moth­er comes from a lib­er­al, blue-col­lar back­ground. I've al­ways had a foot in each camp."
Since ar­riv­ing in Wash­ing­ton, Hayes has va­cil­lated between the Demo­crat­ic and Re­pub­lic­an parties to an ex­tent that is "pretty much un­heard of," she says. In 1988, when she was an un­paid in­tern for then-Rep. Car­diss Collins, D-Ill., she vo­lun­teered at night for Bob Dole's pres­id­en­tial cam­paign. And while she says she might "identi­fy more with Demo­crats in some in­stances," Hayes is mar­ried to a Re­pub­lic­an stal­wart — Mark Hayes, a former health policy ad­viser to Sen. Chuck Grass­ley, R-Iowa.
Earli­er this month, Hayes was named dir­ect­or of health policy at the Bi­par­tis­an Policy Cen­ter, a re­doubt of prag­mat­ism and a re­pos­it­ory of eld­er states­men (in­clud­ing six former Sen­ate ma­jor­ity lead­ers). In re­cent years, the cen­ter has re­sur­rec­ted the ideal of bi­par­tis­an­ship and demon­strated the ef­fic­acy of ex­tra-gov­ern­ment­al pub­lic-policy mills. "We don't spend much time work­ing on things be­cause we think they're nifty," says Jason Gru­met, the or­gan­iz­a­tion's pres­id­ent. "This dif­fer­en­ti­ates the tone of our ex­er­cise from more-aca­dem­ic in­sti­tu­tions."
In keep­ing with this philo­sophy, Hayes will com­pile a "list of op­tions" for deal­ing with what many re­gard as the single greatest threat to Amer­ic­an prosper­ity: soar­ing health care costs. "My aim is to strike a bal­ance between look­ing at some of the en­ti­tle­ment pro­grams "… while at the same time pro­tect­ing the most vul­ner­able pop­u­la­tions and mak­ing sure the pro­grams still func­tion as in­ten­ded," she says.
Hayes will work with Sheila Burke, a former chief of staff to Bob Dole, and Chris Jen­nings, a former spe­cial as­sist­ant to Pres­id­ent Clin­ton for health policy. "I worked with them in the '90s, so it's sort of like get­ting the band back to­geth­er."
Hayes, 51, was raised in Mid­land, N.C., which was little more than "a cross­roads with a flash­ing light." After ma­jor­ing in in­ter­na­tion­al stud­ies at the Uni­versity of North Car­o­lina, she re­turned to Mid­land briefly be­fore seek­ing a job in Char­lotte, the nearest city of any size.
"I had this dream of work­ing for North Car­o­lina Na­tion­al Bank [later Bank of Amer­ica]," she says. "When they told me I would have to move to the Miami of­fice, I said, "˜No prob­lem.'"… The guy looked at me across the desk and said, "˜Now, why would a little ol' thing like you want to move so far away from your mama and your daddy?' "
In­stead of join­ing the bank, Hayes took a job as a billing clerk in a nearby hos­pit­al, which was in the pro­cess of re­pla­cing Medi­care's cost-based re­im­burse­ment scheme with a pro­spect­ive pay­ment sys­tem. Al­though a "mere flunky," Hayes took it upon her­self to re­pro­gram the billing de­part­ment's soft­ware.
Some years later, she had es­tab­lished her­self in Wash­ing­ton as an aide to Rep. Mickey Le­land, D-Texas. When he died in a plane crash near the Ethiopia-Su­dan bor­der in 1989, Hayes ap­plied for a po­s­i­tion with a three-term sen­at­or from New Eng­land who seemed to em­body Le­land's "deep con­cern for the health care safety net, es­pe­cially as it [re­lated] to low-in­come in­di­vidu­als." He happened to be a Re­pub­lic­an.
"There's really not that much dif­fer­ence, policy-wise, between Demo­crats and mod­er­ate Re­pub­lic­ans," Hayes says. "Plus, [the late Sen. John Chafee of Rhode Is­land] didn't seem to mind that I used to work for a Demo­crat."
More re­cently, Hayes served as a health policy ad­viser to then-Sen. Evan Bayh, D-Ind., and as vice pres­id­ent for health policy at Jen­nings Policy Strategies. She ar­rives at the Bi­par­tis­an Policy Cen­ter from George Wash­ing­ton Uni­versity's School of Pub­lic Health and Health Ser­vices, where she was an as­so­ci­ate re­search pro­fess­or.
Hayes and her hus­band be­long to "Health Wonks Who Tri," a Face­book group of policy ex­perts who train for triath­lons. "A year ago, when I faced [the pro­spect of] turn­ing 50, I star­ted wor­ry­ing about chron­ic dis­eases. As a health wonk, I know what can be­fall you."
C.S.H.