AROUND THE AGEN­CIES
Brad Howard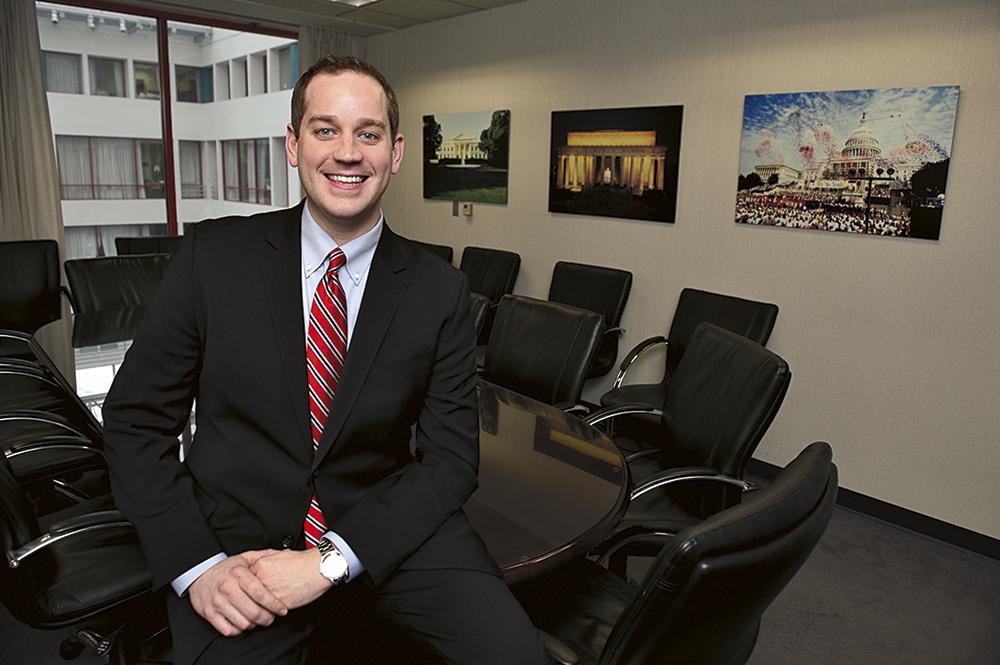 On Jan. 8, 2011, the day then-Rep. Gab­ri­elle Gif­fords, D-Ar­iz., was shot, Brad Howard was ski­ing in Vir­gin­ia. Still wear­ing his gear in a lodge at the top of the moun­tain, the young spokes­man for then-Rep. Mike Ross, D-Ark., co­chair­man of the House's Blue Dog Co­ali­tion, spent six hours field­ing calls from re­port­ers.
Last week, the 28-year-old was named pub­lic-af­fairs and me­dia man­ager for the Small Busi­ness Ad­min­is­tra­tion's Of­fice of Ad­vocacy. He leaves be­hind an in­sti­tu­tion that seems to va­cil­late between tor­por and bed­lam.
"Now that I've left Con­gress, I don't ex­pect hav­ing to do a state­ment fol­low­ing a 3 a.m. vote any­more," Howard says. "I don't an­ti­cip­ate deal­ing with break­ing news on my Black­Berry while on va­ca­tion — that's cer­tainly a plus."
Howard, who pos­sesses the ami­able but con­trolled man­ner of a pro­fes­sion­al com­mu­nic­at­or, is the son of small-busi­ness own­ers: His moth­er and fath­er have owned a car deal­er­ship in Fort Smith, Ark., since 1989.
After gradu­at­ing from Hendricks Col­lege in Con­way, Ark., he worked for a year at a pub­lic-re­la­tions firm in Little Rock and then came to Wash­ing­ton to earn a mas­ter's de­gree in pub­lic com­mu­nic­a­tions at Amer­ic­an Uni­versity. Three weeks be­fore Howard gradu­ated, a friend told him that Ross was look­ing for a com­mu­nic­a­tions dir­ect­or. He got the job.
Chris­toph­er Snow Hop­kins
IN THE TANKS
Nicole Gold­in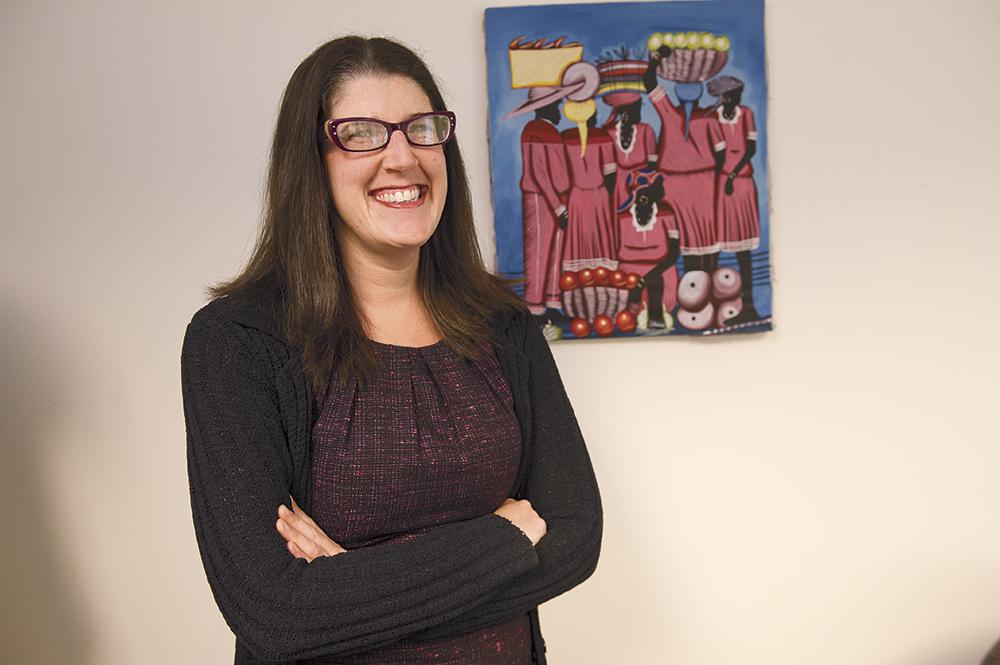 Af­fixed to Nicole Gold­in's di­git­al sig­na­ture is a quo­ta­tion from the early-19th-cen­tury French mor­al­ist Joseph Joubert: "Ask the young. They know everything."
This is a far cry from George Bern­ard Shaw's trenchant re­mark on the folly of youth ("Youth is wasted on the young"), but it en­cap­su­lates the ex­tent to which Gold­in be­lieves that glob­al de­vel­op­ment, prosper­ity, and se­cur­ity are de­pend­ent on young people.
Last month, Gold­in left the U.S. Agency for In­ter­na­tion­al De­vel­op­ment for the Cen­ter for Stra­tegic and In­ter­na­tion­al Stud­ies, where she will lead the Youth Prosper­ity and Se­cur­ity Ini­ti­at­ive, a col­lab­or­a­tion between CSIS and the Bal­timore-based In­ter­na­tion­al Youth Found­a­tion. The ini­ti­at­ive's sig­na­ture pro­ject is the Glob­al Youth Well-Be­ing In­dex, which scores the wel­fare of the young world­wide along a vari­ety of axes. "The goal is to com­pare the status of young people across coun­tries and look at ways to ac­cel­er­ate and ad­vance their well-be­ing, as well as to identi­fy gaps" in the rel­ev­ant schol­ar­ship, Gold­in says, adding that "youth" is a neb­u­lous concept, "a con­tex­tu­al or so­cial con­struct."
Raised on Long Is­land, N.Y., Gold­in con­siders her­self "a fourth-gen­er­a­tion Bronx girl." Of course, she cheers for the Bronx Bombers. "I'm a born-and-bred Yan­kees fan."
After fo­cus­ing on East Asi­an stud­ies, art, and Jew­ish his­tory at Uni­on Col­lege in Schenectady, N.Y., Gold­in came to Wash­ing­ton to earn a mas­ter's de­gree in in­ter­na­tion­al polit­ic­al eco­nomy from Amer­ic­an Uni­versity. She then worked briefly at the In­ter­na­tion­al Found­a­tion for Elect­or­al Sys­tems and Che­mon­ics In­ter­na­tion­al be­fore en­rolling at the Lon­don School of Eco­nom­ics. "I've al­ways had a mul­ti­cul­tur­al, in­ter­na­tion­al-travel bug," Gold­in says. "In high school, I was a People to People stu­dent am­bas­sad­or."
She also ob­tained a doc­tor­ate in eco­nom­ics from the Uni­versity of Lon­don's School of Ori­ent­al and Afric­an Stud­ies. The long-win­ded title of her dis­ser­ta­tion: "Un­cov­er­ing the Dy­nam­ics Between Large and Small En­ter­prises in Em­ploy­ment Gen­er­a­tion and Firm Sus­tain­ab­il­ity: Evid­ence From Mozam­bi­que."
In the years since, Gold­in has worked as a seni­or ad­viser at both the State De­part­ment and USAID. She is cur­rently an ad­junct pro­fess­or at George Wash­ing­ton Uni­versity's El­li­ott School of In­ter­na­tion­al Af­fairs — a source of amuse­ment for Gold­in and her former gradu­ate-school su­per­visor. Sit­ting down with him last week, she joked, "Can you be­lieve they let me back in­to the classroom? They gave me 20 bright young minds."
The 40-year-old can be found zip­ping down the slopes, al­though she can't seem to de­cide on a con­vey­ance. "I was avid ski­er, then an avid snow­boarder, and now I'm back to be­ing an avid ski­er."
C.S.H.
CON­SULT­ING GAME
Mi­chael Moschella
Mi­chael Moschella, a Demo­crat­ic op­er­at­ive for much of the past dec­ade, re­cently dis­avowed our bi­furc­ated polit­ic­al sys­tem.
On Jan. 28, Moschella resigned from the Tru­man Na­tion­al Se­cur­ity Pro­ject, which teaches Demo­crat­ic of­fice­hold­ers how to cam­paign more ef­fect­ively on for­eign policy is­sues, and an­nounced that he had ac­cep­ted a job at Na­tion­Build­er, a non­par­tis­an con­sult­ing firm in Los Angeles. His transcon­tin­ent­al jour­ney is a re­buke to the "tun­nel vis­ion" that af­flicts the Wash­ing­ton polit­ic­al class, he says.
"I've worked in both par­tis­an and non­par­tis­an ef­forts," Moschella says. "I've man­aged cam­paigns, fought in the trenches, and also helped run 501(c)(3) or­gan­iz­a­tions"…. And the real­ity is, change in this coun­try is not go­ing to come just from one seg­ment of so­ci­ety but a whole bunch of them to­geth­er. We tend to think, "˜Who­ever con­trols Con­gress con­trols the coun­try.' But that's not true. Who­ever con­trols Con­gress con­trols a part of how this coun­try is run, but there's an en­tire so­ci­ety that does not run in a par­tis­an way. Wheth­er you're a Re­pub­lic­an, a Demo­crat, or a mem­ber of the Green Party, you can have a good idea."
Moschella's re­jec­tion of party polit­ics is note­worthy, giv­en his ped­i­gree. He has man­aged a dozen loc­al, con­gres­sion­al, and gubernat­ori­al cam­paigns — and be­friended Demo­crat­ic man­dar­ins such as newly re­tired Sec­ret­ary of State Hil­lary Rod­ham Clin­ton and former Labor Sec­ret­ary Robert Reich.
"I'm a pro­gress­ive guy," he con­cedes. "If you look at my bio, that's pretty ob­vi­ous"…. But bring­ing folks to­geth­er — whatever their party — cre­ates the very so­ci­ety that a lot of pro­gress­ive folks have en­vi­sioned." Na­tion­Build­er, which har­nesses so­cial me­dia to stim­u­late polit­ic­al activ­ity, "jives with my own sense about how so­ci­ety should be run and gov­erned," he says. The firm ac­cepts cli­ents of any polit­ic­al per­sua­sion.
Moschella, 32, grew up in Bo­ston and at­ten­ded Cor­nell Uni­versity. A few days after ar­riv­ing on cam­pus, he picked up a pamph­let de­rid­ing the uni­versity's cul­tur­al houses, dorm­it­or­ies that em­phas­ized a par­tic­u­lar eth­ni­city or cul­ture.
"That was very dis­tress­ing to me," he says, "and I think that's what mo­tiv­ated me to get polit­ic­ally act­ive on cam­pus. From there, it spiraled. I nev­er went to class, so I only had one oth­er op­tion: polit­ics. I didn't ac­tu­ally learn any­thing ex­cept for polit­ic­al or­gan­iz­ing."
Over the next six years, Moschella en­gin­eered a suc­ces­sion of polit­ic­al cam­paigns up and down the East Coast. After work­ing on Clin­ton's first sen­at­ori­al cam­paign, he helped then-Rep. Maurice Hinchey, D-N.Y., sur­vive a close race after switch­ing dis­tricts. Dur­ing that same cycle, Moschella over­saw the abort­ive gubernat­ori­al cam­paign of Reich, who lost to then-Mas­sachu­setts state Treas­urer Shan­non O'Bri­en in the Demo­crat­ic primary.
In 2006, Moschella was de­ployed to Flor­ida by the Demo­crat­ic Con­gres­sion­al Cam­paign Com­mit­tee to man­age a cam­paign on be­half of in­vest­ment banker Tim Ma­honey. "At the time, he was run­ning in a race that seemed im­possible," Moschella says. His op­pon­ent: a six-term in­cum­bent named Mark Fo­ley. Two months be­fore the elec­tion, news broke that Fo­ley had sent lewd e-mails and text mes­sages to con­gres­sion­al pages. The law­maker resigned the next day, and Ma­honey nar­rowly beat the new Re­pub­lic­an on the tick­et.
In 2008, after a dec­ade of politick­ing, Moschella joined the Tru­man Na­tion­al Se­cur­ity Pro­ject. "I was kind of tired," he says.
As for an­cil­lary in­terests, "I like to joke that there's only two things I do: polit­ics and sports. Bo­sto­ni­ans have three pas­sions: pro­gress­ive polit­ics, the Cath­ol­ic Church, and sports. And I ful­fill the ste­reo­type"…. I in­tend to take a large amount of Celt­ics paraphernalia to Los Angeles."
C.S.H.
CON­SULT­ING GAME
McK­ie Camp­bell
The moun­tains of Alaska no doubt still call out to McK­ie Camp­bell, but he will need to turn a deaf ear for a while as he settles in­to a new job as a part­ner at the Wash­ing­ton con­sult­ing firm Blue­Wa­ter Strategies.
Camp­bell, 62, re­cently ended a five-year stint as Re­pub­lic­an staff dir­ect­or for the Sen­ate En­ergy and Nat­ur­al Re­sources Com­mit­tee un­der the pan­el's rank­ing mem­ber, Sen. Lisa Murkowski, R-Alaska. Murkowski had re­cruited him to the post in 2008, after he had spent nearly three dec­ades work­ing in Alaska.
Camp­bell, a Wash­ing­ton nat­ive, gradu­ated from Mari­etta Col­lege and spent sev­en years in law en­force­ment in Ohio be­fore his fath­er lured him north in 1979. Then an aide to Alaska Gov. Jay Ham­mond, fath­er told son: "You really need to come out here — it's your kind of place," Camp­bell said.
"I en­joy the out­doors," he says. "I love the moun­tains, and in south­east Alaska, that's all there is — moun­tains."
His first job was with the Di­vi­sion of Com­munity and Re­gion­al Af­fairs at the Alaska Com­merce De­part­ment, and then he spent nine years work­ing for state Sen. Arliss Stur­gulewski, who was twice de­feated as the Re­pub­lic­an nom­in­ee for Alaska gov­ernor.
Camp­bell will keep his fo­cus on en­ergy and nat­ur­al re­sources at Blue­Wa­ter, foun­ded in 2002 by An­drew Lun­dquist, a top en­ergy ad­viser to former Pres­id­ent George W. Bush.
"I was not look­ing to make a change," Camp­bell says. "I had a great boss and a great staff. I loved all the is­sues we were work­ing on. And the com­mit­tee is on the cusp of do­ing great things.
"But I'd known these guys a long time and felt it was an op­por­tun­ity that wouldn't come along again."
Mike Mag­n­er
IN THEN TANKS
Steve Odland, Carl Cam­den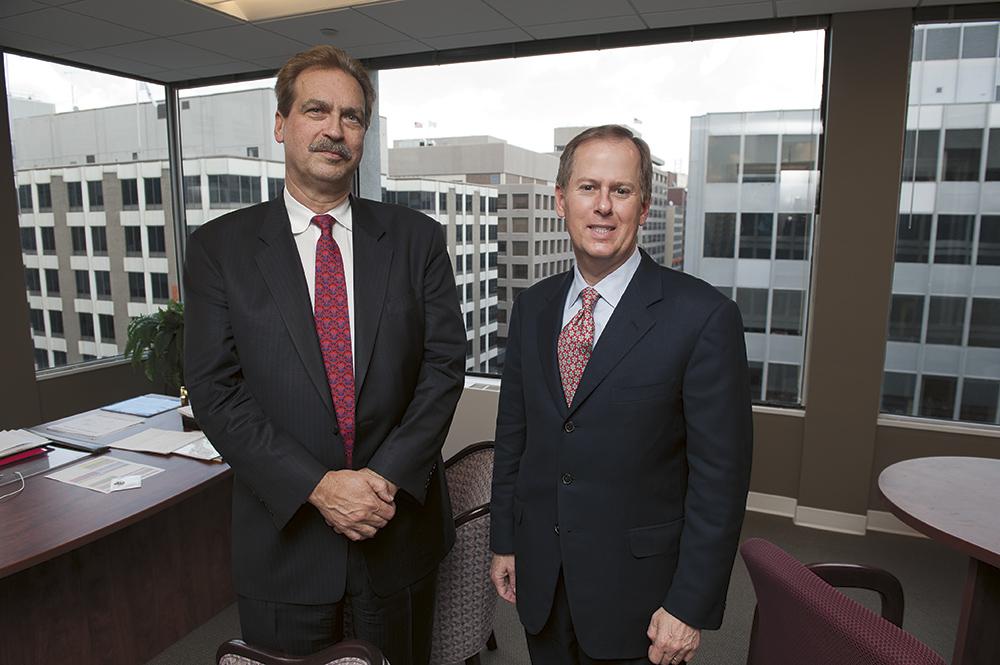 New lead­er­ship has taken hold at the Com­mit­tee for Eco­nom­ic De­vel­op­ment, a 70-year-old think tank fo­cused on eco­nom­ic and so­cial is­sues. The changes come at a time when Wash­ing­ton seems to badly need a dose of the non­par­tis­an group's brand of long-range policy re­search.
Steve Odland, 54, a top ex­ec­ut­ive in the cor­por­ate world for nearly three dec­ades, is the group's new pres­id­ent and CEO, mov­ing to Wash­ing­ton from Boca Raton, Fla., where he was most re­cently on the fac­ulty of the Gradu­ate School of Busi­ness at Lynn Uni­versity.
And Carl Cam­den, 58, pres­id­ent and CEO of Kelly Ser­vices, joins TIAA-CREF Pres­id­ent and CEO Ro­ger Fer­guson Jr. as co­chair­man of the think tank, whose pub­lic-policy re­search is guided by about 200 busi­ness and aca­dem­ic lead­ers from across the coun­try.
Odland, a former chief ex­ec­ut­ive of­ficer at Of­fice De­pot, Auto­Zone, and Tops Mar­kets, is ec­stat­ic about his new po­s­i­tion.
"I love what we're do­ing. I love the mis­sion, I love our his­tory, and I love the fact that we're not a lob­by­ing or­gan­iz­a­tion," he says. "In this day and age when you've got people on the left and the right, choos­ing sides, we call 'em as we see 'em. We try to come up with policy re­com­mend­a­tions that are good for the whole coun­try."
Cam­den, based in Troy, Mich., but a fre­quent fli­er to Wash­ing­ton, echoed the sen­ti­ment when asked about the dif­fi­culties break­ing through the cap­it­al's par­tis­an grid­lock, par­tic­u­larly on fisc­al is­sues.
"It's ugly and it's hard," he says. "But a big part of what CED is do­ing is look­ing for the longer-term out­comes you're try­ing to get to, rather than fo­cus­ing on the short-term pain points"…. The is­sue in this de­bate is to make cer­tain that some­body's talk­ing about not what we are go­ing to do in the next three weeks or the next three months or even the next three years, but what are we go­ing to do for the next two to three dec­ades to get this coun­try in a po­s­i­tion of sta­bil­ity?"
The na­tion's fin­an­cial health and edu­ca­tion­al pro­grams are among the or­gan­iz­a­tion's core is­sues, and both Odland and Cam­den bring a wealth of real-world ex­per­i­ence to its L Street of­fices.
Odland grew up in Col­or­ado, gradu­ated from the Uni­versity of Notre Dame, and im­me­di­ately landed in big busi­ness, first as an ex­ec­ut­ive at Sara Lee and Quaker Oats, then in the top slots at three ma­jor com­pan­ies.
Cam­den is a self-de­scribed "Air Force brat" who was born in Delaware and went to high school in New Hamp­shire, then settled in Ohio after earn­ing a doc­tor­ate in com­mu­nic­a­tions from Ohio State Uni­versity. As a pro­fess­or at Clev­e­land State Uni­versity, he and his fu­ture wife star­ted a mar­ket­ing com­pany called the North Coast Be­ha­vi­or­al Re­search Group, which they later sold. After some time in ad­vert­ising and bank­ing, Cam­den moved to Kelly Ser­vices in 1995, be­com­ing pres­id­ent in 2001 and CEO in 2006.
M.M.
IN THE TANKS
Elaine Kamar­ck
The cap­it­al's ap­pet­ite for re­form is cyc­lic­al.
"The is­sue comes and goes," says Elaine Kamar­ck, who was re­cently named dir­ect­or of the Man­age­ment and Lead­er­ship Ini­ti­at­ive, a new pro­ject of the Brook­ings In­sti­tu­tion's Gov­ernance Stud­ies pro­gram. "Gov­ern­ment re­form was ob­vi­ously very big dur­ing the Clin­ton years, but then we had a dec­ade of war and re­ces­sion. Now we are back at a point where a lot of people are in­ter­ested in how the gov­ern­ment per­forms and how we can get our fisc­al house in or­der."
The Brook­ings ini­ti­at­ive will re­view de­cision-mak­ing in the ex­ec­ut­ive and le­gis­lat­ive branches, Kamar­ck says, spe­cific­ally "how high-level lead­ers use data and net­works."
The 62-year-old grew up in up­state New York but went to high school in Bal­timore. Her fath­er, who worked for the So­cial Se­cur­ity Ad­min­is­tra­tion, "wrote train­ing manu­als for Medi­care," she re­calls. "In or­der to make sure that he was writ­ing them clearly enough, he tested them out on me. When I was 14, I knew how to cal­cu­late Medi­care be­ne­fits. I'm quite sure I was the only 14-year-old in the coun­try who could do that."
After gradu­at­ing from Bryn Mawr Col­lege, Kamar­ck earned a doc­tor­ate at the Uni­versity of Cali­for­nia (Berke­ley), where she wrote her dis­ser­ta­tion on the pres­id­en­tial-nom­in­at­ing pro­cess. (She later ex­pan­ded her thes­is in­to a book, Primary Polit­ics, pub­lished in 2009 by Brook­ings In­sti­tu­tion Press.) After that, Kamar­ck joined the Demo­crat­ic Na­tion­al Com­mit­tee as an ex­pert in the rules gov­ern­ing primary elec­tions. Asked about the value of a doc­tor­ate in the polit­ic­al arena, she says, "A Ph.D. gives you dis­cip­line; it gives you a dis­cip­lined way to look at the world."
After serving in the Clin­ton White House — where she launched the Na­tion­al Per­form­ance Re­view, a six-month audit of the fed­er­al gov­ern­ment — Kamar­ck reentered aca­demia as a lec­turer in pub­lic policy at Har­vard Uni­versity's John F. Kennedy School of Gov­ern­ment. She has been a fac­ulty mem­ber there for 15 years.
C.S.H.