Much of Amer­ica prays Dan Boren is wrong. Par­ents wor­ried about the threat of gun vi­ol­ence cer­tainly hope he is. So do the roughly 11 mil­lion people who im­mig­rated to Amer­ica il­leg­ally and the de­fi­cit hawks who de­mand a grand budget bar­gain.
These men and wo­men are de­pend­ing on Wash­ing­ton, Re­pub­lic­ans and Demo­crats, to come to­geth­er and reach an agree­ment on the na­tion­al agenda: gun vi­ol­ence, im­mig­ra­tion, and the budget. But Boren, a re­tired House mem­ber from Ok­lahoma, doubts they'll end up sat­is­fied. It's why he left Cap­it­ol Hill last year.
"I just thought I could bet­ter spend my time," said the 39-year-old Boren, who is now do­ing work for the Chick­as­aw Na­tion. "I didn't see in the near term any chance for sig­ni­fic­ant bi­par­tis­an le­gis­la­tion. If you're go­ing to sac­ri­fice to be a pub­lic ser­vant, you want to have some tan­gible res­ults that you're in­volved in; but if it's just to have a title, I wasn't in­ter­ested in that."
The four-term rep­res­ent­at­ive had a bet­ter view than most of the dif­fi­culty of find­ing middle ground in Wash­ing­ton. This past year, ac­cord­ing to Na­tion­al Journ­al's 2012 con­gres­sion­al vote rat­ings, the cent­rist Demo­crat was the most con­ser­vat­ive mem­ber of his con­fer­ence. He rated even more con­ser­vat­ive than a hand­ful of Re­pub­lic­ans­ — one of the few mem­bers of either party to cross ideo­lo­gic­al lines. "I'm a hope­ful per­son. I'm not bit­ter. I think that Amer­ica's best days are yet to come," Boren said. "But I can say that the reas­on I had left was be­cause I didn't see it get­ting much bet­ter."
The former law­maker might be right: Pre­dic­tions of con­tin­ued po­lar­iz­a­tion have been a safe bet in Wash­ing­ton for more than a dec­ade. Such a wager would have been dead on for 2012. NJ's an­nu­al vote rat­ings found that his­tor­ic par­tis­an­ship once again gripped Con­gress. For the third year in a row, no Re­pub­lic­an mem­ber of the Sen­ate had a more lib­er­al vot­ing re­cord than any Demo­crat — just as no Demo­crat­ic sen­at­or had a more con­ser­vat­ive re­cord than any Re­pub­lic­an. What was once a mile­stone in the on­go­ing march of polit­ic­al po­lar­iz­a­tion — the ab­sence of ideo­lo­gic­al cros­sov­ers in Na­tion­al Journ­al's rank­ings happened for only the second time ever in 2010 — is now nearly as un­re­mark­able in the Sen­ate as nam­ing a post of­fice.
The House was barely more het­ero­gen­eous. Only 10 Demo­crats re­gistered a more con­ser­vat­ive score than the most lib­er­al Re­pub­lic­an; only five Re­pub­lic­ans were more lib­er­al than the most con­ser­vat­ive House Demo­crat, Boren. Rep. Chris Gib­son of New York was the most lib­er­al Re­pub­lic­an.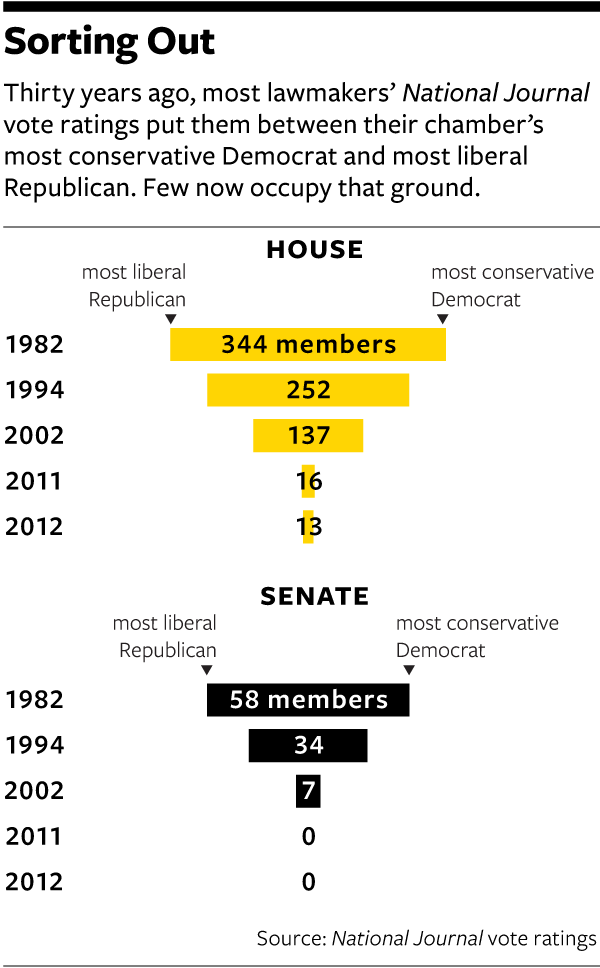 Re­cent events on the Hill have only furthered the view that both sides are as dis­in­ter­ested in work­ing to­geth­er as ever. After a mo­ment­ary blip of co­oper­a­tion — the deal to avert the fisc­al cliff — the in­sti­tu­tion has back­slid in­to old, fa­mil­i­ar ways. The on­go­ing stan­doff over the March 1 se­quester has closely re­sembled the le­gis­lat­ive grid­lock of last year, and the Sen­ate's fili­buster of De­fense Sec­ret­ary nom­in­ee Chuck Hagel — whose po­s­i­tion once rose above polit­ic­al squabbles be­cause of its im­port­ance to na­tion­al se­cur­ity — was yet an­oth­er mile­stone for line-in-the-sand par­tis­an­ship.
Nev­er­the­less, this is a new con­gres­sion­al ses­sion, and Boren's pess­im­ism might pos­sibly be proved wrong. For the first time in a dec­ade, if not longer, con­di­tions are aligned for bi­par­tis­an deal-mak­ing, rais­ing hopes that Con­gress might ac­tu­ally do something and sat­is­fy the wishes of mil­lions of Amer­ic­ans hungry for ac­tion. "I am pleased with the signs I see in Con­gress today to try to make deals," said Lee Hamilton, who was a vet­er­an Demo­crat­ic House mem­ber from In­di­ana. "There are threads of it — it's not a fab­ric yet — but there are threads, and that's en­cour­aging."
In today's con­text, de­fin­ing suc­cess is im­port­ant — and re­quires a healthy dose of both skep­ti­cism and prag­mat­ism. There's little hope that this Con­gress can re­verse the gradu­al, dec­ades-long in­crease in po­lar­iz­a­tion — ex­acer­bated by, among oth­er things, power­ful spe­cial in­terests and par­tis­an me­dia — that has gripped Wash­ing­ton. The forces that drove Rep. Boren out of Con­gress re­main po­tent, and the le­gis­lat­ive at­mo­sphere on Cap­it­ol Hill is still tox­ic.
In­stead of a long-term course cor­rec­tion, the ques­tion is wheth­er Re­pub­lic­an lead­ers in the House, Pres­id­ent Obama, and Sen­ate Demo­crats can fa­cil­it­ate a re­prieve — if only to show the pub­lic that the in­sti­tu­tion is still func­tion­al. Cut­ting a deal with the broad back­ing of both parties isn't a ques­tion so much of re­liev­ing those pres­sures as of learn­ing to pass laws in spite of them.
The makeup of the 113th Con­gress and the oc­cu­pant of the White House make con­di­tions riper for bi­par­tis­an le­gis­la­tion than at any time since Pres­id­ent George W. Bush's first years in of­fice. Since then, Wash­ing­ton has been in the grip of one of two dy­nam­ics: Either one party has held Con­gress and the pres­id­ency, or one party, pos­sess­ing lim­ited power, has had little in­terest in passing con­sequen­tial le­gis­la­tion.
The lat­ter was the case last ses­sion, when Re­pub­lic­ans con­trolled only the House. In most cases, they used this cham­ber to ap­prove le­gis­la­tion, such as Rep. Paul Ry­an's eponym­ous budget, that helped define the party's agenda but had no chance of gain­ing ap­prov­al in the Sen­ate (much less with­stand­ing a veto from the White House). They were try­ing to wait out a pres­id­ent whom they be­lieved would be sent pack­ing in 2013.
Demo­crats were in a sim­il­ar po­s­i­tion from 2007 to 2009, when they con­trolled Con­gress but wanted to wait out Bush's ten­ure. The lack of bi­par­tis­an­ship, of course, didn't pre­vent ma­jor le­gis­la­tion from be­com­ing law over the past 10 years. But when Demo­crats con­trolled Wash­ing­ton and passed the Af­ford­able Care Act in 2010, or sim­il­arly em­powered Re­pub­lic­ans ap­proved Medi­care Part D in 2003, they didn't need the back­ing of the oth­er party — and by and large didn't get it.
This ses­sion is dif­fer­ent. Neither party has uni­lat­er­al con­trol, and yet there is an ap­pet­ite, in the first year of Obama's second term, to make a ser­i­ous at­tempt to le­gis­late. The last time Cap­it­ol Hill saw something sim­il­ar came in 2001 and 2002. Re­pub­lic­ans sud­denly lost the Sen­ate when Sen. Jim Jef­fords of Ver­mont de­fec­ted from the GOP in the early sum­mer, but Con­gress still over­whelm­ingly ap­proved the No Child Left Be­hind Act months later (al­though the first round of Bush's tax cuts passed with only a dozen or so Demo­crats on board in each cham­ber). Later, the parties worked to­geth­er to ap­prove a slew of na­tion­al se­cur­ity is­sues after the Sept. 11 ter­ror­ist at­tacks.
But draw­ing com­par­is­ons to that peri­od is dif­fi­cult be­cause of 9/11; and, be­sides, most of Bush's term is hardly as­so­ci­ated with bi­par­tis­an comity. The bet­ter par­al­lel — and the ex­per­i­ence cur­rent op­tim­ists point to — is 1996 and 1997, which bridges the end of Pres­id­ent Clin­ton's first term and the be­gin­ning of his second. That two-year span saw agree­ments on a series of im­port­ant is­sues, ran­ging from two big-tick­et items (wel­fare re­form and a bal­anced-budget agree­ment) to less­er-known achieve­ments (such as rais­ing the min­im­um wage).
The sim­il­ar­ity between that peri­od and now ex­tends bey­ond the split con­trol of gov­ern­ment. Only a year earli­er, Re­pub­lic­ans had rid­den the "re­volu­tion" of 1994 in­to con­trol of Con­gress, when they prom­ised to push their agenda wheth­er Clin­ton ap­proved or not. But the party ul­ti­mately dealt with polit­ic­al set­backs, none more dam­aging than the gov­ern­ment shut­down of 1996. The pub­lic blamed Re­pub­lic­ans, and af­ter­ward Clin­ton nev­er again trailed GOP pres­id­en­tial nom­in­ee Bob Dole (who was Sen­ate ma­jor­ity lead­er at the time of the shut­down) in a head-to-head match­up, ac­cord­ing to preelec­tion polls.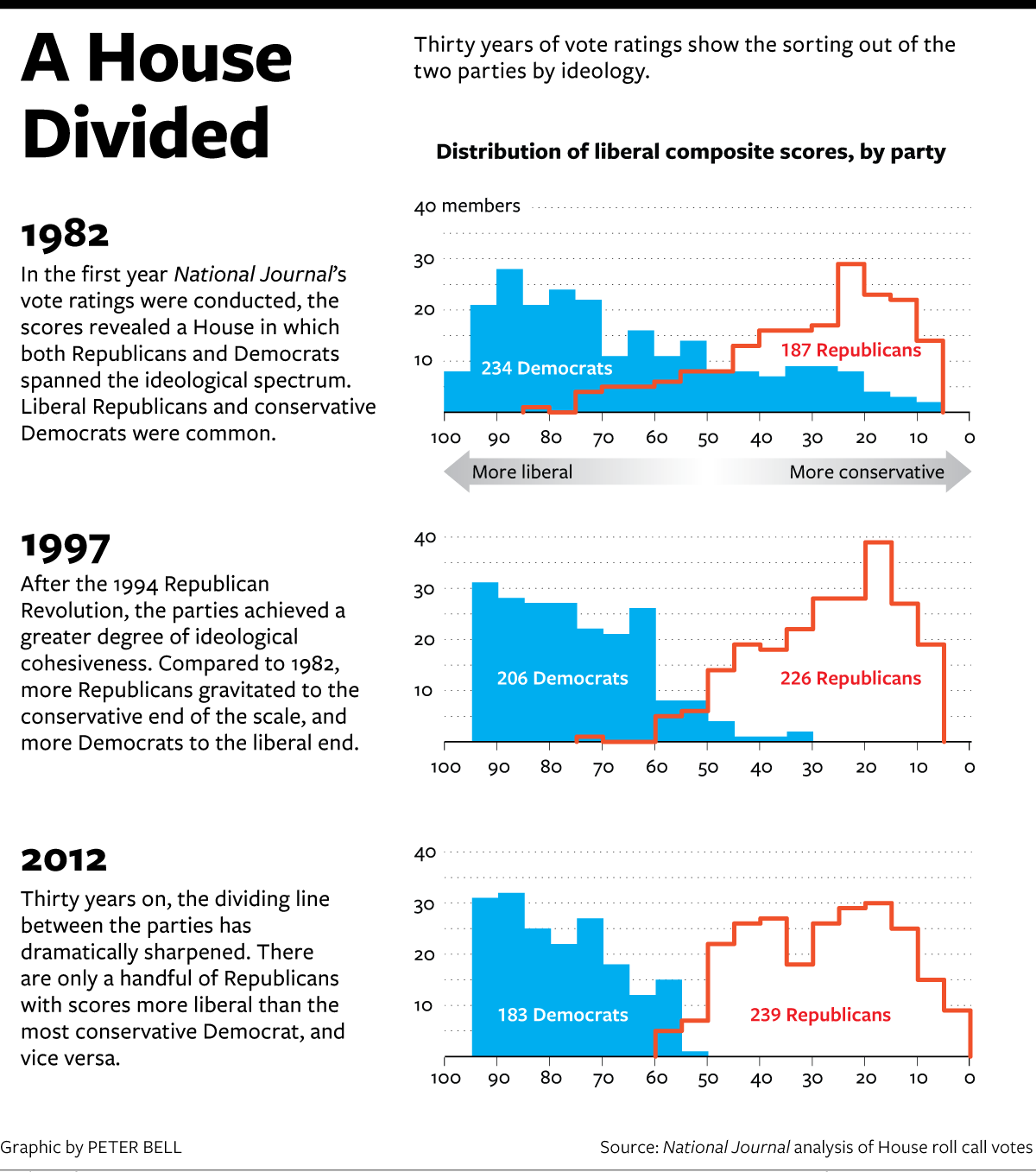 Pub­lic opin­ion might once again be pulling against Re­pub­lic­ans, burnt as they were by Obama's reelec­tion and their un­ex­pec­ted losses in the Sen­ate. In a Janu­ary poll by The Wall Street Journ­al and NBC News, 49 per­cent of adults dis­ap­proved of the GOP — and only 26 per­cent ap­proved. It was the worst rat­ing for Re­pub­lic­ans since 2008. Just as the Re­pub­lic­ans in Clin­ton's time de­cided their polit­ic­al sur­viv­al de­pended on com­ing to the table, the GOP of today might do the same. "Re­pub­lic­ans over­played the gov­ern­ment shut­down, and Pres­id­ent Clin­ton won that battle," said Dan Glick­man, a former House mem­ber who was Clin­ton's Ag­ri­cul­ture sec­ret­ary. "And, with that, he ef­fect­ively used the bully pul­pit to con­trol the agenda. He gave a lot of cov­er for people to vote for him. It's not the only factor, but mem­bers of Con­gress are much [more] likely to sup­port a pres­id­ent when the people at home are in­clined to sup­port the pres­id­ent."
How much Obama's broad pop­ular­ity mat­ters to most GOP House mem­bers is de­bat­able. With many of the pres­id­ent's sup­port­ers packed in­to heav­ily Demo­crat­ic urb­an dis­tricts, most Re­pub­lic­ans rep­res­ent safely red dis­tricts. (In Novem­ber, Mitt Rom­ney won 227 con­gres­sion­al dis­tricts, a ma­jor­ity, des­pite los­ing by 4 per­cent­age points in the na­tion­al vote.)
But Obama's stand­ing could weigh more heav­ily on House Speak­er John Boehner and Ma­jor­ity Lead­er Eric Can­tor than on their fol­low­ers; Can­tor has re­cently at­temp­ted to rebrand the party with a softer im­age. While their charges' in­terests are more pa­ro­chi­al, they have the na­tion­al party's im­age to worry about. Pop­u­lar opin­ion could prod the two lead­ers to reach agree­ments with Obama, es­pe­cially on emo­tion­al is­sues such as gun con­trol and im­mig­ra­tion. Or, at the very least, pub­lic pres­sure could work to ease the dis­agree­ments that make even ba­sic gov­ern­ment ac­tion dif­fi­cult — a factor that might have been at work when House Re­pub­lic­ans en­gin­eered a three-month delay of the debt ceil­ing. "They're hear­ing the mes­sage out­side the Belt­way that "˜we elec­ted you people to make things work,' " said John Br­eaux, the former long­time Demo­crat­ic sen­at­or from Louisi­ana.
The onus falls par­tic­u­larly hard on Boeh-ner, whose struggles to con­trol his con­fer­ence are well doc­u­mented. More than any oth­er play­er in Wash­ing­ton, he will de­term­ine wheth­er any­thing gets done this year. How he de­cides to pro­ceed could rest on how fre­quently he's will­ing to leave con­ser­vat­ive col­leagues out in the cold and, con­sequently, how far he's will­ing to risk his speak­er­ship.
The good of the party, and not his seat of power, pro­pelled Boehner's de­cision to bring the su­per­storm Sandy re­lief bill to a vote earli­er this year, when it passed with just a minor­ity of sup­port from Re­pub­lic­ans. That com­bin­a­tion — Demo­crats and the mod­er­ate wing of the House GOP — is the path­way to en­act­ing a sweep­ing set of bi­par­tis­an agree­ments.
A week after the storm vote, a large bi­par­tis­an ma­jor­ity passed a three-month ex­ten­sion of the debt ceil­ing. "It is hard to see this Con­gress be­ing viewed as a bi­par­tis­an one, but we have seen a glim­mer of light on the re­cent bi­par­tis­an vote to ex­tend the debt ceil­ing," said Ron Bon­jean, a one­time aide to the Re­pub­lic­an lead­er­ship.
Main­tain­ing that mo­mentum in the House won't be easy, and it could re­quire Obama's per­son­al lead­er­ship. Get­ting Boehner to take such a per­il­ous route could de­pend in large part on suc­cess­ful ca­jol­ing from the pres­id­ent. And on this sub­ject — the re­la­tion­ships among Wash­ing­ton's top lead­ers — dis­cus­sion of a deal be­ing cut be­comes sharply pess­im­ist­ic.
The two men's re­la­tion­ship is de­scribed as per­son­ally friendly, but pro­fes­sion­ally it has pro­duced noth­ing but dys­func­tion. What began with the debt-lim­it ne­go­ti­ations of 2011 cul­min­ated in last year's failed fisc­al-cliff talks. Boehner has vowed nev­er to ne­go­ti­ate with Obama one-on-one again.
Wash­ing­ton has had a lit­any of suc­cess­ful speak­er-pres­id­ent re­la­tion­ships through the years. Think Newt Gin­grich and Bill Clin­ton — or Ron­ald Re­agan and Tip O'Neill in the 1980s. But Obama and Boehner haven't been able to find a work­able for­mula. "There is zero trust between Boehner and the pres­id­ent, and trust is what's ne­ces­sary to get deals done," said Mike Hack­er, a former Demo­crat­ic lead­er­ship aide. "It's not just mu­tu­al in­terest."
The be­lief among the GOP that the pres­id­ent won't act on good faith in the cur­rent ne­go­ti­ations is fur­ther strain­ing the broken re­la­tion­ship between the two men. Rather than try­ing to cut a deal with Re­pub­lic­ans, Obama might work only to­ward de­feat­ing them in next year's midterms, to try to re­-take the House. At that point, as­sum­ing his party re­tains the Sen­ate, con­gres­sion­al Demo­crats would be poised to pass le­gis­la­tion as they did dur­ing Obama's first two years in of­fice. "In the mat­rix they're craft­ing to take back the House, there's no func­tion for bi­par­tis­an­ship," said Mike Fer­ence, a former aide to Can­tor.
Obama's re­cent ac­tions haven't put GOP wor­ries to rest. His in­aug­ur­al speech was long on ur­ging the coun­try to ad­opt a pro­gress­ive agenda but short on em­phas­iz­ing the need for com­prom­ise. After com­pletely ig­nor­ing House Demo­crats in 2012, the pres­id­ent an­nounced plans to hold eight fun­draisers for them this cycle. Obama, in the eyes of the GOP, seems less in­ter­ested in work­ing with Re­pub­lic­ans than in rolling over them.
The at­ro­phy­ing of strong re­la­tion­ships on Cap­it­ol Hill is only one of many reas­ons po­lar­iz­a­tion is so en­trenched. Cer­tainly the pro­lif­er­a­tion of power­ful polit­ic­al or­gan­iz­a­tions, such as the free-mar­ket Club for Growth, and the in­flu­ence of par­tis­an me­dia have also played a role. In the big­ger pic­ture, the dec­ades-long pop­u­lar sort­ing out between the parties and their ideo­logy has prob­ably mattered most: Con­ser­vat­ive South­ern Demo­crats and lib­er­al North­east­ern Re­pub­lic­ans are now nearly ex­tinct.But an­oth­er sug­ges­ted cause of in­creased po­lar­iz­a­tion, ger­ry­mandered dis­tricts, re­mains hotly dis­puted in the polit­ic­al-sci­ence com­munity. Re­search shows that mem­bers' vot­ing be­ha­vi­or changes only slightly, if at all, with the par­tis­an makeup of their dis­trict; law­makers sup­port whatever their party de­cides, ac­cord­ing to this ar­gu­ment.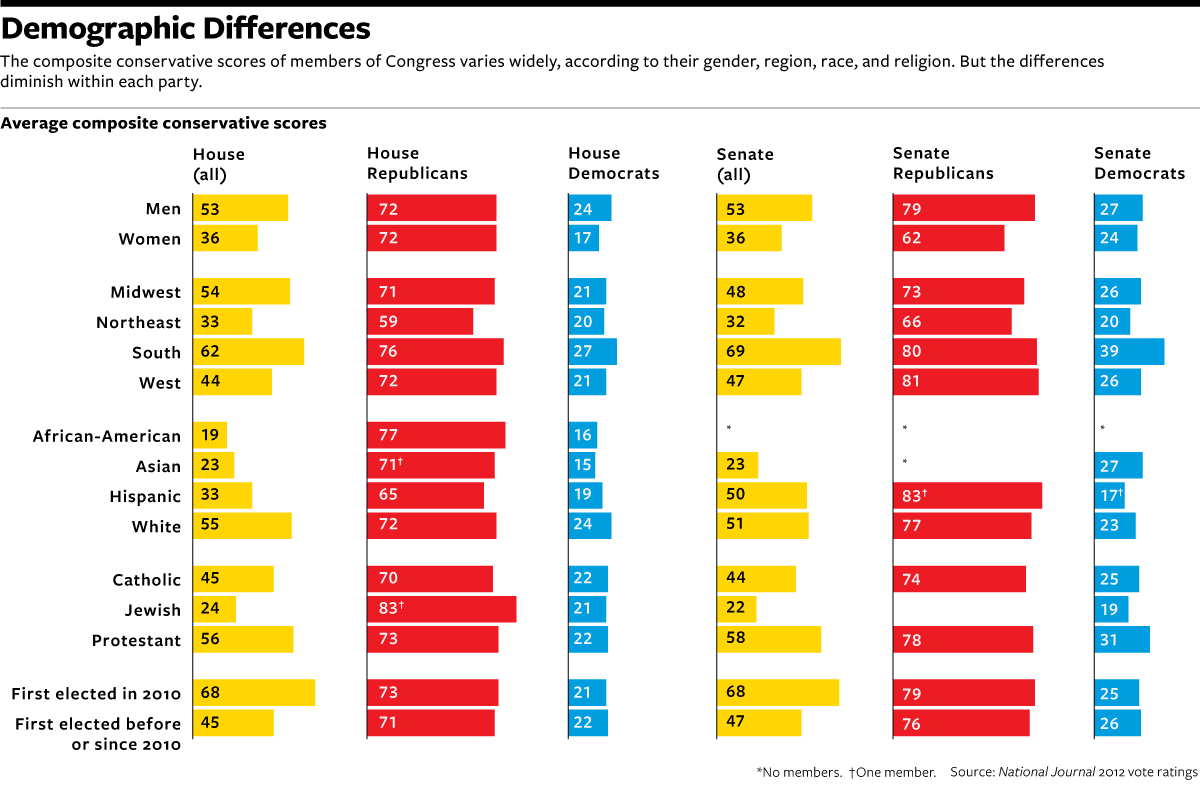 The dis­repair of per­son­al re­la­tion­ships in Wash­ing­ton plays only a minor role in the ab­sence of party comity. But more so than oth­er long-term factors, this is something the cur­rent play­ers can con­trol. As le­gis­lat­ors try to craft dif­fi­cult bi­par­tis­an com­prom­ises, a will­ing­ness to cross party lines, even at the risk of cri­ti­cism from col­leagues, is cru­cial. It's why Re­pub­lic­an Sen. Marco Ru­bio's in­clin­a­tion to work with Demo­crats on im­mig­ra­tion re­form or Demo­crat­ic Rep. Ron Wyden's col­lab­or­a­tion with Ry­an on health care were so widely praised; such ef­forts at­tract pos­it­ive at­ten­tion be­cause they are so rare.
Polit­ic­al en­emies have worked to­geth­er for the com­mon good be­fore. Boehner and the late Sen. Ed­ward Kennedy col­lab­or­ated on No Child Left Be­hind. And Gin­grich got along fam­ously with Clin­ton, Br­eaux said, be­cause the two men re­spec­ted each oth­er. "Even when he was try­ing to im­peach [Clin­ton], they were still able to over­come that and get things done," Br­eaux said.
He ad­ded: "I think that lack of per­son­al re­la­tion­ships in the le­gis­lat­ive body is ab­so­lutely the most harm­ful thing, ex­ceed­ing any philo­soph­ic­al dif­fer­ences. It can over­come strin­gent dis­agree­ments."
Hill Demo­crats are openly en­cour­aging Obama, whom they saw as fail­ing to reach out dur­ing his first term, to re­build those re­la­tion­ships. "What kind of com­mit­ment from the White House will there be to work the Con­gress ag­gress­ively, daily and con­tinu­ously?" wondered Glick­man, who is now a seni­or fel­low at the Bi­par­tis­an Policy Cen­ter. "It can be pain­ful to do that, be­cause pres­id­ents don't like that part of the job. I'm not sure this pres­id­ent likes it either."
Un­less the tone im­proves, Hill-watch­ers are doubt­ful about any le­gis­la­tion's op­por­tun­ity for suc­cess. "These are very con­ten­tious times," Fer­ence said. "There are sig­ni­fic­ant policy areas where some bi­par­tis­an­ship can be achieved, but I don't know how we do any of it in the en­vir­on­ment we have right now."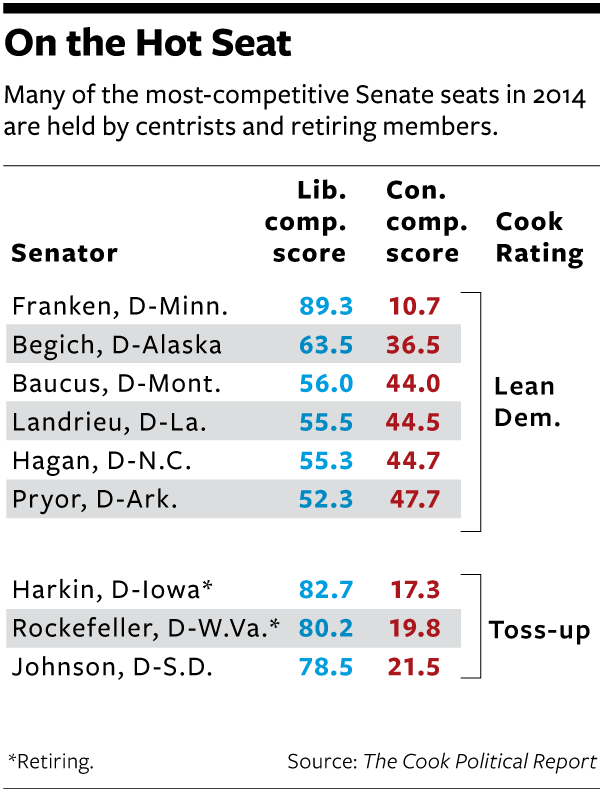 What even­tu­ally passes and what doesn't will come down to the in­di­vidu­al pieces of le­gis­la­tion. Ob­serv­ers be­lieve that im­mig­ra­tion re­form, already be­ing craf­ted by a bi­par­tis­an group of eight sen­at­ors in the up­per cham­ber, has the greatest chance for pas­sage, be­cause of the high stakes in­volved for the GOP. But many cau­tion that suc­cess will still hinge on the yet-to-be de­term­ined de­tails. Mur­ki­er still are the chances of passing gun-vi­ol­ence meas­ures — par­tic­u­larly ban­ning as­sault rifles or high-ca­pa­city magazines, and strength­en­ing back­ground checks — not to men­tion a grand bar­gain on de­fi­cit re­duc­tion.
What, ex­actly, would qual­i­fy as suc­cess­ful bi­par­tis­an­ship this year? Cer­tainly, passing com­pre­hens­ive meas­ures on im­mig­ra­tion, guns, and de­fi­cit re­duc­tion will need a shock­ing, even his­tor­ic level of co­oper­a­tion among the bick­er­ing parties. But per­haps con­gres­sion­al ap­prov­al of even one of those is­sues, while turn­ing down the volume of usu­al par­tis­an ran­cor, might qual­i­fy as a suc­cess, at least re­l­at­ive to re­cent ses­sions. Es­pe­cially if lower-pro­file but still im­port­ant items, such as the farm bill, can pass quietly in­to law without much wrangling between the parties. That might be all any­one can reas­on­ably hope for on Cap­it­ol Hill.
It won't be Clin­ton and Gin­grich re­dux, but even a faint echo of that peri­od would stand out these days. "I'm not look­ing for heav­en on earth," Glick­man said. "But I am more op­tim­ist­ic."
COR­REC­TION: A graph­ic ac­com­pa­ny­ing this story ori­gin­ally in­dic­ated that Sen. Mary Landrieu, D-La., would not seek reelec­tion in 2014.