Add to Briefcase
Sept. 16, 2013, 5:47 a.m.
Armed police prepare to enter the Washington Navy Yard as they respond.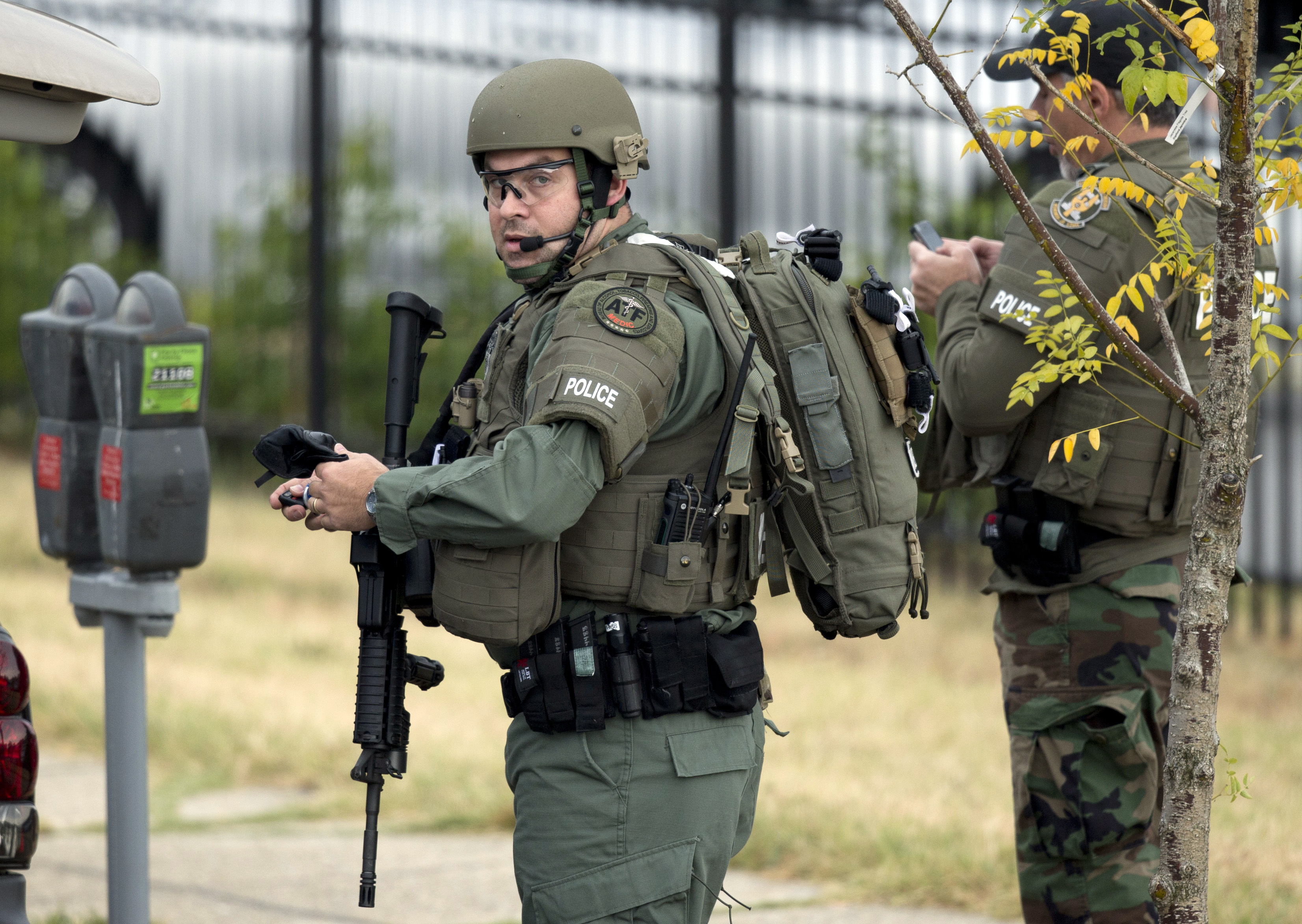 District of Columbia Mayor Vincent Gray briefs reporters on the shooting at the Washington Navy Yard in Washington, Monday, Sept. 16, 2013. At least one gunman opened fire inside a building at the Washington Navy Yard on Monday morning.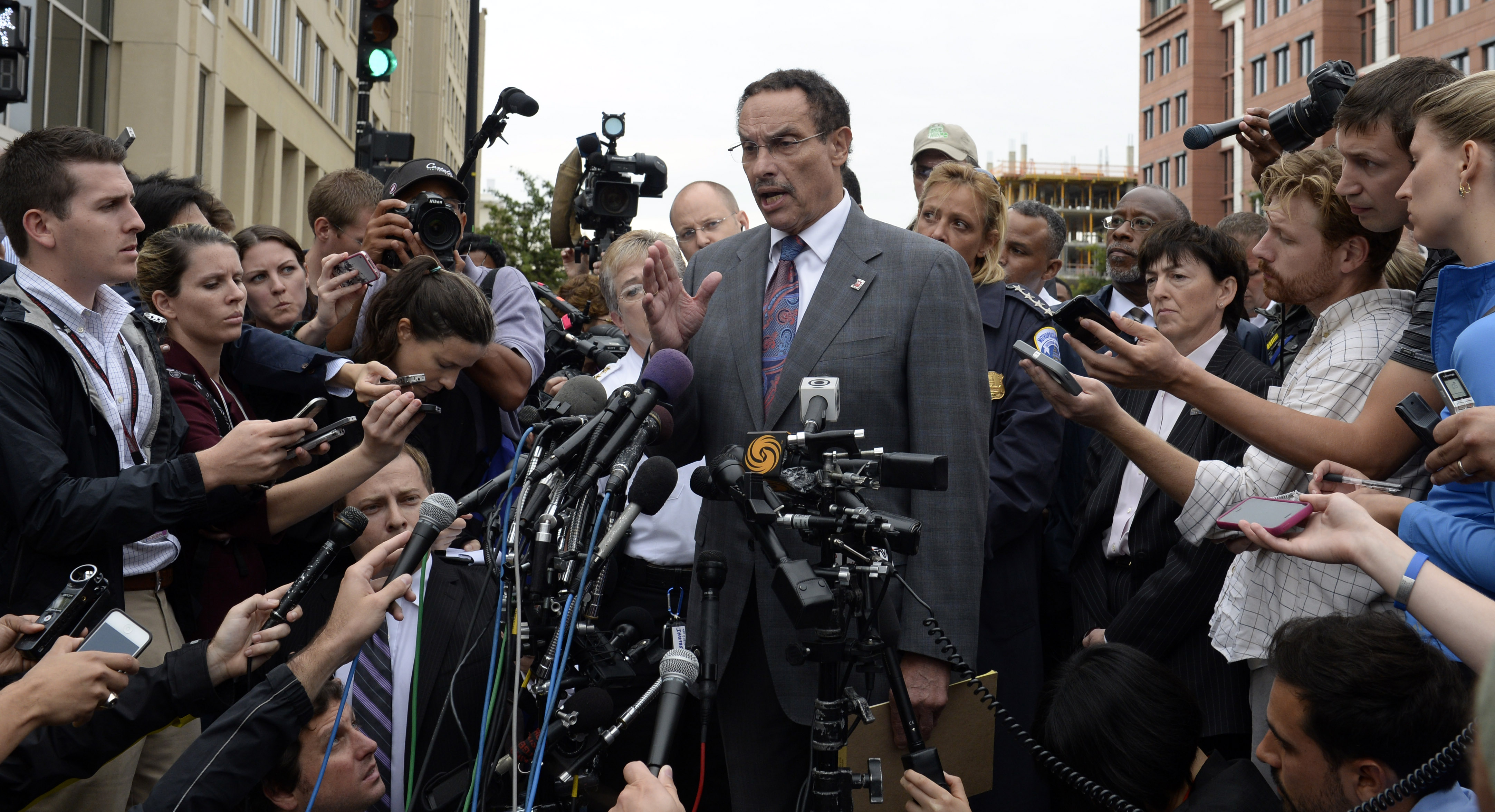 District of Columbia Police Chief Cathy Lanier briefs reporters on the shooting.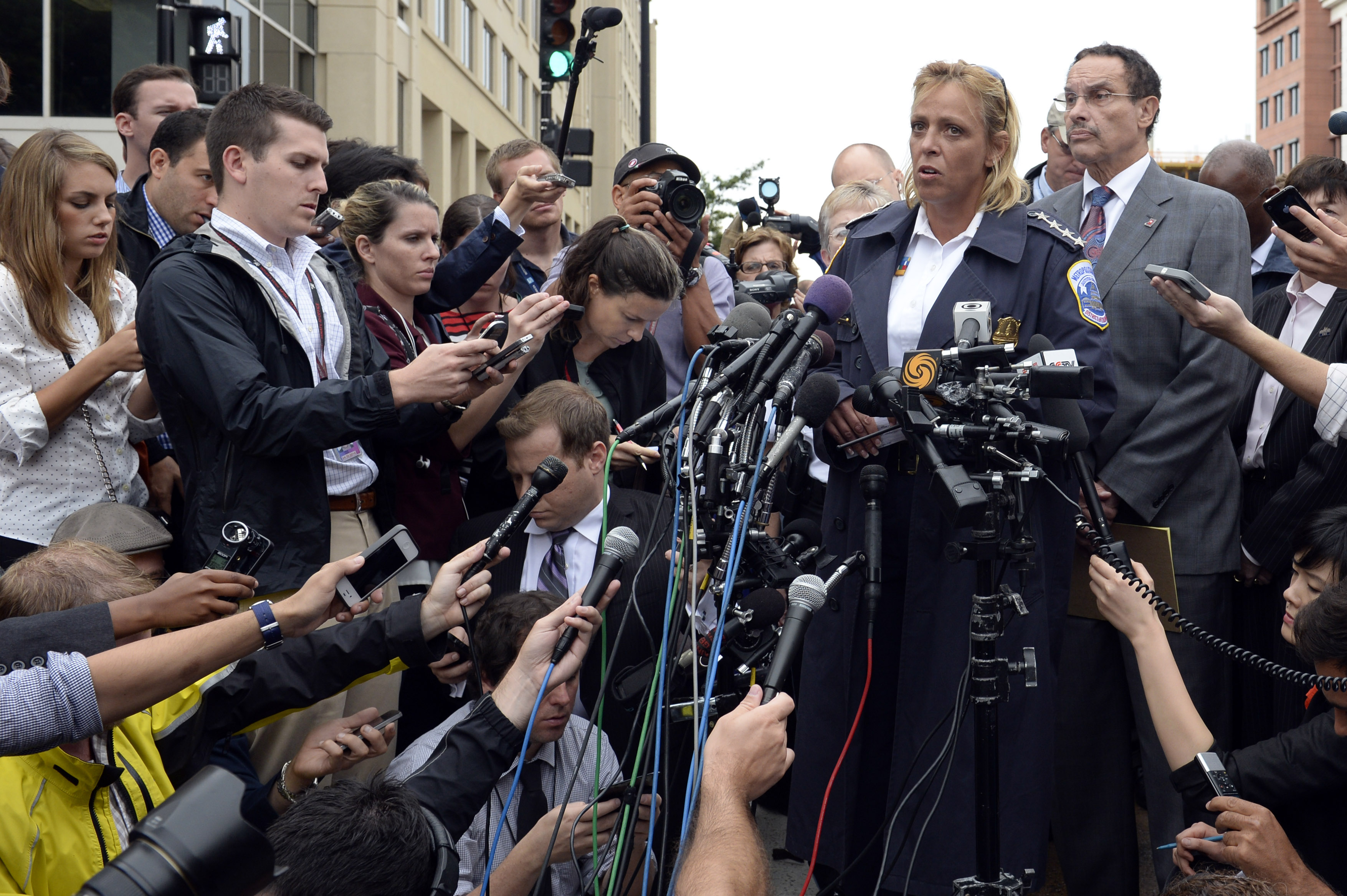 Emergency personnel respond to a reported shooting at the Washington Navy Yard. (AP Photo/Manuel Balce Ceneta)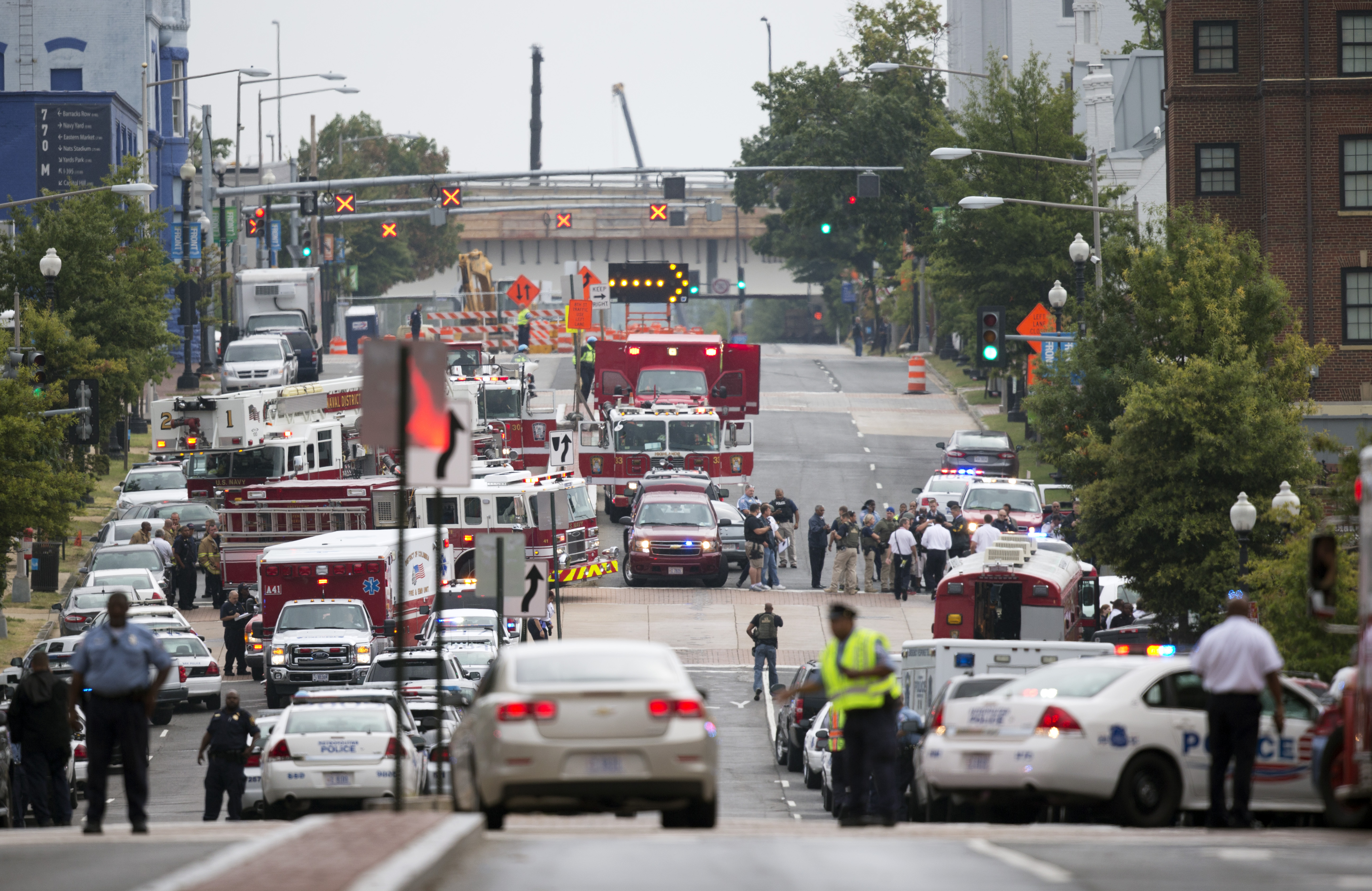 Members of the military guard a military garage near the Navy Yard. (AP Photo/Jacquelyn Martin)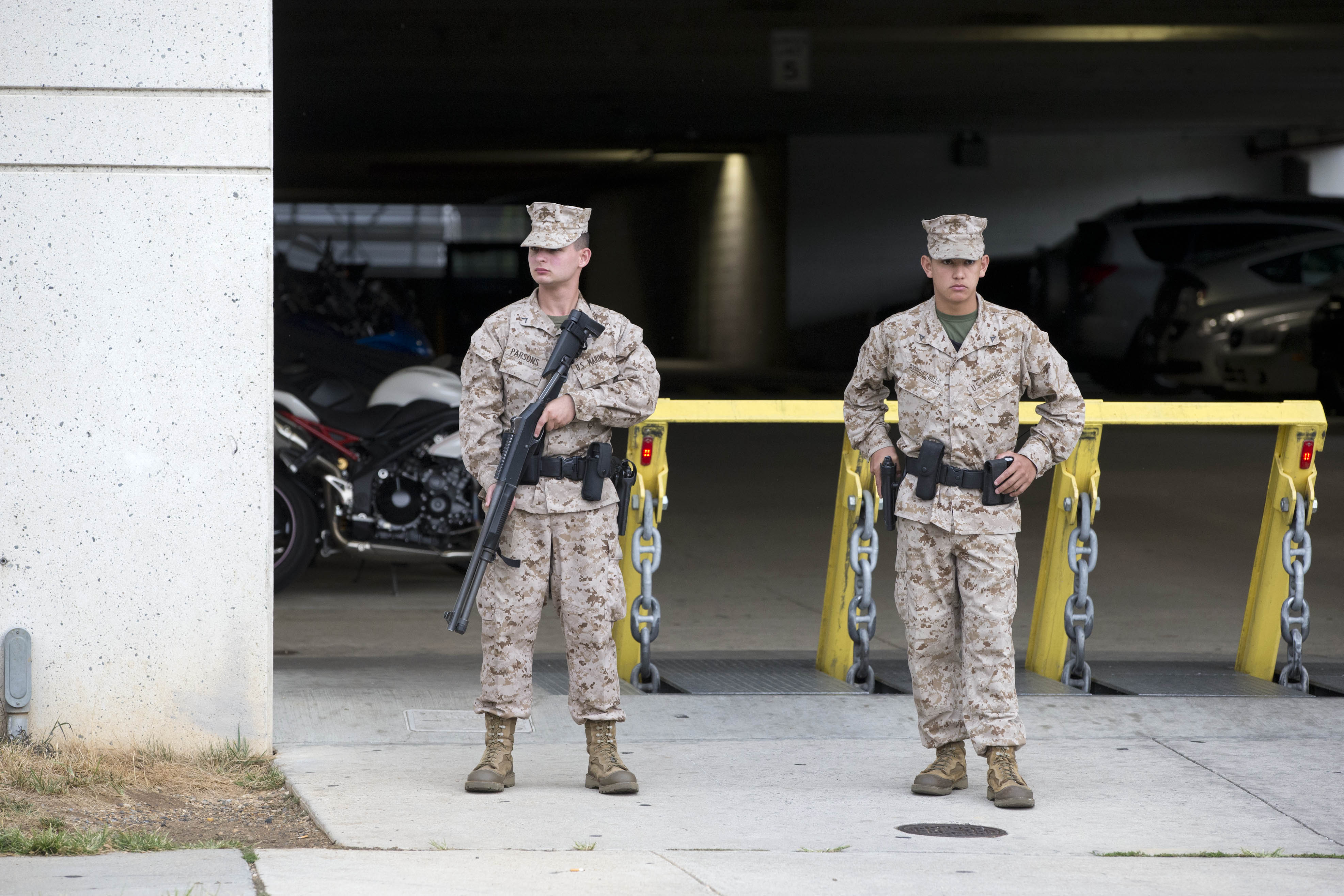 A U.S. Park Police helicopter removes a man in a basket from the Navy Yard Monday, Sept. 16, 2013. (AP Photo/Jacquelyn Martin)
Police work the scene on M Street, SE near the Washington Navy Yard. (AP Photo/Jacquelyn Martin)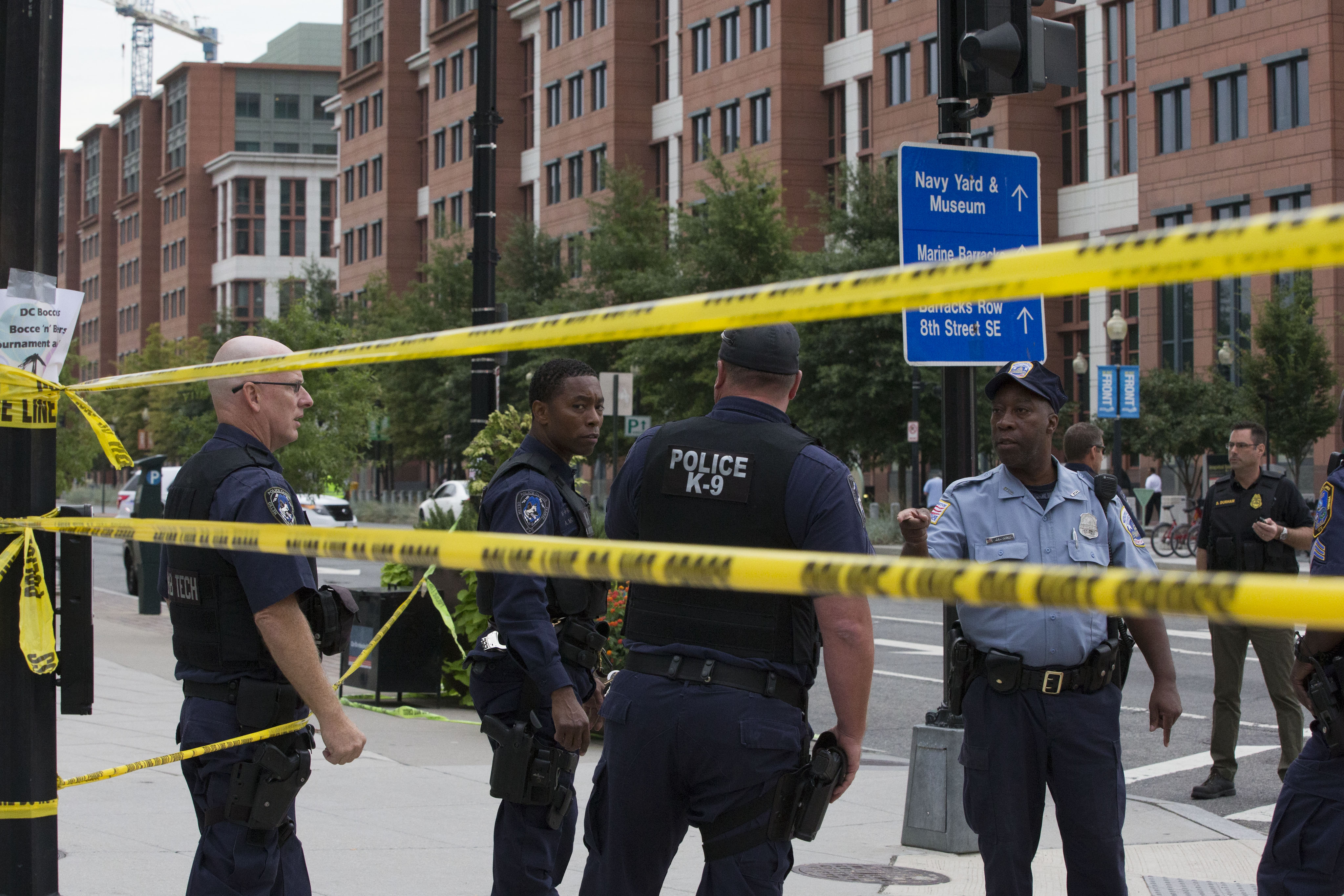 Police bring in equipment by an anchor outside of an entrance to the Navy Yard. (AP Photo/Jacquelyn Martin)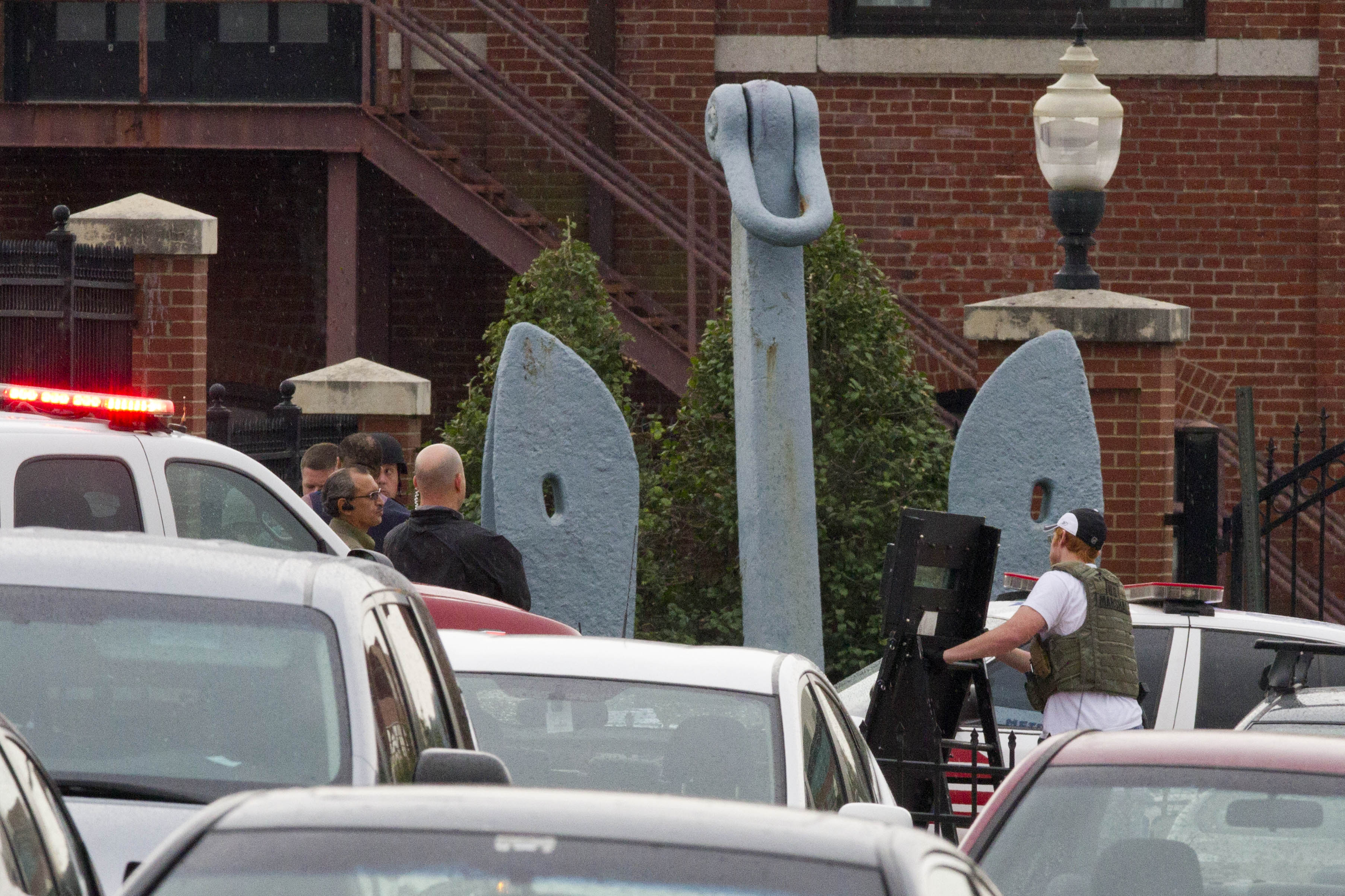 A policeman work the scene on M Street S.E. in Washington. (AP Photo/Jacquelyn Martin)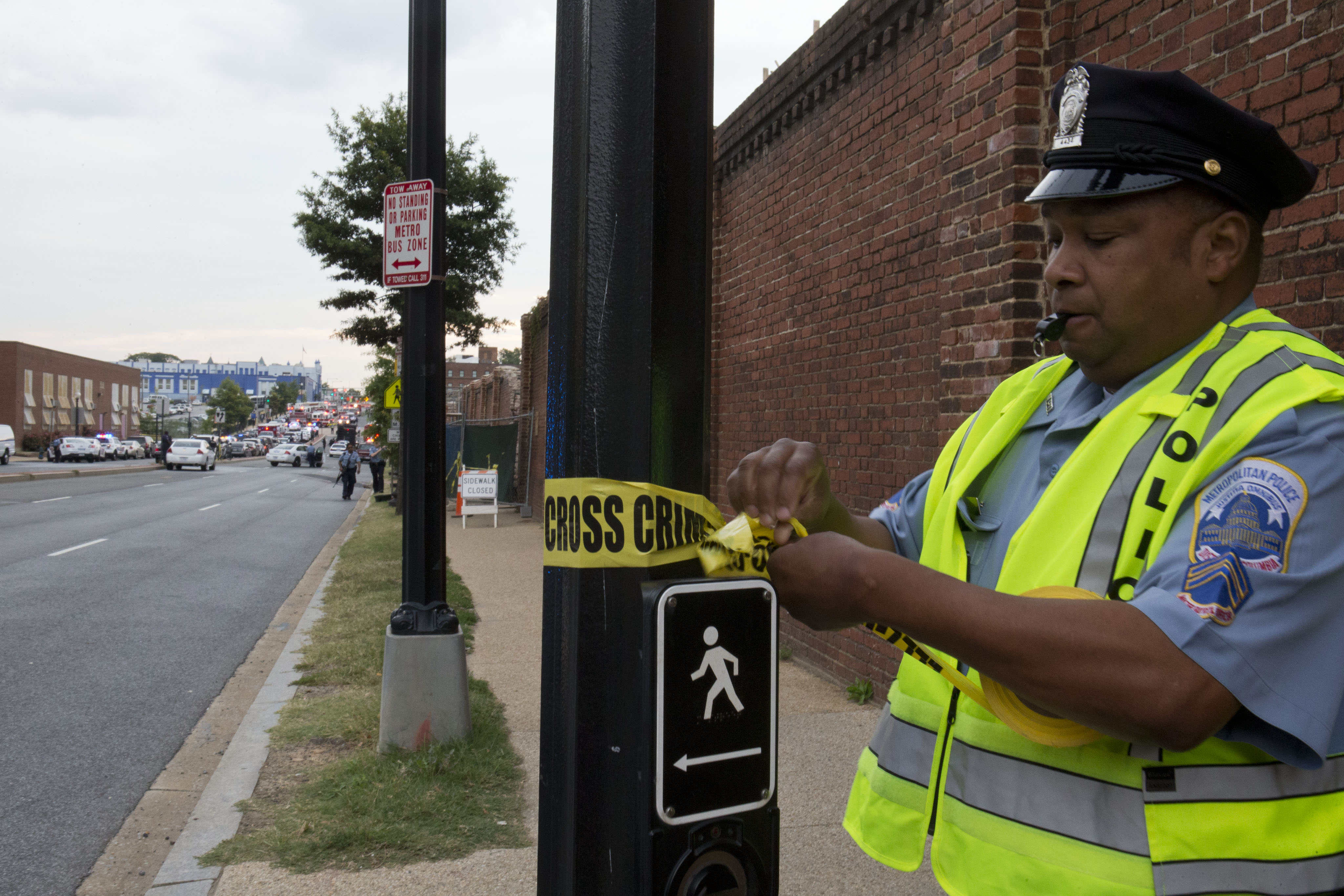 More on the Shoot­ing
An act­ive in­vest­ig­a­tion in­to a Monday morn­ing mass shoot­ing is un­der­way at Wash­ing­ton D.C.'s Navy Yard. Po­lice of­ficers are among the wounded, in­clud­ing one of­ficer who was shot, ac­cord­ing to the MPD. One po­lice of­ficer is cur­rently at Wash­ing­ton Hos­pit­al Cen­ter and is ex­pec­ted to make a re­cov­ery, a hos­pit­al spokes­wo­man said at a 4 p.m. press con­fer­ence.
The FBI has iden­ti­fied the slain shoot­er as Aaron Alex­is, a 34-year-old man from Texas with a pos­sible crim­in­al re­cord. Ac­cord­ing to the Forth Worth Star Tele­gram, the man was ar­res­ted in 2010 for dis­char­ging a fire­arm in­to a ceil­ing of a wo­man's apart­ment. He was nev­er charged. The AP re­ports he was a Navy re­serv­ist from 2007 to 2011. NBC news iden­ti­fies him as a ci­vil­ian con­tract­or.
Des­pite earli­er hunts for a second or third pos­sible sus­pect in the vi­ol­ence, the dead gun­man ap­pears to be the only shoot­er.
The FBI's Valer­ie Par­lave de­scribes the situ­ation as "a very act­ive in­vest­ig­a­tion." D.C. May­or Vin­cent Gray con­firms at a 4 p.m. press con­fer­ence that 13, in­clud­ing the gun­man, are dead.
"We don't have any reas­on at this stage to sus­pect ter­ror­ism, but cer­tainly it has not been ruled out," Gray said.
Speak­ing about the oth­er po­ten­tial shoot­ers at an earli­er press con­fer­ence, Lan­i­er said, "We have no in­form­a­tion to be­lieve that either of those folks are mil­it­ary per­son­nel, but we do have in­form­a­tion that those in­di­vidu­als are wear­ing mil­it­ary style uni­forms."
You can see her full re­marks here:
Pres­id­ent Obama, speak­ing about the "hor­rif­ic tragedy" just be­fore a planned speech on the eco­nom­ic re­cov­ery, re­ferred to the event as "yet an­oth­er mass shoot­ing." He con­tin­ued:
I've made it clear to my team that I want the in­vest­ig­a­tion to be seam­less so that fed­er­al and loc­al au­thor­it­ies are work­ing to­geth­er. And as this in­vest­ig­a­tion moves for­ward, we will do everything in our power to make sure who­ever car­ried out this cow­ardly act is held re­spons­ible.

In the mean­time, we send our thoughts and pray­ers to all at the Navy Yard who have been touched by this tragedy. We thank them for their ser­vice. We stand with the fam­il­ies of those who have been harmed. They're go­ing to need our love and sup­port.

And as we learn more about the cour­ageous Amer­ic­ans who died today, their lives, their fam­il­ies, their pat­ri­ot­ism, we will hon­or their ser­vice to the na­tion they helped to make great. And ob­vi­ously, we're go­ing to be in­vest­ig­at­ing thor­oughly what happened as we do so many of these shoot­ings, sadly, that have happened. And do everything that we can to try to pre­vent them.
The may­or, speak­ing from a yel­low note­pad at a press con­fer­ence, said po­lice are "still try­ing to con­firm the num­ber of fatal­it­ies," and he called it an "isol­ated in­cid­ent," as far as au­thor­it­ies know.
By 1:30 PM, Tech Ser­geant Dav­id Reyes of the U.S. Air Force was the only man in the crowd of re­port­ers in green fa­tigues. At 8:30 this morn­ing, his wife had texted him to say her Navy Yard build­ing was on lock-down. Reyes, who works at An­drews, im­me­di­ately turned on the tele­vi­sion. Once he saw what was hap­pen­ing, he came to the scene.
Reyes' wife works in the build­ing next to where the shoot­ings oc­curred, and was sheltered there. She works with many ci­vil­ians, all of whom were pretty hungry, Reyes told Na­tion­al Journ­al. Reyes said the situ­ation was something of a "lo­gist­ics night­mare." Around 3:20 re­ports in­dic­ated that Navy Yard work­ers were be­gin­ning to leave the fa­cil­ity.
A lone food cart re­mained open at the in­ter­sec­tion of M and 3rd Streets, just a few blocks from the site of the shoot­ing, serving food to re­port­ers and the oc­ca­sion­al passerby:
(Mar­ina Koren)
A friend of the vendor came to check on her friend as soon as she heard the news. "It's a sad day for all of us," she said. "I'm pray­ing for every­one."
The Navy con­firmed that an act­ive shoot­er was in­side the Nav­al Sea Sys­tems Com­mand Headquar­ters build­ing at 8:20 AM, and a shel­ter-in-place or­der was is­sued for per­son­nel.
Throughout the day, there were con­flict­ing re­ports on the num­ber of shoot­ers at the scene. A Met­ro­pol­it­an Po­lice spokes­per­son told The Wash­ing­ton Post earli­er in the day that three were in­volved. The Post later up­dated its re­port to say that po­lice be­lieve there were two shoot­ers on the scene, not three. The D.C.'s may­or's of­fice then cut that down to two.
A spokes­per­son for the Med­star Wash­ing­ton Hos­pit­al Cen­ter gave some in­dic­a­tion of what type of weapon was used on the scene: "I would tell you from the re­ports of the vic­tims, it was — it had to be a semi­auto­mat­ic, be­cause they are talk­ing about gun­shots that they heard in rap­id suc­ces­sion." You can see her full re­marks here:
Much of Wash­ing­ton has been shut down as the search for po­ten­tial shoot­ers goes on. A little be­fore 3 p.m., the Sen­ate Ser­geant at Arms an­nounced that there would be a "shel­ter in place" for Sen­ate of­fices, with no one en­ter­ing or leav­ing the build­ing for at least two hours. That was lif­ted for staffers around 5 p.m. The House is not in ses­sion and is not locked down, the House Ser­geant at Arms say­ing they are re­ly­ing on cap­it­ol po­lice for se­cur­ity. Schools in the area were on lock­down, but were dis­missed a nor­mal sched­ule. All flights were groun­ded this morn­ing at Ron­ald Re­agan Wash­ing­ton Na­tion­al Air­port, but that or­der has since been lif­ted.
A gun­man was shoot­ing from the fourth floor in­to the build­ing's cafet­er­ia on the first floor, a wit­ness told the As­so­ci­ated Press.
Here's what you need to know about the Yard it­self:
The Nav­al Sea Sys­tems Com­mand is the largest of the Navy's com­mands, with a fisc­al year budget of al­most $30 bil­lion. About 3,000 people work in the headquar­ters.
The Navy Yard, which is a na­tion­al his­tor­ic land­mark, was for dec­ades known as a "ce­re­mo­ni­al gate­way" to D.C.
Pur­chased in 1798, the Wash­ing­ton Navy Yard was es­tab­lished in Oc­to­ber 1799 and built un­der the dir­ec­tion of the first sec­ret­ary of the Navy.
The yard has a firm place in U.S. his­tory: In 1865, the Lin­coln as­sas­sin­a­tion con­spir­at­ors were brought there after they were cap­tured; in­clud­ing the body of John Wilkes Booth.
The Navy Yard was ordered burned as the Brit­ish marched on Wash­ing­ton dur­ing the War of 1812 to pre­vent its cap­ture.
Weapons de­signed and built at the yard were used in every U.S. war un­til the 1960s.
An aer­i­al shot of the yard from 1991:
A tor­pedo shop at the yard dur­ing World War One:
(Lib­rary of Con­gress)
And a shot from between 1861-1865:
The Wash­ing­ton Navy Yard pho­to­graphed between 1861 and 1865. (Lib­rary of Con­gress)
A map of the area: