SYRA­CUSE, N.Y. — It's closer to break­fast than lunch, but Kirsten Gil­librand — wedged between five bulky men at a red-and-white-checkered table — nev­er­the­less smiles un­til her eyes crinkle as a ham­burger smothered in blue cheese and spin­ach is placed in front of her. She digs in, first with her fin­gers, then with a knife and fork, skip­ping the bun en­tirely. Bur­gers be­fore 11 a.m.? Sure. But not even on home soil will the Demo­crat­ic sen­at­or eat carbs.
Rick Lazio's re­fus­al to eat a Gi­an­el­li's saus­age here at the New York State Fair dur­ing his Sen­ate race against Hil­lary Rod­ham Clin­ton in 2000 may have had something to do with why he lost. It was "akin to push­ing away a kiss­able baby on the stump," the New York Daily News said. Gil­librand knows bet­ter than to turn away a baby. There's a ham­burger-cook­ing con­test to judge.
She awards her top vote to a bean-in­fused mush­bur­ger ("ex­tra points for be­ing healthy"), while also telling the crowd of meat en­thu­si­asts that her fa­vor­ite one might have been the one with cheese, ba­con, and an egg. ("If you just keep adding enorm­ous amounts of cho­les­ter­ol, it makes any­thing de­li­cious!")
The crowd ap­proves. She feels like one of their own. "My hus­band told me I could come to this event only be­cause it was Gil­librand," an apple farm­er re­coun­ted to me after the cook-off. "If it had been [Chuck] Schu­mer, he said he would have to di­vorce me."
Gil­librand is good at hav­ing it both ways, and not just when she's split­ting the dif­fer­ence between look­ing healthy and au­then­t­ic at Beef Day. This up­state nat­ive who once bragged about keep­ing shot­guns un­der her bed also raises more money from the fin­an­cial sec­tor than any of her Sen­ate col­leagues (her haul in­cluded $89,700 from Gold­man Sachs last cycle, the most among cur­rent mem­bers of Con­gress). Self-ad­orned with the humble goal of giv­ing a "voice to the voice­less," she spent 15 years rep­res­ent­ing, among oth­er cli­ents, Philip Mor­ris. Once the proud own­er of an A rat­ing from the Na­tion­al Rifle As­so­ci­ation, Gil­librand watched her grade plum­met to an F after she was ap­poin­ted to the Sen­ate and began sup­port­ing bills to curb gun traf­fick­ing. She has shif­ted her stance, too, on im­mig­ra­tion, mov­ing away from the hard-line po­s­i­tions she ad­op­ted as a mem­ber of the House of the Rep­res­ent­at­ives.
In short, she is now much more like Sen. Schu­mer than at­tendees at the fair might sus­pect. "She is an ex­traordin­ar­ily bright politi­cian," says Rep. Steny Hoy­er of Mary­land, the No. 2 Demo­crat in the House. "And I use 'politi­cian' in a good way."
A less­er tal­ent might be torn between her two selves: the rur­al cent­rist from the closest thing that New York has to "real Amer­ica"; and the Wall Street-fin­anced, cor­por­ate law­yer who's ap­peared in fash­ion shoots for Vogue magazine. But after a rocky start in a polit­ic­al ca­reer that has las­ted less than a dec­ade, she has a found a way to turn the di­cho­tom­ies to her ad­vant­age. Kirsten Gil­librand is de­term­ined to have it all — and, along the way, per­haps give Demo­crats their next bright, young na­tion­al star.
"My own view is that I think Gil­librand is one of the people in the United States of Amer­ica that I think can be pres­id­ent of the United States," Hoy­er says.
It's a stretch to ima­gine Gil­librand run­ning for pres­id­ent any time soon: There's a Hil­lary-sized shad­ow hanging over 2016, and Gov. An­drew Cuomo also ap­pears above her on the New York depth chart. But this is a Demo­crat­ic Party des­per­ate for new blood and new tal­ent. At 46, Gil­librand fits the bill per­haps bet­ter than any­one — and she has be­gun to build a na­tion­al per­sona that can match her am­bi­tions. Her battle against the Pentagon over sexu­al as­saults in the mil­it­ary has won her head­lines and praise. At the same time, she's a stun­ningly ad­ept fun­draiser who earns loy­alty from her col­leagues the old-fash­ioned way — by dol­ing out money. It's telling that when po­ten­tial wo­men pres­id­ents are men­tioned, the list tends to be­gin and end at Clin­ton. There is op­por­tun­ity there.
But to reach that place in the firm­a­ment, Gil­librand will have to pull off what many politi­cians be­fore her have had to do: re­con­cile her past polit­ic­al iden­tit­ies with her present ones. Gil­librand isn't the first Demo­crat from a rur­al, cent­rist back­ground to try to build a bridge to the pro­gress­ive wing of the party. (See: the oth­er Clin­ton, Bill.) And of­ten, it can be easi­er to ac­com­plish than those lib­er­als try­ing to con­vince rank-and-file voters that they are one of them, as both Barack Obama and John Kerry be­fore him struggled to do. But that doesn't mean she won't have some ex­plain­ing to do on what can be po­litely termed her evol­u­tion.
How she nav­ig­ates those ques­tions will say a lot about her read­i­ness for the grand stage.
Rep. Kirsten Gillibrand (D-NY) (C) speaks as New York Gov. David A. Paterson (R) looks on during a news conference announcing her as Paterson's choice to fill the vacant U.S. Senate seat for New York on January 23, 2009 in Albany, New York.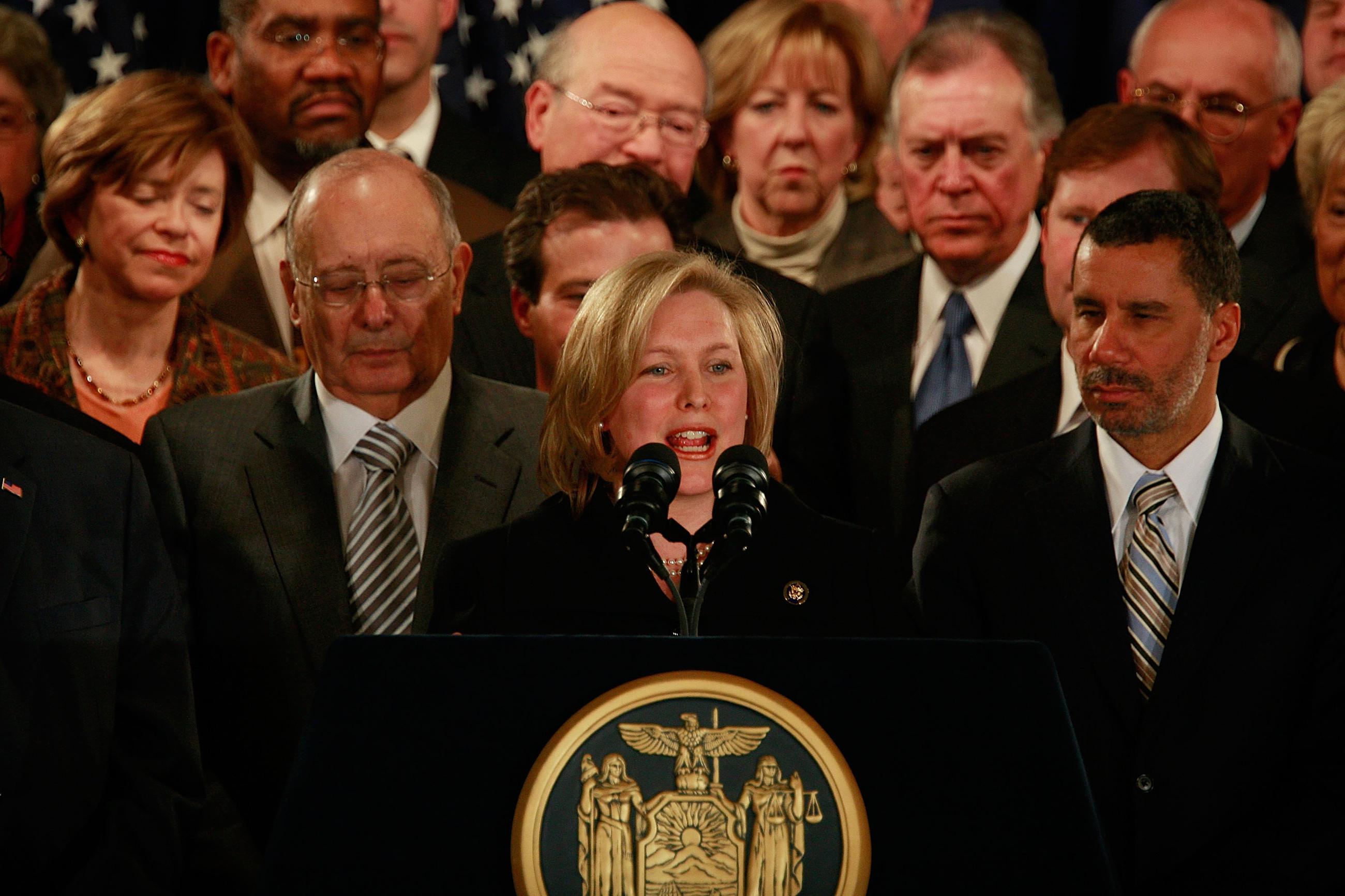 Senator-designate Rep. Kirsten Gillibrand (D-NY) (R) and U.S. Secretary of State Hillary Rodham Clinton look to each other during a lunch meeting at Waldorf-Astoria Hotel on January 25, 2009 in New York City.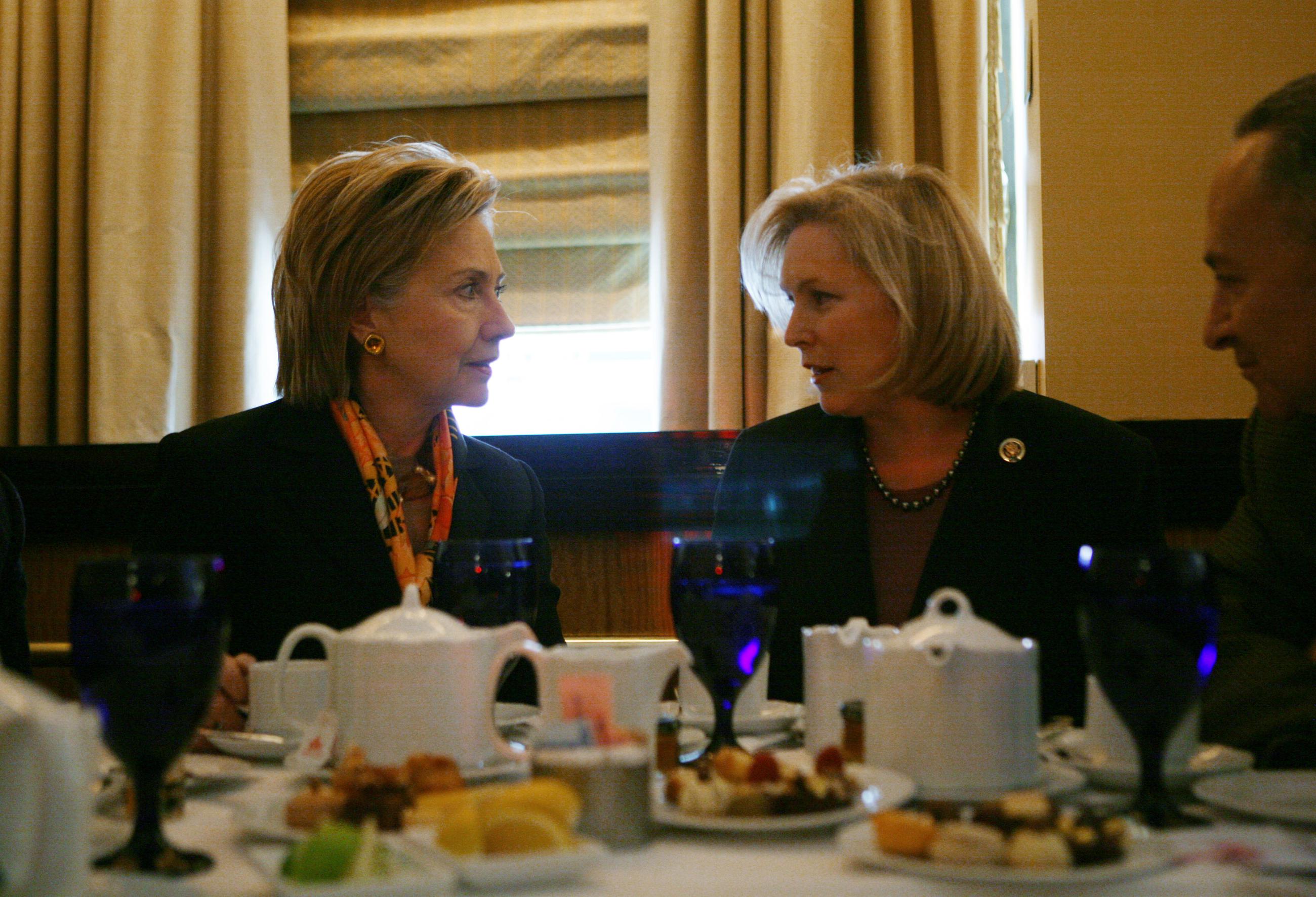 From left: New York City mayor Mike Bloomberg, New York governor David Paterson, Senator Charles Schumer, and Senator Kirsten Gillibrand attend a Mass of Installation at St. Patrick's Cathedral as Archbishop Timothy Dolan takes over as Archbishop of New York April 15, 2009 in New York City.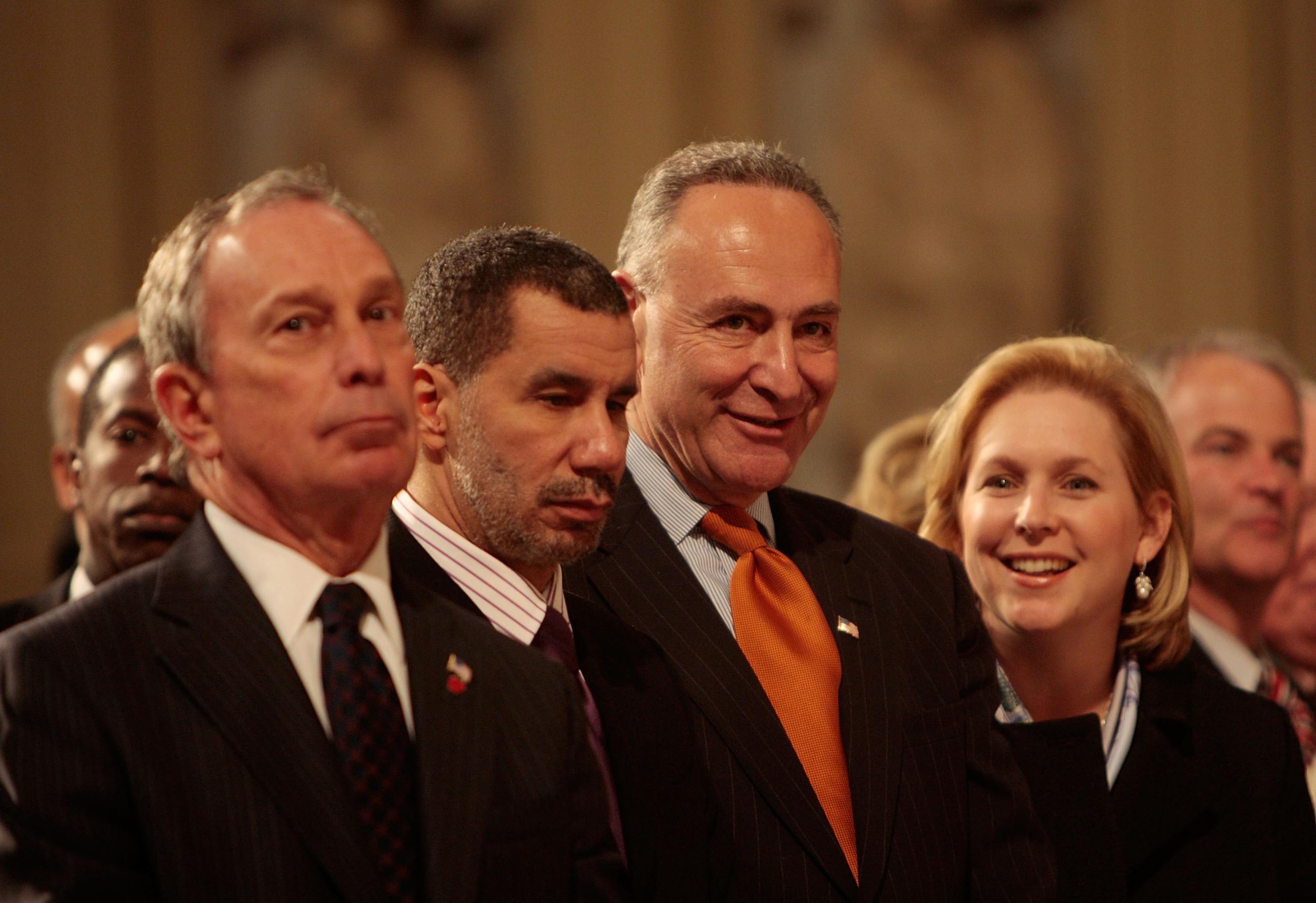 First lady Michelle Obama and New York City Mayor Michael R. Bloomberg are joined by Met Museum President Emily Rafferty, Sen. Kirsten Gillibrand, Rep. Carolyn Maloney, and Rep. Charles Rangel at the ribbon cutting ceremony to officially re-open the Charles Engelhard Court, centerpiece of the newly renovated American Wing, at The Metropolitan Museum of Art on May 18, 2009 in New York City.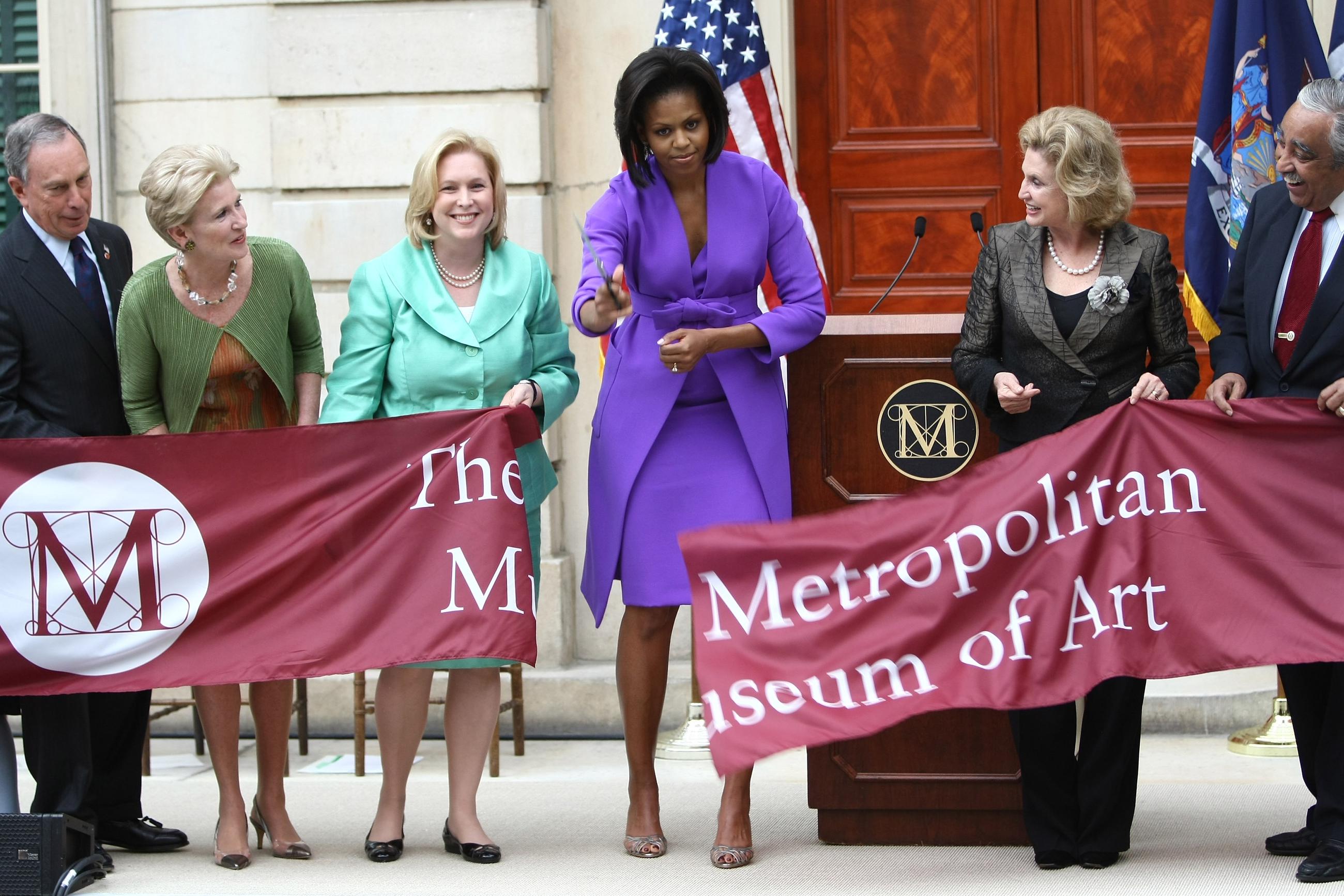 U.S. Supreme Court nominee and Federal Appeals Court judge Sonia Sotomayor (R) meets with Sen. Charles Schumer (D-NY) (C) and Sen. Kirsten Gillibrand (D-NY) (L) for lunch on Capitol Hill June 2, 2009.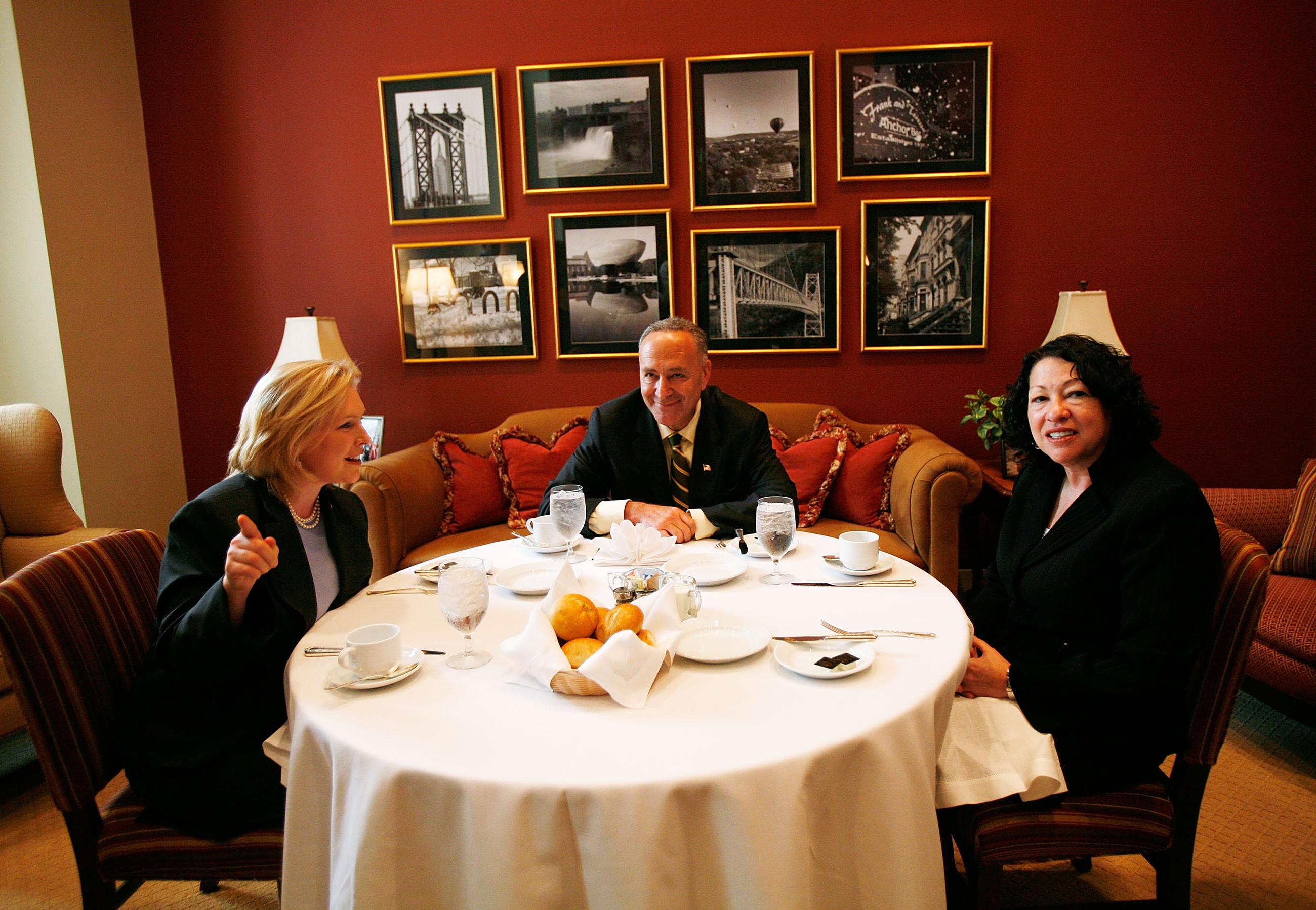 Sen. Kirsten Gillibrand (D-NY) reads papers in the hallway before a news conference on gay marriage on Capitol Hill on March 16, 2011 in Washington, DC.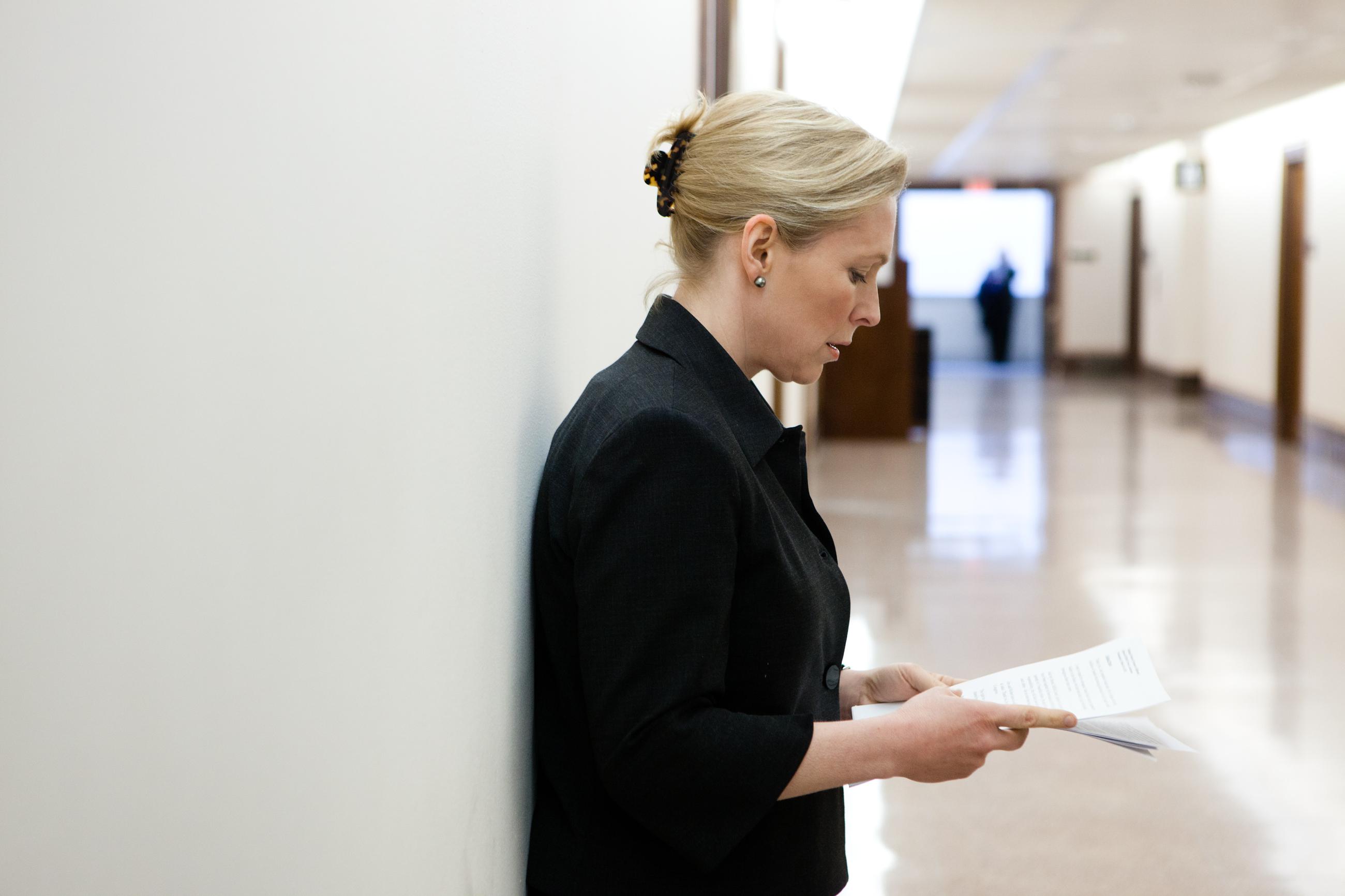 From left: Sen. Patty Murray (D-WA), Sen. Kay Hagan (D-NC), Sen. Barbara Boxer (D-CA), Sen. Amy Klobuchar (D-MN), and Sen. Kirsten Gillibrand (D-NY) listen during a news conference April 8, 2011 on Capitol Hill about women's health care. basic health access for women.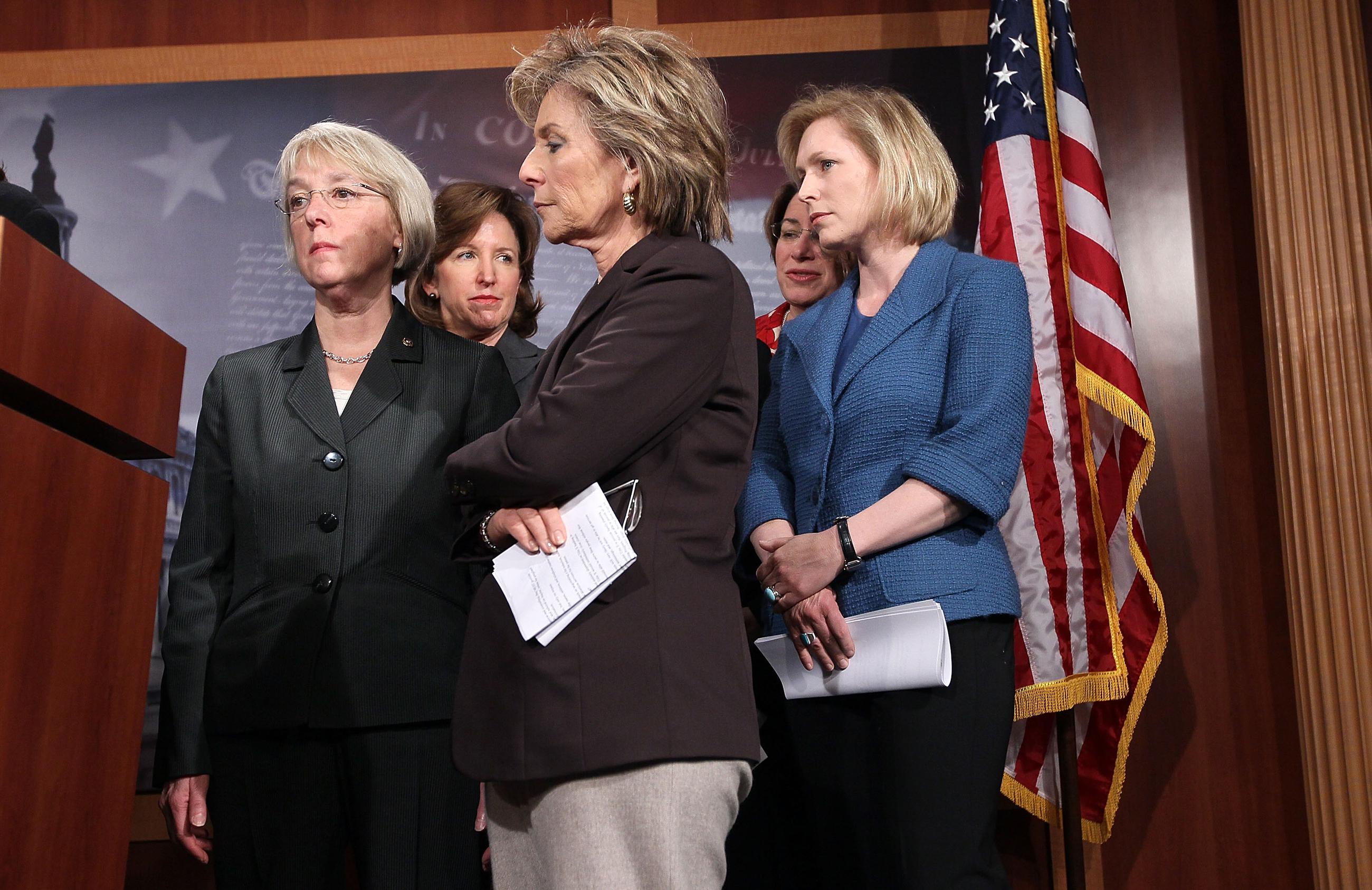 Senator Kristen Gillibrand (L) and Vogue Editor-in-Chief Anna Wintour attend the Carolina Herrera Fall 2012 fashion show during Mercedes-Benz Fashion Week at The Theatre at Lincoln Center on February 13, 2012 in New York City.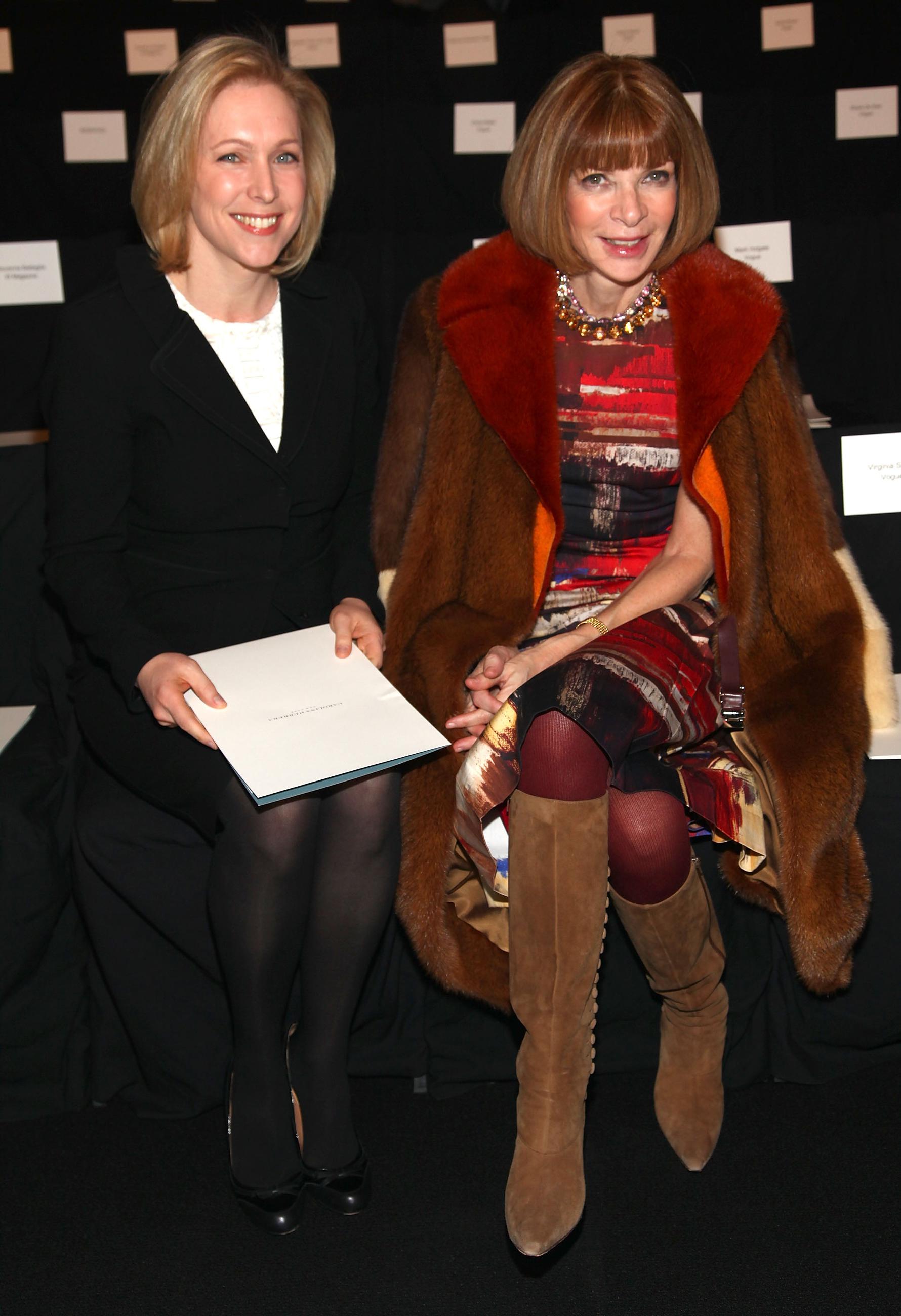 Sen. Kirsten Gillibrand (D-NY) (R) shakes hands with Chief of Staff of the Army Gen. Raymond Odierno following testimony with U.S. military leaders before the Senate Armed Services Committee on pending legislation regarding sexual assaults in the military June 4, 2013.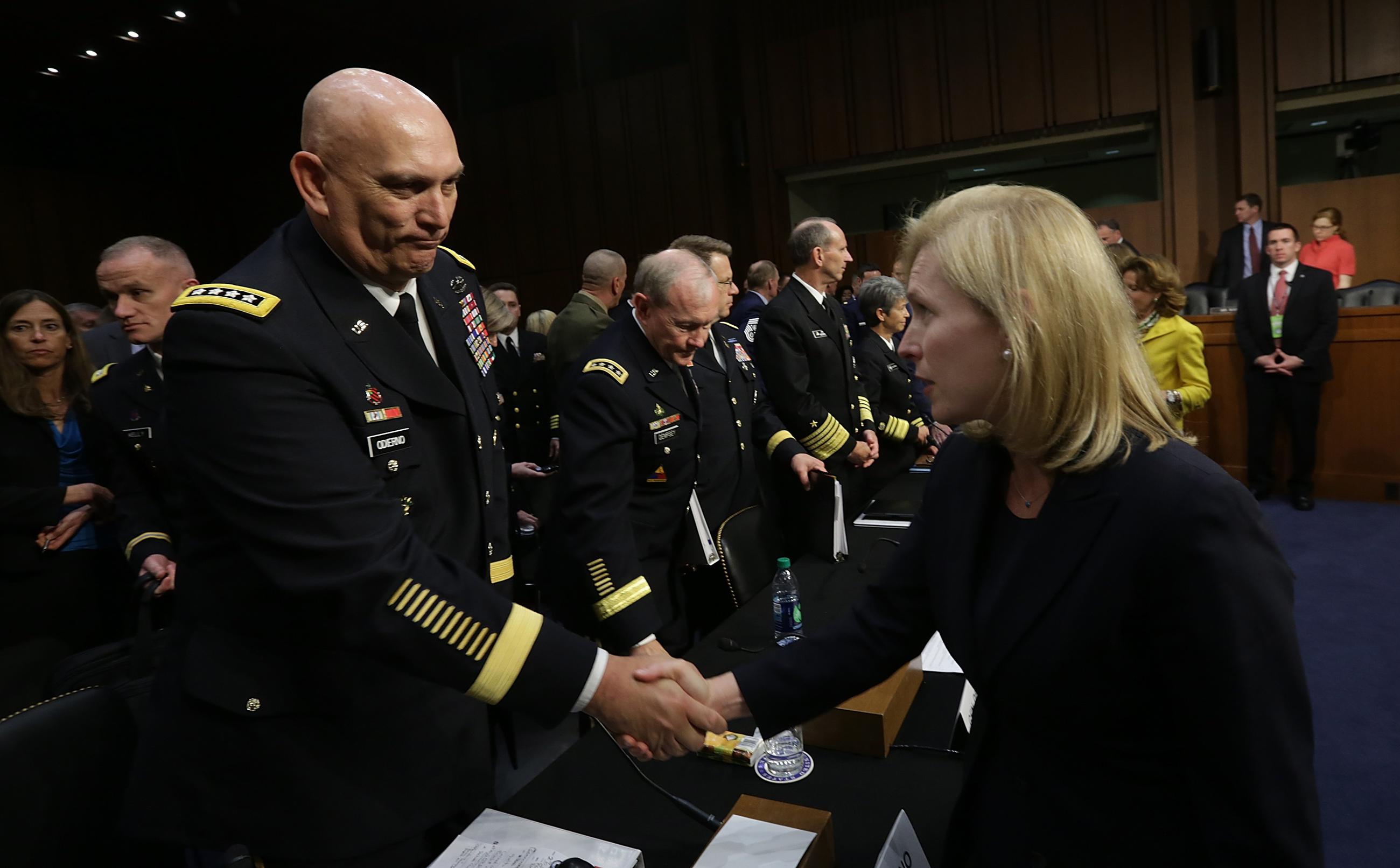 Sen. Kirsten Gillibrand (D-NY) speaks while U.S. military leaders testify before the Senate Armed Services Committee on pending legislation regarding sexual assaults in the military June 4, 2013.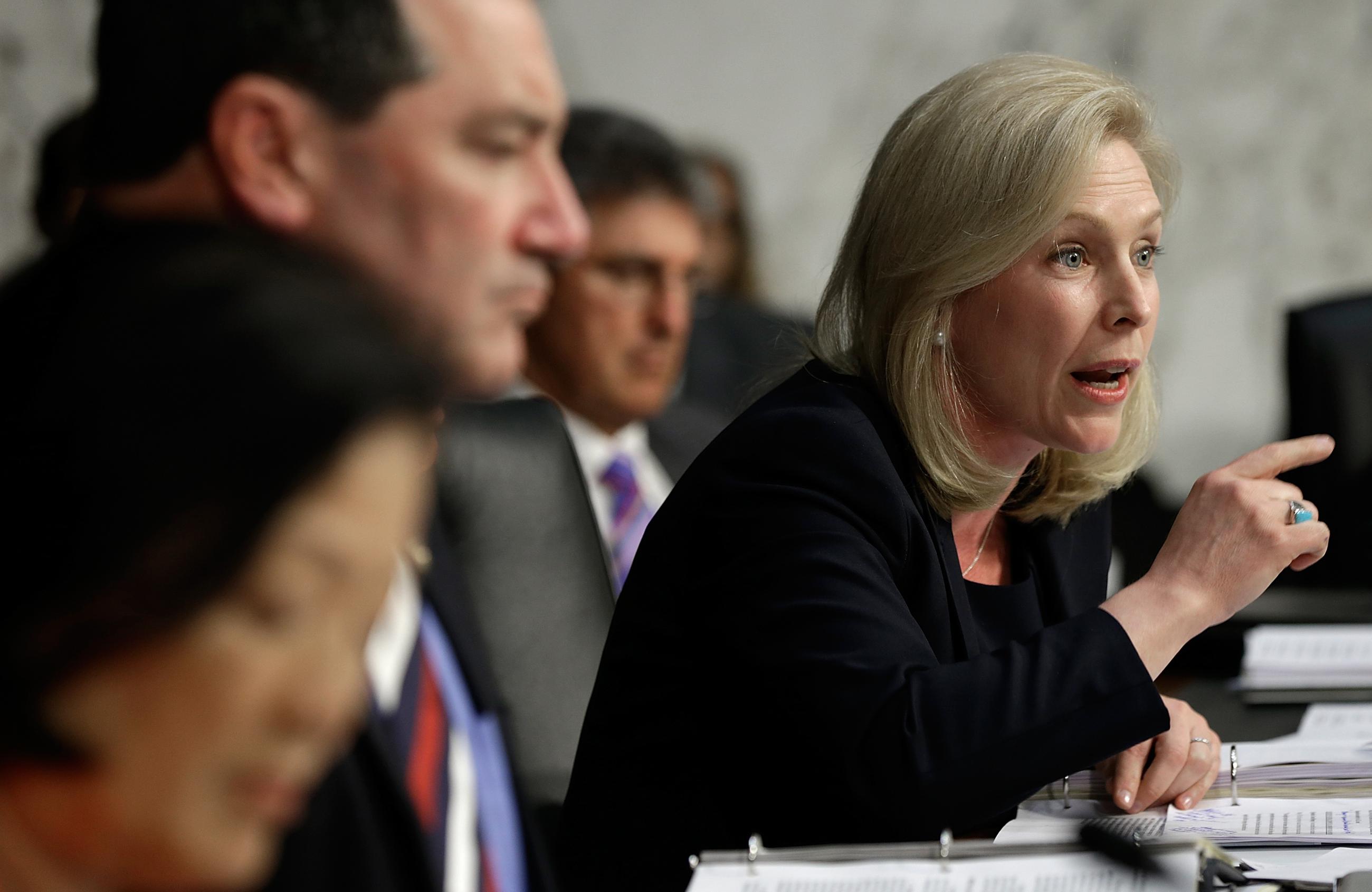 Sen. Kirsten Gillibrand (D-NY) (C) speaks while flanked by U.S. Sen. Rand Paul (R-KY) (L), and U.S. Sen. Charles Grassley (R-IA) (2nd-L) and U.S. Sen. Ted Cruz (R-TX) during a news conference on sexual assault in the military, July 16, 2013. Gillibrand announced the support of 34 senators that will co-sponsor her proposal to take the decision whether to prosecute sexual assaults out of the hands of the military chain of command.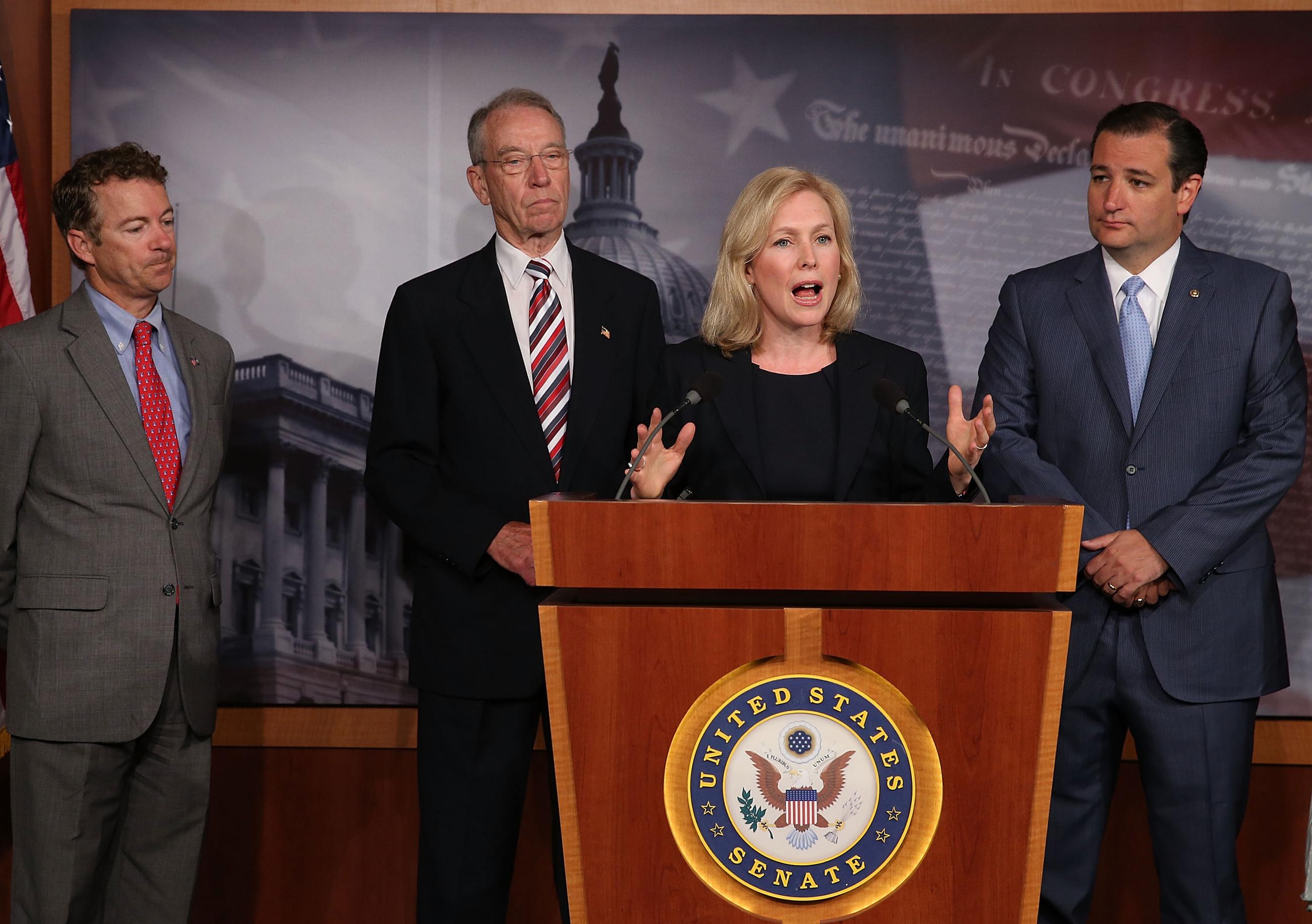 Caroline Kennedy (R) gets a hug from Sen. Kirsten Gillibrand (D-NY) during her Senate Foreign Relations Committee confirmation hearing on Capitol Hill, September 19, 2013 in Washington, DC.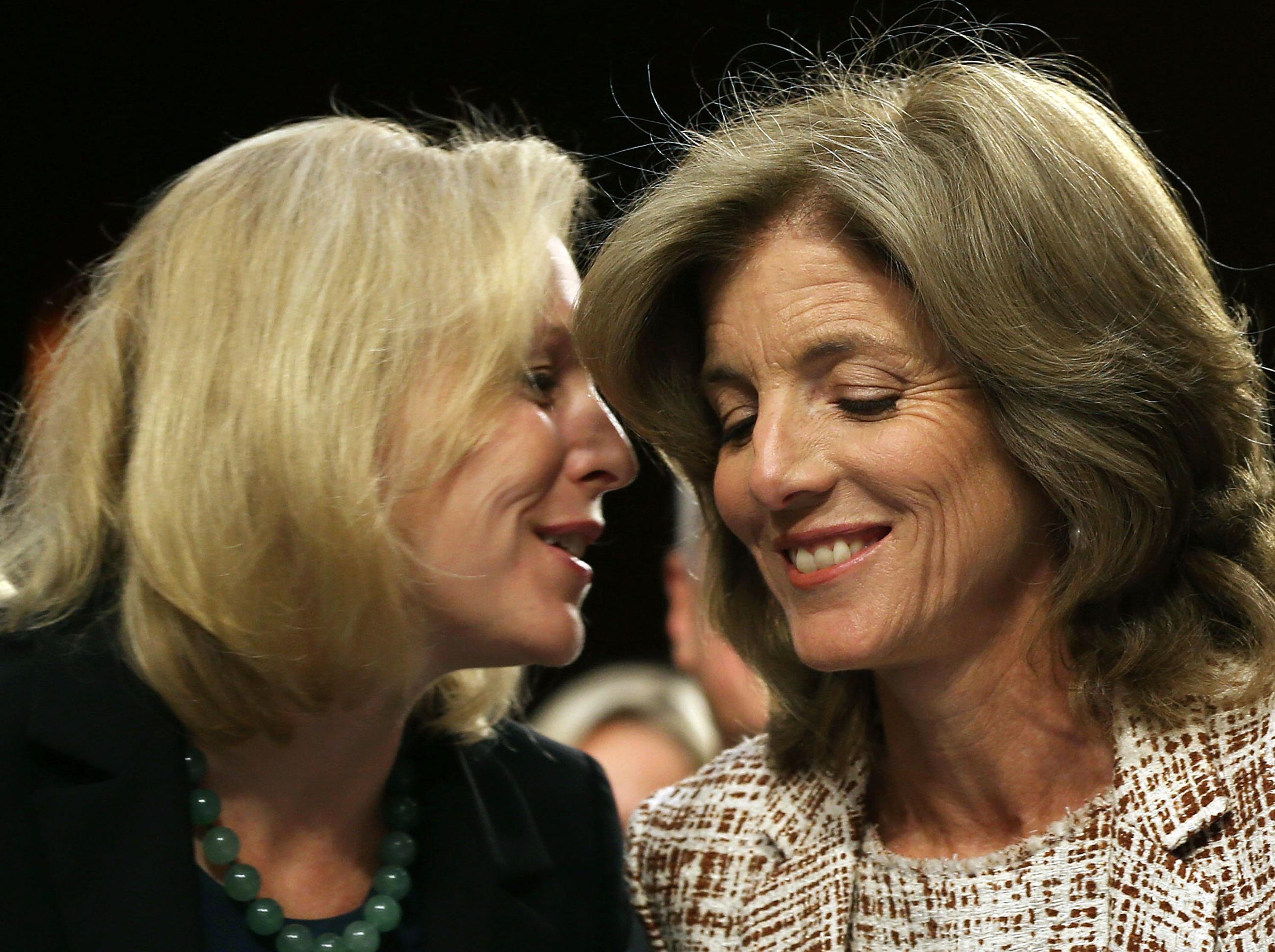 President Barack Obama steps off Air Force One with Senator Kirsten Gillibrand, D-NY, and Senator Chuck Schumer (R), D-NY, on November 15, 2012 upon arrival in New York City.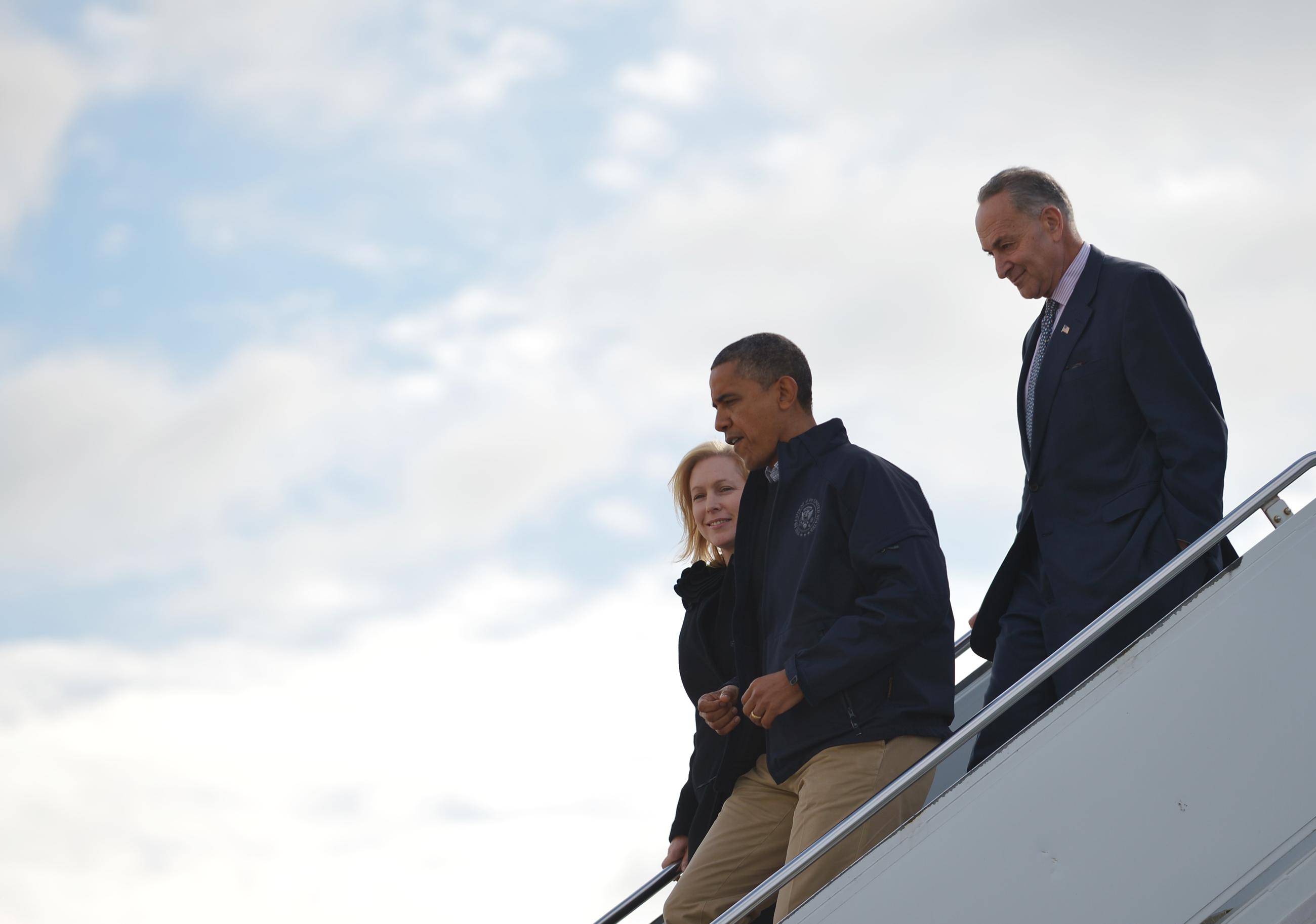 Sen. Kirsten Gillibrand (D-NY) walks on crutches as she arrives at the Senate Democratic Policy luncheon at the U.S. Capitol October 15, 2013 on Capitol Hill in Washington, DC.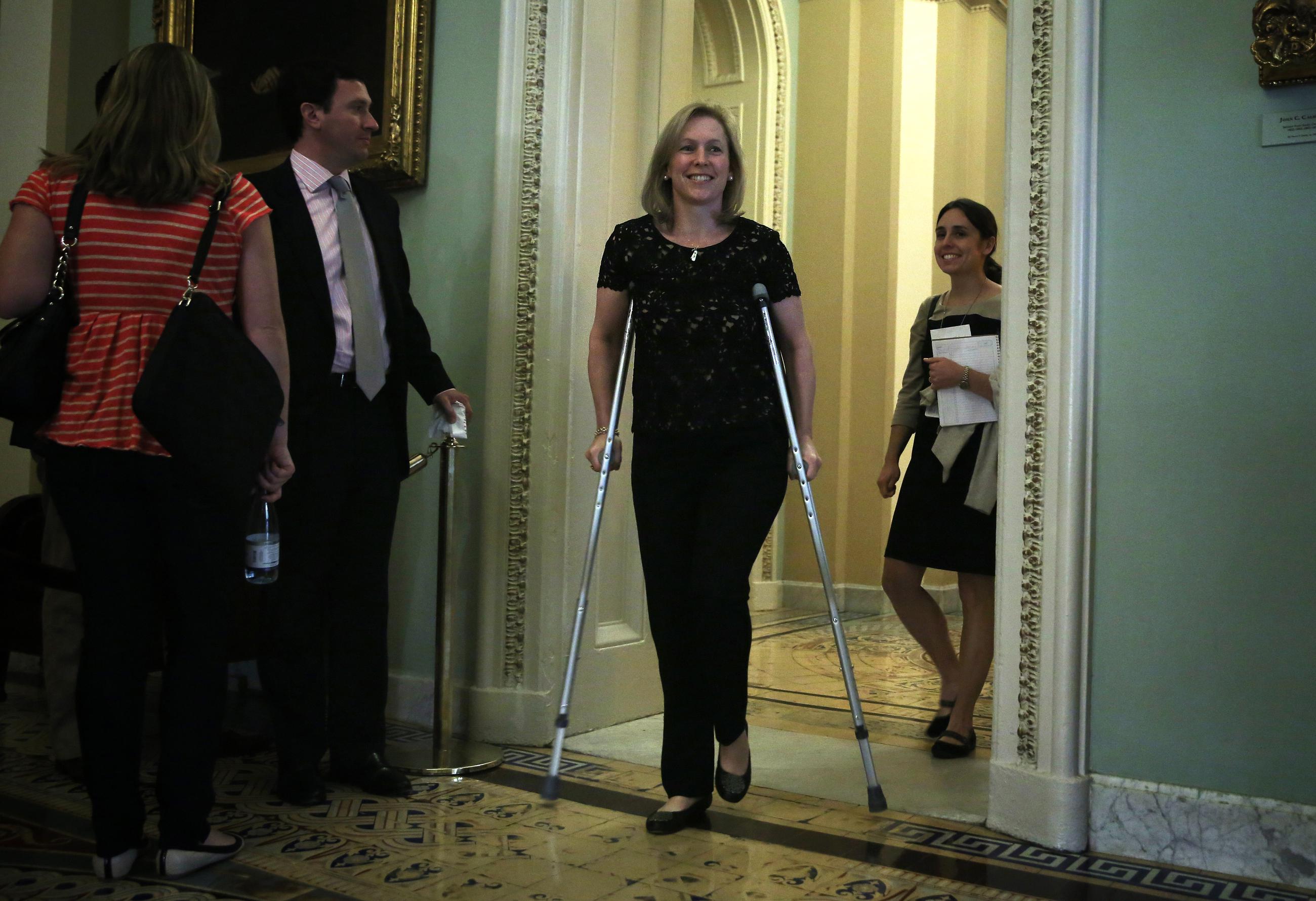 LEFT TURN
In 2009, two days be­fore Gil­librand was sworn in to the Sen­ate as Hil­lary Clin­ton's suc­cessor, the 100-year-old Span­ish-lan­guage news­pa­per, El Di­ario, splashed her pic­ture across their cov­er with the head­line: "Anti In­migrante." The piece quoted Peter Rivera, an As­sembly mem­ber and now New York's com­mis­sion­er of labor, as say­ing her "hard-line stance" of op­pos­ing am­nesty for un­doc­u­mented im­mig­rants "bor­ders on xeno­pho­bia." At the same time, a slew of House mem­bers, such as Reps. Car­o­lyn Malo­ney and Car­o­lyn Mc­Carthy, threatened to run against her in 2010 be­cause of her con­ser­vat­ive re­cord on guns.
But Gil­librand was already work­ing to court pro­gress­ives. One of her earli­est moves in the Sen­ate was to hire the Mir­Ram Group, a pub­lic-af­fairs con­sult­ing com­pany with ties to the His­pan­ic com­munity, in­clud­ing then-As­sembly­man Rivera. Mir­Ram set up meet­ings throughout New York City between Gil­librand and His­pan­ic lead­ers in or­der for her to "listen and learn" about pri­or­it­ies with­in the Latino com­munity.
She met with Rep. Nydia Velazquez, D-N.Y., a meet­ing in which Gil­librand would of­fer her sup­port on the Dream Act, the pro­posed le­gis­la­tion that would grant leg­al status to some chil­dren of il­leg­al im­mig­rants. For someone who had once op­posed Eli­ot Spitzer's plan to provide un­doc­u­mented res­id­ents with driver's li­censes and who sup­por­ted cut­ting aid to sanc­tu­ary cit­ies, it was more than a ton­al shift. Gil­librand sat down with policy ex­perts like Muz­af­far Chishti of the Mi­gra­tion Policy In­sti­tute, who told Na­tion­al Journ­al he was "ex­tremely in­trigued by how quickly she changed her stance." She also met with El Di­ario.
"I was stressed out," Lu­is Mir­anda of Mir­Ram said about the en­counter. "But she was such a good listen­er and so em­path­et­ic that she im­me­di­ately dis­armed people. Just take a look at the cov­er­age from be­fore the meet­ing, and how it ended in just a couple of weeks."
It was all right out of the Hil­lary Clin­ton play­book; 16 months be­fore her own elec­tion to the Sen­ate, Clin­ton traveled the state on her own "listen­ing tour." Gil­librand says today that her evol­u­tion makes sense, as she now rep­res­ents an en­tire state in­stead of just one con­gres­sion­al dis­trict. For that trans­form­a­tion to be cred­ible, however, Gil­librand needed to un­der­take what Clin­ton had be­fore: an ob­serv­able peri­od of "edu­ca­tion," even if it was one that was no­tice­ably brief. (Ac­cord­ing to The New York Times, Schu­mer even had to tell her to "slow down" so that it didn't look quite so blatantly polit­ic­al.)
Take her stance on guns. When Gil­librand was in the House, rep­res­ent­ing her up­state dis­trict, she voted with the NRA 100 per­cent of the time. She sup­por­ted a bill lift­ing gun re­stric­tions in the Dis­trict of Columbia, co­sponsored le­gis­la­tion that would make it more dif­fi­cult for law-en­force­ment agen­cies to ac­cess gun-trace data, and was called by the Daily Beast a "bizarro ver­sion of Sarah Pal­in."
But the day after she was ap­poin­ted to the Sen­ate, Gil­librand made her way to a rally in Har­lem held by the Rev. Al Sharpton. She told the crowd she could po­ten­tially be flex­ible on the is­sue of gun con­trol, and left to a stand­ing ova­tion. She spent the next few weeks talk­ing with ad­voc­ates and vic­tims of gun vi­ol­ence.
"There aren't a lot of drive-by shoot­ings or any­thing up in her old dis­trict," says Jack­ie Hilly, who at the time was ex­ec­ut­ive dir­ect­or of New York­ers Against Gun Vi­ol­ence, and who or­gan­ized sit-downs with the sen­at­or. "Once she star­ted talk­ing to all the vic­tims and see­ing that side of the dev­ast­a­tion, she was pretty much open right away to sup­port­ing dif­fer­ent kinds of bills."
With­in months, Gil­librand came out and op­posed one of the very bills she had co­sponsored in the House. She, in­stead, ad­ded her name to a bill to fight gun traf­fick­ing with Rep. Mc­Carthy, the same con­gress­wo­man who had been threat­en­ing to chal­lenge her in a primary. Her grade from the NRA tumbled to an F, something that a spokes­man said he couldn't re­mem­ber see­ing dur­ing his dec­ade at the or­gan­iz­a­tion.
And yet Gil­librand's re­versal has not been com­pletely per­suas­ive to the gun-con­trol crowd. "If people change their po­s­i­tions, even if it's in the dir­ec­tion you like, you also have to think how com­mit­ted are they to it," says Arkadi Ger­ney, who was the polit­ic­al dir­ect­or of May­ors Against Il­leg­al Guns at the time of Gil­librand's as­cen­sion and who now works at the Cen­ter for Amer­ic­an Pro­gress.
Part of the prob­lem is that Gil­librand has not been a per­fect ally for the gun-con­trol move­ment. While Con­gress was in the midst of an epic struggle to pass a bill on back­ground checks, gun-re­form ad­voc­ates were do­ing whatever they could to pull vul­ner­able mem­bers off the fence. When Gil­librand brought up her bill on gun traf­fick­ing — a bill that would make it a fed­er­al crime for straw pur­chasers to leg­ally buy weapons in states with loose gun laws and sell them to people in oth­er states with stricter laws — some wor­ried that the back­ground-check bill, one of deep im­port­ance to Schu­mer, would suf­fer.
"The back­ground-check bill was both the biggest policy fix and the most sal­able," says one Wash­ing­ton gun-re­form ad­voc­ate who be­lieved that Gil­librand was more in­ter­ested in build­ing her brand than ush­er­ing in suc­cess­ful le­gis­la­tion. "Neither of those facts was per­suas­ive to Gil­librand, who was so eager to in­tro­duce the first bill with bi­par­tis­an sup­port that she screwed Schu­mer by rush­ing out a traf­fick­ing bill. It was watered down, it was polit­ic­ally low-hanging fruit, and it gave mem­bers in both cham­bers an ex­cuse to say they sup­por­ted something. It let them off the hook way too easy." The back­ground-check bill has yet to make it to a vote.
Na­tion­al Journ­al's vote rat­ings help tell the story of Gil­librand's polit­ic­al jour­ney. In 2007, after her first year in Con­gress, NJ ranked her as the 185th most lib­er­al mem­ber of the House. By 2010, one year in­to her Sen­ate ten­ure, she had be­come Schu­mer's ideo­lo­gic­al twin, tied with him as the 10th most lib­er­al mem­ber of the cham­ber. The fol­low­ing year, she sat atop those rank­ings, along with Ore­gon's Jeff Merkley.
UP­STATE ROOTS
So far, Gil­librand's in­con­sist­ent re­cord hasn't dam­aged her. Even when her op­pon­ent in the 2012 elec­tion, con­ser­vat­ive law­yer Wendy Long, tried to make an is­sue of it, it didn't get much trac­tion. "People don't like flip-flop­pers, but it was hard to make the case be­cause she was not com­ing out to en­gage," Long says. "And it was less of a polit­ic­al li­ab­il­ity since she had aligned her­self up to fit in with one of the bluest states."
Not only did her re­cord not hurt, but in a sense hav­ing mul­tiple per­son­al­it­ies may be, in an odd way, a boon to Gil­librand's long-term pro­spects. Sure, her haters have plenty to glom on to. ("I re­gard her as be­ing one of the worst kind of politi­cians I can think of," says Roy Beck of the anti-im­mig­rant group Num­ber­sUSA. "Her flip-flop­ping is just in­dic­at­ive that she's just com­pletely in it for her­self," Long grouses.) But most of her con­stitu­ents get the op­por­tun­ity to see in her what they want to see.
"She un­der­stands that even when she takes po­s­i­tions that might be seen as re­strict­ive to gun en­thu­si­asts, she can talk to them and ex­plain her po­s­i­tion and her back­ground," says Demo­crat­ic strategist Joe Trippi. "It dis­arms people"…. That sounds bad in that con­text, but that's what she does." In oth­er words, if she no longer votes like a cent­rist, she still knows how to com­mu­nic­ate like one.
Nev­er mind that she spent 15 years as a Man­hat­tan law­yer; to up­staters, she's the closest thing to one of them they can hope for in the Sen­ate. It's why at a press con­fer­ence, held just hours after the ham­burger cook-off, on in­vas­ive spe­cies harm­ing the Fin­ger Lakes — one in which Asi­an clams, not Re­pub­lic­ans, were the en­emy — she could say this: "I was just read­ing the Farm­ers' Al­man­ac, and it's go­ing to be one of the most bru­tally cold win­ters." And no one laughed at her. Schu­mer could nev­er pull off a line like that. That could partly ex­plain Gil­librand's strong show­ing last year: She got 72 per­cent of the vote, a high­er per­cent­age than the seni­or sen­at­or has ever garnered.
"It's a pretty con­ser­vat­ive area around here," says Robert Hard­ing, a loc­al re­port­er who was cov­er­ing the event. "And there's this really pess­im­ist­ic view of New York City. You'll hear people talk­ing down about New York City politi­cians all the time, but you don't hear that about Gil­librand."
Gil­librand's cred­ib­il­ity up­state has been built up over gen­er­a­tions. Her ma­ter­nal grand­moth­er, Dorothea "Polly" Noon­an, paved the way for her in Al­bany. She was a plain-speak­ing dy­namo of a wo­man who wiel­ded in­flu­ence be­hind the scenes. She worked as the right-hand wo­man for Erastus Corn­ing, the so-called May­or for Life of Al­bany, for years. The only job Noon­an was ever able to hold for him was sec­ret­ary, but the title be­lied her im­port­ance.
"She was as power­ful as they let wo­men be in that era," says Paul Grondahl, the au­thor of May­or Corn­ing: Al­bany Icon, Al­bany En­igma. "She was a power broker who could get out the wo­men's vote, help en­force re­tali­ation against those who went against the ma­chine, and wasn't afraid to spout pro­fan­it­ies and go toe-to-toe with the men."
Nat­ur­ally, Noon­an was an "in­spir­a­tion" for Gil­librand and, two gen­er­a­tions later, the young, as­pir­a­tion­al wo­man took that same drive and ad­ded a little big-city pol­ish to it. And Gil­librand's own am­bi­tion is well-known. Early in her con­gres­sion­al ca­reer, her col­leagues went so far as to call her Tracy Flick, a ref­er­ence to the blond, lad­der-climb­ing char­ac­ter from the film Elec­tion.
Her up­state roots are genu­ine: Born in Al­bany, Gil­librand stud­ied at an all-girls school in Troy be­fore at­tend­ing Dart­mouth. She in­terned with Re­pub­lic­an Sen. Al D'Am­ato, at­ten­ded UCLA law school, and from 1991 to 2000 worked at the Man­hat­tan white-shoe firm of Dav­is Polk & Ward­well. Her work with the cor­por­ate firm in­cluded rep­res­ent­ing Philip Mor­ris in the Justice De­part­ment's probe in­to the to­bacco in­dustry, a role doc­u­mented at length by The New York Times. But if Gil­librand's work would have alarmed loc­al Demo­crats, her ef­forts at rais­ing money and or­gan­iz­ing wo­men on be­half of Hil­lary Clin­ton's sen­at­ori­al cam­paign more than made up for it.
"She just wouldn't ever take no for an an­swer," re­mem­bers Kar­en Fin­ney, a former Demo­crat­ic Na­tion­al Com­mit­tee spokes­wo­man, who along with Gil­librand helped form a group of young pro­fes­sion­al fe­male fun­draisers. Gil­librand began to seek out an op­por­tun­ity to run for of­fice her­self. Be­liev­ing that the city was already over­crowded with qual­ity can­did­ates, she asked her hus­band, Jonath­an, how he felt about rais­ing kids up­state, and they moved the fam­ily to Hud­son.
Itch­ing to get in­to a race for the 20th Dis­trict, an area that gave 54 per­cent of its vote to George W. Bush in 2004 and which runs from the Up­per Hud­son Val­ley north in­to the Ad­iron­dacks, she toyed with the idea of run­ning in 2004, only to be told by Clin­ton that 2006 would be a bet­ter year for her. Demo­crats gained 31 seats in 2006, and with the help of old Clin­ton hands like Howard Wolf­son, Gil­librand would be one of them.
It was a nasty elec­tion — the kind that would have made her grand­moth­er proud. Dur­ing the cam­paign, present-day pho­tos cir­cu­lated show­ing her op­pon­ent John Sweeney at a fra­tern­ity party; ques­tions were raised about money he re­ceived from dis­graced lob­by­ist Jack Ab­ramoff; and a po­lice re­port was leaked in which Sweeney's wife said her hus­band was "knock­ing her around the house."
Sweeney tried un­suc­cess­fully to paint Gil­librand as just an­oth­er New York City car­pet­bag­ger, but Gil­librand's con­nec­tions to the area were evid­ent. Many of the cam­paign staff spent the cam­paign liv­ing in Noon­an's old house. Gil­librand won with 53 per­cent of the vote.
Once in Con­gress, she joined the Blue Dog Co­ali­tion of con­ser­vat­ive Demo­crats, voted against the bank bail­out, and earned sup­port from good-gov­ern­ment types for pub­lish­ing her sched­ule on­line. The Times her­al­ded her de­cision to of­fer a level of trans­par­ency "simply un­heard of in Con­gress."
When Clin­ton was ap­poin­ted sec­ret­ary of State, Gil­librand — with her con­ser­vat­ive dis­trict and vot­ing re­cord — may have seemed like an odd choice to re­place her. But des­pite be­ing a re­l­at­ive un­known, Gil­librand had power­ful sup­port­ers — most not­ably Schu­mer. Even with her stances on gun con­trol and im­mig­ra­tion, New York's seni­or sen­at­or lob­bied New York Gov. Dav­id Pa­ter­son to ap­point her. "I un­der­stood that people do grow and evolve," Schu­mer told me when asked why he sup­por­ted Gil­librand. "And she has."
Did she give him any as­sur­ances that she would change her tune?
"She didn't have to," he says. "I just used my judg­ment."
BAT­TLING THE PENTAGON
In the Sen­ate, Gil­librand made a name for her­self quickly, fight­ing for com­pens­a­tion for 9/11 first-re­spon­ders and for re­peal of the mil­it­ary's "don't ask, don't tell" policy. (She ul­ti­mately was on the win­ning side of both battles.) The vic­tor­ies earned Gil­librand a re­spect from the lib­er­al base and a repu­ta­tion for tenacity.
More not­able re­cently has been her quest to com­bat the scourge of sexu­al as­sault in the mil­it­ary. The Pentagon has es­tim­ated — based on an­onym­ous sur­veys — that 26,000 cases of sexu­al as­sault oc­curred in 2012 alone. Com­pound­ing the prob­lem, in Gil­librand's view, is that com­mand­ing of­ficers take part in the ad­ju­dic­a­tion pro­cess of of­fend­ers. "The chain of com­mand has failed them," she said in an in­ter­view, not­ing that less than 4,000 of those cases were ac­tu­ally re­por­ted. "And if you can't trust them to de­liv­er justice, it makes it much less likely to even re­port cases."
Gil­librand's push to re­move sexu­al-as­sault cases from the chain of com­mand has pit­ted her against her more seasoned col­leagues in the Sen­ate. Carl Lev­in, the chair­man of the Armed Ser­vices Com­mit­tee, and Claire Mc­Caskill, a former pro­sec­utor, have whipped against it, sup­port­ing in­stead their own le­gis­la­tion that re­forms the pro­cess but keeps the chain of com­mand in­tact. They, along with Pentagon of­fi­cials, ar­gue that Gil­librand's pro­pos­al would be det­ri­ment­al to the au­thor­ity of com­mand­ing of­ficers.
But Gil­librand has shown an abil­ity to con­nect across the aisle in a way that many of her fel­low Demo­crats haven't. When she an­nounced her sexu­al-as­sault plan, she was flanked by two of the most con­ser­vat­ive mem­bers in the Sen­ate: Ted Cruz, from the mil­it­ary-heavy state of Texas, and Rand Paul, the tea-party stal­wart from Ken­tucky. "She made a very strong ar­gu­ment," Cruz would say.
Gil­librand, who has been ca­jol­ing her col­leagues re­lent­lessly on the le­gis­la­tion, main­tains she is draw­ing close to a ma­jor­ity, but find­ing a fili­buster-proof 60 votes could elude her. Still, her work has drawn at­ten­tion to the is­sue — and to her. There's been a spot on the Daily Show, a pro­file on NPR, and chat­ter in the mar­gins that she could mount a pres­id­en­tial cam­paign.
Gil­librand's own team, however, says she isn't act­ing like a politi­cian who wants to land on the na­tion­al radar. "If Kirsten Gil­librand was us­ing polling to de­cide what is­sues to at­tack, she would not have chosen gay mar­riage, 9/11, and mil­it­ary sexu­al as­sault," says Je­frey Pol­lock, the sen­at­or's poll­ster. "These are def­in­itely not go­ing to rank as top three things in av­er­age voters con­scious­ness"…. These are is­sues that have been left for dead, and she said she wasn't will­ing to give them up."
That doesn't mean there aren't be­ne­fits. The 2012 pres­id­en­tial elec­tion saw the largest gender gap since Gal­lup began meas­ur­ing such things in 1952. Pres­id­ent Obama was able to over­come los­ing the male vote by 8 per­cent be­cause he had a whop­ping 12-point ad­vant­age over Mitt Rom­ney with wo­men. It was the first time since 1996 that a can­did­ate for pres­id­ent won by win­ning wo­men and los­ing men.
Along that line, Gil­librand has in­tro­duced a series of bills aimed at in­creas­ing wo­men's stand­ing in the eco­nomy. The mul­ti­part le­gis­la­tion would in­crease the min­im­um wage, ex­pand paid fam­ily med­ic­al leave, provide uni­ver­sal pre-K, make qual­ity af­ford­able day care ac­cess­ible, and man­date equal pay for equal work. "These are not new ideas," Gil­librand says. "There just has not been ac­tion on it. It's im­port­ant to put them in the spot­light and have a na­tion­al de­bate about it."
The best way to drive the is­sues for­ward, she says, is to in­crease the num­ber of wo­men on the Hill past the re­cord num­bers (about 20 per­cent in both cham­bers) that are there already. And when that hap­pens, Gil­librand will be a ma­jor reas­on why. Dur­ing the last cycle, she raised $1 mil­lion for wo­men can­did­ates — in­clud­ing Mc­Caskill — with her Off the Side­lines PAC. This time she has pledged to double it. That gives her lever­age in the Sen­ate that oth­ers lack.
"She's one of those sen­at­ors that if she's not with you on something, she's prob­ably not go­ing to be per­suaded," says a staffer who has worked with her. "But no one will com­pletely try and shut her out be­cause she can raise so much money for you. She's a lot of sen­at­ors' 'frenemy.' "
"This is what makes her a ma­jor in­side play­er," adds Hank Sheinkopf, a New York Demo­crat­ic strategist. "New York is the ATM of Amer­ic­an polit­ics."
WALL STREET'S OWN
There are prob­lems that come with that. Obama, the lib­er­al pop­u­list, had to court Wall Street in his pres­id­en­tial run, was cri­ti­cized for then tak­ing it too easy on large banks, and ul­ti­mately re­versed him­self and ac­cep­ted su­per PAC funds to fin­ance his reelec­tion. In the 2012 cycle Gil­librand, the erstwhile up­stater, raised more than $3 mil­lion from the fin­ance, in­sur­ance, and real-es­tate in­dus­tries; Schu­mer, a long­time sup­port­er of Wall Street, raised $212,000. (It was, of course, a nonelec­tion year for Schu­mer. The last time he was up for reelec­tion, in 2010, he pulled in north of $5.5 mil­lion. Gil­librand came in second that year.)
Over the sum­mer, Gil­librand made the pil­grim­age to one of the holy sites for rising stars of the Left: the Daily Show. In the past, it's been friendly ter­rit­ory for Gil­librand, as Jon Stew­art helped her achieve hero status for her work on the 9/11 First Re­spon­ders Health Fund. But Stew­art was on sab­bat­ic­al, leav­ing Gil­librand to con­tend with John Oliv­er, who des­pite his gee-whiz Brit­ish earn­est­ness, wasn't about to give the sen­at­or a pass. "I'm un­com­fort­able about something, and, I think, I'm hop­ing that you're go­ing to make me feel bet­ter about it," Oliv­er said. "Help me un­der­stand the re­la­tion­ship between banks and polit­ics. Be­cause on the Venn dia­gram of that, you are right in the middle of that"…. What I deeply want to know is, what do you have to do for that?"
It's a ques­tion, too, that many pro­gress­ives want to know as well. As the Left con­tin­ues to push to de-con­sol­id­ate the in­dustry's power, some say that Gil­librand's re­cord since com­ing to the Sen­ate has been less than stel­lar.
"She's ac­tu­ally a prob­lem," says Bart Naylor of Pub­lic Cit­izen. "She's not someone we go to when we want change on bank­ing re­form."
Naylor points to a let­ter she wrote ask­ing for the delay of the "Vol­ck­er Rule," a pro­pos­al in the Dodd-Frank le­gis­la­tion that would reign in risky trad­ing by the coun­try's largest banks. While Gil­librand likes to say she sup­ports the rule, the lan­guage of the let­ter echoes ar­gu­ments of those in­terests that have sought a more ex­tens­ive delay.
The New York Times' ed­it­or­i­al board also raised con­cerns about Gil­librand in Ju­ly of this year re­gard­ing yet an­oth­er let­ter she signed, in which the sen­at­or urges delay of an­oth­er por­tion of the Dodd-Frank law, this one in­volving de­riv­at­ives. In do­ing so, The Times con­ten­ded that Gil­librand was "go­ing against the cause of re­form, lob­by­ing for delays that would de­rail the law."
"It's im­possible to prove that the money in­flu­enced her, but all we can say is, Gil­librand gets money from Wall Street and does things as far as I can tell that Wall Street wants," Naylor says.
In an­swer­ing Oliv­er, Gil­librand channeled the rur­al pop­u­list she once was, sound­ing far more like Rand Paul than Chuck Schu­mer. "Let me give you some con­fid­ence," Gil­librand said smack­ing the table. "We had a very large vote about the bank­ing in­dustry — it was called the bail­out. I voted against the bail­out."
Of course, that was a vote in 2008 — back when her con­stitu­ents all lived more than 100 miles from down­town Man­hat­tan and when she raised less than a quarter of what she did last cycle from Gold­man Sachs. Back when she nev­er had to pick between bean bur­gers and beef ones and could hap­pily boast about the guns un­der her bed. It looks like that per­son is gone for good. But should Gil­librand seek na­tion­al of­fice bey­ond New York, don't be sur­prised if she has a second life. Or would it be a third?