Apple agreed on Wed­nes­day to re­fund at least $32.5 mil­lion to par­ents whose chil­dren made di­git­al pur­chases without their per­mis­sion.
The re­funds are part of a set­tle­ment with the Fed­er­al Trade Com­mis­sion, which ac­cused Apple of an un­fair busi­ness prac­tice for fail­ing to ad­equately ex­plain how its billing sys­tem worked.
"This set­tle­ment is a vic­tory for con­sumers harmed by Apple's un­fair billing, and a sig­nal to the busi­ness com­munity: Wheth­er you're do­ing busi­ness in the mo­bile arena or the mall down the street, fun­da­ment­al con­sumer pro­tec­tions ap­ply," FTC Chair­wo­man Edith Ramirez said in a state­ment.
"You can­not charge con­sumers for pur­chases they did not au­thor­ize."
When users enter their pass­words on their iPhones or iPads, it opens a 15-minute win­dow al­low­ing them to make as many pur­chases as they want without reen­ter­ing their pass­word. The fea­ture is in­ten­ded to make it easi­er to buy new items for mo­bile ap­plic­a­tions, but many par­ents didn't real­ize that they were open­ing a 15-minute win­dow for pur­chases when they entered their pass­word.
As a res­ult, tens of thou­sands of par­ents handed their devices back to their chil­dren, who then racked up hun­dreds or even thou­sands of dol­lars in spend­ing sprees for in-app items, ac­cord­ing to the FTC.
One con­sumer told the FTC that her child spent $2,600 on ex­tra fea­tures for the "Tap Pet Hotel" app. Oth­er chil­dren spent hun­dreds of dol­lars on di­git­al gold, coins, and food for "Dragon Story" without their par­ents' know­ledge, the FTC said. The app "Tiny Zoo Friends" al­lowed chil­dren to spend up to $99.99 for in-game "bucks."
The set­tle­ment re­quires Apple to provide full re­funds to all par­ents whose chil­dren bought in-app items without their per­mis­sion. The com­pany will have to no­ti­fy all users who made in-app pur­chases about the avail­ab­il­ity of the re­funds, and if con­sumers claim less than $32.5 mil­lion, the re­mainder will go to the FTC.
Apple also agreed to change its billing sys­tem to en­sure it ob­tains users' "ex­press, in­formed con­sent" be­fore char­ging them for any in-app pur­chases.
"The prob­lem we've iden­ti­fied in our com­plaint con­tin­ues to this day," Ramirez said, adding that Apple has un­til March un­der the terms of its set­tle­ment to change its prac­tices.
Apple did not re­spond to a re­quest for com­ment.
What We're Following See More »
ABSENT FROM LIST: GENNIFER FLOWERS
Most Trump Guests Have Military Ties
44 minutes ago
TOP OF MIND
Trending on Google: 'Why Should Trump Not Be President'
54 minutes ago
THE DETAILS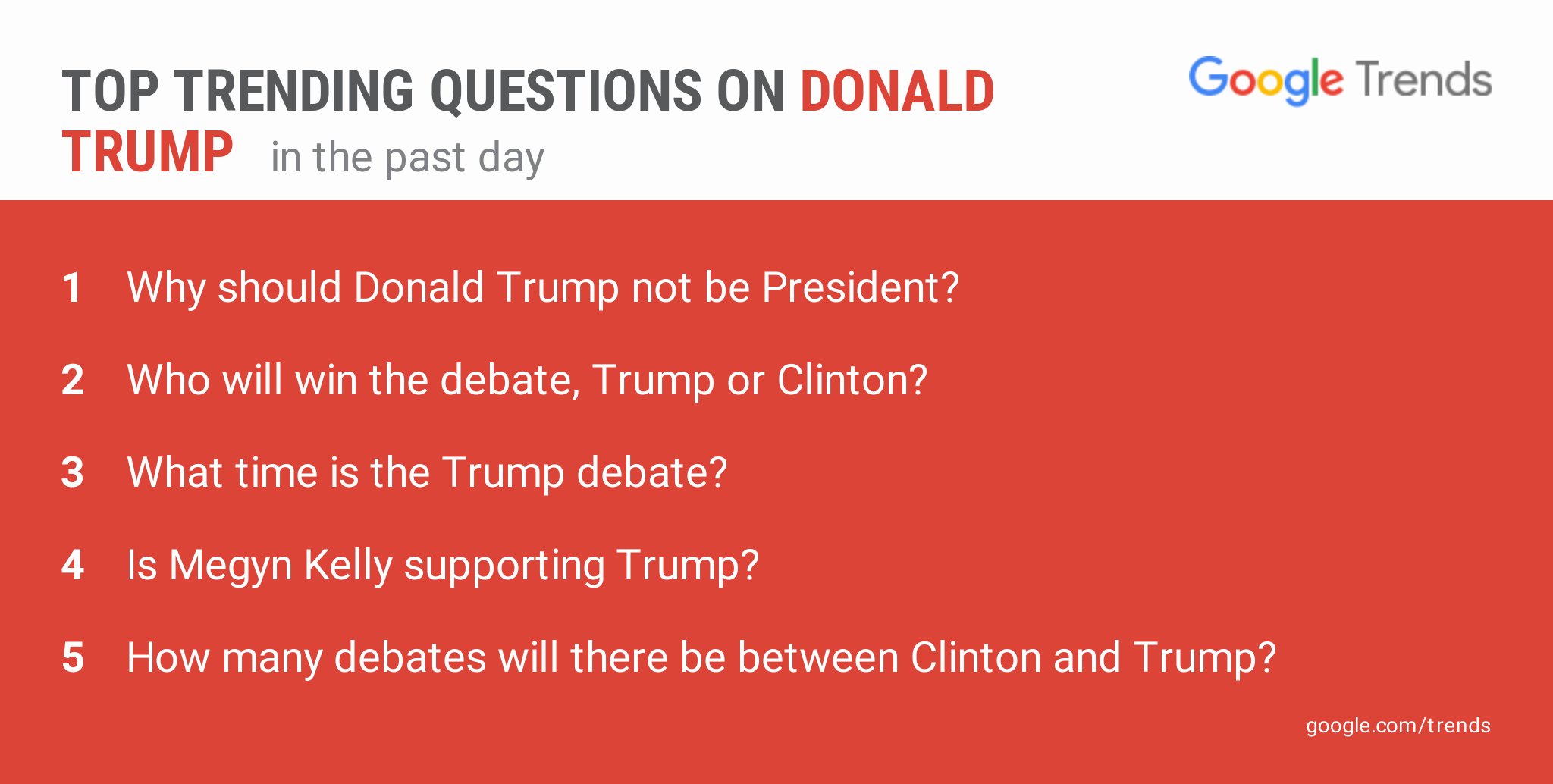 WHO PLAYED THE DONALD?
Longtime Clinton Aide Played Trump in Mock Debates
3 hours ago
THE DETAILS
After keeping the information private for most of the lead-up to the debate on Monday, it has been revealed that longtime Clinton aide Philippe Reines has been playing the role of Donald Trump in her debate prep. Reines knows Clinton better than most, able to identify both her strengths and weaknesses, and his selection for a sparring partner shows that Clinton is preparing for the brash and confrontational Donald Trump many have come to expect.
WEEKEND POLLING ROUNDUP
New Polls Still Show Razor-Thin Margins
3 hours ago
THE QUESTION
How Many Times Has the Trump Campaign Emailed Ted Cruz's Supporters?
3 hours ago
THE ANSWER
More than 30 times, in the case of some donors. Long before Cruz endorsed Trump—and before he even snubbed the nominee at the Republican National Convention—"the senator quietly began renting his vast donor email file to his former rival, pocketing at least tens of thousands of dollars, and more likely hundreds of thousands, that can be used to bankroll the Texan's own political future."