This week at a White House sum­mit on edu­ca­tion, more than 100 col­lege pres­id­ents will heed Pres­id­ent Obama's call to boost the suc­cess of low-in­come stu­dents, com­mit­ting to a wide range of im­prove­ment meas­ures, such as en­rolling more low-in­come stu­dents and bol­ster­ing fac­ulty ment­or­ing and peer-sup­port sys­tems to en­sure that those stu­dents thrive. Obama's fo­cus on equal edu­ca­tion re­flects a long­stand­ing but yet-to-be-real­ized na­tion­al com­mit­ment to mak­ing high­er edu­ca­tion ac­cess­ible for more Amer­ic­ans.
H. Kim Bot­tomly is pres­id­ent of Wellesly Col­lege. (Cour­tesy photo)This fo­cus on low-in­come stu­dents comes at a cru­cial time. Nearly 50 years after Lyn­don John­son set forth a vis­ion of "the Great So­ci­ety," de­mand­ing "an end to poverty and ra­cial in­justice" and call­ing for "every young mind" to have ac­cess to "the farthest reaches of thought and ima­gin­a­tion," high­er edu­ca­tion re­mains ho­mo­gen­ous in one strik­ing way. So­cioeco­nom­ic­ally, we are not di­verse.
Even with past pro­gress achieved by Pell Grants and oth­er fed­er­al pro­grams, low-in­come stu­dents en­roll and fin­ish col­lege at a much lower rate than their more af­flu­ent peers. Ac­cord­ing to the Na­tion­al Cen­ter for Edu­ca­tion Stat­ist­ics, the col­lege en­roll­ment rate for low-in­come stu­dents was about 50 per­cent in 2011, com­pared with more than 80 per­cent for high-in­come stu­dents.
One im­port­ant reas­on for this is the lack of in­form­a­tion re­gard­ing col­lege costs. Many low- and middle-in­come fam­il­ies as­sume they can­not af­ford a private four-year col­lege. Many high-achiev­ing, lower-in­come stu­dents don't even ap­ply to, much less at­tend, se­lect­ive schools. Yet se­lect­ive col­leges of­ten have large en­dow­ments that en­able them to of­fer sub­stan­tial fin­an­cial-aid pack­ages, to have need-blind ad­mis­sions policies, and to re­duce or even elim­in­ate loan bur­dens for stu­dents from the low­est in­come levels. These se­lect­ive schools may cost even less than the loc­al pub­lic uni­versity. A New York Times art­icle last March showed, for ex­ample, that the av­er­age cost per year at the Uni­versity of Wis­con­sin sys­tem for a low-in­come stu­dent is $10,000; for the same stu­dent, Har­vard would cost $1,300.
There is an ob­vi­ous dis­con­nect between what fam­il­ies think they will need to pay, and what col­lege ac­tu­ally costs — and this dis­con­nect is one part of the ex­plan­a­tion for un­equal ac­cess. Provid­ing more ac­cess­ible and ac­cur­ate in­form­a­tion about ac­tu­al col­lege costs is a cru­cial first step to­ward achiev­ing Obama's call for help­ing more Amer­ic­ans enter in­to and suc­ceed in high­er edu­ca­tion.
Welles­ley eco­nom­ics pro­fess­or Phil­lip B. Lev­ine led the de­vel­op­ment of the col­lege's quick-cost es­tim­at­or. (Cour­tesy photo)For Welles­ley Col­lege, as for many oth­er col­leges, re­cruit­ing and help­ing tal­en­ted stu­dents from all back­grounds suc­ceed is a top pri­or­ity. A key chal­lenge to meet­ing that goal is at­tract­ing those high-achiev­ing stu­dents who as­sume they can't af­ford a se­lect­ive col­lege. Though that chal­lenge is unique for every in­sti­tu­tion, we've de­veloped one low-cost solu­tion that is simple enough to share quite widely: My In­Tu­ition: Welles­ley's Quick Col­lege Cost Es­tim­at­or provides any­one with an In­ter­net con­nec­tion ac­cess to a pre­lim­in­ary tu­ition es­tim­ate. While all schools are now re­quired to of­fer a net-price cal­cu­lat­or, these tools are of­ten in­tim­id­at­ing and cum­ber­some, fre­quently re­quir­ing an­swers to some 50 ques­tions. With My in­Tu­ition, pro­spect­ive stu­dents can ob­tain an ac­cur­ate es­tim­ate in about three minutes by an­swer­ing just six straight­for­ward fin­an­cial ques­tions.
Res­ults ob­tained from our cal­cu­lat­or sug­gest that roughly 90 per­cent of fam­il­ies in the United States with col­lege-age chil­dren are eli­gible for fin­an­cial aid at Welles­ley. Pro­spect­ive stu­dents could pay as little as $2,000 in out-of-pock­et ex­penses for those fam­il­ies earn­ing up to $40,000 per year, and up to an es­tim­ated fam­ily con­tri­bu­tion of $29,000 for fam­il­ies earn­ing between $125,000 and $150,000 an­nu­ally. (See the ab­stract and ac­cess the pa­per pub­lished by the Hamilton Pro­ject.)
Be­cause many schools share a sim­il­ar meth­od­o­logy for eval­u­at­ing fin­an­cial need, My in­Tu­ition can be eas­ily ad­ap­ted and im­ple­men­ted at oth­er col­leges. By broad­en­ing the ap­plic­ab­il­ity of the Welles­ley-de­veloped tool, schools na­tion­wide can help fam­il­ies make more in­formed de­cisions about their col­lege op­tions. We are com­mit­ted to help­ing to ex­pand the use of My in­Tu­ition else­where, be­cause we want to in­crease the num­ber of low-in­come stu­dents who ap­ply not only to Welles­ley, but also to many oth­er col­leges.
For John­son, the "Great So­ci­ety" was nev­er "a safe har­bor, a rest­ing place, a fin­ished work." On the con­trary, it was a work in pro­gress, "a chal­lenge con­stantly re­newed." And it is up to all of us — edu­cat­ors, poli­cy­makers, cit­izens — to take up that chal­lenge. It is im­port­ant to re­mem­ber that "great" does not simply mean rich and power­ful, but mor­ally great — rich in mind and spir­it, not just in pock­et.
At Welles­ley, we are still heed­ing the Great So­ci­ety's battle cry, and are ex­cited that it has been reawakened by this ad­min­is­tra­tion — we are among those 100 col­leges that re­spon­ded to Pres­id­ent Obama's call. Our in­nov­at­ive meas­ures such as My in­Tu­ition, en­hanced STEM pro­grams, ment­or­ing net­works, and stu­dent-sup­port sys­tems, however mod­est, are im­port­ant steps to­ward help­ing "every young mind" ima­gine and achieve full po­ten­tial. Col­lect­ively, with its re­newed fo­cus among so many col­leges, our coun­try may yet achieve LBJ's dream: equal ac­cess to high­er edu­ca­tion for all young minds, no mat­ter their fam­ily cir­cum­stances.
What We're Following See More »
STAFF PICKS
Bannon Still Collecting Royalties from 'Seinfeld'
44 minutes ago
WHY WE CARE
The Hollywood Reporter takes a look at a little-known intersection of politics and entertainment, in which Trump campaign CEO Steve Bannon is still raking in residuals from Seinfeld. Here's the digest version: When Seinfeld was in its infancy, Ted Turner was in the process of acquiring its production company, Castle Rock, but he was under-capitalized. Bannon's fledgling media company put up the remaining funds, and he agreed to "participation rights" instead of a fee. "Seinfeld has reaped more than $3 billion in its post-network afterlife through syndication deals." Meanwhile, Bannon is "still cashing checks from Seinfeld, and observers say he has made nearly 25 times more off the Castle Rock deal than he had anticipated."
IT'S ALL CLINTON
Reliable Poll Data Coming in RE: Debate #1
1 hours ago
WHY WE CARE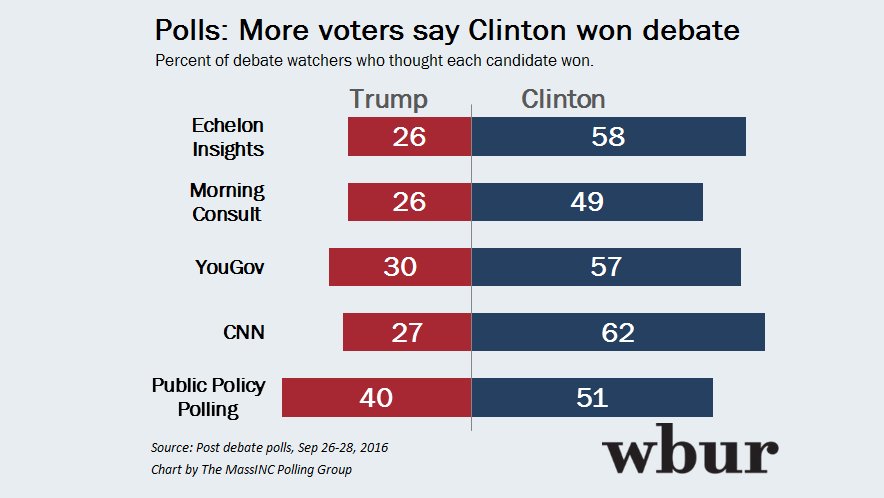 NEXT THURSDAY
Trump Transition Team Meeting with Silicon Valley VIPs
3 hours ago
THE DETAILS
Donald Trump's "transition team will meet next week with representatives of the tech industry, multiple sources confirmed, even as their candidate largely has been largely shunned by Silicon Valley. The meeting, scheduled for next Thursday at the offices of law and lobbying firm BakerHostetler, will include trade groups like the Information Technology Industry Council and the Internet Association that represent major Silicon Valley companies."
WHAT WILL PASS?
McConnell Doubts Criminal Justice Reform Can Pass This Year
3 hours ago
ALSO FIRED UNATTRACTIVE WAITRESSES
Trump Did Business with Cuba
4 hours ago
THE LATEST
Today in bad news for Donald Trump:
Newsweek found that a company he controlled did business with Cuba under Fidel Castro "despite strict American trade bans that made such undertakings illegal, according to interviews with former Trump executives, internal company records and court filings." In 1998, he spent at least $68,000 there, which was funneled through a consluting company "to make it appear legal."
The Los Angeles Times reports that at a golf club he owns in California, Trump ordered that unattractive female staff be fired and replaced with prettier women.