Cit­ing eco­nom­ic and na­tion­al se­cur­ity woes, more than a dozen European na­tions are ramp­ing up pres­sure on Wash­ing­ton to open wider its fed­er­ally re­stric­ted spig­ot of nat­ur­al-gas ex­ports.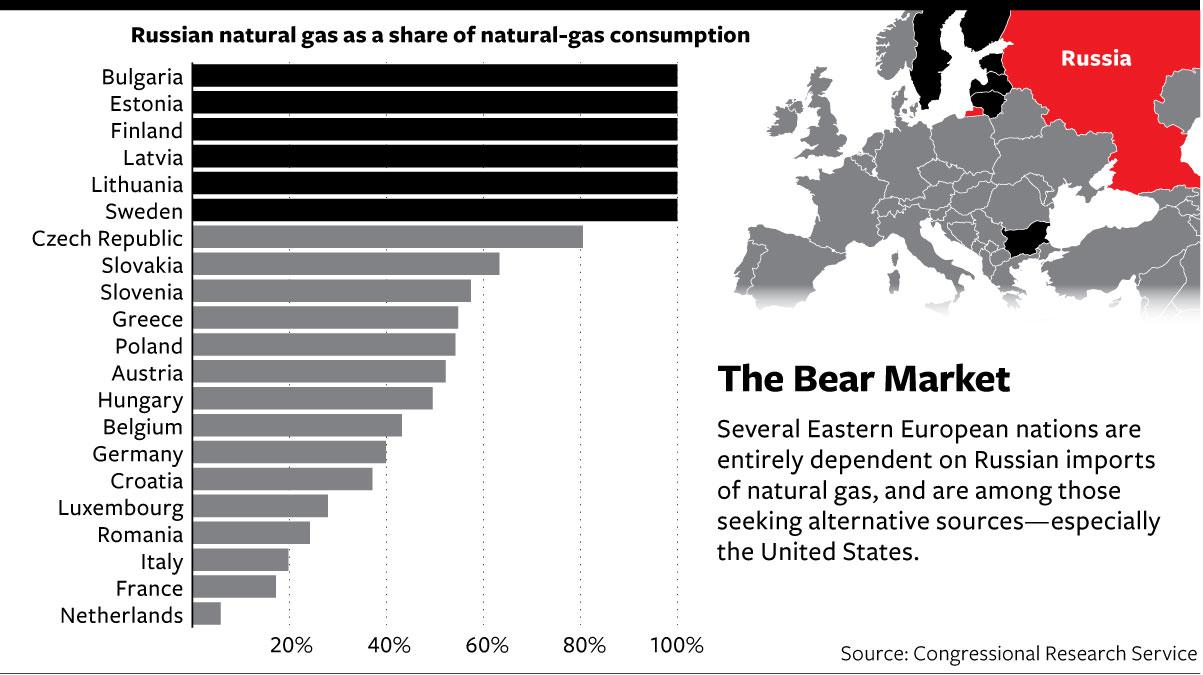 The coun­tries, which primar­ily in­clude East­ern European na­tions heav­ily de­pend­ent upon Rus­sia for their en­ergy sup­plies, are work­ing with a Wash­ing­ton-based gov­ern­ment-af­fairs firm to launch a lob­by­ing co­ali­tion in the next month with Amer­ic­an en­ergy com­pan­ies. Chart shows what per­cent­age of Europe's nat­ur­al gas con­sump­tion is sup­plied by Rus­sia.
The co­ali­tion, whose name will be LNG Al­lies, will lobby Wash­ing­ton on al­low­ing these coun­tries easi­er ac­cess to nat­ur­al gas from the United States, where sup­plies have bal­looned in re­cent years and do­mest­ic prices have plummeted com­pared with the rest of the world. Right now, fed­er­al law sig­ni­fic­antly re­stricts U.S. com­pan­ies from ex­port­ing nat­ur­al gas to coun­tries that are not free-trade part­ners with United States, which in­cludes Europe.
"These coun­tries are all still very heav­ily de­pend­ent upon Rus­sia, and they're ex­cited about get­ting in­to the LNG [li­que­fied nat­ur­al gas] mar­ket­place, and are look­ing for not only U.S. gas, but good, sol­id busi­ness re­la­tion­ships," said the co­ali­tion's or­gan­izer, who works for the firm launch­ing the co­ali­tion.
This source, who would speak only on the con­di­tion of an­onym­ity since the co­ali­tion has not yet launched, said coun­tries that are likely to be mem­bers of the group in­clude Aus­tria, the Czech Re­pub­lic, Es­to­nia, Fin­land, Latvia, Lithuania, Po­land, Ro­mania, and the Slov­ak Re­pub­lic. These nine coun­tries sent rep­res­ent­at­ives to a meet­ing last month at the Lithuani­an Em­bassy in Wash­ing­ton. Oth­er po­ten­tial mem­bers in­clude Croa­tia, Hun­gary, Slov­e­nia, Sweden, and Greece.
When reached for com­ment about its par­ti­cip­a­tion in the co­ali­tion, an of­fi­cial at the Czech Re­pub­lic Em­bassy said no fi­nal de­cision has been made. "We want to learn more about what this will en­tail, what this will mean and how this will work," said Mar­tin Pizinger, polit­ic­al and eco­nom­ic of­ficer at the em­bassy.
Si­mo­nas Å atÅ«nas, deputy chief of mis­sion and min­is­ter coun­sel­lor at the Lithuani­an Em­bassy, said the coun­try was likely to join. "We are very strongly con­sid­er­ing and prob­ably will join," Å atÅ«nas said.
The gov­ern­ment-af­fairs source said more lo­gist­ics and de­tails must still be worked out be­fore some coun­tries con­firm their in­volve­ment.
"We are fairly close to an­noun­cing something pub­licly about the co­ali­tion," the source said. "It's a little tricky dip­lo­mat­ic­ally to put to­geth­er an or­gan­iz­a­tion that can al­low em­bassies and their gas com­pan­ies to work with our in­dustry to­geth­er in a leg­al way that doesn't gen­er­ate im­mense head­aches and pa­per­work."
Two U.S. trade as­so­ci­ations, Amer­ica's Nat­ur­al Gas Al­li­ance and the Amer­ic­an Pet­ro­leum In­sti­tute, have not yet com­mit­ted to the ef­fort but are cur­rently dis­cuss­ing it. "We cer­tainly are in­ter­ested in East­ern European mar­kets and we are con­sid­er­ing the best way to work with those coun­tries to bring them Amer­ica's clean and abund­ant nat­ur­al gas, but we have not yet reached a form­al agree­ment to work with one group or an­oth­er in that en­deavor," ac­cord­ing to ANGA spokes­man Dan Whit­ten.
The im­petus be­hind this co­ali­tion has been grow­ing over the last year as European coun­tries have been meet­ing more and more with top of­fi­cials in Con­gress and with­in the ad­min­is­tra­tion to ex­plain why Europe wants Amer­ic­an gas so badly.
"We've had so many coun­try rep­res­ent­at­ives come in­to the of­fice, plead­ing with us to step up our ef­forts to ex­port LNG," said Rep. Ed Whit­field, chair­man of the House En­ergy and Com­merce En­ergy and Power Sub­com­mit­tee. "The reas­on why is be­cause the Rus­si­ans have them over the bar­rel and they're able to ex­tract really high prices from them."
In pub­lic events throughout Wash­ing­ton in re­cent months and in mul­tiple in­ter­views for this story, of­fi­cials rep­res­ent­ing European coun­tries stressed both the na­tion­al se­cur­ity and eco­nom­ic reas­ons why they want to im­port U.S. nat­ur­al gas.
One Greek mem­ber of the European Uni­on Par­lia­ment, Niki Tzavela, went so far as to say that cheap en­ergy trumps fin­an­cial aid through the In­ter­na­tion­al Mon­et­ary Fund.
"It's bet­ter if you give us cheap en­ergy than send­ing money through the IMF," Tzavela said. Cheap nat­ur­al gas would more quickly help the eco­nomy than fin­an­cial aid, she said. Over the past four years, Greece has re­ceived more than $235 bil­lion worth of in­ter­na­tion­al aid through the IMF, of which the U.S. is the biggest share­hold­er, ac­cord­ing to the IMF. The cur­rent gas price in Greece, which is a little more than 50 per­cent de­pend­ent upon Rus­si­an gas, is $17 per mil­lion Brit­ish thermal units. Tzavela says that if the United States made its gas avail­able to Europe, Greece's gas price would be $7.50, even ac­count­ing for trans­port­a­tion and in­fra­struc­ture costs.
"The en­dgame for us is to break free from the ma­nip­u­la­tion of gas prices ac­cord­ing to the crude-oil in­dex," said Tzavela, whose party (the Europe of Free­dom and Demo­cracy group) is con­ser­vat­ive by Amer­ic­an stand­ards. "This is what Gazprom has put on Europe."
A spokes­per­son Gazprom, Rus­sia's state-owned oil and nat­ur­al-gas com­pany, did not ad­dress the co­ali­tion but in­stead is­sued a broad­er state­ment. 
"Gazprom is a re­li­able sup­pli­er of nat­ur­al gas, mak­ing every ef­fort to ful­fill of its con­trac­tu­al ob­lig­a­tions," Gazprom spokes­wo­man Olga Moreva said in an e-mail. "This provides clar­ity and pre­dict­ab­il­ity of re­la­tions with both European con­sumers and with our closest neigh­bors in the years ahead."
Moreva in­dic­ated that im­port­ing nat­ur­al gas would not ne­ces­sar­ily lower prices for European na­tions, and could even in­crease prices. "In­vest­ment de­cisions on con­struct­ing LNG ter­min­als are taken on the basis of eco­nom­ic cal­cu­la­tions and feas­ib­il­ity stud­ies, but not on the be­lief that their pres­ence will re­duce gas prices for do­mest­ic con­sumers. In any case, con­struc­tion of LNG ter­min­als should be paid off and, there­fore, someone has to pay for it. In this case it is the end con­sumer."
Wash­ing­ton of­fi­cials Tzavela has met with in­clude House En­ergy and Com­merce Com­mit­tee Chair­man Fred Up­ton, R-Mich., and En­ergy De­part­ment Deputy Sec­ret­ary Daniel Pone­man. In con­ver­sa­tions with these Wash­ing­ton of­fi­cials and oth­ers, Europe faces chal­lenges rooted in both policy and polit­ics.
The En­ergy De­part­ment has ap­proved five ap­plic­a­tions to ex­port nat­ur­al gas to coun­tries that are not free-trade part­ners with the U.S., but very little if any of the gas is go­ing to European coun­tries (most are go­ing to Asia, where com­pan­ies can fetch high­er prices). More than 20 ap­plic­a­tions are pending be­fore DOE.
The law that re­stricts nat­ur­al-gas ex­ports to coun­tries that are not free-trade part­ners with the U.S., which dates back to 1938, re­quires com­pan­ies seek­ing to ex­port to these coun­tries to go through a lengthy — and in­creas­ingly polit­ic­al — reg­u­lat­ory re­view pro­cess that must de­term­ine wheth­er such ex­ports would be in the coun­try's best in­terest. The En­ergy De­part­ment gives a more auto­mat­ic ap­prov­al to nat­ur­al-gas ex­ports go­ing to coun­tries that are free-trade part­ners with the U.S.
To that end, the LNG Al­lies co­ali­tion will pur­sue a two-pronged ap­proach to change this cur­rent sys­tem. Coun­tries and com­pan­ies will lobby to en­sure nat­ur­al-gas ex­ports are part of a large free-trade agree­ment, called the Transat­lantic Trade and In­vest­ment Part­ner­ship, which the Obama ad­min­is­tra­tion and the European Uni­on began ne­go­ti­at­ing last sum­mer.
The co­ali­tion will also lobby Con­gress to pass bi­par­tis­an le­gis­la­tion in­tro­duced in both cham­bers that would ex­ped­ite nat­ur­al-gas ex­ports to coun­tries that are mem­bers of the North At­lantic Treaty Or­gan­iz­a­tion, which in­cludes many of the European coun­tries most seek­ing Amer­ica's gas.
Achiev­ing either or both of these policy ob­ject­ives will re­quire over­com­ing tricky polit­ic­al hurdles, in­clud­ing the con­cern that law­makers should first and fore­most en­sure do­mest­ic en­ergy prices re­main cheap. Some chem­ic­al com­pan­ies, which use nat­ur­al gas in their man­u­fac­tur­ing pro­cesses and be­ne­fit from low prices, are con­cerned that if the coun­try ex­ports too much nat­ur­al gas, the United States could lose its com­pet­it­ive ad­vant­age.
"I hope no one would sug­gest that our over­seas al­lies should be placed high­er in the pri­or­it­iz­a­tion queue than the Amer­ic­an con­sumer," said Kev­in Kolevar, vice pres­id­ent of gov­ern­ment af­fairs and pub­lic policy at Dow Chem­ic­al.
Tzavela, the mem­ber of the E.U. Par­lia­ment, said she sym­path­ized with this per­spect­ive. "But on the oth­er hand, in the long run, if Europe doesn't have the con­sum­ing eco­nomy, Amer­ic­an products will lose as well be­cause we will keep re­du­cing our con­sump­tion of those products," Tzavela said.
Rep. Tim Ry­an, D-Ohio, who sup­ports the NATO le­gis­la­tion and whose dis­trict in­cludes new shale-gas drilling, said nat­ur­al-gas ex­ports shouldn't be an either-or pro­pos­i­tion.
"Can't we get to a point where it's go­ing to be­ne­fit the United States and it can be­ne­fit our al­lies?" Ry­an asked. "We trade a lot with these coun­tries, we have strong polit­ic­al al­lies with these coun­tries. We've got to move away from this: 'Oh, if it's good for someone out­side the United States, it must be bad for us.' "
Rep. John Shimkus, R-Ill., who co­chairs the House Balt­ic Caucus and whose fam­ily her­it­age is Lithuani­an, echoed this sen­ti­ment.
"These coun­tries do everything we ask them on the war on ter­ror, troops in Afgh­anistan, troops in Ir­aq. They're all for us," Shimkus said of European coun­tries. "They would drop everything to help us."
In­deed, that's the mes­sage European of­fi­cials are try­ing to send.
"We stand for each oth­er on mil­it­ary fronts. Lithuania was the smal­lest coun­try to have its forces in Afgh­anistan. We have our spe­cial forces still fight­ing. They will con­tin­ue fight­ing with you in south Afgh­anistan," said Zy­gimantas Pa­vil­ionis, Lithuania's am­bas­sad­or to the U.S. and Mex­ico, at a for­um last fall hos­ted by the House En­ergy and Com­merce Com­mit­tee. "But, we have to fight for each oth­er in the area of new chal­lenges. If we have cuts of sup­plies, if our se­cur­ity is un­der threat, we have to stand for each oth­er. So, LNG is something that would really be­ne­fit the com­mon se­cur­ity of the whole Trans-At­lantic fam­ily."
The for­um, which was re­l­at­ively sparsely at­ten­ded, had a clear mes­sage, which Pa­vil­ionis summed up in his open­ing re­marks.
"We need your gas, gen­tle­men, to con­sol­id­ate our in­de­pend­ence," Pa­vil­ionis said. "We want to buy your gas."
This story has been up­dated to more ac­cur­ately state the views of the two U.S. trade as­so­ci­ations.
{{ BIZOBJ (video: 4660) }}