For the bet­ter part of the last dec­ade, Sen­ate Ma­jor­ity Lead­er Harry Re­id has gone out of his way — and dipped in­to fed­er­al funds — to help get a massive, cross-state trans­mis­sion line built in his home state of Nevada.
On Thursday Re­id will at­tend the open­ing of the 235-mile line, which at the be­gin­ning of this year star­ted car­ry­ing large amounts of elec­tri­city pro­duced from re­new­able sources rather than coal, just as Re­id en­vi­sioned sev­en years ago.
In at least three dif­fer­ent in­stances, Re­id en­sured that fed­er­al le­gis­la­tion moved the pro­ject for­ward, in­clud­ing help­ing get a $343 mil­lion loan guar­an­tee ap­proved from the En­ergy De­part­ment's polit­ic­ally be­lea­guered pro­gram. Re­id also brought to the ne­go­ti­at­ing table — some­times re­luct­antly — two Nevada en­ergy com­pan­ies, NV En­ergy and LS Power, to make sure they worked to­geth­er on the pro­ject after he had come out against their pre­vi­ous plans to build new coal-fired power plants.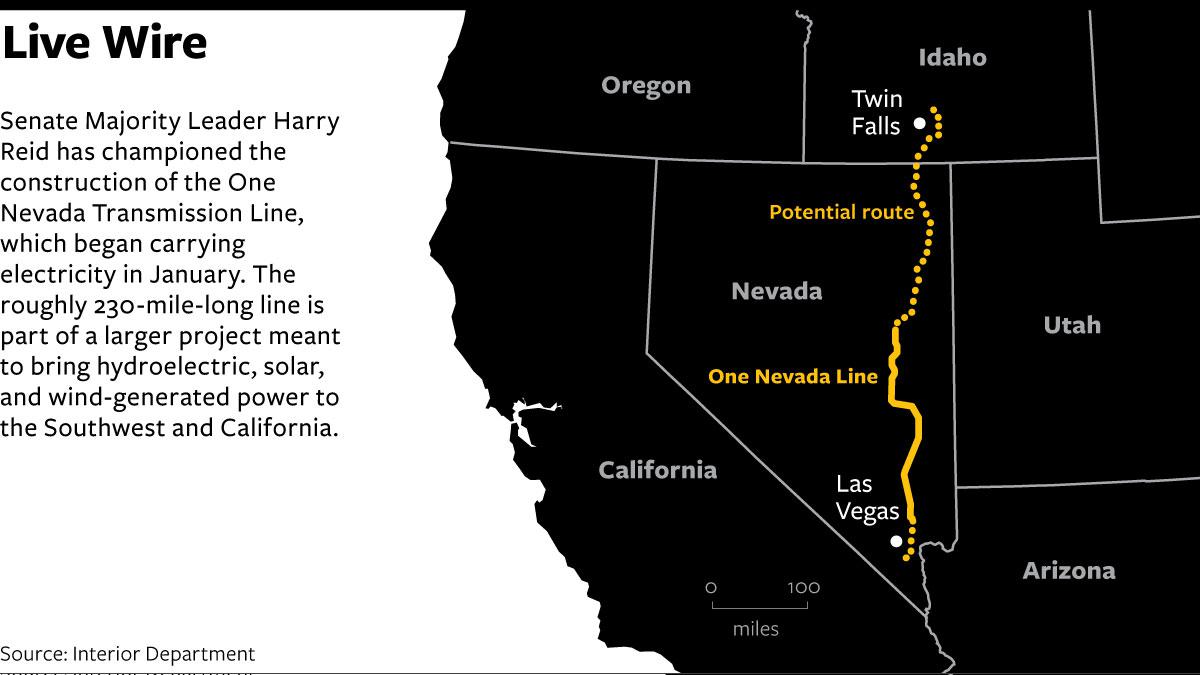 The com­ple­tion of the "ON Line" (of­fi­cially the One Nevada Trans­mis­sion Line) is a test­a­ment to the un­par­alled might of the most power­ful mem­ber of the Sen­ate. Re­id shep­her­ded the pro­ject to fruition with little pub­lic dis­cus­sion of it in Wash­ing­ton, even though much of the ac­tion that made it hap­pen took place in­side the Belt­way.
"He in­ser­ted his in­flu­ence as the ma­jor­ity lead­er to put those two private parties to­geth­er and try to find whatever fed­er­al fund­ing was avail­able, and en­cour­aged the right people to fund it," said Chris Miller, who was Re­id's top en­ergy and en­vir­on­ment policy ad­viser for more than sev­en years, in­clud­ing al­most the en­tire time this pro­ject was in the works. Miller left Re­id's of­fice a year ago to join AJW, a Wash­ing­ton lob­by­ing and con­sult­ing firm.
While Re­id isn't a sit­ting mem­ber on any com­mit­tee, he does re­tain the right to ex­er­cise au­thor­ity as a former seni­or mem­ber of the Ap­pro­pri­ations Com­mit­tee, one of the most power­ful Sen­ate pan­els.
"When you have the fact that you're the ma­jor­ity lead­er and a seni­or mem­ber of the Ap­pro­pri­ations Com­mit­tee, you have a lot of ne­go­ti­at­ing power," said Frank Mais­ano, a seni­or prin­cip­al at Bracewell & Gi­uliani, whose cli­ents in­clude many fossil-fuel com­pan­ies but also some re­new­able-en­ergy firms. "Those two things to­geth­er have giv­en him lots of abil­ity to do what he needs to do to gain lever­age for pro­jects."
In a state­ment, Re­id praised the pro­ject: "Con­struc­tion of this trans­mis­sion line cre­ated hun­dreds of jobs for Nevadans, thanks to the pub­lic-private part­ner­ship that was made pos­sible by the Re­cov­ery Act. This vi­tal pro­ject will de­liv­er hun­dreds of mega­watts of clean re­new­able en­ergy to the grid. Com­ple­tion of the ON Line trans­mis­sion pro­ject is an im­port­ant step to­wards un­lock­ing Nevada's vast clean en­ergy po­ten­tial and strength­en­ing our state's elec­tric grid for the fu­ture."
The Nevada Demo­crat's first act of ex­pli­cit help came from with­in the 2009 Re­cov­ery Act, which in­jec­ted $840 bil­lion in­to the eco­nomy amid the worst re­ces­sion since the 1930s.
Re­id en­sured that the West­ern Area Power Ad­min­is­tra­tion, a power-mar­ket­ing agency with­in the En­ergy De­part­ment, gained bor­row­ing au­thor­ity from the Treas­ury De­part­ment. Tucked away on page 27 of the more than 400-page stim­u­lus bill, this au­thor­ity en­sured the trans­mis­sion pro­ject could re­ceive a loan guar­an­tee to help its fin­an­cing.
Ac­cord­ing to two former Re­id aides, of­fi­cials at the En­ergy De­part­ment ul­ti­mately de­cided the trans­mis­sion pro­ject would be bet­ter off get­ting a loan guar­an­tee from its pro­gram, which was fun­ded with $2.4 bil­lion worth of stim­u­lus money.
In Feb­ru­ary 2011, the En­ergy De­part­ment fi­nal­ized its $343 mil­lion loan guar­an­tee for the pro­ject. It was the only trans­mis­sion line out of about two dozen pro­jects (in­clud­ing the in­fam­ous and now bank­rupt sol­ar man­u­fac­turer Solyn­dra) that re­ceived loan guar­an­tees from the stim­u­lus pro­gram. A former En­ergy De­part­ment of­fi­cial said the pro­ject re­ceived no spe­cial treat­ment and was handled the same as oth­ers, re­gard­less of Re­id's in­volve­ment.
"To the best of my know­ledge, there was no par­tic­u­lar or spe­cial or un­usu­al re­quest or in­flu­enced in­terest in this pro­ject from any source," said the of­fi­cial, who would speak only on the con­di­tion of an­onym­ity.
Non­ethe­less, Miller poin­ted to let­ters Re­id had writ­ten en­cour­aging the ad­min­is­tra­tion to ex­ped­ite loan guar­an­tees, in­clud­ing one for the trans­mis­sion-line pro­ject, as well as calls made between Re­id and former En­ergy Sec­ret­ary Steven Chu.
"He def­in­itely had con­ver­sa­tions with Chu and I, with con­gres­sion­al af­fairs ur­ging them to com­plete ac­tion/make a de­cision on the [trans­mis­sion pro­ject] ap­plic­a­tion, though those were usu­ally in the con­text of oth­er, lar­ger is­sues," Miller said.
Then in the sum­mer of 2010, Re­id found an­oth­er op­por­tun­ity to help the pro­ject from Cap­it­ol Hill. The line is 235 miles long now, but LS Power has de­vel­op­ment rights to make it twice that length and reach in­to Idaho. When con­cerns arose about the trans­mis­sion line's po­ten­tial im­pact on sage-grouse hab­it­at and a his­tor­ic Ja­pan­ese-Amer­ic­an in­tern­ment camp in Idaho, Re­id in­ser­ted lan­guage in­to the sum­mer jobs bill of 2010 that dir­ec­ted the In­teri­or De­part­ment to change the line's route to avoid both these areas. If and when LS Power builds out the north­ern part of the line, the path will in es­sence be pre­approved.
"This is a great ex­ample of a small state like Nevada where he can cast a big shad­ow of in­flu­ence," said John Wal­lin, the former ex­ec­ut­ive dir­ect­or of the Nevada Wil­der­ness Pro­ject. Wal­lin, who now works at the Con­ser­va­tion Lands Found­a­tion, said that the loan-guar­an­tee money was sig­ni­fic­ant "be­cause a little state like Nevada doesn't of­ten get the first bite at that stim­u­lus apple. He didn't just get the money ap­pro­pri­ated, he got it ap­pro­pri­ated in a spe­cif­ic con­nec­tion so you can draw the line back to his coal op­pos­i­tion."
In­deed, Re­id's push for the ON Line star­ted in earn­est in 2007, when he penned a sharply worded let­ter to ex­ec­ut­ives of four elec­tric com­pan­ies, in­clud­ing LS Power and NV En­ergy, say­ing he would "use every means at my dis­pos­al" to pre­vent con­struc­tion of three coal-fired power plants planned by util­it­ies in Nevada. In that four-page let­ter, Re­id said Nevada must "not com­mit our valu­able and fi­nite fin­an­cial re­sources to tech­no­lo­gies or en­ergy sources that will pol­lute the air, in­crease the risks of glob­al warm­ing, and likely be far more ex­pens­ive in the fu­ture than cur­rently es­tim­ated."
The let­ter — sig­nal­ing a new en­vir­on­ment­al push by Re­id fo­cused on glob­al warm­ing and re­new­able en­ergy — was a driv­ing force be­hind the com­pan­ies' de­cisions not to build the coal plants and laid the found­a­tion for Re­id's ef­forts on the trans­mis­sion line.
"Meet­ing Nevada's de­mand for elec­tri­city, in­clud­ing the build­ing of trans­mis­sion lines to rur­al areas with sig­ni­fic­ant re­new­able po­ten­tial, is no easy task," Re­id wrote in the Ju­ly 24, 2007, let­ter.
He then star­ted to lay the ground­work to en­sure that a north-south trans­mis­sion line, which en­ergy com­pan­ies have been try­ing to build out for dec­ades, came to fruition — but with re­new­able en­ergy as a big cus­tom­er. This in­volved get­ting LS Power and NV En­ergy to work to­geth­er, des­pite their dif­fer­ent busi­ness mod­els — one is reg­u­lated and the oth­er is not.
"It was a shot­gun wed­ding that Re­id or­ches­trated between the two com­pan­ies to build the trans­mis­sion line," Miller said.
An ex­ec­ut­ive at NV En­ergy didn't go quite so far, but he in­dic­ated that the sup­port from Re­id — and the en­tire Nevada del­eg­a­tion — was im­port­ant to the pro­ject. LS Power did not re­spond to a re­quest for com­ment.
"We don't just go to one del­eg­a­tion mem­ber be­cause they hap­pen to be the Sen­ate ma­jor­ity lead­er," said Tony Sanc­hez, seni­or vice pres­id­ent for gov­ern­ment and com­munity af­fairs at NV En­ergy. Not­ing that Nevada's del­eg­a­tion in­cludes both Demo­crats and Re­pub­lic­ans, Sanc­hez ad­ded: "To do any­thing you need a bi­par­tis­an ap­proach."
Sanc­hez, whose com­pany's ori­gin­al plan was to move coal-gen­er­ated power through the ON Line, said what really made this pro­ject pos­sible was the rise of re­new­able en­ergy in the West.
"You can draw the dir­ect line between Sen­at­or Re­id's in­volve­ment and his ad­vocacy for the de­vel­op­ment of re­new­ables," Sanc­hez said. "And you can see how he would have been in­volved."
Nevada, in fact, ranked second in the na­tion for both geo­therm­al and sol­ar en­ergy in 2011, ac­cord­ing to the En­ergy In­form­a­tion Ad­min­is­tra­tion. A re­new­able port­fo­lio stand­ard first en­acted in 1997 but sig­ni­fic­antly in­creased sev­er­al times throughout the dec­ade of the 2000s re­quires 25 per­cent of Nevada's elec­tri­city to come from re­new­able sources by 2025. In 2012, 16 per­cent of the state's net elec­tri­city sources were re­new­able, ac­cord­ing to EIA.
So what came first, re­new­ables or Re­id, who was first elec­ted to the Sen­ate in 1986 and be­came ma­jor­ity lead­er in 2007? It ap­pears they have ris­en in tan­dem.