An on­go­ing battle over an In­teri­or De­part­ment rule-mak­ing that al­lows wind-en­ergy pro­du­cers to kill bald and golden eagles without pro­sec­u­tion has cre­ated a rift between en­vir­on­ment­al ad­voc­ates and the wind in­dustry.
"We're between a rock and a hard place," said Dav­id Yarnold, pres­id­ent and CEO of the Na­tion­al Audu­bon So­ci­ety, one of the groups op­posed to the rule. "We sup­port a move away from fossil fuels, but there's no ques­tion that this is­sue has strained our re­la­tion­ship with the wind in­dustry."
Per­mits au­thor­iz­ing the ac­ci­dent­al death of eagles as a res­ult of col­li­sion with wind tur­bines are noth­ing new. But when the In­teri­or De­part­ment's Fish and Wild­life Ser­vice ex­ten­ded the shelf-life of the per­mits from five to 30 years last month, the de­cision ruffled more than a few feath­ers.
En­vir­on­ment­al groups, in­clud­ing Audu­bon, De­fend­ers of Wild­life, and the Nat­ur­al Re­sources De­fense Coun­cil, loudly cri­ti­cized the rule, with many of the or­gan­iz­a­tions say­ing that there isn't enough cred­ible in­form­a­tion about how many eagles are killed by tur­bines to jus­ti­fy an in­crease in per­mit dur­a­tion.
Re­search pub­lished in the peer-re­viewed sci­entif­ic journ­al Bio­lo­gic­al Con­ser­va­tion last year es­tim­ated that between 140,438 and 327,586 birds — or a mean of 234,012 — are killed an­nu­ally due to col­li­sions with tur­bines across the U.S.
Eagle mor­tal­ity is more dif­fi­cult to pin down, though it is clear that eagles are only a small frac­tion of all birds killed by tur­bines. A study in the Journ­al of Rap­tor Re­search also pub­lished last year re­por­ted 85 eagle deaths at wind farms in 10 states over a peri­od from 1997 to 2012.
"If you want to know how many eagles are killed be­cause of wind en­ergy, you can't find that num­ber. That num­ber doesn't ex­ist," Yarnold said. "That's a big part of the prob­lem we have with this rule. It's like they [FWS] haven't done the home­work."
Green groups have also voiced skep­ti­cism about wheth­er FWS has put in place ad­equate con­ser­va­tion safe­guards.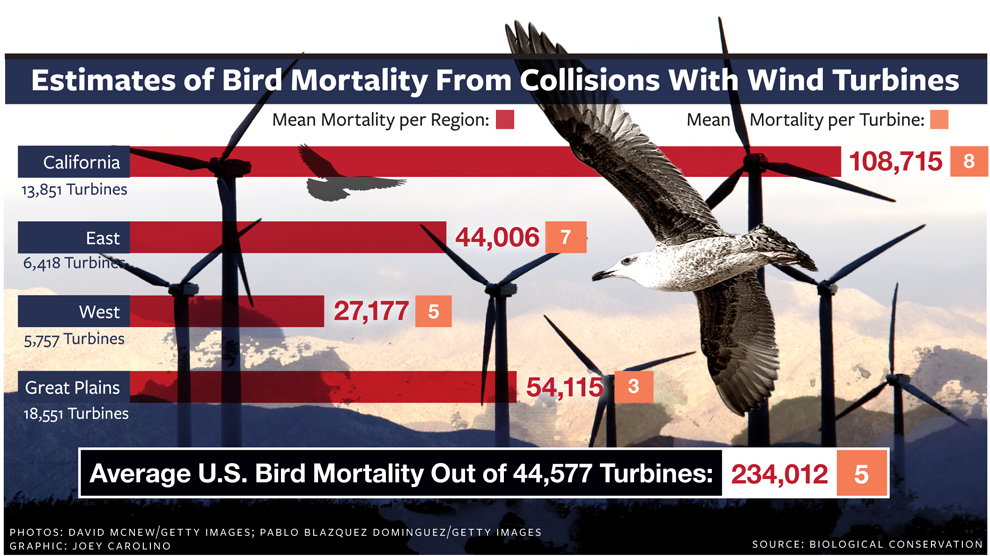 By ap­ply­ing for a per­mit, tur­bine op­er­at­ors agree to a cer­tain amount of over­sight from FWS, in­clud­ing a five-year re­view to de­term­ine wheth­er op­er­at­ors are tak­ing steps to min­im­ize bird and eagle mor­tal­ity on their prop­erty.
These steps in­clude switch­ing the tur­bines on only dur­ing times of the day or year when eagles are least likely to be fly­ing over­head, as well as the use of radar or oth­er sight­ing tech­niques to spot eagles and shut down tur­bines when they ap­proach.
Par­ti­cip­a­tion in the fed­er­al per­mit pro­gram is vol­un­tary. If wind de­velopers do not ap­ply for a per­mit, however, they risk pro­sec­u­tion for bird deaths at wind farms found to vi­ol­ate any num­ber of fed­er­al con­ser­va­tion laws, in­clud­ing the En­dangered Spe­cies Act, the Mi­grat­ory Bird Treaty Act, and the Bald and Golden Eagle Pro­tec­tion Act.
Pro­sec­u­tion is rare but may be on the rise. In Novem­ber, the De­part­ment of Justice reached a $1 mil­lion set­tle­ment with Duke En­ergy for birds killed at two of the com­pany's wind farms in Wyom­ing. The set­tle­ment marked the first time the fed­er­al gov­ern­ment had pur­sued leg­al ac­tion against a wind de­veloper for bird deaths caused by tur­bines.
Now that the pre­ced­ent has been set, the threat of lit­ig­a­tion will likely to carry more weight. The Amer­ic­an Bird Con­servancy re­cently an­nounced that it is con­sid­er­ing bring­ing a law­suit against the Ohio Na­tion­al Guard for the planned con­struc­tion of a wind tur­bine near Lake Erie.
Such pro­posed lit­ig­a­tion and the Duke En­ergy set­tle­ment have also el­ev­ated the is­sue of bird deaths from tur­bines to a high­er pro­file in the na­tion­al de­bate over how to strike a bal­ance between con­ser­va­tion and clean en­ergy.
Con­trary to what some en­vir­on­ment­al­ists say, FWS in­sists that the per­mit­ting pro­cess ac­tu­ally works to pro­tect wild­life.
"We're not go­ing to is­sue a per­mit un­less we think there's an over­all con­ser­va­tion value," said Dav­id Cot­ting­ham, seni­or ad­viser to the dir­ect­or of the ser­vice.
But en­vir­on­ment­al­ists re­main un­con­vinced — a stance that has put them at odds with the wind in­dustry, which de­fends the per­mit­ting pro­cess as ne­ces­sary to provide reg­u­lat­ory cer­tainty for wind de­velopers.
"Most en­vir­on­ment­al or­gan­iz­a­tions sup­port the wind in­dustry, but what we're say­ing right now is just be­cause you're pro­du­cing clean en­ergy, that doesn't mean you have carte blanche to run rough­shod over en­vir­on­ment­al law," said Robert Johns, a spokes­man for the Amer­ic­an Bird Con­servancy.
Now that the reg­u­la­tion is fi­nal, crit­ics of the rule-mak­ing are weigh­ing their op­tions. How they re­spond will de­term­ine how much the rift widens between en­vir­on­ment­al­ists and the wind in­dustry.
"Ad­dress­ing is­sues as com­plex and im­port­ant as this one nat­ur­ally cre­ates some ten­sions," said Katie Umekubo, an NRDC at­tor­ney fo­cused on re­new­able-en­ergy pro­jects in the West. "But we all agree pro­tect­ing eagles is a top pri­or­ity."
NRDC and Audu­bon want the ser­vice to go back to the draw­ing board.
"At this time we're still ex­plor­ing all our op­tions," Umekubo said, adding that the group is "con­tinu­ing to urge the FWS to re­con­sider the rule-mak­ing."
A num­ber of con­ser­va­tion groups, in­clud­ing Audu­bon and ABC, have also in­dic­ated a will­ing­ness to con­sider lit­ig­at­ing against the rule.
"We're look­ing at a range of ac­tions," Yarnold said. "The first is ask­ing [In­teri­or] Sec­ret­ary [Sally] Jew­ell to take a second look at the rule. There's also an­oth­er rule-mak­ing un­der­way at In­teri­or that will take a broad look at the per­mit­ting pro­cess, and we'll be look­ing to en­gage in that. But there are po­ten­tial leg­al rem­ed­ies as well."
For its part, the wind in­dustry, which has worked with green groups in the past to de­vel­op con­ser­va­tion strategies for wind pro­jects, is quick to point out that tur­bines ac­count for a low per­cent­age of bird deaths com­pared to oth­er man-made threats such as win­dows in build­ings.
The Amer­ic­an Wind En­ergy As­so­ci­ation also hopes to keep an­im­os­ity over the rule at bay by fo­cus­ing on the big­ger pic­ture, en­vir­on­ment­ally speak­ing.
"The U.S. Fish and Wild­life Ser­vice, en­vir­on­ment­al groups, and oth­ers all agree the biggest threat to wild­life is cli­mate change," said Tom Vin­son, AWEA vice pres­id­ent of fed­er­al reg­u­lat­ory af­fairs. "[And] wind en­ergy is one of the key solu­tions avail­able today to mit­ig­ate cli­mate change."