Add to Briefcase
Jan. 24, 2014, 8:17 a.m.
Amer­ic­ans really dis­ap­prove of Con­gress. By sev­er­al dif­fer­ent met­rics, they dis­ap­prove more than ever. But new data from Gal­lup show that more people still want to keep their own mem­ber of Con­gress in of­fice, demon­strat­ing just how dif­fi­cult it might be to have a true cross-party, anti-in­cum­bent wave elec­tion.
That is the low­est level Gal­lup has found in 22 years of ask­ing that ques­tion. But "re­cord low" does not mean "dis­astrous." If this is what a bad en­vir­on­ment looks like, law­makers have it aw­fully good.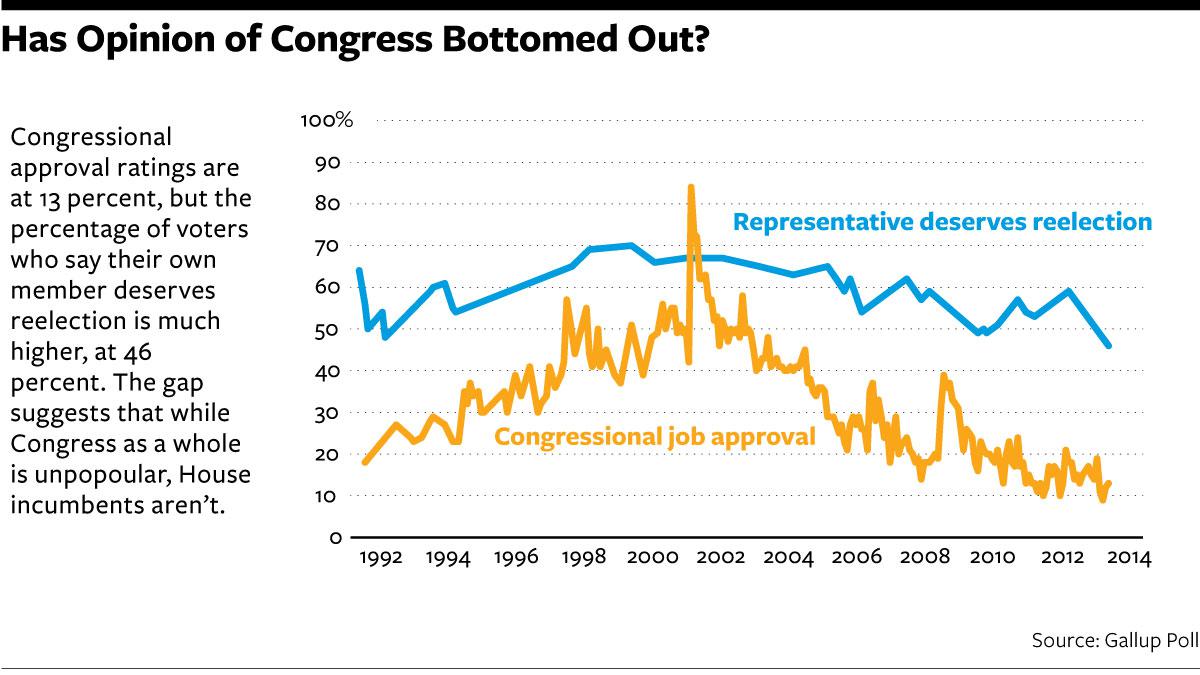 Mean­while, the "reelect your mem­ber" num­ber syncs with the ups and downs of people's will­ing­ness to reelect most num­bers — but at 17 per­cent, that fig­ure can't go much lower. (Neither can con­gres­sion­al ap­prov­al, an­oth­er meas­ure that moves up and down at a sim­il­ar pace.) Un­less that re­la­tion­ship frays, 46 per­cent of people want­ing to reelect their mem­ber may be as low as Amer­ica goes. Plus, meas­ur­ing gen­er­ic sup­port like this typ­ic­ally un­der­states how well in­cum­bents do when matched against chal­lengers who in­ev­it­ably have some flaws.
As Gal­lup notes, "Res­ults like these have pres­aged sig­ni­fic­ant turnover in Con­gress, such as in 1994, 2006, and 2010," and we could well be in for an­oth­er year like those. But those years were more anti-ma­jor­ity than anti-in­cum­bent: In all three of those midterm elec­tions, voters re­belled against the party con­trolling Con­gress and flipped scores of House seats in the oth­er dir­ec­tion. This year, Con­gress is di­vided, and House dis­tricts are sor­ted to the point where there isn't too much room for the parties to take new dis­tricts. And even in those tu­mul­tu­ous years, or at the height of the wide­spread House bank­ing scan­dal in 1992, reelec­tion rates nev­er dipped be­low 85 per­cent, ac­cord­ing to the Cen­ter for Re­spons­ive Polit­ics.
And on top of that, des­pite a very rough year for con­gres­sion­al rat­ings, more people than not still want their mem­ber back in 2015.
It's al­most im­possible for polls to show more un­hap­pi­ness with Con­gress, but nearly half of Amer­ic­ans want to re­hire their rep­res­ent­at­ive later this year. It's one key reas­on why an anti-in­cum­bent elec­tion hit­ting both parties is so un­likely.