Jan. 26, 2014, 11:55 p.m.
Pres­id­ent Obama says his spy­ing over­haul is aimed at bal­an­cing pri­vacy and se­cur­ity, but the power to draw that line may not be his for long.
Re­gard­less of their im­pact on pub­lic per­cep­tion, Obama's pro­posed re­forms to the Na­tion­al Se­cur­ity Agency do little to ad­dress the ad­min­is­tra­tion's leg­al woes. And they've thus far done noth­ing to per­suade the NSA's leg­al op­pon­ents to drop law­suits aimed at for­cing — rather than ask­ing — the ad­min­is­tra­tion to change its ways.
If the Su­preme Court sides with the pres­id­ent's crit­ics, the Obama ad­min­is­tra­tion's self-poli­cing would be re­placed by a leg­al or­der.
The leg­al fight cen­ters around the NSA's col­lec­tion of phone re­cords — such as num­bers, call times, and call dur­a­tions — on vir­tu­ally all U.S. calls. For his part, Obama has in­sisted all along that the NSA's sur­veil­lance is per­fectly leg­al, al­though he has said some changes are ne­ces­sary to re­store the pub­lic's trust.
The prob­lem with Obama's changes, the pri­vacy ad­voc­ates say, is that they don't ad­dress the core leg­al ques­tions: Their first ar­gu­ment is that Con­gress nev­er au­thor­ized the pro­gram; the second is that the pro­gram vi­ol­ates the con­sti­tu­tion­al rights of mil­lions of Amer­ic­ans.
The NSA claims the pro­gram is au­thor­ized un­der Sec­tion 215 of the USA Pat­ri­ot Act, which gives the gov­ern­ment the power to col­lect busi­ness re­cords "rel­ev­ant" to a ter­ror­ism in­vest­ig­a­tion. The NSA ar­gues it needs the full phone data­base to track pos­sible ter­ror­ist cells, but the pri­vacy ad­voc­ates claim the agency is grossly dis­tort­ing the mean­ing of "rel­ev­ant."
And Re­pub­lic­an Rep. Jim Sensen­bren­ner, the ori­gin­al House au­thor of the act, has said Con­gress nev­er meant to ap­prove such sweep­ing sur­veil­lance.
Un­der Obama's re­forms, which take ef­fect im­me­di­ately, the NSA needs ap­prov­al from the For­eign In­tel­li­gence Sur­veil­lance Court every time it wants to search through its vast data­base of phone re­cords. Obama also re­duced the de­grees of sep­ar­a­tion that NSA ana­lysts can stray from their ini­tial tar­get from three to two
The pro­gram's crit­ics, however, are de­term­ined to pare it back fur­ther.
"Un­til the gov­ern­ment ends bulk col­lec­tion, the law­suits should go for­ward," said Alex Abdo, an at­tor­ney for the Amer­ic­an Civil Liber­ties Uni­on who is hand­ling the group's case against the NSA. "I don't see how any­thing short of that will af­fect the pos­ture of those cases."
"The col­lec­tion it­self is what vi­ol­ates the Fourth Amend­ment. The gov­ern­ment is not en­titled to cre­ate a data­base of in­form­a­tion for which they should be ob­tain­ing a war­rant be­fore col­lect­ing," he said. "So the fact that they have slightly stronger pro­tec­tion on the back end doesn't an­swer the ques­tion of wheth­er they should be ob­tain­ing a war­rant to be­gin with."
The ACLU's suit is part of a broad­er leg­al on­slaught.
A fed­er­al judge in Wash­ing­ton ruled last month that the NSA pro­gram is un­con­sti­tu­tion­al in a case brought by con­ser­vat­ive act­iv­ist Larry Klay­man. But an­oth­er fed­er­al judge in New York re­jec­ted the ACLU's law­suit. Both cases could be heard by fed­er­al Ap­peals Courts some­time this year.
The Elec­tron­ic Fron­ti­er Found­a­tion, which is rep­res­ent­ing a co­ali­tion in­clud­ing a Unit­ari­an Church and a gun-rights group, is await­ing a de­cision at the Dis­trict Court level in Cali­for­nia on its law­suit against the NSA.
The law­suits re­ceived a boost last week when the Pri­vacy and Civil Liber­ties Over­sight Board, a gov­ern­ment watch­dog agency, con­cluded that the bulk data col­lec­tion is il­leg­al and should end.
The pres­id­ent may be open to fur­ther modi­fic­a­tions of the pro­gram, but he has giv­en no in­dic­a­tion that he plans to aban­don it en­tirely. He asked At­tor­ney Gen­er­al Eric Hold­er and top in­tel­li­gence of­fi­cials to come up with a plan for the gov­ern­ment to give up con­trol of the phone data­base.
But the de­tails of how the pro­gram could still op­er­ate without the NSA main­tain­ing the data­base re­main murky. The gov­ern­ment could set up some kind of en­tity that would hold the data and al­low the NSA to mine through it.
Cindy Cohn, the leg­al dir­ect­or for the Elec­tron­ic Fron­ti­er Found­a­tion, said that from a leg­al stand­point, it doesn't mat­ter if some new en­tity holds the data in­stead of the NSA.
"The gov­ern­ment doesn't get to out­source un­con­sti­tu­tion­al be­ha­vi­or," she said. "If the third party is just act­ing as the gov­ern­ment's agent, that doesn't change the leg­al ana­lys­is at all."
The gov­ern­ment could also al­low the phone com­pan­ies to hold on to the data them­selves. Keep­ing the data with the phone com­pan­ies could bol­ster the gov­ern­ment's case, the pri­vacy ad­voc­ates ad­mit.
But the NSA would still want easy ac­cess to the phone re­cords to map pos­sible ter­ror­ist con­nec­tions across all of the dif­fer­ent pro­viders. That could mean the gov­ern­ment would im­pose a man­date on the com­pan­ies to re­tain their cus­tom­ers' re­cords. A data-re­ten­tion man­date would raise a new host of pri­vacy and leg­al prob­lems, the ad­voc­ates say.
An­drew Ames, a Justice De­part­ment spokes­man, de­clined to com­ment, cit­ing the on­go­ing lit­ig­a­tion.
Stew­art Baker, a former NSA law­yer and Home­land Se­cur­ity De­part­ment of­fi­cial who cur­rently works in private prac­tice, agreed that Obama's changes to the NSA don't help the gov­ern­ment much in court.
But he ar­gued that the pri­vacy groups have nev­er had a par­tic­u­larly strong case against the NSA.
"They look like losers to me," Baker said of the law­suits, not­ing that 15 judges on the For­eign In­tel­li­gence Sur­veil­lance Court have en­dorsed the gov­ern­ment's po­s­i­tion in secret cases over the years.
Ever since a 1979 Su­preme Court de­cision, the courts have typ­ic­ally held that people have no ex­pect­a­tion of pri­vacy over metadata such as phone num­bers and call times (as op­posed to the con­tents of com­mu­nic­a­tions). The courts are also of­ten re­luct­ant to rule against the gov­ern­ment with na­tion­al se­cur­ity at stake.
Baker pre­dicted that the Su­preme Court will nev­er ac­tu­ally ad­dress the leg­al­ity of the con­tro­ver­sial NSA pro­gram. In­stead, Con­gress will be forced to take a po­s­i­tion on the pro­gram when the USA Pat­ri­ot Act comes up for reau­thor­iz­a­tion next year.
At that point, law­makers will have to choose between end­ing the pro­gram en­tirely or re­new­ing the pro­gram with some pri­vacy changes, Baker said.
"It'll be a choice between 'yes, but' and 'hell, no,' and the ques­tion is what fol­lows the 'but.' How many changes are go­ing to be made to try to win a ma­jor­ity of both houses for re­new­al?"
What We're Following See More »
SAUDI ARABIA BILL
Veto Override Scheduled for Wednesday in Senate
9 minutes ago
THE LATEST
Senate Majority Leader Mitch McConnell said this afternoon that the Senate on Wednesday will take up an override of President Obama's veto of legislation that would allow the families of 9/11 victims to sue the government of Saudi Arabia. "The vote is expected garner the two-thirds majority necessary to override the veto."
MEDIA SHOULD HOLD TRUMP RESPONSIBLE
Reid Devotes Senate Floor Speech to Trump's 'Racism'
53 minutes ago
THE LATEST
"Donald Trump is a racist," announced Senate Minority Leader Harry Reid from the Senate floor this afternoon. Reid said all of us are occasionally politically incorrect, but "I don't know of anyone that when that happens doesn't acknowledge it and, if necessary, apologize quickly." But Trump, he added, says things with "full intent to demean and to denigrate." Reid argued that the media isn't holding Trump to account, and should explicitly call him a racist.
ABSENT FROM LIST: GENNIFER FLOWERS
Most Trump Guests Have Military Ties
4 hours ago
TOP OF MIND
Trending on Google: 'Why Should Trump Not Be President'
4 hours ago
THE DETAILS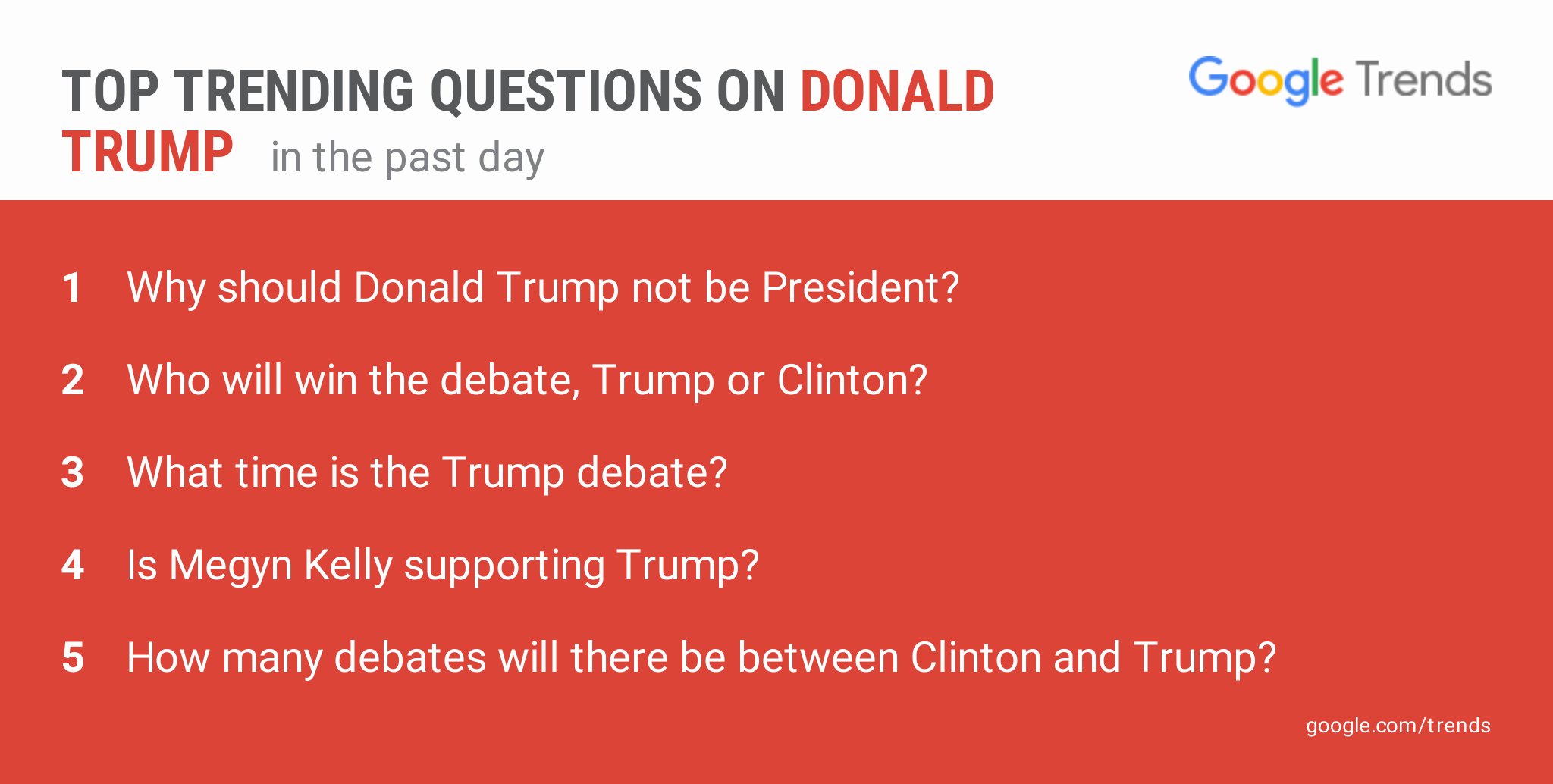 WHO PLAYED THE DONALD?
Longtime Clinton Aide Played Trump in Mock Debates
6 hours ago
THE DETAILS
After keeping the information private for most of the lead-up to the debate on Monday, it has been revealed that longtime Clinton aide Philippe Reines has been playing the role of Donald Trump in her debate prep. Reines knows Clinton better than most, able to identify both her strengths and weaknesses, and his selection for a sparring partner shows that Clinton is preparing for the brash and confrontational Donald Trump many have come to expect.