Your tele­vi­sion is talk­ing to you — or at least it will be soon.
Dir­ecTV and Dish Net­work are team­ing up to of­fer something called "ad­dress­able ad­vert­ising," or part­ner­ship. The idea be­hind the part­ner­ship is to al­low politi­cians to get ex­tremely spe­cif­ic as they tar­get their mes­saging.
Live in a re­tire­ment com­munity? You'll prob­ably be see­ing lots of ads about So­cial Se­cur­ity. Do a lot of driv­ing? You'll be hear­ing about gas prices. Wor­ried the loc­al fact­ory might close? Now you you'll get to see your state's Sen­ate hope­fuls try to outdo one an­oth­er with pledges to save it.
This kind of tar­geted ad­vert­ising isn't new. All­state has used it to show one set of in­sur­ance ads to renters while homeown­ers see an­oth­er. But now satel­lite pro­viders are try­ing to use it to cash in on the big-money en­ter­prise of statewide polit­ic­al cam­paigns.
Ad­dress­able ad­vert­ising, said Dir­ecTV's Keith Kazer­man, "util­izes highly soph­ist­ic­ated and tar­geted tech­no­logy that will al­low polit­ic­al cam­paigns to spe­cific­ally reach swing voters with TV ads. Cam­paigns can fo­cus their mes­sage to a pre­cise set of po­ten­tial voters and elim­in­ate the spend­ing waste."
The pro­viders will be of­fer­ing the ser­vice for statewide cam­paigns. And while the part­ner­ship — which will start out with about five shared staffers in Wash­ing­ton and will be­gin selling ads in a couple weeks — has the satel­lite com­pan­ies see­ing green, it no doubt has cam­paign man­agers drool­ing as well.
Rather than dis­cuss­ing a broad plat­form on edu­ca­tion, your state's gubernat­ori­al hope­ful can talk about his plan for your area's strug­gling school dis­trict. Mean­while, the next town over, voters are hear­ing a plan to bol­ster a key loc­al in­dustry. So don't be sur­prised if the ads for gov­ernor and sen­at­or start sound­ing a lot like the ads for your state rep­res­ent­at­ive. All polit­ics is loc­al, right?
What We're Following See More »
ABSENT FROM LIST: GENNIFER FLOWERS
Most Trump Guests Have Military Ties
44 minutes ago
TOP OF MIND
Trending on Google: 'Why Should Trump Not Be President'
54 minutes ago
THE DETAILS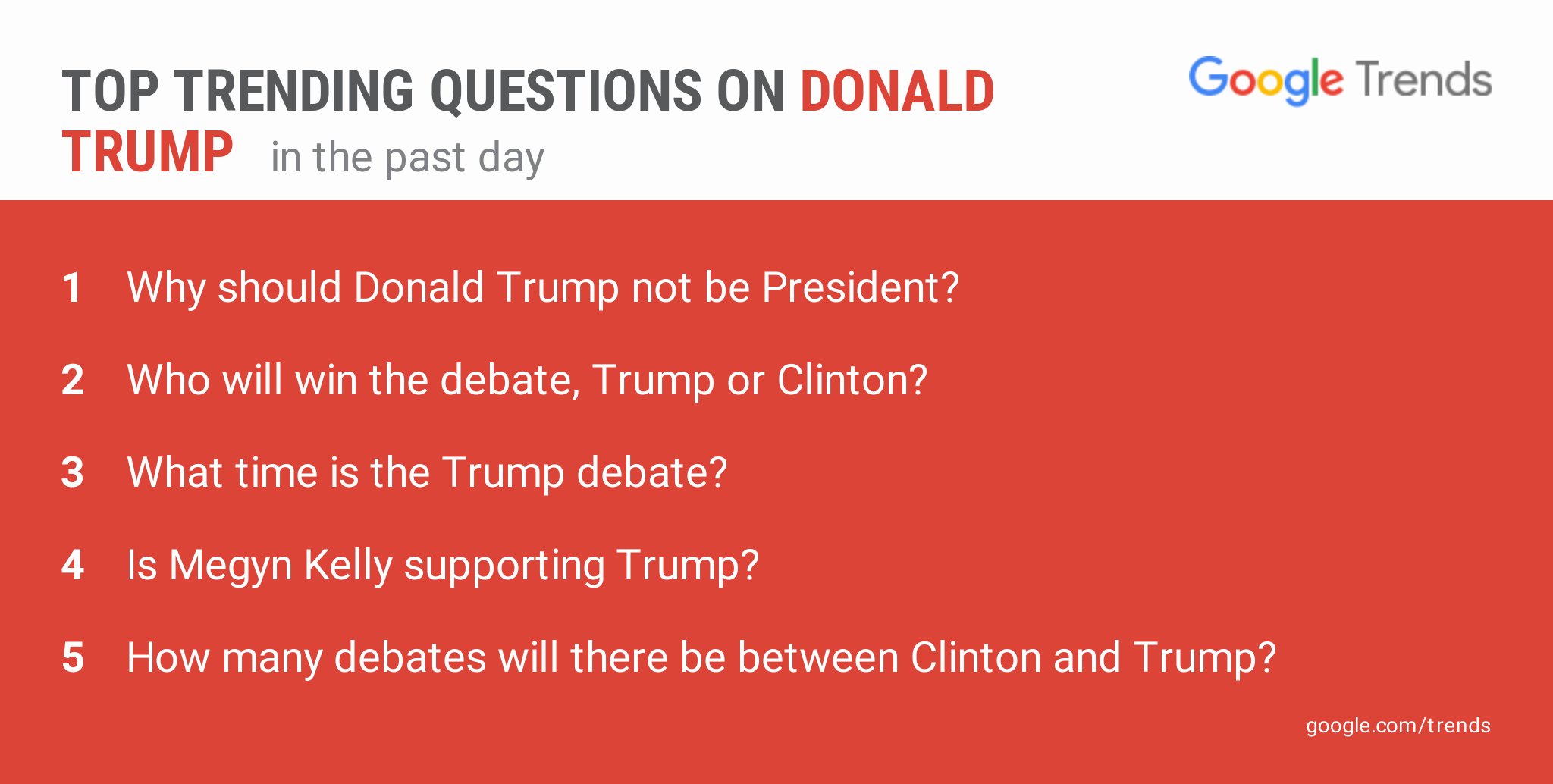 WHO PLAYED THE DONALD?
Longtime Clinton Aide Played Trump in Mock Debates
3 hours ago
THE DETAILS
After keeping the information private for most of the lead-up to the debate on Monday, it has been revealed that longtime Clinton aide Philippe Reines has been playing the role of Donald Trump in her debate prep. Reines knows Clinton better than most, able to identify both her strengths and weaknesses, and his selection for a sparring partner shows that Clinton is preparing for the brash and confrontational Donald Trump many have come to expect.
WEEKEND POLLING ROUNDUP
New Polls Still Show Razor-Thin Margins
3 hours ago
THE QUESTION
How Many Times Has the Trump Campaign Emailed Ted Cruz's Supporters?
3 hours ago
THE ANSWER
More than 30 times, in the case of some donors. Long before Cruz endorsed Trump—and before he even snubbed the nominee at the Republican National Convention—"the senator quietly began renting his vast donor email file to his former rival, pocketing at least tens of thousands of dollars, and more likely hundreds of thousands, that can be used to bankroll the Texan's own political future."