"Obama­care — all by it­self — is an in­equal­ity Godz­illa"
The rift between es­tab­lish­ment Re­pub­lic­ans and tea parti­ers has been grow­ing stead­ily since the gov­ern­ment shut­down last fall. In his re­sponse to the State of the Uni­on ad­dress, Sen. Mike Lee may have stretched it a little bit wider.
"I'd like to speak es­pe­cially to those Amer­ic­ans who may feel they have been for­got­ten by both polit­ic­al parties," said Lee, be­fore carving out the tea party's con­gres­sion­al agenda for 2014.
The sen­at­or fol­lowed the Re­pub­lic­an Party's of­fi­cial re­but­tal from Rep. Cathy Mc­Mor­ris Rodgers — which struck a more har­mo­ni­ous tone — il­lus­trat­ing the GOP's grow­ing di­vide. "The Re­pub­lic­an es­tab­lish­ment in Wash­ing­ton can be just as out-of-touch as the Demo­crat­ic Es­tab­lish­ment," Lee said.
The bulk of Lee's re­sponse fo­cused on the center­piece of Obama's own re­marks, in­come in­equal­ity, al­beit with a very dif­fer­ent fla­vor. "Where does this new in­equal­ity come from? From gov­ern­ment," Lee said, later call­ing the health care law "an in­equal­ity Godz­illa that has robbed work­ing fam­il­ies of their in­sur­ance, their doc­tors, their wages, and their jobs."
Lee lis­ted sev­er­al pieces of forth­com­ing Re­pub­lic­an-penned le­gis­la­tion on in­come in­equal­ity, in­clud­ing his own bill that would sim­pli­fy the tax code.
He didn't dir­ectly men­tion the gov­ern­ment shut­down, which has been at­trib­uted to tea-party push­back against Obama­care, but un­apo­lo­get­ic­ally hin­ted at it: "Un­for­tu­nately, in re­cent years, we have had no choice but to en­gage in a num­ber of protests against our cur­rent pres­id­ent's Wash­ing­ton-centered agenda."
"Protest­ing against dys­func­tion­al gov­ern­ment is a great Amer­ic­an tra­di­tion," Lee said, and the tea party's policy fights — against Obama, Demo­crats and oth­er Re­pub­lic­ans — sound far from over. Lee likened the group to the ori­gin­al Tea Party, the big loud one in Bo­ston, as be­ing cru­cial for change. But some­times com­prom­ise is key. "As Amer­ic­ans we must al­ways be will­ing to fight the Bo­ston-type battles — boldly call­ing out bad policy whenev­er we see it — but we must do so with an eye to­ward Phil­adelphia, main­tain­ing a pos­it­ive fo­cus on the kind of na­tion we want to be and be­come," he said.
Such "protests," however, have chipped away at the tea party's pub­lic im­age. Pew noted in an Oc­to­ber poll that just 53 per­cent of Re­pub­lic­ans see the tea party fa­vor­ably, while 27 per­cent hold an un­fa­vor­able view. Among tea parti­ers, Sen. Ted Cruz's fa­vor­ab­il­ity rat­ing was at 74 per­cent at the height of the shut­down crisis in Oc­to­ber. Among non-tea-party Re­pub­lic­ans, that num­ber was 25 per­cent.
The sen­at­or's re­marks don't just set this year's agenda for the tea party — they out­line a plan for its mem­bers ahead of midterm elec­tions, too. His words on com­prom­ise are likely aimed at House tea parti­ers, re­mind­ing them to hold onto their seats in the GOP-con­trolled House. And his re­marks about protest­ing "bad policy" are aimed at out­side can­did­ates, push­ing them to get ag­gress­ive in their Sen­ate cam­paigns. For tea parti­ers, 2014 is about wrangling power back from Demo­crats in the Sen­ate.
What We're Following See More »
UNTIL DEC. 9, ANYWAY
Obama Signs Bill to Fund Government
2 hours ago
REDSKINS IMPLICATIONS
SCOTUS to Hear Case on Offensive Trademarks
3 hours ago
WHY WE CARE
"The Supreme Court is taking up a First Amendment clash over the government's refusal to register offensive trademarks, a case that could affect the Washington Redskins in their legal fight over the team name. The justices agreed Thursday to hear a dispute involving an Asian-American rock band called the Slants, but they did not act on a separate request to hear the higher-profile Redskins case at the same time." Still, any precedent set by the case could have ramifications for the Washington football team.
STAFF PICKS
Bannon Still Collecting Royalties from 'Seinfeld'
4 hours ago
WHY WE CARE
The Hollywood Reporter takes a look at a little-known intersection of politics and entertainment, in which Trump campaign CEO Steve Bannon is still raking in residuals from Seinfeld. Here's the digest version: When Seinfeld was in its infancy, Ted Turner was in the process of acquiring its production company, Castle Rock, but he was under-capitalized. Bannon's fledgling media company put up the remaining funds, and he agreed to "participation rights" instead of a fee. "Seinfeld has reaped more than $3 billion in its post-network afterlife through syndication deals." Meanwhile, Bannon is "still cashing checks from Seinfeld, and observers say he has made nearly 25 times more off the Castle Rock deal than he had anticipated."
IT'S ALL CLINTON
Reliable Poll Data Coming in RE: Debate #1
4 hours ago
WHY WE CARE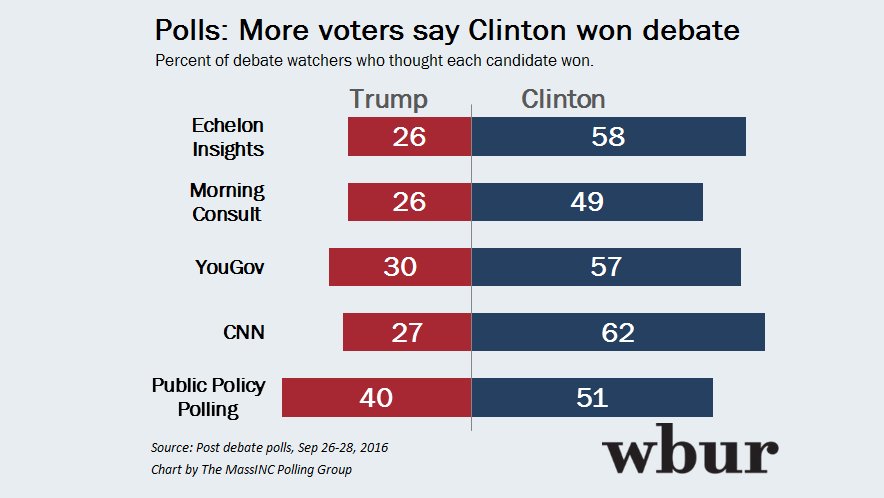 NEXT THURSDAY
Trump Transition Team Meeting with Silicon Valley VIPs
6 hours ago
THE DETAILS
Donald Trump's "transition team will meet next week with representatives of the tech industry, multiple sources confirmed, even as their candidate largely has been largely shunned by Silicon Valley. The meeting, scheduled for next Thursday at the offices of law and lobbying firm BakerHostetler, will include trade groups like the Information Technology Industry Council and the Internet Association that represent major Silicon Valley companies."