House con­ser­vat­ives cri­ti­cized Obama on Tues­day for what they said was an at­tempt to un­justly claim cred­it for the surge in do­mest­ic fossil fuels pro­duc­tion in the pres­id­ent's State of the Uni­on ad­dress.
"While the pres­id­ent fre­quently at­tempts to take cred­it for the cur­rent in­crease in do­mest­ic en­ergy pro­duc­tion, this is hap­pen­ing in spite of his policies, not be­cause of them," House Nat­ur­al Re­sources Com­mit­tee Chair­man Rep. Doc Hast­ings of Wash­ing­ton said in a state­ment. "Des­pite Pres­id­ent Obama's re­peated claims of mak­ing job cre­ation and eco­nom­ic growth a pri­or­ity, the real­ity is that he has act­ively chosen to ig­nore the eco­nom­ic po­ten­tial and job op­por­tun­it­ies that come with ex­pand­ing Amer­ic­an en­ergy pro­duc­tion and re­spons­ibly man­aging our na­tion's nat­ur­al re­sources."
Re­pub­lic­an Rep. Rob Bish­op of Utah, sim­il­arly con­ten­ded that while the ad­min­is­tra­tion paints it­self as a cham­pi­on of the nat­ur­al-gas and oil boom, most pro­duc­tion is ac­tu­ally tak­ing place on private, not pub­lic, lands. Bish­op also cri­ti­cized the pres­id­ent's com­ment dur­ing the speech that he would use ex­ec­ut­ive au­thor­ity to set aside more land for con­ser­va­tion.
"The pres­id­ent did get something right in that en­ergy pro­duc­tion is up, but it has little or noth­ing to do with him or his ad­min­is­tra­tion. The pro­duc­tion oc­cur­ring can be at­trib­uted to in­genu­ity and ded­ic­a­tion on be­half of hard­work­ing Amer­ic­ans and policies set in­to place be­fore this ad­min­is­tra­tion," Bish­op said in a state­ment. "En­ergy pro­duc­tion is in fact soar­ing on land that the pres­id­ent doesn't con­trol, but if you want to see where he really stands on en­ergy pro­duc­tion, look at his policies for pub­lic land use. To­night, in­stead of un­leash­ing the vast en­ergy po­ten­tial found throughout the 660 mil­lion acres of fed­er­al land, he in­stead said he in­tends … to lock up fed­er­al lands by ex­ec­ut­ive fi­at."
Re­ac­tion to the speech fol­lowed party lines with Demo­crat­ic Rep. Peter De­Fazio of Ore­gon, the rank­ing mem­ber of the House Nat­ur­al Re­sources Com­mit­tee laud­ing the pres­id­ent for his pledge to act on con­ser­va­tion.
"Last week, over 100 Demo­crats joined to­geth­er to ask the Obama ad­min­is­tra­tion to use its au­thor­ity to pro­tect and con­serve na­tion­al treas­ures," De­Fazio said in a state­ment. "I was very pleased to hear the pres­id­ent say he is will­ing to make crit­ic­al con­ser­va­tion de­cisions that this deeply par­tis­an Con­gress will not."
What We're Following See More »
STAFF PICKS
Bannon Still Collecting Royalties from 'Seinfeld'
49 minutes ago
WHY WE CARE
The Hollywood Reporter takes a look at a little-known intersection of politics and entertainment, in which Trump campaign CEO Steve Bannon is still raking in residuals from Seinfeld. Here's the digest version: When Seinfeld was in its infancy, Ted Turner was in the process of acquiring its production company, Castle Rock, but he was under-capitalized. Bannon's fledgling media company put up the remaining funds, and he agreed to "participation rights" instead of a fee. "Seinfeld has reaped more than $3 billion in its post-network afterlife through syndication deals." Meanwhile, Bannon is "still cashing checks from Seinfeld, and observers say he has made nearly 25 times more off the Castle Rock deal than he had anticipated."
IT'S ALL CLINTON
Reliable Poll Data Coming in RE: Debate #1
1 hours ago
WHY WE CARE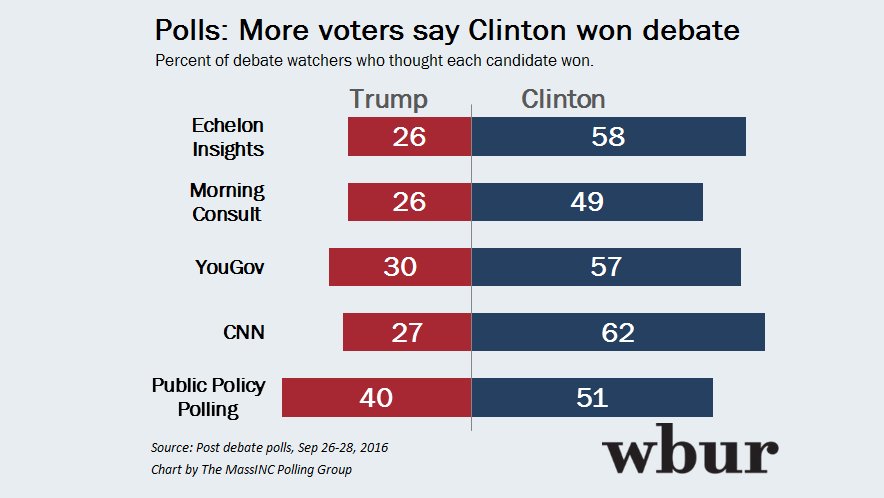 NEXT THURSDAY
Trump Transition Team Meeting with Silicon Valley VIPs
3 hours ago
THE DETAILS
Donald Trump's "transition team will meet next week with representatives of the tech industry, multiple sources confirmed, even as their candidate largely has been largely shunned by Silicon Valley. The meeting, scheduled for next Thursday at the offices of law and lobbying firm BakerHostetler, will include trade groups like the Information Technology Industry Council and the Internet Association that represent major Silicon Valley companies."
WHAT WILL PASS?
McConnell Doubts Criminal Justice Reform Can Pass This Year
3 hours ago
ALSO FIRED UNATTRACTIVE WAITRESSES
Trump Did Business with Cuba
4 hours ago
THE LATEST
Today in bad news for Donald Trump:
Newsweek found that a company he controlled did business with Cuba under Fidel Castro "despite strict American trade bans that made such undertakings illegal, according to interviews with former Trump executives, internal company records and court filings." In 1998, he spent at least $68,000 there, which was funneled through a consluting company "to make it appear legal."
The Los Angeles Times reports that at a golf club he owns in California, Trump ordered that unattractive female staff be fired and replaced with prettier women.