In his new book Duty: Mem­oir of a Sec­ret­ary at War, Robert Gates mem­or­ably im­pugns Joe Biden's judg­ment as "wrong on nearly every ma­jor for­eign policy and na­tion­al se­cur­ity is­sue over the past four dec­ades." Cent­ral to his ar­gu­ment is Biden's op­pos­i­tion to the "troop surge" that Pres­id­ent Bush and then-De­fense Sec­ret­ary Gates launched in 2007 to bol­ster a shaky gov­ern­ment in Bagh­dad and save Ir­aq from a sec­tari­an civil war.
Biden, then a sen­at­or, cham­pioned a more fed­er­al sys­tem ex­pli­citly al­lowed by the Ir­aqi con­sti­tu­tion (at the in­sist­ence of the Kur­ds), de­volving power from the cent­ral gov­ern­ment in Bagh­dad to the provinces. Al­though Biden denied it at the time, his pro­pos­al would al­most cer­tainly have led to the de facto soft par­ti­tion of Ir­aq in­to three autonom­ous re­gions dom­in­ated by Shiites, Sun­nis, and Kur­ds. A sim­il­ar ap­proach in the 1990s patched to­geth­er Bos­nia out of the de­trit­us of the Balkans civil war between Serbs, Croats, and Muslims. In a 2007 op-ed, Biden warned, "If the United States can't put this fed­er­al­ism idea on track, we will have no chance for a polit­ic­al set­tle­ment in Ir­aq and, without that, no chance for leav­ing Ir­aq without leav­ing chaos be­hind."
He was ahead of his time. "Biden got it dead right, and I still think trans­ition­ing to a fed­er­al power-shar­ing ar­range­ment is the only way to stop the killing and hold Ir­aq to­geth­er," says Leslie Gelb, former pres­id­ent of the Coun­cil on For­eign Re­la­tions, who wrote the op-ed with Biden.
In­deed, Ir­aq today is in danger of slip­ping back in­to civil war. From the mo­ment the last U.S. troops left in late 2011, Prime Min­is­ter Nuri Kamal al-Ma­liki and his Shiite-led gov­ern­ment set about ruth­lessly con­sol­id­at­ing power. They ordered the ar­rest of polit­ic­al op­pon­ents, in­clud­ing the Sunni vice pres­id­ent, who was charged with murder and fled the coun­try. The Sunni tri­bal sheikhs be­hind the "An­bar Awaken­ing" — whose de­cision to turn against the Sun­nis of al-Qaida in Ir­aq and fight along­side U.S. forces was crit­ic­al to pulling Ir­aq back from the abyss — have been sys­tem­at­ic­ally mar­gin­al­ized. Prom­ises of gov­ern­ment salar­ies and the in­cor­por­a­tion of their mi­li­tias in­to the Ir­aqi se­cur­ity forces were nev­er fully honored. Last year, the mil­it­ary launched a bloody crack­down on mostly peace­ful Sunni demon­stra­tions, killing 38 pro­test­ers and spark­ing a pop­u­lar re­volt.
Bolstered by the vi­ol­ence next door in Syr­ia and a grow­ing Sunni dis­af­fec­tion in Ir­aq, al-Qaida has pre­dict­ably come storm­ing back in­to An­bar, re­cap­tur­ing the stra­tegic city of Fal­lu­jah. Al-Qaida's strategy of slaughter­ing Shiite ci­vil­ians to spark a civil war is largely be­hind a 2013 wave of vi­ol­ence that killed nearly 8,000 Ir­aqis and wounded an es­tim­ated 25,000 — rep­res­ent­ing the worst vi­ol­ence since the U.S. troop surge. "There is a re­volt in the desert led by a young­er gen­er­a­tion of Sunni tri­bal lead­ers, who are pissed off and re­ject the older gen­er­a­tion's failed out­reach to Ma­liki and the cent­ral gov­ern­ment," says Robert Baer, a former CIA case of­ficer in the Middle East who re­mains in fre­quent touch with Ir­aq's Sunni tribes. "Ir­aq is break­ing apart be­fore our eyes along the nat­ur­al sec­tari­an bor­ders of Kur­distan, Sunni-stan, and Shiite-stan, and that drift apart looks in­creas­ingly in­ev­it­able."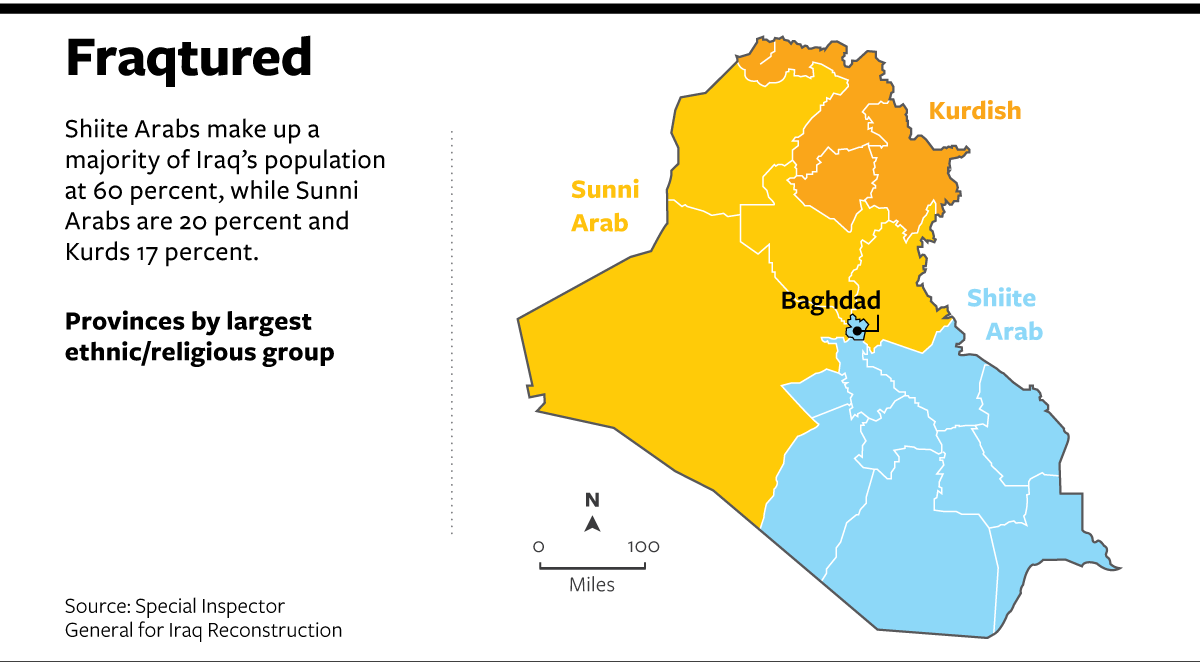 The way to stop the vi­ol­ence may be sep­ar­a­tion. "Ir­aq is at a cross­roads, and I do think fed­er­al­ism could solve many of the prob­lems we face," said Osama al-Nu­jay­fi, the Sunni speak­er of Ir­aq's Coun­cil of Rep­res­ent­at­ives, speak­ing last week at the Brook­ings In­sti­tu­tion. The Kur­d­ish re­gion in the north is already largely autonom­ous and peace­ful, and at least two oth­er provinces (in­clud­ing the stra­tegic­ally im­port­ant and oil-rich Shiite re­gion around Basra in the south) have be­gun the con­sti­tu­tion­al pro­cess for gain­ing re­gion­al autonomy. To date, their re­quests to the elect­or­al com­mis­sion in Bagh­dad to hold loc­al ref­er­en­dums on autonomy, he said, have been ig­nored by the fed­er­al gov­ern­ment and fiercely op­posed by Ma­liki. "The gov­ern­ment has a double stand­ard, sup­port­ing some favored groups and op­press­ing oth­ers, and they are de­mand­ing their rights un­der the fed­er­al sys­tem spelled out in the con­sti­tu­tion," Nu­jay­fi said. "If the gov­ern­ment does not re­spect the con­sti­tu­tion and the rule of law, then cit­izens will find al­tern­at­ives. That is very dan­ger­ous, be­cause some pro­vin­cial gov­ernors are already talk­ing about re­bel­lion." (Stephanie Stamm)
Per­haps if the Obama ad­min­is­tra­tion had not pre­cip­it­ously with­drawn U.S. troops in 2011, after fail­ing to reach a Status of Forces Agree­ment with Bagh­dad, Ir­aq might have com­pleted a more or­derly demo­crat­ic trans­ition with func­tion­al gov­ern­ing in­sti­tu­tions and sep­ar­a­tion of powers. (Al­though it's pos­sible that Ma­liki saw U.S. troops as im­ped­i­ments to his con­sol­id­a­tion of power and that no agree­ment would have been ac­cept­able to him.) What's in­creas­ingly clear is that Ir­aq failed to make the trans­ition to a demo­crat­ic polit­ic­al sys­tem and cul­ture, and, without a strong cen­ter, the sec­tari­an forces are once again pulling it apart.
A Ma­liki vic­tory in the April elec­tions, in­creased Kur­d­ish agit­a­tion for out­right in­de­pend­ence, or con­tin­ued ter­rit­ori­al gains by al-Qaida all threaten to ac­cel­er­ate that de­vol­u­tion. "Ma­liki gets the li­on's share of the blame, be­cause his para­noia and ruth­less con­sol­id­a­tion of power have ter­ri­fied the rest of the coun­try," says Ken­neth Pol­lack, a seni­or fel­low at the Brook­ings In­sti­tu­tion's Saban Cen­ter for Middle East Policy and a former CIA Middle East ana­lyst. "But what's done is done, and at this point it's hard to see how you put Humpty Dumpty back to­geth­er again out of Ir­aq's Sunni, Shiite, and Kur­d­ish parts. To make Ir­aq work prob­ably re­quires a shift of power from the cen­ter to the peri­phery."
Which is what Biden was say­ing all along.