Could there be a more per­fect lead char­ac­ter for a story about the first day of leg­al marijuana sales in Wash­ing­ton state than a 65-year-old re­tir­ee?
The very first per­son to pur­chase pot in the Seattle area was Deb Greene, a re­tired grand­moth­er who ar­rived at 3 p.m. the day be­fore to snag her place in line — and his­tory. Greene walked out of the shop called Can­nabis City with a smile on her face and a brown pa­per bag that read, "Thank you Deb! En­joy your OG Cush!"
She also has proven to be a pop­u­lar in­ter­view sub­ject: Google News yields 5,200 res­ults in a search for her name (many of those com­ing from the pro­lif­er­a­tion of wire re­ports).
But Greene wasn't the only col­or­ful char­ac­ter who showed up for the first day of leg­al pot sales in the state. Be­low, we col­lect the best de­tails from news re­ports in pa­pers across the coun­try. 
Game of Thrones Just Got Bet­ter
Greene ex­plained to The Seattle Times what she in­ten­ded to do with her new pur­chase.
Greene, 65, a re­tir­ee, said she doesn't smoke pot of­ten. But now she could en­joy it leg­ally at her Bal­lard home, maybe with "Game of Thrones" on TV. "It's in­cred­ibly lib­er­at­ing," she said. "It's the dream of every re­tir­ee, sleep in and smoke a bowl."
Cus­tom­ers wait to show their iden­ti­fic­a­tion while in line at Top Shelf Can­nabis. (Dav­id Ry­der/Getty Im­ages)
Seattle City At­tor­ney Con­fused by Strain Se­lec­tion
Pete Holmes, Seattle's elec­ted city at­tor­ney and a main back­er of the state's re­cre­ation­al marijuana law, said he wanted to be one of the first cus­tom­ers to demon­strate there are al­tern­at­ives to the na­tion's failed drug war. …

Dressed in a pin­stripe suit, Holmes stood in­side Seattle's first and, for now, only li­censed pot shop, Can­nabis City, south of down­town. …

Un­sure what to buy, he asked the own­er of the com­pany that grew it, Nine Point Growth In­dus­tries of Bremer­ton, who re­com­men­ded OG's Pearl. …

Holmes noted it had been quite some time since he smoked pot. He para­phrased a line from the South Park car­toon series: "Re­mem­ber, chil­dren, there's a time and place for everything. That place is col­lege."
Holmes elab­or­ated to the The Seattle Times that it's been a while since he has par­taken.
Holmes said he planned to keep half for his­tor­ic­al reas­ons and en­joy the oth­er half when "ap­pro­pri­ate," mean­ing in the pri­vacy of his home when he isn't work­ing in any leg­al ca­pa­city. "It's been a long time," he said, "since col­lege."
Cus­tom­ers, in­clud­ing Dan Dehnke (cen­ter), shop for marijuana at Top Shelf Can­nabis in Belling­ham, Wash. (Dav­id Ry­der/Getty Im­ages)
A Col­lect­or's Item
The New York Times was also sta­tioned at Can­nabis City near Seattle. The pa­per asked the shop­pers wait­ing in line what they might do with their leg­al dope. One came up with a solu­tion more cre­at­ive than simply smoking it:
"Maybe I'll have it bronzed, make a trophy out of it," C.J. Gra­ham, 22, a re­cent gradu­ate in bio­psy­cho­logy at Tufts Uni­versity who was vis­it­ing fam­ily, said of his pack­et of pot.
Son, Go Make His­tory
The New York Times also spoke with Ca­den Robin­son, a col­lege stu­dent, and asked him why he showed up. He said his dad put him up to it.
"My dad said I should come," said Mr. Robin­son, a chem­istry and chem­ic­al en­gin­eer­ing ma­jor at the Uni­versity of Pu­get Sound. " 'Go make his­tory,' " he said, quot­ing his fath­er.
Glass­ware is pic­tured on dis­play at the Can­nabis City re­tail marijuana store on Ju­ly 8 in Seattle. (Dav­id Ry­der/Getty Im­ages)
Weed and Weenies
Ore­gon Pub­lic Broad­cast­ing was present for the grand open­ing of Main Street Marijuana in Van­couver. The event was cel­eb­rated with hot dogs.
Fol­low­ing the grand open­ing, vis­it­ors to the store are in­vited to at­tend the in­aug­ur­al Weed and Weenies event, hos­ted by Vi­ridi­an Sci­ences, a busi­ness man­age­ment com­pany that spe­cial­izes in marijuana re­tail. At­tend­ants can en­joy their hot­dogs on the street, but smoking marijuana in pub­lic is still il­leg­al.
Enter the Pot Snobs. "I've grown bet­ter weed than that."
The Seattle Times went home with Dami­en Till­man after he pur­chased his stash. Till­man was not im­pressed:
A med­ic­al-marijuana grow­er him­self, Till­man gave a neut­ral re­port. "I've grown bet­ter weed than that, I've grown worse weed than that," he said.

"It def­in­itely hits you pretty good," he said after a couple bong hits, but noted some rot on some Cop­per Cush flowers. "You'd ex­pect a little bit bet­ter bag ap­peal," he said.

"That does smell good, though."
Man Fired After Buy­ing Pot
Mike Boy­er was the first man in Spokane to pur­chase leg­al weed. Then, his em­ploy­er found out. From The New York Daily News:
"We don't line up for Black Fri­day, we line up for 'Green Tues­day,' " the 30-year-old told The News. "People camp out for Star Wars and donuts … this is more im­port­ant than that."

…

He walked out with four grams of Sour Kush and high-fived people wait­ing in line as he held his bag of weed aloft, yelling "first cus­tom­er!" as he walked to his car and im­me­di­ately went home to get high.

Boy­er's phone buzzed as he took his first few hits: His em­ploy­er wanted him to come in and take a ur­ine ana­lys­is test with­in 24 hours.
The test came back pos­it­ive.
(Dav­id Ry­der/Getty Im­ages)
What We're Following See More »
UNTIL DEC. 9, ANYWAY
Obama Signs Bill to Fund Government
2 hours ago
REDSKINS IMPLICATIONS
SCOTUS to Hear Case on Offensive Trademarks
3 hours ago
WHY WE CARE
"The Supreme Court is taking up a First Amendment clash over the government's refusal to register offensive trademarks, a case that could affect the Washington Redskins in their legal fight over the team name. The justices agreed Thursday to hear a dispute involving an Asian-American rock band called the Slants, but they did not act on a separate request to hear the higher-profile Redskins case at the same time." Still, any precedent set by the case could have ramifications for the Washington football team.
STAFF PICKS
Bannon Still Collecting Royalties from 'Seinfeld'
4 hours ago
WHY WE CARE
The Hollywood Reporter takes a look at a little-known intersection of politics and entertainment, in which Trump campaign CEO Steve Bannon is still raking in residuals from Seinfeld. Here's the digest version: When Seinfeld was in its infancy, Ted Turner was in the process of acquiring its production company, Castle Rock, but he was under-capitalized. Bannon's fledgling media company put up the remaining funds, and he agreed to "participation rights" instead of a fee. "Seinfeld has reaped more than $3 billion in its post-network afterlife through syndication deals." Meanwhile, Bannon is "still cashing checks from Seinfeld, and observers say he has made nearly 25 times more off the Castle Rock deal than he had anticipated."
IT'S ALL CLINTON
Reliable Poll Data Coming in RE: Debate #1
4 hours ago
WHY WE CARE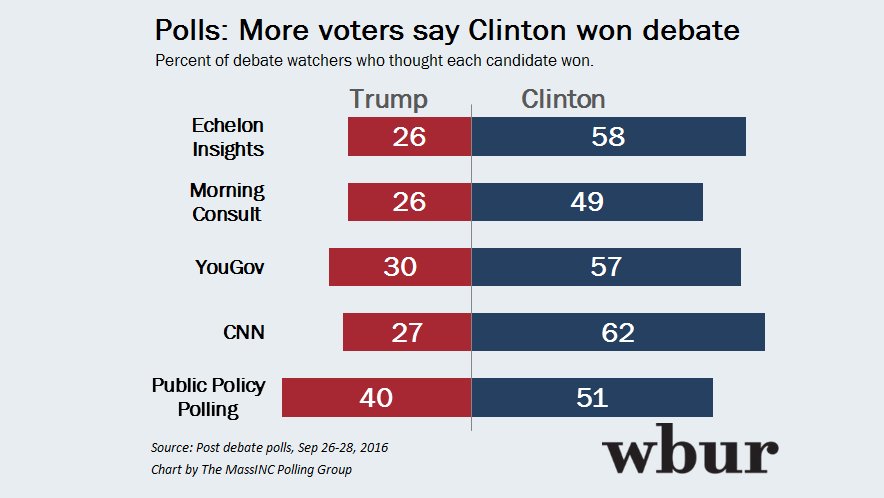 NEXT THURSDAY
Trump Transition Team Meeting with Silicon Valley VIPs
6 hours ago
THE DETAILS
Donald Trump's "transition team will meet next week with representatives of the tech industry, multiple sources confirmed, even as their candidate largely has been largely shunned by Silicon Valley. The meeting, scheduled for next Thursday at the offices of law and lobbying firm BakerHostetler, will include trade groups like the Information Technology Industry Council and the Internet Association that represent major Silicon Valley companies."