The fu­ture of money has ar­rived, and it's called Coin.
It looks like a cred­it card. It's the size of a cred­it card. It swipes in cred­it card ma­chines. But it holds the in­form­a­tion of up to eight of your deb­it, cred­it, re­wards, or gift cards. And you can switch between cards by simply press­ing a but­ton.
The new product, launched re­cently, prom­ises to change the way con­sumers spend money in a se­cure and ef­fi­cient way.
The key tech­no­logy is a Bluetooth sig­nal. To load in­form­a­tion from your dif­fer­ent cards, just swipe them on a card read­er in­to your Apple or An­droid phone and take a pic­ture of the card. If you're too far from your card — like, say, you leave it at the res­taur­ant — your phone gets a no­ti­fic­a­tion. And the Coin's bat­tery lasts up to two years.
So, what does it cost someone to fun­da­ment­ally change the way they pay for din­ner? $100. Pre-or­der­ing has already star­ted (at the re­duced price of $50), and Coin will ship out next sum­mer.
But this San Fran­cisco com­pany is just one of many start-ups across the coun­try that are find­ing new ways of de­vel­op­ing the fu­ture of re­tail.
In re­cent years, Amer­ic­ans have used less and less phys­ic­al money when pur­chas­ing items. Sev­er­al don't use it in stores, and many more don't keep bills and coins in their pock­ets. The "cling" of stray pen­nies hit­ting the counter at your loc­al cof­fee shop may soon be­come a dis­tant memory.
Ac­cord­ing to a sur­vey by Walk­er Sands, a Chica­go-based pub­lic re­la­tions firm, nearly 1-in-5 con­sumers do not carry any cash on them. In total, more than 60 per­cent of con­sumers carry $20 or less in cash. Sur­pris­ingly, about 1-in-20 people say they don't use cash and re­fuse to go to places that ac­cept only phys­ic­al cur­rency. (The sur­vey was con­duc­ted over the last year among 1,046 con­sumers across the United States.)
And oth­er sur­veys show a sim­il­ar trend: Ac­cord­ing to a 2012 study by Javelin Strategy and Re­search, 27 per­cent of pur­chases in 2011 were made with cash. By 2017, the group ex­pects that num­ber to drop to 23 per­cent.
So, yes, we're headed to­ward a cash­less so­ci­ety. But what about plastic cred­it cards, as well?
People use cash less. Re­ceipts are re­dund­ant with on­line bank­ing. And products like Coin al­low people to pay di­git­ally, in­stead of with a phys­ic­al cred­it card. Could the George Cost­anza wal­let be a thing of the past?
Christine Pietryla, the seni­or vice pres­id­ent of pub­lic re­la­tions for Walk­er Sands, said she was im­me­di­ately drawn to Coin. It's a product that fits in­to her firm's re­search: People want their con­sumer ex­per­i­ence to be sim­pler, easi­er, and more ef­fi­cient.
"It's def­in­itely a chal­lenge to find an ap­plic­a­tion or a solu­tion that puts everything all in one place," she said. "This is unique in that it does do that."
Con­sumers are start­ing to prefer di­git­al op­tions in pay­ments: Ac­cord­ing to the same re­search from Walk­er Sands, 28 per­cent of con­sumers are more likely to use a di­git­al gift card, rather than a plastic gift card. It only makes sense that ser­vices like PayP­al, a busi­ness that al­lows people to make pay­ments and money trans­fers through the In­ter­net, have taken off.
Sim­il­arly, Google Wal­let, launched in 2011, al­lows users to store in­form­a­tion for their deb­it cards, cred­it cards, re­ward cards, or gift cards on their mo­bile phone. For par­ti­cip­at­ing stores, someone can just tap their phone to a Pay­Pass ter­min­al to pay for a product. Google Wal­let users can all send money through Gmail at­tach­ments. Ad­di­tion­ally, Google an­nounced last week that it was in­tro­du­cing pre­paid debt cards that can be used in ATMs.
And in the same sur­vey, 95 per­cent of people say they've pur­chased something from Amazon in the last year.
PayP­al, in fact, last week just made a deal with an­oth­er di­git­al start-up, Uber — a car ser­vice com­pany that uses a mo­bile ap­plic­a­tion to hail rides.
Oth­er start-ups, like Is­is (which al­lows con­sumers to pay for items in per­son through their smart­phones) or Dy­nam­ics (which cre­ated a sim­il­ar multi-ac­count card like Coin), also have products that of­fer a dif­fer­ent way of pay­ing for goods.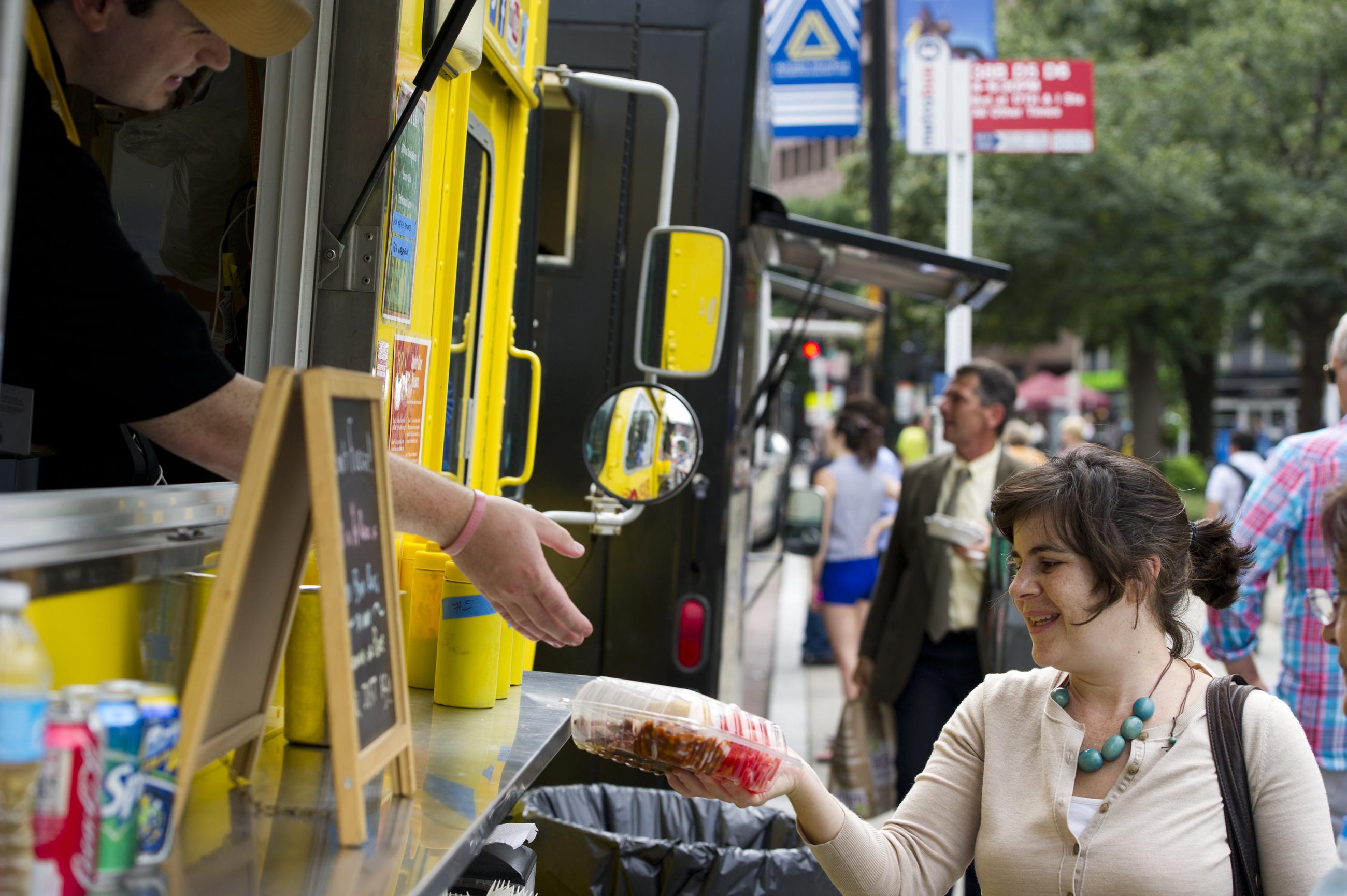 (SAUL LOEB/AFP/Getty Im­ages)The fu­ture of re­tail goes well bey­ond Coin or PayP­al. It's also about how stores are pro­cessing your pay­ments.
Any per­son who works in Wash­ing­ton, New York, or Los Angeles can at­test to the grow­ing num­ber of gour­met food trucks that have popped up on street corners around lunch­time. It's noon, so why not go to Far­ragut Square and eat at Far East Taco? And for pay­ment, many of these food trucks use the Square Read­er — an easy at­tach­ment that al­lows any­one with an iPhone or iPad to pro­cess a cred­it card pay­ment. Even some big-box stores have check­outs with iPads.
And it's not just the Square. What about pay­ing for items without ac­tu­ally go­ing to a check­out line? Ac­cord­ing to the same Walk­er Sands study, 59 per­cent of con­sumers said they would be more likely to shop at stores that of­fer self-check­out on mo­bile devices.
Store own­ers are also turn­ing to di­git­al com­pan­ies to get around tra­di­tion­al cred­it card com­pan­ies that charge too much to pro­cess pay­ments. Des Moines, Iowa-based Dwolla is a pay­ment net­work that al­lows people to trans­fer money — either to friends or busi­nesses — more ef­fi­ciently through a mo­bile ap­plic­a­tion and its web­site. And it saves mer­chants money by char­ging only 25 cents for trans­ac­tions over $10 — and char­ging noth­ing if it's less. Thou­sands of com­pan­ies and con­sumers have already signed up for the ser­vice, which star­ted in 2009. Dwolla has even launched a cred­it fea­ture, which could com­pete with cred­it cards.
Many of these start-ups are just that: start-ups — small out­fits of tech­ies who had a vis­ion of a product that chal­lenges the in­dustry to think dif­fer­ently and move in rad­ic­al dir­ec­tions.
For one, it costs a lot of money to change the game. That's why com­pan­ies like these rely on crowd-fund­ing. Coin is look­ing to raise $50,000 bey­ond what some of its in­vestors have put in. It can also cost a lot of money to buy these new products. Coin is $100 — not steep, but not cheap. Oth­er mod­ern pay­ment ser­vices, like PayP­al or Google Wal­let, are free.
Ad­di­tion­ally, with any new product, there are risks for se­cur­ity breaches. Coin no­ti­fies con­sumers when they might have left it at a res­taur­ant, but their in­form­a­tion is still just as much at risk as with a plastic cred­it card.
And no product is guar­an­teed to catch on. Most con­sumers are look­ing for three ma­jor qual­it­ies in any product: in­creased se­cur­ity, a tre­mend­ous amount of cus­tom­er ser­vice, and a con­sist­ent visu­al ex­per­i­ence. In oth­er words, con­sumers want to know that when they walk in­to a store or log in to the product's web­site or mo­bile ap­plic­a­tion, it's all go­ing to look the same, be easy to use, and be visu­ally ap­peal­ing.
If these start-ups lack these qual­it­ies, con­sumers won't buy in­to the idea. With Coin, con­sumers will have to re­place their card every two years — short­er than with a nor­mal cred­it card. And lest we for­get a simple truth: Cred­it cards are already easy to use.
Coin is new. It's un­fa­mil­i­ar. It's dan­ger­ous, to some. But every idea from a start-up com­pany is at least a little risky.
"Start-ups are there to dis­rupt and be in­nov­at­ive," Pietryla said. "It's either go­ing to take off or it's not."
Two years ago, people might have thought pay­ing with an iPad was crazy. As the tech­no­logy catches up, con­sumers get more con­fid­ent in it. Coin might be just that.