How loc­al news­pa­pers handle ma­jor na­tion­al stor­ies can tell a lot about the area they rep­res­ent. That was es­pe­cially true in the af­ter­math of Monday's Su­preme Court rul­ing to lim­it the Af­ford­able Care Act's con­tra­cep­tion man­date.
Front pages from across the coun­try either pro­claimed "A Ma­jor Vic­tory for Re­li­gious Rights" or "Court Lim­its Birth Con­trol Rule." The sub­tleties in the head­lines speak to the polit­ic­al lean­ings across the coun­try and how dif­fer­ent people in­ter­pret the Court's de­cision.
See the dif­fer­ences between 12 front pages from across the United States:
Wall Street Journ­al vs. New York Times
The more con­ser­vat­ive Journ­al writes "Grants," while the left-lean­ing Times says, "Lim­its."
In­di­ana's Journ­al & Cour­i­er vs. San Fran­cisco Chron­icle
Dis­played prom­in­ently in an In­di­ana news­pa­per, while nearly ig­nored in the San Fran­cisco pa­per.
Chica­go Tribune vs. The Bis­mar­ck Tribune
The Chica­go pa­per fo­cused on con­tra­cep­tion, while the North Dakota pa­per fo­cused on "re­li­gious rights."
In­di­ana­pol­is Star vs. Min­neapol­is Star-Tribune
Again, "re­li­gious free­dom" versus "birth con­trol."
The Des Moines Re­gister vs. The An­nis­ton Star
Some news­pa­pers make a point to fo­cus on loc­al is­sues. The lead head­line in The Des Moines Re­gister is about the up­com­ing Iowa Caucuses, while the Alabama pa­per fo­cuses on South­ern Baptists.
The Ok­laho­man vs. St. Louis Post-Dis­patch
Some head­lines her­al­ded Hobby Lobby's vic­tory, while oth­ers stuck to the Su­preme Court's ac­tions.
The read­er­ship for a news­pa­per in San Fran­cisco is a lot dif­fer­ent than the read­er­ship in Ok­lahoma City. It makes sense that the head­lines would re­flect that dif­fer­ence.
What We're Following See More »
SAUDI ARABIA BILL
Veto Override Scheduled for Wednesday in Senate
1 hours ago
THE LATEST
Senate Majority Leader Mitch McConnell said this afternoon that the Senate on Wednesday will take up an override of President Obama's veto of legislation that would allow the families of 9/11 victims to sue the government of Saudi Arabia. "The vote is expected garner the two-thirds majority necessary to override the veto."
MEDIA SHOULD HOLD TRUMP RESPONSIBLE
Reid Devotes Senate Floor Speech to Trump's 'Racism'
2 hours ago
THE LATEST
"Donald Trump is a racist," announced Senate Minority Leader Harry Reid from the Senate floor this afternoon. Reid said all of us are occasionally politically incorrect, but "I don't know of anyone that when that happens doesn't acknowledge it and, if necessary, apologize quickly." But Trump, he added, says things with "full intent to demean and to denigrate." Reid argued that the media isn't holding Trump to account, and should explicitly call him a racist.
ABSENT FROM LIST: GENNIFER FLOWERS
Most Trump Guests Have Military Ties
5 hours ago
TOP OF MIND
Trending on Google: 'Why Should Trump Not Be President'
5 hours ago
THE DETAILS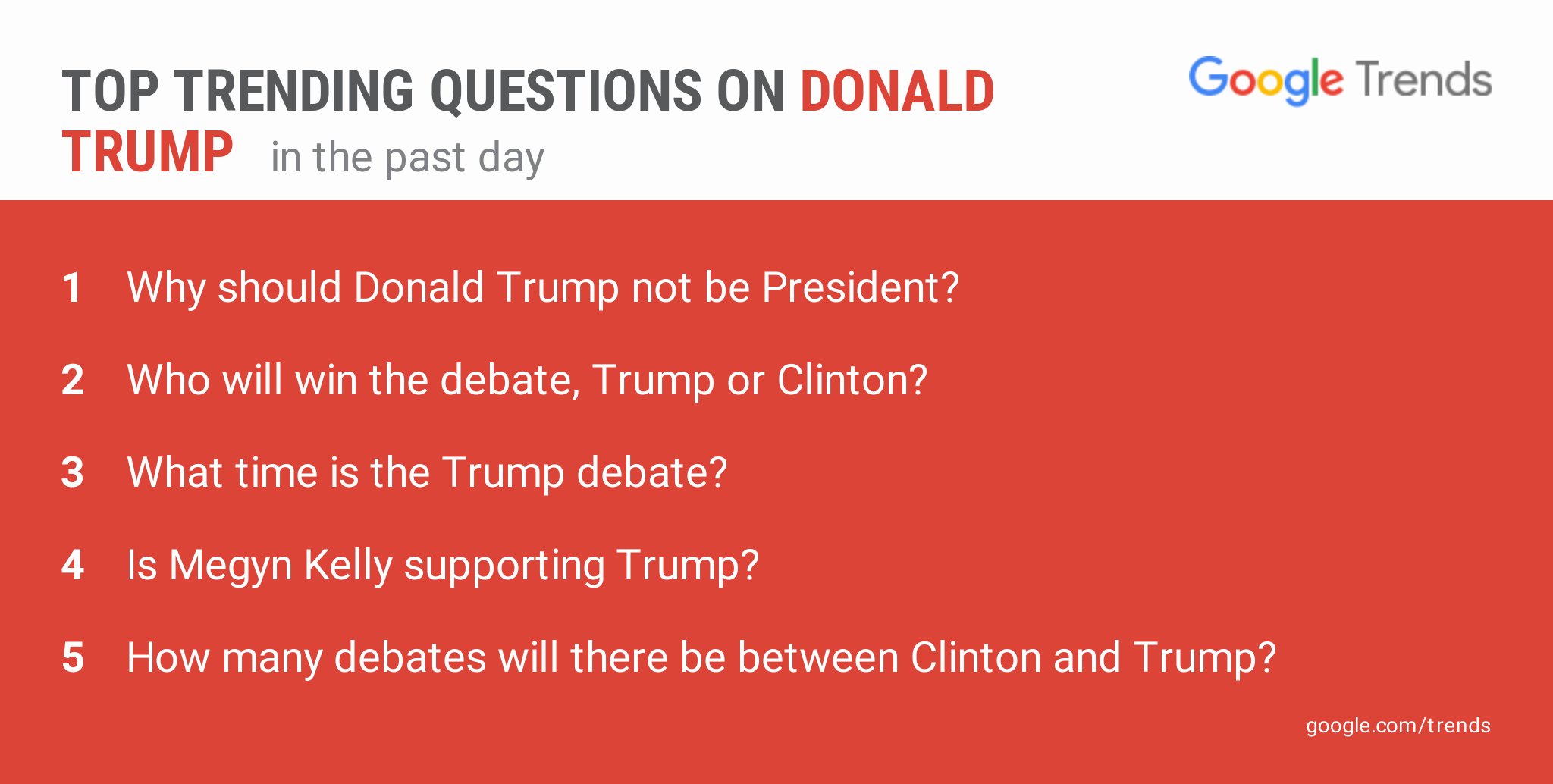 WHO PLAYED THE DONALD?
Longtime Clinton Aide Played Trump in Mock Debates
8 hours ago
THE DETAILS
After keeping the information private for most of the lead-up to the debate on Monday, it has been revealed that longtime Clinton aide Philippe Reines has been playing the role of Donald Trump in her debate prep. Reines knows Clinton better than most, able to identify both her strengths and weaknesses, and his selection for a sparring partner shows that Clinton is preparing for the brash and confrontational Donald Trump many have come to expect.