Every Fed­er­al Re­serve Board chair­man comes in­to of­fice with a secret agenda, a hid­den pas­sion. It's the sort of thing you don't hear about at the con­firm­a­tion hear­ings, and yet it is of­ten this grand pas­sion — sud­denly giv­en voice in the world's bul­li­est eco­nom­ic pul­pit — that shapes the na­tion's fu­ture in un­ex­pec­ted ways. Alan Green­span, the erstwhile "maes­tro" of the Fed, wanted to turn fin­ance in­to the kind of lais­sez-faire mar­ket that his ment­or Ayn Rand, the uber-liber­tari­an au­thor, had al­ways en­vi­sioned. The res­ult was the across-the-board de­reg­u­la­tion of bank­ing. When Ben Bernanke took over Green­span's job, he ap­peared to be just an­oth­er con­ser­vat­ive eco­nom­ist in the mold of his pre­de­cessor (who had en­dorsed him). But his great pas­sion was us­ing his life's work as a schol­ar of the Great De­pres­sion to stop an­oth­er one. Only people who really knew Bernanke were aware of how the bald­ing, mild-mannered man with the slightly quavery voice was com­mit­ted, body and soul, to en­sur­ing that the 2010s did not turn out like the 1930s. Thus, the start­ling spec­tacle of a Re­pub­lic­an-ap­poin­ted act­iv­ist chief ex­plod­ing the Fed's bal­ance sheet by tril­lions of dol­lars to keep the eco­nomy go­ing.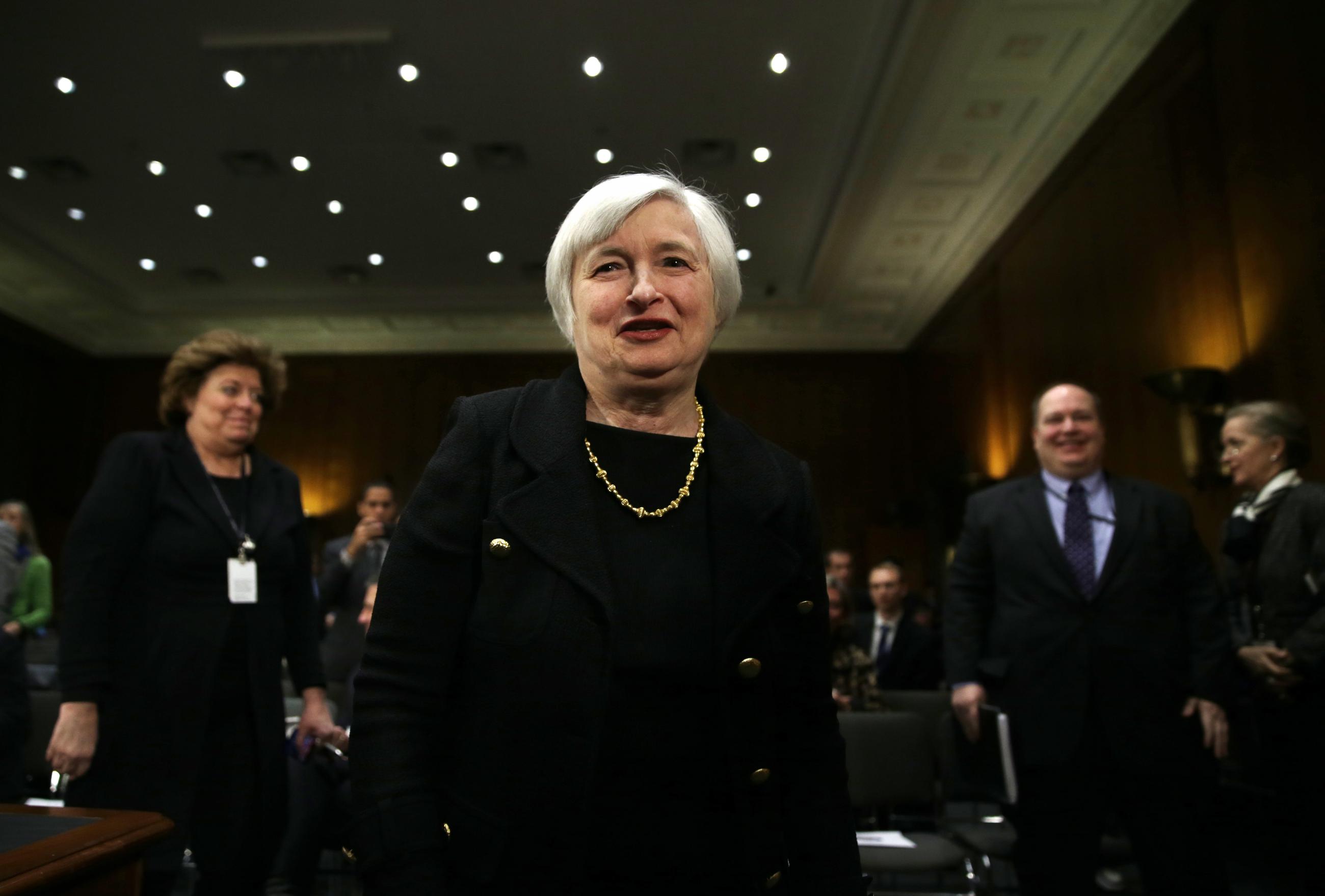 What is Janet Yel­len's secret pas­sion? By the ac­counts of her friends and col­leagues, the 67-year-old Yale-trained eco­nom­ist doesn't have many secrets. She's served nearly 10 years in the Fed­er­al Re­serve sys­tem, first as a gov­ernor, then as head of the San Fran­cisco Fed, and now as vice chair­wo­man. Be­fore that she ran the Coun­cil of Eco­nom­ic Ad­visers un­der Bill Clin­ton. "If you were dream­ing up a train­ing school for Fed chair­men, it would be her life story," jokes Prin­ceton eco­nom­ist Alan Blinder, her former col­league at the Fed. "I don't think any­body in the Fed's his­tory has come in with such a full résumé of Fed­er­al Re­serve ex­per­i­ence." As a res­ult, she's prob­ably as open a book as any nom­in­ee for chief in his­tory. Yel­len is con­sidered a nonideo­logue who will re­lent­lessly fol­low the facts, wheth­er they lead her to­ward solu­tions on the left or the right. "She is truly a sci­ent­ist, in that she is an ob­serv­er," says Jim Adams, a Uni­versity of Michigan eco­nom­ist who has known Yel­len since the 1970s. In her ac­tions on the Fed­er­al Re­serve Board and in her ag­on­iz­ingly de­lib­er­ate, Brook­lyn-ac­cen­ted testi­mony be­fore Con­gress, Yel­len has res­ol­utely toed the tra­di­tion­al­ist middle line on the Fed's "twin" man­dates to man­age in­fla­tion and un­em­ploy­ment. And with her ready smile, pix­ie hair­cut, and di­min­ut­ive size (5 feet), she doesn't look like much of a bomb-throw­er. (Alex Wong/Getty Im­ages)
But that is the pub­lic Janet Yel­len. Dis­cip­lined, de­term­ined, and bril­liant, Yel­len is also the product of an old pro­gress­ive tra­di­tion of act­iv­ist, pro-gov­ern­ment eco­nom­ics. Above all, ac­cord­ing to col­leagues, she takes the na­tion's worst prob­lems, es­pe­cially un­em­ploy­ment, as a deeply per­son­al chal­lenge. Yel­len, who was con­firmed Monday night, rep­res­ents a strain of in­ter­ven­tion­ist think­ing that has not found ex­pres­sion at such a high level in Wash­ing­ton in dec­ades — at least since Ron­ald Re­agan and his Milton Fried­man-in­spired at­tempt to shrink the size of gov­ern­ment. That philo­sophy still dic­tates the agenda; even the last two Demo­crat­ic pres­id­ents, Clin­ton and Barack Obama, have ad­vanced (or bowed to) get-gov­ern­ment-out-of-the-way policies, and the GOP's no-new-tax re­li­gion pre­vents any con­ces­sions for a broad­er budget deal.
Yel­len, un­like Green­span or a pre-2008 Bernanke, is prob­ably the last per­son you'd hear re­peat­ing one of Re­agan's fa­vor­ite jokes: "The nine scar­i­est words in the Eng­lish lan­guage are: 'I'm from the gov­ern­ment, and I'm here to help.' " Ac­cord­ing to more than a half-dozen long­time friends and col­leagues, she has two grand pas­sions that will re­quire gov­ern­ment to help in a very big way: re­du­cing chron­ic­ally high un­em­ploy­ment — which is the fo­cus of her life's work and is prob­ably the single biggest eco­nom­ic prob­lem in Amer­ica today — and rein­ing in Wall Street's ex­cesses. Yel­len already ap­pears to be set­tling the Fed's etern­al de­bate about the re­l­at­ive threats of un­em­ploy­ment and in­fla­tion; she de­clared bluntly in her testi­mony that job­less­ness is the is­sue of the mo­ment. Based on her past po­s­i­tions, she is also likely to try to al­ter the dis­cus­sion in Wash­ing­ton on is­sues ran­ging from the size and power of the big banks to the need for a high­er min­im­um wage and ex­ten­ded job­less be­ne­fits. And at a time when Obama has de­clared that in­come in­equal­ity is "the de­fin­ing chal­lenge of our time," and polls show that a ma­jor­ity of Amer­ic­ans no longer be­lieve their coun­try of­fers equal op­por­tun­ity to all, Yel­len brings a raft of well-thought-out — and de­cidedly act­iv­ist — views to these is­sues.
She has de­voted much of her ca­reer to show­ing why mar­kets fail so of­ten and there­fore gov­ern­ment in­ter­ven­tion is needed, says No­bel Prize-win­ning eco­nom­ist Joseph Stig­litz, her former teach­er at Yale and a long­time friend. Far more than pre­vi­ous Fed chiefs, Yel­len also em­braces the young field of be­ha­vi­or­al eco­nom­ics, which pos­its that people of­ten don't act ra­tion­ally the way eco­nom­ic mod­els say they should. Yel­len knows that the Fed's tra­di­tion­al powers are lim­ited now be­cause the eco­nomy may be caught in a "li­quid­ity trap," with in­terest rates already so low that ad­di­tion­al in­jec­tions of cash by the cent­ral bank will do little or noth­ing to stim­u­late the eco­nomy. But she is con­stantly on the hunt for nov­el in­ter­ven­tion­ist solu­tions; "out of the box" is one of her fa­vor­ite phrases. "She knows that labor mar­kets don't work per­fectly; cap­it­al mar­kets don't work per­fectly," Stig­litz says. He adds that Yel­len un­der­stands that mon­et­ary policy is it­self the best proof of this thes­is — be­cause it wouldn't be needed at all if mar­kets al­ways worked cor­rectly.
Those who have known Yel­len the longest also hail her em­pathy. They say she feels the pain of the job­less on a gut level and has even scol­ded her fel­low eco­nom­ists for treat­ing the un­em­ploy­ment rate as a mere num­ber rather than a tra­gic en­cap­su­la­tion of the misery of mil­lions. "How deeply you care about the un­em­ployed comes in part from your vis­cera rather than your in­tel­lect. And with Janet Yel­len, it's very strong," Blinder says. "She spent a good part of her ca­reer study­ing why un­em­ploy­ment stays high. I can re­mem­ber a con­ver­sa­tion between the two of us at the Fed in the '90s — I was vice chair­man and she was a gov­ernor. One day, we tried hold­ing back [the Fed­er­al Open Mar­ket Com­mit­tee, the Fed's chief de­cision-mak­ing body] from go­ing over­board on rais­ing in­terest rates. She said, 'Maybe we saved 500,000 people their jobs.' "
Now she gets her chance to save more. Along­side in­equal­ity, chron­ic un­em­ploy­ment is Amer­ica's most press­ing eco­nom­ic prob­lem. The bleak back­drop to the latest pos­it­ive news, the re­duc­tion in the un­em­ploy­ment rate to 7 per­cent, is that dev­ast­at­ing num­bers of people have simply dropped out of the work­force in des­pair. And yet Wash­ing­ton poli­cy­makers re­main ideo­lo­gic­ally para­lyzed over what to do about it. By a num­ber of ac­counts, no one feels this more in­tensely than Yel­len, who un­der­stands not just the hu­man cost to in­di­vidu­al lives and fam­il­ies but also the dam­age that a de­mor­al­ized work­force can do to the eco­nomy as a whole. One of her most im­port­ant pa­pers, writ­ten with her hus­band, No­bel Prize win­ner George Aker­lof, showed that work­ers who feel un­der­paid will be less pro­duct­ive. "She does see long-term un­em­ploy­ment, massive un­em­ploy­ment, as not only an eco­nom­ic prob­lem or in terms of wasted re­sources but also as a hu­man be­ing," says John Wil­li­ams, pres­id­ent of the San Fran­cisco Fed, who was Yel­len's re­search chief when she ran it. "It is very de­struct­ive to fam­il­ies."¦ This is pas­sion­ate with her. Among eco­nom­ists, you don't of­ten see that hu­man side. With her, it's not just an ab­strac­tion, and if you try to treat it too much as an ab­strac­tion, she'll re­act."
Wil­li­ams says he was "mildly chewed out" by Yel­len for ap­proach­ing the mort­gage crisis too aca­dem­ic­ally — too much like an eco­nom­ist. "We need to be work­ing our hard­est, think­ing our best."¦ This coun­try's in a crisis. We're on the pre­cip­ice, and we need to really fo­cus," he re­calls her say­ing. Yel­len, he adds, is not go­ing to be the type of Fed chief "sit­ting there wringing her hands and say­ing mon­et­ary policy can't solve all the world's prob­lems."
Already she is de­scrib­ing the cent­ral bank's job in ways that have stunned some tra­di­tion­al Fed watch­ers — and made them un­easy. Yel­len's very first state­ment after Obama nom­in­ated her in Oc­to­ber sug­ges­ted she in­tends to ex­tend Bernanke's re­volu­tion­ary ex­pan­sion of the Fed's role, not ratchet it back. "While we have made pro­gress, we have fur­ther to go," she said, adding that the Fed's job was not just to keep the dol­lar sound but "to serve all the Amer­ic­an people … [and] en­sure that every­one has the abil­ity to work hard and build a bet­ter life."
The state­ment, which in­dic­ated that Yel­len is fo­cused on boost­ing em­ploy­ment, "knocked me over. It was a polit­ic­al state­ment which fits per­fectly with her [aca­dem­ic] up­bring­ing," says Dav­id Jones, a vet­er­an Fed ana­lyst and the au­thor of the forth­com­ing book Un­der­stand­ing Cent­ral Bank­ing: The New Era of Act­iv­ism. He points out the risks. "Her biggest chal­lenge now is to re­verse the Fed's highly ac­com­mod­at­ive policy," but that runs right up against her act­iv­ist ap­proach to un­em­ploy­ment and in­come in­equal­ity. As a res­ult, Jones is wor­ried that Yel­len will make a muddle of the job. "The trouble is, you don't know wheth­er­she can rise to the level of that pay grade, which is the second-most-power­ful per­son in the coun­try," he says. "She also said that the greatest qual­ity of the Fed is its abil­ity to de­bate is­sues. I said to my­self, de­bat­ing is­sues is as far re­moved from the Fed's greatest qual­ity as I can think of. It's the policy the Fed makes that counts."
The daugh­ter of a Brook­lyn phys­i­cian and a home­maker, Yel­len grew up fairly well-off in the hal­cy­on '50s. But she vividly re­mem­bers listen­ing around the kit­chen table as her fath­er told tales of the De­pres­sion and her moth­er read about mar­kets and eco­nom­ics from the busi­ness sec­tion of the news­pa­per. A math geek and the va­le­dictori­an of her high school class, Yel­len ad­ored the idea that people could ac­tu­ally fig­ure out how a whole eco­nomy works and maybe even res­cue it, as John Maynard Keynes pro­posed. She was drawn to Yale be­cause her ment­or, the fam­ous lib­er­al eco­nom­ist James To­bin, a Keynes aco­lyte, talked in pas­sion­ate terms about pre­vent­ing the ter­rible job­less­ness of the De­pres­sion, and the fin­an­cial reck­less­ness that led to it, from ever hap­pen­ing again.
So even though it's well out of the Fed's pur­view, Yel­len has for years done aca­dem­ic work sup­port­ing a high­er min­im­um wage and deal­ing with in­come in­equal­ity. Pre­vi­ous Fed chair­men have ten­ded to shrink in hor­ror from such le­gis­lat­ive is­sues, but as far back as 2006, while pres­id­ent of the San Fran­cisco Fed, she warned that rising in­equal­ity could "un­der­mine Amer­ic­an demo­cracy" and that dra­mat­ic im­prove­ments in edu­ca­tion were "im­per­at­ive," along with a strength­en­ing of the so­cial safety net. It would be sur­pris­ing if she did not try to con­vince Con­gress of the same in speeches and her semi­an­nu­al testi­mony.
And then there is the rest of the globe. Stiglitz says that in such a power­ful po­s­i­tion — the most power­ful eco­nom­ic post in the world, and the second-most-power­ful job in Wash­ing­ton — Yel­len could pro­foundly change the de­bate around the world. Des­pite grow­ing con­cern about in­equal­ity, cent­ral bankers in many coun­tries (es­pe­cially at the European Cent­ral Bank) tend to sup­port "wage flex­ib­il­ity," which is a fancy term for per­mit­ting eco­nom­ic policies that drive wages down and thus cre­ate more in­equal­ity to at­tract busi­nesses, says Stiglitz, who con­sults for many of those na­tions. Yel­len, as the world's most in­flu­en­tial cent­ral banker, is likely to try to al­ter that con­ven­tion­al wis­dom and oth­er re­flex­ively neo­lib­er­al (read: Re­agan­ite) views.
Today, Yel­len sees the eco­nomy as a great ail­ing beast, and she wants to mas­sage it back to life. She knows that Amer­ica is in danger of be­com­ing like Ja­pan, with chron­ic­ally slow growth that leaves real in­terest rates low for a long time and tends to render the Fed chair­man's tra­di­tion­al ar­ray of mon­et­ary tools in­ef­fect­ive. Even so, "there is a lot of in­tan­gible in­flu­ence that a Fed chair­man brings to the table," says Jared Bern­stein, Vice Pres­id­ent Joe Biden's former chief eco­nom­ist. "When it comes to just the ba­sic prob­lem of struc­tur­ally de­fi­cient de­mand and per­sist­ent out­put gaps [the dif­fer­ence between what the eco­nomy could be pro­du­cing and what it is], and of long-term un­em­ploy­ment, she seems to really get not only how im­port­ant it is to at­tack those prob­lems for the be­ne­fit of people who are hurt by them, but also for the mac­roe­conomy. She re­cog­nizes that the longer the cyc­lic­al prob­lems go on, the more they morph in­to struc­tur­al prob­lems" — in oth­er words, the more they be­come a per­man­ent con­di­tion.
Oth­er sup­port­ers say it is the sheer breadth of Yel­len's eco­nom­ic think­ing that is most im­press­ive — and use­ful. "I do think she does rep­res­ent something of a new breed of poli­cy­makers in Wash­ing­ton," says John E. Kwoka, an eco­nom­ist at North­east­ern who gradu­ated with Yel­len from Brown in 1967 and has fol­lowed her rise to the top with frank ad­mir­a­tion. "She has wider know­ledge of mod­ern eco­nom­ics than cer­tainly Alan Green­span but prob­ably Ben Bernanke, too."¦ And she's not part of the Wash­ing­ton-New York ax­is, which for some time has been con­trolling Fed and Treas­ury policy. That's why I think she's the per­fect match for the is­sues of the day."
Yel­len will also be in­her­it­ing a job that has nev­er been as im­port­ant as it is right now. "Bernanke has es­tab­lished mon­et­ary policy as the most power­ful weapon the gov­ern­ment can use in deal­ing with a crisis," over­turn­ing the post-Great De­pres­sion Keyne­sian fo­cus on fisc­al spend­ing, Jones says. The ques­tion now is wheth­er Yel­len will try to out-Bernanke even Bernanke. Whatever Yel­len's am­bi­tions for shift­ing the de­bate in Wash­ing­ton — on min­im­um wage and in­come in­equal­ity, or on more fisc­al stim­u­lus or job pro­grams — at the be­gin­ning of her term, she will be saddled with one big, de­cis­ive ques­tion: when to be­gin to "taper" or un­wind Bernanke's latest ag­gress­ive in­ter­ven­tion in the mar­ket, his "quant­it­at­ive eas­ing" pro­gram of buy­ing $85 bil­lion a month in bonds to keep in­terest rates down. As a Fed vet­er­an, she may also be leery of jump­ing too quickly in­to the fisc­al de­bate, fear­ing a back­lash from a Con­gress that keeps threat­en­ing to rein in the Fed's tra­di­tion­al powers. Blinder and oth­ers say they ex­pect Yel­len to be cau­tious at first, in part be­cause a bloc of dol­lar hawks such as Sen. Marco Ru­bio, R-Fla., have come out against her nom­in­a­tion, say­ing she and Bernanke have laid the ground­work for massive in­fla­tion. Jef­frey Frankel of the Har­vard Kennedy School, who served un­der Yel­len on Clin­ton's Coun­cil of Eco­nom­ic Ad­visers, says he thinks she might sur­prise every­one at first by tight­en­ing mon­et­ary policy soon­er rather than later, "partly maybe to es­tab­lish her repu­ta­tion and make it clear that she's not just a soft-money per­son."
Sen­at­ors who listened to her con­firm­a­tion testi­mony also see a lot of con­tinu­ity with Bernanke, with whom Yel­len has worked smoothly as vice chair­wo­man for the past three years. "Not to sit down at a spread­sheet and com­pare the two, but I think they're pretty sim­il­ar in their philo­sophies," says Sen. Jon Test­er, D-Mont. "I mean, they could vary in oth­er things that I'm not aware of, but I think that she's go­ing to be a pretty steady hand at the Fed, be­cause that's what Bernanke has been." Bernanke him­self is said to be de­lighted with the choice, in large part be­cause she will de­liv­er the smoothest pos­sible trans­ition. As Mark Gertler of New York Uni­versity, Bernanke's long­time coau­thor and in­tim­ate friend, puts it, "She was his biggest ad­voc­ate at the board, no ques­tion about it."¦ I re­mem­ber meet­ing with her very early in the crisis, and her re­mark­ing on how well he was do­ing. She wants it to look seam­less. No ques­tion about that. I think he prob­ably feels good about leav­ing now."
Like Bernanke, of course, Yel­len's biggest prob­lem will be Wash­ing­ton's polit­ic­al dys­func­tion, es­pe­cially the in­ab­il­ity of Con­gress and the pres­id­ent to agree on a long-term budget, on how pro­gress­ive the tax code should be, or on any ad­di­tion­al fisc­al stim­u­lus. "What the Fed has had to do is to com­pensate for the ab­sence of fisc­al policy. That's not a healthy situ­ation," Gertler says. "If it were not for the crazi­ness go­ing on in Con­gress, the Fed would prob­ably be un­wind­ing [its quant­it­at­ive-eas­ing policies] right now. It's go­ing to be tough — dif­fer­ent from what Bernanke had to deal with. He was fight­ing a light­ning strike, with the crisis. This is more like a steady con­sist­ent battle she's go­ing to have to fight." But while she isn't likely to come out swinging against the con­gres­sion­al in­transigents, many of her friends and as­so­ci­ates say it would be in char­ac­ter for her to use her powers of per­sua­sion to quietly sway the lar­ger de­bate. For her en­tire ca­reer, they say, she has been fear­less about stand­ing up for the eco­nom­ic views she be­lieves are right. Michigan's Adams tells of get­ting to know her when he was a Ph.D. stu­dent at Har­vard and Yel­len was an un­ten­ured as­sist­ant pro­fess­or there. Adams had just been re­buffed by his thes­is ad­viser, an emer­it­us chair­man of the eco­nom­ics de­part­ment. When Adams told Yel­len that his ad­viser had in­struc­ted him to re­think his eco­nom­ic ar­gu­ment, she replied calmly, "Hmm, it seems to me we could do something." To­geth­er, Yel­len and Adams col­lab­or­ated on an art­icle ad­van­cing the same ideas; it be­came one of the most heav­ily cited in the field. "Janet was right. My thes­is ment­or was wrong. And what came out of it was much more than I had seen my­self. Janet saw how to make it in­to something much bet­ter." Just as im­port­ant, she was tak­ing on a power­ful ten­ured pro­fess­or who could have eas­ily voted her out of a job at a fac­ulty meet­ing. "That takes some cour­age," Adams says. It's the kind of cour­age she will need to take on — in testi­mony, speeches, and meet­ings with le­gis­lat­ors and reg­u­lat­ors — an en­tire free-mar­ket Zeit­geist, the Re­aganom­ic views that still dom­in­ate Wash­ing­ton. 
Yel­len is also said to be push­ing for a far more ag­gress­ive ap­proach to Wall Street — which is iron­ic, con­sid­er­ing that Wall Street has cheered her nom­in­a­tion. Of­fi­cials in­side the Fed and out who have spoken to her say one big change in the off­ing is that Yel­len plans to take charge of the fin­an­cial-reg­u­lat­ory agenda her­self, while Bernanke largely left the task to one of his gov­ernors, Daniel Tarullo. (Des­pite a shared per­spect­ive — that bank­ing needs to be more heav­ily reg­u­lated with tough cap­it­al and li­quid­ity ra­tios and re­stric­tions on risky trad­ing and lend­ing — Yel­len and Tarullo have battled over turf. (See "High Noon for Dan Tarullo,") Says one eco­nom­ist who knows her well: "The feel­ing I think she has is that Dan was giv­en li­cense [by Bernanke] and he treaded too lightly. He was not as force­ful as he needed to be. She feels that the chair­man has much more im­pact."
Her view is that fin­an­cial mar­kets have and will con­tin­ue to fail dis­astrously un­less they are fur­ther con­strained, sources close to her say. Already it ap­pears that Yel­len is pre­pared to tussle with Treas­ury Sec­ret­ary Jac­ob Lew, who des­pite show­ing more en­thu­si­asm for bank reg­u­la­tion than his pre­de­cessor, Timothy Geithner, sug­ges­ted re­cently that the too-big-to-fail prob­lem has been largely solved. In her own pub­lic re­marks, Yel­len echoes Tarullo's push for high­er cap­it­al stand­ards for "sys­tem­ic­ally im­port­ant" banks, to pre­vent them from over-lever­aging and run­ning out of cash. And she also re­peats his con­cerns about re­strict­ing the use of whole­sale short-term fund­ing mar­kets, which seized up in the 2008 crisis and doomed Leh­man Broth­ers. Tarullo has been more ag­gress­ive than Lew and the Obama ad­min­is­tra­tion in pro­pos­ing what he's called a "set of com­ple­ment­ary policy meas­ures" to go bey­ond the Dodd-Frank law. Among them: lim­it­ing the ex­pan­sion of big banks by re­strict­ing the fund­ing they get from sources oth­er than tra­di­tion­al fed­er­ally in­sured de­pos­its.
Yel­len, in a ma­jor speech in Shang­hai last June, went bey­ond what Bernanke has said by ex­pli­citly en­dors­ing some of Tarullo's ef­forts. "I'm not con­vinced that the ex­ist­ing [sys­tem­ic­ally im­port­ant fin­an­cial in­sti­tu­tions] reg­u­lat­ory work plan, which moves in the right dir­ec­tion, goes far enough," she said. She also spoke of do­ing much more, as Tarullo has, to con­strain the "shad­ow bank­ing" sec­tor that caused so much trouble in 2008, in­clud­ing broker-deal­ers and money-mar­ket funds. Yel­len said "a ma­jor source of un­ad­dressed risk" were the hun­dreds of bil­lions of dol­lars of short-term se­cur­it­ies fin­an­cing used by these firms, adding, "Reg­u­lat­ory re­form mostly passed over these trans­ac­tions."
More than that, as eco­nom­ist Kwoka sug­gests, Yel­len is a rara avis in Wash­ing­ton these days — someone who has spent her life and ca­reer ut­terly de­tached from Wall Street. "Janet rep­res­ents a re­turn to the de­s­anc­ti­fic­a­tion of fin­ance," says an eco­nom­ist who knows her views well but would speak about them only on con­di­tion of an­onym­ity. "I think that's a huge so­ci­olo­gic­al change. She's not cap­tured by Wall Street the way so many have been."¦ I think Janet will be more act­ive. When it comes to fin­an­cial in­nov­a­tion, it used to be, 'You can do it un­less we say no.' Now I think the policy will be, 'You can't do it un­less we au­thor­ize it.' " Be­cause the Fed has the power to reg­u­late and write rules for the gi­ant bank hold­ing com­pan­ies, it has enorm­ous dis­cre­tion in this area and does not need to wait for Con­gress to act.
Still, even on Wall Street, it's hard to find people who will say neg­at­ive things about Yel­len, who was re­cently judged by The Wall Street Journ­al to be the most ac­cur­ate fore­caster on the Fed­er­al Re­serve Board. It's easi­er, in fact, to track down the neg­at­ive as­sess­ments that Yel­len oc­ca­sion­ally makes of her­self. While she did not al­ways act on reg­u­la­tion when needed — claim­ing that as head of the San Fran­cisco Fed she had to wait on Wash­ing­ton's guid­ance — the re­cord shows she ap­peared to be some­what ahead of Bernanke in ap­pre­ci­at­ing the dangers of the se­cur­it­iz­a­tion-led hous­ing bubble. At the Fed's June 2007 meet­ing, she warned that the fail­ing hous­ing sec­tor was the "600-pound gor­illa in the room." That was only a month after Bernanke, in con­gres­sion­al testi­mony, said he saw only a "lim­ited im­pact" from subprime mort­gages on "the broad­er hous­ing mar­ket." Yet Yel­len also offered up a per­son­al mea culpa after the fin­an­cial col­lapse, telling the Fin­an­cial Crisis In­quiry Com­mis­sion in 2010 she "did not see and did not ap­pre­ci­ate what the risks were with se­cur­it­iz­a­tion, the cred­it-rat­ings agen­cies, the shad­ow bank­ing sys­tem, the [struc­tured in­vest­ment vehicles] — I didn't see any of that com­ing un­til it happened."
A few eco­nom­ists won­der wheth­er Yel­len may end up be­ing more middle-of-the-road than her aca­dem­ic re­cord in­dic­ates. As a res­ol­ute free-trade ad­voc­ate, she's prob­ably far more cent­rist than, say, Jared Bern­stein, and she's not nearly as in­ter­ven­tion­ist as Joseph Stiglitz, who dur­ing the 1990s fought a los­ing battle against open­ing up cap­it­al flows around the world. Yel­len is prob­ably even less lib­er­al than her hus­band, who shared a No­bel Prize with Stiglitz, and her late teach­er, James To­bin, the No­bel Prize win­ner from Yale who ar­gued that fin­an­cial mar­kets are more in­her­ently prone to fail­ure than or­din­ary mar­kets in goods and ser­vices. In a 2010 in­ter­view, Aker­lof said he "was al­ways apo­plect­ic" about the kind of rap­id de­reg­u­la­tion ad­voc­ated by Har­vard eco­nom­ist Lawrence Sum­mers, who al­most cer­tainly would have been nom­in­ated in Yel­len's place had he not backed out. As Clin­ton's CEA chair­wo­man, by con­trast, Yel­len did not de­mur from some de­reg­u­lat­ory moves such as Glass-Steagall re­peal in 1999.
Non­ethe­less, by her own ac­count, Yel­len rep­res­ents the gov­ern­ment-act­iv­ist "Yale School" of eco­nom­ics, which be­lieves that there are "clear an­swers to key ques­tions di­vid­ing mac­roe­conom­ists, along with policy pre­scrip­tions," as she put it in a 1999 speech at Yale. "Will cap­it­al­ist eco­nom­ies op­er­ate at full em­ploy­ment in the ab­sence of routine in­ter­ven­tion? Cer­tainly not. Are de­vi­ations from full em­ploy­ment a so­cial prob­lem? Ob­vi­ously." She is, more than pre­vi­ous Fed chiefs, an old-style "hy­draul­ic Keyne­sian" who be­lieves she can act as a con­trol en­gin­eer over the eco­nomy, print­ing money to drive down un­em­ploy­ment. The two pre­vi­ous chair­men go­ing back to the late 1980s have ten­ded to­ward the Chica­go liber­tari­an side of eco­nom­ics, ex­alt­ing the wis­dom of mar­kets.
The biggest prob­lem Yel­len will face in her term is that she has a steep hill to climb to bring gov­ern­ment back in­to the dis­cus­sion in an en­lightened way — es­pe­cially on the heels of the troubled rol­lout of Obama­care. And if Amer­ica is en­ter­ing "sec­u­lar stag­na­tion" where mon­et­ary policy is no longer very ef­fect­ive be­cause in­terest rates are already so low, then her in­flu­ence may be far more lim­ited than, say, Green­span's was in the hey­day of "ir­ra­tion­al ex­uber­ance." But, even­tu­ally, Gertler says, "she's go­ing to carve her own niche," per­haps by ex­pand­ing the Fed's man­date to tar­get high­er GDP growth and fur­ther re­strain­ing Wall Street.
The past sev­er­al Fed chiefs have all seemed oddly suited to their mo­ments. The ci­gar-chomp­ing Paul Vol­ck­er was just the man to tame run­away in­fla­tion in the '70s and '80s. Green­span, des­pite his er­rors on de­reg­u­la­tion, was the right Fed chair­man to handle the era of ir­ra­tion­al ex­uber­ance and sud­den pro­ductiv­ity growth in the 1990s (one of his less­er-sung tri­umphs, in fact, was to hold off rais­ing rates at a time when many eco­nom­ists, in­clud­ing Yel­len, were ur­ging him to worry about in­fla­tion — and he prob­ably saved mil­lions of jobs that way). "Heli­copter Ben" Bernanke, of course, was just the sa­vior we needed to pre­vent an­oth­er Great De­pres­sion. 
In the end, all of these Fed chair­men pro­foundly changed the course of the U.S. eco­nomy (and Vol­ck­er, though in re­tire­ment, is still do­ing so with the just-ap­proved "Vol­ck­er Rule" that will bar banks from the ris­ki­est trad­ing). There is every reas­on to think Janet Yel­len will have just as much im­pact, in her own spe­cial way.
Contributions by Catherine Hollander