The Pentagon was busy in 2013. A new de­fense sec­ret­ary took the helm, the U.S. went to the brink of war with Syr­ia, budget polit­ics con­tin­ued to frus­trate mil­it­ary lead­ers, and the war in Afgh­anistan reached a crit­ic­al mo­ment be­fore its fi­nale. And 2014 prom­ises to bring more chal­lenges as the mil­it­ary con­tin­ues to re­define and re­shape it­self for a post-war era by con­front­ing new threats abroad and nav­ig­at­ing the battle for re­sources at home in Wash­ing­ton.
Here's a look at what's on the ho­ri­zon for 2014:
There war in Afgh­anistan will change rap­idly and dra­mat­ic­ally in 2014. Pres­id­ent Barack Obama has prom­ised to with­draw U.S. troops by the end of next year, of­fi­cially end­ing the war. The U.S. wants a bi­lat­er­al se­cur­ity agree­ment inked by the New Year's Eve, but the ne­go­ti­ations likely will spill in­to next year. By Feb­ru­ary, the num­ber of U.S. troops there is set to drop to 34,000, down from just un­der 50,000. A new Afghan pres­id­ent will be elec­ted in April. And at Septem­ber's sum­mit, NATO heads of state will agree on a fi­nal post-war plan for Afgh­anistan. But Afghan Pres­id­ent Ham­id Kar­zai has placed new de­mands on the U.S. over con­duct­ing raids on Afghan homes and ne­go­ti­at­ing a peace deal with the Taliban, and he said he wants to wait un­til April's elec­tion to al­low the next Afghan pres­id­ent to ap­prove the deal. De­fense Sec­ret­ary Chuck Hagel said there may be more time, point­ing to Feb­ru­ary's NATO de­fense min­is­ters meet­ing as a cru­cial dead­line to put plans in place for next year's draw­down. There's also the fate of stalled peace talks with the Taliban. How many U.S. troops Obama de­cides to leave in Afgh­anistan, per­haps about 10,000, per­haps to zero as he did in Ir­aq, re­mains to be seen.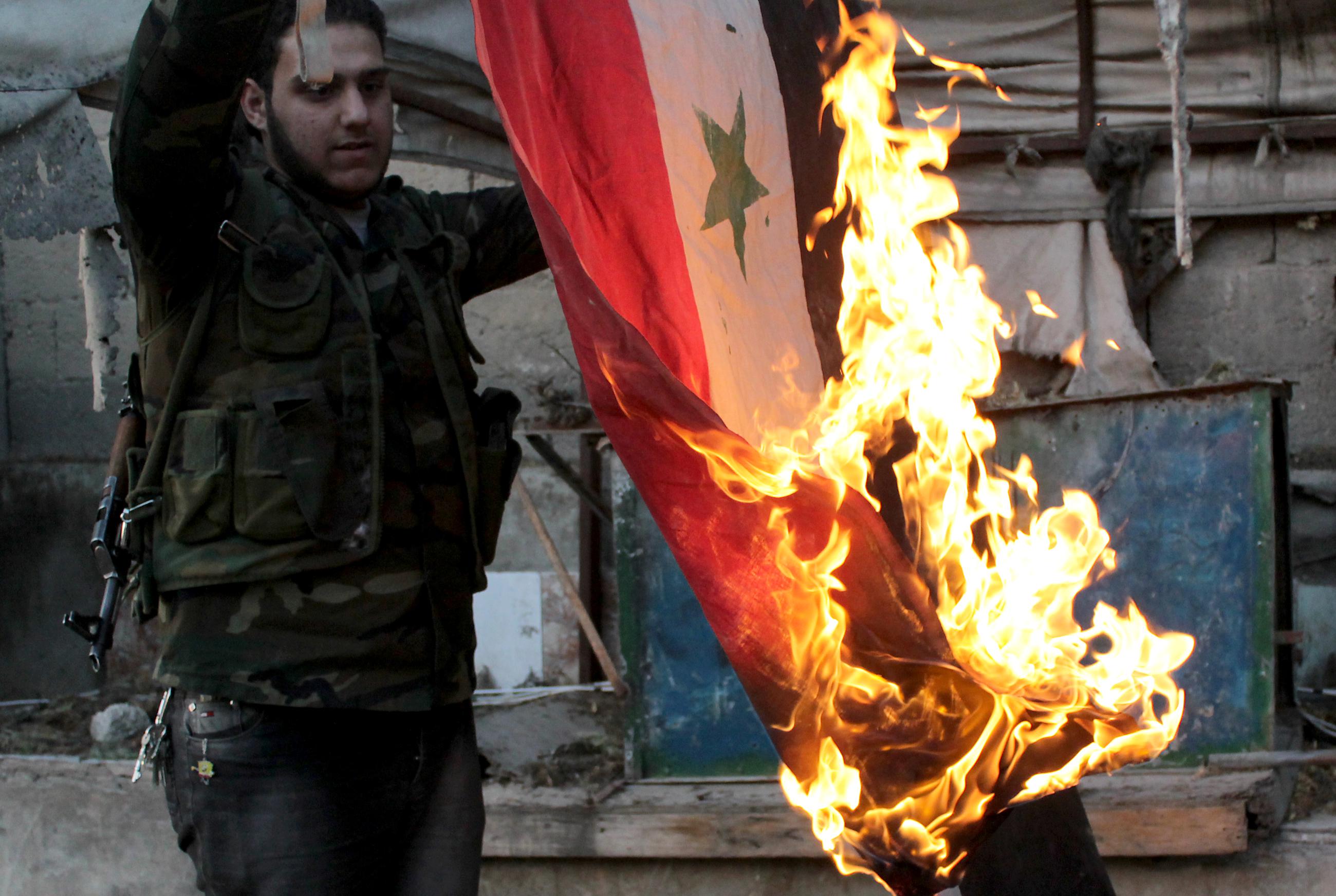 Head­ing in­to 2014, crit­ic­al lib­er­al and con­ser­vat­ive U.S. for­eign policy lead­ers say Obama's Syr­ia policy "" and the war it­self "" is in "dis­ar­ray." The U.S. threatened mil­it­ary ac­tion against Syr­ia this sum­mer after the As­sad re­gime was found to have used chem­ic­al weapons against its people. Obama drew a red line and sent Navy ships to the re­gion. But with the mil­it­ary ready to fire on As­sad, Obama sur­prised many by tak­ing his case to Con­gress, first. Con­gress "" and the Amer­ic­an people "" said no to an­oth­er Amer­ic­an mil­it­ary in­ter­ven­tion in the Middle East. In­stead, Sec­ret­ary of State John Kerry struck a deal al­low­ing Syr­i­an Pres­id­ent Bashar al-As­sad to des­troy his most leth­al chem­ic­al weapons, like mus­tard gas and sar­in, by Dec. 31. That dead­line has already been pushed in­to next year. "It will be quite dif­fi­cult to meet this timeline," Ah­met Uzum­cu, dir­ect­or-gen­er­al of the Or­gan­iz­a­tion for the Pro­hib­i­tion of Chem­ic­al Weapons, said. The rest of the stock­pile is sup­posed to be re­moved by Feb. 5. The New Year will also open with peace talks sched­uled for Jan. 22 in Geneva, but ma­jor op­pos­i­tion groups may boy­cott the meet­ing. The civil war in Syr­ia will enter its third year on March 15. There's hope that 2014 could be the year that a res­ol­u­tion is reached "" but that seems in­creas­ingly un­likely as a large num­ber of for­eign and Is­lam­ic ex­trem­ist fight­ers have con­flated the con­flict, threatened re­gion­al sta­bil­ity, and left As­sad de­term­ined to stay in power. A rebel fight­er burns a Syr­i­an flag found in a build­ing that be­longed to Syr­i­an gov­ern­ment forces, Novem­ber 21, 2013. (Mah­mud al-Halabi/AFP/Getty Im­ages)
The Sen­ate is on the verge of passing a budget deal that will give the Pentagon a little cer­tainty go­ing in­to the New Year. The deal will put off se­quester cuts for two years. Even with the last-minute deal, Pentagon lead­ers will ring in the New Year and im­me­di­ately get right back to the budget battle. The fisc­al year 2015 budget will be re­vealed; plan­ners have been build­ing sev­er­al budgets based on sev­er­al scen­ari­os. And the Pentagon's eagerly awaited Quad­ren­ni­al De­fense Re­view, which sets the mil­it­ary's strategy for the fu­ture, is also due next year. The cli­mate in Wash­ing­ton isn't ex­pec­ted to im­prove any time soon "" and midterm elec­tions are sure to shake things up — so 2014 will con­tin­ue to be a struggle for the Pentagon's top lead­ers as they con­tin­ue to move from the "blank check" era of the past dec­ade to its new post-war pos­ture.
The Pentagon's slow and gradu­al pivot to the Asia-Pa­cific re­gion will con­tin­ue in 2014, when Hagel is ex­pec­ted to vis­it Beijing "" even as threats and chal­lenges evolve in the Middle East and North Africa, and the war in Afgh­anistan heats up be­fore it comes to an end. Des­pite those hot­spots, Pentagon and ad­min­is­tra­tion of­fi­cials in­sist that the pivot, a dir­ect­ive from Obama's first term, is real and re­mains a top pri­or­ity. But while num­bers of ships and troops is not dra­mat­ic­ally shift­ing, stra­tegic re­la­tion­ships in the re­gion are. The U.S. con­tin­ues to win sup­port for its pivot with South­east Asi­an mil­it­ary lead­ers, who have wel­comed the ad­ded Amer­ic­an se­cur­ity lay­er and are sign­ing deals for in­creased mil­it­ary ac­cess without costly bases. At the same time, ten­sions on some his­tor­ic fault lines are in­creas­ing, not de­creas­ing, des­pite Amer­ic­an pleas for calm. China's self-pro­claimed air de­fense zone has angered Ja­pan, while South Korea vows to strike back the next pro­voca­tion from North Korea, which has grown even less pre­dict­able. Still, oth­er emer­ging threats such as ter­ror­ism, cy­ber, space and home­land se­cur­ity will con­tin­ue to com­pete for at­ten­tion with what Pentagon lead­ers in­creas­ingly ad­mit is the primary reas­on for Amer­ica's east­ward fo­cus: eco­nom­ic power.
The glob­al war on ter­ror that began after the 9/11 at­tacks will con­tin­ue in­to 2014. The rise of ex­trem­ism and the mi­gra­tion of ter­ror groups Boko Haram, al-Shabaab and al-Qaida in the Is­lam­ic Maghreb from Kenya to Syr­ia are keep­ing the Pentagon busy. And next year is a pivotal year as the Au­thor­iz­a­tion to Use Mil­it­ary Force, the agree­ment that al­lows the United States to act­ively pur­sue ter­ror­ists around the world, ex­pires at the end of 2014. There's also a re­newed Pentagon fo­cus on "the home­land" as ter­ror ex­perts say an­oth­er at­tack on the U.S. is one of their top wor­ries. "The home­land is no longer a sanc­tu­ary," Joint Chiefs Chair­man Gen. Mar­tin De­mp­sey said re­cently. "Some stra­tegic sem­inars we ran about a year ago [showed that] if we're en­gaged in a con­flict vir­tu­ally any­where in the globe there is likely to be some ef­fect in the home­land, wheth­er it's po­ten­tially bal­list­ic mis­siles or cy­ber."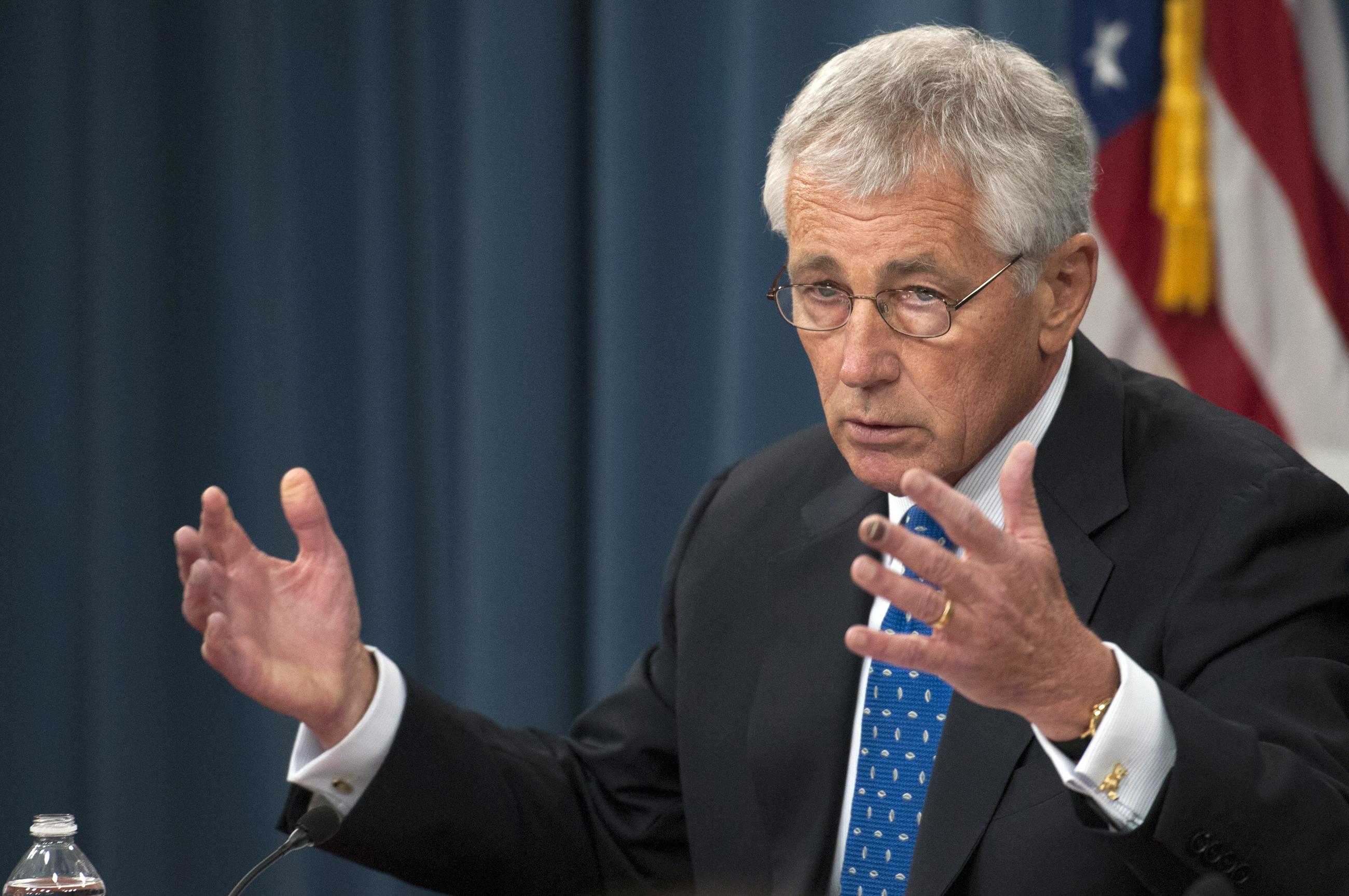 After a bruis­ing con­firm­a­tion pro­cess, Hagel took of­fice in late Feb­ru­ary and then pro­ceeded to keep a low pro­file as he learned the ins and outs of the job. The Vi­et­nam vet­er­an and former Re­pub­lic­an sen­at­or dealt with se­quest­ra­tion bluntly, while mak­ing sure to apo­lo­gize to troops and ci­vil­ians af­fected by the cuts. He has since rat­cheted up his op­pos­i­tion to across-the-board cuts and un­cer­tainty — ex­pect that to con­tin­ue next year. (Rod Lamkey/Getty Im­ages)But on the whole, Hagel has been re­served but res­ol­ute with his lead­er­ship style. He let Kerry do most of the talk­ing dur­ing con­gres­sion­al hear­ings on Syr­ia but proved his mettle when he re­in­stated fur­lough days for hun­dreds of thou­sands of ci­vil­ian work­ers dur­ing the gov­ern­ment shut­down this fall. After lay­ing low, the de­fense sec­ret­ary has be­gun to raise his pub­lic pro­file. 2014 will be the year that Hagel makes his mark, and two per­son­nel se­lec­tions will help shape his second year in of­fice. Hagel soon will pick the next deputy de­fense sec­ret­ary, a key po­s­i­tion that his­tor­ic­ally man­ages the de­fense in­dustry and the three mil­lion per­son De­fense De­part­ment work­force. Hagel already se­lec­ted his new press sec­ret­ary, the me­dia-savvy Rear Adm. John Kirby, who is not­able for sev­er­al reas­ons. Kirby was right-hand man to former Joint Chiefs Chair­man Adm. Mike Mul­len, is well known to Wash­ing­ton's me­dia elites, a vet­er­an of the glob­al mil­it­ary dip­lo­mat­ic scene, and has long ties to the White House. In him, Hagel se­lec­ted an of­ficer, not a Demo­crat­ic op­er­at­ive, to speak for the Pentagon.
Gen. Keith Al­ex­an­der, the out­go­ing head of the Na­tion­al Se­cur­ity Agency and U.S. Cy­ber Com­mand, warned this year that cy­ber threats are an in­creas­ing threat to the United States. "When you look at the stra­tegic land­scape from our per­spect­ive, it's get­ting worse," Al­ex­an­der said dur­ing con­gres­sion­al testi­mony in March. New tech­no­lo­gies "" and new threats "" emerge al­most daily. While the Pentagon faces more budget threats in the New Year, they have pledged to pro­tect cy­ber pro­grams. There's also grow­ing con­cern that a cy­ber threat could lead to real con­flict. And 2014 will see the con­tro­ver­sial Al­ex­an­der, who was on the hot seat much of the year over the Ed­ward Snowden leaks, exit his dual post early next year. One lead­ing can­did­ate to re­place Al­ex­an­der is Vice Ad­mir­al Mi­chael Ro­gers, cur­rently com­mand­er of the U.S. Navy's 10th Fleet and U.S. Fleet Cy­ber Com­mand, ac­cord­ing to Re­u­ters. But it's clear that the battle between cy­ber secrecy and pub­lic pres­sure for trans­par­ency will heat up. Ex­pect cy­ber­se­cur­ity to head from the shad­ows to the Su­preme Court, as 2013 closed with a fed­er­al judge warn­ing that the NSA's core mis­sion could be a Con­sti­tu­tion­al vi­ol­a­tion.
There are ma­jor changes on the ho­ri­zon for both the House and Sen­ate Armed Ser­vices Com­mit­tees. SASC Chair­man Sen. Carl Lev­in, D-Mich., is re­tir­ing, leav­ing the top spot of the power­ful com­mit­tee open. One fron­trun­ner to re­place him is Sen. Jack Reed, D-R.I., a Vi­et­nam vet­er­an with close ties to Hagel. In the House, Chair­man Rep. Buck McK­eon, R.-Cal­if., is weigh­ing re­tire­ment and has anoin­ted Rep. Mac Thorn­berry, R-Texas, to re­place him. Ex­pect sev­er­al young­er mem­bers of Con­gress eye­ing the wave of seni­or re­tire­ments (and the 2016 pres­id­en­tial race) to try and make their marks as na­tion­al se­cur­ity heavy­weights, in­clud­ing Flor­ida Re­pub­lic­an Sen. Marco Ru­bio, who has giv­en key for­eign policy speeches, and Sen. Kelly Ayotte, R-N.H., a vice pres­id­en­tial fa­vor­ite in 2012. Bey­ond that, there's also sev­er­al key pieces of le­gis­la­tion that need to be ad­dressed, in­clud­ing New York Demo­crat­ic Sen. Kirsten Gil­librand's failed at­tempt to re­move the chain of com­mand in mil­it­ary sexu­al as­sault cases. Her amend­ment wasn't in­cluded in the fi­nal Na­tion­al De­fense Au­thor­iz­a­tion Act, but she's ex­pec­ted to re­new her ef­fort in the next term. And next year's budget hear­ings are sure to be con­ten­tious as Con­gress con­tin­ues to push back on the Pentagon's key budget sav­ing pro­pos­als like base clos­ings and med­ic­al and re­tire­ment be­ne­fit re­forms. Con­gress will also take up oth­er press­ing is­sues like cy­ber se­cur­ity and in­tel­li­gence gath­er­ing.