As Liz Cheney ap­par­ently real­ized, de­feat­ing a well-liked and deeply con­ser­vat­ive sen­at­or in a Re­pub­lic­an primary is tough. At least when your own can­did­acy is rooted out-of-state and is best-known for spark­ing an ugly in­tra-fam­ily feud.
Cheney's de­cision to quit her six-month-old cam­paign against Sen. Mi­chael En­zi in Wyom­ing, first re­por­ted by CNN late Sunday night, would ap­pear to rob the 2014 midterm of one of its show-horse races. But, in truth, des­pite the glitz of Dick Cheney's daugh­ter run­ning for Sen­ate, her drop-out changes little. Typ­ic­ally, sen­at­ors must beat back ac­cus­a­tions of be­ing too cozy with the es­tab­lish­ment; in this case, Cheney's lin­eage en­sured she'd be the one de­fend­ing her tea-party cred. She struggled to of­fer a ra­tionale for her cam­paign, and by most ac­counts, was poised to lose badly.
However, Cheney's ab­sence hardly means that Re­pub­lic­ans don't of­fer a mul­ti­tude of im­port­ant primar­ies. Here are three that will have par­tic­u­lar im­port­ance for the party as it battles for the Sen­ate ma­jor­ity.
North Car­o­lina
When: May 6
Ma­jor Can­did­ates: State House Ma­jor­ity Lead­er Thom Tillis, phys­i­cian Greg Bran­non, pas­tor Mark Har­ris
Why it mat­ters: Per­haps no primary has been as act­ive as early as the Tar Heel State's GOP con­test. Already Bran­non, backed by Sen. Rand Paul of Ken­tucky, and Har­ris are ac­cus­ing the es­tab­lish­ment-backed Tillis of be­ing a squishy mod­er­ate. Tillis's fun­drais­ing with Karl Rove sug­gest he isn't hid­ing the fact he's the Re­pub­lic­an Party's can­did­ate-of-choice, either. The in­cum­bent Demo­crat, Sen. Kay Hagan, is vul­ner­able, but North Car­o­lina's purple tint means Re­pub­lic­ans don't have a free pass for her seat. Even if Tillis wins, he risks stretch­ing him­self too far to the right to win the primary.
Geor­gia
When: May 20
Ma­jor can­did­ates: Reps. Jack King­ston, Phil Gin­grey, Paul Broun, former state Sec­ret­ary of State Kar­en Han­del, busi­ness­man Dav­id Per­due
Why it mat­ters: It's the Demo­crats' fa­vor­ite primary. The free-for-all field is seen as near-cer­tain to move to a sum­mer­time run­off between the top two fin­ish­ers. And if Broun or Gin­grey fill either spot, the GOP is in trouble. Both, but es­pe­cially Broun, have a his­tory of in­cen­di­ary rhet­or­ic that would give Demo­crats a chance to win this New South red state. Their pre­sumptive nom­in­ee, Michelle Nunn, has the fam­ous fath­er and fun­drais­ing chops to be an ideal stand­ard-bear­er, even if she is new to polit­ics.
A com­pet­it­ive Peach State race in the fall would be a ma­jor blow to the GOP's hopes of re­tak­ing the Sen­ate. Watch to see if Re­pub­lic­an power brokers can dis­creetly knock Broun and Gin­grey out of the way.
Iowa
When: June 3
Ma­jor can­did­ates: State Sen. Joni Ernst, talk-ra­dio host Sam Clo­vis, busi­ness­man Mark Jac­obs, former U.S. At­tor­ney Matt Whi­taker
Why it mat­ters: With no clear front-run­ner, it's pos­sible no can­did­ate will cross the 35 per­cent threshold ne­ces­sary to avoid a con­ven­tion. If so, a pro­cess usu­ally con­trolled by con­ser­vat­ive act­iv­ists will se­lect the party's nom­in­ee, and that hasn't worked well for the GOP re­cently. Demo­crats have already ral­lied around Rep. Bruce Bra­ley as their nom­in­ee. Iowa GOP lead­ers are vow­ing to take back the con­ven­tion with main­stream Re­pub­lic­an del­eg­ates, a massive grass­roots un­der­tak­ing that will test wheth­er the es­tab­lish­ment can match the en­ergy of act­iv­ists. Tra­di­tion­ally, they have been un­able to do so.
What We're Following See More »
UNTIL DEC. 9, ANYWAY
Obama Signs Bill to Fund Government
4 hours ago
REDSKINS IMPLICATIONS
SCOTUS to Hear Case on Offensive Trademarks
4 hours ago
WHY WE CARE
"The Supreme Court is taking up a First Amendment clash over the government's refusal to register offensive trademarks, a case that could affect the Washington Redskins in their legal fight over the team name. The justices agreed Thursday to hear a dispute involving an Asian-American rock band called the Slants, but they did not act on a separate request to hear the higher-profile Redskins case at the same time." Still, any precedent set by the case could have ramifications for the Washington football team.
STAFF PICKS
Bannon Still Collecting Royalties from 'Seinfeld'
5 hours ago
WHY WE CARE
The Hollywood Reporter takes a look at a little-known intersection of politics and entertainment, in which Trump campaign CEO Steve Bannon is still raking in residuals from Seinfeld. Here's the digest version: When Seinfeld was in its infancy, Ted Turner was in the process of acquiring its production company, Castle Rock, but he was under-capitalized. Bannon's fledgling media company put up the remaining funds, and he agreed to "participation rights" instead of a fee. "Seinfeld has reaped more than $3 billion in its post-network afterlife through syndication deals." Meanwhile, Bannon is "still cashing checks from Seinfeld, and observers say he has made nearly 25 times more off the Castle Rock deal than he had anticipated."
IT'S ALL CLINTON
Reliable Poll Data Coming in RE: Debate #1
6 hours ago
WHY WE CARE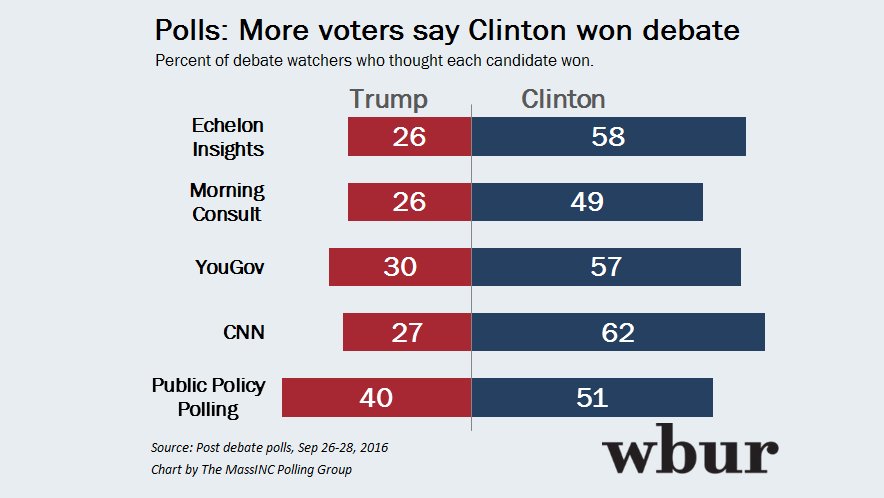 NEXT THURSDAY
Trump Transition Team Meeting with Silicon Valley VIPs
8 hours ago
THE DETAILS
Donald Trump's "transition team will meet next week with representatives of the tech industry, multiple sources confirmed, even as their candidate largely has been largely shunned by Silicon Valley. The meeting, scheduled for next Thursday at the offices of law and lobbying firm BakerHostetler, will include trade groups like the Information Technology Industry Council and the Internet Association that represent major Silicon Valley companies."