Den­nis Hastert and Dick Gep­hardt couldn't stand each oth­er when they led Con­gress a dec­ade ago. But now they've moved to K Street, where the flood of money tends to wash over such per­son­al dif­fer­ences. These days, they work hand in hand as two of Tur­key's top lob­by­ists, with their re­spect­ive firms pock­et­ing most of a $1.4 mil­lion an­nu­al lob­by­ing con­tract.
It was this busi­ness that took Hastert and Geph­ardt to Tur­key last April, but more sur­pris­ing than the odd couple's new­found al­li­ance was their set of travel com­pan­ions: eight mem­bers of Con­gress on an all-ex­penses-paid jour­ney over­seas.
It's widely be­lieved that the 2007 re­write of con­gres­sion­al travel rules spurred by the scan­dal that sent lob­by­ist Jack Ab­ramoff to pris­on banned such in­ter­na­tion­al dal­li­ances. But that's far, far from true. A Na­tion­al Journ­al in­vest­ig­a­tion has found that des­pite ef­forts to clip the wings of con­gres­sion­al travel planned and paid for by spe­cial in­terests, law­makers are again tak­ing flight. In­deed, the real­ity is that lob­by­ists who can't leg­ally buy a law­maker a sand­wich can still es­cort mem­bers on trips all around the world.
More than six years ago, re­formers pledged that tightened travel rules would end an era of globe-trot­ting tied to spe­cial in­terests and, as in­com­ing Speak­er Nancy Pelosi put it, "break the link between lob­by­ists and le­gis­lat­ors."
It hasn't worked. Take it from Ab­ramoff. "I just think they re­shuffled the deck," he said, hav­ing emerged from pris­on as a self-styled re­former. "But it's the same deck. They're still play­ing the game."
The 2007 rules pre­vent a lob­by­ist for a cor­por­ate cli­ent from plan­ning or pay­ing for a law­maker's trip. But the same rules al­low such a trip if it's paid for by a for­eign gov­ern­ment. So while it does re­main il­leg­al for, say, a Google lob­by­ist to plan and ac­com­pany a law­maker on a free trip abroad, if that same lob­by­ist does so on be­half of Tur­key, it's per­fectly leg­al. And if that lob­by­ist hap­pens to have both cor­por­ate and for­eign-gov­ern­ment cli­ents (as most do), they can still go abroad so long as it's a coun­try and not a com­pany foot­ing the bill.
And that's only one of the loop­holes the in­flu­ence in­dustry has ex­ploited to help law­makers score free travel. Today, a wide net­work of non­profits — many with a clear agenda and some with ex­cru­ci­at­ingly tight ties to Wash­ing­ton's biggest lob­by­ing op­er­a­tions — are put­ting to­geth­er in­ter­na­tion­al con­gres­sion­al ex­cur­sions. Some of these pa­per non­profits have no staff or space of their own; they simply share with a sis­ter or­gan­iz­a­tion that lob­bies. Yet eth­ics of­fi­cials in Con­gress have deemed them to be in­de­pend­ent enough. In one in­stance, a lob­by­ist lit­er­ally re­gistered a new non­profit — in his own of­fice — that went on to pay for con­gres­sion­al travel abroad.
Big cor­por­a­tions bank­roll some non­profits, whose trips, in turn, can fea­ture stops at the busi­nesses of their cor­por­ate fun­ders. As a bo­nus, the grow­ing use of 501(c)(3) non­profits, which oc­cupy the same char­it­able rung of the tax code as soup kit­chens and the Amer­ic­an Red Cross, means that the wealthy and cor­por­ate donors un­der­writ­ing con­gres­sion­al travel can do so in secret and get a tax write-off along the way.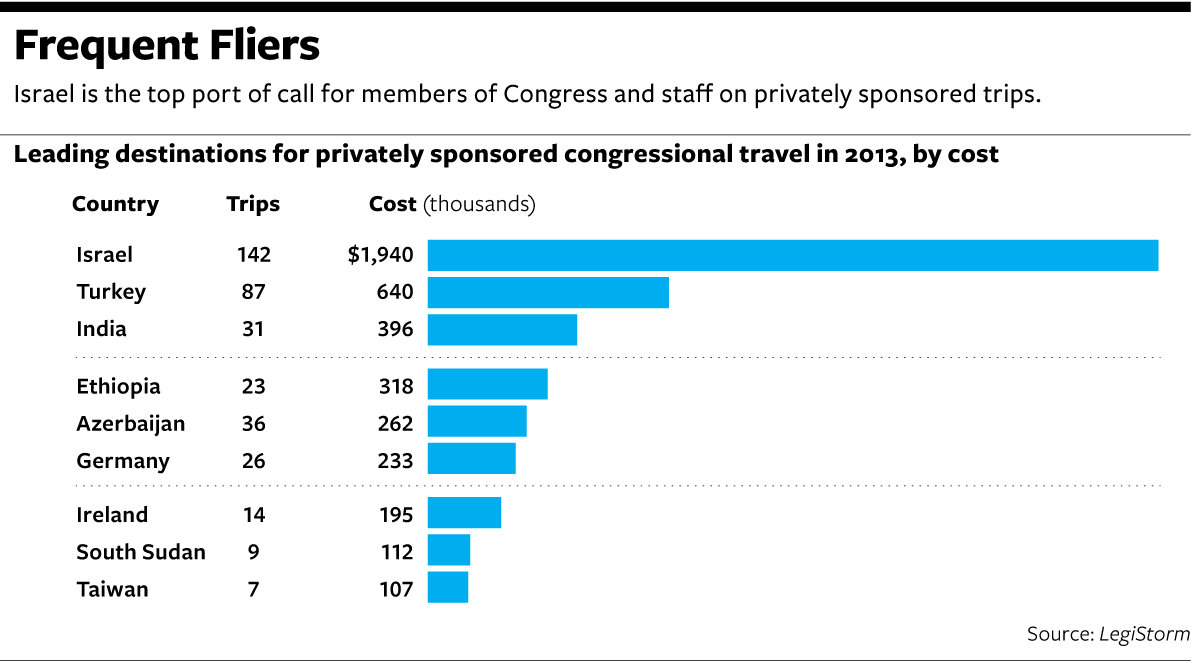 So it's little sur­prise that mem­bers of Con­gress have busily boarded flights to far-flung des­tin­a­tions around the globe in re­cent years. They've col­lect­ively flown hun­dreds of thou­sands of miles to dozens of coun­tries at a cost of mil­lions of dol­lars. Law­makers typ­ic­ally have settled in­to roomy busi­ness-class seats, of­ten next to a loved one, for the long hauls ahead. Some headed to Ire­land, where din­ner at the Guin­ness headquar­ters was on the agenda. Many, many more spun through Is­rael. One openly gay law­maker landed in Prague just in time to at­tend the city's gay-pride parade.
The tabs for the non­profit-backed trips ran as high as $25,000. The law­makers, however, nev­er had to handle the bill.
Back­ers of the trips say they are sav­ing U.S. tax­pay­ers' dol­lars. And, of course, all the private trips are sup­posed to be strictly edu­ca­tion­al and fact-find­ing mis­sions. But many it­in­er­ar­ies in­clude ample time to re­lax, vis­it mu­seums, tour na­tion­al parks, and whiz through ma­jor tour­ist at­trac­tions. The law­makers are typ­ic­ally chauf­feured from site to site, with all meals paid for and even­ings spent at top-notch ho­tels.
"Some of the stuff we were in­volved in in the old days can't be done dir­ectly," Ab­ramoff said. "But any smart lob­by­ist can ba­sic­ally, ba­sic­ally, if they want to play the game, they can get around any of these rules."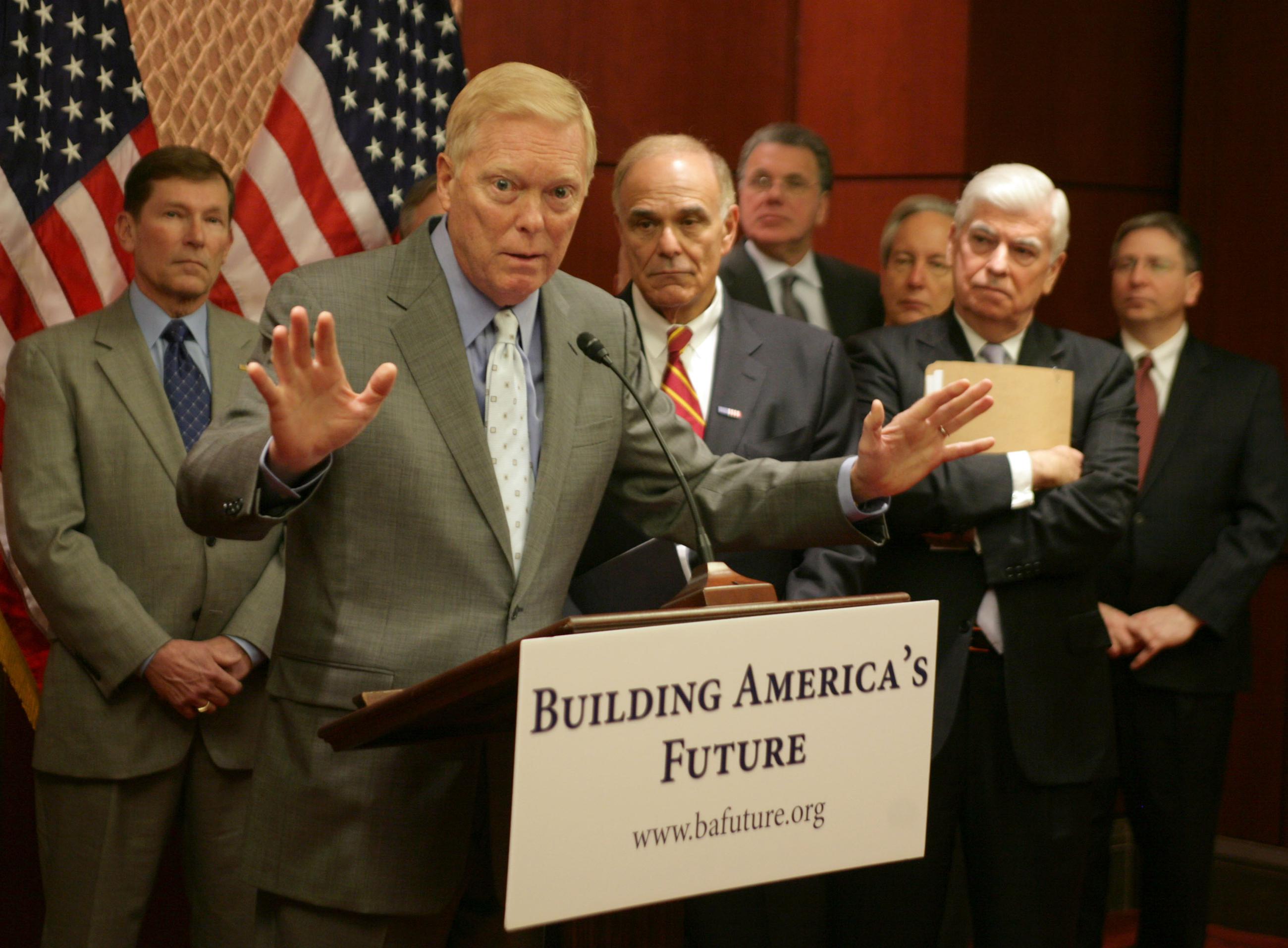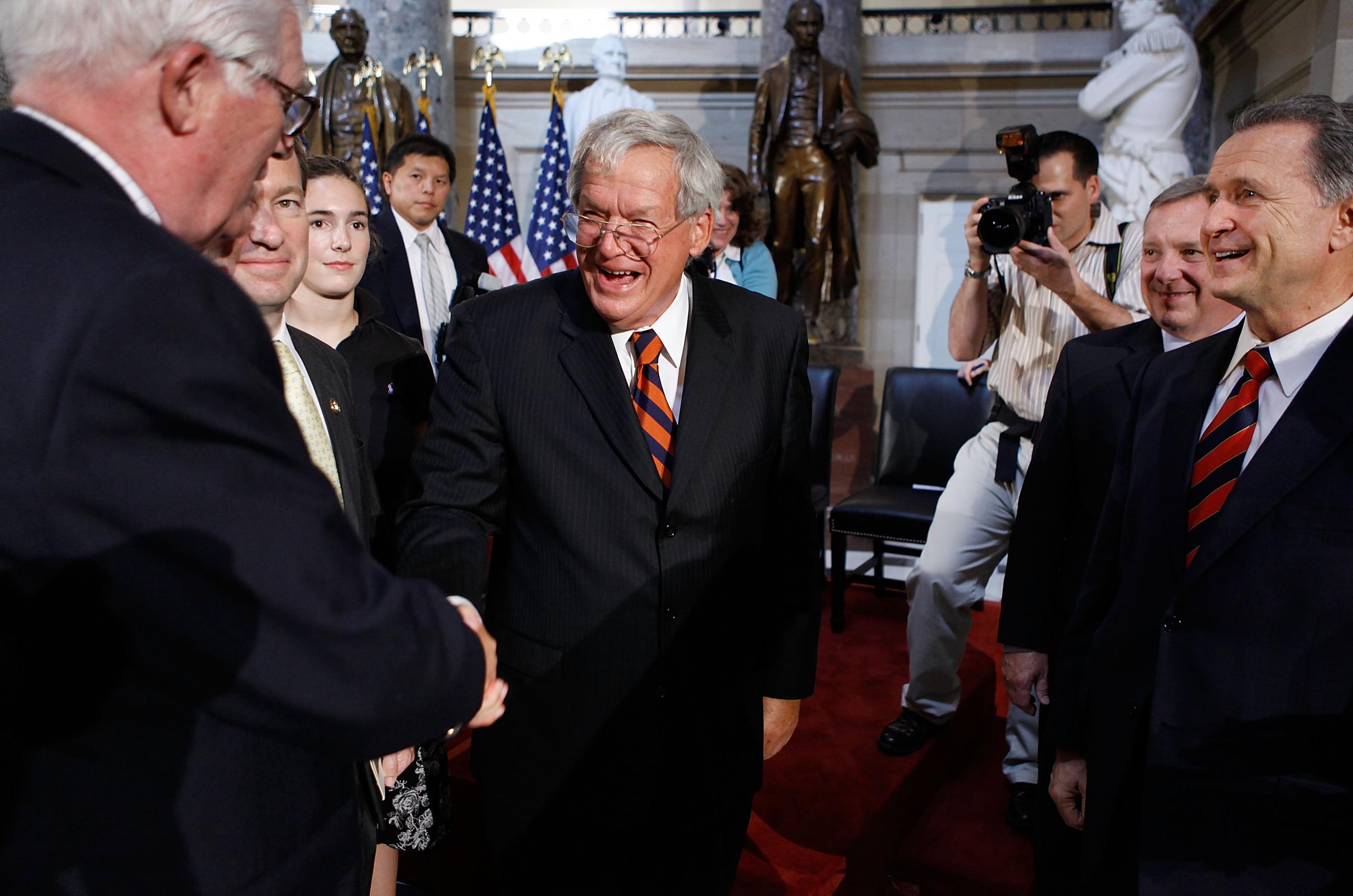 Fed­er­al re­cords in­dic­ate that five lob­by­ists — Hastert, Geph­ardt, Robert Man­gas, Janice O'Con­nell, and an un­dis­closed lob­by­ist with the Caspi­an Group — joined the con­gres­sion­al del­eg­a­tion at some point in Tur­key. How could this be? Didn't the 2007 rules ban lob­by­ists from such over­seas ex­cur­sions?
It turns out that the Tur­key trip was sanc­tioned un­der a 1961 law, the Mu­tu­al Edu­ca­tion­al and Cul­tur­al Ex­change Act, which al­lows for­eign gov­ern­ments to shuttle mem­bers of Con­gress and their staffs abroad if the State De­part­ment has ap­proved the des­tin­a­tion na­tions for "cul­tur­al ex­change" trips. About 60 coun­tries have such clear­ances. Des­pite the 2007 post-Ab­ramoff travel law, lob­by­ists are still able to plan and at­tend these ME­CEA jour­neys.
Of all the loop­holes that al­low spe­cial in­terests a role in con­gres­sion­al travel abroad, none is as shrouded in secrecy as this one. The trips fall in­to a bur­eau­crat­ic black hole. There is no cent­ral­ized list of law­makers who par­ti­cip­ate. The it­in­er­ar­ies and costs stay secret, un­like privately sponsored trips. And lob­by­ist in­volve­ment nev­er has to be dis­closed.
Neither Con­gress nor the State De­part­ment claims to keep com­plete re­cords, each say­ing the bur­den falls on the oth­er. "Nope, that's not something that we have to do," State De­part­ment spokes­wo­man Susan Pittman said of col­lect­ing it­in­er­ar­ies. The House Eth­ics Com­mit­tee has said it has "no jur­is­dic­tion." The Sen­ate Eth­ics Com­mit­tee poin­ted to the thin re­cord of ex­ist­ing pub­lic doc­u­ments.
Jock Friedly, cre­at­or of the web­site Legi- Storm, which tracks con­gres­sion­al travel and fin­ances, filed a Free­dom of In­form­a­tion Act re­quest with the State De­part­ment for more de­tailed in­form­a­tion sev­er­al years ago. "I got bup­kes," he said. "I got ba­sic­ally noth­ing." No reply to a Na­tion­al Journ­al FOIA re­quest came in time for pub­lic­a­tion.
It is im­possible to say yet how many such lob­by­ist-backed trips oc­curred last year. None of the eight law­makers who went to Tur­key have dis­closed their trip yet — nor have they needed to. The trips are re­por­ted only on an­nu­al fin­an­cial forms, which won't be re­leased un­til June, at the earli­est.
Na­tion­al Journ­al's in­vest­ig­a­tion un­covered the Tur­key trip through a re­view of for­eign-gov­ern­ment lob­by­ing re­cords main­tained by the Justice De­part­ment and filed by Geph­ardt Gov­ern­ment Af­fairs, Dick­stein Sha­piro (Hastert's firm), and the Caspi­an Group.
These for­eign-sponsored trips are in­creas­ingly pop­u­lar. NJ's re­view found that at least 18 law­makers went abroad this way in 2013, in­clud­ing a 10-mem­ber del­eg­a­tion of the Con­gres­sion­al Black Caucus to China. While the fi­nal fig­ure will likely be high­er, 18 already equals the total num­ber of law­makers who went abroad on ME­CEA travel between 2006 and 2009, ac­cord­ing to a Wash­ing­ton Post data­base of this type of travel pub­lished last year.
The bonds that Geph­ardt and Hastert built in Tur­key could prove in­valu­able for all their pay­ing cli­ents, no mat­ter who picked up the tab for the trip. Geph­ardt's oth­er cli­ents in­clude Google, Gen­er­al Elec­tric, and Gold­man Sachs — and that's just the G's. Per­haps that's why fed­er­al re­cords show that lob­by­ists with Geph­ardt's and Hastert's firms con­tac­ted about four dozen con­gres­sion­al of­fices in the first six months of 2013 alone to dangle a free trip to Tur­key.
Geph­ardt's firm de­clined com­ment for this story; Hastert's did not re­spond to in­quir­ies.
The two former con­gres­sion­al heav­ies cer­tainly spent enough time with the Tur­key del­eg­a­tion to make an im­pres­sion. "He had a farm, and we talked about farm­ing and [ag­ri­cul­ture] is­sues," Pin­gree said of Hastert. "We had a chance to bond."
Which, for the lob­by­ists, is ex­actly the point. "Whenev­er you spend a few days with some­body, un­less you're not very good at your job, you're go­ing to bond with them, to cre­ate some ties with them that will likely last bey­ond the trip," said Ab­ramoff, whose trad­ing of over­seas jun­kets for con­gres­sion­al fa­vors landed him and former Rep. Bob Ney, R-Ohio, among oth­ers, in pris­on. "That's why people do these."
Pin­gree said that, at the time, she hadn't thought of her hosts' status as re­gistered lob­by­ists. "I can pic­ture one of them call­ing me up and say­ing, 'Hey, I met you on the trip,' " she said in a re­cent in­ter­view. But, she quickly ad­ded, "I don't think, per­son­ally, it would make a dif­fer­ence."
No oth­er law­maker re­turned calls about the trip.
Then there is Taiwan. The is­land na­tion, in per­en­ni­al con­flict with, and in the shad­ow of, main­land China, prizes its re­la­tion­ship and al­li­ance with the United States. As a res­ult, the Taiwanese gov­ern­ment, its lob­by­ists, and oth­ers have made it a pri­or­ity to host a steady stream of law­makers and their top aides.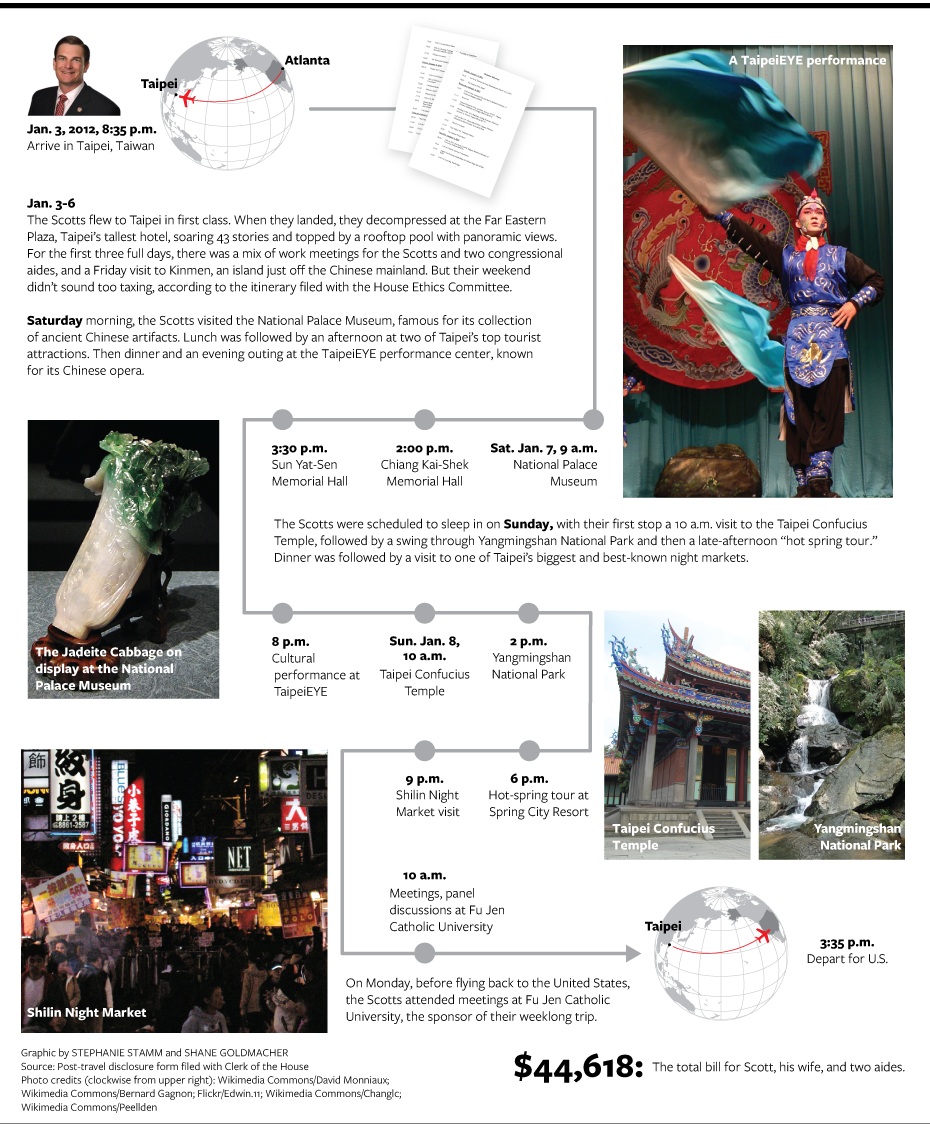 They call. They email. They in­vite. They tail­or trips to the law­makers' spe­cific­a­tions. The Taiwanese ef­forts to woo law­makers and their staff mem­bers on all-ex­penses-paid trips are doc­u­mented by un­usu­ally de­tailed dis­clos­ures from the lob­by­ing firm that rep­res­en­ted Taiwan for years, Park Strategies, filed with the Justice De­part­ment. When law­makers go, they typ­ic­ally fly first class. They stay in high-end ho­tels. And they do plenty of sight­see­ing. GRAPH­IC: $44,618 trip to Taiwan
"Kin­men will be kick­ass," wrote Jay Dutcher, then-chief of staff to Re­pub­lic­an Rep. Tom Reed, in an email to Taiwan lob­by­ist Sean King when he heard that his 2011 free trip with his boss would in­clude nearly a full day on the scen­ic is­land, also known as Que­moy.
An aide writ­ing to Re­pub­lic­an Rep. Peter Roskam ahead of his 2011 trip with his wife ex­plained the sched­ule this way: "Ba­sic­ally Thursday and Fri­day morn­ing would be sort of at your leis­ure to ex­plore the area — Sun Moon Lake where you'd be stay­ing is sup­posed to be a very nice re­sort area." The Roskams' trip in­cluded a vis­it with their daugh­ter, who was teach­ing in Taiwan at the time.
The prob­lem is not that mem­bers of Con­gress go to Taiwan. It's how Taiwan tries to cov­er the cost.
Law­makers land on the is­land's shores both cour­tesy of the gov­ern­ment and through non­profit-fun­ded travel. But dif­fer­ent rules are sup­posed to ap­ply to the dif­fer­ent types of trips. Here's how it's meant to work: Through the ME­CEA loop­hole, lob­by­ists can plan the trips that are paid for by for­eign gov­ern­ments, but then law­makers' aren't al­lowed to bring their spouses along. Non­profits can pay for spouses, but then lob­by­ists and for­eign gov­ern­ments aren't al­lowed to have a hand in those trips.
Taiwan has blurred the leg­al line between those two types of travel — and some­times even crossed it.
Lob­by­ists for Taiwan planned, for in­stance, a Decem­ber 2011 trip for Rep. Bill Owens and his wife and then found a non­profit, the Chinese Cul­ture Uni­versity, to front the costs. After ProP­ub­lica first re­vealed the trip's de­tails, the New York Demo­crat re­im­bursed the uni­versity more than $22,000.
The Of­fice of Con­gres­sion­al Eth­ics and the House Eth­ics Com­mit­tee launched a probe, which also even­tu­ally en­snared Roskam, whose Taiwan trip was un­der­writ­ten by the same uni­versity. The uni­versity and Taiwan's de facto em­bassy in Wash­ing­ton stone­walled eth­ics in­vest­ig­at­ors. In its fi­nal re­port, which cleared Roskam of wrong­do­ing and ruled that Owen's re­im­burse­ment was a suf­fi­cient pen­alty, the Eth­ics Com­mit­tee said that be­cause of the in­form­a­tion block­ade, it couldn't defin­it­ively de­term­ine wheth­er the Taiwanese gov­ern­ment has used the uni­versity as a pass-through. But it noted that such a setup would be against the rules.
"Spon­sors must be in­volved in the plan­ning and or­gan­iz­ing of a trip," the pan­el said. "So-called 'money only' spon­sors are not per­mit­ted."
The Chinese Cul­ture Uni­versity that was snagged in the Eth­ics probe is but one ex­ample. Oth­er Taiwanese uni­versity-sponsored trips also ap­pear to be gov­ern­ment-backed travel in dis­guise. Taiwan's Fu Jen Cath­ol­ic Uni­versity has paid more than $670,000 to un­der­write 56 sep­ar­ate trips in re­cent years, ac­cord­ing to Le­giS­torm. Na­tion­al Journ­al's re­view of Taiwan travel re­cords sug­gests that the Taiwanese gov­ern­ment has had a hid­den hand in many of the trips os­tens­ibly or­gan­ized and paid for en­tirely by Fu Jen.
Take the Feb­ru­ary 2012 trip that sent then-Reps. Dan Boren and Mike Ross to Taiwan with their wives. The two Demo­crats each lis­ted Fu Jen Cath­ol­ic Uni­versity as the sole spon­sor of their $27,000 weeklong jour­neys. But a draft it­in­er­ary that Boren filed with the House Eth­ics Com­mit­tee was ac­tu­ally sent from the fax num­ber of the con­gres­sion­al li­ais­on of­fice of Taiwan's de facto em­bassy. (Oth­ers have been, as well.) That alone isn't against the rules. The Eth­ics Com­mit­tee has said such as­sist­ance from an em­bassy is, by it­self, "not im­prop­er."
But the it­in­er­ary sug­gests far more than curs­ory gov­ern­ment­al in­volve­ment. For al­most every meet­ing, one or two Taiwan Em­bassy of­fi­cials — Steph­en Hsu or Frank C.W. Lee — was lis­ted as an "es­cort of­ficer." In con­trast, no es­corts af­fil­i­ated with the pu­tat­ive spon­sor, Fu Jen, are lis­ted.
What's more, the it­in­er­ary said that Amer­ic­an Sam­oa's del­eg­ate to Con­gress, Eni F.H. Fa­leo­mavae­ga, joined Boren and Ross for large chunks of the trip. But Fu Jen didn't pay for Fa­leo­mavae­ga's free trip to Taiwan; the Taiwanese gov­ern­ment ar­ranged it through the ME­CEA pro­gram.
How did trips planned and paid for by a private uni­versity so seam­lessly mesh with one planned and paid for by the gov­ern­ment? Fu Jen and the Taiwanese gov­ern­ment wouldn't say. They de­clined to an­swer spe­cif­ic ques­tions.
Doc­u­ments filed with the Eth­ics Com­mit­tee show that Taiwan gov­ern­ment of­fi­cials have had a hand in Fu Jen-paid travel for at least the past six years. When Vir­gin­ia Re­pub­lic­an Tom Dav­is traveled there in 2008 with his wife, a form­al in­vit­a­tion came from Fu Jen on April 24. But Gor­don Yang, a Taiwanese gov­ern­ment of­fi­cial, had already in­vited Dav­is a week earli­er, on April 19. It was Fu Jen that picked up the more than $25,000 tab.
Yang is the same of­fi­cial who was caught plan­ning Roskam's 2011 trip. And in an email to Roskam's staff re­leased by the Eth­ics Com­mit­tee, Yang wrote that Roskam would be tak­ing "the same trip" as then-Rep. Dan Bur­ton had earli­er that year. Fu Jen paid for the Bur­ton trip; the Chinese Cul­ture Uni­versity paid for Roskam's.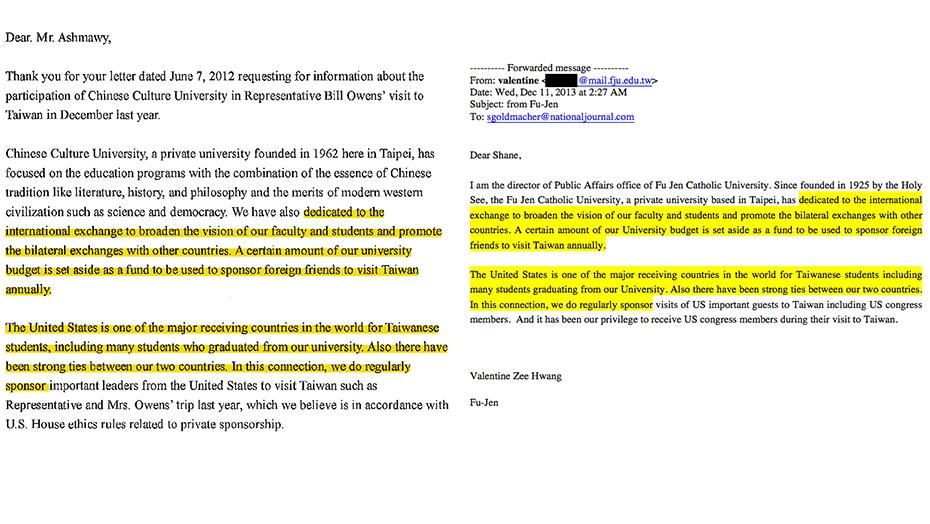 In re­sponse to Na­tion­al Journ­al's ques­tions about its spon­sor­ship of travel, Fu Jen Cath­ol­ic Uni­versity is­sued a pre­pared state­ment. Click to See Full State­ment­sIt matched, word for word, broad swaths of a pre­pared state­ment that the Chinese Cul­ture Uni­versity had is­sued 18 months earli­er to Eth­ics in­vest­ig­at­ors, even though the two uni­versit­ies are sup­posedly in­de­pend­ent of each oth­er. "A cer­tain amount of our uni­versity budget is set aside as a fund to be used to spon­sor for­eign friends to vis­it Taiwan an­nu­ally," read both state­ments.
Amid the head­aches of an Eth­ics probe, Taiwan can­celed its $20,000 monthly lob­by­ing con­tract with Park Strategies last Janu­ary. That same month, though, it hired Geph­ardt's lob­by­ing firm for a $25,000-per-month fee. The con­tract de­tails one of Team Geph­ardt's as­signed tasks: "En­cour­aging mem­bers of Con­gress and staffers to vis­it Taiwan."
More than 50 House fresh­men boarded free flights to Tel Aviv last Au­gust. It was no ac­ci­dent that the green­est law­makers made up most of the out­bound del­eg­a­tions. Sup­port­ers of Is­rael had be­gun woo­ing the newly elec­ted to come abroad be­fore they even ar­rived on Cap­it­ol Hill.
The in­vit­a­tions for the all-ex­penses-paid trip were ex­ten­ded not just to the law­makers but to a loved one as well. So the young­est mem­ber of Con­gress, 30-year-old Demo­crat­ic Rep. Patrick Murphy, brought along his dad. Rep. Dan Kildee, a Michigan Demo­crat who cel­eb­rated his 55th birth­day on the trip, in­vited his col­lege-age son. Most law­makers were joined by a spouse. South Car­o­lina's Mark San­ford, who re­turned to the House in 2013 after an ex­tramar­it­al af­fair led to scan­dal dur­ing his term as gov­ernor, re­ceived a spe­cial eth­ics waiver to take along his mis­tress-turned-fiancée.
Is­rael is, by far, law­makers' most pop­u­lar over­seas des­tin­a­tion, and these fresh­men's jour­neys were or­ches­trated by the biggest play­er in privately sponsored in­ter­na­tion­al travel: the Amer­ic­an Is­rael Edu­ca­tion Found­a­tion. It has spent more than $6 mil­lion on con­gres­sion­al trips to Is­rael in the past five years, more than any oth­er en­tity, ac­cord­ing to re­cords com­piled by Le­giS­torm.
And the found­a­tion hardly lacks an agenda. It shares staff, money, and an ad­dress with the Amer­ic­an Is­rael Pub­lic Af­fairs Com­mit­tee, the power­ful pro-Is­rael group that em­ploys a dozen lob­by­ists and spends more than $2 mil­lion an­nu­ally on lob­by­ing.
As a lob­by­ing or­gan­iz­a­tion, AIPAC it­self isn't al­lowed to plan and pay for con­gres­sion­al ex­cur­sions abroad. Yet its shad­ow found­a­tion has re­ceived the bless­ing of con­gres­sion­al eth­ics en­for­cers des­pite the fact that its 2011 tax fil­ings spell out: "The found­a­tion does not have any em­ploy­ees. The found­a­tion util­izes AIPAC em­ploy­ees." AIPAC even pays the $464,000 salary of Richard Fish­man, the found­a­tion's ex­ec­ut­ive dir­ect­or — the man who signs the con­gres­sion­al travel forms.
"Every­one un­der­stood it to be an AIPAC trip," said a fresh­man rep­res­ent­at­ive who joined last Au­gust's ex­cur­sion and was gran­ted an­onym­ity to speak can­didly.
There were two con­gres­sion­al del­eg­a­tions last sum­mer, one for Re­pub­lic­ans, led by House Ma­jor­ity Lead­er Eric Can­tor, and an­oth­er head­lined by House Minor­ity Whip Steny Hoy­er for Demo­crats. Busi­ness was cer­tainly un­der­taken: The trips in­cluded meet­ings with Is­raeli Prime Min­is­ter Ben­jamin Net­an­yahu and Pres­id­ent Shi­mon Peres. In between, the law­makers and their fam­ily mem­bers were well fed, with a daily food budget of $129. One meal was at Decks, a res­taur­ant perched above the Sea of Ga­lilee. It was in that sea, two years earli­er, that Re­pub­lic­an Rep. Kev­in Yo­der stripped na­ked and jumped in, cre­at­ing a ripple of head­lines and head­aches back home.
Mar­shall Wittmann, an AIPAC spokes­man, de­clined to an­swer spe­cif­ic ques­tions about the trips. He said in an email that they were "among the most sub­stant­ive, edu­ca­tion­al, rig­or­ous, and valu­able op­por­tun­it­ies for mem­bers of Con­gress" and that the found­a­tion com­plies with all eth­ics and IRS rules.
The AIPAC found­a­tion is not alone in this prac­tice. It is just the largest of nu­mer­ous non­profits with ag­on­iz­ingly close af­fil­i­ations to lob­by­ing in­terests. It's a mod­el that has been so suc­cess­ful that the non­profit arm of J Street, a coun­ter­weight in the Jew­ish lob­by­ing com­munity that ad­voc­ates for a two-state solu­tion between Is­rael and Palestine, began put­ting to­geth­er trips of its own. They are or­gan­ized through a sim­il­arly con­nec­ted found­a­tion, the J Street Edu­ca­tion Fund, a 501(c)(3) non­profit, which took four law­makers to Is­rael last year.
A third non­profit that pays for trips to Is­rael, the U.S. Is­rael Edu­ca­tion As­so­ci­ation, was foun­ded by Chris­ti­an act­iv­ist Heath­er John­ston and sponsored con­gres­sion­al del­eg­a­tions in 2011 and 2013. The Novem­ber 2013 trip that sent sev­en mem­bers of Con­gress and fam­ily mem­bers to Is­rael cost about $175,000. Both times, law­makers were ac­com­pan­ied by Tony Per­kins, the pres­id­ent of the Fam­ily Re­search Coun­cil, one of Wash­ing­ton's lead­ing lob­bies for con­ser­vat­ive re­li­gious val­ues.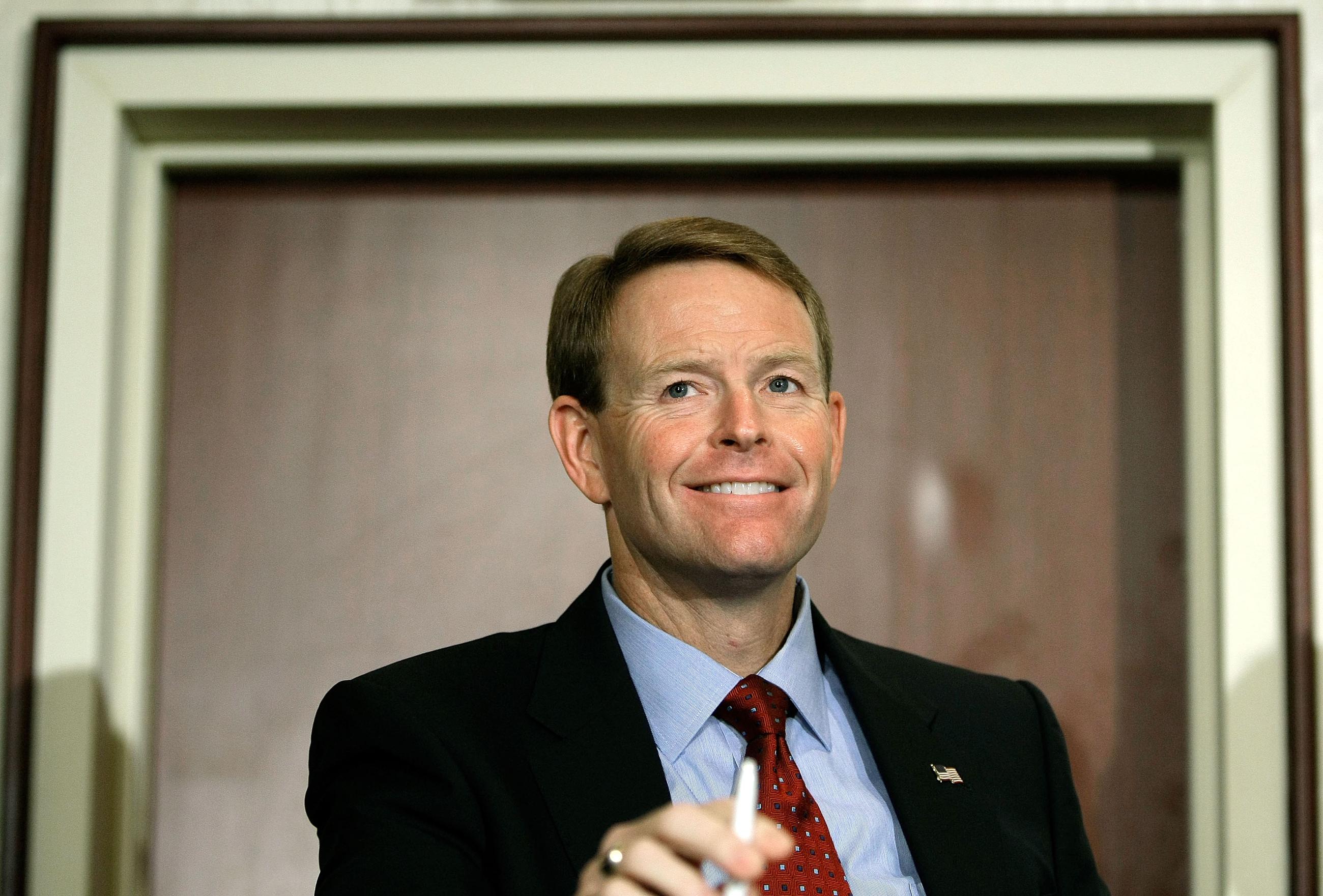 The Fam­ily Re­search Coun­cil is not per­mit­ted to spon­sor con­gres­sion­al travel be­cause it em­ploys lob­by­ists. And while Per­kins's name and his or­gan­iz­a­tion ap­pear nowhere on the travel forms that law­makers sub­mit­ted for ap­prov­al to the House Eth­ics Com­mit­tee, he has presen­ted the trips al­most as a joint ven­ture. Fam­ily Re­search Coun­cil Pres­id­ent Tony Per­kins (Chip So­mod­ev­illa/Getty Im­ages)
"You have these re­la­tion­ships with the Is­raeli lead­ers," Per­kins said to John­ston in a Decem­ber pod­cast pos­ted at TonyPer­kins.com, "and here at FRC we have re­la­tion­ships with mem­bers of Con­gress and so we kind of put the two to­geth­er and now we've twice now taken con­ser­vat­ive mem­bers of Con­gress over to Is­rael."
Neither Per­kins nor any­one for the U.S. Is­rael Edu­ca­tion As­so­ci­ation was avail­able for com­ment.
Is­rael is not the only coun­try to be­ne­fit from the ef­forts of ad­vocacy groups. A long list of non­profits sup­port­ive of Tur­key have paid for con­gres­sion­al travel there. "We really don't have an agenda in try­ing to brain­wash, or try­ing to con­vince people on a cer­tain is­sue," said Lin­coln Mc­Curdy, pres­id­ent of the Turk­ish Co­ali­tion of Amer­ica, which has sponsored trips. "We feel like we're do­ing a great ser­vice." Be­sides run­ning the non­profit, Mc­Curdy dishes out cam­paign cash to pro-Tur­key politi­cians as treas­urer of a polit­ic­al ac­tion com­mit­tee. "I wear two hats," he said.
An­oth­er non­profit in­ter­twined with a lob­by­ing en­tity is the Hu­man Rights Cam­paign Found­a­tion, which paid $2,600 to send Demo­crat Dav­id Ci­cil­line to the Czech Re­pub­lic for Prague Pride week last Au­gust.
The found­a­tion con­tracts staff from, and shares of­fice space with, its sis­ter or­gan­iz­a­tion, the Hu­man Rights Cam­paign, the na­tion's largest gay-rights group, which spent more than $1 mil­lion on lob­by­ing last year. Mi­chael Cole-Schwartz, a spokes­man for both, said the groups are "in­ter­mingled" but that the trip fell with­in the found­a­tion's mis­sion and was planned by staff mem­bers who work only on found­a­tion pro­jects. Re­cords show that one of Ci­cil­line's com­pan­ions on the trip, Ty Cobb, had de­re­gistered as an HRC lob­by­ist only months earli­er.
Ci­cil­line is one of a hand­ful of openly gay law­makers in Con­gress, and Peter Kara­fotas, his chief of staff, said the con­gress­man doesn't need to be lob­bied on gay-rights is­sues. But could the found­a­tion's free trip be per­ceived as a thank-you to Ci­cil­line for his staunch sup­port? "I sup­pose so," Kara­fotas said.
In an­oth­er in­stance, a fed­er­al lob­by­ist ac­tu­ally in­cor­por­ated a new non­profit that then fin­anced con­gres­sion­al travel. Lob­by­ist Wil­li­am Nix­on cre­ated the Bahrain Amer­ic­an Coun­cil in the K Street of­fices of his lob­by­ing firm, as ProP­ub­lica has re­por­ted. Nix­on and two oth­er of­fi­cials with Policy Im­pact Com­mu­nic­a­tions made up the group's ori­gin­al board of dir­ect­ors but soon turned over con­trol to oth­ers. 
The Bahrain Amer­ic­an Coun­cil then paid nearly $21,000 to fly Bur­ton and his wife to Bahrain in 2012. The in­vest­ment paid off al­most im­me­di­ately. Bur­ton re­turned to Con­gress to de­liv­er a speech hail­ing Bahrain as "one of our most im­port­ant al­lies" in the Gulf re­gion. And he sug­ges­ted the an­ti­gov­ern­ment pro­test­ers there, who had been vi­ol­ently squelched, might "have been in­filt­rated by out­side rad­ic­al ele­ments sup­por­ted by Ir­an."
Nix­on pos­ted the speech to his Face­book page, call­ing it "in­sight­ful." The Bahrain Amer­ic­an Coun­cil shared his post and called Bur­ton's speech a "GREAT ad­dress on the floor."
Nix­on said his lob­by­ing shop has noth­ing to do with Bahrain and that he cre­ated the coun­cil as a pa­per­work-fil­ing fa­vor for a friend. "I helped him in­cub­ate it, is prob­ably the best way of put­ting it," Nix­on said. 
With so many private spon­sors that have a polit­ic­al agenda fund­ing con­gres­sion­al travel, it is little sur­prise the num­ber of trips law­makers are tak­ing has been grow­ing, with non­profits spend­ing $5.8 mil­lion in 2013 to shuttle law­makers and their staffers on 1,856 trips around the coun­try and across the globe, ac­cord­ing to Le­giS­torm. That's the highest num­ber since 2006, when the Ab­ramoff scan­dal was in full swing.
When Meredith McGe­hee wants to fig­ure out who, ex­actly, is be­hind all this travel, she en­coun­ters what she calls the "Rus­si­an doll prob­lem." McGe­hee, a long­time gov­ern­ment watch­dog with the Cam­paign Leg­al Cen­ter (and a re­gistered lob­by­ist her­self), says the prob­lem with 501(c)(3) non­profits — the kind per­mit­ted to un­der­write con­gres­sion­al travel — is that they can keep their donors secret. That makes it al­most im­possible to fol­low the money through all the lay­ers.
Let Jack Ab­ramoff ex­plain how it works: "Say there's a cor­por­a­tion, and they've got some found­a­tion they're sup­port­ing — this is typ­ic­ally how it's done, by the way — and the found­a­tion is go­ing to be the ori­gin­at­or of the trip and pay­ing for the trip. What's the dif­fer­ence really? You've got the non­profits, or edu­ca­tion­al groups, that are tak­ing the mem­ber to see those things the lob­by­ist wants them to see. The ef­fect is really the same, even if they are tech­nic­ally obey­ing the law."
One cor­por­ate-sup­por­ted non­profit that un­der­writes con­gres­sion­al travel is the In­ter­na­tion­al Con­ser­va­tion Caucus Found­a­tion, with back­ers ran­ging from Ex­xon Mo­bil to the Nature Con­servancy. In 2011, the group spent an eye-pop­ping $100,000 to send four law­makers and three of their spouses to South Africa on a ven­ture that in­cluded three nights at the Sham­wari Game Re­serve, a tour­ist at­trac­tion where wild­life roam on much of the 49,000-acre prop­erty. The law­makers also toured a Volk­swa­gen man­u­fac­tur­ing plant; Volk­swa­gen is lis­ted as a ma­jor con­trib­ut­or on IC­CF lit­er­at­ure. The car­maker did not re­turn calls for com­ment.
In 2012, the con­ser­va­tion found­a­tion took two law­makers and their spouses to Brazil. Dur­ing the trip, they toured a Coca-Cola re­cyc­ling site and got a brief­ing on the com­pany's con­ser­va­tion pro­gram. Coca-Cola was lis­ted as a $25,000 donor in the pro­gram for IC­CF's 2012 con­gres­sion­al gala, where found­a­tion back­ers and law­makers mingled over a meal that fea­tured pista­chio-crus­ted halibut and chocol­ate mocha tart. 
Olivia Kerr, a Coca-Cola spokes­wo­man, said the com­pany part­ners with IC­CF to "ad­vance en­vir­on­ment­al con­ser­va­tion" but also noted that the group "provides us with op­por­tun­it­ies to edu­cate U.S. poli­cy­makers on en­vir­on­ment­al chal­lenges and "¦ solu­tions."
John Gantt, the IC­CF pres­id­ent, said in an email that donors are not en­titled to plan or at­tend trips and that his group in­vites "a wide range of part­ners and non-part­ners "¦ to par­ti­cip­ate in our con­gres­sion­al mis­sions if they have something spe­cif­ic to add to the edu­ca­tion­al as­pect of the mis­sion." He de­clined to re­lease the or­gan­iz­a­tion's con­trib­ut­ors and the amount they've giv­en. "No," he wrote. "Be­cause it's our donor list!"
Cor­por­ate-fueled non­profits can play an even more in­scrut­able role in cul­tur­al-ex­change trips fin­anced by for­eign gov­ern­ments. While the gov­ern­ments pay for the travel, non­profits can act as in­ter­me­di­ar­ies, of­ten un­dis­closed, that in­vite staffers and law­makers, set the agenda, and de­term­ine who gets to tag along. These non­profits can and do have cor­por­ate spon­sors, some of whom — or their lob­by­ists — join the del­eg­a­tions over­seas.
One such group, the U.S.-Asia Found­a­tion, spent nearly $1.6 mil­lion or­gan­iz­ing con­gres­sion­al ex­ped­i­tions between 2009 and 2012, ac­cord­ing to doc­u­ments filed with the In­tern­al Rev­en­ue Ser­vice. Found­a­tion Pres­id­ent Richard Quick said that in 2013 his group or­gan­ized five trips to China for ap­prox­im­ately 50 con­gres­sion­al aides. He said "cor­por­ate rep­res­ent­at­ives" (he didn't know, off­hand, if they were lob­by­ists) ac­com­pan­ied the aides on at least three of the trips. "I un­der­stand why someone might be con­cerned, but it's very valu­able to have them," Quick said of lob­by­ists, cit­ing their ex­pert­ise.
The chief over­sight arms of Con­gress have failed to ag­gress­ively or even ad­equately en­force con­gres­sion­al travel rules.
The House Eth­ics Com­mit­tee had a work­ing group spend three years mulling how to deal with private groups that un­der­write travel and their con­nec­tions with lob­by­ing en­tit­ies. In the end, the law­maker-run pan­el de­cided to keep the status quo. Simple ideas like dis­al­low­ing a non­profit that shares an of­fice or staff with a lob­by­ing group from spon­sor­ing travel were cast aside. In­stead, the law­makers de­clared there was just no "fair way" to dif­fer­en­ti­ate between dif­fer­ent non­profits.
They bur­ied the re­port, re­leas­ing it between Christ­mas and New Year's Eve in 2012.
"They have de­lib­er­ately let it go back to the Jack Ab­ramoff days," com­plained Craig Hol­man, a lob­by­ist for Pub­lic Cit­izen, the watch­dog group that helped au­thor the 2007 travel-tight­en­ing law.
The Cam­paign Leg­al Cen­ter's McGe­hee be­lieves that was al­ways the plan. "While the [2007] rules were cer­tainly an im­prove­ment and very worth­while, the ex­cep­tions that the law­makers put in­to the rules es­sen­tially drew a road map for any­one wish­ing to evade," she said. "This is not an un­in­ten­ded con­sequence. This is an in­ten­ded con­sequence."
The pan­el has meted out little pun­ish­ment, even when law­makers have been found to take trips paid for or or­gan­ized by lob­by­ists or cor­por­a­tions in vi­ol­a­tion of the rules. In one con­vo­luted yet pre­ced­ent-set­ting case, the Eth­ics Com­mit­tee said that Rep. Charlie Ran­gel broke House rules by tak­ing trips to the Carib­bean in 2007 and 2008 paid for by ear­marked cor­por­ate money, be­cause his aides knew about the cor­por­ate back­ers. Yet oth­er law­makers on the same trips wer­en't ac­cused of break­ing the rules, be­cause in­vest­ig­at­ors said there was no evid­ence they or their staffers knew about the cor­por­ate back­ing.
The fact that the Eth­ics pan­el has to bless trips in ad­vance ap­pears to have made it less will­ing to pun­ish law­makers after the fact — even when, as in the Owens case, the role of lob­by­ists and the true spon­sors of the trip were hid­den dur­ing the ap­prov­al pro­cess. 
The Of­fice of Con­gres­sion­al Eth­ics, an in­de­pend­ent of­fice cre­ated in the Ab­ramoff re­forms of 2007 that has tussled at times with the law­maker-run Eth­ics Com­mit­tee, noted when re­fer­ring to a re­cent travel probe against a staffer that "a per­son's ig­nor­ance of the true source of travel ex­penses is not an ab­so­lute shield from li­ab­il­ity."
Still, law­makers ex­press ex­as­per­a­tion that they can get the ap­prov­al from the Eth­ics Com­mit­tee for travel, as Roskam and Owens did, and then have the same trips end up the sub­ject of head­line-grabbing Eth­ics probes. Wil­li­am Mc­Gin­ley, an at­tor­ney who has rep­res­en­ted cli­ents, in­clud­ing Roskam, be­fore the pan­el, said, "Per­haps now is the time for the Eth­ics Com­mit­tee and stake­hold­ers to re­view the re­cord and de­term­ine if changes to the trip ap­prov­al pro­cess should be made to en­sure great­er clar­ity for every­one in­volved."
After watch­ing the feck­less Eth­ics pan­el run by law­makers who are re­luct­ant to po­lice their own col­leagues for years, watch­dogs know the change they'd like to see: End­ing non­profit-fun­ded travel en­tirely.
Hol­man re­mem­bers broach­ing the top­ic with then-Rep. Jo Bon­ner, an Alabama Re­pub­lic­an, back when he was chair­man of the Eth­ics Com­mit­tee in 2012. Hol­man said Bon­ner gave him the brush-off. He sus­pects he knows why.
A few weeks later the chair­man and his wife boarded a flight for an all-ex­penses-paid trip to a wild­life pre­serve in Kenya. A non­profit, the In­ter­na­tion­al Con­ser­va­tion Caucus Found­a­tion, picked up the $16,000 tab.