Joint Spe­cial Op­er­a­tions Com­mand launched four Hell­fire mis­siles in­to a con­voy in cent­ral Ye­men in Decem­ber, killing 12 people. U.S. of­fi­cials ini­tially claimed they were tar­get­ing Shawqi Ali Ahmad al-Badani, an al­leged Qaida op­er­at­ive, and even Hu­man Rights Watch ac­know­ledged that some ter­ror­ists may have been present. But last week, an of­fi­cial re­port by the New York-based ad­vocacy group con­cluded the mis­siles ac­tu­ally hit a Ye­meni wed­ding pro­ces­sion bring­ing the bride and fam­ily mem­bers to the groom's ho­met­own, and that very likely "some if not all those killed and wounded were ci­vil­ians."
In truth, no one really knows what happened that day in Ye­men, or who the en­emy really was. The Obama ad­min­is­tra­tion, of course, would not dis­cuss the de­tails of the cov­ert op­er­a­tion — and it has done little pub­licly to jus­ti­fy the drone at­tack. The news of the Hu­man Rights Watch re­port pinged through the Wash­ing­ton echo cham­ber for a day, then faded away — just the latest wisp of in­form­a­tion in a shad­owy con­flict that Pres­id­ent Obama pledges to end but seems ut­terly un­will­ing to close.
Judging from the polls, a weary, in­ward-look­ing Amer­ic­an pub­lic has long since stopped caring much about what used to be called the "war on ter­ror," es­pe­cially com­pared with is­sues like eco­nom­ic stag­na­tion, or gay mar­riage, or im­mig­ra­tion. What began as one hor­rif­ic at­tack 13 years ago and a simple, 60-word Au­thor­iz­a­tion for the Use of Mil­it­ary Force three days later has morph­ed all but un­noticed in­to a war with no name or para­met­ers — against an en­emy that the gov­ern­ment will no longer even of­fi­cially identi­fy, on bat­tle­fields that didn't ex­ist when the meas­ure hur­riedly passed Con­gress.
And as the Ye­men strike sug­gests, the war hardly ap­pears to be wind­ing down. Nor do U.S. forces seem to be get­ting much bet­ter at avoid­ing "col­lat­er­al dam­age." The grave but very real danger is that this strangest of wars will nev­er end, cer­tainly not be­fore the ex­pir­a­tion of Obama's second term. And his suc­cessors may be left with nearly the en­tire un­re­solved mess: an open-ended war au­thor­iz­a­tion and in­cho­ate rules for drone and spe­cial op­er­a­tions, the prom­ised-but-nev­er-car­ried-through clos­ing of Guantá­namo Bay, and a Na­tion­al Se­cur­ity Agency that's still not sure whom or what it can spy on.
No one has been more aware of this prob­ab­il­ity than the pres­id­ent him­self, who has reg­u­larly warned that Amer­ica must get off a "per­petu­al war­time foot­ing," de­clar­ing in a land­mark speech last year, "We must define the nature and scope of this struggle, or else it will define us."¦ Un­less we dis­cip­line our think­ing, our defin­i­tions, our ac­tions, we may be drawn in­to more wars we don't need to fight, or con­tin­ue to grant pres­id­ents un­bound powers."
And yet that's what is hap­pen­ing. Throughout the vi­ol­ence-torn Middle East and Cent­ral Asia, a re­born al-Qaida is sprout­ing new af­fil­i­ates like myth­ic­al dragon's teeth and de­fin­ing the struggle anew. Mean­while, the Obama ad­min­is­tra­tion re­mains con­flic­ted over policy and un­sure how to pro­ceed — as evid­enced by an­oth­er mys­ter­i­ous news leak re­cently, one that in­dic­ated the gov­ern­ment was locked in an in­tense in­tern­al de­bate over wheth­er to kill an Amer­ic­an cit­izen over­seas (rumored to be a ji­hadi in Pakistan). Des­pite Obama's pledge nearly a year ago, in that widely covered May 2013 speech, to "re­fine, and ul­ti­mately re­peal" the AUMF, sources in­side the ad­min­is­tra­tion and on Cap­it­ol Hill say ser­i­ous ne­go­ti­ations to get it done have not even be­gun with this ever-re­cal­cit­rant Con­gress.
Lead­ing voices on Cap­it­ol Hill say they are ut­terly mys­ti­fied by the White House's in­ac­tion — and are get­ting more and more frus­trated by it. "If any­one un­der­stands what their policy is, please send me a note. It has been very con­fus­ing," Rep. Mike Ro­gers, chair­man of the House In­tel­li­gence Com­mit­tee, told Na­tion­al Journ­al.
Barack Obama, in oth­er words, ap­pears to lack the will to turn off the war ma­chine. His long-stated aim to be the pres­id­ent who ended two wars for good is very likely to go un­met. Worse, he will leave be­hind a struggle the coun­try won't be con­sti­tu­tion­ally or mor­ally equipped to fight. Rather than de­vel­op­ing a "code" for fu­ture pres­id­ents — as he's said he wants to do — this pres­id­ent could well end up leav­ing his suc­cessor an open-ended li­cense to con­duct per­man­ent drone war­fare, or to place Amer­ic­an boots on the ground any­where in the world.
Ro­gers and some oth­er crit­ics say the pres­id­ent may even be in deni­al about the on­go­ing real­ity of the war, per­haps be­cause he's a little too eager to "com­plete his nar­rat­ive" about decim­at­ing al-Qaida. "Just be­cause we got Osama bin Laden doesn't mean the or­gan­iz­a­tion went away," Ro­gers says. "When someone is shoot­ing at you, and you stand up and de­cide the shoot­ing is over, that doesn't mean they stop shoot­ing at you. And it is in­cred­ibly na­ive to be­lieve that be­cause you say the war on ter­ror is over, [the ter­ror­ists] be­lieve it is over." To fo­cus on the in­roads against "core" al-Qaida in Pakistan while fail­ing to come up with set rules of en­gage­ment against new­er af­fil­i­ated groups else­where, Ro­gers says, is "like say­ing the Mc­Don­ald's in Michigan is dif­fer­ent than the headquar­ters in Illinois. It's the same food, the same goals, the same ends."
Obama will also be­queath to his suc­cessor an­oth­er al­most Or­wellian oddity, one that may be un­pre­ced­en­ted in Amer­ic­an his­tory. The United States is now at war with an en­emy that it will not of­fi­cially ac­know­ledge or name. As new ji­hadist groups spring up in war-torn Syr­ia and oth­er emer­ging safe havens, the ad­min­is­tra­tion has made the list of so-called as­so­ci­ated forces of al-Qaida clas­si­fied.
The of­fi­cial reas­on is that the U.S. mil­it­ary and in­tel­li­gence ap­par­at­us doesn't want to tip off the new bad guys that they're about to be at­om­ized in a drone strike or laser-tar­geted by SEAL Team Six. But some long­time U.S. strategists, such as former Na­tion­al Se­cur­ity Ad­viser Brent Scow­croft, worry about the lack of clear rules gov­ern­ing this latest evol­u­tion in what Har­old Koh, Obama's former State De­part­ment gen­er­al coun­sel, calls "the Forever War." "There is something very troub­ling about how we have be­come po­lice­man, judge, jury, and ex­e­cu­tion­er, all rolled up to­geth­er," Scow­croft says.
Former par­ti­cipants in the war on ter­ror­ism, such as John Bellinger, who was chief coun­sel to the Na­tion­al Se­cur­ity Coun­cil on 9/11, finds the con­flict's new, amorph­ous shape to be "ex­tremely odd."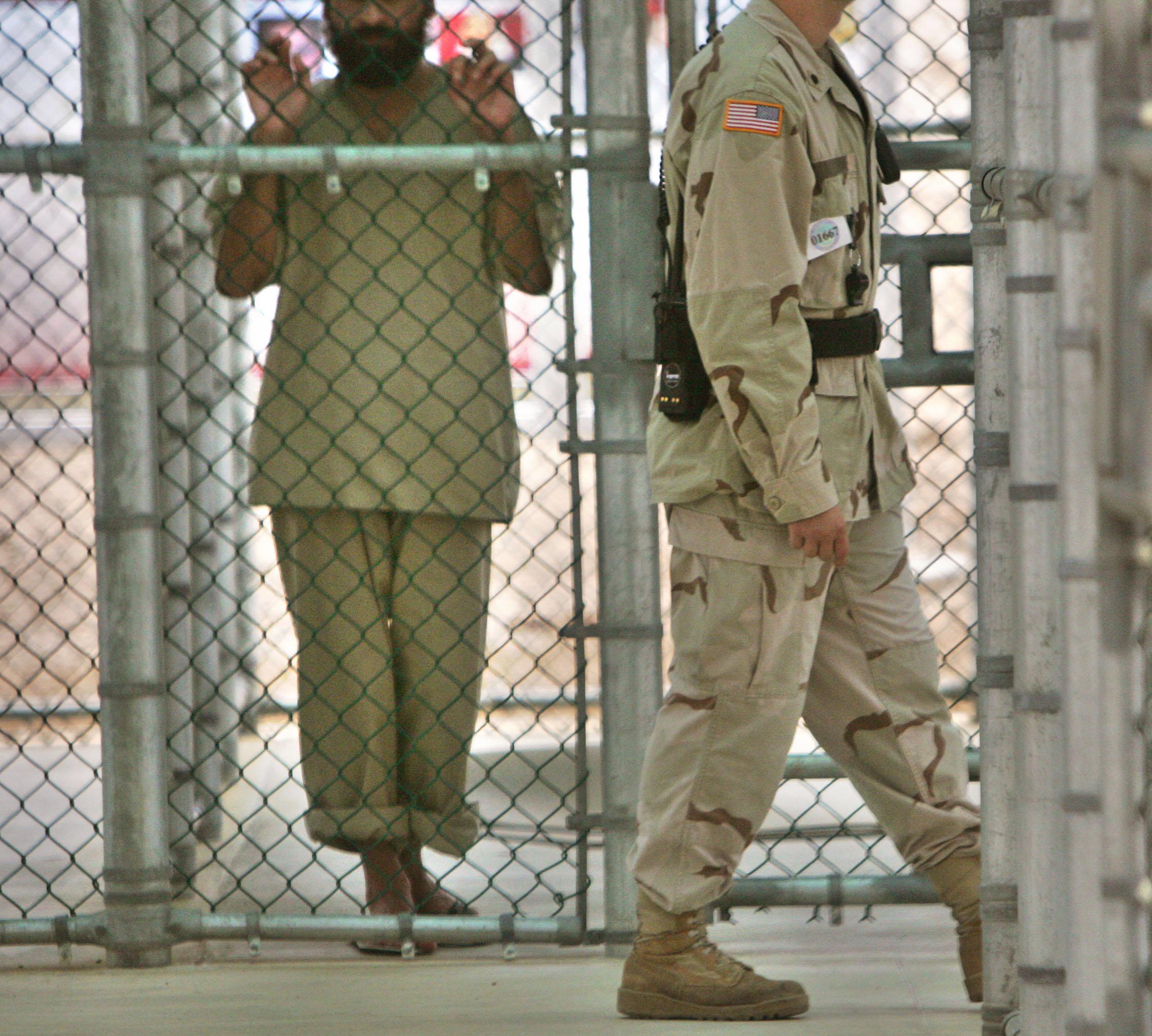 Says Bellinger: "I cer­tainly un­der­stand that groups may change and people may move from group to group. And our people may not want to alert the groups be­ing tar­geted. But I don't think that pre­vents one from hav­ing a ba­sic list [of en­emies], at least with an as­ter­isk at the end in­dic­at­ing there may be oth­ers." The main prob­lem, he adds, is that "as the AUMF has got­ten longer and longer in the tooth, the de­bate in­side the ad­min­is­tra­tion is get­ting more and more com­plex as to wheth­er some group or some per­son is ac­tu­ally as­so­ci­ated with al-Qaida," the only group with which Amer­ica is still of­fi­cially at war and to which the AUMF spe­cific­ally ap­plies. Guantanamo Bay (BREN­NAN LINS­LEY/AFP/Getty Im­ages)
So while Obama might be re­luct­ant to ap­ply force bey­ond drones and spe­cial-op­er­a­tions teams in parts of the Mideast, Cent­ral Asia, and North­ern Africa, it's en­tirely plaus­ible that a less cau­tious com­mand­er in chief could de­cide to in­vade Syr­ia or re­in­vade Afgh­anistan or Ir­aq, or to de­ploy drones less dis­crim­in­at­ingly — all by re­ly­ing on an out­dated war au­thor­iz­a­tion. Un­less Con­gress writes new rules. And Obama signs them. Something neither ap­pears will­ing to do.
The ad­min­is­tra­tion coun­ters that it has already de­veloped the "clear guidelines, over­sight, and ac­count­ab­il­ity" that Obama prom­ised last year. Still, the White House has barely en­gaged Con­gress. "At this stage, we are dis­cuss­ing this is­sue and look for­ward to en­ga­ging the Con­gress more ro­bustly as we re­fine our think­ing," Na­tion­al Se­cur­ity Coun­cil spokes­wo­man Caitlin Hay­den told Na­tion­al Journ­al.
The ad­min­is­tra­tion's in­ac­tion stems in part from the way Obama has boxed him­self in. He has said he doesn't want to sign a new con­gres­sion­al force au­thor­iz­a­tion that may be bet­ter equipped to deal with mod­ern ter­ror­ism threats, be­cause he wor­ries about pro­long­ing the war. But without one, the ad­min­is­tra­tion has been forced to stretch and dis­tort the 9/11 au­thor­iz­a­tion to new fronts in Somalia and Ye­men in ways that could en­cour­age an­oth­er pres­id­ent to push the leg­al en­vel­ope even fur­ther.
The res­ult is that the war, as it stands, is be­ing fought in a state of leg­al limbo, one that wor­ries both con­ser­vat­ives, who fa­vor re­writ­ing the 9/11 AUMF, and lib­er­als, who fa­vor re­peal­ing it. And it has giv­en ad­min­is­tra­tion of­fi­cials no choice but to forge ahead, some­times seem­ingly mak­ing up the rules as they go — as evid­enced per­haps by the Decem­ber strike in Ye­men.
That in­tern­al de­bate achieved al­most tra­gi­com­ic di­men­sions re­cently when The Wash­ing­ton Post re­por­ted that fol­low­ing the de­cision of Ay­man al-Za­wahiri, the nom­in­al lead­er of al-Qaida's core in Pakistan, to ex­com­mu­nic­ate an ul­tra­vi­olent group call­ing it­self "Is­lam­ic State in Ir­aq and Syr­ia" or IS­IS, U.S. of­fi­cials were weigh­ing wheth­er to drop that group from the U.S. en­emies list. That, says crit­ics, is the ul­ti­mate mis­take in al­low­ing al-Qaida to define the con­flict. "It's con­ceiv­able that al-Qaida might 'fire' them pub­licly while privately con­tinu­ing to have lots of deal­ings with them," Bellinger says.
The only an­swer to the evolving new threat, these crit­ics say, is to up­date the au­thor­iz­a­tion to ad­dress the chan­ging nature of al-Qaida and its af­fil­i­ates. Obama ap­pears to be leery of try­ing with a Con­gress that, even count­ing fel­low Demo­crats, most re­cently re­fused him ap­prov­al for strikes on Syr­ia in re­tali­ation for chem­ic­al-weapons use.
Giv­en the choice between re­peal and leav­ing the cur­rent law in place, most in the White House and Con­gress have op­ted for let­ting in­er­tia carry the day. "I was one of the people who kicked off the de­bate four years ago that the AUMF ought to be re­vised," says Bellinger, who also served as gen­er­al coun­sel to the State De­part­ment in the mid-2000s when the first rules for war­fare against ter­ror­ist groups were be­ing dis­cussed. "It ought to fit what we're do­ing now. A 60-word stat­ute writ­ten by Con­gress three days after 9/11 needs to be more pre­cise. But that re­quires good gov­ern­ment, and I've come to be­lieve it's im­possible for our Con­gress to do good gov­ern­ment. It's prob­ably bet­ter just to leave this an­cient stat­ute on the books."
In a series of speeches dat­ing back two years, ad­min­is­tra­tion of­fi­cials have sought to point the way to an even­tu­al end to the war by dis­tin­guish­ing "core al-Qaida" or "as­so­ci­ated groups" that are "or­gan­ized" and spe­cific­ally tar­get Amer­ic­ans from oth­er less stra­tegic threats. Among the lat­ter are "lone wolves" along the lines of the Bo­ston Mara­thon bomb­ing sus­pects or new ex­trem­ist ele­ments emer­ging in the af­ter­math of the Ar­ab Spring, which may be loc­ally or re­gion­ally fo­cused in their aims, rather than or­gan­ized to tar­get Amer­ica.
Koh, now a pro­fess­or at Yale, spe­cific­ally ex­cluded lone ter­ror­ists as en­emies un­der the AUMF in a speech at the Ox­ford Uni­on last fall. "To be clear, the United States is not at war with any idea or re­li­gion, with mere pro­pa­gand­ists or journ­al­ists, or even with sad in­di­vidu­als — like the re­cent Bo­ston bombers — who may be­come rad­ic­al­ized, in­spired by al-Qaida's ideo­logy, but nev­er ac­tu­ally join or be­come part of al-Qaida," Koh said. "As we have seen, such per­sons may be ex­ceed­ingly dan­ger­ous, but they should be dealt with through tools of ci­vil­ian law en­force­ment, not mil­it­ary ac­tion."
Koh and oth­er ad­min­is­tra­tion of­fi­cials cite a speech in Novem­ber 2012 by Home­land Se­cur­ity Sec­ret­ary Jeh John­son, then the Pentagon's gen­er­al coun­sel, who set out the clearest cri­ter­ia yet for how the war will end. "We have pub­licly stated that our en­emy con­sists of those per­sons who are part of the Taliban, al-Qaida, or as­so­ci­ated forces," John­son said, also at the Ox­ford Uni­on. "We have pub­licly defined an 'as­so­ci­ated force' as hav­ing two char­ac­ter­ist­ics: 1) an or­gan­ized, armed group that has entered the fight along­side al-Qaida, and 2) is a cobel­li­ger­ent with al-Qaida in hos­til­it­ies against the United States or its co­ali­tion part­ners."
Then, in a pas­sage that Koh ap­prov­ingly quoted, John­son said, "There will come a tip­ping point "¦ at which so many of the lead­ers and op­er­at­ives of al-Qaida and its af­fil­i­ates have been killed or cap­tured, and the group is no longer able to at­tempt or launch a stra­tegic at­tack against the United States, such that al-Qaida as we know it, the or­gan­iz­a­tion that our Con­gress au­thor­ized the mil­it­ary to pur­sue in 2001, has been ef­fect­ively des­troyed." And the war would be ex­pec­ted to end, at which point the AUMF would os­tens­ibly be no longer in ef­fect.
Clos­ing such a chapter wouldn't mean that a fu­ture ad­min­is­tra­tion couldn't act ag­gress­ively to re­spond to threats. Con­sti­tu­tion­al law­yers ar­gue that even without the AUMF, the pres­id­ent pos­sesses the power to act in Amer­ica's self-de­fense with leth­al force — one reas­on Obama may be will­ing to see the au­thor­iz­a­tion re­pealed. The gen­er­als do not seem to agree, al­though that's hardly sur­pris­ing. "The CIA and JSOC are al­ways look­ing for ways to jus­ti­fy their jobs. One way to do it is to identi­fy new ter­ror­ists," says Scott Hor­ton, a hu­man-rights law­yer.
But the Obama ad­min­is­tra­tion has made it easi­er for fu­ture pres­id­ents to make war un­der those powers as well, by ex­pand­ing the concept of what con­sti­tutes an "im­min­ent" threat to the United States, which al­lows the pres­id­ent to re­spond without con­gres­sion­al ap­prov­al un­der Art­icle II of the Con­sti­tu­tion. The new term be­ing used: "elong­ated im­min­ence," which means that a pres­id­ent doesn't have to deem the coun­try un­der im­me­di­ate threat of at­tack be­fore act­ing on his or her own.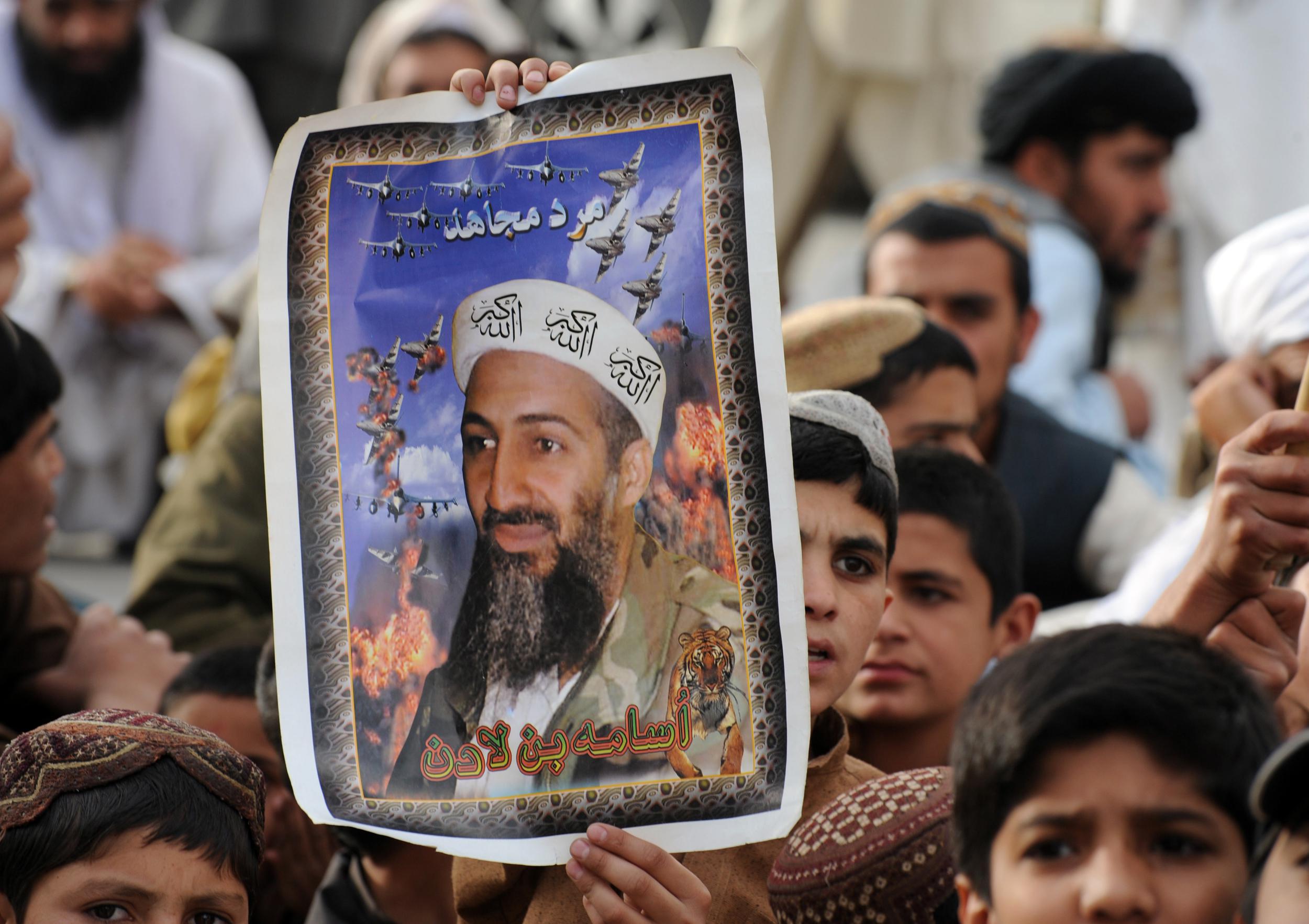 What re­mains ut­terly un­clear is how such a broad cri­terion should be defined. What does "ef­fect­ively des­troyed" mean? And the ad­min­is­tra­tion has been send­ing mixed sig­nals on how long this might take, as well as who the en­emy is. At a con­gres­sion­al hear­ing last year, Mi­chael Shee­han, the as­sist­ant De­fense sec­ret­ary for spe­cial op­er­a­tions and low-in­tens­ity con­flict, said U.S. mil­it­ary op­er­a­tions against al-Qaida and as­so­ci­ated forces are "go­ing to go on for quite a while "¦ bey­ond the second term of the pres­id­ent…. I think it's at least 10 to 20 years." Sup­port­ers carry por­traits of the slain Al-Qaeda lead­er Osama bin Laden as they gath­er dur­ing an anti-US rally. (BANARAS KHAN/AFP/Getty­Im­ages)
That little-no­ticed hear­ing of the Sen­ate Armed Ser­vices Com­mit­tee vividly laid bare the po­ten­tial danger that stems from leav­ing the cur­rent AUMF in place. It be­came evid­ent from the testi­mony of sev­er­al seni­or ad­min­is­tra­tion of­fi­cials that the mil­it­ary be­lieves it has all the au­thor­ity it needs to em­ploy Amer­ic­an might in any glob­al hot spot it chooses as long as some tenu­ous con­nec­tion to al-Qaida ex­ists — a view that is at odds with what the ad­min­is­tra­tion has said pub­licly.
For ex­ample, when Sen. John Mc­Cain, R-Ar­iz., asked Robert Taylor, the Pentagon's gen­er­al coun­sel, wheth­er the AUMF could be read to au­thor­ize U.S. leth­al force against al-Qaida's "as­so­ci­ated forces" in coun­tries such as Mali, Libya, and Syr­ia, Taylor re­spon­ded: "On the do­mest­ic law side, yes sir."
Sen. Lind­sey Gra­ham, R-S.C., fol­lowed up by ask­ing wheth­er the AUMF al­lowed the pres­id­ent to send troops in­to Ye­men and the Congo. Shee­han answered af­firm­at­ively, and then Sen. Joe Don­nelly, D-Ind., asked if the U.S. could use the AUMF to go after the al-Nusra Front in Syr­ia. Yes, Shee­han replied, "if we felt they were threat­en­ing our se­cur­ity."
The Pentagon of­fi­cials were un­an­im­ous in as­sert­ing to the pan­el that the mil­it­ary needed no fur­ther re­fine­ment in the AUMF to con­duct op­er­a­tions. And Sen. An­gus King, the in­de­pend­ent from Maine, quickly grasped why. "You're say­ing we don't need any change, be­cause of the way you read it, we can do any­thing…. The way you read it, there's no lim­it."
Writ­ing about the hear­ing for the blog Law­fare, Jack Gold­smith, a former law­yer in the George W. Bush Justice De­part­ment and an ex­pert in na­tion­al se­cur­ity law, said it "made clear that the Obama ad­min­is­tra­tion's long in­sist­ence that it is deeply re­strained un­der the AUMF is mis­lead­ing and at a min­im­um re­quires much more ex­tens­ive scru­tiny."
But the hear­ing re­vealed an­oth­er worry about the pro­sec­u­tion of the Forever War. When Don­nelly asked Shee­han if the United States had de­term­ined wheth­er al-Nusra was, in fact, a threat to na­tion­al se­cur­ity, Shee­han de­clined to an­swer. "I don't want to get in, in this set­ting, the de­cision-mak­ing we have for how we tar­get dif­fer­ent groups and or­gan­iz­a­tions around the world," he told the sen­at­or.
Pressed, the De­fense of­fi­cials ul­ti­mately agreed to provide the com­mit­tee with a list of groups world­wide the ad­min­is­tra­tion be­lieves to qual­i­fy as "as­so­ci­ated groups" un­der the AUMF. But that list, to date, re­mains clas­si­fied. The com­mit­tee re­fused a Na­tion­al Journ­al re­quest to provide it or even to say how many groups are lis­ted on it.
It means that the United States is now in the 13th year of a con­flict with an en­emy that can shift and morph end­lessly, van­ish­ing in one spot, ree­m­er­ging in an­oth­er. The secrecy un­der­mines what was viewed as a key be­ne­fit of the au­thor­iz­a­tion when it was passed — that it would provide a level of trans­par­ency about Amer­ic­an mil­it­ary ob­ject­ives. "The AUMF put the world on no­tice," says Jens Ohlin, a pro­fess­or at Cor­nell Law School who has called for the law to be mod­i­fied to spe­cific­ally in­cor­por­ate IS­IS op­er­at­ing in Syr­ia. And even Koh, who has de­fen­ded the ad­min­is­tra­tion's prac­tices since re­turn­ing to Yale, slammed it for its tend­ency to work in the shad­ows. "This ad­min­is­tra­tion has not done enough to be trans­par­ent about the leg­al stand­ards and the de­cision-mak­ing pro­cess that it has been ap­ply­ing," he said at Ox­ford.
The worry goes bey­ond dis­clos­ure. The defin­i­tion of "as­so­ci­ated groups" un­der the AUMF is be­ing yanked and stretched in ways that may not have been en­vi­sioned more than a dec­ade ago. Key to the ad­min­is­tra­tion's in­ter­pret­a­tion of the law has been the concept of "cobel­li­ger­ency." For a group to be a leg­ally val­id tar­get of Amer­ic­an op­er­a­tions, it must be an af­fil­i­ate of al-Qaida and have de­clared the U.S. to be a tar­get of hos­til­it­ies.
But what about groups that arise long after the core of the al-Qaida that plot­ted the 9/11 at­tacks has been "decim­ated" — to use the pres­id­ent's word? The AUMF con­ceiv­ably could provide cov­er for an end­less war against a series of re­gion­al suc­cessor groups, some worry — in­clud­ing groups whose in­ten­tions to­ward the United States may be less than clear or may os­cil­late with changes in lead­er­ship or dir­ec­tion. At the Armed Ser­vices hear­ing, Taylor, the Pentagon law­yer, was asked by Sen. Tim Kaine, D-Va., wheth­er it was the leg­al po­s­i­tion of the Obama ad­min­is­tra­tion that "even groups or in­di­vidu­als that had noth­ing to do with the at­tacks, once they be­come as­so­ci­ated with al-Qaida 25 years from now, are nev­er­the­less covered by the cur­rent lan­guage of the AUMF?"
"I don't want to say 25 years from now," Taylor replied. "But today, yes."
It is il­lus­trat­ive of the am­bi­gu­ity cre­ated by that au­thor­iz­a­tion that today, some fear that the AUMF provides the gov­ern­ment too much li­cense around the world, while oth­ers fear it now falls short and lacks flex­ib­il­ity. But crit­ics on all sides charge that the Obama ad­min­is­tra­tion — and, by ex­ten­sion, the mil­it­ary — op­pose a modi­fic­a­tion of the au­thor­iz­a­tion be­cause do­ing so would lim­it the al­most total dis­cre­tion held now by the ex­ec­ut­ive branch, which in the con­text of the on­go­ing war has ex­clus­ive au­thor­ity to define the en­emy, de­cid­ing which groups are "as­so­ci­ated" and which are not.
"Ad­voc­ates of strong uni­lat­er­al power in the ex­ec­ut­ive branch may not want to see a con­gres­sion­ally craf­ted stand­ard here," says Ohlin, mind­ful of the wide lat­it­ude the statue could give a fu­ture ad­min­is­tra­tion. "When you're talk­ing about con­strain­ing the pres­id­ent, you're not talk­ing about con­strain­ing this pres­id­ent."
For Con­gress to be able to act as a check on the ex­ec­ut­ive branch's power to define the scope of the con­flict, there must be some con­sensus on the Hill for mov­ing for­ward. That re­mains elu­sive — and the ad­min­is­tra­tion's un­will­ing­ness so far to en­gage on the is­sue has frus­trated some in both parties. "All I can spec­u­late is that [Obama] wants a com­pletely free hand," says Rep. Mac Thorn­berry, a Texas Re­pub­lic­an who chairs the House Armed Ser­vices' In­tel­li­gence, Emer­ging Threats, and Cap­ab­il­it­ies Sub­com­mit­tee.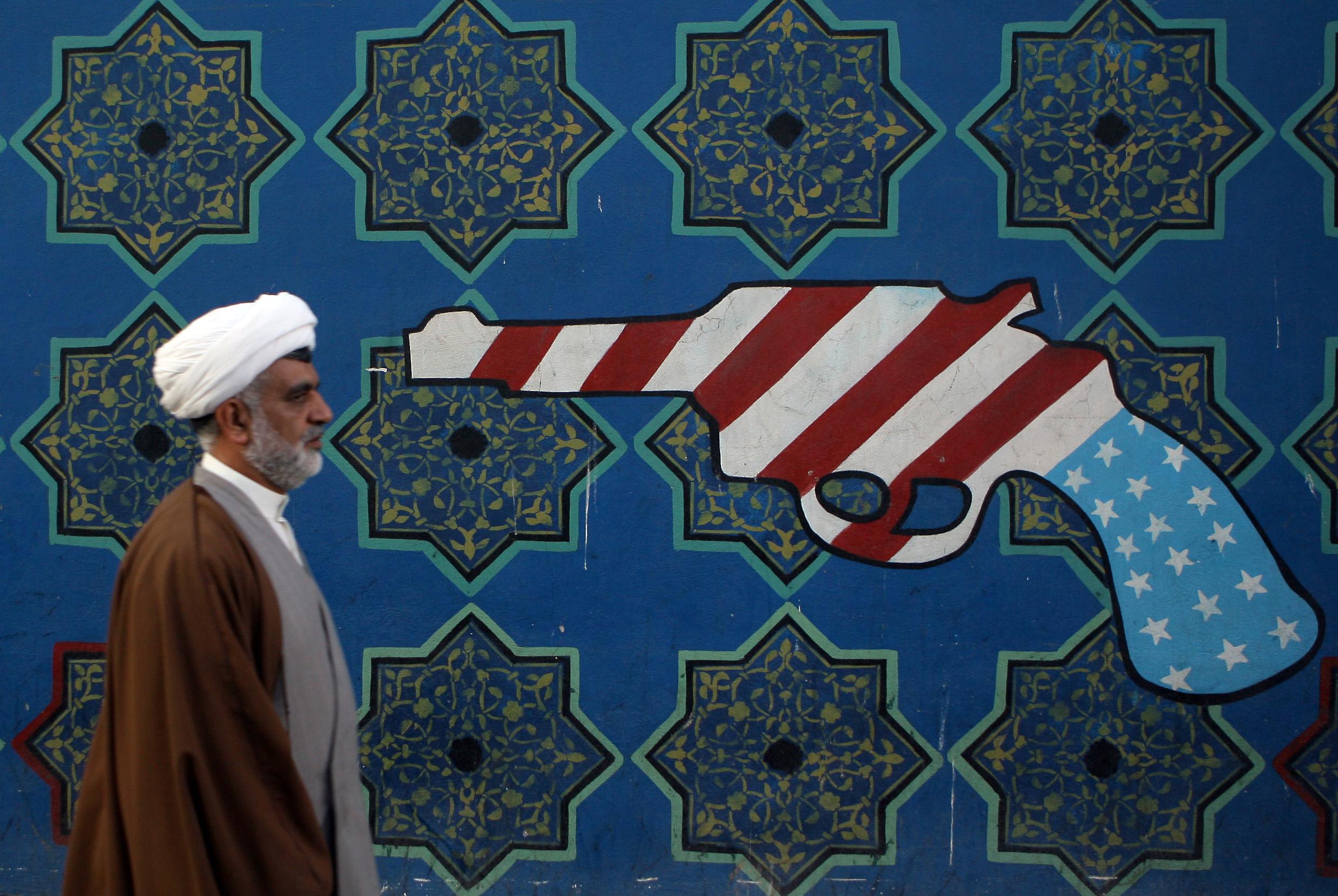 Twice, in 2011 and 2012, House Re­pub­lic­ans at­temp­ted to re­fine and fur­ther co­di­fy the AUMF, but their ef­forts were op­posed by the ad­min­is­tra­tion as well as by pro­gress­ives who worry that a new law will simply rat­i­fy the ever-ex­pand­ing bat­tle­field. But Thorn­berry blasts the White House's view that the AUMF can be re­pealed any­time soon. "At one point in the ad­min­is­tra­tion's nar­rat­ive, we had won the war on ter­ror­ism and we needed to move on. Events in the world have made that not true." A cler­ric walks past a mur­al on the wall of the former U.S. em­bassy, in Tehran, Ir­an. (Majid Saeedi/Getty Im­ages)
Now, he wor­ries, "we can't do everything we want to do be­cause the AUMF hasn't been up­dated," spe­cific­ally cit­ing the pur­suit of mil­it­ants who launched the 2012 at­tack on the Amer­ic­an mis­sion in Benghazi, Libya. "I want that solider out there to have the ad­equate leg­al sup­port for what he is asked to do."
Then there are oth­ers on the Hill who are seek­ing to con­tain the pres­id­ent's power. Sens. Jeff Merkley, D-Ore., and Mike Lee, R-Utah, have co­sponsored le­gis­la­tion that would re­quire Con­gress to au­thor­ize fur­ther U.S. mil­it­ary ac­tion in Afgh­anistan after this year. "Auto­mat­ic re­new­al is fine for Net­flix and gym mem­ber­ships, but it isn't the right ap­proach when it comes to war," Merkley said when the bill was in­tro­duced in Janu­ary. "It's a de­cision that should not be made by a single per­son or one ad­min­is­tra­tion."
Des­pite that ef­fort, Demo­crats on the whole have shown little in­terest in the is­sue bey­ond of­fer­ing oc­ca­sion­al lip ser­vice that something, some­time needs to change. That's likely be­cause they're in the same pre­dic­a­ment Obama is in: Call­ing for re­peal of the AUMF when threats still ex­ist seems pre­ma­ture, but re­vis­ing it is at odds with the nar­rat­ive con­tinu­ally ad­vanced by the ad­min­is­tra­tion that war is "wind­ing down." The lack of any sort of crit­ic­al mass on the is­sue — either to­ward re­vi­sion or re­peal, sug­gests Con­gress is con­tent to do noth­ing un­til pressed. That hasn't happened.
Rep. Adam Schiff, a South­ern Cali­for­nia Demo­crat, has been a lonely voice for re­peal — or, at the very least, some sort of sun­set pro­vi­sion when the AUMF is ul­ti­mately reau­thor­ized. "It's plainly out of date," he says. The in­creas­ingly shaky leg­al grounds for the war, he says, dam­ages Amer­ica's glob­al stand­ing. "If the U.S. acts in a way con­trary to our own leg­al au­thor­ity, we in­vite all oth­er coun­tries to do so."
There is one way Obama could ef­fect­ively re­peal the AUMF, ex­perts say. He could stand up and un­equi­voc­ally de­clare that the 9/11 con­flict is over, that the al-Qaida that at­tacked Amer­ica that day no longer func­tion­ally ex­ists, and that the gov­ern­ment will ad­opt a dif­fer­ent coun­terter­ror­ism pos­ture go­ing for­ward. "If the pres­id­ent wants to say the con­flict is over, he doesn't need an act of Con­gress to do it," says Ben­jamin Wittes, a na­tion­al se­cur­ity ex­pert at the Brook­ings In­sti­tu­tion. "He doesn't need Con­gress to make the AUMF a dead let­ter."
But there is a sig­ni­fic­ant reas­on why he can't do that. At least not yet.
The pres­id­ent needs the AUMF to provide a leg­al ra­tionale for the in­def­in­ite de­ten­tions at Guantá­namo. And un­til his ad­min­is­tra­tion comes up with some plan for clos­ing that fa­cil­ity and de­term­in­ing what to do with the in­mates deemed too dan­ger­ous to re­lease — an­oth­er thing it hasn't done — the AUMF will have to re­main in force.
Moreover, the polit­ic­al risks of de­clar­ing an end to hos­til­it­ies are ap­par­ent, as Mike Ro­gers's cri­ti­cisms make clear. A ma­jor new ter­ror­ist at­tack against a U.S. tar­get could make the pres­id­ent look fool­ish and na­ive. Yet if Obama truly wants to ush­er in a new paradigm be­fore he leaves of­fice, this may be the only way. Such a de­clar­a­tion would cause the leg­al au­thor­ity for com­bat­ing ter­ror­ism glob­ally to re­vert to its pre-9/11 state, which more closely hewed to the law-en­force­ment-ori­ented ap­proach favored by At­tor­ney Gen­er­al Eric Hold­er, among oth­ers. At some point in the fu­ture, the switch — the move to a dif­fer­ent foot­ing, a de­par­ture from the 9/11 state of etern­al war — will have to take place, be­cause, as Thorn­berry says, "ter­ror­ism is not go­ing away."
But it's likely Obama will not be the per­son who takes the coun­try there. Six years in­to his pres­id­ency, the man who vowed to shut­ter Guantá­namo, move away from the knee-jerk, Bush ap­proach to coun­terter­ror­ism, and re­store the na­tion's mor­al and leg­al stand­ing in the world is still talk­ing about do­ing all those things. The dif­fer­ence, as Wittes notes, is that now he comes across schizo­phren­ic­ally, as someone who is "a crit­ic of his own policies."
If Obama doesn't dra­mat­ic­ally change course, the pres­id­ent who la­ments fight­ing the Forever War will be the man who in­sti­tu­tion­al­izes it. The ma­chine will keep run­ning without him.