PINE­HURST, N.C. — On a rainy af­ter­noon a month be­fore North Car­o­lina's May 6 Re­pub­lic­an primary, state House Speak­er and Sen­ate hope­ful Thom Tillis was at the Pine­hurst Re­sort and golf course, where the U.S. Open will be held later this year. But the three-minute speech Tillis gave made him sound more like he was at the Mas­ters, be­ing meas­ured for a green jack­et.
At a lunch for­um sponsored by the Moore (County) Re­pub­lic­an Wo­men, to which all of the GOP can­did­ates were in­vited, Tillis was act­ing like a win­ner: He had the sup­port of 22 state sen­at­ors and 68 mem­bers of the Gen­er­al As­sembly, he boas­ted; he'd just wrapped up a "great" fun­drais­ing quarter, bring­ing in $1.3 mil­lion over the pre­vi­ous three months. He saw no mean­ing­ful dif­fer­ences between him­self and his sev­en op­pon­ents, ex­cept the one that mattered: "It comes down to ex­per­i­ence and a path to beat­ing Kay Hagan. Our goal is to beat Kay Hagan," Tillis said. "They know that we stand ready to beat them, and we're most likely the state that will de­liv­er "¦ a GOP ma­jor­ity!"
Then Tillis men­tioned that a ma­jor en­dorse­ment had just come in. "Prob­ably my proudest mo­ment in pub­lic ser­vice happened this morn­ing when I was driv­ing up here," he said. "I just re­ceived the en­dorse­ment of the Na­tion­al Right to Life, and more than any­body else, more than any or­gan­iz­a­tion I can think of, I'm proud that they re­cog­nize the work that we've done to save the lives of the un­born.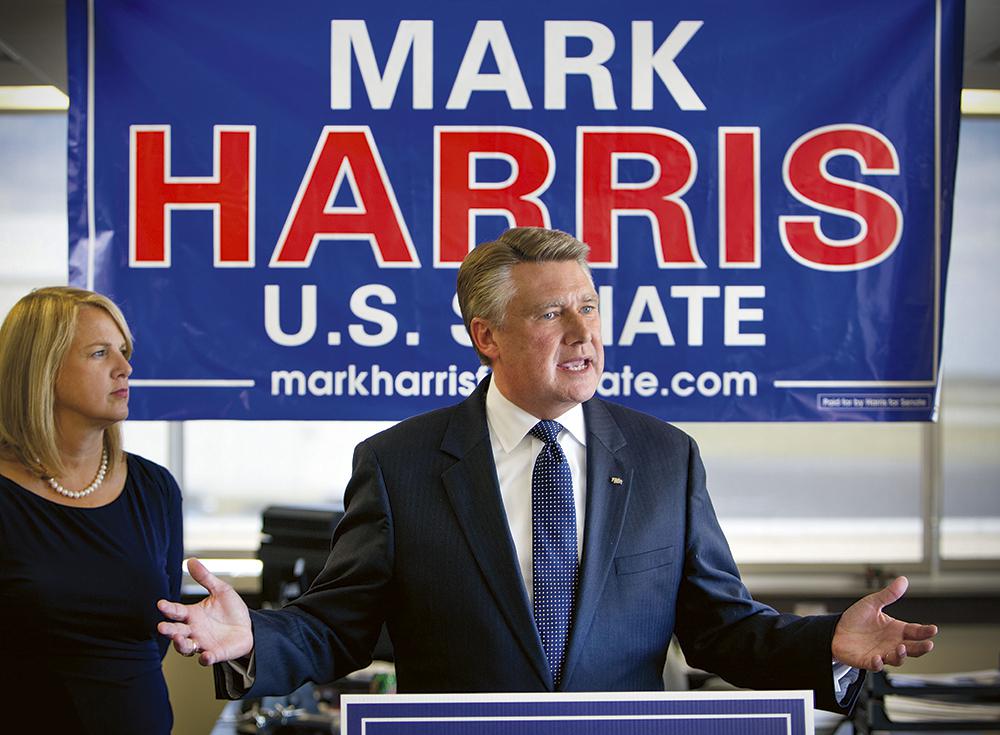 On a couch in the re­sort's or­nate re­cep­tion area after the speeches, an­oth­er can­did­ate, Mark Har­ris, the seni­or pas­tor at Char­lotte's First Baptist Church and pres­id­ent of the Baptist State Con­ven­tion of North Car­o­lina, ex­pressed dis­be­lief. "When he said he had the en­dorse­ment of the Na­tion­al Right to Life — some­body needs to check in­to that," Har­ris said. "Be­cause we all met with the Na­tion­al Right to Life. I know I met with them in Oc­to­ber, and they in­dic­ated to me that they prob­ably would not be en­dors­ing in the primary." Mark Har­ris (AP Photo/News & Re­cord, H. Scott Hoff­mann)
But one of Har­ris's strategists, Mike Rush­er, who had been stand­ing be­side him scrolling through screens on his smart­phone, quickly con­firmed that the en­dorse­ment was real. Har­ris turned red and paused for a few seconds be­fore re­spond­ing. "I guess it's just an in­dic­a­tion of the Na­tion­al Re­pub­lic­an Sen­at­ori­al Com­mit­tee's pres­sure," he said. As it turned out, it was worse than that. In the press re­lease an­noun­cing the en­dorse­ment, Na­tion­al Right to Life Pres­id­ent Car­ol To­bi­as said Tillis was the "only can­did­ate with a proven re­cord of lead­er­ship who can de­feat pro-abor­tion Sen. Hagan this fall." 
Elect­ab­il­ity was trump­ing ideo­lo­gic­al pur­ity — just as the es­tab­lish­ment had planned. 
After be­ing caught flat-footed by tea-party in­sur­gents in 2010, al­low­ing can­did­ates like Delaware's Christine O'Don­nell and Nevada's Shar­ron Angle to win the GOP nom­in­a­tion and then self-de­struct — and then, for fear of ali­en­at­ing the newly em­powered Right, cop­ping a largely lais­sez-faire at­ti­tude in 2012 — the Re­pub­lic­an es­tab­lish­ment, led by Sen­ate Minor­ity Lead­er Mitch Mc­Con­nell, is tak­ing a dif­fer­ent ap­proach this time around.
In March, Mc­Con­nell told The New York Times he was go­ing to "crush" out­side con­ser­vat­ive groups that dared to take on Sen­ate in­cum­bents. Tillis isn't an in­cum­bent, but he is non­ethe­less an early be­ne­fi­ciary of the emer­ging es­tab­lish­ment strategy to en­gage its own roster of out­side groups, such as the U.S. Cham­ber of Com­merce, in a co­ordin­ated ef­fort to en­sure that the most elect­able GOP can­did­ates get nom­in­ated, es­pe­cially in pivotal Sen­ate con­tests.
In­stead of merely hand­ing out en­dorse­ments, these groups are spend­ing big on ex­pens­ive ad­vert­ising cam­paigns on be­half of their favored can­did­ates. They're quietly cir­cu­lat­ing op­pos­i­tion re­search rais­ing ques­tions about tea-party chal­lengers' fit­ness to serve. And they're even air­ing pos­it­ive testi­mo­ni­als — an ap­proach once con­sidered the do­main of the can­did­ates them­selves, not out­side groups. (The New York Times re­por­ted that more than a quarter of the ads from su­per PAC Amer­ic­an Cross­roads so far this cycle have had a pos­it­ive spin; not a single one did in 2012.)
Mc­Con­nell former Chief of Staff Billy Piper says that Mc­Con­nell learned from two vet­er­an Re­pub­lic­an sen­at­ors who man­aged to beat back con­ser­vat­ive op­pos­i­tion with ag­gress­ive tac­tics. In 2010, John Mc­Cain won de­cis­ively by rais­ing big money, mov­ing to the right on im­mig­ra­tion, and cast­ing his op­pon­ent — former House mem­ber and talk-show host J.D. Hay­worth — as out of the main­stream. Two years later, Or­rin Hatch at­tacked out­side con­ser­vat­ive groups that at­temp­ted to paint him as a mod­er­ate, win­ning two-thirds of the GOP primary vote against an op­pon­ent backed by the tea-party group Freedom­Works.
"It's a good les­son, one that Mc­Con­nell cer­tainly no­ticed. It fits in with his mode of cam­paign­ing: very ag­gress­ive, get­ting in­volved early, mak­ing sure no one is suc­cess­ful at de­fin­ing you," says Piper, now a lob­by­ist whose shop main­tains close con­nec­tions with Sen­ate Re­pub­lic­ans. "Nobody likes fam­ily squabbles, but at the end of the day the goal is to pro­duce can­did­ates that can win in the fall. The Cham­ber has been a lead­er to make sure we can ac­com­plish that res­ult. I don't think any­one looks at the last couple of cycles and thinks we did a very good job gen­er­ally. Something had to change, and they had the cour­age to step up and do what was right."
Tillis is the pro­to­type of an es­tab­lish­ment can­did­ate. The one­time Price­wa­ter­house- Coopers part­ner-turned-lad­der-climb­ing-state-le­gis­lat­ive-lead­er is a Re­pub­lic­an donor's dream, and he's got the fun­drais­ing res­ults to prove it. He has ties to Wall Street and the busi­ness com­munity, polit­ic­al ex­per­i­ence, and a strategist's sens­ib­il­ity: He led the suc­cess­ful GOP ef­fort to re­take the Gen­er­al As­sembly in 2010, giv­ing Re­pub­lic­ans uni­fied con­trol of state gov­ern­ment for the first time in more than a cen­tury. And Tillis is dis­cip­lined. He is con­sist­ently on mes­sage, nev­er stray­ing in­to dan­ger­ous wa­ters. In short, Tillis, with his prag­mat­ic streak and coun­try-club cre­den­tials, rep­res­ents just about everything tea parti­ers rose up to op­pose.
Thus far, he has handled that del­ic­ate mat­ter largely by keep­ing a low pro­file in the race, whenev­er pos­sible avoid­ing for­ums where his con­ser­vat­ive op­pon­ents might raise ques­tions about his ideo­lo­gic­al fi­del­ity. (Un­like Har­ris, whose evan­gel­ic­al cha­risma is one of his polit­ic­al strengths, Tillis didn't seem at all dis­ap­poin­ted that the can­did­ates' speeches at the Pine­hurst for­um were lim­ited to three minutes apiece.) The plan is for him simply to run out the primary clock — while team­mates like Amer­ic­an Cross­roads, which had be­gun singing his praises that week to the tune of $1 mil­lion in ads, hold off his rivals.
As he mingled with the re­tir­ees in the ball­room, Tillis was buoyed by more than just the Na­tion­al Right to Life en­dorse­ment. He had also just learned that he was to re­ceive the en­thu­si­ast­ic back­ing of the U.S. Cham­ber; the Na­tion­al Rifle As­so­ci­ation would soon fol­low suit. Care­ful as Tillis is, he couldn't help but crow a bit, say­ing that he'd love to be­come chair­man of the NR­SC, help­ing to elect oth­er Re­pub­lic­an sen­at­ors in the fu­ture — pre­sum­ing that he won his own race, of course.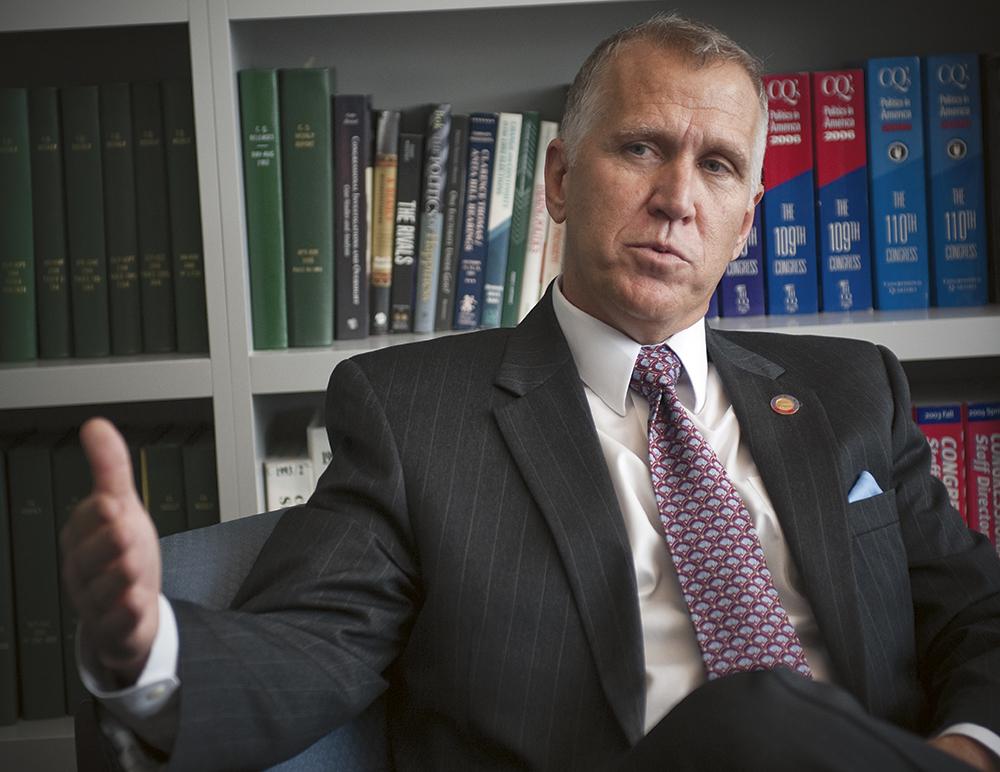 But his con­fid­ence to some de­gree be­lied the primary danger he still faced: be­ing forced in­to a run­off with a rival to his right. Two years ago, the Texas es­tab­lish­ment stood be­hind Lt. Gov. Dav­id Dewhurst in his primary battle against one Ted Cruz. Dewhurst fin­ished first in the primary, but Cruz took him to a run­off. The rest is his­tory. Thom Tillis (Douglas Gra­ham/CQ Roll Call)
Forty per­cent is the por­tion of the vote re­quired to avoid a run­off in North Car­o­lina, and it will be the first real test of suc­cess for Tillis, and for the Mc­Con­nell strategy. The goal of all of these early mach­in­a­tions — and the mil­lions in ac­com­pa­ny­ing spend­ing — is to clear Tillis's path by clear­ing the field. If Tillis doesn't hit the 40 per­cent mark, that ef­fort fails. The con­test sud­denly be­comes a one-on-one battle between an es­tab­lish­ment fa­vor­ite and an in­sur­gent con­ser­vat­ive, in a low-turnout race in the middle of the sum­mer, no less. And that's when the con­test could turn ugly, ex­pens­ive, and polit­ic­ally costly.
In early April, just as the out­side money was start­ing to get spent, all signs poin­ted to Tillis be­ing com­fort­ably ahead but still far from as­sured of avoid­ing a second round of vot­ing in Ju­ly. A poll com­mis­sioned by Amer­ic­an Cross­roads and con­duc­ted in mid-April found Tillis win­ning 27 per­cent of the vote — 17 points ahead of Har­ris, and 11 points ahead of his oth­er top rival, Greg Bran­non, a Freedom­Works-backed ob­stet­ri­cian who char­ac­ter­izes him­self as a "ser­vant-cit­izen" steeped in con­sti­tu­tion­al prin­ciples. ("There's nobody in this race that un­der­stands the Con­sti­tu­tion like I do. The only guy that's even close to me is Ted Cruz," he told Na­tion­al Journ­al.) Bran­non had been un­able to at­tend the Pine­hurst event (he was in sur­gery), but in a town that doubles as a re­tire­ment mecca and a tea-party cen­ter, he non­ethe­less drew as many sup­port­ers as Tillis.
"You can buy TV, but the most per­suas­ive de­liver­er of mes­sage is my neigh­bor," says Russ Walk­er, the na­tion­al polit­ic­al dir­ect­or for Freedom­Works. To that end, he says, Freedom­Works vo­lun­teers have already knocked on 60,000 doors, planted 24,000 lawn signs, and made 100,000 phone calls on Bran­non's be­half. "That kind of en­ergy is key. One-on-one sells the can­did­ate."
If Tillis finds him­self stuck in a run­off, he'll have to split time between cam­paign­ing and over­see­ing the le­gis­lat­ive ses­sion, which be­gins shortly after the primary. Wield­ing power in Raleigh while his op­pon­ent, be it Bran­non or Har­ris, cul­tiv­ates the grass­roots, he'll look more than ever like an es­tab­lish­ment can­did­ate — and not in a way that's likely to help his cause.
"If we win the nom­in­a­tion in May, we win the race [against Hagan]. If we win it in Ju­ly, we have to sing and dance at the same time," says Tillis strategist Brad Todd. "It gets com­plic­ated if we have a run­off. It means we have to do two things at one time."
But North Car­o­lina is an ex­pens­ive state for cam­paign ad­vert­ising, with a very high fin­an­cial threshold over which a can­did­ate must climb to get his or her mes­sage out. Even as they view Tillis war­ily, out­side con­ser­vat­ive groups such as the Club for Growth and the Sen­ate Con­ser­vat­ives Fund have kept their dis­tance from the race, and barn­storm­ing back­ers of his con­ser­vat­ive rivals have been scarce. Bran­non reg­u­larly men­tions his sup­port from Sen. Rand Paul, but the Ken­tucki­an didn't com­mit to cam­paign­ing for him un­til the very end of the race. (Sen. Mike Lee, an­oth­er sup­port­er, cam­paigned for Bran­non in March.) Har­ris touts his en­dorse­ment from former pres­id­en­tial can­did­ate Mike Hucka­bee, but only Hucka­bee's wife cam­paigned for him in the primary's crit­ic­al clos­ing month.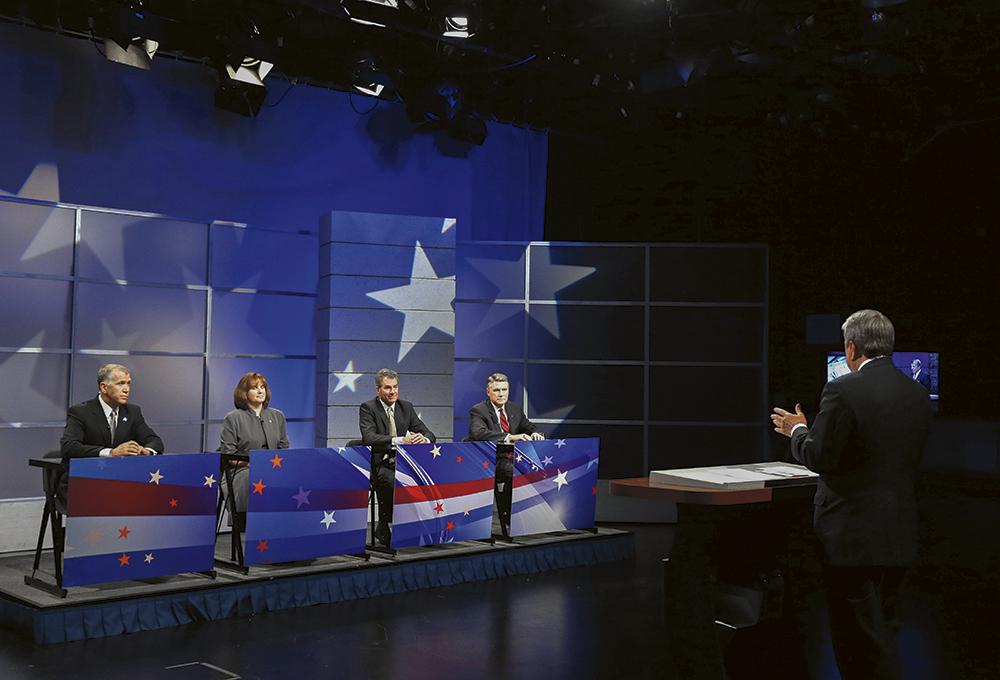 And in Pine­hurst that day, whatever the latest polls might have said or the num­ber of boost­ers who turned out, the news of the Na­tion­al Right to Life en­dorse­ment made Tillis's cam­paign feel like a jug­ger­naut. In the ball­room, Tillis pre­dicted he had an "85 per­cent chance" of avoid­ing a run­off. If he's right, his suc­cess will be a sign of the re­sur­gence of the Mc­Con­nell polit­ic­al ma­chine. Re­pub­lic­an sen­at­ori­al can­did­ates from left, Thom Tillis, Heath­er Grant, Greg Bran­non and Mark Har­ris (AP Photo/Gerry Broome)
For Re­pub­lic­ans hop­ing to win back the Sen­ate ma­jor­ity, the stakes in the North Car­o­lina primary are high. The race, in a di­ver­si­fy­ing South­ern state fea­tur­ing a cross sec­tion of im­port­ant con­stitu­en­cies, is ex­pec­ted to be a bell­weth­er for con­trol of the up­per cham­ber. But the flood-the-zone ap­proach on Tillis's be­half is also an im­port­ant test run for more-con­ten­tious battles to fol­low, where the es­tab­lish­ment is act­ively tak­ing on more-con­ser­vat­ive com­pet­i­tion.
The ap­proach to each race is care­fully craf­ted. In those fea­tur­ing vul­ner­able in­cum­bents, groups have hit the chal­lengers hard, both on TV and with em­bar­rass­ing op­pos­i­tion re­search. To help Sen. Thad Co­chran of Mis­sis­sippi, the Na­tion­al Re­pub­lic­an Sen­at­ori­al Com­mit­tee cir­cu­lated clips of old ra­dio talk shows where his tea-party rival, state Sen. Chris McDaniel, made ra­cially in­sens­it­ive and sex­ist com­ments. To help Sen. Pat Roberts in Kan­sas, the com­mit­tee hit his primary op­pon­ent, ra­di­olo­gist Milton Wolf, for post­ing com­ments about corpses on Face­book. Even the U.S. Cham­ber, which rarely goes on the at­tack, has aired ads por­tray­ing GOP chal­lengers in Mis­sis­sippi and Idaho as shady "tri­al law­yers." And a newly cre­ated su­per PAC with ties to GOP donors Shel­don Ad­el­son and Paul Sing­er has at­tacked Rep. Phil Gin­grey, who, des­pite be­ing a House mem­ber, is viewed as one of the weak­est can­did­ates in the Geor­gia Sen­ate race.
Es­tab­lish­ment groups have also moved to boost their favored primary can­did­ates, in North Car­o­lina and bey­ond. Last month, the Cham­ber of Com­merce en­dorsed Rep. Jack King­ston in the Geor­gia Sen­ate primary, a crowded race that pits the party's es­tab­lish­ment wing against the con­ser­vat­ive grass­roots. King­ston, an 11-term con­gress­man and long­time House ap­pro­pri­at­or who is viewed skep­tic­ally by con­ser­vat­ive groups, has non­ethe­less gained trac­tion in re­cent primary polls. The Cham­ber also cut an ad fea­tur­ing Mitt Rom­ney's en­dorse­ment of Rep. Mike Simpson of Idaho, who is fa­cing Club for Growth-backed op­pon­ent Bry­an Smith.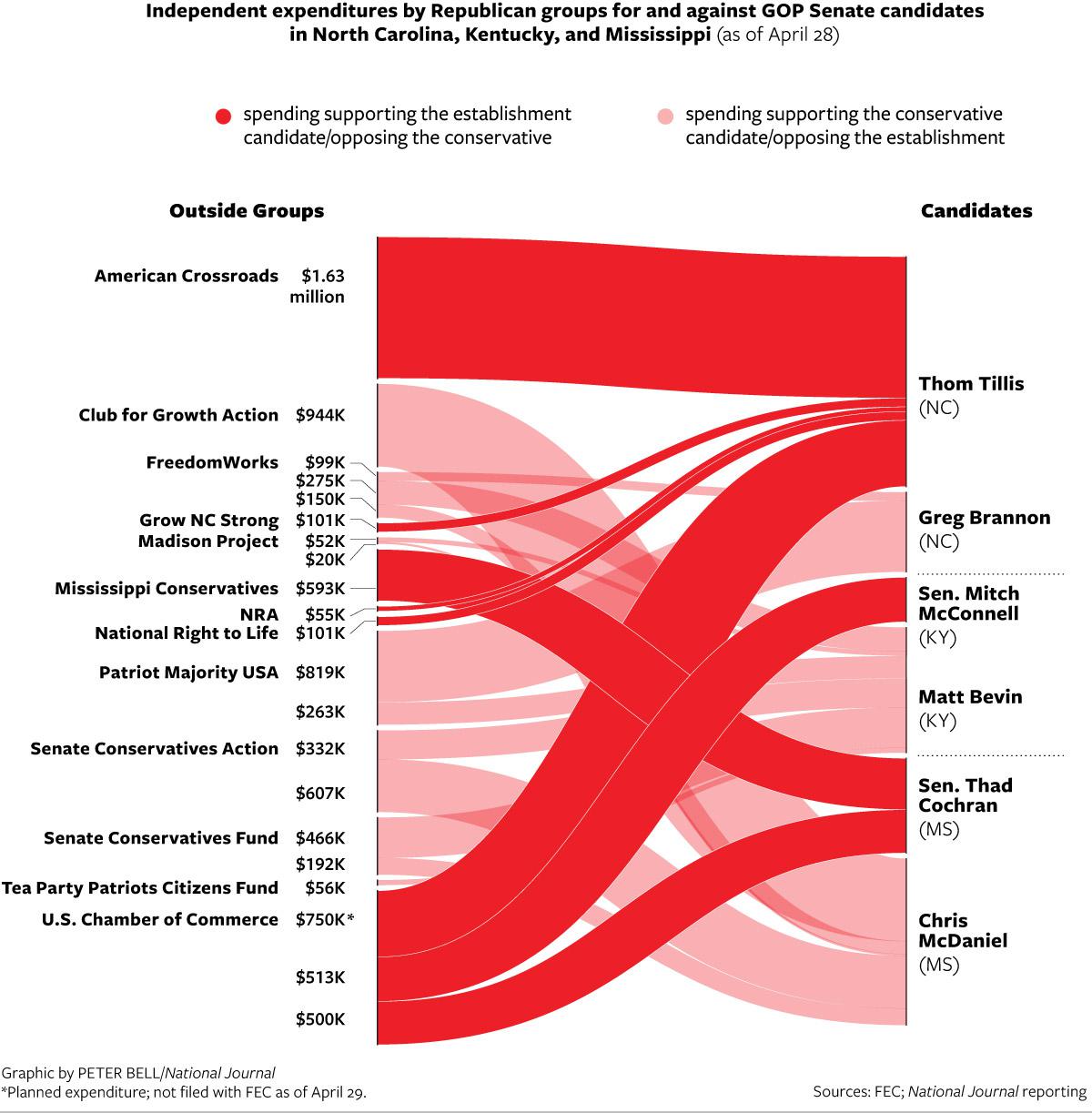 Mc­Con­nell him­self is heav­ily favored to win his May 20 primary chal­lenge against Matt Bev­in, des­pite be­ing the top tar­get of sev­er­al out­side con­ser­vat­ive groups. Very early in his race, Mc­Con­nell aired an ad that hit the Sen­ate Con­ser­vat­ives Fund for wast­ing donors' money and tarred Bev­in as a hy­po­crite for once sup­port­ing the no­tori­ous Troubled As­set Re­lief Pro­gram, mod­el­ing the hard-hit­ting tac­tics that many out­side groups, in­clud­ing the U.S. Cham­ber, have since ad­op­ted. Out­side Money Pours In­to GOP Primar­ies
"Right now, the es­tab­lish­ment and their hired guns are fir­ing at a level the chal­lengers are not and can­not due to fund­ing and less ex­per­i­ence in polit­ics," Red­State Ed­it­or Er­ick Er­ick­son wrote on his web­site this month, in light of the tea-party chal­lengers' struggles. Er­ick­son, who is back­ing sev­er­al con­ser­vat­ive primary chal­lengers to sit­ting sen­at­ors, ad­ded, "K Street is pour­ing money in­to these races in a way the grass­roots have nev­er fun­draised. The es­tab­lish­ment in­tends to cling to their pre­cious." 
The most crit­ic­al test of the es­tab­lish­ment's fire­power against the Right will come June 3 in Mis­sis­sippi, where Co­chran faces the toughest threat of his 42-year con­gres­sion­al ca­reer. Out­side con­ser­vat­ive groups are united be­hind McDaniel, who fash­ions him­self as the Jim De­Mint of the state Le­gis­lature, and they have spent more than $1 mil­lion to de­feat Co­chran. Demo­crats, sens­ing a rare op­por­tun­ity to con­test a seat in Mis­sis­sippi, have re­cruited former Rep. Trav­is Childers, a mod­er­ate Blue Dog who voted against Obama­care and who won a House seat in a deeply con­ser­vat­ive dis­trict in 2008 by over­com­ing weak Re­pub­lic­an op­pos­i­tion.
"The polit­ic­al en­vir­on­ment fa­vors McDaniel, and some­times it's hard to over­come the polit­ic­al en­vir­on­ment, one that's sick of Wash­ing­ton," says Henry Bar­bour, who is run­ning the pro-Co­chran su­per PAC Mis­sis­sippi Con­ser­vat­ives (and who is the neph­ew of former Mis­sis­sippi Gov. Haley Bar­bour). "It's un­der­stand­able that Amer­ic­ans are mad at Wash­ing­ton and want great change, but I can tell you that the quick­est way to change Wash­ing­ton is to make sure Re­pub­lic­ans take con­trol."
Nav­ig­at­ing a primary suc­cess­fully is, of course, a ne­ces­sary but not suf­fi­cient con­di­tion for en­sur­ing that a can­did­ate will win the gen­er­al. The lo­gic that un­der­pins the es­tab­lish­ment's idea of who's elect­able does not al­ways hold. In 2012, for ex­ample, even some of the es­tab­lish­ment can­did­ates for the Sen­ate who didn't face ser­i­ous primar­ies, such as Montana's Denny Re­hberg and North Dakota's Rick Berg, per­formed poorly in the gen­er­al elec­tion. They were chosen in part be­cause they had served in Con­gress — a cre­den­tial that in­siders thought made them great picks — and yet they lost.
Demo­crats say they are con­fid­ent that if Tillis wins the nom­in­a­tion, the state Le­gis­lature's sharp turn right­ward will provide them with ample fod­der to por­tray him as com­bin­ing the GOP's two biggest gen­er­al-elec­tion vul­ner­ab­il­it­ies: be­ing be­hold­en to the Far Right, and be­ing closely as­so­ci­ated with the polit­ic­al es­tab­lish­ment. These days, they ar­gue, tea-party voters aren't the only ones who con­sider pro­fes­sion­al politi­cians to be tox­ic; anti-Wash­ing­ton sen­ti­ment is per­vas­ive, and es­tab­lish­ment Re­pub­lic­ans who man­age to leap out of the primary fry­ing pan will find them­selves fa­cing the fire in the gen­er­al elec­tion.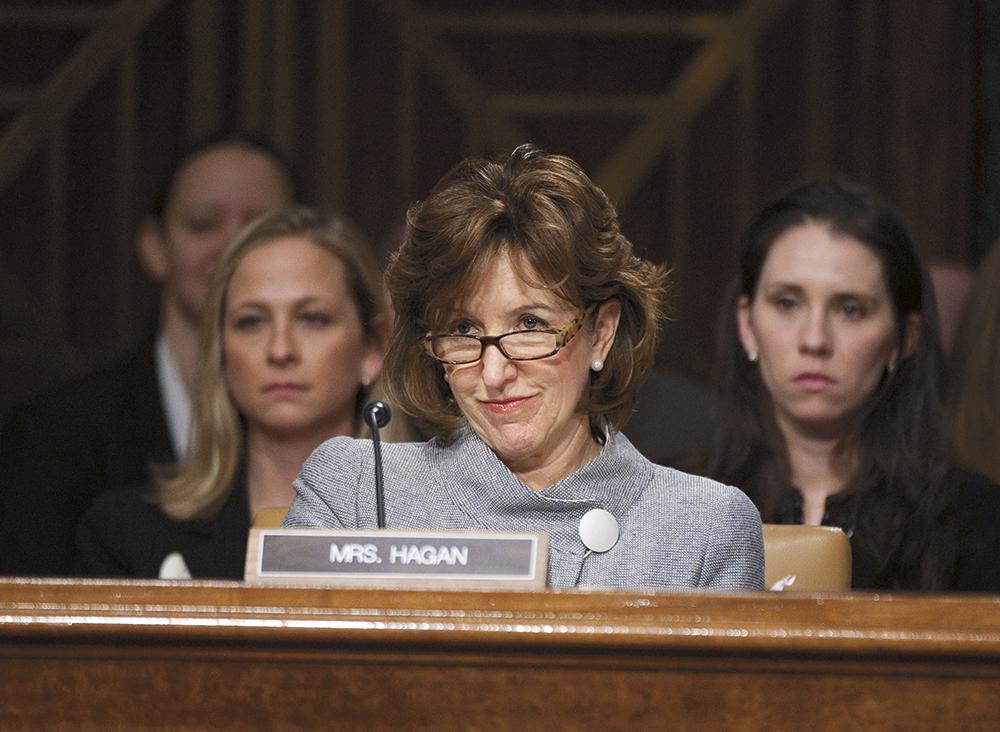 (Demo­crats have the same prob­lems with Wash­ing­ton vet­er­ans. In Demo­crat­ic-held open seats in Iowa and Michigan, Reps. Bruce Bra­ley and Gary Peters have struggled des­pite their polit­ic­al ex­per­i­ence. By con­trast, Al­is­on Lun­der­gan Grimes and Michelle Nunn are both mak­ing head­way in Ken­tucky and Geor­gia, run­ning as polit­ic­al out­siders.) "It comes down to ex­per­i­ence and a path to beat­ing Kay Hagan. Our goal is to beat Kay Hagan." (Bill Clark/Roll Call)
As House speak­er, Tillis passed bills that en­raged the state's lib­er­al base, in­clud­ing new abor­tion reg­u­la­tions, con­cealed-carry gun meas­ures, cuts to un­em­ploy­ment be­ne­fits, and tight­er voter-ID rules. When the Le­gis­lature is in ses­sion, lib­er­al groups hold weekly demon­stra­tions, known as Mor­al Mondays, at the state Cap­it­ol in Raleigh, protest­ing the con­ser­vat­ive body's ac­tions. If she faces Tillis, Hagan's plan will be to tie him to the ac­tions of the Le­gis­lature at every turn, and, in a sense, give voters in the urb­an cen­ters of Raleigh, Durham, and Char­lotte a chance to de­liv­er a ref­er­en­dum on the rur­al-and-sub­urb­an-dom­in­ated Gen­er­al As­sembly. "The way that Kay Hagan is suc­cess­ful is "¦ [by mak­ing] this elec­tion about loc­al is­sues," says Jack­son, the Demo­crat­ic strategist, who isn't af­fil­i­ated with Hagan's cam­paign. "Make it about Tillis as much as pos­sible: edu­ca­tion, cor­por­ate tax cuts, teach­er pay."
But in an il­lus­tra­tion of how Tillis's ties to Raleigh could also hurt him on the right, Sen­ate Ma­jor­ity PAC, a Demo­crat­ic su­per PAC sup­port­ing Hagan, went up in April with a TV spot that ref­er­ences two sep­ar­ate ex­tramar­it­al af­fairs that then-Tillis staffers had with lob­by­ists; the staffers re­portedly re­ceived sev­er­ance pay­ments from Tillis. Hagan's cam­paign also aired an ad on coun­try-mu­sic and Chris­ti­an ra­dio sta­tions that men­tions the scan­dal and sug­gests, us­ing an out-of-con­text quote, that Tillis praised Obama­care. Both ads are aimed at mak­ing con­ser­vat­ives think twice about Tillis — and thereby hold­ing his share of the primary vote un­der 40 per­cent.
Wheth­er or not the res­ults of Tillis's race and the slew of those that fol­low lead to a Re­pub­lic­an ma­jor­ity in the Sen­ate, they will de­term­ine the new bal­ance of power with­in the GOP. If the scorched-earth primary strategy suc­ceeds, the es­tab­lish­ment will be em­boldened, as House Speak­er John Boehner has been, to take on the tea party more ag­gress­ively than ever. If it fails — or even half-suc­ceeds — then the tea party re­mains un­van­quished and re­turns to fight an­oth­er day.
In Pine­hurst, Tillis didn't ap­pear to be hold­ing his breath, but he might have been the only one in Re­pub­lic­an polit­ics who wasn't, and the weeks that fol­lowed brought no reas­on for either side to ex­hale. By April 29, a Civ­itas In­sti­tute Poll found Tillis with 38 per­cent of the primary vote, a hair shy of what he needed to avoid a run­off. Bran­non trailed him with 17 per­cent, and Har­ris fol­lowed with 14. That same day, Tillis of­fi­cially re­ceived his prized en­dorse­ment, and the prom­ise of "sig­ni­fic­ant" ad buys, from the U.S. Cham­ber of Com­merce — coupled with the back­ing of North Car­o­lina's un­pop­u­lar gov­ernor, Pat Mc­Crory. The Mc­Con­nell strategy's first big test was nigh.