In­creas­ingly, polit­ic­al journ­al­ists are treat­ing su­per PAC mega-donors as ma­jor pub­lic fig­ures — and many of these ex­tremely rich in­di­vidu­als have em­braced or at least ac­cep­ted the res­ult­ing spot­light. Tom Stey­er, the lib­er­al hedge-fund bil­lion­aire cru­sad­ing for en­vir­on­ment­al pro­tec­tion, has been mak­ing the press rounds of late like a Hol­ly­wood act­or pro­mot­ing a movie. Even the me­dia-averse Koch broth­ers are pub­licly ex­plain­ing them­selves more and more these days — most re­cently with Charles Koch pen­ning an op-ed in The Wall Street Journ­al.
Yet one mega-donor has man­aged to stay al­most com­pletely out of the pub­lic eye: Fred Eychan­er. The Chica­go busi­ness­man gave an astound­ing $14.1 mil­lion to lib­er­al su­per PACs in 2012, mak­ing him the largest Demo­crat­ic donor to out­side spend­ing groups dur­ing that elec­tion cycle. The fol­low­ing year, Eychan­er, who is gay, also helped to or­gan­ize and fund a suc­cess­ful ef­fort to pass same-sex-mar­riage le­gis­la­tion in Illinois. But Eychan­er has an ex­treme al­lergy to pub­li­city, and thus is rarely writ­ten about in much de­tail. Only a hand­ful of pub­lic pho­tos of him ex­ist. And al­though he will very in­fre­quently in­dulge ques­tions about his art-re­lated phil­an­thropy, he had — as of earli­er this year — not dis­cussed his polit­ic­al ef­forts with a re­port­er since 2005.
This past Decem­ber, I began ask­ing around about Eychan­er. Not sur­pris­ingly, over the fol­low­ing months I had a hard time get­ting many de­tails. "He is a very, very smart, dis­cern­ing guy," Dav­id Axel­rod, Pres­id­ent Obama's former seni­or ad­viser, told me. "He doesn't travel in a pack," offered Chica­go May­or Rahm Emanuel, a long­time re­cip­i­ent of Eychan­er's money. "He is prob­ably the biggest donor who is not an am­bas­sad­or or wanted to be an am­bas­sad­or," said Lynn Cut­ler, a former vice chair­wo­man of the Demo­crat­ic Na­tion­al Com­mit­tee.
"He has such a low pub­lic pro­file," said Robert Fed­er, a Chica­go re­port­er who has covered Eychan­er's me­dia hold­ings over the years. "One-on-one, he is mod­est and humble and un­as­sum­ing. Everything is very closely guarded. We can only sur­mise things based on what he has done and deals he has made and gifts he has giv­en."
It's not just journ­al­ists who are kept at bay. Even some polit­ic­al friends who once had a dir­ect line of ac­cess to Eychan­er told me he has be­come less and less ac­cess­ible in re­cent years. Al­most every­one now gets routed through Dave Hor­wich, a former ad­vance staffer for Bill Clin­ton and the Clin­ton Found­a­tion who is cur­rently vice pres­id­ent of Eychan­er's print­ing and me­dia com­pany, News­web.
At the out­set of my re­port­ing, I left both Hor­wich and Eychan­er's sec­ret­ary mes­sages about my in­terest in pro­fil­ing their boss. In early Janu­ary, Hor­wich called me some­what out of the blue. "Why are you do­ing this?" he said in a tone that soun­ded half-ex­as­per­ated, half-light­hearted. He had been get­ting  calls — from sources I was con­tact­ing to ask about Eychan­er — alert­ing him to my do­ings.
What fol­lowed was a months-long vet­ting pro­cess, much of it con­duc­ted through off-the-re­cord con­ver­sa­tions over the phone and in per­son. But even­tu­ally, Fred Eychan­er — per­haps the most mys­ter­i­ous fig­ure in Demo­crat­ic Party polit­ics — agreed to be in­ter­viewed.
Eychan­er and I met twice over the course of sev­er­al days — first at a diner on Chica­go's North Side (he ordered "just plain tur­key"), next at a break­fast place in Lin­coln Park (sep­ar­ated egg whites and rais­in toast). At 69, he is slender and bald, with some cropped grizzle around his temples, thin glasses, and two hear­ing aids.
To our first in­ter­view, he wore a white but­ton-down shirt from the Gap and black pants, and car­ried with him a worn leath­er bind­er con­tain­ing a note­pad and news clip­pings. Over the next hour, he rendered him­self largely un­quot­able by fre­quently in­ter­rupt­ing his own thoughts, mid-sen­tence, to apo­lo­gize or in­sist we go off the re­cord whenev­er he sensed his words were cen­sori­ous or self-ag­grand­iz­ing (which they wer­en't). He was adam­ant about not want­ing to of­fend oth­ers or "toot my own horn."
More than want­ing to tell me who he is, Eychan­er seemed in­tent on telling me who he is not. In vari­ous ac­counts, he has been re­ferred to as a "broad­cast­ing ty­coon," a "me­dia mogul," a "re­clus­ive and as­cet­ic me­dia mil­lion­aire," and so on. He chafes at these la­bels. He is not a ty­coon, he said, be­cause a ty­coon pos­sesses a cer­tain com­mand­ing dis­pos­i­tion to­ward life and his sta­tion in it. "I am not Richard Bran­son," he said — then made clear he meant no of­fense to Bran­son.
Eychan­er took par­tic­u­lar um­brage at the term "play­er," as it is used to de­scribe those un­elec­ted types in polit­ics who mat­ter. "It is not a score­card, but that's what the me­dia has turned polit­ics in­to," he said. "I hate that. I don't want to be a play­er." So how would he define him­self then? He blandly de­murred: "I am a ba­sic so­cial act­iv­ist with small-busi­ness ex­per­i­ence, and you go where you need to go."
Eychan­er grew up in sub­urb­an Chica­go, the son of middle-class par­ents. When he sat down for our second break­fast, he handed me a piece of yel­low note­book pa­per, on which he had typed sev­en short para­graphs of notes re­lat­ing to our first con­ver­sa­tion. It began: "Grow­ing up — moth­er only one in their gen­er­a­tion [on] either side who went to col­lege. Ele­ment­ary school teach­er, mar­ried my fath­er and was fired be­cause fe­male school teach­ers were sup­posed to be single." Work­ing off his note sheet, I asked Eychan­er about his fath­er, who op­er­ated a mov­ing-and-stor­age busi­ness in their ho­met­own of DeKalb, Ill. Eychan­er star­ted telling me about how his dad built up the com­pany. But then he ab­ruptly stopped the story. "I don't want to be a bleed­ing heart over this," he said.
One of the strangest things about Eychan­er, giv­en his aver­sion to pub­li­city, is that he grav­it­ated to­ward journ­al­ism as a young man. In high school, he worked at the loc­al news­pa­per, The Daily Chron­icle, "but I wasn't a great em­ploy­ee," he said. Still, after gradu­at­ing from North­west­ern and hitch­hik­ing around Lat­in Amer­ica, Eychan­er de­cided to pur­sue a mas­ter's de­gree in journ­al­ism, also at North­west­ern. "I know you in your gen­er­a­tion are all about storytelling," he told me. "We were about truth-seek­ing." While in grad school, he star­ted a print­ing busi­ness that served al­tern­at­ive weekly and com­munity news­pa­pers. Even­tu­ally, he told me, he was kicked out of the pro­gram be­cause he re­peatedly missed a morn­ing re­port­ing class so he could tend to his fledgling com­pany.
Eychan­er's ini­tial spoils in the busi­ness world came from some smart in­vest­ments in closely held private me­dia cor­por­a­tions, in­clud­ing the par­ent com­pany of The Des Moines Re­gister. But it was his for­ay in­to tele­vi­sion that turned him in­to a very wealthy man. It began in the early 1980s, when he spent $1.5 mil­lion for a dormant per­mit to build TV an­ten­nas in north­w­est In­di­ana. Through a series of ne­go­ti­ations, he traded up to take con­trol of Chan­nel 50 in Chica­go, then spent the next sev­er­al years build­ing the sta­tion's audi­ence through a num­ber of well-con­sidered pro­gram­ming ac­quis­i­tions (Roseanne; Star Trek: The Next Gen­er­a­tion).
In 2002, he sold the sta­tion to Rupert Mur­doch for $425 mil­lion. "This was the most as­ton­ish­ing deal I have wit­nessed in cov­er­ing me­dia in Chica­go," says Fed­er. "It takes my breath away when I think of it now…. He out­foxed Mur­doch, which rarely hap­pens for any­one." (A spokes­man for Mur­doch did not re­spond to a re­quest for com­ment.) For his part, Eychan­er laughed off the no­tion that he got the bet­ter of any­body. "Ob­ject­ively, the in­dustry was con­sol­id­at­ing rap­idly, and they ex­ecuted their strategy," he said. "It wasn't an in­di­vidu­al out­fox­ing as much as it was a glob­al change." He then promptly changed the sub­ject to the first and only time he met Mur­doch, years be­fore the sale — when Eychan­er ar­rived at a meet­ing of tele­vi­sion ex­ec­ut­ives with a gi­ant hole in his pants. (He had ripped them on a food-ser­vice cart on the flight over.)
A large chunk of the Chan­nel 50 sale's pro­ceeds went to the Al­phawood Found­a­tion, Eychan­er's $100 mil­lion phil­an­throp­ic or­gan­iz­a­tion, which has sponsored everything from HIV aware­ness to dance troupes. Last year, the found­a­tion gave a $32 mil­lion gift to a Brit­ish uni­versity to help fund an Asi­an arts pro­gram.
But Eychan­er's in­terests were not solely in apolit­ic­al char­ity. Since the 1980s, he has donated to pro­gress­ive loc­al can­did­ates in Chica­go. In 1992, he star­ted to play on the na­tion­al stage, sup­port­ing Bill Clin­ton's pres­id­en­tial cam­paign, even though Jimmy Carter's reelec­tion flop had left him "dis­en­chanted by South­ern gov­ernors." 
When it comes to his polit­ic­al dona­tions, Eychan­er has con­sist­ently used a very simple, par­tis­an for­mula. "At the end of the day, are we bet­ter off with Re­pub­lic­ans or Demo­crats?" he said. In his mind, it's the lat­ter, so he re­frains from donat­ing to Re­pub­lic­ans, no mat­ter how mod­er­ate, and he tries to avoid spend­ing any money in con­tested fed­er­al primar­ies. (That said, he did sup­port Hil­lary Clin­ton's 2008 pres­id­en­tial primary bid against Barack Obama — a break from the Chica­go Demo­crat­ic es­tab­lish­ment. He noted that this de­cision was partly a func­tion of loy­alty, and partly be­cause he thought Clin­ton would be stronger on LGBT is­sues.)
When I asked Eychan­er why he sup­por­ted su­per PACs when so many oth­er Demo­crats didn't — Obama's stated op­pos­i­tion to Cit­izens United put a damper on pro­gress­ive fun­drais­ing in 2012 — he ex­plained that he nev­er bought in­to Nate Sil­ver's pro­jec­tions or the con­fid­ence ex­pressed by some in the Obama cam­paign. He said he was sur­prised at the end of the cycle that he wound up as the largest Demo­crat­ic su­per PAC donor. He also said that while he was happy with the money he spent, he re­mains "totally op­posed to Cit­izens United."
Eychan­er came out to his par­ents by the late 1980s — "I had been drop­ping clues along the way," he said — but he de­cided to make a more pub­lic ac­know­ledg­ment of his sexu­al ori­ent­a­tion in the April 1993 is­sue of Broad­cast­ing & Cable magazine. Al DeVaney, Eychan­er's then-sta­tion man­ager, told me he was shocked when his boss came to him stat­ing his in­ten­tions — it seemed dis­tinctly un­like Eychan­er. In the end, the only ref­er­ence to Eychan­er's sexu­al­ity was in an info box that ac­com­pan­ied the magazine's pro­file, which lis­ted Eychan­er's then-boy­friend as his part­ner. (When I asked Eychan­er if he was in a re­la­tion­ship now, he de­clined to say.)
Much of the LGBT in­fra­struc­ture in Chica­go bears Eychan­er's stamp. He is the largest donor to the AIDS Found­a­tion of Chica­go, and he was in­stru­ment­al in the form­a­tion of Equal­ity Illinois — the state's most in­flu­en­tial gay-rights ad­vocacy group — as well as the Mid­w­est chapter of the Lambda Leg­al De­fense and Edu­ca­tion Fund. (To our second lunch, he brought me a copy of And The Band Played On, the 1987 best seller about the AIDS epi­dem­ic, which he had al­luded to a few days be­fore when dis­cuss­ing Bill Clin­ton's prag­mat­ic ap­proach to gay rights.)
Same-sex-mar­riage le­gis­la­tion was first in­tro­duced in the Illinois Le­gis­lature in 2007, but it failed to get out of com­mit­tee. It wasn't un­til the bill was re­in­tro­duced last year that it seemed ready to make it to the floor. Eychan­er de­cided to con­struct his own heav­ily fun­ded lob­by­ing and pub­lic-re­la­tions vehicle in­stead of donat­ing funds to ex­ist­ing gay-rights groups. To do his me­dia, he hired AS­GK Pub­lic Strategies, a Chica­go-based PR firm with ties to Obama, and he en­lis­ted sev­er­al of the state's top lob­by­ists.
Eychan­er en­trus­ted Mike Madigan — the power­ful Demo­crat­ic speak­er of the Illinois House of Rep­res­ent­at­ives and someone to whom he had been a gen­er­ous donor over the years — to de­liv­er the votes. This did not sit well with oth­er ad­voc­ates, who wanted to cast a wider lob­by­ing net, as op­posed to lean­ing so heav­ily on Madigan to round up sup­port.
"I would go on the re­cord with my re­spect for Mike Madigan, which will prob­ably up­set a lot of friends," Eychan­er says now. "He's enorm­ously skill­ful at what he does. The only speak­ers of any House who sur­vive are the ones who can keep their ma­jor­ity and keep every­one go­ing largely in the same dir­ec­tion. Mike Madigan is su­perb at that."
When it ap­peared last sum­mer that they didn't have the votes, the Le­gis­lature's gay-mar­riage sup­port­ers delayed call­ing the bill to the floor. The grass­roots wing of the LGBT move­ment was up­set, and some began blam­ing Eychan­er. The most ob­strep­er­ous of these crit­ics, a long­time gay-rights act­iv­ist named Rick Gar­cia, pub­licly chas­tised Eychan­er for be­ing in Madigan's pock­et.
But after a five-month delay, the bill was voted on and passed, mark­ing a his­tor­ic oc­ca­sion as well as vin­dic­at­ing Eychan­er's strategy. Eychan­er com­pared the pro­cess to 20 mad chefs cook­ing on 20 dif­fer­ent burn­ers. "The per­son to the left of you by one de­gree thinks you're selling out," he said. "You've got to do what you've got to do. I don't think I'll be in that po­s­i­tion again."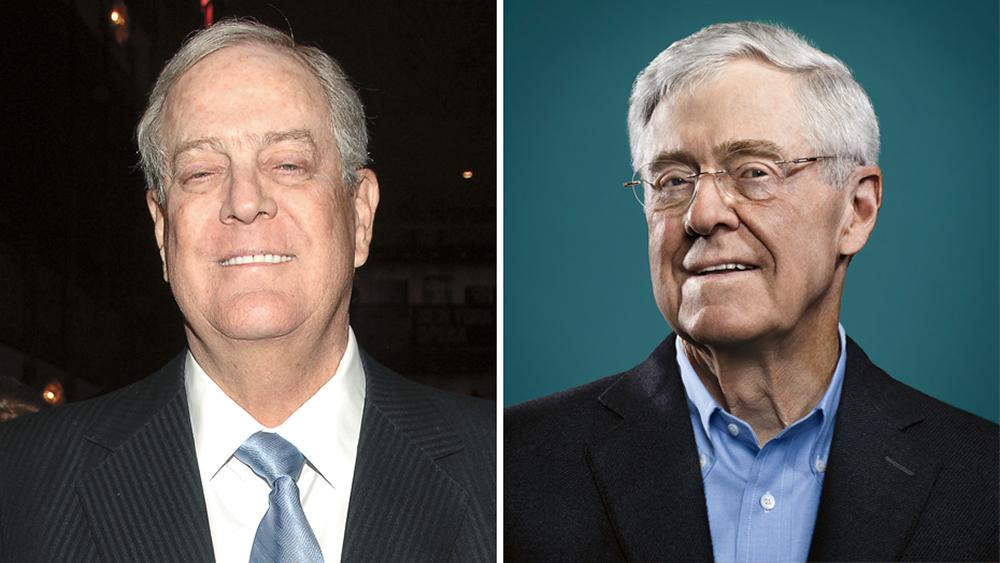 When I asked about his near-term plans, he in­dic­ated only his in­terest in put­ting money be­hind the reelec­tion cam­paign of Illinois Gov. Pat Quinn whose self-fund­ing Re­pub­lic­an op­pon­ent, Bruce Rau­ner, bus­ted the in­di­vidu­al spend­ing-lim­its cap in the primary. "I don't ex­pect to be among the top donors this year, but I will do my share," he said. "I am not the pro­gress­ive Koch broth­er." Dav­id and Charles Koch (Marc Sta­mas/Getty Im­ages, left, and Jam­ie Krip­ke/For­bes Col­lec­tion/Cor­bis Out­line)
Even after two lunches with Eychan­er, this was about as good an an­swer as I could get. I had ex­pec­ted to find a man who, al­though re­served, would pro­ject a sense of con­fid­ence and pur­pose about how he was go­ing to fol­low up his 2012 and 2013 polit­ic­al tri­umphs. In­stead, I found someone who seemed nervous, shy, and self-ef­fa­cing. Someone who hemmed and hawed and blushed and bur­ied his hands in his face and rubbed his temples and tried re­peatedly to change the sub­ject back to me. Someone who pro­jec­ted genu­ine ir­res­ol­u­tion about how he planned to carry forth polit­ic­ally.
Or maybe he knew bet­ter than he was let­ting on. In mid-April, cam­paign fin­ance fil­ings showed that Eychan­er had donated $4 mil­lion to Sen­ate Ma­jor­ity PAC, which once again thrusts him in­to the up­per ech­el­on of su­per PAC mega-donors. Then, later that month, on April 23, Eychan­er gave a rare pub­lic speech while ac­cept­ing a life­time achieve­ment award from Lambda Leg­al. He stood at a lectern at the Art In­sti­tute of Chica­go, smil­ing and at ease, as he re­called the dec­ades-long fight for LGBT equal­ity. He spoke of his par­ents as "tee­total­ing Meth­od­ists" who be­came act­ively in­volved in the gay-rights move­ment. He con­demned Re­agan-era con­ser­vat­ives for "de­mon­iz­ing" the move­ment, adding: "The hatred they sowed dur­ing those years con­tin­ues to ri­co­chet today."
"They have done the same de­hu­man­iz­a­tion of pro­gress­ives of all kinds," he said, as a pho­to­graph­er snapped pic­tures of him from the front row. "They race-bait people of col­or as they try to ob­struct their vot­ing rights. They are try­ing to again in­ter­fere with a wo­man's right to free choice."
It was, by any ac­count, his most demon­strat­ive and re­veal­ing pub­lic dis­play yet. And it was a sign, I think, of a new real­ity, not just for Eychan­er but for polit­ic­al mega-donors of all kinds: If you give enough money, you will at some point face enorm­ous pres­sure to step in front of the cam­er­as and define your­self — lest your op­pon­ents do it for you. There's simply too much me­dia in­terest and scru­tiny these days for it to be any oth­er way.
As I watched Eychan­er's speech on You­Tube, I saw a man who seemed to have ac­cep­ted this real­ity. For three months, I'd been think­ing of my­self as Fred Eychan­er's med­dling be­seech­er. Maybe, in­stead, I was his warm-up act.
The au­thor is a Chica­go-based writer who has pre­vi­ously worked for Politico and The Daily.