Sick of spend­ing all your money on your cell-phone bill? The En­ergy De­part­ment plans to boost en­ergy sav­ings for laptop and phone char­gers, and it's bet­ting the new stand­ards will save you money.
The de­part­ment will strengthen en­ergy-ef­fi­ciency stand­ards for ex­tern­al power sup­plies, products that take the form of cell-phone and laptop char­gers as well as power cords for a host of oth­er elec­tron­ic devices, in­clud­ing video-game con­soles, in homes across the coun­try, the ad­min­is­tra­tion an­nounced Monday.
DOE es­tim­ates that the stand­ards will put close to $4 bil­lion back in the pock­ets of Amer­ic­an con­sumers, while lower­ing car­bon emis­sions by 47 mil­lion met­ric tons over the next 30 years. The EPS stand­ards will build on 2007 stand­ards that are de­signed to boost the ef­fi­ciency of the devices by nearly a third.
The de­part­ment is no stranger to en­ergy-ef­fi­ciency. It re­cently fi­nal­ized en­ergy-ef­fi­ciency stand­ards for met­al hal­ide lamps, a type of light fix­ture com­monly used in park­ing lots and big-box stores. It has also set out en­ergy-sav­ings stand­ards for house­hold and com­mer­cial ap­pli­ances.
DOE em­phas­ized that the ex­tern­al power sup­ply stand­ards fall un­der the head­ing of the pres­id­ent's lar­ger cli­mate-change agenda.
"Build­ing on Pres­id­ent Obama's State of the Uni­on ad­dress, which called for re­du­cing car­bon pol­lu­tion and help­ing com­munit­ies move to great­er en­ergy ef­fi­ciency, the En­ergy De­part­ment today an­nounced new ef­fi­ciency stand­ards for ex­tern­al power sup­plies," a press re­lease stated.
These latest ef­fi­ciency stand­ards come as the ad­min­is­tra­tion faces heightened scru­tiny from en­vir­on­ment­al ad­voc­ates look­ing to judge the pres­id­ent's com­mit­ment to act­ing on cli­mate change in the lead up to a fi­nal de­cision on the Key­stone XL oil sands pipeline.
De­bate over the pipeline in­tens­i­fied last week, when the State De­part­ment re­leased a re­port con­clud­ing that ap­prov­ing the pro­ject would not sig­ni­fic­antly speed oil sands de­vel­op­ment in Canada, a find­ing that en­vir­on­ment­al groups have con­tested.
What We're Following See More »
ABSENT FROM LIST: GENNIFER FLOWERS
Most Trump Guests Have Military Ties
2 hours ago
TOP OF MIND
Trending on Google: 'Why Should Trump Not Be President'
2 hours ago
THE DETAILS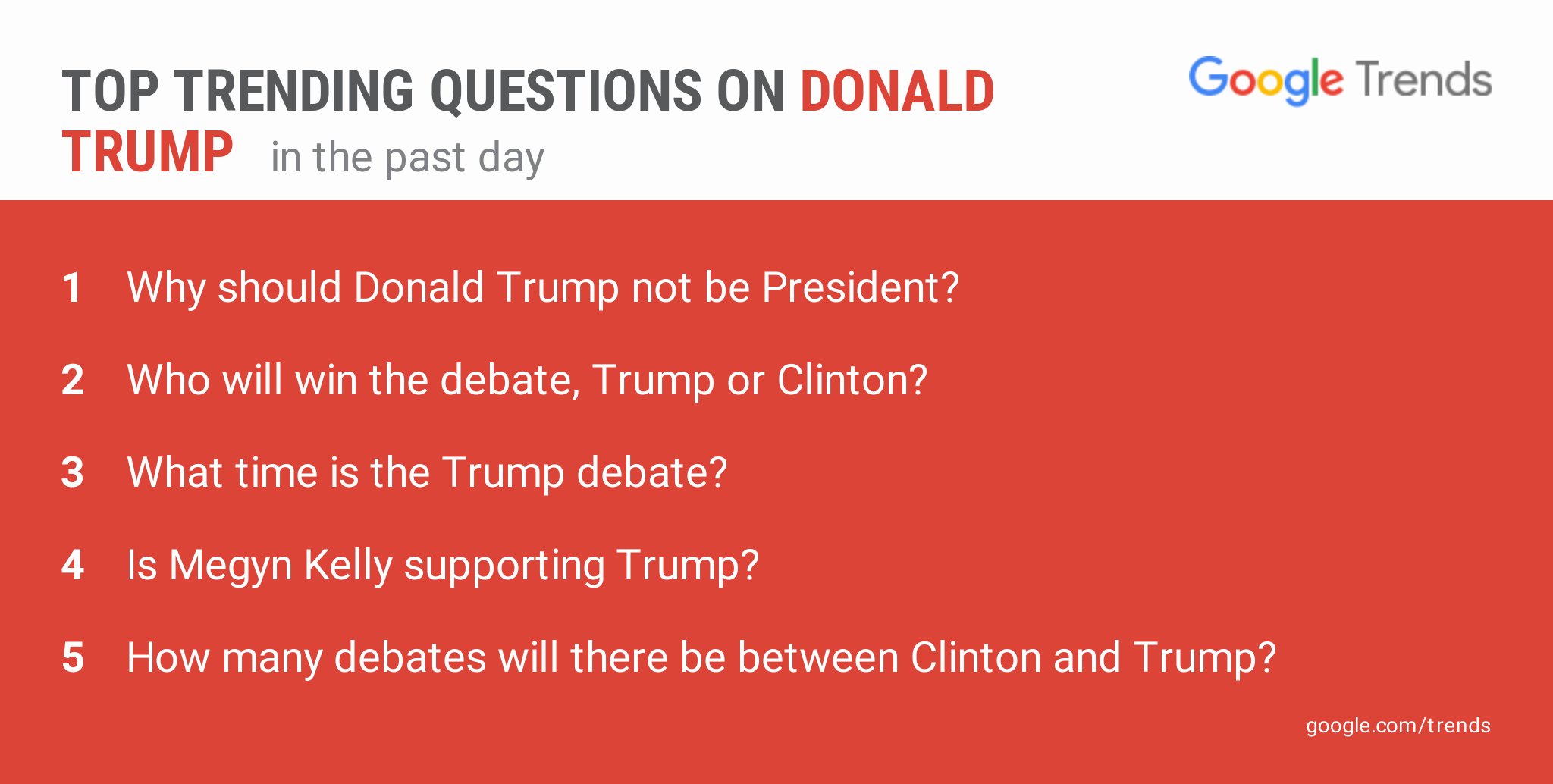 WHO PLAYED THE DONALD?
Longtime Clinton Aide Played Trump in Mock Debates
5 hours ago
THE DETAILS
After keeping the information private for most of the lead-up to the debate on Monday, it has been revealed that longtime Clinton aide Philippe Reines has been playing the role of Donald Trump in her debate prep. Reines knows Clinton better than most, able to identify both her strengths and weaknesses, and his selection for a sparring partner shows that Clinton is preparing for the brash and confrontational Donald Trump many have come to expect.
WEEKEND POLLING ROUNDUP
New Polls Still Show Razor-Thin Margins
5 hours ago
THE QUESTION
How Many Times Has the Trump Campaign Emailed Ted Cruz's Supporters?
5 hours ago
THE ANSWER
More than 30 times, in the case of some donors. Long before Cruz endorsed Trump—and before he even snubbed the nominee at the Republican National Convention—"the senator quietly began renting his vast donor email file to his former rival, pocketing at least tens of thousands of dollars, and more likely hundreds of thousands, that can be used to bankroll the Texan's own political future."