The U.S. House on Monday passed a bill that would au­thor­ize the use of cer­tain fed­er­al grants for im­prov­ing med­ic­al re­sponses to a chem­ic­al or bio­lo­gic­al strike.
"Ex­perts have re­peatedly noted that the threat of a WMD at­tack is real," said Rep­res­ent­at­ive Gus Bi­lira­kis (R-Fla.), the bill spon­sor, in re­leased com­ments. "We must take steps now to en­sure the ne­ces­sary emer­gency plans, med­ic­a­tion and equip­ment are avail­able to pro­tect the pub­lic, in­clud­ing first re­spon­ders, in the event of an in­cid­ent."
The Med­ic­al Pre­pared­ness Al­low­able Use Act mod­i­fies the 2002 Home­land Se­cur­ity Act by spe­cify­ing per­mis­sion to use Urb­an Area Se­cur­ity Ini­ti­at­ive and State Home­land Se­cur­ity Grant Pro­gram fund­ing for im­prov­ing med­ic­al surge ca­pa­city and pub­lic health pro­ced­ures, "in­clud­ing the de­vel­op­ment and main­ten­ance of an ini­tial phar­ma­ceut­ic­al stock­pile." That is to in­clude "med­ic­al kits and dia­gnostics suf­fi­cient to pro­tect first re­spon­ders, their fam­il­ies, im­me­di­ate vic­tims, and vul­ner­able pop­u­la­tions from a chem­ic­al or bio­lo­gic­al event," the pro­posed modi­fic­a­tion states.
The le­gis­la­tion awaits con­sid­er­a­tion in the Sen­ate.
A ma­jor past source of grants for im­prov­ing loc­al and state med­ic­al read­i­ness to re­spond­ing to a bio­lo­gic­al or chem­ic­al in­cid­ent — the  Health and Hu­man Ser­vices De­part­ment — in re­cent years has re­duced sub­stan­tially the amount of fund­ing it hands out, ac­cord­ing to a 2012 As­pen In­sti­tute re­port ordered by the Home­land Se­cur­ity De­part­ment. The cuts in HHS fund­ing have res­ul­ted in the "neg­a­tion of much of the pro­gress made since 9/11 and de­grad­a­tion of cap­ab­il­it­ies through the Na­tion­al Dis­aster Med­ic­al Sys­tem," the As­pen study said.
The Urb­an Area Se­cur­ity Ini­ti­at­ive is aimed at im­prov­ing the read­i­ness of high-dens­ity met­ro­pol­it­an areas to re­spond to any po­ten­tial ter­ror at­tack. The State Home­land Se­cur­ity Pro­gram provides as­sist­ance to state gov­ern­ment ef­forts in im­ple­ment­ing ter­ror­ism-re­sponse plans and im­prov­ing read­i­ness levels. The Home­land Se­cur­ity De­part­ment's Fed­er­al Emer­gency Man­age­ment Agency ad­min­is­ters both pro­grams.
What We're Following See More »
ABSENT FROM LIST: GENNIFER FLOWERS
Most Trump Guests Have Military Ties
44 minutes ago
TOP OF MIND
Trending on Google: 'Why Should Trump Not Be President'
54 minutes ago
THE DETAILS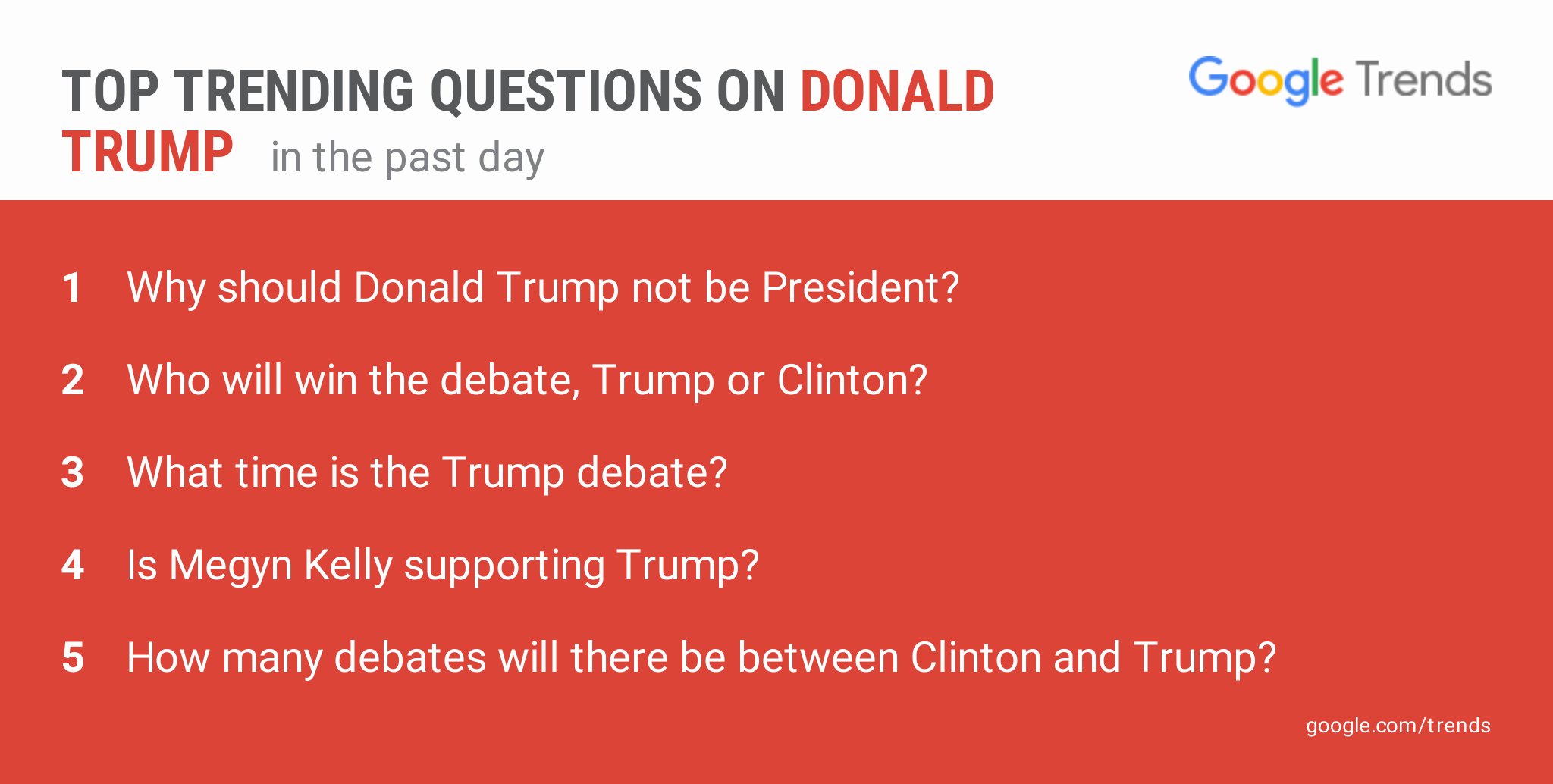 WHO PLAYED THE DONALD?
Longtime Clinton Aide Played Trump in Mock Debates
3 hours ago
THE DETAILS
After keeping the information private for most of the lead-up to the debate on Monday, it has been revealed that longtime Clinton aide Philippe Reines has been playing the role of Donald Trump in her debate prep. Reines knows Clinton better than most, able to identify both her strengths and weaknesses, and his selection for a sparring partner shows that Clinton is preparing for the brash and confrontational Donald Trump many have come to expect.
WEEKEND POLLING ROUNDUP
New Polls Still Show Razor-Thin Margins
3 hours ago
THE QUESTION
How Many Times Has the Trump Campaign Emailed Ted Cruz's Supporters?
3 hours ago
THE ANSWER
More than 30 times, in the case of some donors. Long before Cruz endorsed Trump—and before he even snubbed the nominee at the Republican National Convention—"the senator quietly began renting his vast donor email file to his former rival, pocketing at least tens of thousands of dollars, and more likely hundreds of thousands, that can be used to bankroll the Texan's own political future."