Roughly 1.1 mil­lion to 1.8 mil­lion Amer­ic­ans en­rolled in Medi­caid be­cause of Obama­care, a health care con­sult­ing firm finds.
Avalere Health ana­lyzed the 2013 Obama­care en­roll­ment re­ports, in­clud­ing those from the Health and Hu­man Ser­vices De­part­ment, which has said that more than 6.3 mil­lion in­di­vidu­als were deemed eli­gible for Medi­caid. That num­ber in­cludes in­di­vidu­als who were already en­rolled in Medi­caid and would con­tin­ue to stay on it, be­cause the ex­change re­de­ter­mined eli­gib­il­ity.
Avalere Health com­pared en­roll­ment in Oc­to­ber through Decem­ber with en­roll­ment in sum­mer 2013 to ac­count for the num­ber of people who would have signed up for Medi­caid re­gard­less of the Af­ford­able Care Act, and for reg­u­lar churn in the pro­gram.
The num­bers fall far short of the 8 mil­lion in­di­vidu­als ex­pec­ted to en­roll in Medi­caid in 2014, ac­cord­ing to up­dated es­tim­ates from the Con­gres­sion­al Budget Of­fice. Avalere Health es­tim­ates only 5 mil­lion Amer­ic­ans will join the pro­gram this year, and its mod­el in­cludes those states that de­cided not to ex­pand Medi­caid.
The ma­jor­ity of the new en­rollees come from the 26 states in­clud­ing the Dis­trict of Columbia that op­ted to go along with the Af­ford­able Care Act's ex­pan­sion of the Medi­caid pro­gram to in­di­vidu­als with in­comes up to 138 per­cent of the fed­er­al poverty line. Avalere Health es­tim­ates that ex­pan­sion states rep­res­ent some three-fourths of all new sign-ups.
"There are a host of pub­lic-wel­fare reas­ons as to why you want to get people in­to Medi­caid," said Car­oline Pear­son, vice pres­id­ent at Avalere Health. "Medi­caid is an im­port­ant safety net for the low-in­come."
But the ad­min­is­tra­tion has a ways to go in its out­reach ef­forts to get the Medi­caid-eli­gible pop­u­la­tion covered. Bad press sur­round­ing the launch of the fed­er­al ex­change web­site, Health­Care.gov, is likely a con­trib­ut­ing factor to the low en­roll­ment totals, Pear­son said, as well as sus­tained is­sues with the trans­fer of Medi­caid ap­plic­a­tions from Health­Care.gov to state agen­cies.
"[En­roll­ment] def­in­itely could speed up be­cause now cov­er­age is avail­able," she said. "We know that people tend to not en­roll in their cov­er­age un­til it's ac­tu­ally avail­able."
What We're Following See More »
SAUDI ARABIA BILL
Veto Override Scheduled for Wednesday in Senate
1 hours ago
THE LATEST
Senate Majority Leader Mitch McConnell said this afternoon that the Senate on Wednesday will take up an override of President Obama's veto of legislation that would allow the families of 9/11 victims to sue the government of Saudi Arabia. "The vote is expected garner the two-thirds majority necessary to override the veto."
MEDIA SHOULD HOLD TRUMP RESPONSIBLE
Reid Devotes Senate Floor Speech to Trump's 'Racism'
2 hours ago
THE LATEST
"Donald Trump is a racist," announced Senate Minority Leader Harry Reid from the Senate floor this afternoon. Reid said all of us are occasionally politically incorrect, but "I don't know of anyone that when that happens doesn't acknowledge it and, if necessary, apologize quickly." But Trump, he added, says things with "full intent to demean and to denigrate." Reid argued that the media isn't holding Trump to account, and should explicitly call him a racist.
ABSENT FROM LIST: GENNIFER FLOWERS
Most Trump Guests Have Military Ties
5 hours ago
TOP OF MIND
Trending on Google: 'Why Should Trump Not Be President'
5 hours ago
THE DETAILS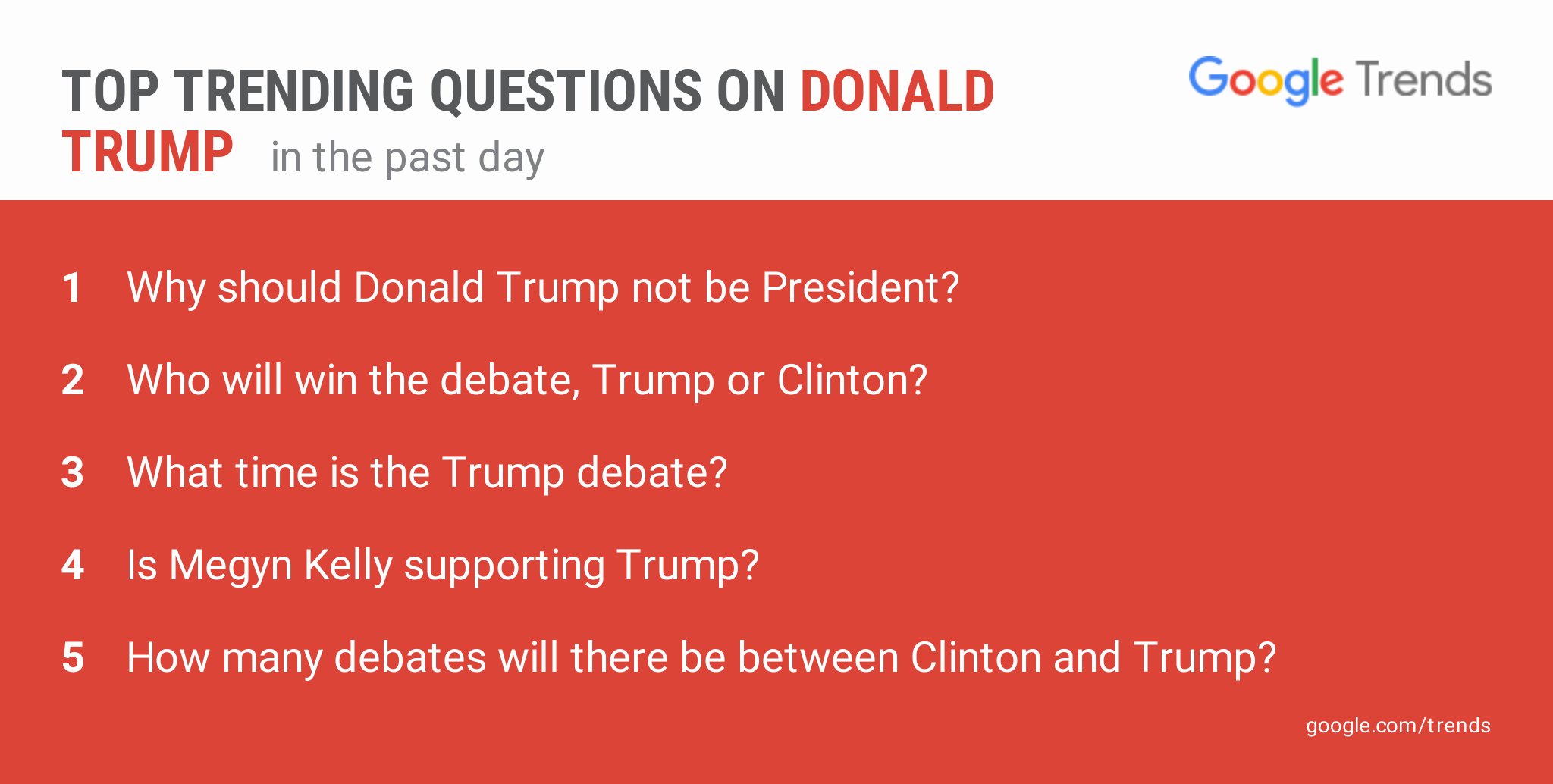 WHO PLAYED THE DONALD?
Longtime Clinton Aide Played Trump in Mock Debates
8 hours ago
THE DETAILS
After keeping the information private for most of the lead-up to the debate on Monday, it has been revealed that longtime Clinton aide Philippe Reines has been playing the role of Donald Trump in her debate prep. Reines knows Clinton better than most, able to identify both her strengths and weaknesses, and his selection for a sparring partner shows that Clinton is preparing for the brash and confrontational Donald Trump many have come to expect.