Over the past month, there's been a steady up­tick in will-he-or-won't-he me­dia spec­u­la­tion on Joe Biden's plans for the fu­ture, and no one is more de­lighted than Will Pierce, the ex­ec­ut­ive dir­ect­or of Draft Biden — the only su­per PAC in the vice pres­id­ent's corner for 2016. Pierce has been down­right giddy ever since The Wall Street Journ­al pub­lished a story in late June that stamped an Au­gust 1 dead­line on Biden's pres­id­en­tial de­cision. "Since then," he says, "there's been a lot more noise, a lot more chat­ter about the VP get­ting in­to the race, so a lot more at­ten­tion on us."
A vet­er­an who served tours in Afgh­anistan and Ir­aq, Pierce worked ad­vance for the Obama-Biden tick­et in 2008. He says he ini­tially balked when, in early Feb­ru­ary, a few neigh­bor­hood team lead­ers he knew from that race — low-level, non­pro­fes­sion­al Obama or­gan­izers — tried to per­suade him to start a draft ef­fort. "That's an up­hill battle right there," Pierce thought. But he'd al­ways ap­pre­ci­ated an un­der­dog cam­paign — he had just fin­ished work­ing on a failed Chica­go may­or­al bid — and had long been a fan of Biden for what he saw as his un­usu­ally sin­cere ap­proach to vets' is­sues.
Pierce didn't know any­one in Biden's in­ner circle, so he star­ted by search­ing the web for lists of folks who'd worked or vo­lun­teered for Biden in the past. "It's been a lot of de­tect­ive work," he says. In March, op­er­at­ing out of a Star­bucks along the Mag­ni­fi­cent Mile in Chica­go, he of­fi­cially kicked off the Draft Biden ef­fort with a web­site and e-mail list on Na­tion­Build­er, a lefty web tool that he chose for its free two-week tri­al. When he sent out the group's first re­lease on March 20, it landed in 2,000 email in-boxes — mostly those of former Obama for Amer­ica vo­lun­teers.
That blast reached at least some of the right folks. The group's col­lege in­tern spent the af­ter­noon field­ing calls from The New York Times, MS­N­BC, CNN, and the like. Then, in April, Jimmy Fal­lon gave the su­per PAC an­oth­er pop of pub­li­city when he riffed on Draft Biden's bump­er stick­er: an im­age styled after the Obama "Hope" poster, with Joe rid­ing in a Cor­vette, avi­at­ors and leath­er jack­et on, over the slo­gan "I'm Rid­in With Biden."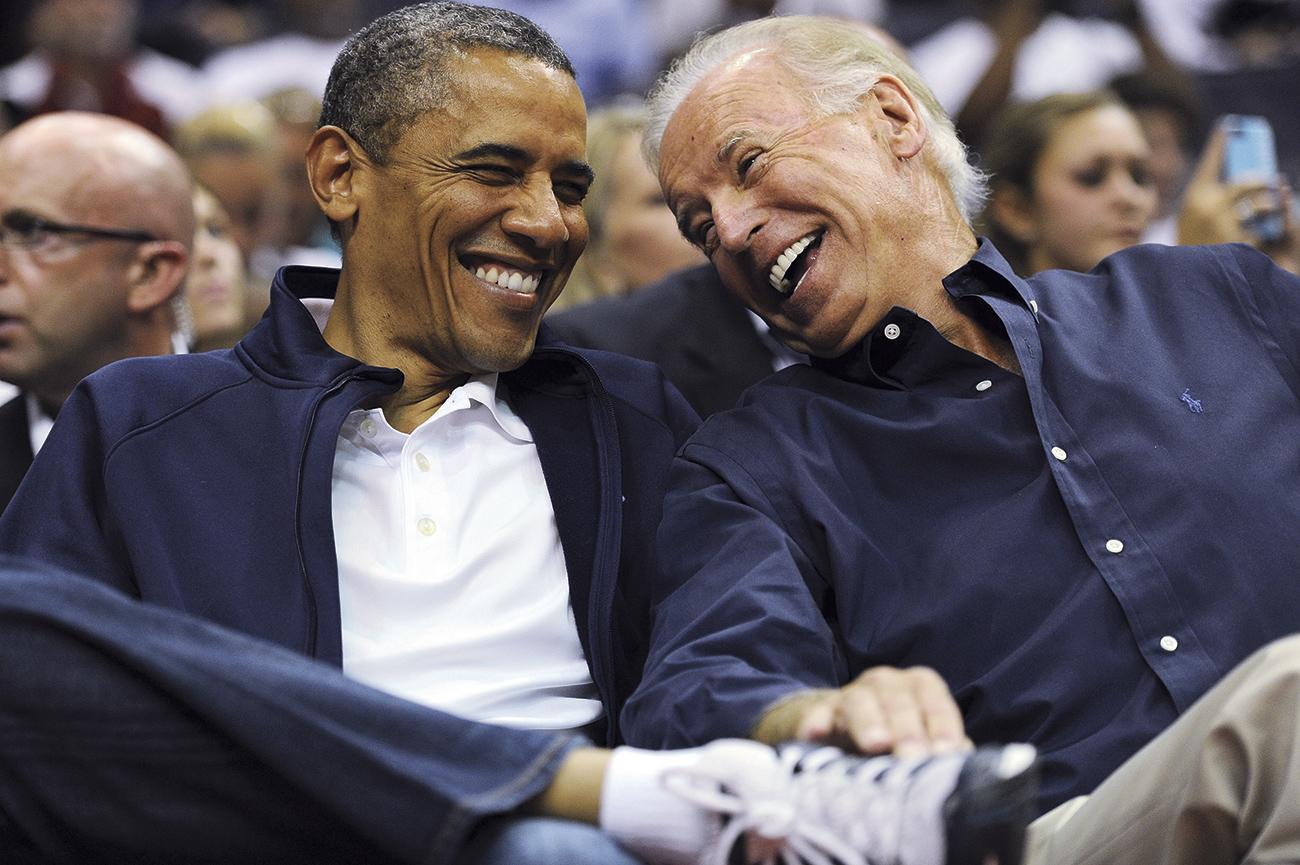 Draft Biden's staff of 12 — some full-time salar­ied work­ers, some in­terns with sti­pends — now rents a fourth-floor of­fice near Mil­len­ni­um Park in Chica­go. Pierce's ini­tial "hires" were un­paid friends of friends from pre­vi­ous cam­paigns, but in the past month the group has brought on paid state dir­ect­ors in both Iowa and New Hamp­shire, and re­cruited vo­lun­teers to launch chapters in 20 oth­er states; it plans to add 10 more states in the next few weeks. Two state rep­res­ent­at­ives and two state sen­at­ors in Iowa have en­dorsed the ef­fort.
However, prov­ing that there's enough preex­ist­ing sup­port for Biden to chal­lenge the Hil­lary jug­ger­naut hasn't been easy. Draft Biden claims just 3,863 Twit­ter fol­low­ers and 2,179 likes on Face­book. Its pe­ti­tion ur­ging Biden to run — the group's main fo­cus — has garnered about 100,000 sig­na­tures, far shy of the 500,000 sup­port­ers Pierce ini­tially told me the group aimed to lock down by Biden's dead­line.
"I look at a draft ef­fort more maybe to sig­nal the fin­an­cial sup­port," says Iowa state Sen. Tony Bisig­nano, who has en­dorsed the group. But by that meas­ure, Draft Biden hasn't made a very con­vin­cing case either. When Pierce and I first spoke in May, he said he'd hoped to pull in some­where between $100,000 and $250,000 be­fore the Ju­ly Fed­er­al Elec­tion Com­mis­sion re­port­ing dead­line. He ended up with $80,000, about 75 per­cent of which came in after spec­u­la­tion about a pos­sible Biden run spiked in June.
And the chal­lenge Pierce's group faces goes bey­ond money: It needs to es­tab­lish a per­suas­ive case for Biden — one that dis­tin­guishes him from Hil­lary Clin­ton. Bernie Sanders has staked out the space to Clin­ton's left. Jim Webb is the Demo­crat for those who think Clin­ton is a for­eign policy hawk. Mar­tin O'Mal­ley is a fresh face among aging boomers. Biden? He's a bit older than Hil­lary. He dis­likes in­equal­ity but is no so­cial­ist. In terms of policy, there's no ob­vi­ous way for the veep to dif­fer­en­ti­ate him­self from the front-run­ner.
As I spoke to the core mem­bers of Draft Biden, I searched for why, in their minds, Biden was a prefer­able choice over Clin­ton. One ra­tionale centered on Biden's charm — both the stud­ied and un­stud­ied vari­et­ies. Jim Lykam, one of the Iowa state rep­res­ent­at­ives who's back­ing Draft Biden, says he thinks Biden is es­pe­cially good at the kind of politick­ing that pre­cedes the early caucuses. "I think he does a great job with that style. When he talks to you, he just makes you feel like he's talk­ing to you." And that whole lack-of-fil­ter thing? Draft Biden says it is a selling point. "A lot of people talk about how he's gaffe-prone," says Pierce, but that's be­cause Biden is genu­ine. "What Joe says, you know it's Joe. It's not what some speech­writer put on a tele­prompt­er." Biden "speaks from the heart," agrees Jon Cooper, Draft Biden's na­tion­al fin­ance dir­ect­or, un­like Clin­ton who he says comes off as "cau­tious, cal­cu­lat­ing, and man­aged." Or as Shaun Ab­reu, the head of the group's New York chapter puts it, "When you see Biden, you see that he's hu­man."
Then there's the idea that Clin­ton comes with a fair amount of bag­gage, notes Lin­nie Frank Bailey, a former Obama del­eg­ate. With Clin­ton, "we still get a lot of the fight­ing, the neg­at­iv­ity, and the grid­lock," she says, where­as Biden "would work bet­ter with the oth­er side." Cooper con­curs. No can­did­ate, he says, would have a bet­ter chance of "restor­ing ci­vil­ity to Wash­ing­ton."
In ad­di­tion, some Obama de­votees are look­ing to Biden be­cause they want someone they trust will keep the faith. Ab­reu says he wants the next Demo­crat­ic nom­in­ee to build on "the suc­cesses of the Obama-Biden ad­min­is­tra­tion." Like­wise, when she joined Draft Biden's na­tion­al fin­ance team this month, Shiva Sar­ram noted in a state­ment that she sought "a can­did­ate who can best carry on the policies and leg­acy of this Ad­min­is­tra­tion that we all worked so hard for." Cooper says he still has con­cerns about the way Clin­ton ran her 2008 primary cam­paign, where­as "there's no one bet­ter suited than Joe Biden to carry on Pres­id­ent Obama's leg­acy." "Some sup­port­ers are do­ing it for that reas­on," Pierce ac­know­ledges. "I'm do­ing it prob­ably for that reas­on as well." Ahmed Khan, Draft Biden's com­mu­nic­a­tions dir­ect­or, goes fur­ther, say­ing that, be­cause the vice pres­id­ent, un­like Clin­ton, stuck with Obama for both terms, he has "in­sight on the chal­lenges the ad­min­is­tra­tion faced, what they were not able to achieve" — and that know­ledge would al­low him to "hit the ground run­ning" if he were elec­ted.
The sud­den death in late May of Beau Biden, the vice pres­id­ent's son, tem­por­ar­ily threw the su­per PAC in­to up­heav­al. Pierce briefly con­sidered shut­ter­ing it. But ul­ti­mately he de­cided that provid­ing a ven­ue for Biden's fans to show their sup­port was the best way to help — es­pe­cially since Beau had re­portedly en­cour­aged his dad to run.
Biden hasn't said any­thing pub­licly either way, nor has he star­ted the jock­ey­ing for staff and donors that would be re­quired should he ac­tu­ally want to launch a cam­paign in Au­gust. A spokes­per­son would say only, "The Biden fam­ily is go­ing through a dif­fi­cult time right now. Any spec­u­la­tion about the views of the vice pres­id­ent or his fam­ily about his polit­ic­al fu­ture is pre­ma­ture and in­ap­pro­pri­ate." But Lu­is Nav­arro, Biden's 2008 cam­paign man­ager, said that the veep would likely be flattered by the at­ten­tion: "I can't ima­gine a politi­cian who doesn't ap­pre­ci­ate a groundswell of pop­u­lar sup­port."
Patrick Cald­well is a re­port­er for Moth­er Jones magazine in Wash­ing­ton.