Qual­i­fic­a­tions should mat­ter when con­firm­ing nom­in­ees to high-level gov­ern­ment va­can­cies. Debo Ad­e­g­bile, the nom­in­ee to be our na­tion's top civil-rights at­tor­ney at the Justice De­part­ment, has a lengthy and re­mark­able ca­reer that should be re­viewed in its en­tirety when the Sen­ate Ju­di­ciary Com­mit­tee con­siders his nom­in­a­tion Thursday.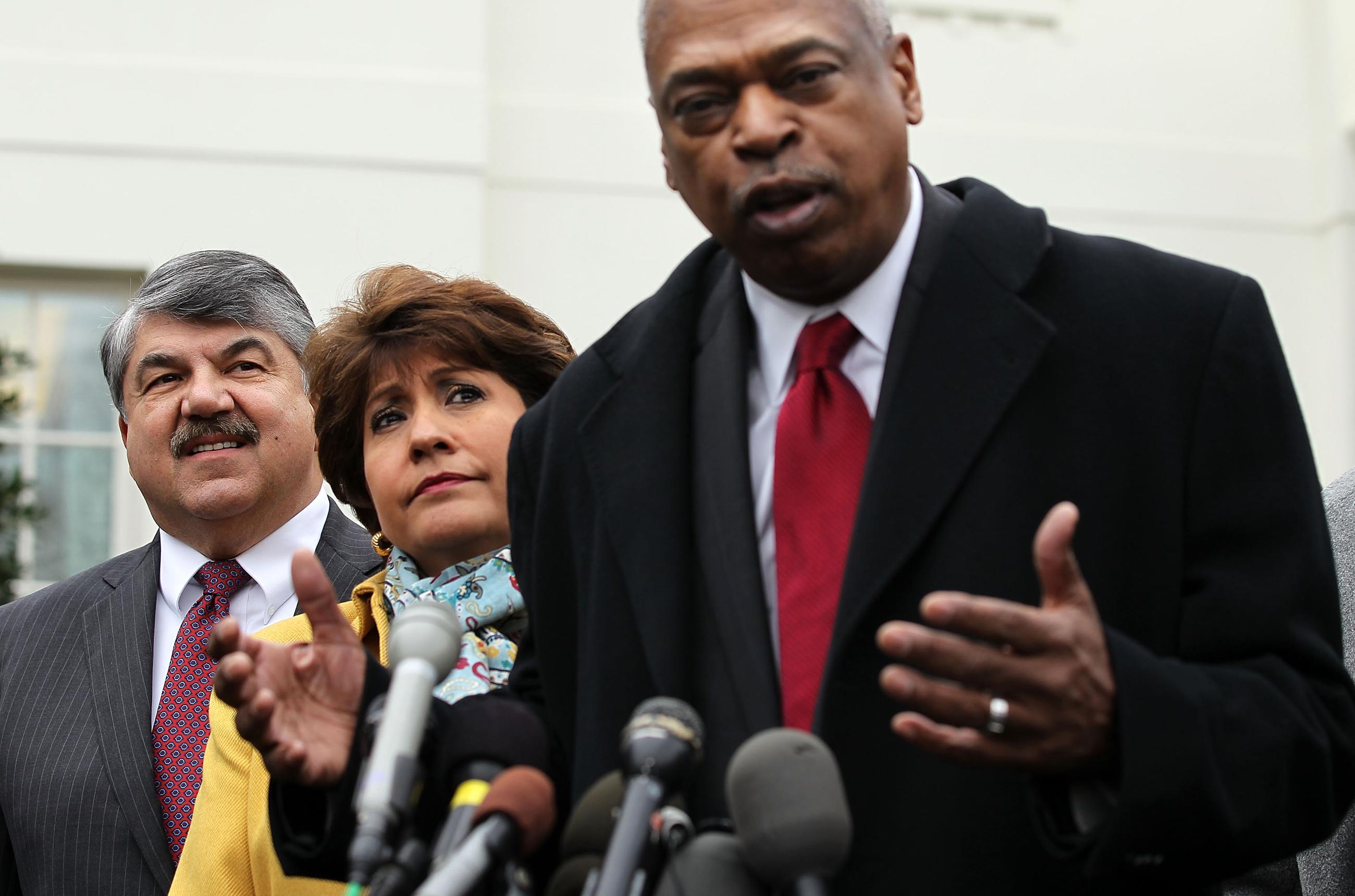 Wade Hende­r­son is the pres­id­ent and CEO of the Lead­er­ship Con­fer­ence on Civil and Hu­man Rights, a co­ali­tion of more than 200 na­tion­al civil- and hu­man-rights or­gan­iz­a­tions. (Alex Wong/Getty Im­ages)Ad­e­g­bile is one of the pree­m­in­ent civil-rights at­tor­neys of his gen­er­a­tion. He twice de­fen­ded the Vot­ing Rights Act be­fore the Su­preme Court and has worked in cor­por­ate law, the Sen­ate, and as the lead­er of the stor­ied NAACP Leg­al De­fense and Edu­ca­tion­al Fund.
He has rep­res­en­ted battered wo­men, po­lice of­ficers, fire­fight­ers, voters, fam­il­ies strug­gling with fore­clos­ure, and vic­tims of Hur­ricane Kat­rina. He has been en­dorsed by a bi­par­tis­an group of high-level of­fi­cials, civil-rights groups rep­res­ent­ing the full di­versity of this na­tion, state at­tor­neys gen­er­al, po­lice of­ficers, and many oth­ers.
A re­view of just a few of Ad­e­g­bile's cli­ents demon­strates his deep un­der­stand­ing of how civil-rights laws can and should be used to en­sure that all Amer­ic­ans can work and live free from dis­crim­in­a­tion.
When tox­ins poisoned drink­ing wa­ter in Dick­son County, Tenn., the Holts, an Afric­an-Amer­ic­an fam­ily, were told for years that their wa­ter was safe while their white neigh­bors were warned and giv­en ac­cess to an al­tern­at­ive source. All of the Holt fam­ily even­tu­ally came down with life-threat­en­ing or fatal health prob­lems like can­cer. After learn­ing that they were left to drink con­tam­in­ated wa­ter, it was Ad­e­g­bile who rep­res­en­ted them, sought justice on their be­half, and helped to en­sure that states and com­pan­ies could no longer sub­ject fam­il­ies to this type of agony without con­sequences.
When young Afric­an-Amer­ic­an, Latino, and Asi­an-Amer­ic­an job ap­plic­ants were be­ing sys­tem­at­ic­ally denied em­ploy­ment at a pop­u­lar chain of cloth­ing stores be­cause their looks wer­en't "clas­sic" enough, Debo Ad­e­g­bile rep­res­en­ted them, too. As part of its set­tle­ment with these ap­plic­ants, the com­pany agreed to change its hir­ing policies to en­sure that this type of dis­crim­in­a­tion wouldn't re­peat it­self.
When strug­gling homeown­ers in In­di­ana were faced with fore­clos­ure, polit­ic­al op­por­tun­ists saw it as a chance to deny them their right to vote — us­ing their pending fore­clos­ures as a jus­ti­fic­a­tion for throw­ing out their voter re­gis­tra­tion. Debo Ad­e­g­bile rep­res­en­ted them and helped to en­sure that people in In­di­ana could vote in their com­munit­ies re­gard­less of their fin­an­cial cir­cum­stances.
Cases like these — about vot­ing rights, em­ploy­ment dis­crim­in­a­tion, and en­vir­on­ment­al safety, in ad­di­tion to those in­volving fair hous­ing, the Vi­ol­ence Against Wo­men Act, and the Amer­ic­ans with Dis­ab­il­it­ies Act — make up much of the port­fo­lio for which the head of the Civil Rights Di­vi­sion at the Justice De­part­ment is re­spons­ible.
But there have been at­tempts to shout down Ad­e­g­bile's qual­i­fic­a­tions and to dis­tort his re­cord on death-pen­alty cases. These dis­tor­tions are a mis­guided at­tempt to tie Ad­e­g­bile to the ac­tions of one of his cli­ents, a con­victed mur­der­er of a po­lice of­ficer. The Amer­ic­an Bar As­so­ci­ation has praised his rep­res­ent­a­tion, say­ing that it is "con­sist­ent with the finest tra­di­tion of this coun­try's leg­al pro­fes­sion and should be com­men­ded, not con­demned."
The truth is that the head of the Civil Rights Di­vi­sion is far too im­port­ant a po­s­i­tion to al­low sub­stance to be hi­jacked by un­hinged rhet­or­ic. A man of these qual­i­fic­a­tions is per­fectly suited to head the Civil Rights Di­vi­sion and, after a sober re­view of his tal­ents and qual­i­fic­a­tions, should be con­firmed.
Debo Ad­e­g­bile has shown time and again that he can rep­res­ent cli­ents who most need pro­tec­tion. And once con­firmed he will rep­res­ent every per­son un­der the U.S. Con­sti­tu­tion with that same zeal and in­teg­rity.
The Next Amer­ica wel­comes op-ed pieces that ex­plore the polit­ic­al, eco­nom­ic, and so­cial im­pacts of the pro­found ra­cial and cul­tur­al changes fa­cing our na­tion. Email us.