If the cur­rent rate of Latino in­volve­ment in the me­dia were to play out as it has, it would take 60 years for Lati­nos in lead film roles to match their share of the U.S. pop­u­la­tion. It would take 100 years to do the same in TV. But even at that point, the Latino pop­u­la­tion would have already doubled.
Put more bluntly, if U.S. Lati­nos an­nexed them­selves and foun­ded their own coun­try, they would com­prise the 14th-largest eco­nomy in the world, with $1.6 tril­lion in buy­ing power.
Lati­nos make up 17 per­cent of the pop­u­la­tion. And they're young, about a dec­ade young­er than the av­er­age White Amer­ic­an. They tune in­to ra­dio more reg­u­larly. They buy movie tick­ets more of­ten.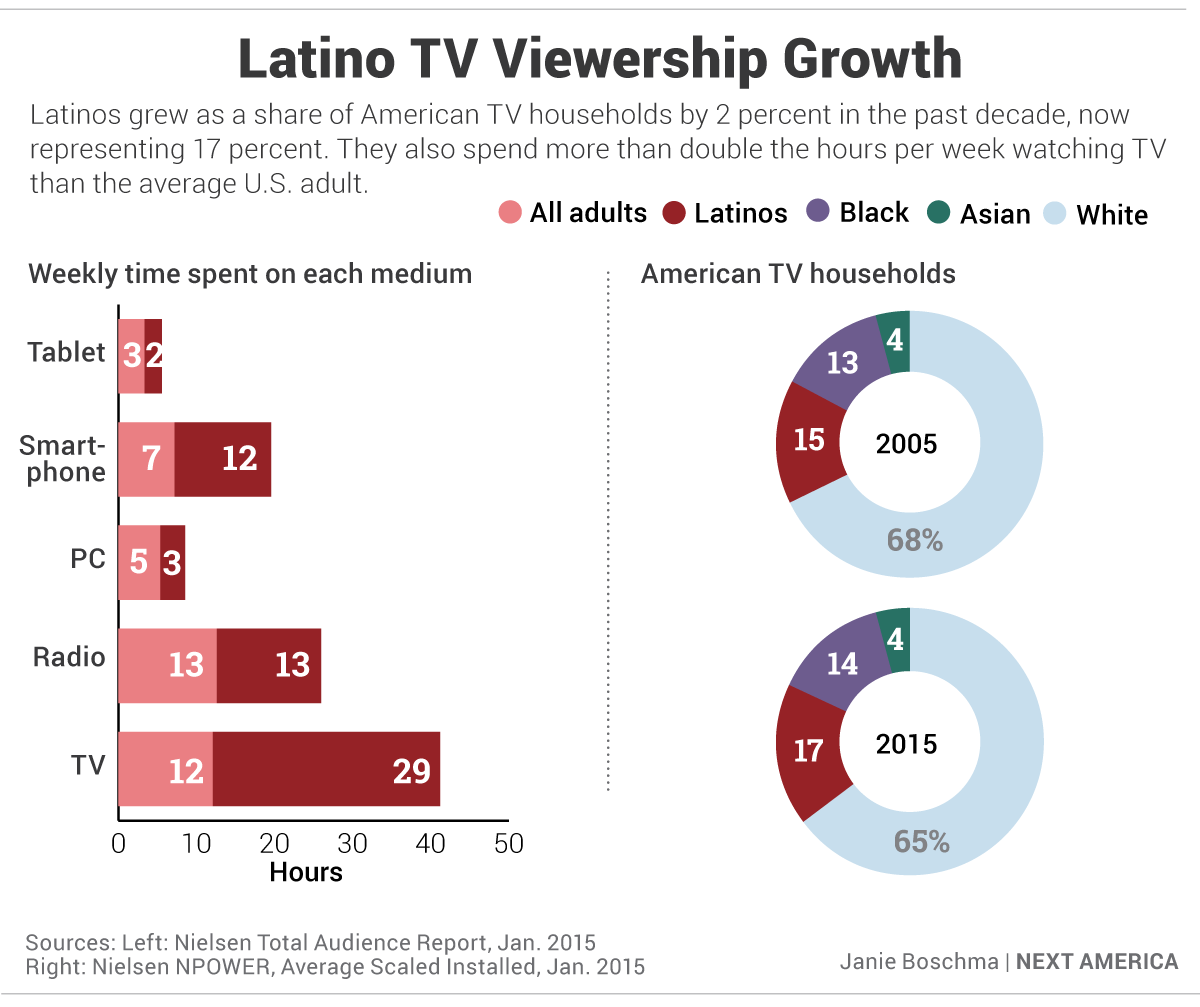 With all that buy­ing power, they're al­most as scant on Eng­lish-lan­guage TV and the big screen as they were in the 1950s. Nielsen's latest study on the sub­ject show that the ma­jor­ity of young Lati­nos prefer to watch TV in Eng­lish, a real­ity that will only rise as more are born in the United States. And des­pite the frag­ment­a­tion of me­dia on the In­ter­net and through smart­phones, Lati­nos con­tin­ue to watch TV the old fash­ioned way, with friends and fam­ily. So why are there so few Lati­nos still on TV and in film?
Frances Negrón-Mun­tan­er — a film­maker, Columbia Uni­versity pro­fess­or, and au­thor of a re­port called "The Latino Me­dia Gap" — has spent the last five years look­ing in­to this prob­lem. Along with her most re­cent re­search on the me­dia gap, she will soon re­lease two oth­er re­ports that look at the poor rep­res­ent­a­tion of Lati­nos in me­dia. For her last re­port, she ana­lyzed top-ten movies, top-ten TV shows, ex­ec­ut­ive po­s­i­tions, and guilds in Hol­ly­wood to find out just why there was such a dis­par­ity in the Latino pop­u­la­tion and Lati­nos on TV.
It began when Negrón-Mun­tan­er, a found­ing mem­ber of the Na­tion­al As­so­ci­ation of Latino In­de­pend­ent Pro­du­cers, along with her co-work­ers tried to take stock of what they'd ac­com­plished in the or­gan­iz­a­tion's first 10 years. They felt they'd helped a lot of in­di­vidu­als in their ca­reers, but there was no em­pir­ic­al evid­ence.
"I was one of those people who thought Lati­nos were bet­ter rep­res­en­ted now than in the past," Negrón-Mun­tan­er says.
To her dis­may, that ini­tial as­sump­tion turned out to be flat-out wrong.
Latino me­dia par­ti­cip­a­tion has re­mained nearly flat since the 1950s. That dec­ade, the first that Nielsen rat­ings came out, Lati­nos were 4 per­cent of the pop­u­la­tion and 3 per­cent of top-ten TV lead act­ors. That gap has nev­er been as close since.
Lati­nos com­prise just 1 per­cent of news stor­ies. When they do ap­pear on cam­era, it's not as an an­chor in a suit with coiffed hair but on the back­ground video feed as a crim­in­al or in re­la­tion to il­leg­al im­mig­ra­tion.
A re­cent Me­dia Mat­ters For Amer­ica re­port went fur­ther and found that on news shows, "His­pan­ic guests are treated as ex­perts in only one sub­ject, rarely in­vited to dis­cuss is­sues oth­er than im­mig­ra­tion." It's a concept that con­tin­ues to typecast Lati­nos as one-di­men­sion­al.
In TV and movies, the Latino Me­dia Gap study found that when Latino men are cast in lead­ing roles or as sup­port­ing act­ors, they're most of­ten as­so­ci­ated with both ends of crime. Lati­nos ap­peared as law en­force­ment 19 per­cent of the time, com­pared with just 14 per­cent of all act­ors. They ap­peared as blue-col­lar crim­in­als 18 per­cent of the time, com­pared with 11 per­cent of all oth­er act­ors. The Law & Or­der shows were big vi­ol­at­ors of this, the re­port found, as well as The Big Bang The­ory, where half the time a Latino was on cam­era, it was as a po­ten­tial crim­in­al.
As for Lat­i­nas, though their share of lead roles is in­creas­ing, since 1996 they've played nearly 70 per­cent of TV and movies' most icon­ic maids. And they're still por­trayed as "sexy spit­fire" types.
One pos­sible reas­on for this is an ut­ter lack of Lati­nos in de­cision-mak­ing roles. Just 2 per­cent of top dir­ect­ors from 2010 to 2013 were Latino, 3 per­cent of pro­du­cers, and 6 per­cent of writers. Even worse, of 45 stu­dio or net­work CEOs, none were Latino (just two were non-White men). When re­search­ers ex­pan­ded that to in­clude com­pany chair­per­sons, the only Latino in an ex­ec­ut­ive role was CBS's Nina Tassler.
There's such a lack of Lati­nos in ex­ec­ut­ive roles that dir­ect­or Robert Rodrig­uez cre­ated his own Eng­lish-lan­guage chan­nel called El Rey Net­work after he grew tired of ask­ing for more nu­anced Latino char­ac­ters. 
"You can only tell a net­work so long to cast a His­pan­ic," Rodrig­uez told the As­so­ci­ated Press. "But if there's nobody writ­ing the roles or cre­at­ing the roles, it's even fun­da­ment­ally a lar­ger prob­lem."
"We're not mak­ing ad­vances at the levels where we can make de­cisions," says Axel Caballero, ex­ec­ut­ive dir­ect­or of NALIP. "That has a big im­pact on who we hire and who we cast." It's that dearth of ex­ec­ut­ive power that leads to the bland, ste­reo­typ­ic­al roles Lati­nos play, says Caballero. "That's not only a missed op­por­tun­ity for [me­dia ex­ec­ut­ives], but it's a mis­read­ing of the Latino land­scape."
"It lim­its our de­vel­op­ment and how we are per­ceived," says Alex No­gales, pres­id­ent and CEO of the Na­tion­al His­pan­ic Me­dia Co­ali­tion.
As chil­dren, No­gales says, we see ourselves in the char­ac­ters around us. If that char­ac­ter is a blue-col­lar this, or a po­lice of­ficer that, then "that's how we'll per­ceive ourselves."