For all their so­cial be­ne­fits, elec­tric vehicles have so far re­mained the province of the rich. Snazzy Teslas start at $70,000, BMW's i3 will set you back $43,000, and even the re­l­at­ively cheap Ford Fo­cus Elec­tric and Nis­san Leaf cost around $30,000.
That's nowhere near eco­nomy-car prices, and giv­en how new the fleet is, it will take a few years to build up a used-EV mar­ket.
That means low-in­come fam­il­ies, who tend to live in the parts of cit­ies more vul­ner­able to pol­lu­tion, can't al­ways ac­cess the tre­mend­ous ad­vances in clean-trans­port­a­tion tech­no­logy.
Los Angeles wants to level the play­ing field with a new pi­lot pro­gram to sub­sid­ize EV car-shar­ing. The city just won a $1.6 mil­lion grant from the Cali­for­nia Air Re­sources Board (CARB) to put 100 car-share vehicles, at least 80 of which are elec­tric, in­to the low-in­come neigh­bor­hoods ringing down­town L.A. The city still needs to fig­ure out who will op­er­ate the ser­vice, but it hopes to get the new cars rolling by early next year.
The pro­ject ad­dresses both eco­nom­ic and en­vir­on­ment­al sus­tain­ab­il­ity.
Low-in­come fam­il­ies spend a high­er share of their paychecks on trans­port­a­tion than wealth­i­er fam­il­ies, but have less ac­cess to car-shar­ing ser­vices, be­cause they aren't close enough or the cost of mem­ber­ship is still too high. Poor neigh­bor­hoods of­ten suf­fer worse air pol­lu­tion, but the eco­nom­ic bar­ri­ers make it hard to ditch old cars in fa­vor of clean­er elec­tric ones.
The col­lab­or­at­ive ef­fort came to­geth­er with help from the Chica­go-based Shared-Use Mo­bil­ity Cen­ter, a non­profit that wants to make it pos­sible "to live well without own­ing a car," in the words of ex­ec­ut­ive dir­ect­or Shar­on Fei­gon. She's got over a dec­ade of ex­per­i­ence set­ting up and run­ning car-share ser­vices in cit­ies around the coun­try. She likens es­tab­lish­ing af­ford­able car-share in a dis­ad­vant­aged neigh­bor­hood to open­ing a gro­cery store in a food desert: It taps in­to un­der­served de­mand.
"Our ex­per­i­ence is do­ing something like this can work really well," she says. "Take really good elec­tric cars and make them af­ford­able and ac­cess­ible to people who don't have a lot of money for trans­port­a­tion — of course that can work."
L.A. is known as a driv­ing city, but pub­lic trans­it has drastic­ally ex­pan­ded there in re­cent years. That same trans­it ex­pan­sion has had the un­for­tu­nate ef­fect of push­ing low-in­come res­id­ents out of the im­proved areas as prop­erty val­ues rise, says com­munity or­gan­izer Sandra McNeill. As ex­ec­ut­ive dir­ect­or of T.R.U.S.T South L.A., she works to sta­bil­ize hous­ing and trans­port­a­tion for the com­munit­ies get­ting dis­placed by new de­vel­op­ment. She sup­ports car-shar­ing as a way to keep down costs of liv­ing so low-in­come res­id­ents avoid be­ing dis­placed.
"If they can then de­fer pur­chase of a vehicle or sell off a vehicle, there can be tre­mend­ous sav­ings that can help sta­bil­ize a fam­ily," McNeill says.
Some of the cars will go in­to South L.A., where McNeill works. It's a part of town where al­most every­body rents — around 85 per­cent, she says. A fam­ily of four there earns $25,000 a year, half the city's me­di­an in­come. The car-share pro­gram will also fo­cus on West­lake, Pico-Uni­on, Boyle Heights, and Koreatown, areas home to large num­bers of new im­mig­rants. Many people in these neigh­bor­hoods work in gar­ments, res­taur­ants, or con­struc­tion, all areas highly vul­ner­able to wage theft and sub-min­im­um wage com­pens­a­tion. Healthy food and park space are lim­ited, but rates of asthma and can­cer are ex­tremely high.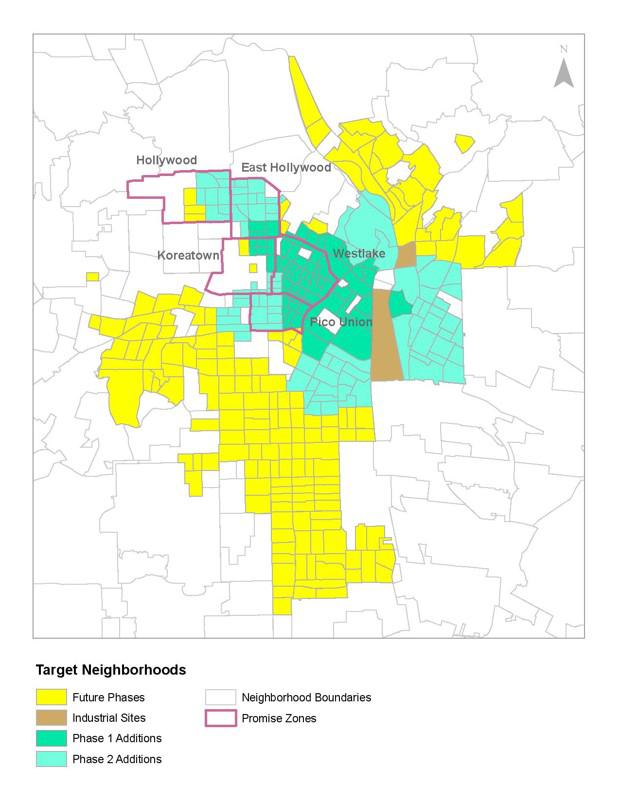 The EV car-share pro­gram will go in­to low-in­come neigh­bor­hoods around down­town L.A., where al­most every­one rents and works low-wage jobs. (City of L.A. Sus­tain­ab­il­ity Team)
Those chal­lenges made the neigh­bor­hoods ideal can­did­ates for CARB's grant fund­ing, com­posed of rev­en­ue from large-scale emit­ters buy­ing car­bon al­low­ances from the state. Cali­for­nia Sen­ate Pres­id­ent Pro Tem­pore Kev­in de León, who rep­res­ents L.A., au­thored a bill that des­ig­nates cap-and-trade funds for neigh­bor­hoods dis­pro­por­tion­ately harmed by cli­mate change and poor en­vir­on­ment­al qual­ity. In a speech on Ju­ly 24, de León praised policies that "demo­crat­ize" cli­mate-change pro­gress; "all in­di­vidu­als de­serve ac­cess to elec­tric­al vehicles," he said.
Com­munity groups such as T.R.U.S.T. South L.A. will play a key role in shap­ing the on-the-ground de­tails of the car-shar­ing setup, says McNeill, be­cause loc­al know­ledge will be vi­tal to the pro­gram's suc­cess. Un­like wealth­i­er neigh­bor­hoods where car-shar­ing already thrives, the new pro­gram op­er­at­or can't as­sume that every­one in the tar­get area has a bank ac­count, or a cell phone, or an in­ter­net con­nec­tion.
That's quite a de­par­ture from the typ­ic­al car-share sys­tem, where users sign up on­line and loc­ate and book cars on their phones. The pro­gram might need to in­clude a call cen­ter to help people re­serve cars, for in­stance, but op­er­at­ors there had bet­ter speak more lan­guages than Eng­lish.
That grass­roots par­ti­cip­a­tion also can be at­tract­ive to car-share com­pan­ies be­cause it helps them ease in­to a new mar­ket, says Fei­gon. "Part of what I think makes it in­ter­est­ing to the op­er­at­ors is that these com­munity groups will be in­volved, so they'll have sup­port," she says. "From the com­pany's point of view, it's all about util­iz­a­tion: if the cars are used in the right num­bers, then it works for these com­pan­ies."
Cali­for­nia has set am­bi­tious green­house gas re­duc­tion goals — like put­ting 1.5 mil­lion EVs on the road by 2025 — and achiev­ing that re­quires mass par­ti­cip­a­tion, says CARB spokes­per­son Dav­id Clegern. "We need the help of every­one and we don't want to leave any­one out of the be­ne­fits of this pro­gram," he says. "[This pi­lot] gets the tech­no­logy out there to an audi­ence that might not or­din­ar­ily be ex­posed to it."
The L.A. city coun­cil still needs to form­ally ac­cept the grant when it comes back from its sum­mer re­cess, says L.A. Chief Sus­tain­ab­il­ity Of­ficer Matt Petersen. Then they can put out a call for pro­pos­als to de­cide who will op­er­ate the car-share. He hopes to have cars op­er­at­ing by early 2016 if not soon­er. The city is also work­ing on in­stalling 1,000 pub­lic EV char­ging sta­tions by 2017, and this pi­lot will add 110 of them.
By tack­ling sev­er­al prob­lems at once, this pi­lot stands to be­ne­fit low-in­come neigh­bor­hoods in sev­er­al dif­fer­ent ways. First, there is the re­duc­tion in car-own­er­ship. A good ra­tio for car-share util­iz­a­tion is 70 users to one car, says Fei­gon. That means the pi­lot's 100 cars can sup­port 7,000 drivers. That's 7,000 people who can for­get about car leases, gas spikes, in­sur­ance pay­ments, and the myri­ad oth­er ex­penses that come with car own­er­ship. That's a good chunk of change go­ing back in­to house­holds that need it most.
Those cost sav­ings have proven at­tract­ive throughout the coun­try. Data from SUMC show the num­ber of car-share vehicles in the U.S. has grown con­sist­ently over the last dec­ade (be­low). L.A. has the 11th-most car-shar­ing vehicles; New York, San Fran­cisco, and Wash­ing­ton lead the pack.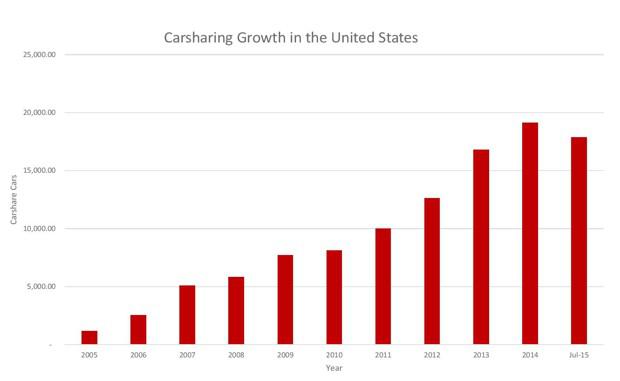 L.A.'s in­vest­ment in car-share joins a na­tion­wide trend of car-share ex­pan­sion over the last dec­ade. (Shared-Use Mo­bil­ity Cen­ter / TS­RC / UC-Berke­ley)
Then there are the en­vir­on­ment­al be­ne­fits. The smoggy, pol­luted neigh­bor­hoods will be able to cut out ex­haust for those pro­jec­ted 7,000 drivers. The city es­tim­ates this can avoid the pur­chase of 1,000 gas-powered cars, elim­in­at­ing 2,150 tons of CO2 emis­sions an­nu­ally. If the pi­lot suc­ceeds, the city will ex­pand the ser­vice, in­creas­ing the car­bon sav­ings.
Most im­port­antly, this strategy re­cog­nizes the cru­cial eco­nom­ic di­men­sions of en­vir­on­ment­al justice. Too of­ten, the shiny new green solu­tions that get writ­ten up and pro­moted cost too much to be ac­cess­ible to low-in­come con­sumers. Middle- and up­per-class en­vir­on­ment­al­ists have every right to pay above-mar­ket rates for more sus­tain­ably farmed kale or de­sign­er zero-car­bon homes, but if sus­tain­able con­sump­tion re­mains strat­i­fied with in­come, its be­ne­fits will be lim­ited.
Green tech­no­logy prices tend to drop with time, to be sure, but it's hard to tell just how long that will take. That cre­ates the ne­ces­sity for pos­it­ive ef­forts by mu­ni­cip­al gov­ern­ments and their ci­vil­ian and in­dustry al­lies to make this tech­no­logy and its as­so­ci­ated cost sav­ings avail­able for those who want it but can't get it on their own. L.A. has found a power­ful mod­el for do­ing that, one that oth­er cit­ies would do well to ex­plore.