President Barack Obama swims in the ocean in Kaneohe Bay, Hawaii, 2013.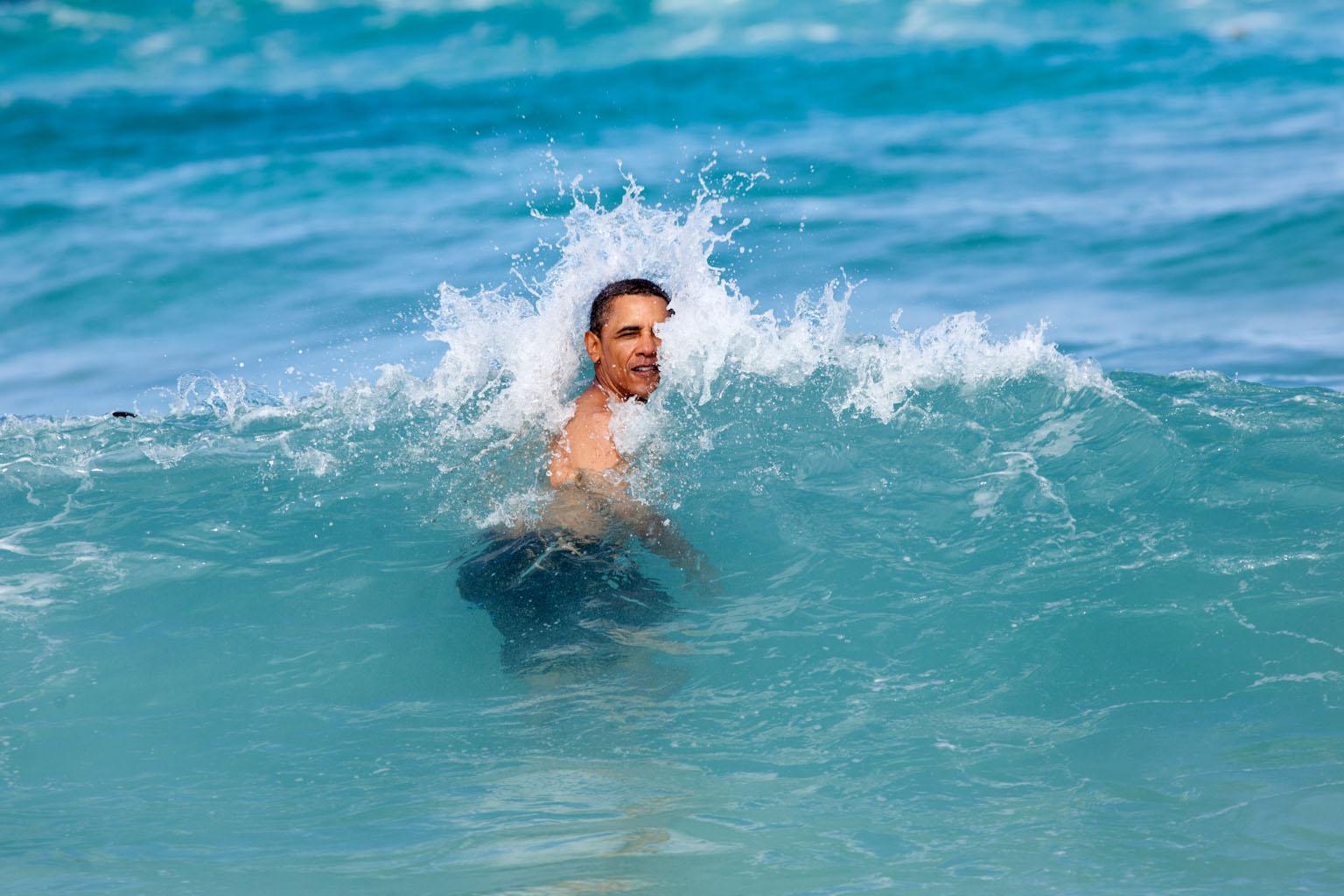 President Barack Obama goes biking with his wife, Michelle, and daughter, Malia, at Martha's Vineyard, Massachusetts, in 2014.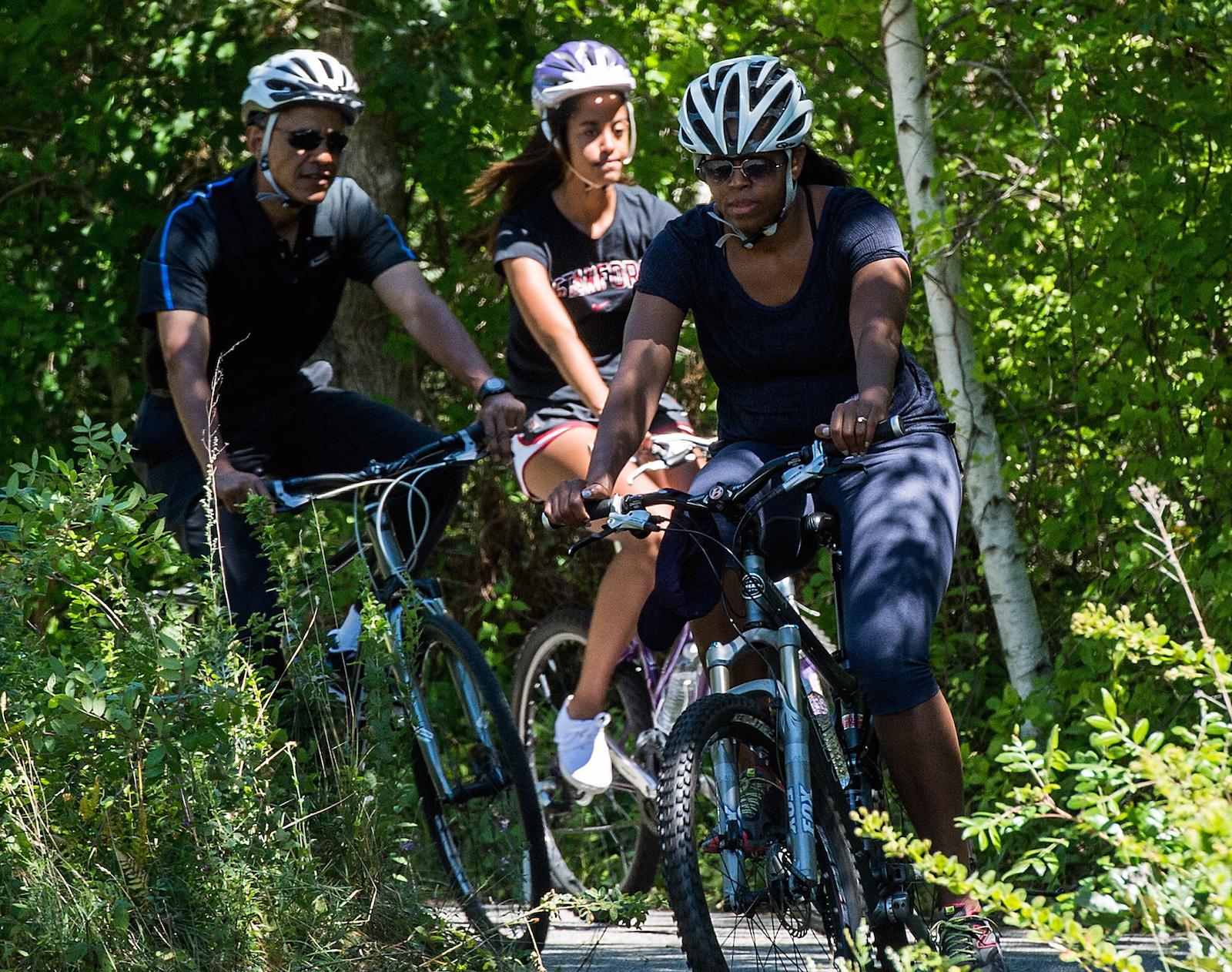 President Barack Obama waves a shaka to a crowd after buying shave ice from Island Snow at Kailua Beach Center in Kailua, Hawaii, in 2013.
President Barack Obama and daughter Malia buy some snacks at Alley's General Store in West Tisbury, Massachusetts, in 2009.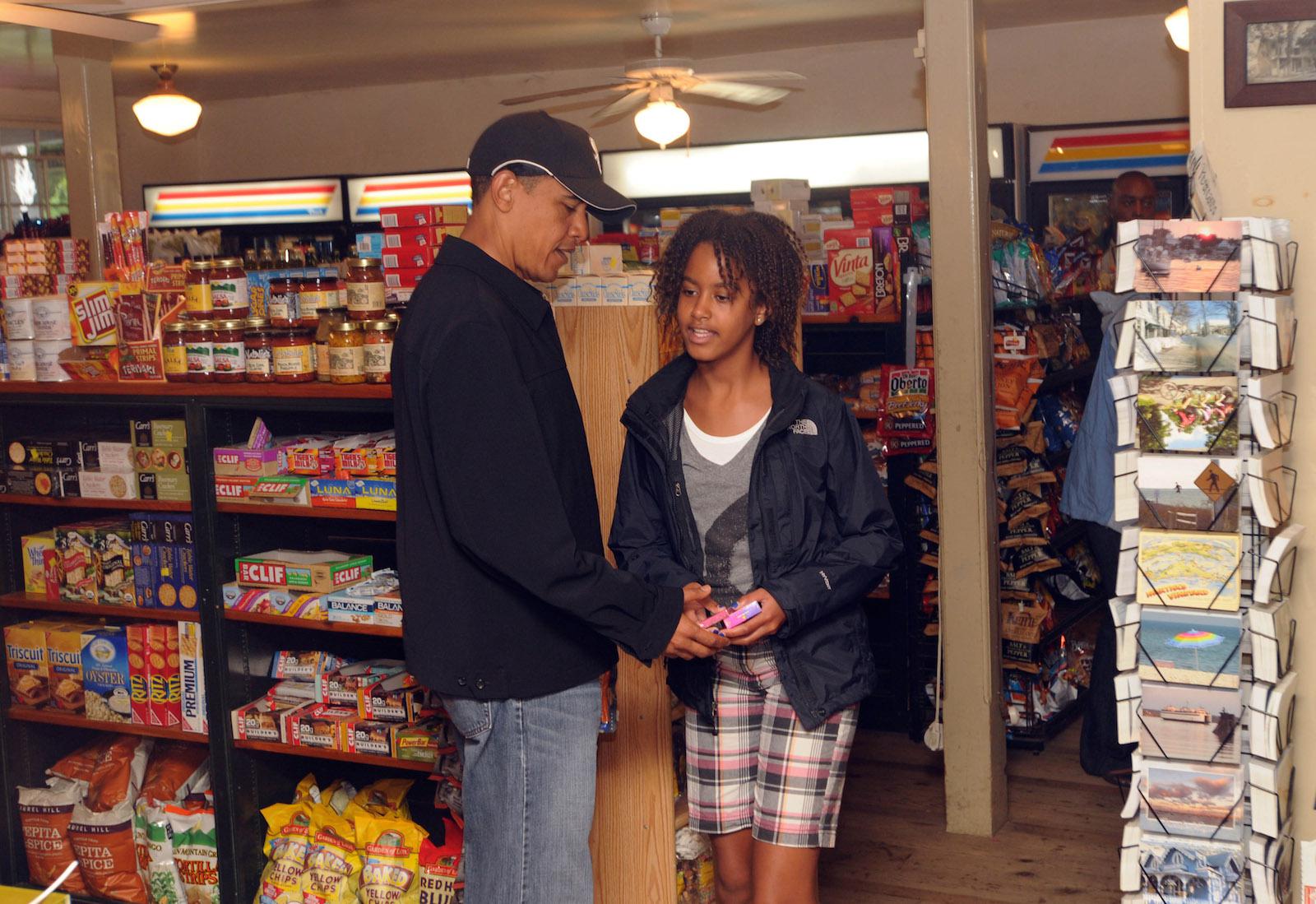 President George W. Bush participates in a Trail Rehabilitation Project during his month-long working vacation, Colorado, 2001. 
President George W. Bush with his father, former President George Bush, wave after teeing-off early on the President's 56th birthday as they play golf while on vacation in Maine, 2001.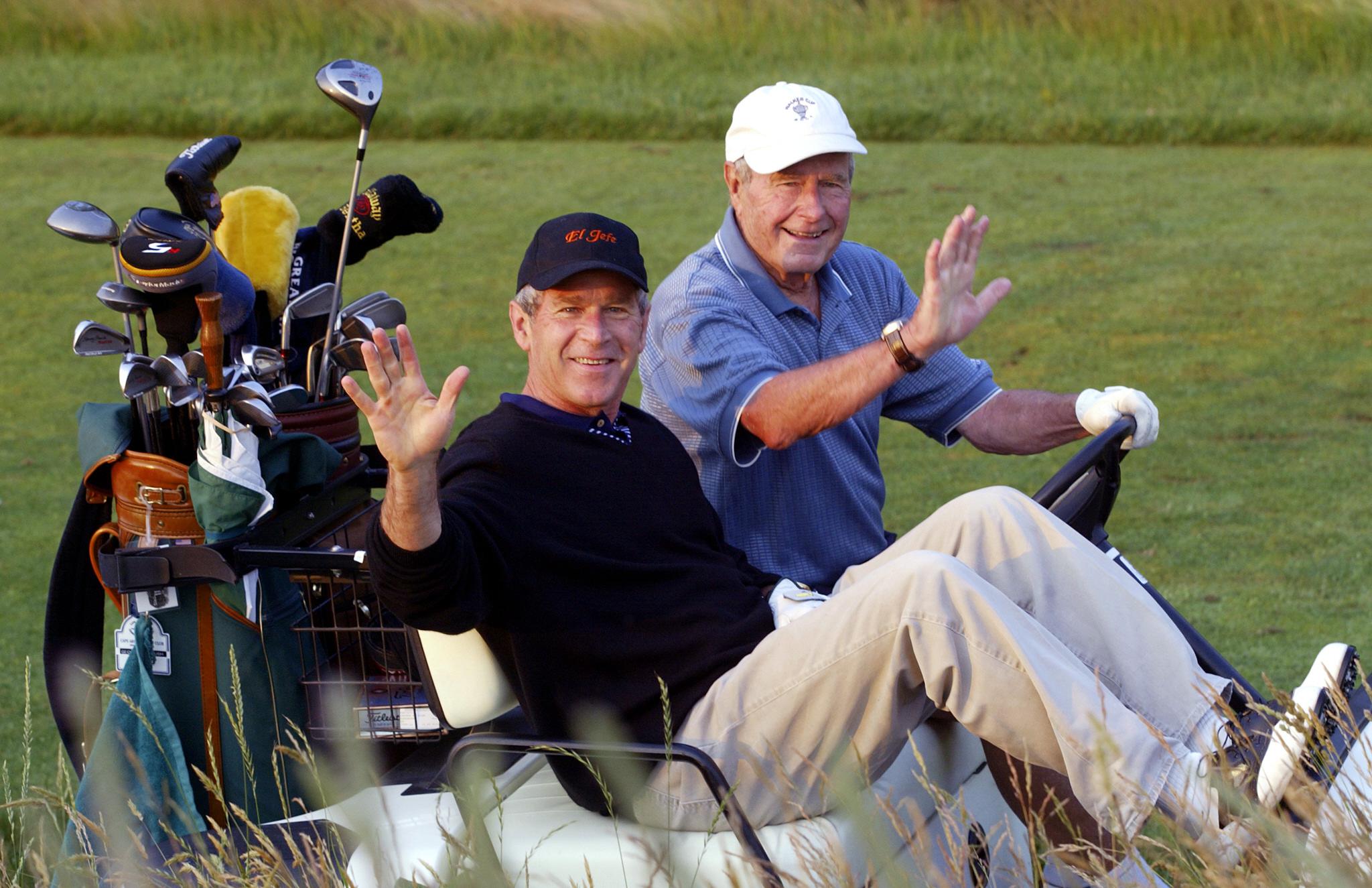 Bill Clinton eats an ice cream cone from Mad Martha's Ice Cream Store in Martha's Vinyard in 2000.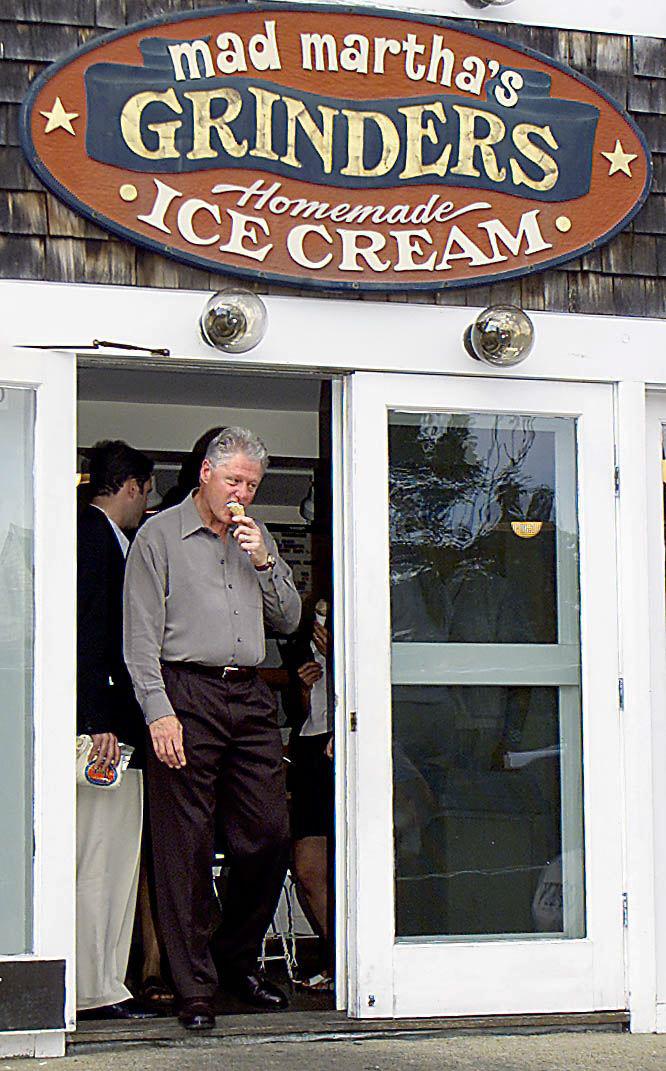 Bill and Hillary Clinton give each other a hug while playing golf at the Mink Meadows Golf Club on Martha's Vineyard in 1993.
President Bill Clinton rides a horse named Wink at the Bar-B-Bar ranch in Jackson Hole, 1996.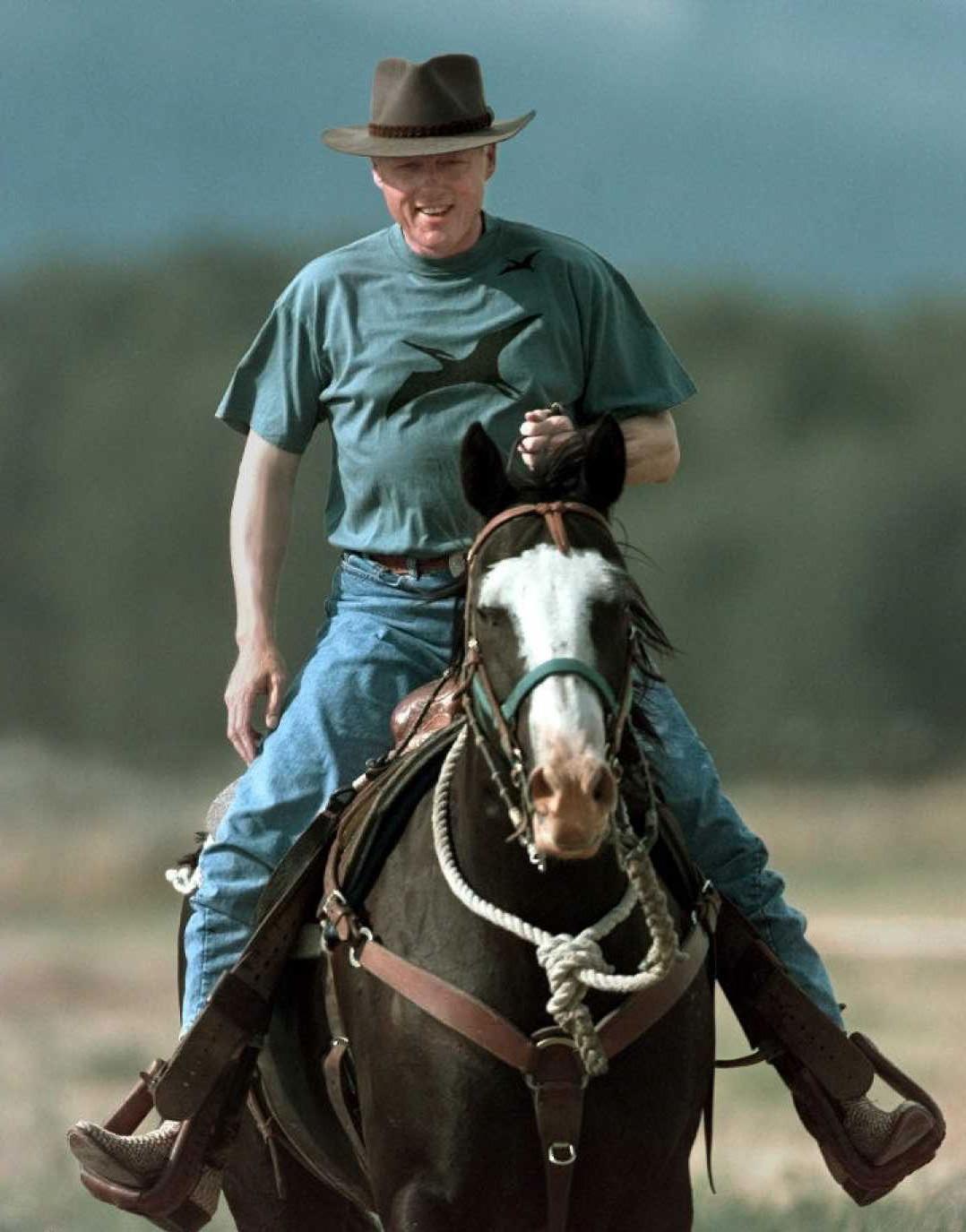 President Bill Clinton, first lady Hillary Rodham Clinton, and daughter Chelsea vacationing in Yellowstone National Park, 1993.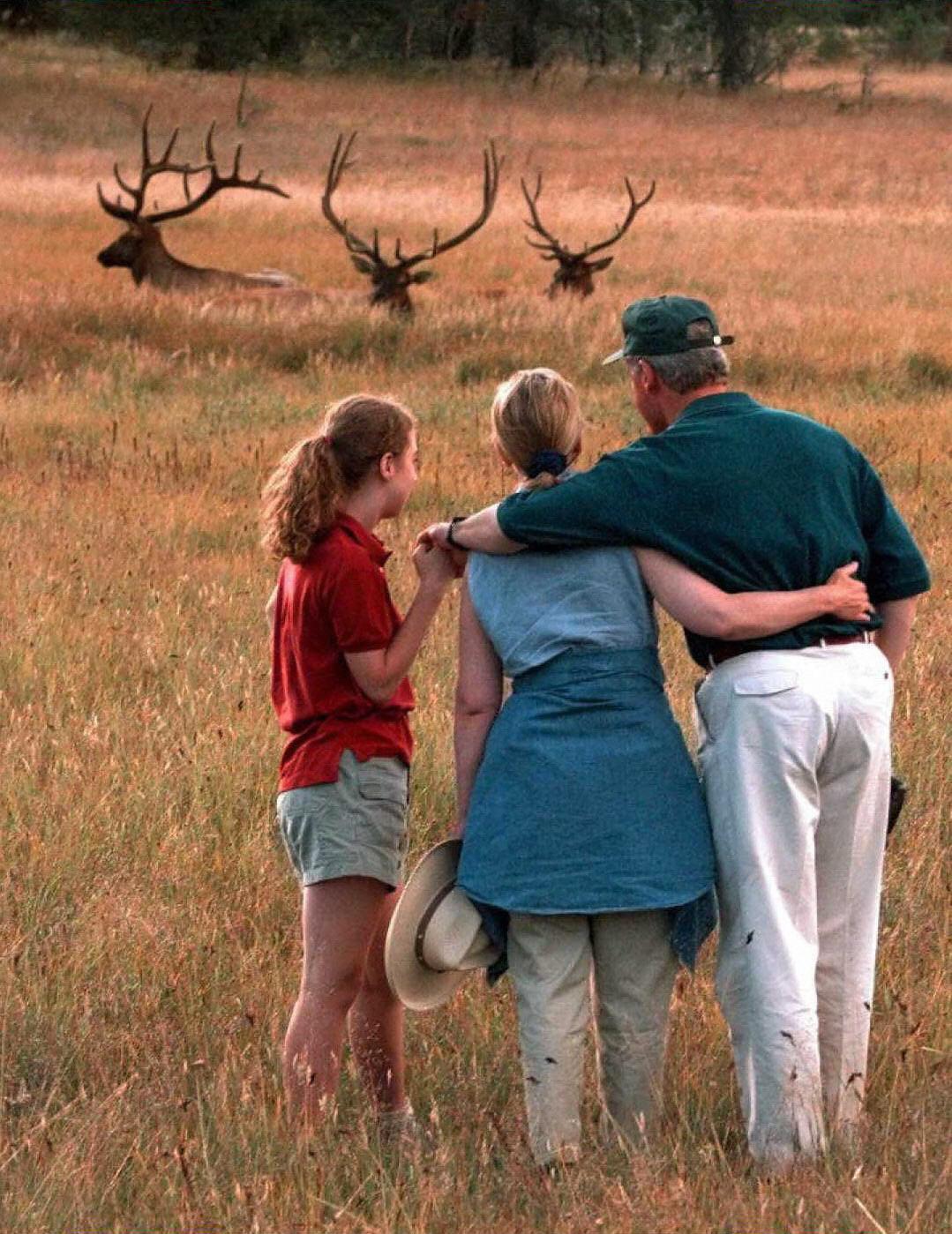 President Bill Clinton and daughter Chelsea paddle while rafting down the Snake River in Bridger-Teton National Forest, Wyoming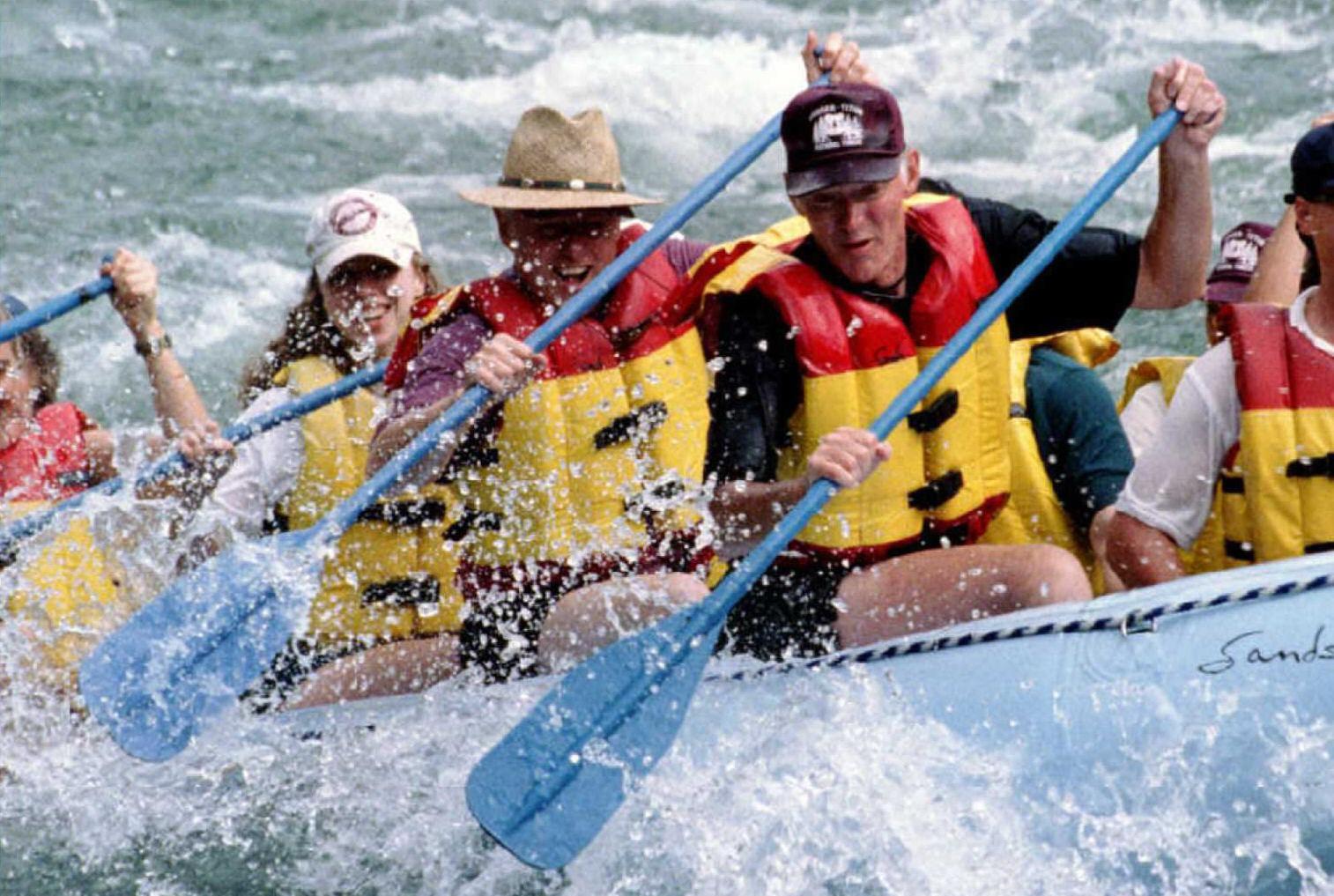 Ronald Reagan helps his wife, Nancy, from her horse after a ride at Camp David in 1984.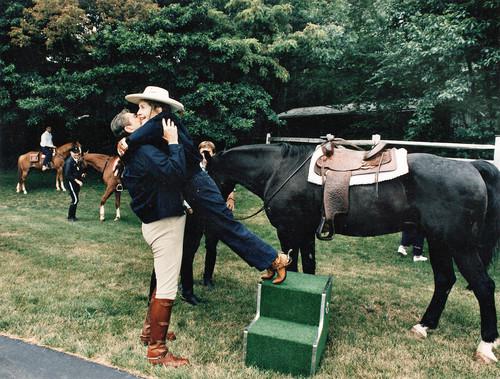 Jimmy Carter with his wife Rosalynn and daughter Amy at the Forum in Rome in 1980.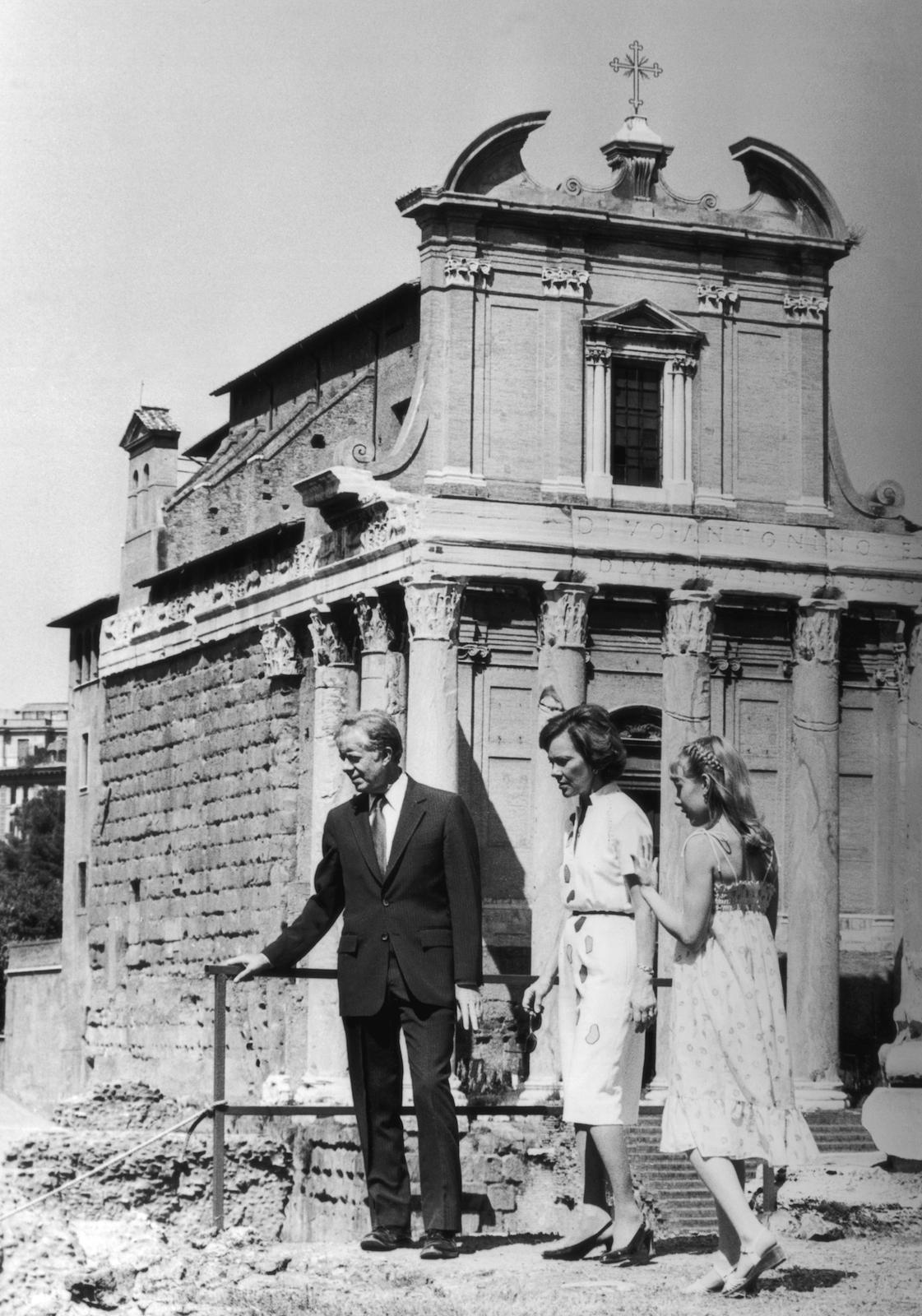 President Gerald R. Ford relaxes with his wife Betty Ford while deep-sea fishing during a Caribbean vacation in this undated 1972 handout photo.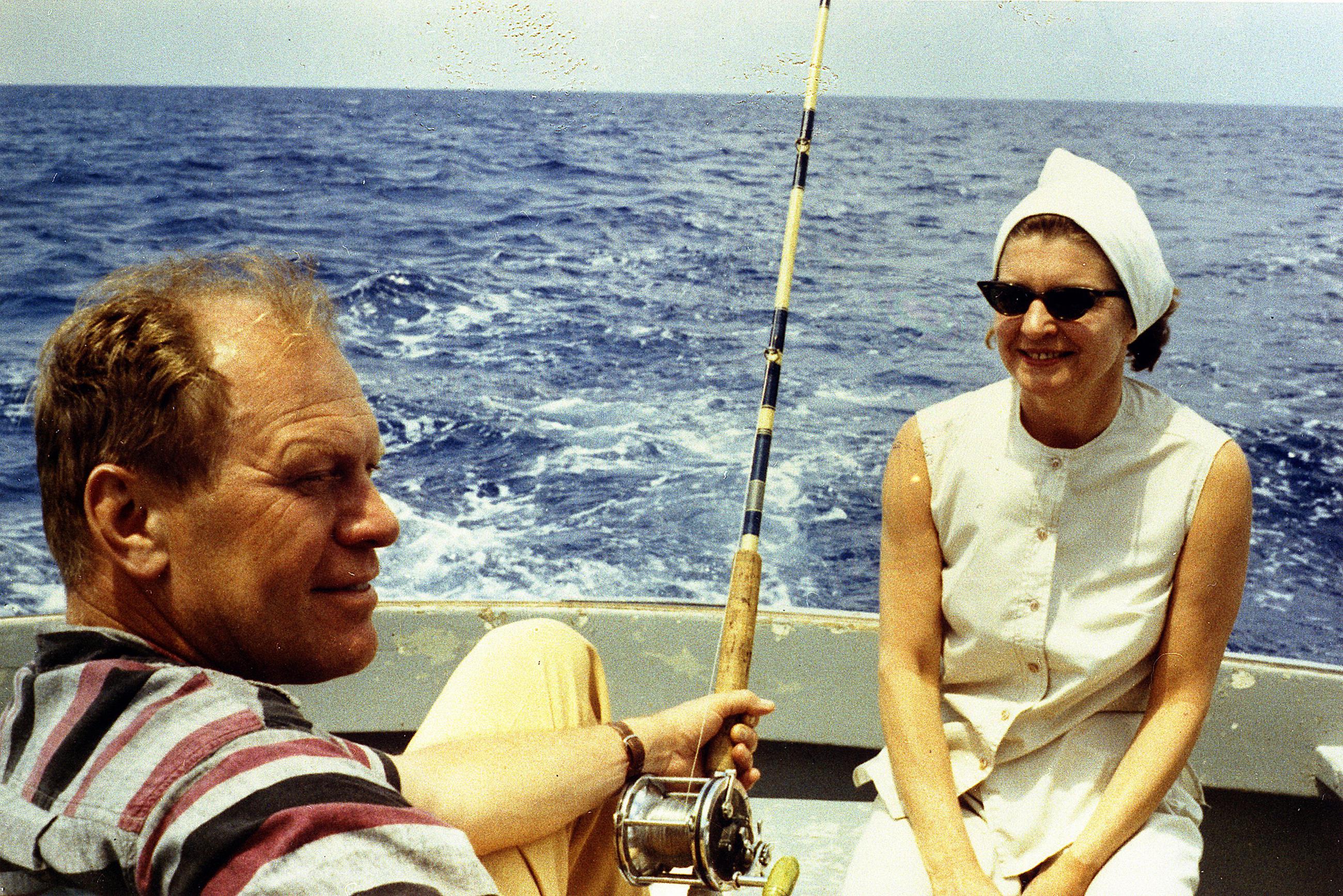 President Nixon and Mrs. Nixon on the beach at San Clemente, 1971.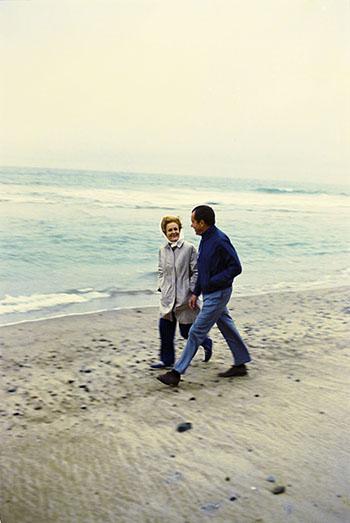 President and Mrs. Nixon on vacation in Key Biscayne, FL, 1969.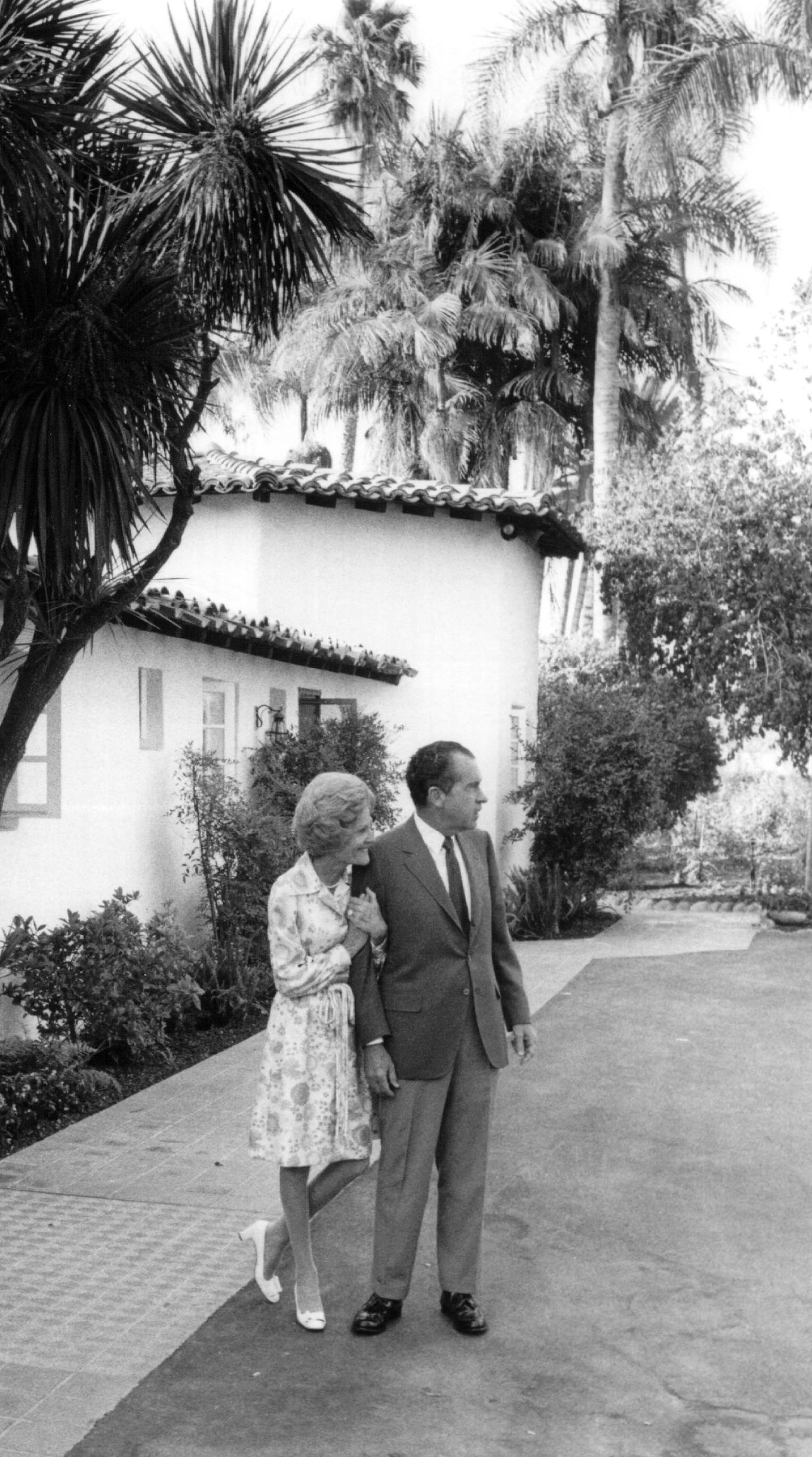 John F. Kennedy with his wife, Jacqueline and children, in Hyannis Port in 1962.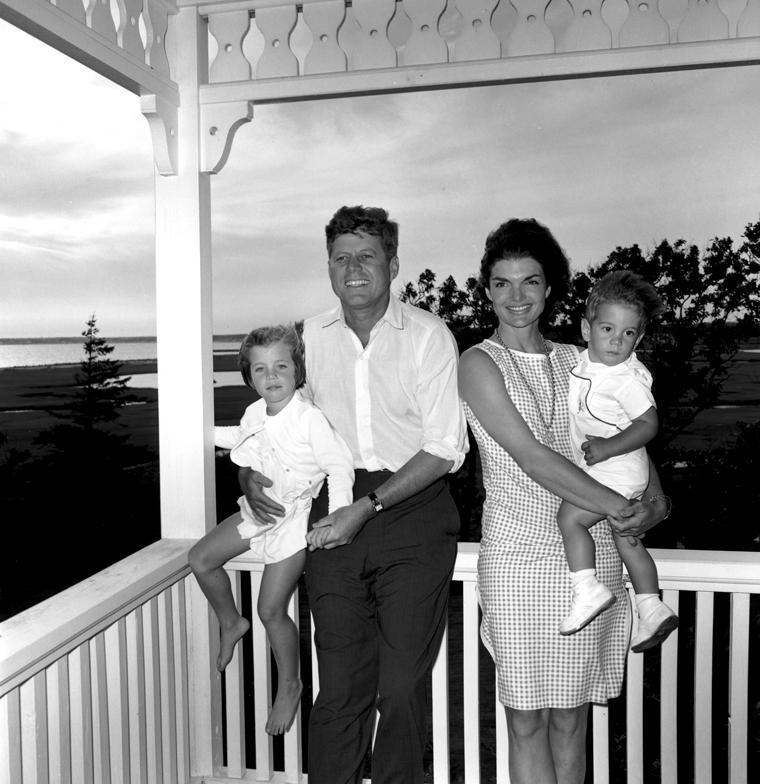 Franklin D. Roosevelt and Cousin Jean Delano on the Half Moon II sailboat at Campobello, New Brunswick, Canada, in 1910.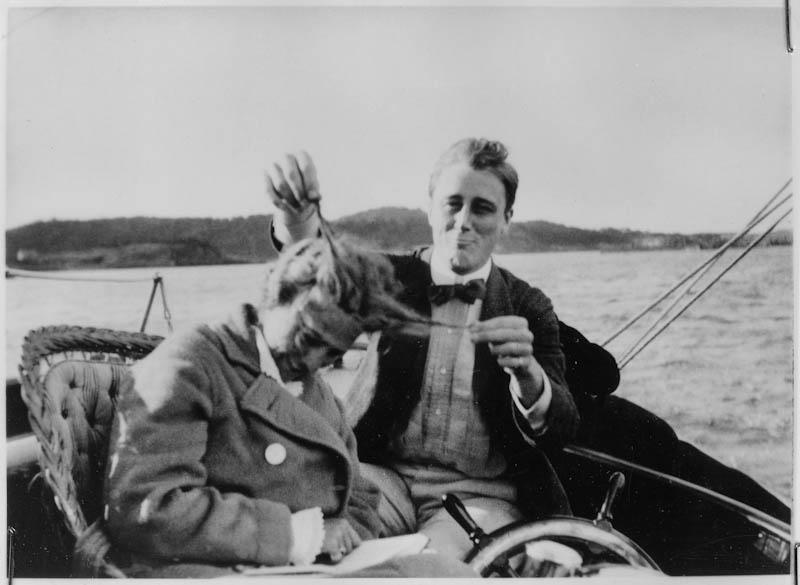 President Theodore Roosevelt and two friends atop horses on a hunting trip, date unknown.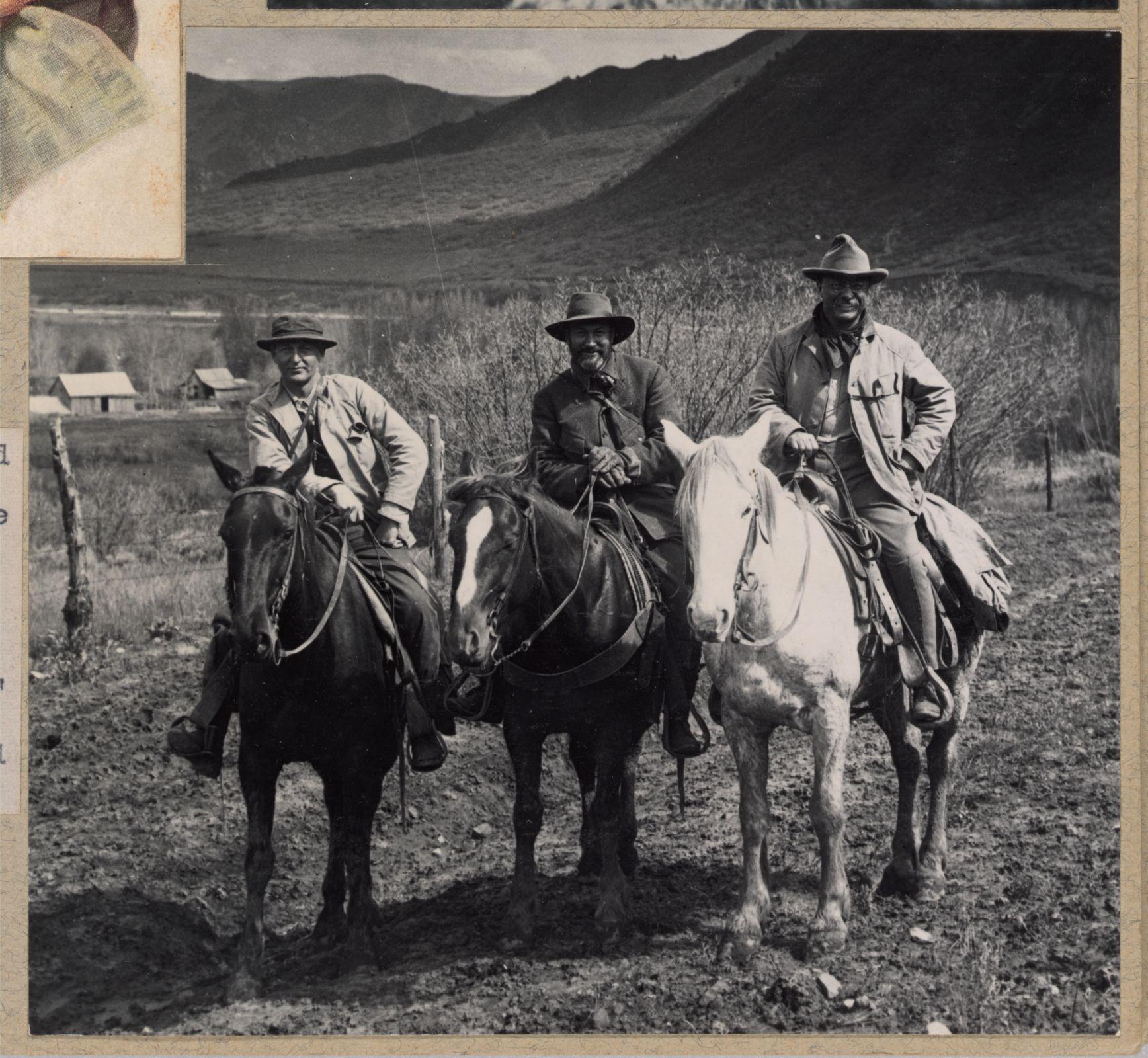 President William Howard Taftand his wife, Helen, return to New York after a month's vacation in Bermuda.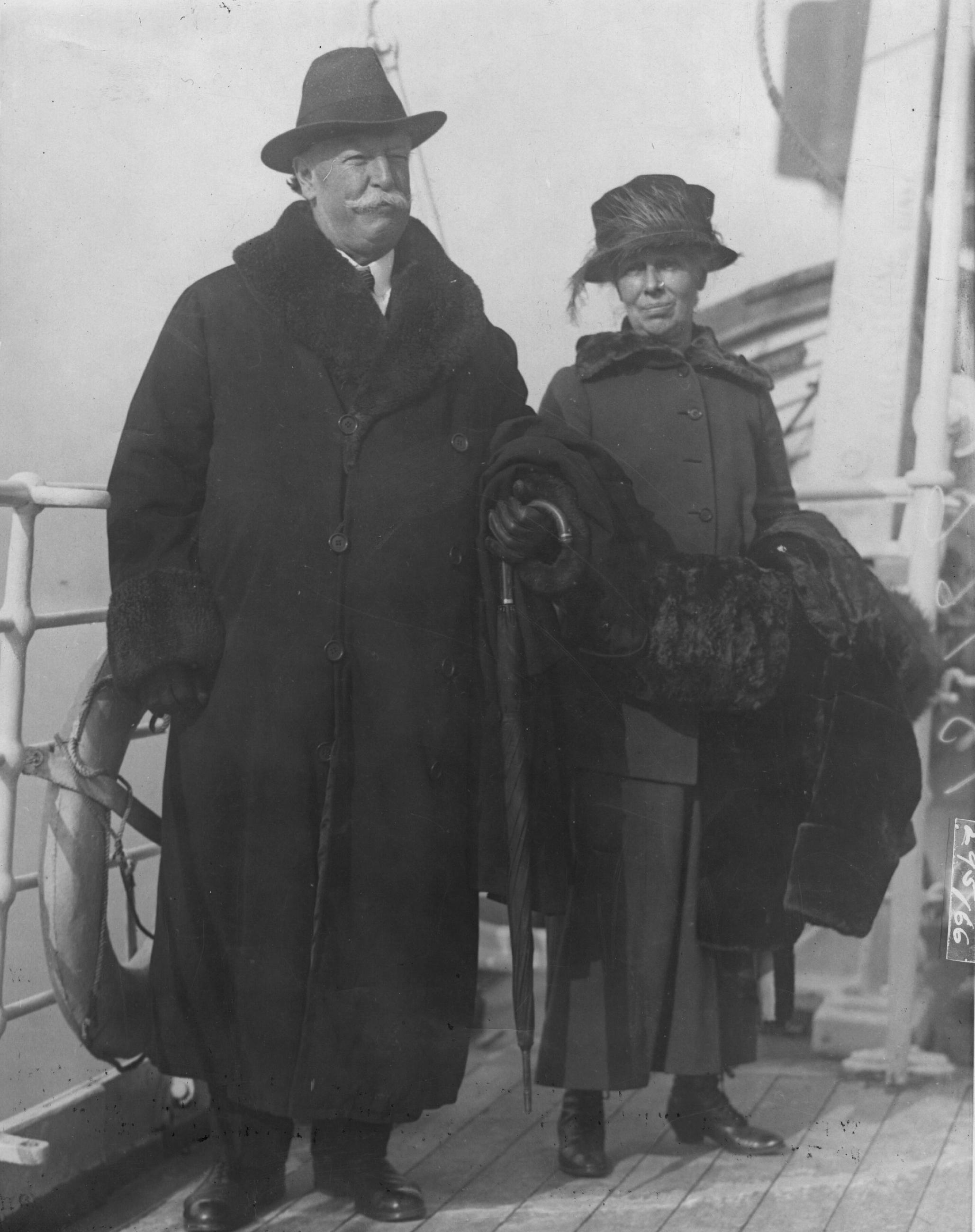 Va­ca­tions have not been all that re­lax­ing and stress free for this first fam­ily. But Pres­id­ent Obama is go­ing to try again, leav­ing Fri­day for two weeks at his fa­vor­ite Au­gust re­treat in Martha's Vine­yard. He can only hope that he gets a little more down time than he did dur­ing his pre­vi­ous time away from Wash­ing­ton, which came to be known as "the va­ca­tion from hell."
No one shares that hope more than his staff, many of whom still shud­der at the re­col­lec­tion of all the un­fore­seen world events and unanti­cip­ated weath­er emer­gen­cies that either cut short or in­ter­rup­ted past Obama va­ca­tions. Last year, the pres­id­ent went to the tony Mas­sachu­setts re­sort is­land after or­der­ing air strikes against Is­lam­ic ter­ror­ists, spent much of his time speak­ing with Middle East­ern and al­lied lead­ers, had to patch up re­la­tions with Hil­lary Clin­ton after she cri­ti­cized his for­eign policy, and watched ri­ots erupt in Fer­guson, Mis­souri.
That was just the first few days. The worst was still to come the next week when IS­IS struck back for his bomb­ing by pub­licly be­head­ing Amer­ic­an host­age James Fo­ley. It was an emo­tion­al Obama who con­demned the killing shortly after a wrench­ing phone con­ver­sa­tion with his par­ents. But then — in what he later ac­know­ledged was a ma­jor er­ror — he im­me­di­ately was seen leav­ing for a round of golf. It was widely panned as a cal­lous and in­sens­it­ive move.
(RE­LATED: 20 Pho­tos of Pres­id­ents on Va­ca­tion)
Mem­bers of his staff who are vet­er­ans of earli­er Obama va­ca­tions already are shud­der­ing at what else may hap­pen while he is try­ing to re­lax over the next two weeks. They know that last year was not unique. In 2009, Sen. Ed­ward M. Kennedy died while the pres­id­ent was at Martha's Vine­yard, and Obama broke away for the fu­ner­al in Bo­ston. In 2011, the fight­ing in­tens­i­fied in Libya, and Tripoli fell dur­ing the va­ca­tion with the ad­ded drama of West­ern journ­al­ists held host­age in a Tripoli hotel. Also that year, Obama had to deal with the earth­quake in Vir­gin­ia. And if that were not enough, he had to cut the va­ca­tion short be­cause Hur­ricane Irene was bear­ing down on the East Coast.
Look­ing back on all that, Press Sec­ret­ary Josh Earn­est is philo­soph­ic­al — and hope­ful — when asked if the pres­id­ent hopes for a more re­lax­ing va­ca­tion this time. "In year sev­en, he fully real­izes that the chal­lenges and strains of the job fol­low him where he goes," said Earn­est. "Hope­fully, few­er of those will tag along this year."
But Earn­est and Obama un­der­stand what earli­er pres­id­ents knew. "The amaz­ing thing about this job is, the job seems to fol­low you around," said Pres­id­ent George W. Bush while clear­ing brush at his Craw­ford, Texas, ranch dur­ing a long va­ca­tion in Au­gust 2002. Bush is the cham­pi­on va­ca­tion-taker among mod­ern pres­id­ents, top­ping Ron­ald Re­agan in second place. Ac­cord­ing to num­bers main­tained by Mark Knoller of CBS News, Obama has spent all or part of 160 days on va­ca­tion, tak­ing 22 breaks of vary­ing lengths, from 17 days last winter in Hawaii to sev­er­al out-of-town golf week­ends. By com­par­is­on, at the same point in his pres­id­ency, Bush had made 65 vis­its to his Texas ranch, span­ning all or part of 466 days.
(RE­LATED: Pres­id­en­tial Va­ca­tion Cri­ti­cism Is as Old as Wash­ing­ton)
Bush took fre­quent va­ca­tions, be­liev­ing them im­port­ant to keep­ing his per­spect­ive. First Lady Nancy Re­agan was a little more de­fens­ive about her hus­band spend­ing so much time at his ranch in Cali­for­nia. "Pres­id­ents don't get va­ca­tions," she said. "They just get a change of scenery."
That, of course, is the mod­ern ap­proach to va­ca­tions, one that leads im­age-con­scious staff to la­bel va­ca­tion homes as the "West­ern White House" (both Nix­on and Bush), the "Texas White House" (John­son), the "Winter White House" (Nix­on at Key Bis­cayne), and the "Little White House" (Tru­man at Key West). That nev­er happened be­fore Theodore Roosevelt "in­ven­ted" the pres­id­en­tial work­ing va­ca­tion in 1902.
Be­fore 1902, pres­id­ents took lengthy va­ca­tions but didn't pre­tend they were work­ing. John Adams spent sev­en months at his Quincy farm in 1798, away from Wash­ing­ton, so long that Con­gress tried to take ad­vant­age of his lengthy ab­sence to start a war with France. James Madis­on cel­eb­rated the end of the War of 1812 by stay­ing away from Wash­ing­ton for four months — from June un­til Oc­to­ber 1816. Thomas Jef­fer­son went home from Ju­ly un­til Oc­to­ber in 1805.
But Teddy Roosevelt was the first pres­id­ent to take staff and re­port­ers with him, the first to call his va­ca­tion spot any kind of White House. When he ar­rived at his home in Oyster Bay, New York, he dubbed it his "Sum­mer White House" and went to work. It was, de­clared his­tor­i­an Lawrence L. Knut­son and the White House His­tor­ic­al As­so­ci­ation, the trip that "forever trans­formed the nature of the pres­id­en­tial va­ca­tion." Roosevelt brought with him, wrote Knut­son, aides, "a pla­toon of re­port­ers" and a large num­ber of "ste­no­graph­ers, typ­ists, tele­graph­ers, and mes­sen­gers." All were stuffed in­to make­shift quar­ters they shared with a dent­ist named Dr. W.C. Root over the Oyster Bay Bank. A news­pa­per car­toon showed Roosevelt rid­ing off with an up­rooted White House and a sign de­clar­ing, "White House: Gone to Oyster Bay, Back in the Fall."
Roosevelt rel­ished a con­tinu­ing work load that oth­er pres­id­ents dreaded. No mat­ter how dif­fer­ent the scenery, the prob­lems have a way of find­ing a pres­id­ent. Pres­id­ent Her­bert Hoover, ex­hausted by the bur­dens of of­fice in the depths of the De­pres­sion, dis­covered that when he fled Wash­ing­ton in March 1931. For Hoover, the va­ca­tion was made pos­sible by his status as com­mand­er-in-chief. The battle­ship Ari­zona had just un­der­gone a ma­jor mod­ern­iz­a­tion was head­ing out on its shake­down cruise to the Carib­bean. Hoover hitched a ride.
He star­ted the trip on the de­fens­ive with the White House an­noun­cing that he was try­ing "to se­cure a short rest," con­tend­ing that this jaunt to Pu­erto Rico and the Vir­gin Is­lands would be "the first va­ca­tion of the pres­id­ent since as­sum­ing of­fice with the ex­cep­tion of a sev­en-day fish­ing trip to Flor­ida something more than a year ago."
Time magazine de­scribed Hoover as "a very tired man" at the out­set of the cruise. He wanted to es­cape his woes. But even on board the war­ship, Hoover could not duck the work of the pres­id­ency. Every day, an Army di­ri­gible floated above the Ari­zona and dropped a bag marked "U.S. Mail for Pres­id­ent Hoover and Party."
His main agenda, though, was re­lax­a­tion and re­cov­ery. And it seemed to work. After many "long naps," ex­er­cise on the deck with a medi­cine ball, nu­mer­ous movies, and din­ners (in form­al wear) ac­com­pan­ied by an or­ches­tra, Hoover was re­ju­ven­ated. Time de­scribed him as "a new man phys­ic­ally … his cheeks were a pink­ish tan (and) lines around his eyes had been smoothed out."
He also seemed pleased at the press cov­er­age of his cruise. He had told re­port­ers on the trip with him to stop writ­ing stor­ies. "These are days to sleep, and I do not think that any­one ex­pects you to send many news dis­patches. … I think three days of sleep would do us all good."
That's ad­vice from the 31st pres­id­ent that the 44th pres­id­ent would en­thu­si­ast­ic­ally en­dorse. He was a little wist­ful when he went on NBC's Meet the Press after last year's time on Martha's Vine­yard. "What I'd love," he said, "is a va­ca­tion from the press."