House Demo­crats de­livered an­oth­er huge on­line fun­drais­ing haul in 2013, un­der­scor­ing the gap between Demo­crat­ic and Re­pub­lic­an di­git­al ef­forts as the GOP tries to make up ground in the tech­no­logy of polit­ics.
The Demo­crat­ic Con­gres­sion­al Cam­paign Com­mit­tee raised $19.4 mil­lion on­line in 2013, twice what the com­mit­tee raised through the In­ter­net in 2011. That puts the DCCC in po­s­i­tion this year to smash the re­cord $49.3 mil­lion it raised on­line for the 2012 elec­tions and con­tin­ue a rare trend: Des­pite be­ing in the minor­ity, House Demo­crats have out­raised Re­pub­lic­ans since 2011.
"We've had a sig­ni­fic­ant on­line pro­gram since the 2004 or 2006 cycle," DCCC di­git­al dir­ect­or Brandon Eng­lish said in an in­ter­view. "But it's really blown up in the last two cycles. In 2012, a lot of the things we worked on really came to­geth­er."
In 2013, the DCCC out­raised the NR­CC $75.8 mil­lion to $60.6 mil­lion. On dona­tions of less than $200, the Demo­crat­ic com­mit­tee raised $30 mil­lion to the NR­CC's $11.6 mil­lion.
Small on­line dona­tions have fueled that trend. Not only did the DCCC bring in far more small dona­tions than the Na­tion­al Re­pub­lic­an Con­gres­sion­al Com­mit­tee each month in 2013, the Demo­crats' massive email list al­lowed them to take ad­vant­age of key polit­ic­al mo­ments and tur­bocharge their fun­drais­ing.
If you wanted to track Demo­crat­ic polit­ic­al for­tunes in 2013 and didn't have a poll handy, you could do worse than look at the flow of small dona­tions (many of them on­line) to the DCCC. Two of its best three months among small donors came be­fore and dur­ing the fed­er­al gov­ern­ment shut­down, when Demo­crats opened polling leads. The oth­er big spike, in March, came when House Re­pub­lic­ans passed Paul Ry­an's budget and he hos­ted his party's fun­drais­ing din­ner.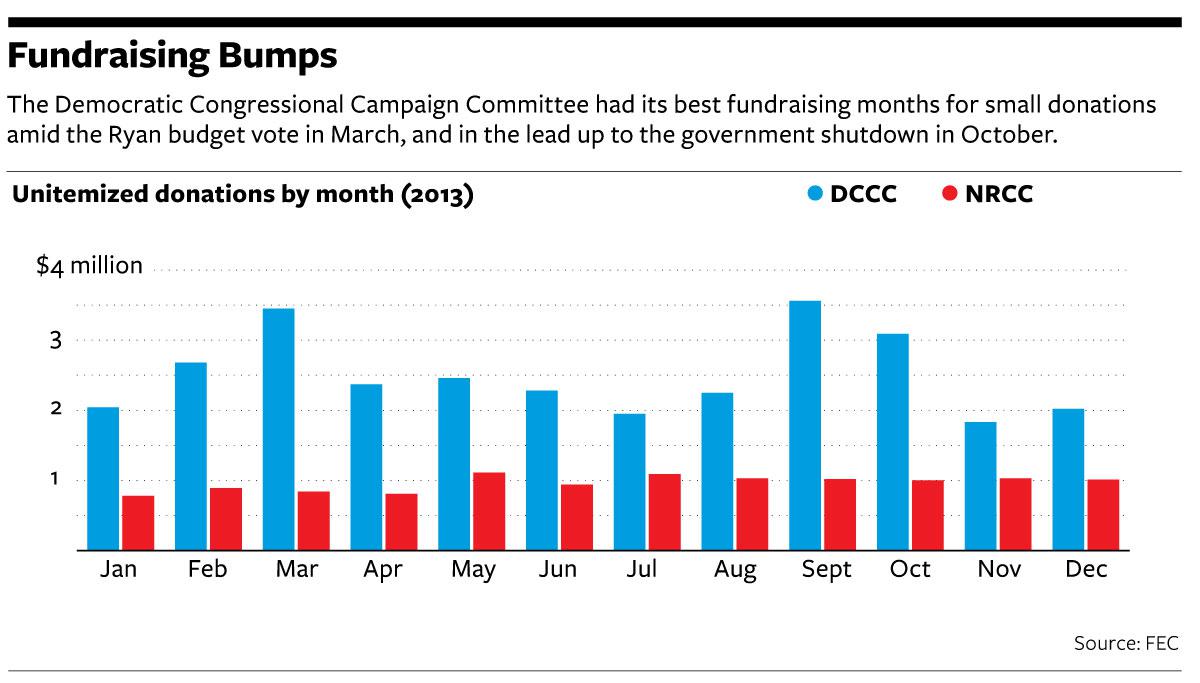 Those spikes are dir­ectly at­trib­ut­able to the DCCC's on­line fun­drais­ing pro­gram, which al­lows the com­mit­tee to jump on news when it hap­pens and rustle money out of riled-up sup­port­ers. "Something hap­pens at 3 and we can get an email out the door at 5," Eng­lish said. That's what the com­mit­tee did in 2012 when Ry­an be­came Mitt Rom­ney's vice pres­id­en­tial nom­in­ee and de­livered a na­tion­ally tele­vised con­ven­tion speech, both of which led to mon­ster fun­drais­ing days on­line.
"A lot of the tac­tics that got brought to light in the Obama cam­paign in 2012, you could see in DCCC fun­drais­ing years be­fore," said Re­pub­lic­an strategist Patrick Ruffini. That's helped Demo­crats take over the small-dol­lar fun­drais­ing dom­in­ance that Re­pub­lic­ans used to en­joy thanks to their own pi­on­eer­ing tech­niques in the 20th cen­tury.
"The kind of prac­tices the DCCC has been do­ing really re­minds me of Re­pub­lic­an dir­ect mail," Ruffini said. "I al­ways mar­vel at this ma­chine the RNC had, and a lot of Re­pub­lic­an or­gan­iz­a­tions had, in terms of dir­ect mail. It just worked; you start it up and it runs."
"Demo­crats had to catch up, and they did it through the In­ter­net," Ruffini con­tin­ued.
Now Re­pub­lic­ans are work­ing that angle harder.
The NR­CC does not re­lease its on­line fun­drais­ing totals, but the com­mit­tee said it's mak­ing pro­gress com­pared to years past, with on­line fun­drais­ing up 250 per­cent in 2013 com­pared with 2011, ac­cord­ing to Ger­rit Lans­ing, the com­mit­tee's di­git­al dir­ect­or. In 2014, the NR­CC hopes to raise more than five times as much cash on­line as it did in the last elec­tion year.
The NR­CC's prob­lem is that it is just start­ing to build up its on­line pro­gram, while the DCCC is reap­ing di­vidends from a dec­ade of ef­fort. The Re­pub­lic­an com­mit­tee didn't start dir­ect­ing ser­i­ous re­sources in­to build­ing its email list un­til 2012 — and late 2012 at that. Even though the NR­CC is now in­vest­ing in that heav­ily un­der Chair­man Greg Walden, it will take years to reach the on­line fun­drais­ing heights Demo­crats have achieved.
That's part of the reas­on that the NR­CC de­b­uted a new web­site last year. Dry press re­leases are nowhere to be found; the fo­cus, in­stead, is on share­able con­tent that can drive people to the site, which is plastered in "con­trib­ute" and "sign up" but­tons where the com­mit­tee can gath­er email ad­dresses.
"An ele­ment of the list-build­ing we've done is a new con­tent strategy that's ex­ecuted on a daily basis by the com­mu­nic­a­tions and di­git­al de­part­ment," Lans­ing said. " "¦ As a res­ult of in­com­ing traffic from this strategy, we've seen a sig­ni­fic­ant up­tick in daily and monthly dona­tions just from people com­ing in from shared con­tent on so­cial net­works."
The real gain, though, comes later, when the NR­CC email list grows big enough to lever­age the way Demo­crats have. All the ef­fort in the world can't change that in one year.