Des­pite telling re­port­ers that she raised $1 mil­lion in the fourth quarter of 2013, Liz Cheney's Wyom­ing Sen­ate cam­paign ac­tu­ally pulled in far less than that total and spent more than she raised dur­ing that time. The daugh­ter of former Pres­id­ent Dick Cheney dropped out of the race just days after the end of the fun­drais­ing peri­od.
Re­ports filed with the Fed­er­al Elec­tion Com­mis­sion show Cheney's fun­drais­ing slowed dur­ing the fi­nal three months of last year, while her spend­ing skyrock­eted. She began 2014 with $612,000 in the bank and $175,000 in debt — far less than GOP Sen. Mi­chael En­zi's $1.83 mil­lion cash on hand. Cheney an­nounced she was with­draw­ing from the race on Jan. 6. Polls showed her well be­hind En­zi at the time.
Cheney raised just un­der $720,000 in the fourth quarter of 2013, but her cam­paign spent more than $900,000, FEC re­ports show. That pro­fil­gate spend­ing was more than any oth­er non-in­cum­bent Sen­ate can­did­ate spent in the fourth quarter, and it ex­plains why she ended the quarter with $183,000 less in the bank that she began it. Cheney raised just over $1 mil­lion in the third quarter, her first as a can­did­ate, and spent only $232,000.
At­tempts to reach Cheney's cam­paign treas­urer, Mark Vin­cent of Casper, Wyo., were not suc­cess­ful.
Cheney is mulling a fu­ture run for pub­lic of­fice, Politico re­por­ted earli­er this week, though she first plans to re­turn the money donors gave to her Sen­ate cam­paign. The cash amounts to less than the $2 mil­lion pre­vi­ously be­lieved.
What We're Following See More »
UNTIL DEC. 9, ANYWAY
Obama Signs Bill to Fund Government
2 hours ago
REDSKINS IMPLICATIONS
SCOTUS to Hear Case on Offensive Trademarks
3 hours ago
WHY WE CARE
"The Supreme Court is taking up a First Amendment clash over the government's refusal to register offensive trademarks, a case that could affect the Washington Redskins in their legal fight over the team name. The justices agreed Thursday to hear a dispute involving an Asian-American rock band called the Slants, but they did not act on a separate request to hear the higher-profile Redskins case at the same time." Still, any precedent set by the case could have ramifications for the Washington football team.
STAFF PICKS
Bannon Still Collecting Royalties from 'Seinfeld'
4 hours ago
WHY WE CARE
The Hollywood Reporter takes a look at a little-known intersection of politics and entertainment, in which Trump campaign CEO Steve Bannon is still raking in residuals from Seinfeld. Here's the digest version: When Seinfeld was in its infancy, Ted Turner was in the process of acquiring its production company, Castle Rock, but he was under-capitalized. Bannon's fledgling media company put up the remaining funds, and he agreed to "participation rights" instead of a fee. "Seinfeld has reaped more than $3 billion in its post-network afterlife through syndication deals." Meanwhile, Bannon is "still cashing checks from Seinfeld, and observers say he has made nearly 25 times more off the Castle Rock deal than he had anticipated."
IT'S ALL CLINTON
Reliable Poll Data Coming in RE: Debate #1
4 hours ago
WHY WE CARE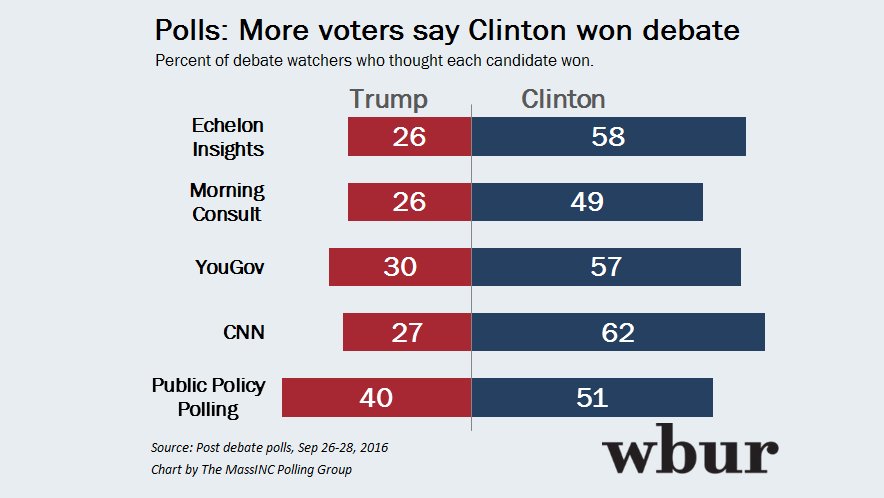 NEXT THURSDAY
Trump Transition Team Meeting with Silicon Valley VIPs
6 hours ago
THE DETAILS
Donald Trump's "transition team will meet next week with representatives of the tech industry, multiple sources confirmed, even as their candidate largely has been largely shunned by Silicon Valley. The meeting, scheduled for next Thursday at the offices of law and lobbying firm BakerHostetler, will include trade groups like the Information Technology Industry Council and the Internet Association that represent major Silicon Valley companies."