Payroll growth in Janu­ary was dis­ap­point­ing: a measly 113,000 jobs, the Bur­eau of Labor Stat­ist­ics said Fri­day morn­ing, well be­low eco­nom­ists' fore­cast for a gain of 180,000.
On top of that, the Decem­ber payroll num­ber — the ugly, 74,000 jobs num­bers that every­one hoped would be re­vised up in the latest re­port — was barely changed.
However, the oth­er gauge of the labor mar­ket's health, which comes from a dif­fer­ent BLS sur­vey, tells a dif­fer­ent story. The un­em­ploy­ment rate dropped to 6.6 per­cent last month, from 6.7 per­cent at the end of 2013.
Cru­cially, it did this while labor-force par­ti­cip­a­tion rose, mean­ing more people were either work­ing or seek­ing work. This is what eco­nom­ists call a de­cline for the "right reas­ons." In past months, however, a de­cline in par­ti­cip­a­tion — dis­cour­aged work­ers drop­ping out of the labor force — has con­trib­uted to the fall­ing job­less rate. 
The con­trast­ing nature of the labor mar­ket's two head­line num­bers re­veals how dif­fi­cult it is to use a single in­dic­at­or when dis­cuss­ing the job mar­ket these days.
It's a prob­lem that has been ac­know­ledged at the Fed­er­al Re­serve, which has said it ex­pects to keep its bench­mark in­terest rate low "at least as long as" un­em­ploy­ment re­mains above 6.5 per­cent. Janet Yel­len, the new chair of the Fed, said the un­em­ploy­ment rate was prob­ably the single best in­dic­at­or of job-mar­ket health last spring. But, she said, "the un­em­ploy­ment rate also has its lim­it­a­tions."
So even though the Fed said it might start to raise its bench­mark in­terest rate once that num­ber reached 6.5 per­cent, the wiggle room af­forded by this as­ser­tion — "at least as long" — in the cent­ral bank's policy state­ment lets it take oth­er vari­ables in­to ac­count: factors such as the rate at which people are quit­ting their jobs and get­ting new ones, the long-term un­em­ploy­ment rate, and labor-force par­ti­cip­a­tion.
Mo­hamed El-Erian, the out­go­ing chief ex­ec­ut­ive of glob­al in­vest­ment firm Pimco, wrote in the Fin­an­cial Times Thursday that he thinks the job­less rate is los­ing its util­ity . El-Erian ar­gues that not only is the un­em­ploy­ment rate be­com­ing an in­creas­ingly use­less lag­ging in­dic­at­or — how well it de­scribes the health of the labor mar­ket — he also says it's be­com­ing a bad lead­ing in­dic­at­or. Spe­cific­ally, he says the un­em­ploy­ment rate is no longer good at pre­dict­ing what the Fed will do.
"The Fed is slowly ex­tend­ing the concept of thresholds to a wider ar­ray of vari­ables, in­clud­ing more hol­ist­ic meas­ures of the labor mar­ket and, more im­port­antly, in­fla­tion tar­gets that are in ex­cess of the cur­rent (and pro­jec­ted) rate," he said.
The payroll pic­tures this month were weak. The un­em­ploy­ment pic­ture was slightly bet­ter. A caveat: The sur­vey that pro­duces the payroll num­ber is lar­ger, and less volat­ile on a month-to-month basis. As such, eco­nom­ists af­ford its monthly read­ing slightly more weight than the sur­vey that pro­duces the un­em­ploy­ment readout. But to un­der­stand the labor mar­ket, we've got to talk about both.
What We're Following See More »
UNTIL DEC. 9, ANYWAY
Obama Signs Bill to Fund Government
1 hours ago
REDSKINS IMPLICATIONS
SCOTUS to Hear Case on Offensive Trademarks
1 hours ago
WHY WE CARE
"The Supreme Court is taking up a First Amendment clash over the government's refusal to register offensive trademarks, a case that could affect the Washington Redskins in their legal fight over the team name. The justices agreed Thursday to hear a dispute involving an Asian-American rock band called the Slants, but they did not act on a separate request to hear the higher-profile Redskins case at the same time." Still, any precedent set by the case could have ramifications for the Washington football team.
STAFF PICKS
Bannon Still Collecting Royalties from 'Seinfeld'
2 hours ago
WHY WE CARE
The Hollywood Reporter takes a look at a little-known intersection of politics and entertainment, in which Trump campaign CEO Steve Bannon is still raking in residuals from Seinfeld. Here's the digest version: When Seinfeld was in its infancy, Ted Turner was in the process of acquiring its production company, Castle Rock, but he was under-capitalized. Bannon's fledgling media company put up the remaining funds, and he agreed to "participation rights" instead of a fee. "Seinfeld has reaped more than $3 billion in its post-network afterlife through syndication deals." Meanwhile, Bannon is "still cashing checks from Seinfeld, and observers say he has made nearly 25 times more off the Castle Rock deal than he had anticipated."
IT'S ALL CLINTON
Reliable Poll Data Coming in RE: Debate #1
3 hours ago
WHY WE CARE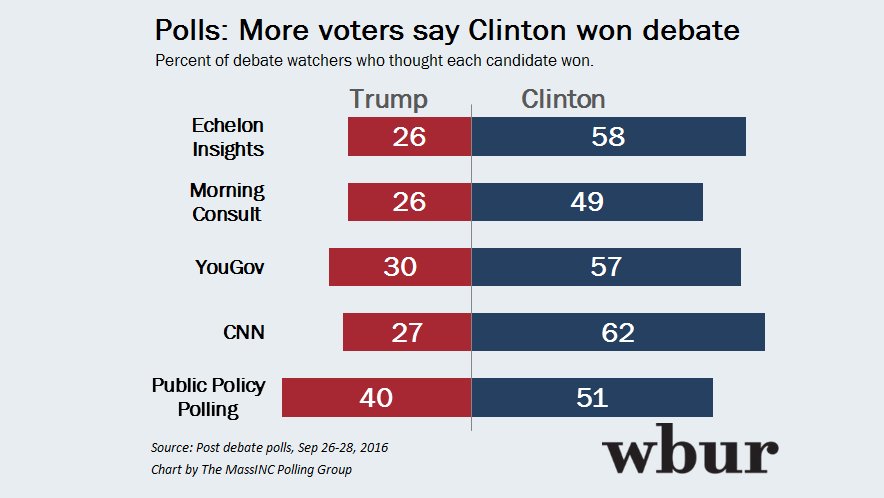 NEXT THURSDAY
Trump Transition Team Meeting with Silicon Valley VIPs
5 hours ago
THE DETAILS
Donald Trump's "transition team will meet next week with representatives of the tech industry, multiple sources confirmed, even as their candidate largely has been largely shunned by Silicon Valley. The meeting, scheduled for next Thursday at the offices of law and lobbying firm BakerHostetler, will include trade groups like the Information Technology Industry Council and the Internet Association that represent major Silicon Valley companies."