When bil­lion­aire en­vir­on­ment­al act­iv­ist Tom Stey­er un­veiled a list of five sen­at­ors he would tar­get over their sup­port for the Key­stone XL pipeline, one name stood out. Sen. Mary Landrieu of Louisi­ana was the only Demo­crat in his crosshairs, and her cam­paign is of vi­tal im­port­ance to Demo­crat­ic strategists. In­deed, her reelec­tion may de­cide wheth­er Demo­crats are able to hold their Sen­ate ma­jor­ity.
Stey­er might yet take the ads else­where — his polit­ic­al group, Nex­t­Gen Cli­mate Ac­tion, said it will only go after one of the five law­makers any­way. But his threat tugs at a deep­er frus­tra­tion roil­ing the Demo­crat­ic polit­ic­al com­munity: Even as the party is badly out­spent in the early go­ing of the 2014 elec­tion, some of their top donors have yet to awaken to the threat. In fact, like Stey­er, the party's rich be­ne­fact­ors are put­ting their single-is­sue cru­sades ahead of the party's great­er in­terests.
Take Mi­chael Bloomberg. The former New York City may­or's group formed to com­bat gun vi­ol­ence, May­ors Against Il­leg­al Guns, spent $350,000 last year as­sail­ing an­oth­er en­dangered Demo­crat, Sen. Mark Pry­or of Arkan­sas, over his op­pos­i­tion to a gun-con­trol bill. In a small state, that counts as a heavy buy against an in­cum­bent who can barely hold off at­tacks from Re­pub­lic­ans.
It's left the Demo­crat­ic strategists plot­ting the Sen­ate races scratch­ing their heads. While Demo­crats aren't fa­cing the deep in­tern­al di­vi­sions plaguing Re­pub­lic­ans, it only takes a few wealthy lib­er­als to cre­ate holy hell in the party's most con­sequen­tial Sen­ate races.
"I say over and over, 'Lord pro­tect me from my friends so I can fo­cus on my en­emies,' " said Ben Chao, a Demo­crat­ic op­er­at­ive who runs a su­per PAC sup­port­ing Landrieu and Pry­or. "This is an ap­par­ent case of that."
Chao and oth­ers say they don't worry too much about Bloomberg's spend­ing it­self, which is min­im­al, but rather the mind-set it be­trays. The party's con­trol of the Sen­ate is in deep danger, and Demo­crats need money to ramp up their cam­paigns — es­pe­cially from their here­to­fore un­der­fun­ded out­side groups — now. Ef­forts from sup­posed al­lies that are coun­ter­pro­duct­ive, to them, verge on the un­think­able.
"It's ter­rible tim­ing," said Mor­gan Jack­son, a Raleigh-based Demo­crat­ic strategist un­af­fili­ated with Sen. Kay Hagan's cam­paign in North Car­o­lina. "The fact of mat­ters is "¦ it is very short­sighted polit­ics."
Jack­son and oth­er North Car­o­lina Demo­crats would know best. Amer­ic­ans for Prosper­ity, a non­profit group bank­rolled in part by the in­dus­tri­al­ists Charles and Dav­id Koch, has in­ves­ted more than $8 mil­lion in ads there tar­get­ing Hagan. The ad buys, the largest of the roughly $27 mil­lion the or­gan­iz­a­tion has already spent this elec­tion cycle, have co­in­cided with a drop in sup­port for the sen­at­or, ac­cord­ing to sev­er­al pub­lic polls.
Demo­crat­ic groups haven't been en­tirely si­lent: Sen­ate Ma­jor­ity PAC has run ads de­fend­ing Hagan, and Politico re­por­ted Thursday that the non­profit Pat­ri­ot Ma­jor­ity USA would take to the air­waves in the Tar Heel State. But their ad buys are dwarfed by AFP's.
Stey­er, if he chose to fo­cus on main­tain­ing a Sen­ate Demo­crat­ic ma­jor­ity, could help change that. Ac­cord­ing to spokes­man Chris Le­hane, he spent $8.5 mil­lion last year help­ing elect Vir­gin­ia Demo­crat­ic Gov. Terry McAul­iffe. That was on top of the nearly $5 mil­lion he spent in the Mas­sachu­setts spe­cial elec­tion last year to as­sist now-Sen. Ed­ward Mar­key — both in the primary and gen­er­al.
But, as Le­hane ex­plains, Stey­er wants to use his fin­an­cial muscle to coun­ter­bal­ance what he per­ceives as the oil in­dustry's polit­ic­al might. And for now, that means tar­get­ing sup­port­ers of the Key­stone pipeline, a list that in­cludes Landrieu, the new chair­wo­man of the Sen­ate En­ergy Com­mit­tee. "The fossil-fuel in­dustry has been enorm­ously sup­port­ive of folks, es­pe­cially folks sup­port­ive of the pipeline," Stey­er's spokes­man said.
(Le­hane said the pro­posed ad would ask voters wheth­er the sen­at­or knows if oil pumped through the pipeline will be used do­mest­ic­ally or be shipped to China. Nex­t­Gen is ask­ing people who vis­it its web­site to vote for which law­maker the com­mit­tee should tar­get.)
Demo­crats re­main pub­licly con­fid­ent that, even­tu­ally, their donors will come around.
Bloomberg's spend­ing against Pry­or ruffled feath­ers, but he has re­portedly giv­en Sen­ate Ma­jor­ity PAC $2.5 mil­lion since — sev­en times the amount he in­ves­ted against Pry­or (money that, iron­ic­ally, could be used to help the Demo­crat's cam­paign). Sources fa­mil­i­ar with Stey­er's think­ing say he could soon fol­low suit, as­sum­ing he's sat­is­fied the Sen­ate Demo­crat­ic caucus re­mains com­mit­ted to the cli­mate-change fight.
"We are look­ing to be ex­cep­tion­ally sup­port­ive of the ef­fort to make sure Demo­crats re­tain the Sen­ate," the source said.
Demo­crats will be pleased to hear that. Be­cause at the mo­ment, their frus­tra­tion is about to boil over.
"So far, we're hear­ing crick­ets chirp," said Brad Crone, an­oth­er Raleigh-based Demo­crat­ic Party op­er­at­ive. "Right now, [donors] are pea­cock­ing, they got the feath­ers out, but they're not put­ting any money down to buy TV ad­vert­ising."
What We're Following See More »
SAUDI ARABIA BILL
Veto Override Scheduled for Wednesday in Senate
9 minutes ago
THE LATEST
Senate Majority Leader Mitch McConnell said this afternoon that the Senate on Wednesday will take up an override of President Obama's veto of legislation that would allow the families of 9/11 victims to sue the government of Saudi Arabia. "The vote is expected garner the two-thirds majority necessary to override the veto."
MEDIA SHOULD HOLD TRUMP RESPONSIBLE
Reid Devotes Senate Floor Speech to Trump's 'Racism'
53 minutes ago
THE LATEST
"Donald Trump is a racist," announced Senate Minority Leader Harry Reid from the Senate floor this afternoon. Reid said all of us are occasionally politically incorrect, but "I don't know of anyone that when that happens doesn't acknowledge it and, if necessary, apologize quickly." But Trump, he added, says things with "full intent to demean and to denigrate." Reid argued that the media isn't holding Trump to account, and should explicitly call him a racist.
ABSENT FROM LIST: GENNIFER FLOWERS
Most Trump Guests Have Military Ties
4 hours ago
TOP OF MIND
Trending on Google: 'Why Should Trump Not Be President'
4 hours ago
THE DETAILS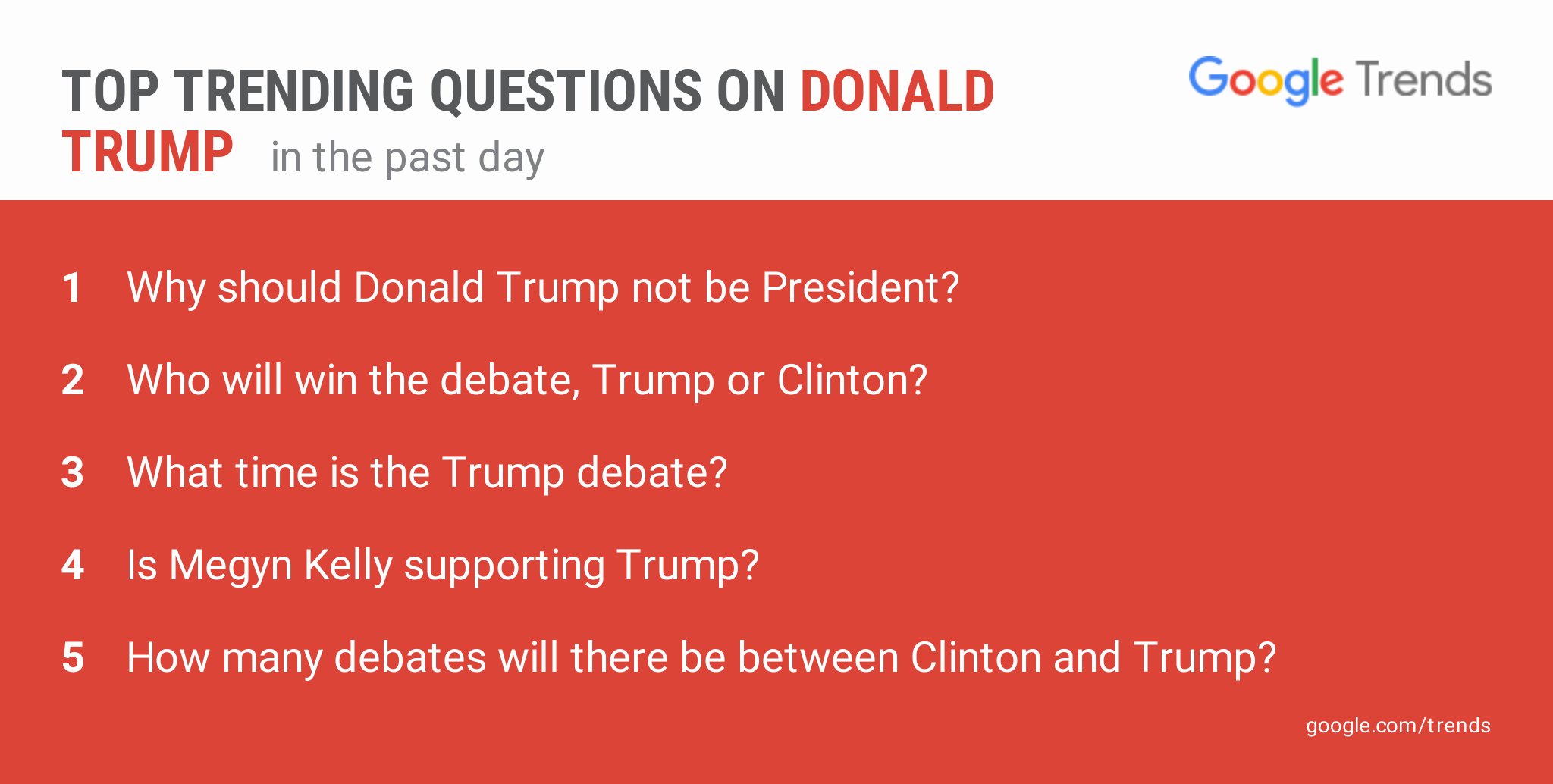 WHO PLAYED THE DONALD?
Longtime Clinton Aide Played Trump in Mock Debates
6 hours ago
THE DETAILS
After keeping the information private for most of the lead-up to the debate on Monday, it has been revealed that longtime Clinton aide Philippe Reines has been playing the role of Donald Trump in her debate prep. Reines knows Clinton better than most, able to identify both her strengths and weaknesses, and his selection for a sparring partner shows that Clinton is preparing for the brash and confrontational Donald Trump many have come to expect.