In 2008, Washington was grappling with what it thought was a scarce supply of oil and natural gas, energy prices were high, presidential candidates of all stripes embraced action on global warming, and President Obama was riding to victory on his slogan of change you can believe in.
Today, six years later, who would have thought this much change would come to the energy and climate world this fast? Here are the biggest changes over the past six years.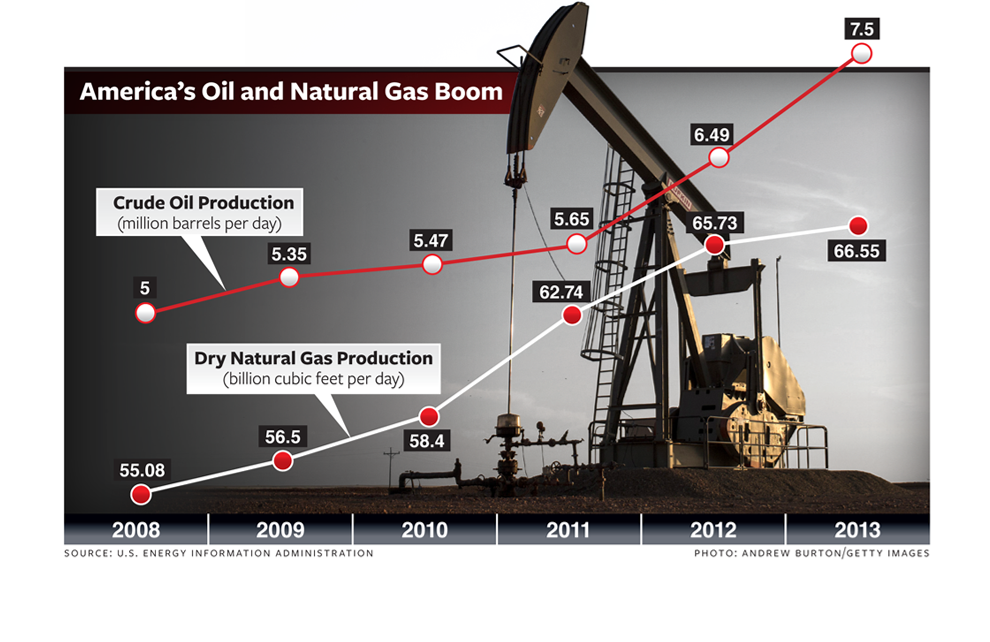 America's oil and natural-gas boom. America was at the beginning of its oil and natural-gas boom in 2008, but that news hadn't reached Washington yet. Over the past six years, oil production has risen by at least 45 percent, according to government data, and other estimates have it closer to 60 percent. Natural-gas production has gone up 22 percent. The International Energy Agency predicts the U.S. will surpass Saudi Arabia as the world's biggest oil producer in 2015; and the Energy Information Administration says we've surpassed Russia as the biggest natural-gas producer. Between 2008 (before that September's economic crash) and 2013, natural-gas prices dropped almost 60 percent. Even after the crash toward the end of 2008, natural-gas prices were still 40 percent higher than they were at the end of 2013, according to EIA's 2014 outlook. Oil (and gasoline) prices are higher than they were in 2008, but energy analysts credit the ballooning oil production in North Dakota and Texas for why prices have been more stable and lower than they would be otherwise, even while the economy improves.     (Joey Carolino)
This boom has had economic, political, and environmental ripple effects throughout the United States and the rest of the world. Most importantly for Obama over his presidency so far, the boom has enabled him to enact tougher environmental rules, use leverage in geopolitical negotiations — such as those involving Iranian oil sanctions — and tout progress on combating climate change, even if in the long run it's not a clear success.
The rise of EPA and the fall of climate-friendly Republicans. From the death of comprehensive climate legislation in 2010 came the rise of the Environmental Protection Agency's divisive role in leading Obama's climate agenda. The threat of EPA's Supreme Court-compelled plans to regulate carbon emissions were supposed to be the stick to prod Congress to act on climate, but instead EPA ended up being one of many obstacles to a climate bill (the BP oil spill in 2010 was another big one). Today, that threat is becoming a reality. Not coincidentally, the last six years have also seen the near extinction of Republicans who openly acknowledge global warming is real and advocate for action. Many factors compelled this trend, but the threat of EPA played a role by galvanizing Republicans and coal-state Democrats around a common enemy, instead of a common goal.
Environmental movement flipping from top down to bottom up. In 2008, environmentalists were galvanizing around Obama's commitment to pass comprehensive climate-change legislation in Congress. Environmentalists were so committed to this top-down approach they barely noticed when the Obama administration approved in 2009 a pipeline sending Canadian oil sands across the border to Wisconsin. This pipeline is much shorter than Keystone (330 U.S. miles, compared with Keystone's 1,300 U.S. miles). But the basic premise of sending carbon-heavy oil sands into the U.S. is the same. By summer 2010, comprehensive climate legislation was dead, and the top-down approach by the United Nations had stalled on the international front. The environmental movement began searching for something else to rally around, and they found plenty: the Keystone XL pipeline, fracking, and fossil-fuel export terminals. To be sure, environmentalists support EPA's plans to regulate carbon emissions, but this effort doesn't have the rallying appeal individual projects do.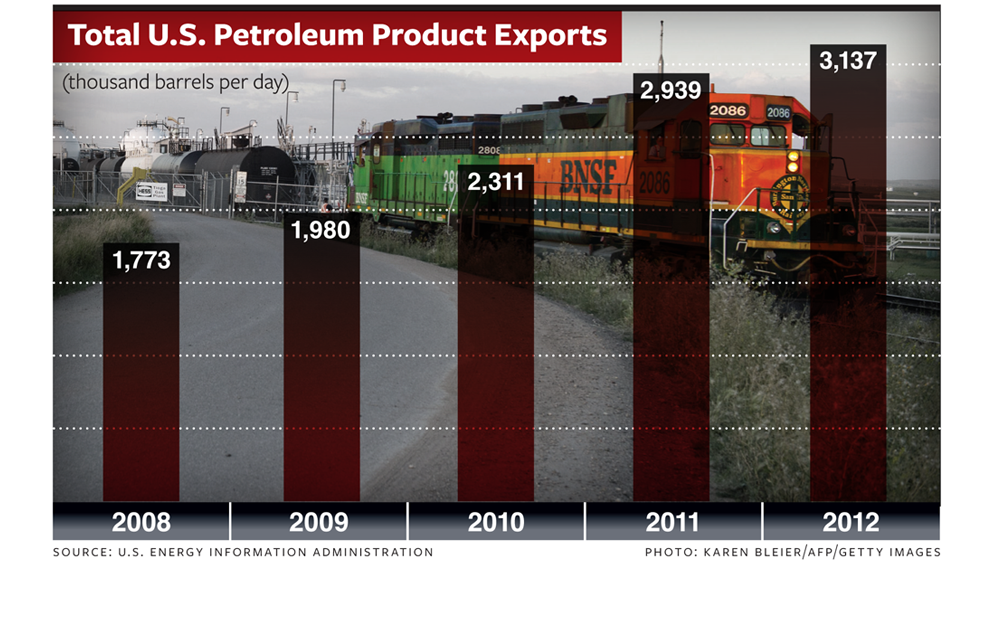 Imports and exports of fossil fuels. It's hard to put into words the dramatic rise in exports across the fossil-fuel board. But let's give it a try. Because the government bans most exports of crude oil, exports of products refined from oil — like diesel, gasoline, and jet fuel — have increased more than 60 percent since 2008. Companies are also making the most of the ban's few exceptions, which includes Canada. Crude-oil exports, mostly to our northern neighbor, increased 262 percent since 2008. It's a startling rise percentage-wise, but objectively the numbers are small. Last year (excluding December, whose numbers aren't out yet) the U.S. only exported about 40 million barrels of oil, compared with the roughly 2.5 billion barrels of oil we produced last year.     (Joey Carolino)
Meanwhile, EIA predicts the U.S. will import just 28 percent of its oil this year, compared with almost 60 percent in 2008. Natural-gas exports, which the government restricts but not as severely as crude oil, have gone up 50 percent since 2008. Exports of coal, a carbon-heavy resource facing a one-two punch from cheaper, cleaner natural gas and tougher environmental rules, have risen 32 percent over the last six years. Like with many economic trends, Washington is behind and playing catch-up to what these exports mean to the country and what, if anything, it should do about them.
Renewable-energy growth, which is objectively significant but still relatively small. Obama poured some $90 billion into clean-energy incentives as part of the stimulus bill he signed into law shortly after becoming president. That was supposed to be the down payment that a congressionally mandated price on carbon would sustain indefinitely. That effort didn't happen, of course, but renewable energy is still growing thanks to state policies, tax incentives, and gradually cheaper technology costs. The electricity sector's use of renewable energy has increased more than 25 percent since 2008, but today it still only makes up 12 percent of the electricity pie (more than half of that comes from hydroelectricity). By 2040, renewables will still account for just 16 percent of the mix, according to EIA.
Six years is a just a moment in the energy and environment world, but it's certainly been a transformative moment. What will the next six years hold?