Feb. 10, 2014, 11:16 a.m.
The Obama ad­min­is­tra­tion an­nounced fur­ther delays Monday in Obama­care's em­ploy­er man­date — which has already been pushed back a full year.
Ad­min­is­tra­tion of­fi­cials said the latest delays are de­signed to give busi­nesses more flex­ib­il­ity and a longer trans­ition peri­od to be­gin of­fer­ing health in­sur­ance to their work­ers.
The Af­ford­able Care Act re­quires large em­ploy­ers — those with more than 50 full-time em­ploy­ees — to either provide health in­sur­ance to their work­ers or pay a pen­alty. The man­date was sched­uled to take ef­fect this year, but the Treas­ury De­part­ment pre­vi­ously delayed the dead­line un­til 2015.
Now it's delay­ing the cov­er­age re­quire­ment even fur­ther.
Busi­nesses with 50 to 99 full-time work­ers — people work­ing at least 30 hours per week — don't have to com­ply with the man­date un­til 2016, un­der fi­nal reg­u­la­tions the Treas­ury De­part­ment re­leased Monday.
Lar­ger em­ploy­ers aren't get­ting an out­right delay but will have more time to fully com­ply with the man­date. Em­ploy­ers with more than 100 full-time work­ers must of­fer cov­er­age to 70 per­cent of their full-time em­ploy­ees this year, and 95 per­cent after that, to avoid pay­ing a pen­alty.
The ad­min­is­tra­tion noted that only about 4 per­cent of em­ploy­ers are eli­gible for one of the breaks an­nounced Monday, al­though those busi­nesses em­ploy about 72 per­cent of all private-sec­tor work­ers.
The vast ma­jor­ity of large em­ploy­ers already provide health be­ne­fits to their full-time work­ers. Monday's changes are un­likely to make a sig­ni­fic­ant dif­fer­ence in how many people the Af­ford­able Care Act ul­ti­mately cov­ers.
Monday's reg­u­la­tions also cla­ri­fy that vo­lun­teers — for ex­ample, vo­lun­teer fire­fight­ers — aren't coun­ted as full-time em­ploy­ees, and they give em­ploy­ers more flex­ib­il­ity when count­ing work­ers' hours. Those steps were de­signed to "kind of mit­ig­ate the way the 30-hour defin­i­tion works," a Treas­ury of­fi­cial said.
Of­fi­cials said busi­nesses will have to at­test that they're not cut­ting em­ploy­ees just to qual­i­fy for the ad­di­tion­al delay but noted that busi­nesses are still free to cut their work­forces for eco­nom­ic reas­ons.
Asked where Treas­ury found the leg­al au­thor­ity to phase in the em­ploy­er man­date, of­fi­cials said the de­part­ment has "broad au­thor­ity" to im­ple­ment tax laws in a way that will ease the ad­min­is­tra­tion of those laws.
"We think a phase-in ap­proach really is a way to ad­min­is­ter the law bet­ter," a seni­or Treas­ury of­fi­cial said.
What We're Following See More »
UNTIL DEC. 9, ANYWAY
Obama Signs Bill to Fund Government
4 hours ago
REDSKINS IMPLICATIONS
SCOTUS to Hear Case on Offensive Trademarks
4 hours ago
WHY WE CARE
"The Supreme Court is taking up a First Amendment clash over the government's refusal to register offensive trademarks, a case that could affect the Washington Redskins in their legal fight over the team name. The justices agreed Thursday to hear a dispute involving an Asian-American rock band called the Slants, but they did not act on a separate request to hear the higher-profile Redskins case at the same time." Still, any precedent set by the case could have ramifications for the Washington football team.
STAFF PICKS
Bannon Still Collecting Royalties from 'Seinfeld'
6 hours ago
WHY WE CARE
The Hollywood Reporter takes a look at a little-known intersection of politics and entertainment, in which Trump campaign CEO Steve Bannon is still raking in residuals from Seinfeld. Here's the digest version: When Seinfeld was in its infancy, Ted Turner was in the process of acquiring its production company, Castle Rock, but he was under-capitalized. Bannon's fledgling media company put up the remaining funds, and he agreed to "participation rights" instead of a fee. "Seinfeld has reaped more than $3 billion in its post-network afterlife through syndication deals." Meanwhile, Bannon is "still cashing checks from Seinfeld, and observers say he has made nearly 25 times more off the Castle Rock deal than he had anticipated."
IT'S ALL CLINTON
Reliable Poll Data Coming in RE: Debate #1
6 hours ago
WHY WE CARE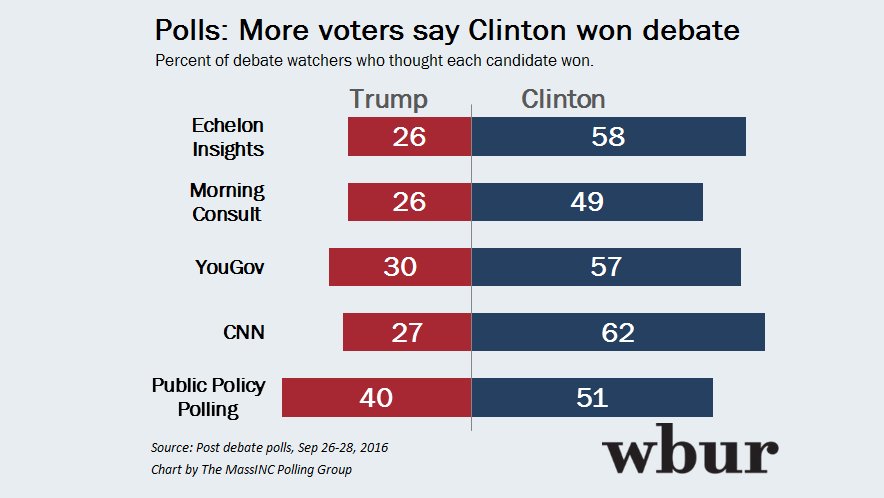 NEXT THURSDAY
Trump Transition Team Meeting with Silicon Valley VIPs
8 hours ago
THE DETAILS
Donald Trump's "transition team will meet next week with representatives of the tech industry, multiple sources confirmed, even as their candidate largely has been largely shunned by Silicon Valley. The meeting, scheduled for next Thursday at the offices of law and lobbying firm BakerHostetler, will include trade groups like the Information Technology Industry Council and the Internet Association that represent major Silicon Valley companies."