Feb. 10, 2014, 12:50 p.m.
Google, Mi­crosoft, Face­book, and oth­er tech ti­tans col­lect­ively ad­ded their names Monday to a grow­ing list of web­sites and or­gan­iz­a­tions sup­port­ing a di­git­al day of protest Tues­day against the Na­tion­al Se­cur­ity Agency's spy pro­grams.
The Re­form Gov­ern­ment Sur­veil­lance co­ali­tion — which also in­cludes AOL, Twit­ter, Linked­In, and Ya­hoo — is the most prom­in­ent ad­di­tion to a protest that has gained thou­sands of new sup­port­ers over the past week. The co­ali­tion has already been vo­cal in its op­pos­i­tion to NSA sur­veil­lance, and has long pressed for the abil­ity to be more trans­par­ent with cus­tom­ers about gov­ern­ment data re­quests.
Billing the protest as "The Day We Fight Back," or­gan­izers are prom­ising that ban­ners will be prom­in­ently dis­played on web­sites across the In­ter­net ur­ging users to en­gage in vir­al activ­ity ex­press­ing their op­pos­i­tion to the NSA. Ad­di­tion­ally, those ban­ners will ask read­ers to flood the tele­phone lines and email in-boxes of con­gres­sion­al of­fices to voice their sup­port of the Free­dom Act, a bill in Con­gress that aims to re­strict the gov­ern­ment's sur­veil­lance au­thor­ity.
It re­mains un­clear to what ex­tent mem­bers of the co­ali­tion will par­ti­cip­ate, or wheth­er they will host such ban­ners on their in­di­vidu­al sites.
"Google re­cog­nizes the very real threats that the U.S. and oth­er coun­tries face, but we strongly be­lieve that gov­ern­ment sur­veil­lance pro­grams should op­er­ate un­der a leg­al frame­work that is rule-bound, nar­rowly tailored, trans­par­ent, and sub­ject to over­sight," wrote Susan Mo­lin­ari, Google's vice pres­id­ent of pub­lic policy, in a blog post Tues­day.
The roster of par­ti­cip­at­ing groups, which or­gan­izers say now tops 5,700, also in­cludes the Amer­ic­an Civil Liber­ties Uni­on, Red­dit, Tumblr, Moz­illa, DailyKos, and Am­nesty In­ter­na­tion­al.
"The ul­ti­mate goal is to provide more es­teem for the USA Free­dom Act and oth­er meas­ures and to en­sure that [Sen. Di­anne] Fein­stein's so-called FISA Im­prove­ments Act nev­er sees the light of day," said Dav­id Segal, ex­ec­ut­ive dir­ect­or of De­mand Pro­gress, told Na­tion­al Journ­al last week.
The Free­dom Act — in­tro­duced late last year by Re­pub­lic­an Rep. Jim Sensen­bren­ner of Wis­con­sin, a former USA Pat­ri­ot Act au­thor — would lim­it the gov­ern­ment's bulk col­lec­tion of tele­phone metadata, in­stall a pri­vacy ad­voc­ate in the secret For­eign In­tel­li­gence Sur­veil­lance Court, and de­mand ad­di­tion­al trans­par­ency from the NSA. It cur­rently has 130 co­spon­sors in the House, and there is a com­pan­ion bill in the Sen­ate be­ing pushed by Ju­di­ciary Com­mit­tee Chair­man Patrick Leahy.
De­mand Pro­gress, a left­ist group, helped lead an earli­er wave of In­ter­net act­iv­ism that fam­ously killed the Stop On­line Pir­acy Act and the Pro­tect IP Act in 2012. Segal and oth­ers have likened Tues­day's protest to that earli­er round of di­git­al act­iv­ism, which saw Google, Wiki­pe­dia and thou­sands of oth­er pop­ulare sites de­lib­er­ately shut down to show their op­pos­i­tion to those bills.
The protest, which blind­sided many law­makers at the time, worked, stop­ping the le­gis­la­tion in its tracks.
But Tues­day's protest won't be nearly as jar­ring. It won't fea­ture any black­outs, and the In­ter­net will mostly con­tin­ue to hum along as al­ways. Segal, however isn't rul­ing out a pos­sible anti-NSA black­out down the road.
"To get to the [SOPA] black­out it re­quired three, four, five pushes to al­low al­lies to co­alesce and ex­press enough con­cerns about the le­gis­la­tion," Segal said.
What We're Following See More »
SAUDI ARABIA BILL
Veto Override Scheduled for Wednesday in Senate
1 hours ago
THE LATEST
Senate Majority Leader Mitch McConnell said this afternoon that the Senate on Wednesday will take up an override of President Obama's veto of legislation that would allow the families of 9/11 victims to sue the government of Saudi Arabia. "The vote is expected garner the two-thirds majority necessary to override the veto."
MEDIA SHOULD HOLD TRUMP RESPONSIBLE
Reid Devotes Senate Floor Speech to Trump's 'Racism'
2 hours ago
THE LATEST
"Donald Trump is a racist," announced Senate Minority Leader Harry Reid from the Senate floor this afternoon. Reid said all of us are occasionally politically incorrect, but "I don't know of anyone that when that happens doesn't acknowledge it and, if necessary, apologize quickly." But Trump, he added, says things with "full intent to demean and to denigrate." Reid argued that the media isn't holding Trump to account, and should explicitly call him a racist.
ABSENT FROM LIST: GENNIFER FLOWERS
Most Trump Guests Have Military Ties
5 hours ago
TOP OF MIND
Trending on Google: 'Why Should Trump Not Be President'
5 hours ago
THE DETAILS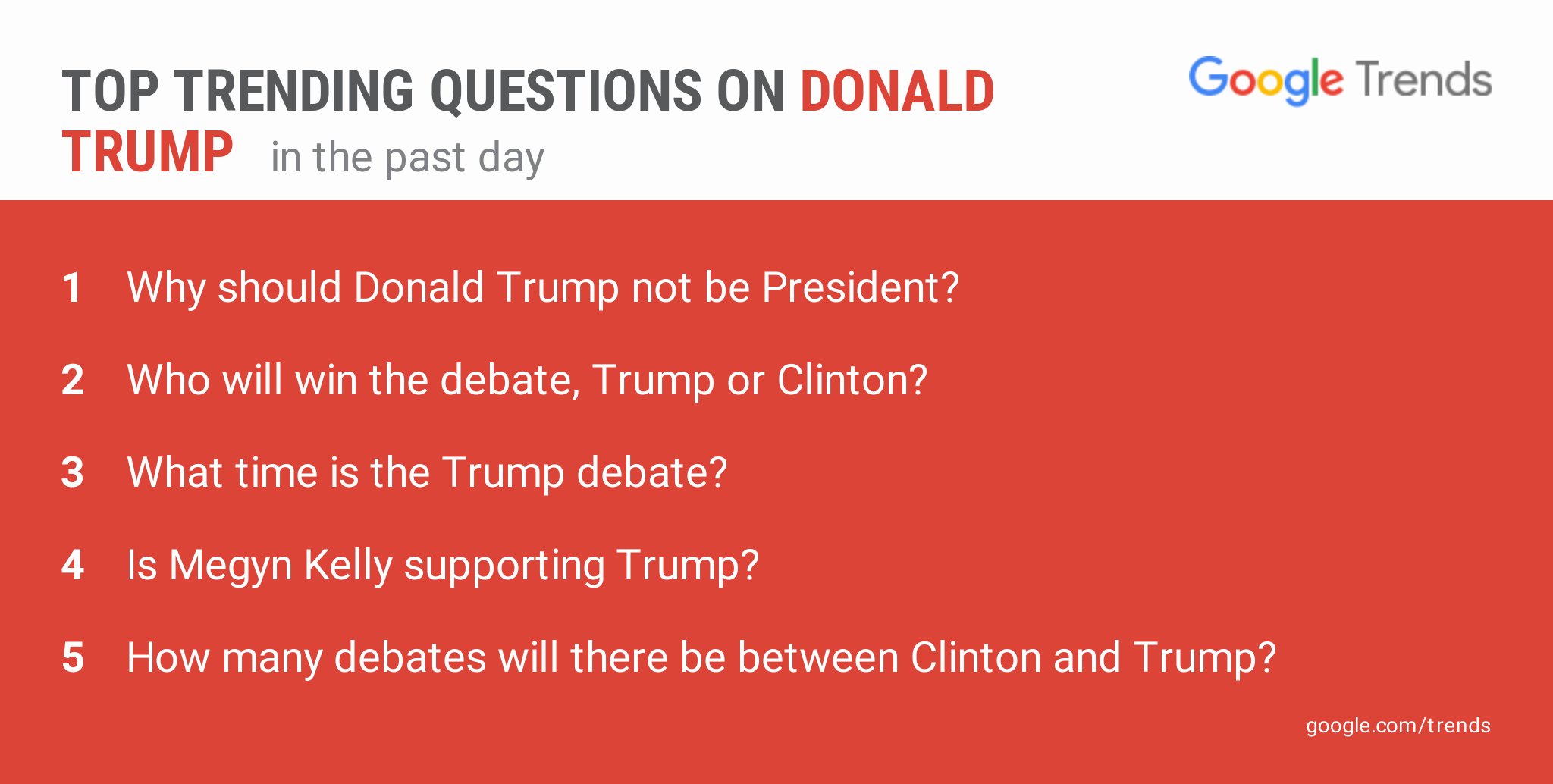 WHO PLAYED THE DONALD?
Longtime Clinton Aide Played Trump in Mock Debates
8 hours ago
THE DETAILS
After keeping the information private for most of the lead-up to the debate on Monday, it has been revealed that longtime Clinton aide Philippe Reines has been playing the role of Donald Trump in her debate prep. Reines knows Clinton better than most, able to identify both her strengths and weaknesses, and his selection for a sparring partner shows that Clinton is preparing for the brash and confrontational Donald Trump many have come to expect.