The num­ber of drug short­ages has quad­rupled in the past five years, for­cing doc­tors and phar­macists to delay or ra­tion care, as life-sav­ing med­ic­a­tions re­main in short sup­ply, ac­cord­ing to the Gov­ern­ment Ac­count­ab­il­ity Of­fice on Monday.
There were 456 drug short­ages in 2012, and the trend was con­tinu­ing, with an­oth­er 361 drug short­ages re­por­ted by the middle of 2013, ac­cord­ing to the GAO re­port.
Drug-qual­ity is­sues and man­u­fac­tur­ing delays or shut­downs re­lated to qual­ity ac­coun­ted for 70 per­cent of drug short­ages re­por­ted between Jan. 1, 2011, and June 30, 2013, ac­cord­ing to the re­port.
The scarcity of cer­tain drugs in the mar­ket has jeop­ard­ized the abil­ity of care pro­viders to sta­bil­ize trauma vic­tims, con­trol pain dur­ing sur­gery, and treat heart dis­ease, said Mar­cia Crosse, GAO's dir­ect­or of health care, at a con­gres­sion­al hear­ing on the re­port.
"The large num­ber of short­ages re­por­ted to the FDA sug­gests the mar­ket is still at risk of sup­ply dis­rup­tions," Crosse said.
The Food and Drug Ad­min­is­tra­tion is re­spons­ible for over­see­ing drug qual­ity-prob­lems and work­ing with man­u­fac­tur­ers to rem­edy short­ages. Con­gress gran­ted the FDA great­er over­sight powers in 2012 after it passed the Food and Drug Ad­min­is­tra­tion Safety and In­nov­a­tion Act, re­quir­ing man­u­fac­tur­ers to no­ti­fy the agency of short­ages and re­quir­ing the agency to main­tain short­age data­bases and cre­ate ac­tion plans to solve them.
GAO cred­ited the FDA with mak­ing pro­gress in its goal to in­crease the avail­ab­il­ity of drugs, par­tic­u­larly gen­er­ics, in the face of short­ages. The FDA's ef­forts to get drugs back on the mar­ket in­clude reg­u­lat­ory flex­ib­il­ity and ex­ped­ited re­views of new drugs.
While the num­ber of over­all drug short­ages re­mains high, the num­ber of new drug short­ages is fall­ing. There were 195 new short­ages in 2012, down from 255 in 2011.
"Our next task is to un­der­stand those longer-dur­a­tion short­ages," said Douglas Throck­mor­ton, deputy dir­ect­or of reg­u­lat­ory pro­grams at the FDA.
Roughly 64 per­cent of new drug short­ages — 722 of the 1,132 re­por­ted to the FDA between Janu­ary 2007 and June 2013 — las­ted less than one year. But 14 per­cent las­ted more than two years, and some as long as four or more.
GAO re­com­mends that the FDA im­prove its data­base of drug short­ages and use the in­form­a­tion to ana­lyze trends and identi­fy risk factors to pre­vent fu­ture de­fi­cien­cies.
What We're Following See More »
SAUDI ARABIA BILL
Veto Override Scheduled for Wednesday in Senate
14 minutes ago
THE LATEST
Senate Majority Leader Mitch McConnell said this afternoon that the Senate on Wednesday will take up an override of President Obama's veto of legislation that would allow the families of 9/11 victims to sue the government of Saudi Arabia. "The vote is expected garner the two-thirds majority necessary to override the veto."
MEDIA SHOULD HOLD TRUMP RESPONSIBLE
Reid Devotes Senate Floor Speech to Trump's 'Racism'
58 minutes ago
THE LATEST
"Donald Trump is a racist," announced Senate Minority Leader Harry Reid from the Senate floor this afternoon. Reid said all of us are occasionally politically incorrect, but "I don't know of anyone that when that happens doesn't acknowledge it and, if necessary, apologize quickly." But Trump, he added, says things with "full intent to demean and to denigrate." Reid argued that the media isn't holding Trump to account, and should explicitly call him a racist.
ABSENT FROM LIST: GENNIFER FLOWERS
Most Trump Guests Have Military Ties
4 hours ago
TOP OF MIND
Trending on Google: 'Why Should Trump Not Be President'
4 hours ago
THE DETAILS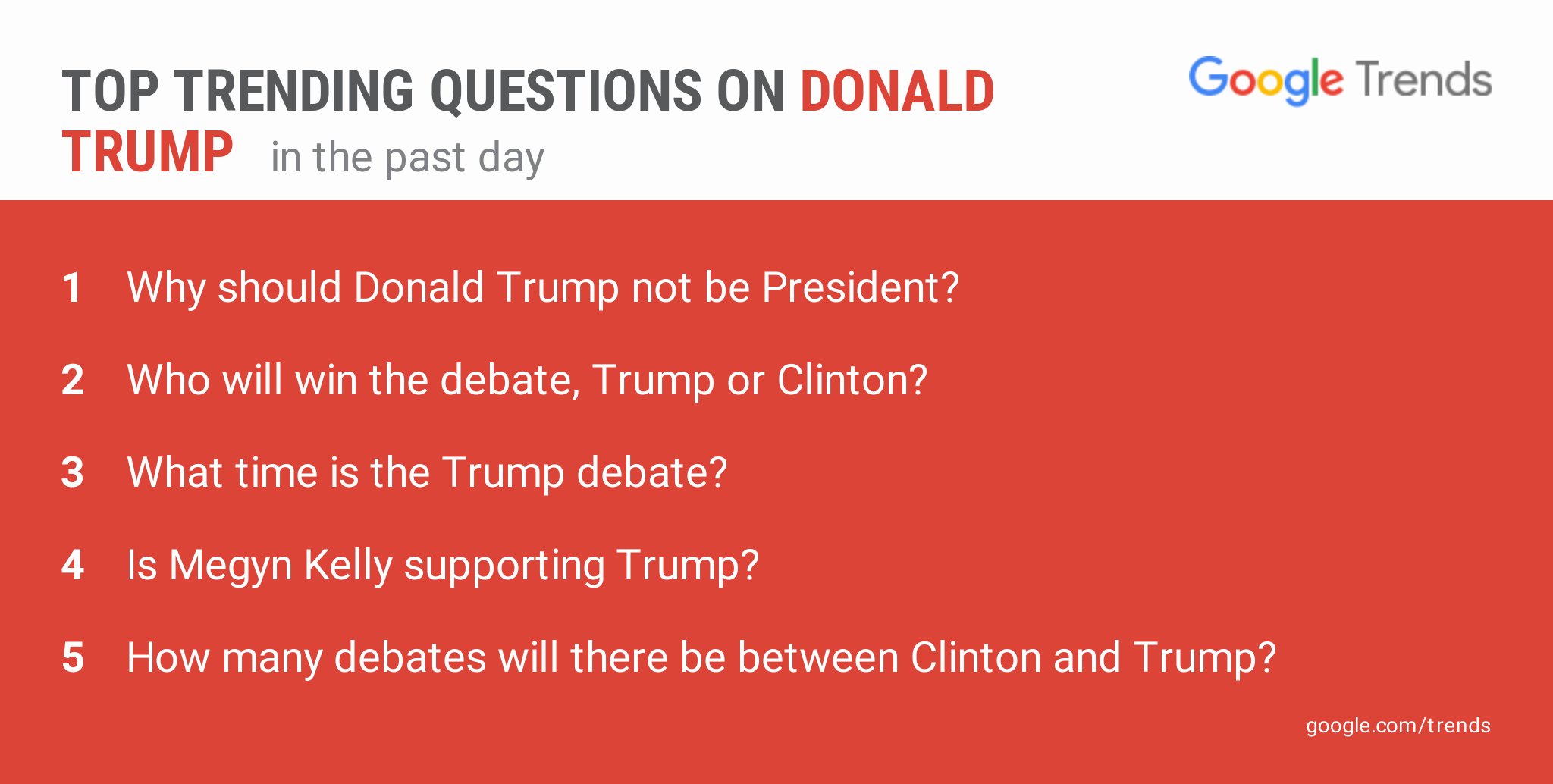 WHO PLAYED THE DONALD?
Longtime Clinton Aide Played Trump in Mock Debates
7 hours ago
THE DETAILS
After keeping the information private for most of the lead-up to the debate on Monday, it has been revealed that longtime Clinton aide Philippe Reines has been playing the role of Donald Trump in her debate prep. Reines knows Clinton better than most, able to identify both her strengths and weaknesses, and his selection for a sparring partner shows that Clinton is preparing for the brash and confrontational Donald Trump many have come to expect.