Demo­crats have stayed con­sist­ent for months: They'll give noth­ing in re­turn for rais­ing the debt ceil­ing. But they may have to re­think that po­s­i­tion soon.
The latest House Re­pub­lic­ans plan to in­crease the debt lim­it is via a bill that also rolls back cuts to mil­it­ary vet­er­ans' pen­sions, pay­ing for it by adding an ad­di­tion­al year of man­dat­ory se­quester cuts in 2024.
That means, if the plan passes the House, the Sen­ate will have to de­cide what to do with a debt-ceil­ing in­crease that has something at­tached to it. And a num­ber of Sen­ate Demo­crats didn't shut the door on the pos­sib­il­ity of vot­ing for such a meas­ure. Jack Reed of Rhode Is­land didn't rule it out; while say­ing the most im­port­ant thing is to raise the debt ceil­ing, he'd have to wait to see what is in such a bill that in­cluded a roll­back to the mil­it­ary cuts.
The Sen­ate is con­sid­er­ing a bill this week to re­verse the $6 bil­lion in cost-of-liv­ing cuts without a pay-for, with its pro­spects un­cer­tain. The bill eas­ily passed a pro­ced­ur­al hurdle Monday, but Re­pub­lic­ans want to of­fer amend­ments on how to pay for it. So far, such pro­pos­als have been polit­ic­al non­starters.
Be­fore the House GOP plan emerged in earn­est, Demo­crat­ic Sen. Bar­bara Mikul­ski, who chairs the Sen­ate Ap­pro­pri­ations Com­mit­tee,  said she was also in the wait-and-see cat­egory on any House-passed debt-ceil­ing in­crease. "We have to look at this, just like now we're try­ing to come to the floor on deal­ing with the mil­it­ary COLA," she said. "I can't com­ment un­til we see what the deal is."
In­de­pend­ent Sen. An­gus King, who caucuses with Demo­crats, said that adding on a vet' pen­sion meas­ure isn't a deal-break­er in and of it­self. "I don't like the prin­ciple of at­tach­ing things, but if they at­tach something that's good, that every­one can agree on, I'll cer­tainly con­sider it," he said.
When asked if he would only vote for a clean debt-lim­it in­crease, Sen. Robert Men­en­dez, D-N.J., said, "it would be my de­sire to vote only on a debt lim­it, up or down."
The House Re­pub­lic­an plan emerged from a closed-door meet­ing Monday night, which Sen­ate Budget Chair Patty Mur­ray cri­ti­cized be­fore it even broke out, as she ad­voc­ates for a debt lim­it clean in­crease: "Re­pub­lic­an lead­ers shouldn't need an­oth­er meet­ing to fig­ure out that debt-lim­it brink­man­ship doesn't work, be­cause they are even hear­ing from their own tea-party mem­bers that they should give up and walk back the ransom de­mands," Mur­ray said in a state­ment.
House Re­pub­lic­an lead­er­ship had been look­ing for a way to move a debt-ceil­ing in­crease through their cham­ber for well over a week. "They've gone through a new idea every few days, so we'll see what they end up send­ing over, but Demo­crats have been clear that there will be no ransom paid to al­low the fed­er­al gov­ern­ment to pay its bills and avoid a crisis," one Sen­ate Demo­crat­ic aide offered.
White House spokes­man Jay Car­ney was asked Monday about the pos­sible House Re­pub­lic­an plan. "We're not go­ing to pay a ransom of any kind in re­turn for Con­gress do­ing its job," he re­spon­ded.
Demo­crats have been suc­cess­ful in hold­ing the line against con­sid­er­ing any­thing short of a clean debt-lim­it vote, but if the Sen­ate fails to reach an agree­ment on how to re­verse the mil­it­ary cuts that so many people on both sides of the aisle don't like, they may feel some pres­sure to con­sider what the House sends over. A seni­or Re­pub­lic­an House aide did not ex­pect the Sen­ate to send a clean debt ceil­ing in­crease back to the House.
"There's a lot of prin­ciples here," Mikul­ski said, later adding, "On prin­ciple, I'm flex­ible."
This story has been up­dated for clar­ity.
Stacy Kaper and Sarah Mimms contributed to this article.
What We're Following See More »
UNTIL DEC. 9, ANYWAY
Obama Signs Bill to Fund Government
2 hours ago
REDSKINS IMPLICATIONS
SCOTUS to Hear Case on Offensive Trademarks
3 hours ago
WHY WE CARE
"The Supreme Court is taking up a First Amendment clash over the government's refusal to register offensive trademarks, a case that could affect the Washington Redskins in their legal fight over the team name. The justices agreed Thursday to hear a dispute involving an Asian-American rock band called the Slants, but they did not act on a separate request to hear the higher-profile Redskins case at the same time." Still, any precedent set by the case could have ramifications for the Washington football team.
STAFF PICKS
Bannon Still Collecting Royalties from 'Seinfeld'
4 hours ago
WHY WE CARE
The Hollywood Reporter takes a look at a little-known intersection of politics and entertainment, in which Trump campaign CEO Steve Bannon is still raking in residuals from Seinfeld. Here's the digest version: When Seinfeld was in its infancy, Ted Turner was in the process of acquiring its production company, Castle Rock, but he was under-capitalized. Bannon's fledgling media company put up the remaining funds, and he agreed to "participation rights" instead of a fee. "Seinfeld has reaped more than $3 billion in its post-network afterlife through syndication deals." Meanwhile, Bannon is "still cashing checks from Seinfeld, and observers say he has made nearly 25 times more off the Castle Rock deal than he had anticipated."
IT'S ALL CLINTON
Reliable Poll Data Coming in RE: Debate #1
4 hours ago
WHY WE CARE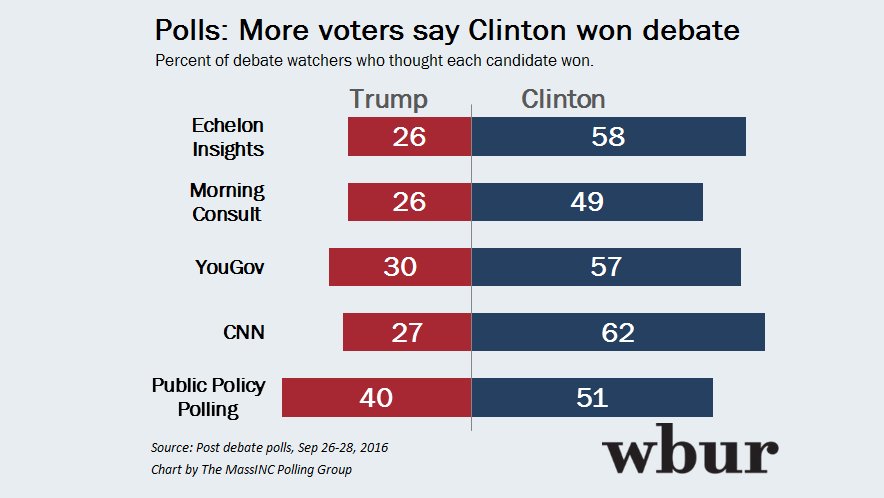 NEXT THURSDAY
Trump Transition Team Meeting with Silicon Valley VIPs
6 hours ago
THE DETAILS
Donald Trump's "transition team will meet next week with representatives of the tech industry, multiple sources confirmed, even as their candidate largely has been largely shunned by Silicon Valley. The meeting, scheduled for next Thursday at the offices of law and lobbying firm BakerHostetler, will include trade groups like the Information Technology Industry Council and the Internet Association that represent major Silicon Valley companies."